Starting today, SISTRIX is giving transparency to the major influencer networks. With our new influencer search, you can search millions of accounts on Instagram, TikTok and YouTube for the influencers that fit your brand.
Platforms dominate the internet. Be it Google in search, Amazon in the shopping sector or Instagram, TikTok and YouTube as dominant influencer platforms. We at SISTRIX are convinced that all users of these platforms deserve the greatest possible transparency in order to make informed decisions.
With the Visibility Index, we have been setting the gold standard for measuring SEO success for over ten years. No Google update is complete without SISTRIX data and analyses. Our Amazon data provides brands with the necessary insights into their success in Amazon search. As of today you can now find the equivalent for Instagram, Tiktok and Youtube: the SISTRIX Influencer Search Engine.
The relationships between role models, opinion leaders, journalists, content creators & stars are no longer established through traditional print or TV media, but take place directly with the audience on social media platforms.
The range of decisions that influence these accounts can range from the selection of the next shampoo for 1.95 euros, which is named after an Instagram influencer, to the purchase of a new car, which is featured on a YouTube car channel.
The Influencer Search Engine from SISTRIX
More than a year ago we started to collect data from Instagram, Tiktok and YouTube in a structured way. The question was always: what do I need to know in order to discover influencer accounts and evaluate them correctly?
In total, we regularly record almost 100 million accounts on the three platforms. As soon as an account exceeds the mark of 10,000 followers (or subscribers on Youtube), we automatically add it to the search engine. You can add accounts that you want to watch additionally via a watchlist.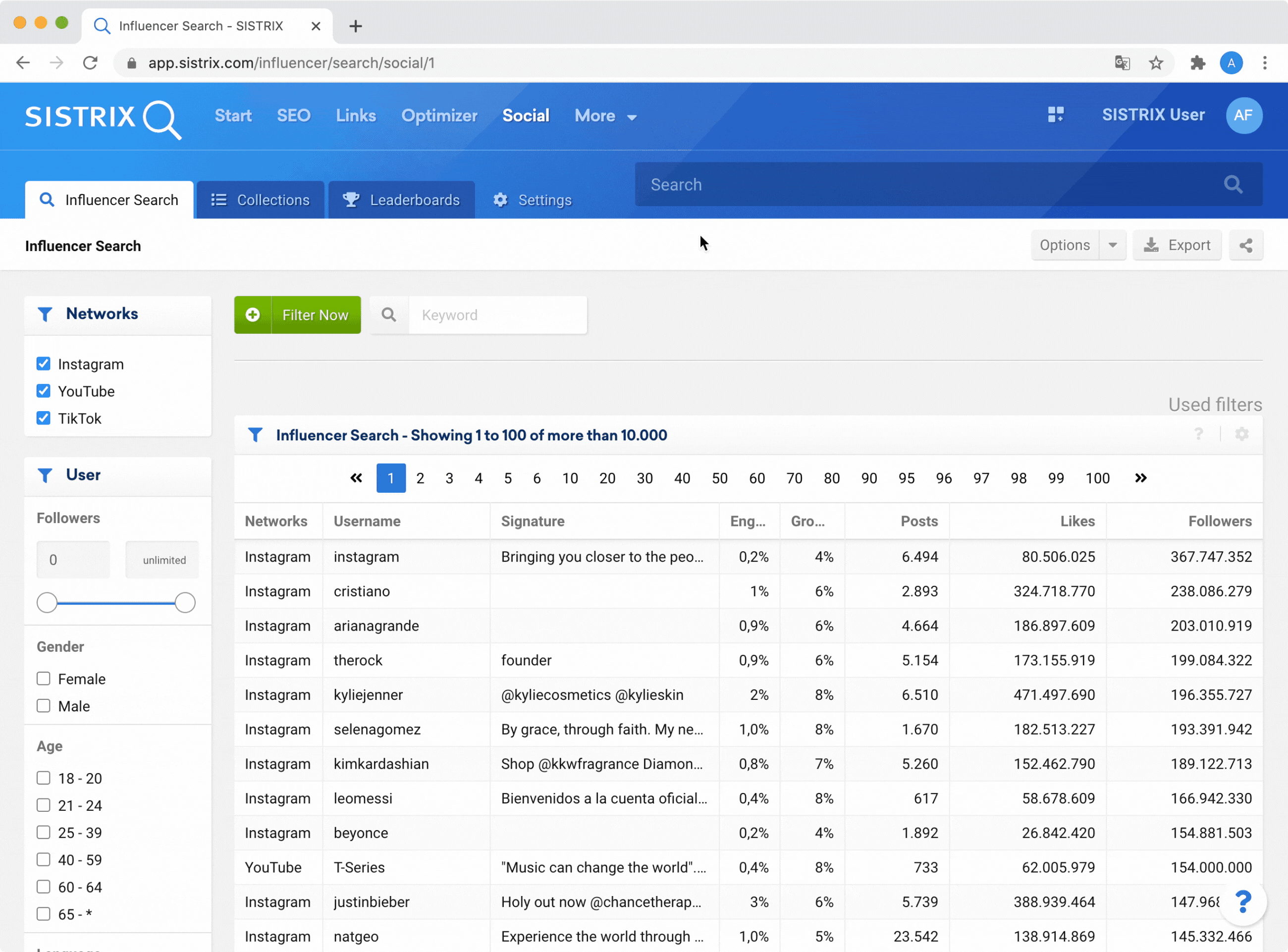 Our new Influencer Search is designed in such a way that it supports you with the entire influencer research workflow. In addition to a an easy search feature, you have access to these functions:
Keyword suggestions: with this feature we show you which hashtags and terms the target community is using. It allows you to narrow down target groups perfectly without being an expert in them.
Profile details: to analyse how important key figures, such as the number of followers, have developed in recent times, the profile details include historical developments of all important metrics along with the most successful contributions of each influencer.
Audience analysis: if you want to understand how an influencer's fan base is composed, you can have the audience of this account analysed in-depth.
Collections: to group influencers for a project, you can add them to collections. There you have them in one place and always monitor the current key figures.
Leaderboard: Yesterday's Most Successful TikTok Videos? The YouTube channels with the most new subscribers? You can find the answers on the leaderboard.
We have prepared a tutorial including the entire workflow for researching suitable influencers. Our SISTRIX manual also reveals many details and background information.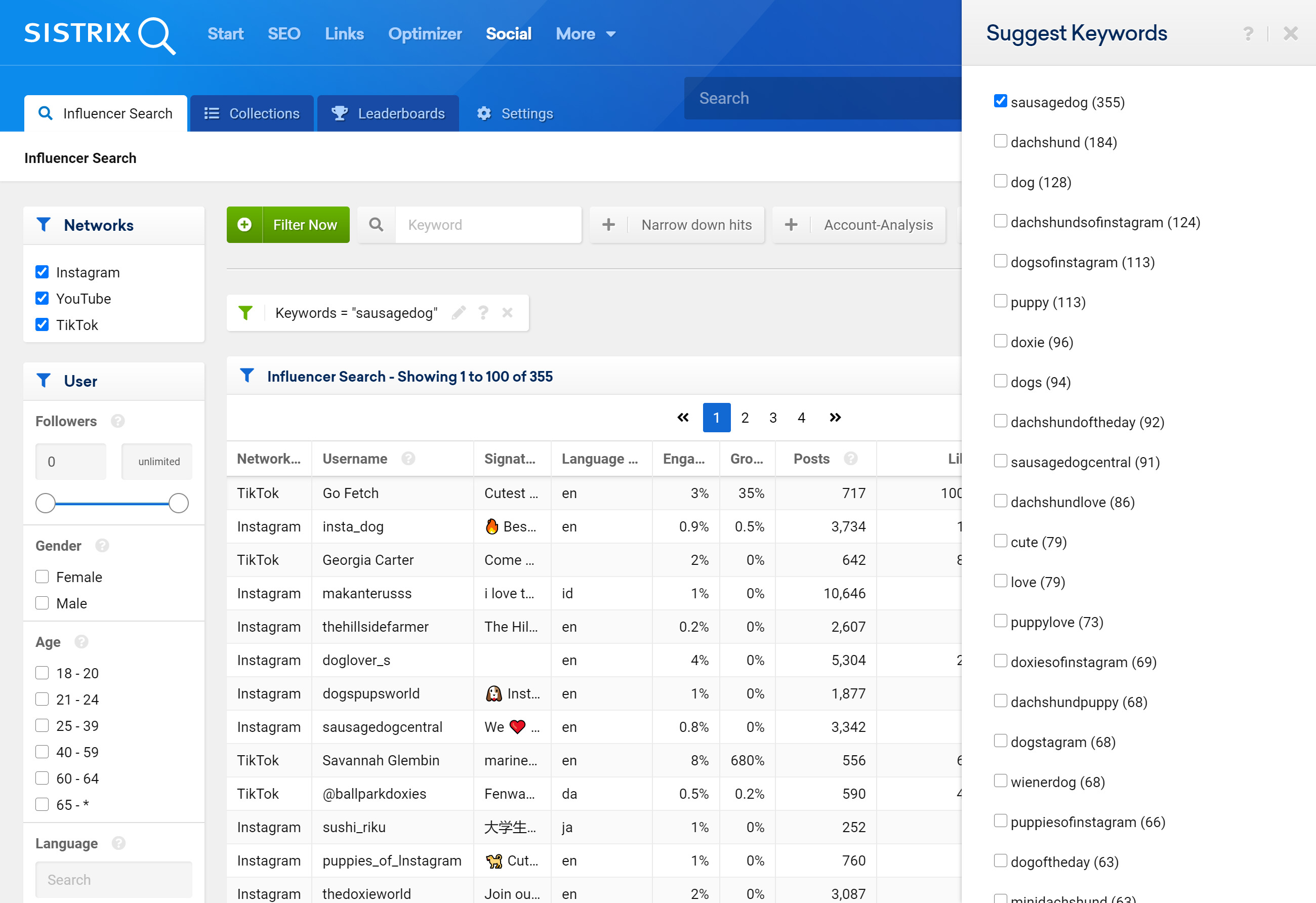 Try the Influencer Search now
Our influencer search engine is now part of the social module. As usual with SISTRIX, it comes without additional costs or fees. As in the other modules, we have no limits on the number of searches carried out or other restrictions. So if you are already using the social module: get started right here.
If you are using SISTRIX but do not yet have the social module, you can contact support. In return for feedback on our new influencer search engine, we will be happy to activate the module for you to test free of charge.
If you are not currently a SISTRIX user, there are at least 291 reasons to change now – the new influencer search is only one of them. Create a free 14-day test account now and off you go.
One thing remains the same for all three methods – your feedback is important to us. The search engine released today is only the first step. Together with our users and other experts from the industry, we want to develop these features further and thus create transparency for Instagram, TikTok and YouTube, something that these platforms urgently need.