Google just took off the gloves: yesterday was the day that my Chrome Browser started showing not only the green encryption-lock for HTTPS pages, but also explicitly telling me that the page is "Secure". Google has already made us aware in a blogpost that they will start showing a "Not secure" lable for non-encrypted pages, in the future.

While this advance is definitely the right idea, I would still like to put it through a reality-check. For this, I analyzed our data on how the share of pages transfered via HTTPS changed within the Google SERPs, over the last few years, for the United Kingdom, Germany and Spain. Here we see the data for the UK: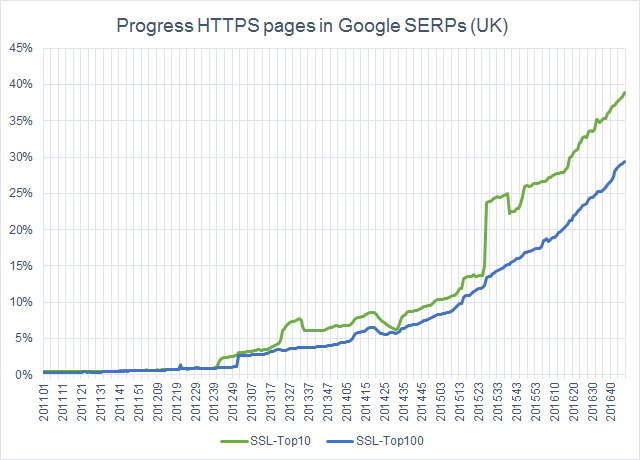 We can nicely see how the share of encrypted pages started off slow but is now managing to go up at an ever increasing rate. The blue line takes a look at the percentage of HTTPS pages within the Top-100 search results and the green line looks at the same percentage for the Top-10 search results. The values went from less than 10 percent in mid-2015, to more than 30 percent of all pages within the Top-100 and even close to 40 percent within the Top-10, by today.
If you are wondering, the huge jump in the Top-10 in mid-2015 is proudly presented to you by Wikipedia.org. A wonderful example of the abiding theme of correlation and causation. If we take a look at the same evaluation without Widipedia.org, we will see a smoother graph, but both direction and intensity are still very pronounced: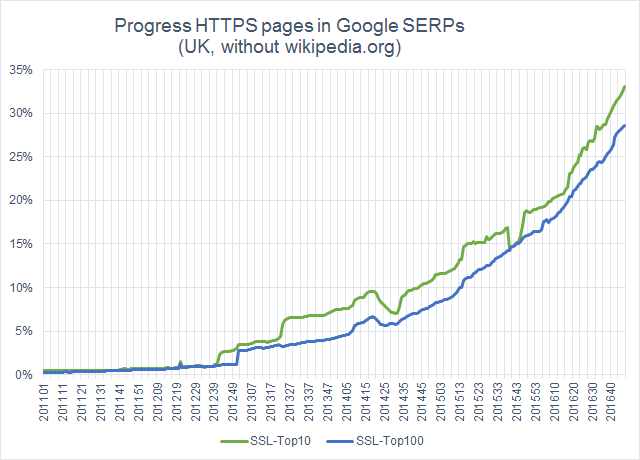 In case you are wondering how things are looking for other countries: We see a continuous increase in the importance of HTTPS-pages in both Spain and Germany.