I would like to share the story of the most resilient spam project I've ever seen. It started in November 2011 and it goes through to June 2018, where it looks like the owner has finally given up. It's called Gutscheinmagazin.de (Voucher Magazin), a German domain – you don't need to understand German, the following charts show everything in the universal language of data visualisation.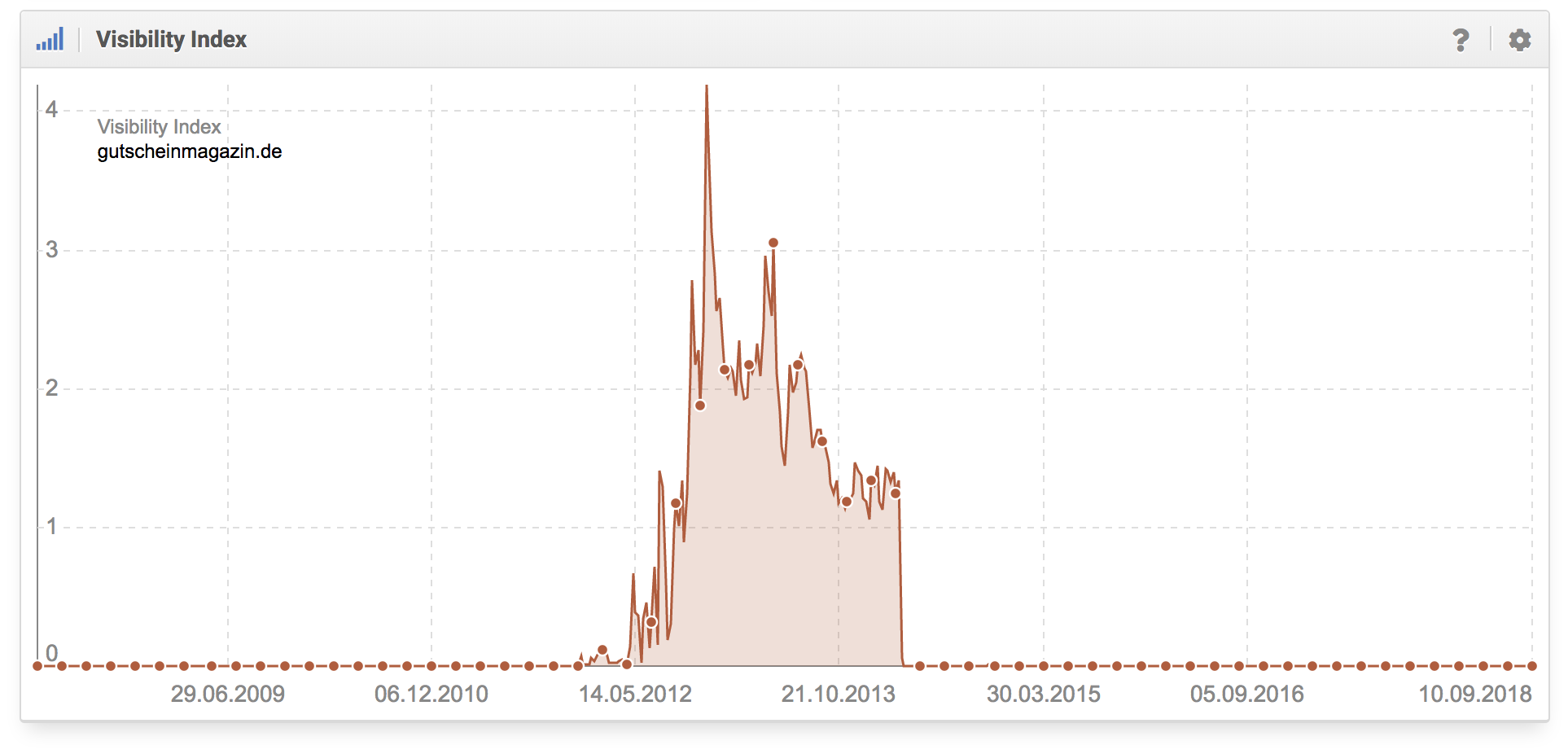 The rapid increase in rankings and the high number of perfect anchor texts with a high CPC linking to this domain, reveal that the domain was founded on a basis of link manipulation. The offer was not bad at all, it was an affiliate website offering vouchers for different popular e-commerce sites, which allowed it to earn more, good and natural links.
As soon as the domain owner notices that Google started deranking his site, he did not give up, he just switched domains to a new one, with a slight difference: a "-" between the 2 words in the domain name, Gutschein-Magazin.de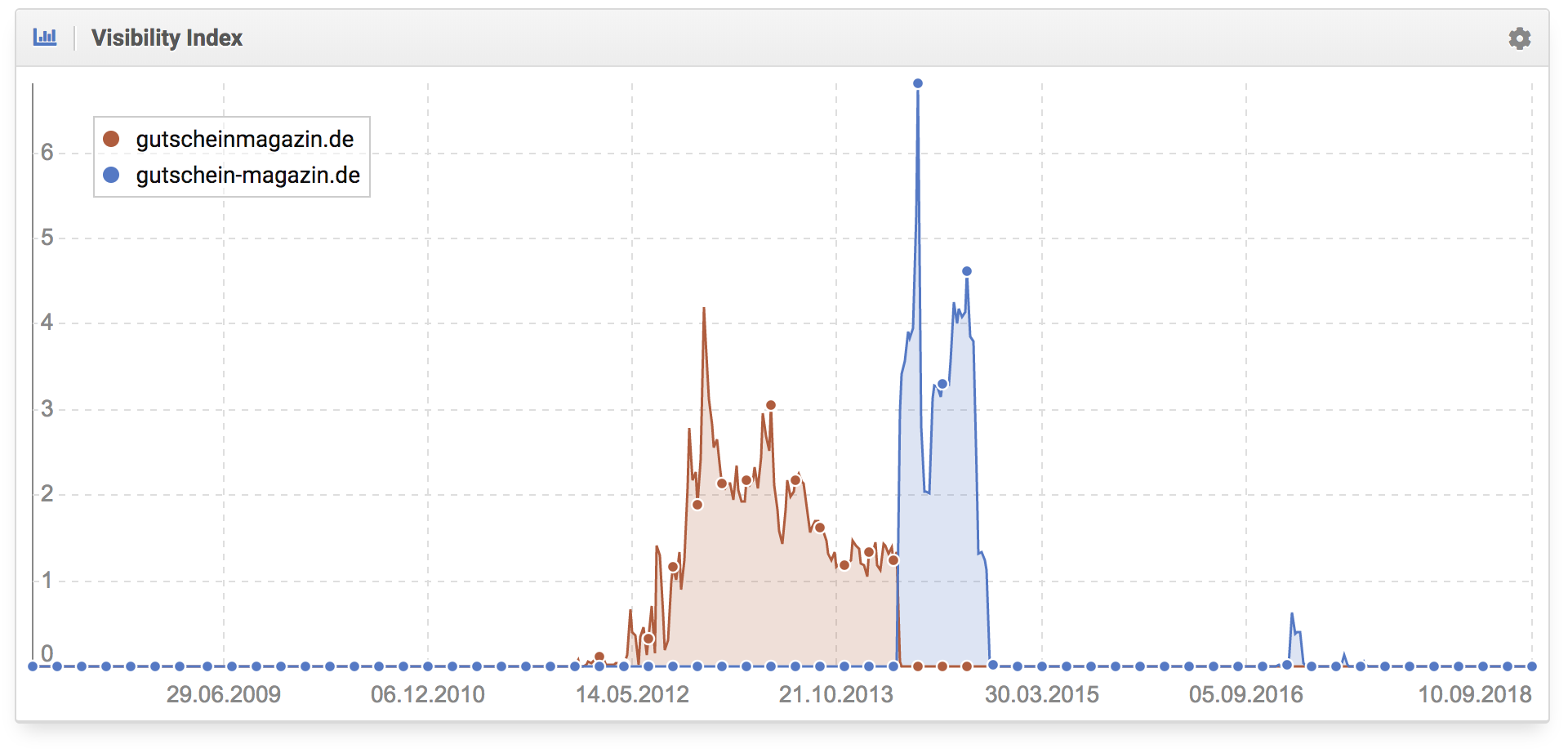 The visibility score on Google more than tripled, from 1.3 to 4.6. But after 6 months, the party was over. Google realised it was the same domain and started deranking it, again. Guess what happened next?
The domain owner did not give up! This time, the owner tried the .com version: Gutscheinmagazin.com. Why not? .com sounds cool.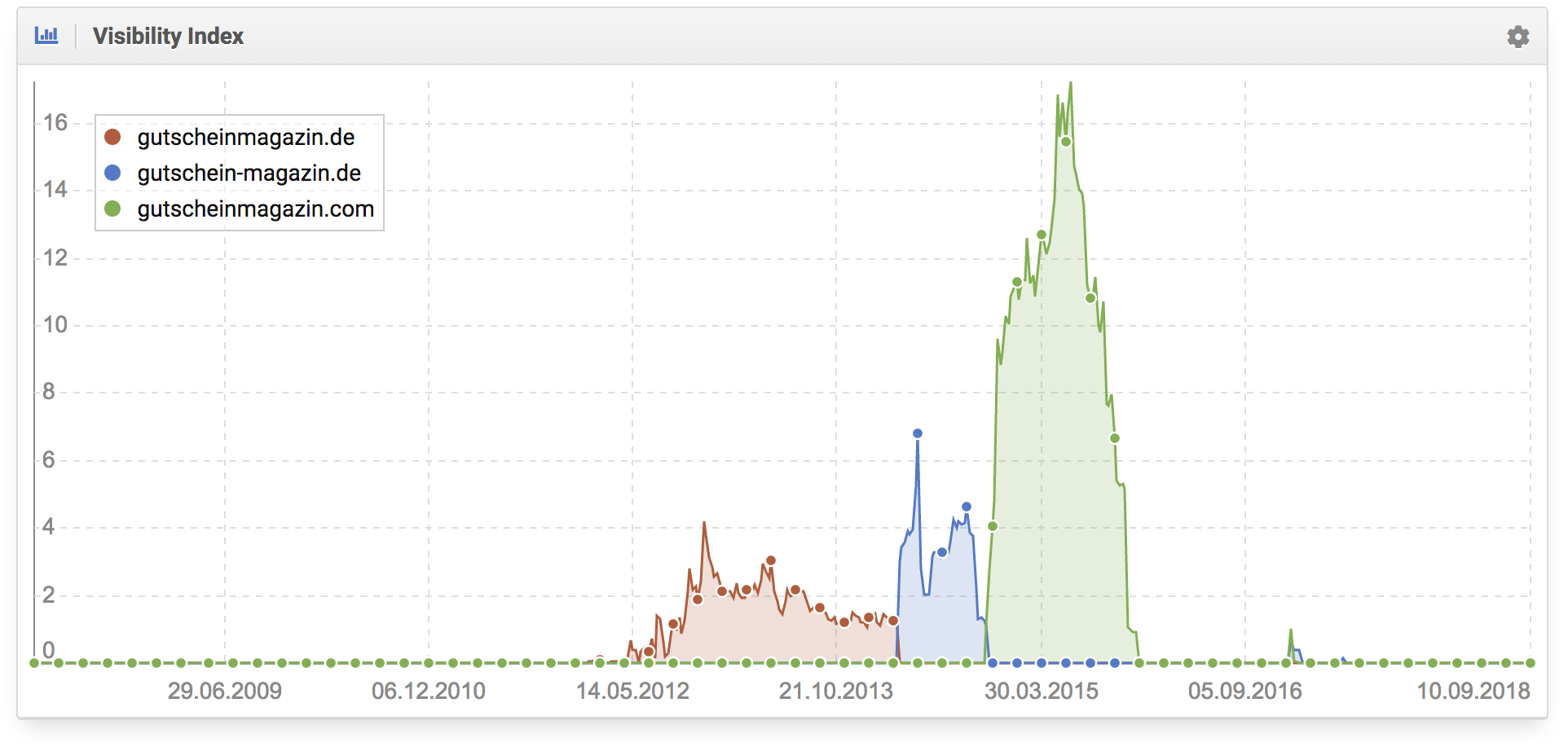 The number of keywords increased by 230%, the visibility on Google quadrupled to 17 visibility points (making it a big domain). Can you imagine trying to do Google-conform SEO when you've got a competitor like this?
Now, I'm pretty sure you've already guessed what happened to the 3rd version of Gutscheinmagazine. Yes! It started losing rankings and the 17 visibility points vanished.
To save time, I'll move straight to the end: The game of the cat and mouse played out 7 more times. In total 10 domain migrations in 7 years. Take a look: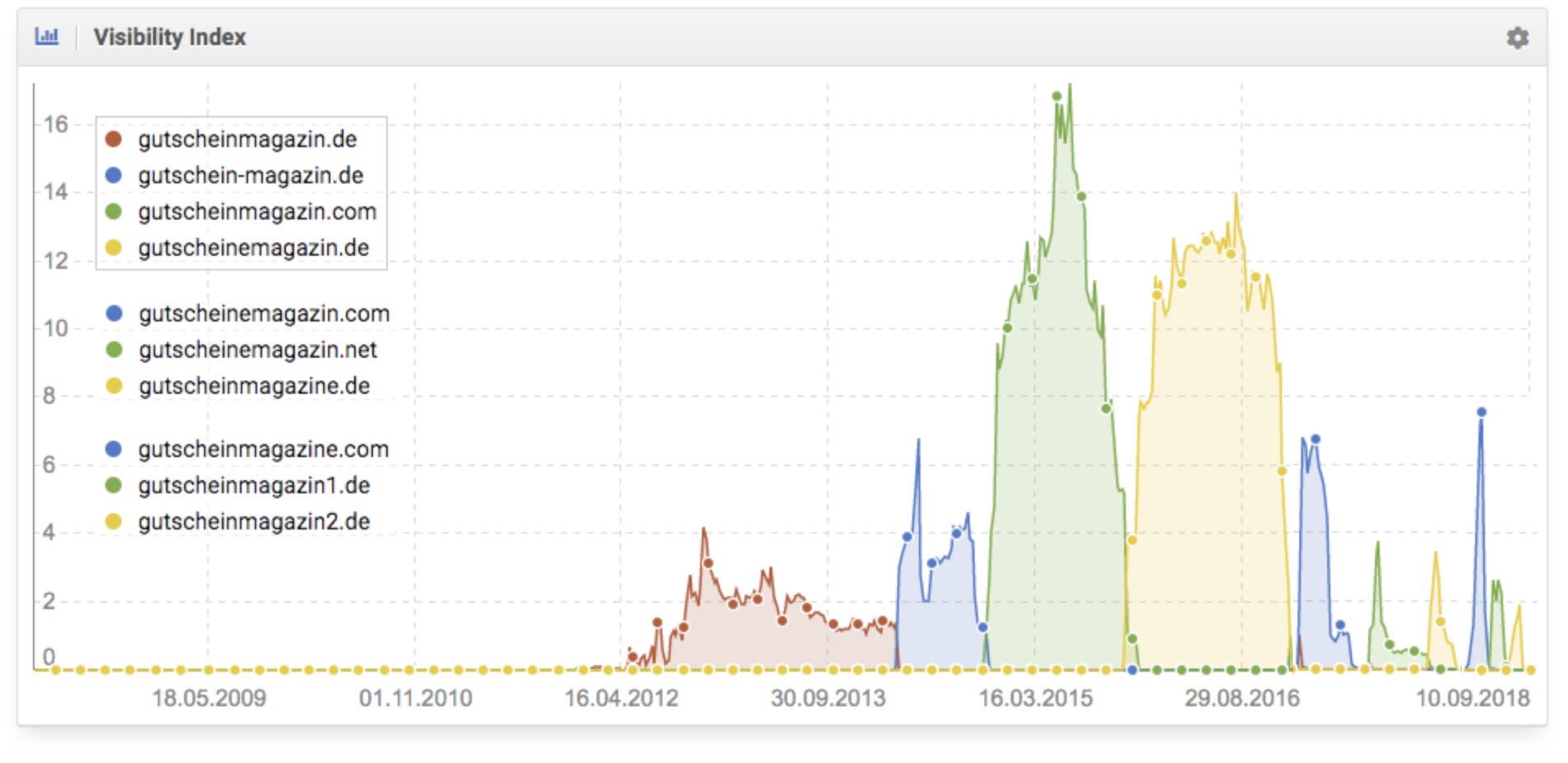 It's very likely that the number of natural links was on-course to surpass the unnatural links, which would explain why Google needed over 9 months to de-rank the third and fourth try. And as I said before, we have to consider that the offer was not really a bad one.
In October 2016, when Google officially announced the roll-out of Penguin 4.0, everything changed. You can clearly see that Google stopped swallowing that pill and became much faster at de-ranking those websites. Keep in mind that Panda and Penguin have both been part of Google's Core algorithms for a while and those changes happen faster and are making Google better.
Google has become better at fighting webspam
With Panda 4.2 and Penguin 4.0 Google has refined its technique. The results are now visible as soon as Google (re)crawls an individual URL and this might be the reason why the project never took off, again. This is how webspam development looks, today.
On Google's Webspam Report 2017, Cody Kwok, Principal Engineer at Google, affirms that:
"Another abuse vector is the manipulation of links, which is one of the foundation ranking signals for Search. In 2017 we doubled down our effort in removing unnatural links via ranking improvements and scalable manual actions. We have observed a year-over-year reduction of spam links by almost half."
On our weekly list of Winners & Losers we used to find a lot of spam projects for adult entertainment, casinos, sunglasses, free downloads, etc., because they gained and lost visibility in just a few days. Recently, however, we have noticed that the number of spam websites visible on our weekly winners and losers list is becoming less.
Unfortunately, this situation has led to another game of cat and mouse and one where the ball is not completely in Google's court anymore.
Spam has turned into a domain owners' problem
Let me get straight to the point: Google is becoming smarter and winning the fight against Webspam. The old strategies don't work easily anymore but as a result, the amount of website hacking is increasing.
"One of the trends in 2017 was an increase in website hacking"

– Cody Kwok, Principal Engineer at Google
We are seeing exactly that more often. Just last week we reported that the Website of the popular British singer, James Blunt, was hacked: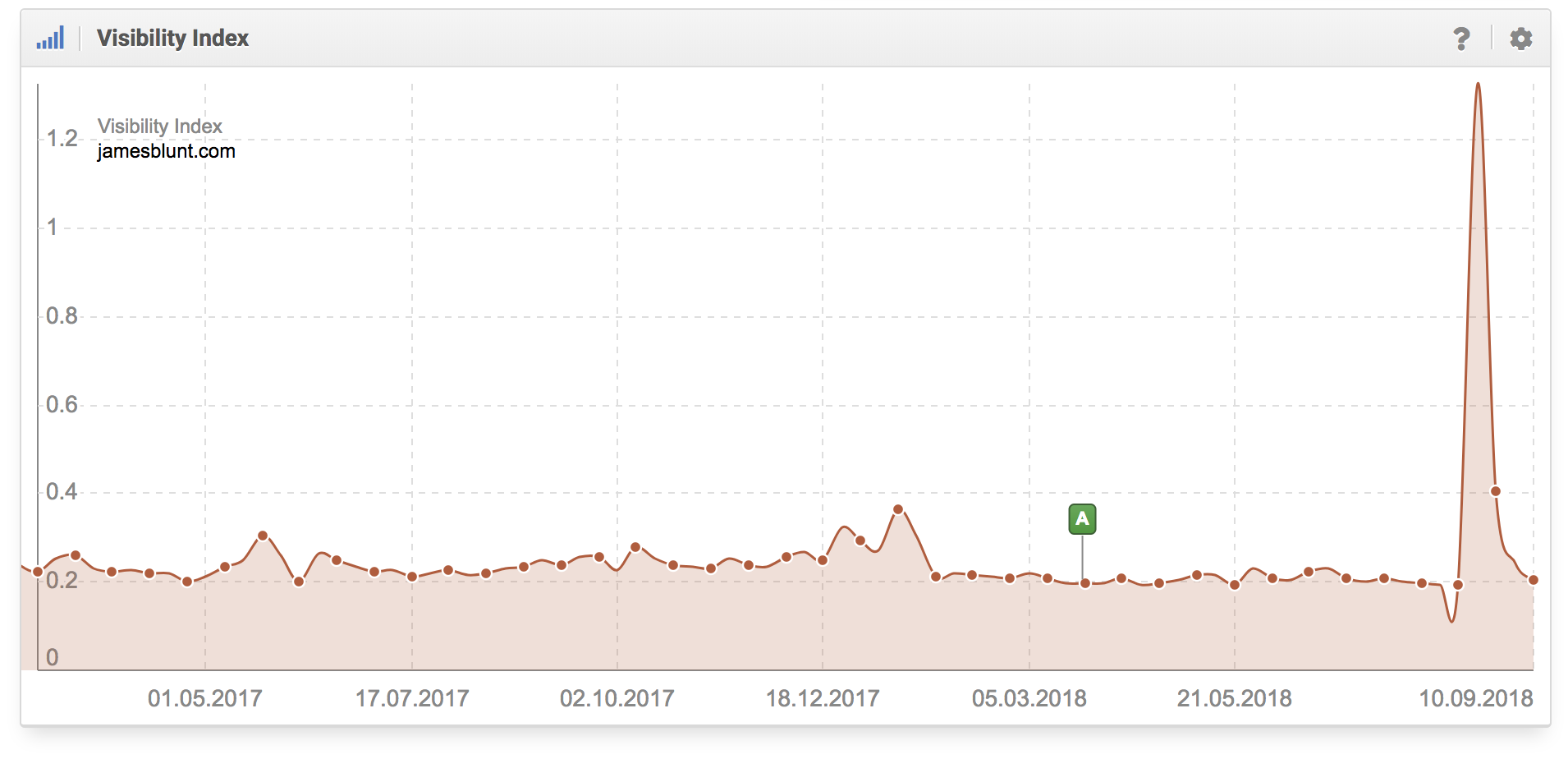 These sort of spikes are usually due to the domain being considered in a Query Deserves Freshness (QDF) where the domain is suddenly ranking on higher positions or, as in this case, because you became a victim of a hacker who is ranking your domain for more and new keywords: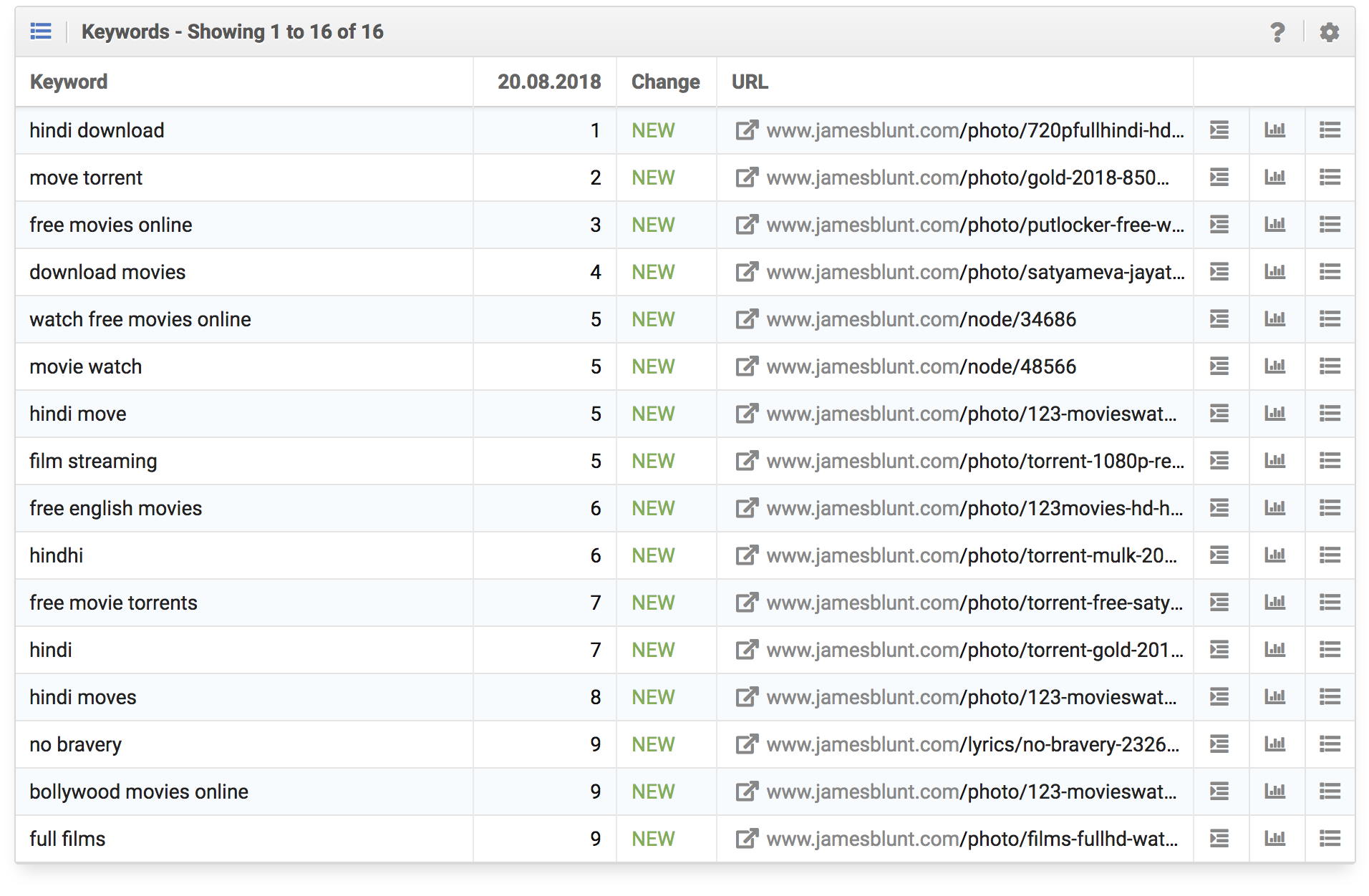 Even Microsoft's presentation program, Sway (part of Microsoft Office), was hacked this week. You can check it out yourself: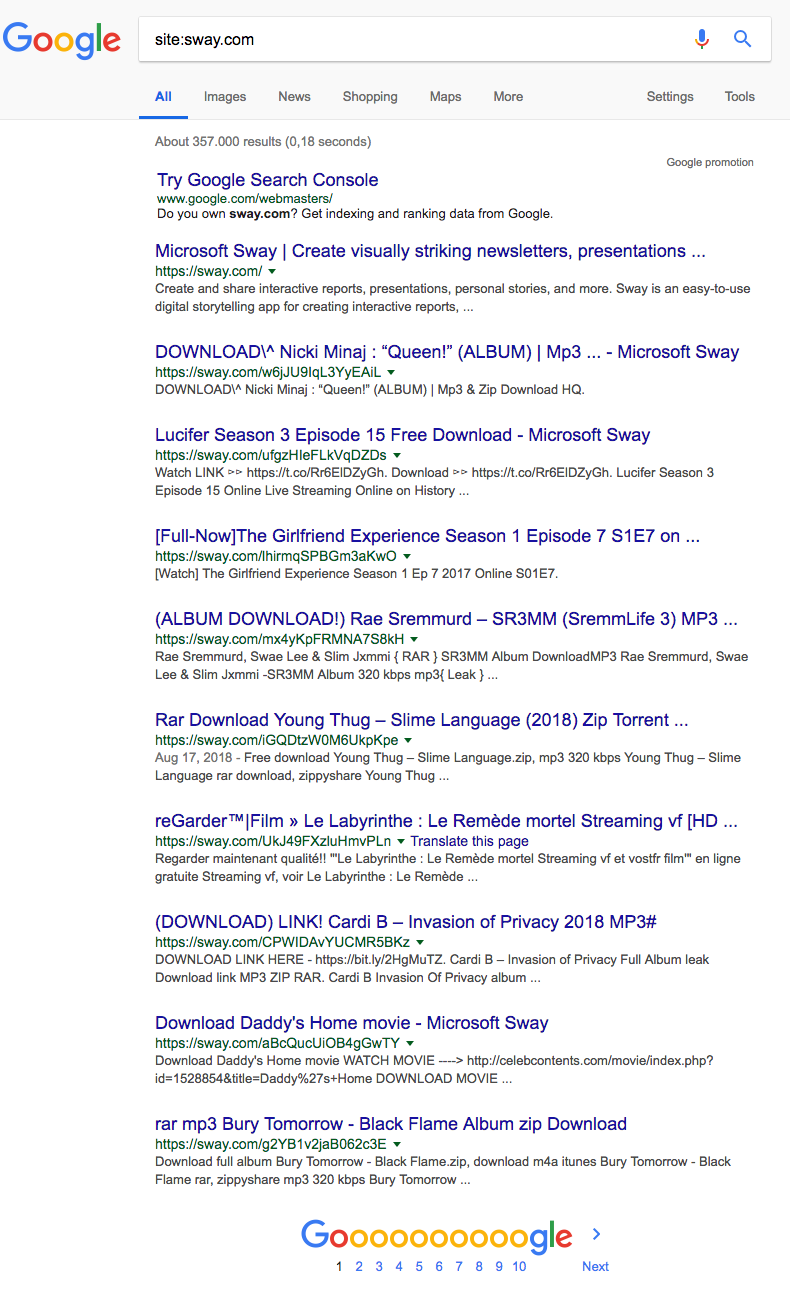 I would highly recommend taking a look at Google's Webspam Report 2017. There you will find help in cases your website has been hacked.
Don't trust people who say "I know a trick", "I know a guy at Google" or "I guarantee you top rankings"
Google's continuing changes are helping the professional SEO industry and those who don't understand SEO are looking for new pastures. We'll continue to hear 'SEO is dying' from people who don't understand that SEO is more important now than ever.
Optimisations by Google continue to be good news for the SEO industry. The number of fariytales is falling and that helps everyone.
I hope you enjoyed reading.