Let's just take a look at the chart above. We clearly see that the SEO strategy of TheSun.co.uk before the paywall was not remarkable, a measly 8% growth over 3 years. After they initiated their paywall the Visibility on Google dropped from 65 to 3 points. The best Visibility score TheSun.co.uk managed to get during their paywall period was 9.5 points (while TheTimes.co.uk with their own paywall had 4.3 but the Mirror.co.uk without a paywall 147 points).
Today we see a very different picture. TheSun.co.uk has 160% more Visibility on Google than before their paywall started, and 1,200% more Visibility than during the time the paywall was active. Generally you can gain Visibility by ranking for a larger number of keywords, increasing your rankings for current keywords or – ideally – by doing both. Barry Adams, the SEO who got involved with the project in March 2016, mentioned some important technical aspects used to get the site back up in the rankings:
– New website with a focus on load speed and usability
– Technical improvements to optimise crawling and indexing
– Improved information architecture and internal linking
– Content focused on capturing traffic from popular and trending stories
Good SEO makes sense:

With that in mind, we can nicely see how their keywords move continuously from the second and third page of Google's search result pages to the first (I will get to the drop for the first page in just a bit).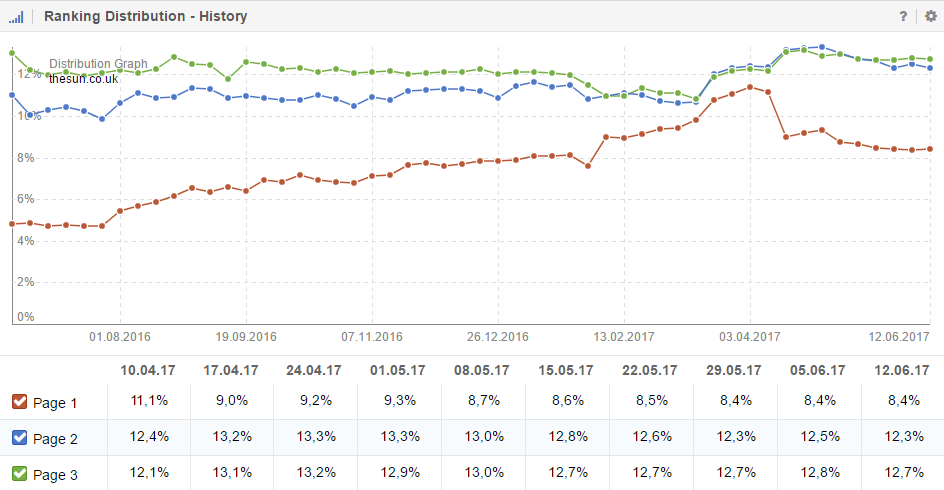 Additionally, we can see a continuous growth from 70,000 to 75,000 in the equally important key value "domain-popularity" (which counts the number of domains linking to this domain). It makes sense that freebies get linked to much more often than content behind a paywall:

Let's now take a look at Google News.
Market share on Google News

Just before the paywall was scrapped, TheSun.co.uk was ranking for just 13 keywords on Google News. Today, this domain ranks for 11,523 keywords, almost throughout the entire year, and many of those are high traffic keywords. Here are some examples: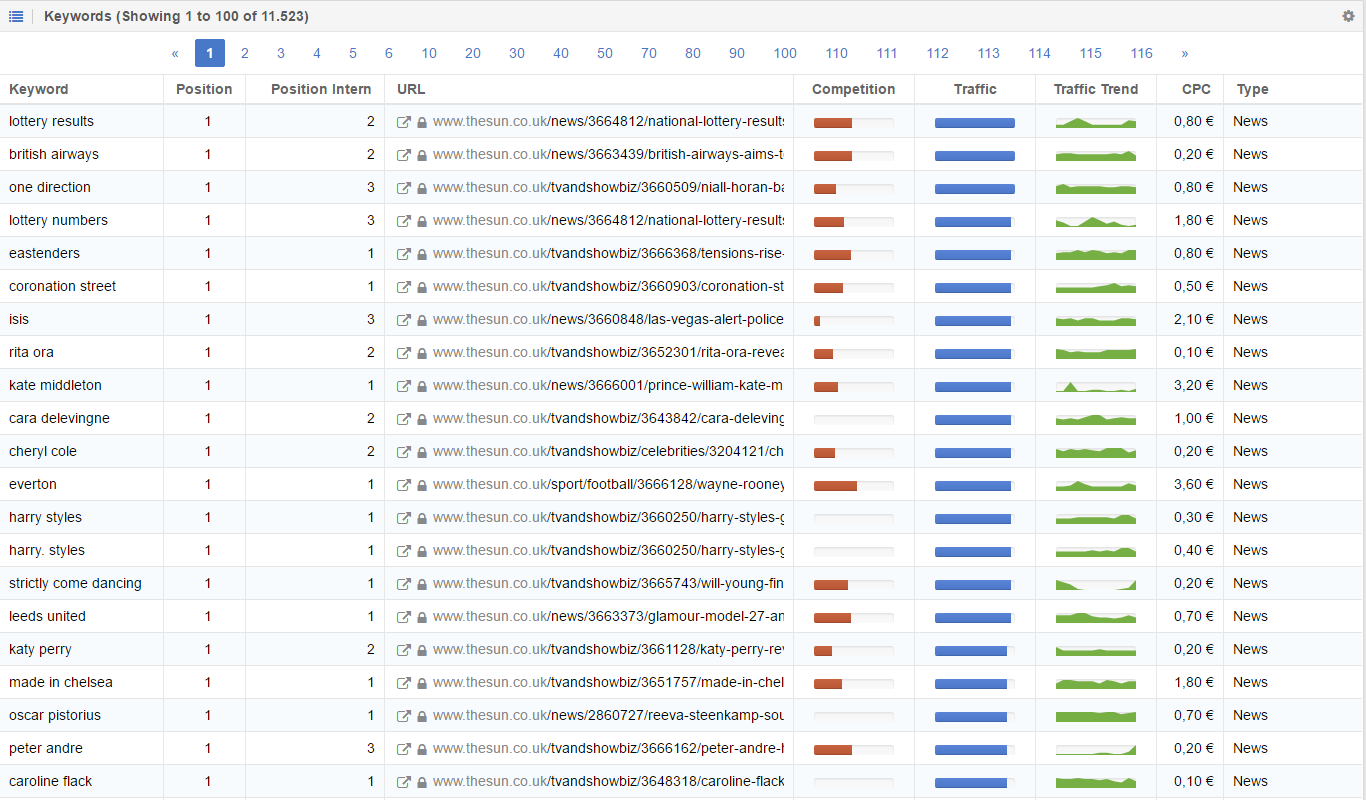 This leaves us with the question of TheSun.co.uk's market position in Google News. Let's compare The Sun's rankings in the Google News universal search to the domains Mirror.co.uk, Dailymail.co.uk and TheGuardian.com:

TheSun.co.uk is close at the heels of TheGuardian.com and already surpassed the other two.
Conclusion
Nearly all SEO key values are telling the same story. The increase in Visibility is the logical consequence from the increase of the individual values. Even though the Sun is showing a slight Visibility loss over the last couple of weeks, it still runs within an upward trend channel. Losses like these are absolutely normal as Google has to test which content on TheSun.co.uk is worthy of good ranking positions – now that the paywall has fallen and all these new pieces of content became available to show in the search results.
We can see a similar pattern for Huffingtonpost.co.uk during their initial period. The following chart shows lots of ups and downs, but the overall trend was always positive:

TheSun.co.uk seems to have recognized the difficulty of improving their rankings while using a paywall, if similar articles can be found just one click away on free news sites. That also means that, if your article is not dealing with niche topics and if it is aimed at a broad audience, you will probably lose a lot of traffic by using a paywall.
Even for a brand as strong as TheSun.co.uk having a paywall would have resulted in customer migration to their competitors, in the long run, and thereby a weakening of the brand. We can nicely see this situation on Google Trends (Search Term The Sun. Country: the UK. Period: 2004-present):

If users cannot get what you have for free, they will go to other brands that do offer free information. Time will tell if this move was an economic success… and it could be.
I hope you like it and I wish you a successful day!