From this week on, the SISTRIX Toolbox delivers data on the mobile ranking of countless search terms. As the first tool worldwide to do so, in addition to desktop rankings and visibility data, we offer smartphone data for all supported countries: Germany, Austria, Switzerland, the Netherlands, Poland, France, Italy, Spain, the UK as well as the US.
Google had recently publicized that, in more than ten markets, more searches are already made via mobile devices than over the traditional desktop browser – including the highly relevant search markets such as Japan and the US. We've taken this changing search behavior into account and now calculate, in parallel to desktop rankings, the same for the mobile Google index.
Many "visibility points" are awarded in total on both the desktop as well as the smartphone visibility index – averaged over all domains, meaning there are no winners or losers. It's a little different when you consider only the biggest domains of a country: for the following evaluation I've compared the desktop visibility index of the 10,000 largest domains per country with the smartphone visibility index and calculated the average deviation across all 10,000 domains: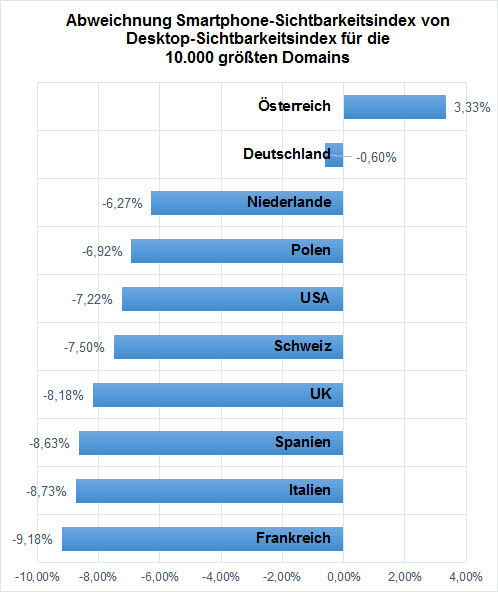 Austria is the only country where the big domains in their mobile format aren't ranked worse, on average, than their desktop versions. In all the other countries it's a different story: While the difference in Germany is rather marginal (-0.6%), large websites in France give up almost 10% of their smartphone visibility. Perhaps we need to re-investigate "Mobilegeddon" under this perspective.
By the way: The expansion of the Toolbox data basis to take in smartphone data is free for all Toolbox customers and not tied to any expensive packages. If you aren't already familiar with the Toolbox: a free two-week trial is a must 😉