All over the past week there has been major movement in the Google SERPs and many SEOs believe that the source of all the commotion is a Google Update. These ranking changes can be observed, measured and, if you understand them well, you can gain great benefits from them.
What caused last week's changes?
Let me start at a fundamental principle and give you some precise examples: User behavior (demand) has generated a change in how competitors (supply) behave and Google (marketplace) has reacted to this change.
There are only four dynamic factors that can influence the Google rankings for your Web site. It is important to keep in mind that not all ranking changes will be due to changes made by the search engine.
Once you internalise this basic principle you will know where to start looking, when you are evaluating SEO questions.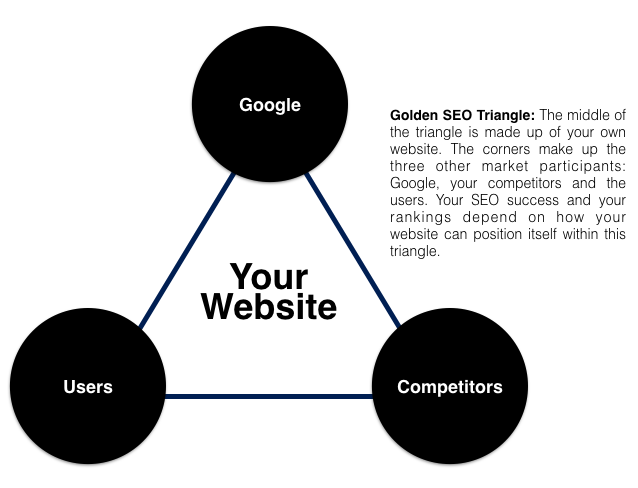 Google: Google introduces Updates or makes changes to their algorithm. Matt Cutts mentioned that they made 665 changes to Google's algorithm during 2012 alone.
Competitors: If a competitors website gains positions, they will displace other results. The same holds true for a loss in rankings.
User: Search- and Click behavior have an influence on the rankings.
Yourself: Through your SEO work, you may improve your websites ranking, thereby displacing other websites above yours and vice versa.
I believe the underlying part of Google's algorithm at play here is Query Deserves Freshness for queries around Black Friday and generic keywords related to the holiday shopping. Let me show you why I think so, using facts.
Looking into the Top 100 Search Results
I will start out with "black friday" for Google.com, though we will get into more domains and keywords a little further down the road.
If we look at the Top 100 Google search results for "black friday" over the course of the past two weeks (in our Toolbox you can view the historic, weekly SERPs for the last 5 years for 1 million keywords), we will notice 53 URLs that are new to the search results on 9th November 2015: https://us.sistrix.com/sl/ZGW7EVn9.
A week later, on 16th November 2015, there are another 54 new URLs within the search results. Especially interesting is the amount of movement within the Top 20 results: https://us.sistrix.com/sl/hYY7ncGX.
Comparing URLs Top 10 keywords to their competitors
Considering our recent study on the Click probabilities in the Google SERPs, we also need to look into the Top 10 search results for related keywords to Black Friday to see really remarkable changes. I went ahead and chose 3 URLs from big brands in the Top 10 for the keyword "black friday" and used the "Compare Keywords" feature in our Toolbox to compare their rankings with each other:
– http://www.amazon.com/Black-Friday/b?node=384082011
– http://www.walmart.com/cp/black-friday/1076614
– http://www.target.com/c/target-black-friday/-/N-5q0f2
These are the keywords of this 3 URLs in the Top 10 results and their positions: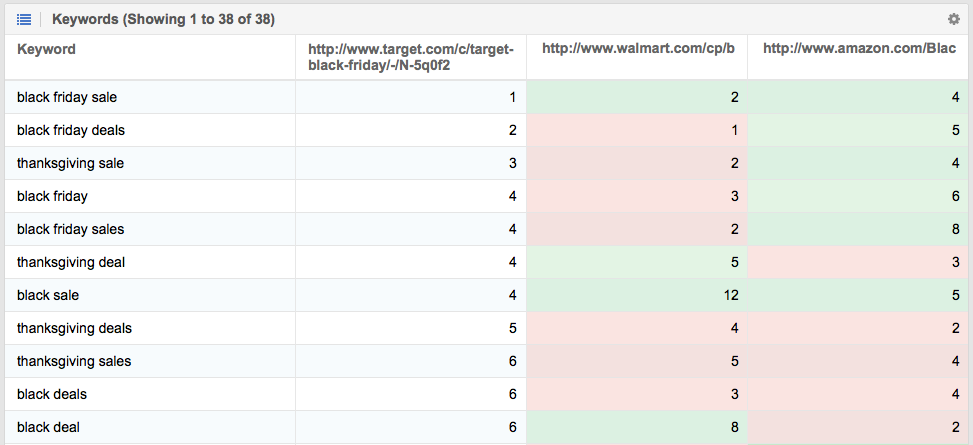 We should look if there are ranking changes for some of these keywords over the last week:
1) Movements on SEPRs for "black friday sale" for the weeks 16th-23th Nov. 2015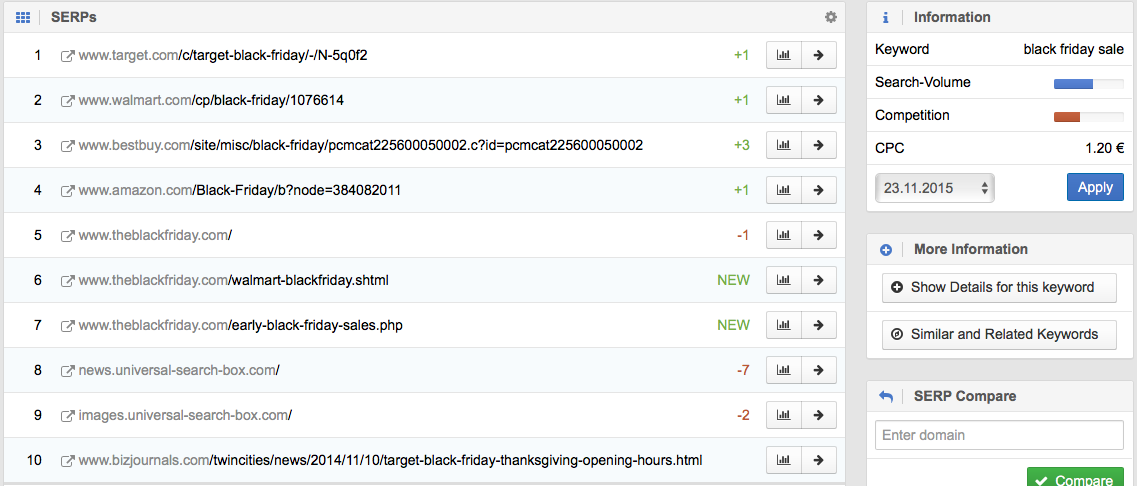 2) Movements on SEPRs for "black friday deals" for the weeks 16th-23th Nov. 2015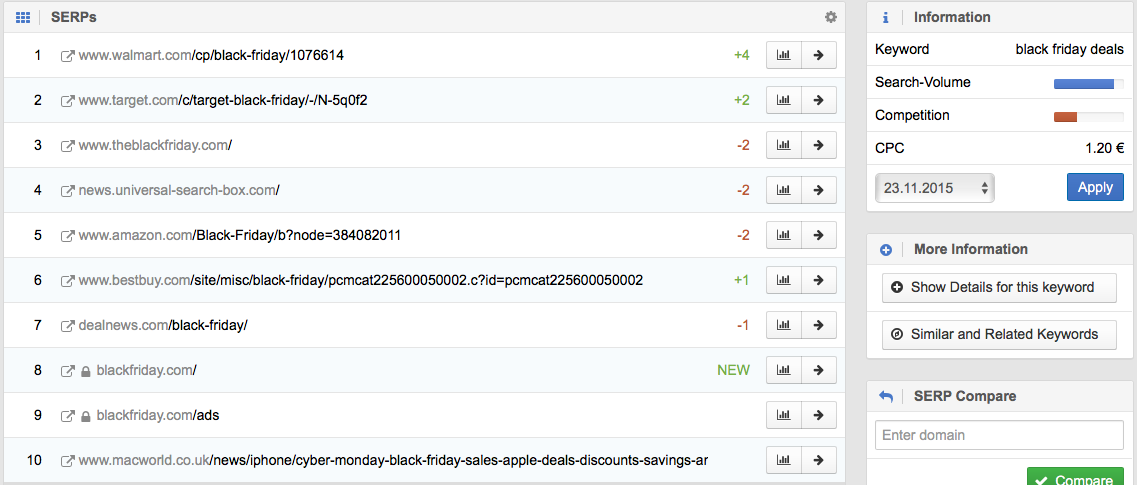 The results for name.universal-search-box.com are placeholders used in our Toolbox for Universal Search verticals which replace an organic result (at the moment these are Pictures, News and the directions from Google Maps, though not the new Maps-integrations themselves).
These were just some examples. In reality, there are hundreds of domains and URLs for thousands of keywords that have changed. For the following chart, we combined the Visibility Index charts for Theblackfriday.com and Blackfriday.com, which shows that, as soon as Black Friday approaches, their visibility in the search results skyrockets, so their rankings must be skyrocketing. The Peaks show that each year in November, the visibility goes up around Black Friday:

Let's take a look at the keywords where Theblackfriday.com shows up in the Top 10 results only, where the searchvolume (traffic) is extremely high: https://us.sistrix.com/sl/9jBDe4aR.
In practice, this would mean that, whenever Theblackfriday.com gains rankings, other competitors should get pushed back. When we look at the generic brand keyword "Mendards" (a well known hardware-chain in the USA), we see a jump from position 60 to 3:

Even for the non brand gerneric keyword "tractor supply" the domain was catapulted from 48 to 3:

The same examples could be made for Blackfriday.com, which has 794 keywords where they rank within the Top 100. 82 of them are within the Top 10 and, like Theblackfriday.com, these are keywords with very high search volumes. If we take into consideration that Theblackfriday.com has 2.856 keywords in common with Amazon.com and 2.364 keywords in common with Walmart.com, there is a high probability for numerous ranking changes:

Even more interesting is the fact that some keywords show results with more than one URL for a domain in the Top 10. This means that the actual number of ranking changes is even higher.
Keyword Cannibalisation
Keyword cannibalisation happens when certain pages within your site compete against each other for the same keywords. Usually, this would be a problem, though in this case, it could turn into an advantage. Let's take the domain Theblackfriday.com and the keyword "thanksgiving sale" which has 4 URLs raking for the same keyword (in our Toolbox You can see all keywords with more than one ULR in the Google rankings, "Cannibalisation"):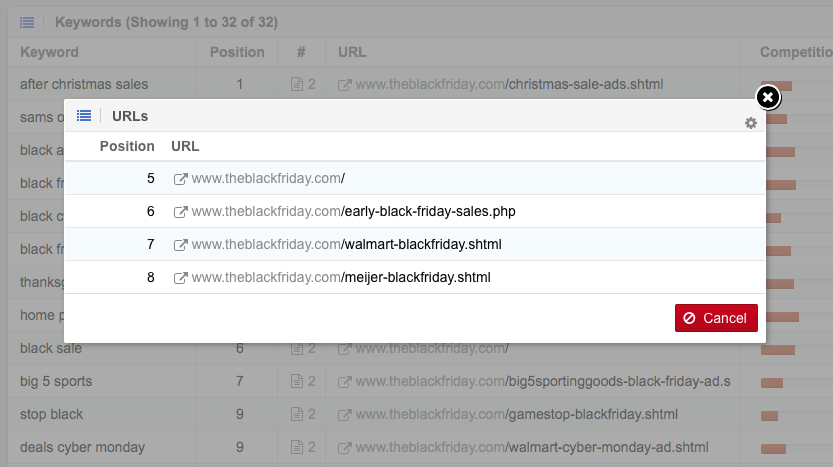 Now let's see the SERPs for "thanksgiving sale" on 23th November 2015. There are Four URLs ranking for Theblackfriday.com:
These three URLs keep the other one from ranking even better, which is something you would usually have to work on. This time, though, you could argue that having 4 results within the Top 10 can be to your advantage.
Follow example for the keyword "friday ad" summarize both 5 new search results in the Top 10 and Cannibalization:

I believe that Google is trying to offer the best search results to satisfy their users current requests and therefore replaced other results with these five URLs.
The ranking URLs of big brands
There are hundreds of pages with rankings in Google that have been generated just for Black Friday, before 23th Nov. 2015. Here is an example from Walmart: http://www.walmart.com/cp/black-friday/1076614 and its visibility in Google:

Here is an example from Nordstrom: http://shop.nordstrom.com/c/black-friday and its visibility in Google:

Here is an example from Toys Я Us: http://www.toysrus.com/shop/index.jsp?categoryId=16289696 and its visibility in Google:
Here is an example from Macys: http://www1.macys.com/cms/ce/black-friday/womens-deals and its visibility in Google:
Here is an example from Bfads.net: http://www.bfads.net/Black-Friday/ and its visibility in Google:
Aditionally, we should also keep in mind that Black Friday will also cause numerous OneBoxes for News and Images within the search results.
Conclusion
Remembering the Golden SEO Triangle, we can assume that the user behaviour as well as the resulting changes made by suppliers caused Google to react, trying to offer the best possible search results with the most current and best value for users.
The question of whether there has been a Google Update is not a question unique to 2015. One year ago, during Thanksgiving, Google was actually still rolling out their latest Penguin refresh, which might be the reason why the fluctuations were not thought of as being part of Black Friday. I would like to use Google Trends to reveal the importance of Black Friday by showing a comparison to Apple: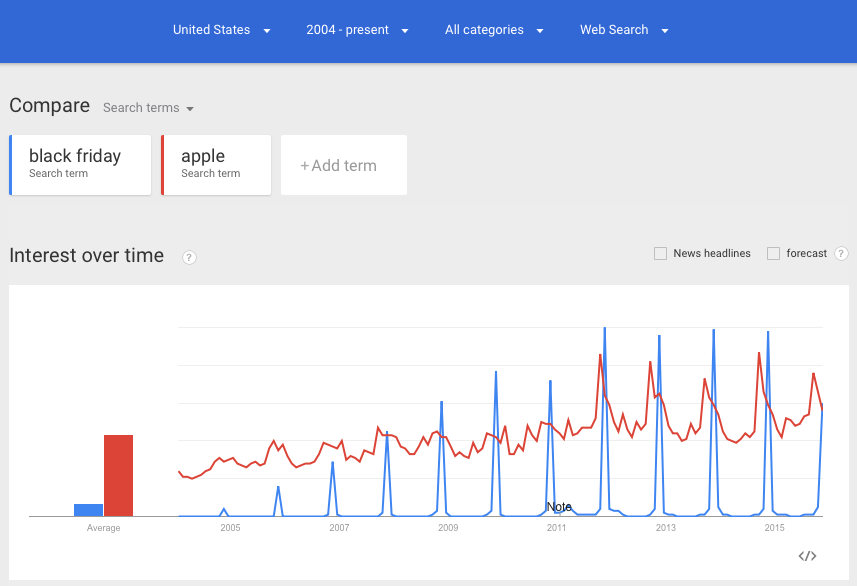 I tried to make my point using as many facts as possible. Though, in the end it, may all come down to some prankster at Google unplugging their servers two weeks before thanksgiving and… that's all.
I hope you liked it and I would be very happy to get your thoughts and opinions on the matter.
Happy Thanksgiving to all who celebrate(d) it.
Quotes:
The QDF solution revolves around determining whether a topic is "hot". If news sites or blog posts are actively writing about a topic, the model figures that it is one for which users are more likely to want current information. The model also examines Google's own stream of billions of search queries.
– Amit Singhal, Google Fellow und Senior VP
SEO Golden Triangle: The middle of the triangle is made up of your own website. The corners make up the three other market participants: Google, your competitors and the users. Your success and your SEO rankings depend on how your website can position itself within this triangle.
– Hanns Kronenberg, SEO and Product Manager at Sistrix
Halloween in United Kingdom – A similar case?
On the same note, a few weeks ago, some SEOs noticed that UK Keywords were behaving in a similar fashion. Looking at the ranking history for two keywords we could argue that a similar effect for Halloween was taking place.