The SISTRIX Toolbox has different alerts available that permit every user to be notified via email or a Slack connection about data changes in the Toolbox. Importantly they can save time on proactive monitoring of you domains and those of your competitors.

How do Alerts help in daily SEO work?
Monitoring is an important part of an SEO process. In many cases you may be checking the Visibility Index weekly and if there are changes you might investigate. But what if there have been important keyword movements within the Top 10, or what if a competitor suddenly ranks for a lot more keywords? By setting up alert notifications carefully you can save time on monotiring and get alerted more quickly.
Types of Alerts in the SISTRIX Toolbox
There are currently four different alerts available. The next section will show you how the alerts work and the functions for which they are used.
Visibility Index
Number of Keywords
Ranking
Marketplace
How to Find Alerts
You can find the alerts as a menu item under "My Account". You can get there by hovering over your profile picture and username but not clicking on it. The menu will open and you can select "alerts". Additionally, you can use the direct URL: https://uk.sistrix.com/account/alerts.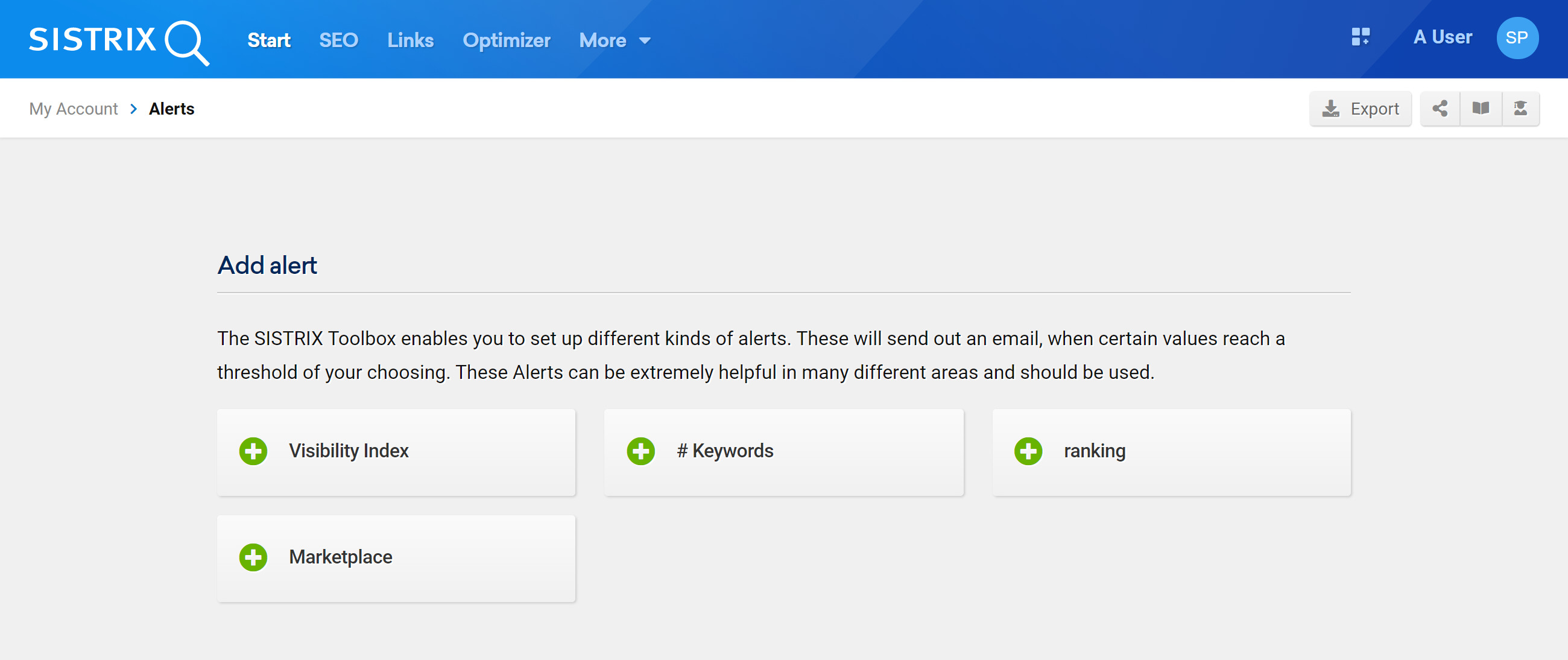 Thanks to the notification function, via email or a Slack connection, you#ll get timely notifications.
Visibility Index
The Visibility Index is the core index that allows you to see shanges in SEO success. Daily changes are normal but larger changes can be due to Google changes, changes on the website or even big changes by a close competitor.
With a simple click on the alert, the corresponding settings are opened. For the Visibility Index, it is important to supply the domain that one wants to monitor. In this example, we use sistrix.com. Note that we attempt to find sensible settings for you (country, amount of change) but you can change these if they don't suit. For example, you may want to change the country.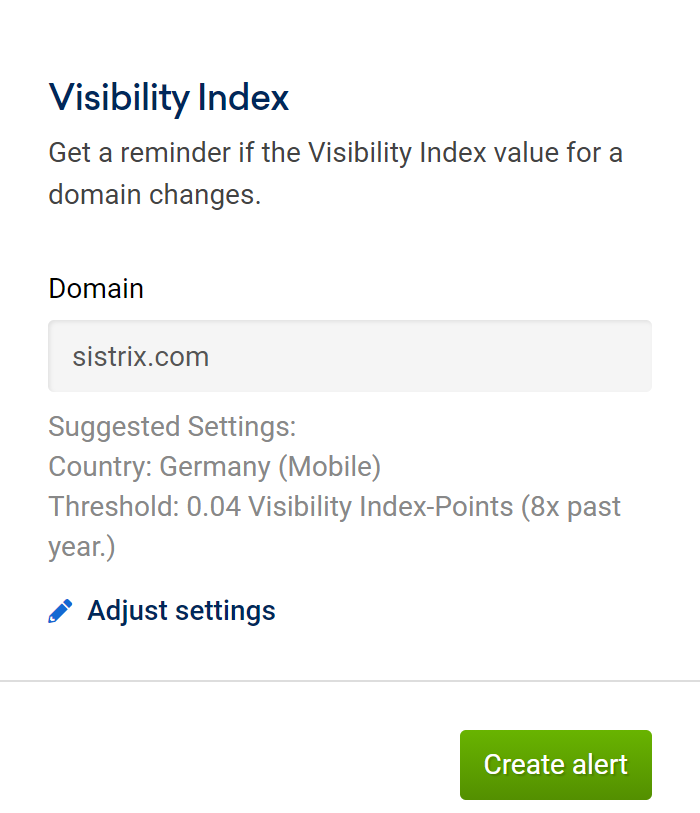 In out case we want to monitor the UK index so we'll use the Adjust Settings option.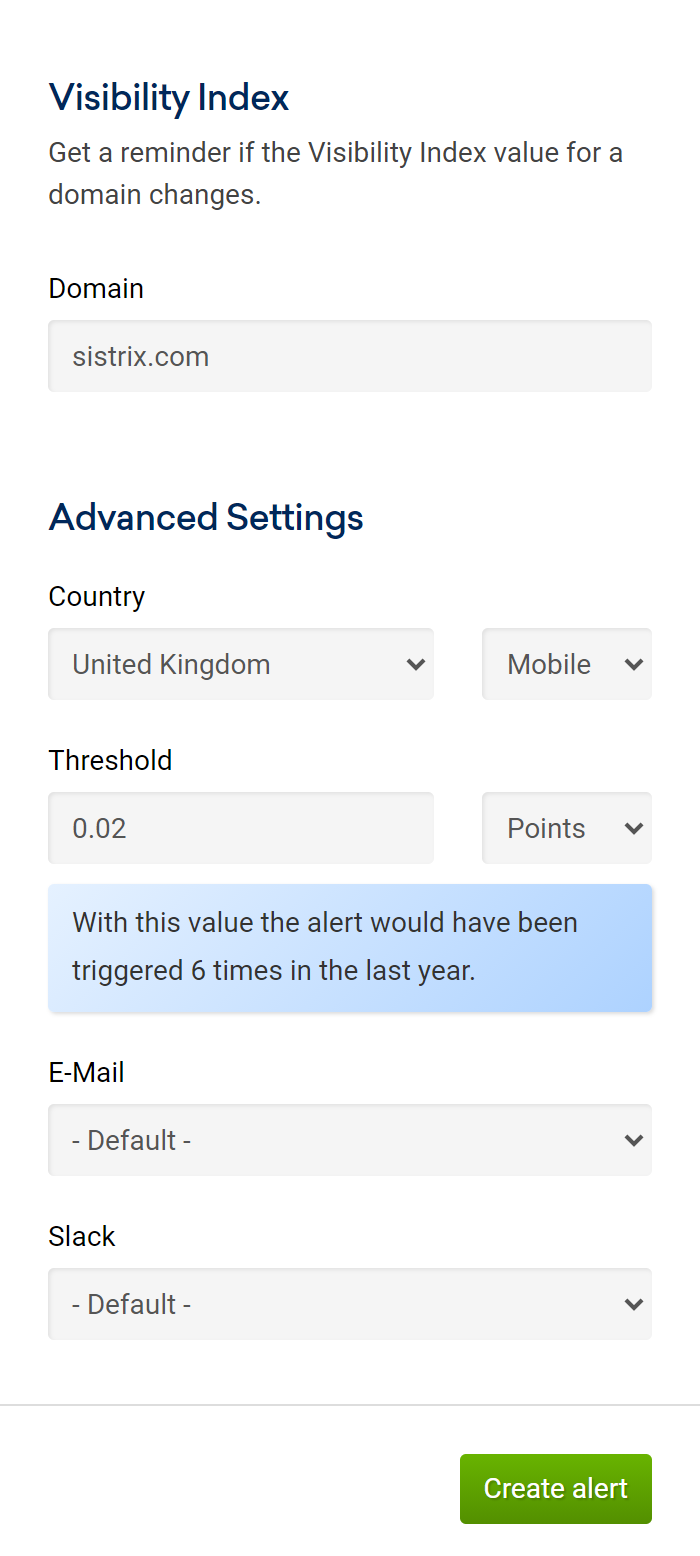 Adjust the values and we'll show you how many times the alert would have been triggered in the last year. You may choose between Points and Percentage and you can also adjust email and Slack connections.
Don't forget to set up your own domain and add a few close competitors too. If they rise in Visibility Index, you want to know that so you can analyse the domain in the Toolbox. Maybe they've added a large amount of content or redirected a domain.
Number of Keywords
The alert for the number of keywords monitors the number of rankings that a domain has in the top 100 on Google for a selected country.
This alert is especially important. If a domain goes down by number of keywords it also means the loss of search phrases. The number only goes down if keywords drop out of the top 100 results on Google.
Tip: If you are closely monitoring competitors, add an alert for their domains too because it could quickly lead you to discovering new business activities, possibly even before they have been announced.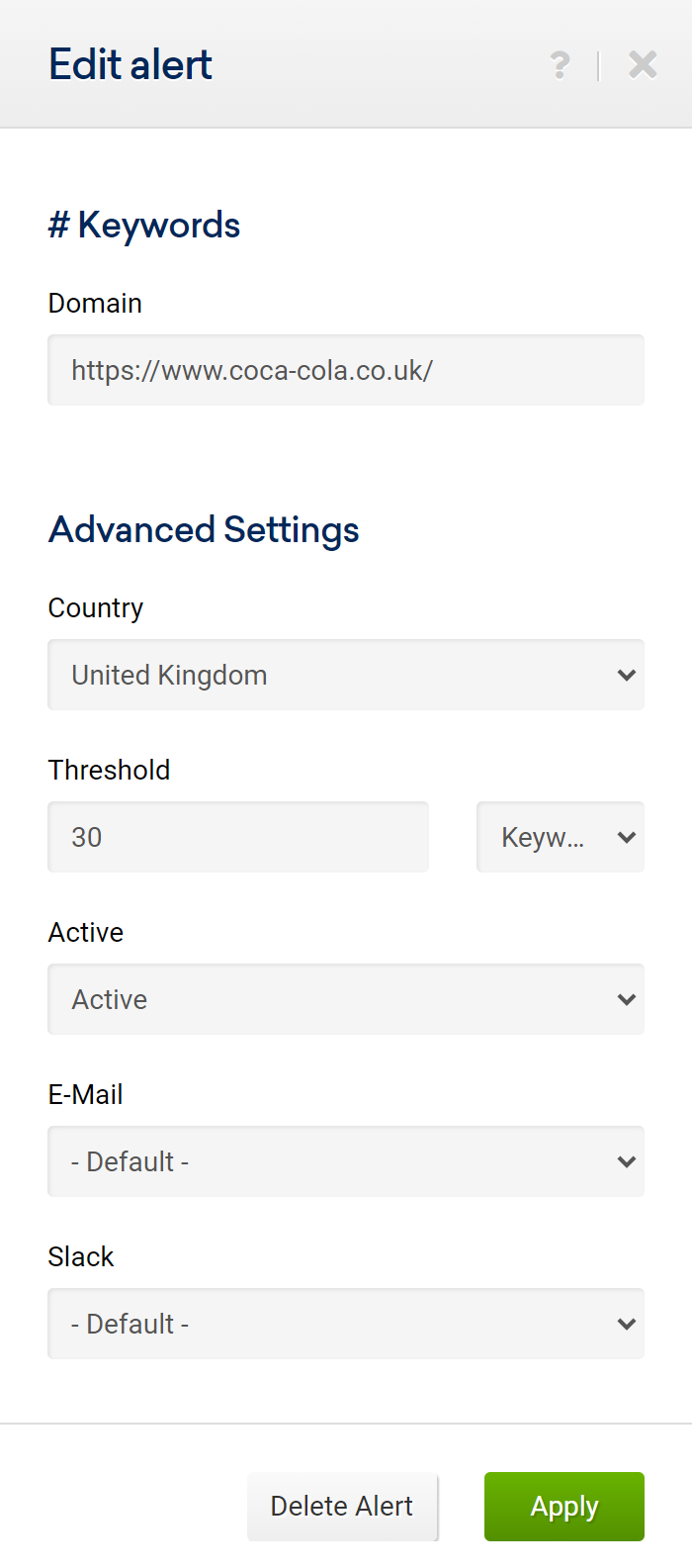 Keyword Ranking
Keyword ranking wil alert you to changes in a keywords ranking for a domain. It can be used to monitor important focus keywords for your domain. Keyword movements withing the Top 10, for example, can have a big impact on the click rates.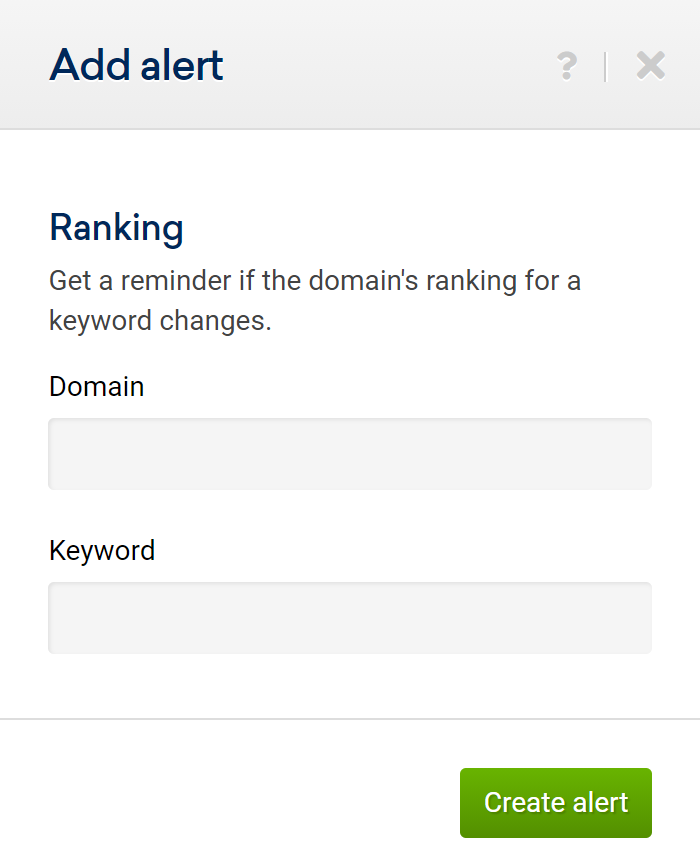 The configuration window is seen on the right hand side and requires a minimum of domain and keyword to be entered. Once that is done you will see an option for advance settings. We will try to choose sensible settings based on existing rankings but they can be changed here if you wish.

Marketplace
Marketplace alerts are available. Currently these allow you to track product reviews for an ASIN or a brand on Amazon. As this product is currently in Beta (Nov 2020) these are subject to change.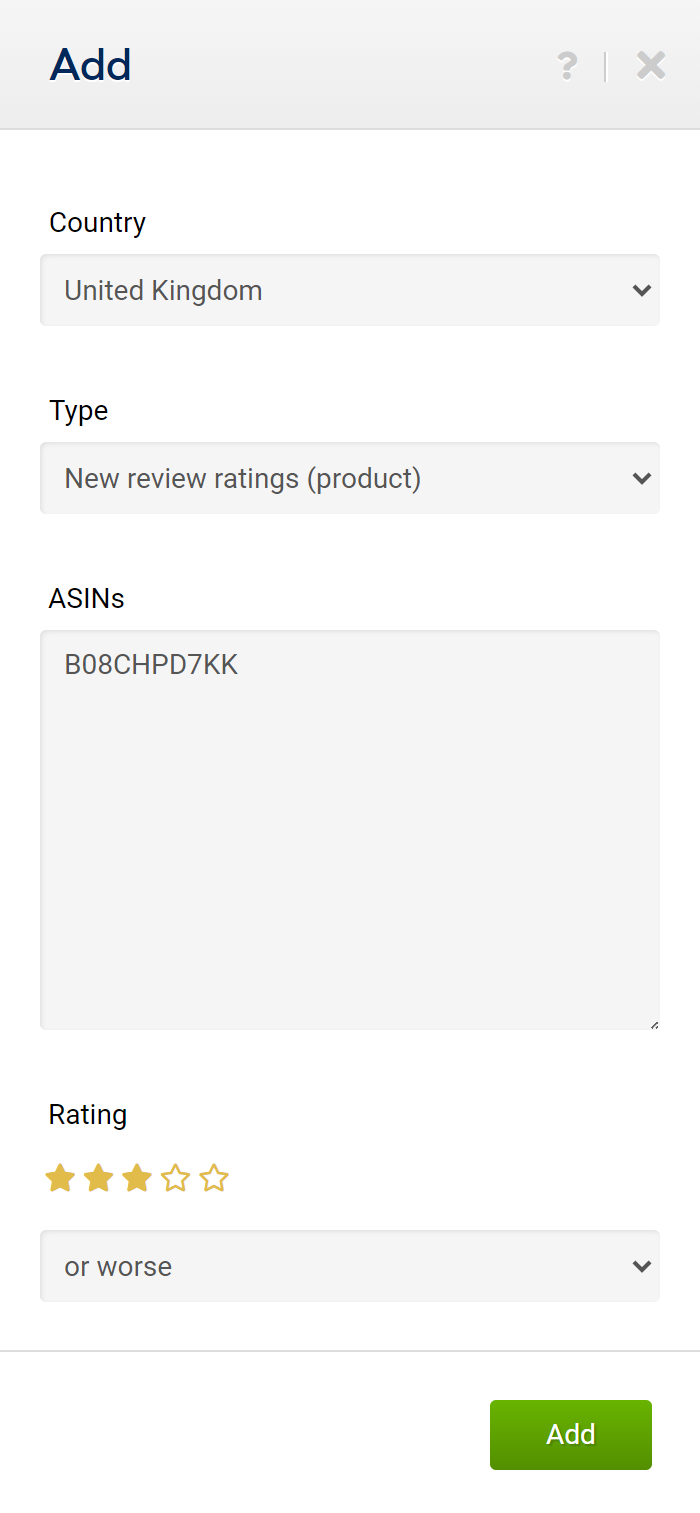 To be alerted of reviews for a particular product, simply select the Amazon marketplace country and enter the ASIN (or ASINs) in the field as shown above.
Existing Alerts
All alerts already set up are available in the overview page. There you can also edit or delete every alert. In the settings you can also decide on the interval for emails for all alerts. Daily, weekly and monthly notifications are available and you may also pause the email alerts.
Conclusion
It is important to remain up to date about notifications (alerts). Every user of the SISTRIX Toolbox should use alerts for their domains. You cannot manually monitor all the data for your domain, but it can harm your business when, for example, the domain loses rankings without you noticing. The examples above were supposed to show you how easy it is to set up and configure alerts. Alerts are an important early warning system for both positive and negative aspects of your domains and those of your competitors.