The report below shows examples of travel content that is both successful, and rising in visibility which will help you to prepare your future travel content and give it the best opportunity to win in Google Search. 25 content 'hubs' are listed along with detailed analysis of examples. This research is part of the Visibility Leaders project – Travel 2023 Edition.
In recent years, the travel industry has experienced its fair share of turbulence. It was one of the worst affected sectors during the pandemic; facing an approximate. 62% global revenue loss within a year. As a result of this, some of our beloved brands went under, and others had to make serious cutbacks.
As we reflect on the visibility data, we can see that many of the sector's survivors have bounced back! In fact, a recent report from the Economist Intelligence Unit (EIU) has estimated that global tourism arrivals will increase by 30% in 2023. This is further to the 60% increase confirmed in 2022.
Methodology
We extracted the Visibility Index data for high-performing content formats (HPCFs). These HPCFs primarily target "know" & "do" keyword intents. From these insights, we've established which travel brands UK Google is loving most.
We've identified HPCF examples across sites of varying sizes; delving into why they have achieved so much organic prominence between 25th March 2022 & 24th March 2023.
Please note: SISTRIX's Visibility Index (VI) scores do not consider external influences, such as seasonality.
Travel Guides: Lonely Planet ("Know" Intent)
Lonelyplanet.com is an online travel resource providing information and inspiration for wanderlusters. Year on year, its "/lebanon" directory has seen a 484.4% increase in Google visibility.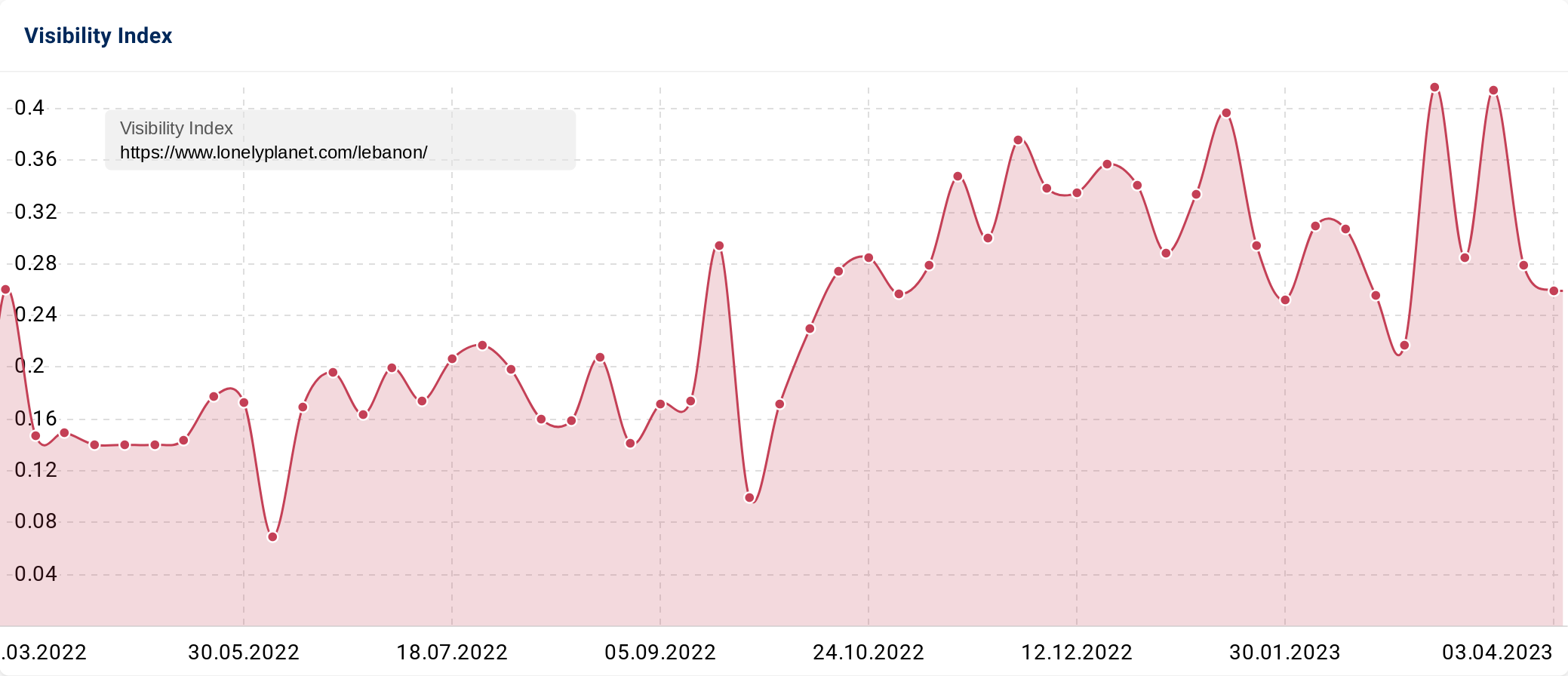 Although the Lebanon directory is a small contributor to the domain's high Visibility Index Score, it has seen phenomenal growth. Since March 2022, it has gained 0.34 VI points (increasing from 0.07 to 0.41).
Over the last 12 months, Lebanon destination pages have experienced performance peaks, including South of Beirut and Central Lebanon.
However, from delving into the keyword data, we can see ranking wins across a multitude of pages. These include ranking increases for 83 existing keywords, including competitive terms such as "Beirut" (+4 to position 5) and "Bekah Valley" (+5 to position 2). The section has also started ranking for 19 extra keywords.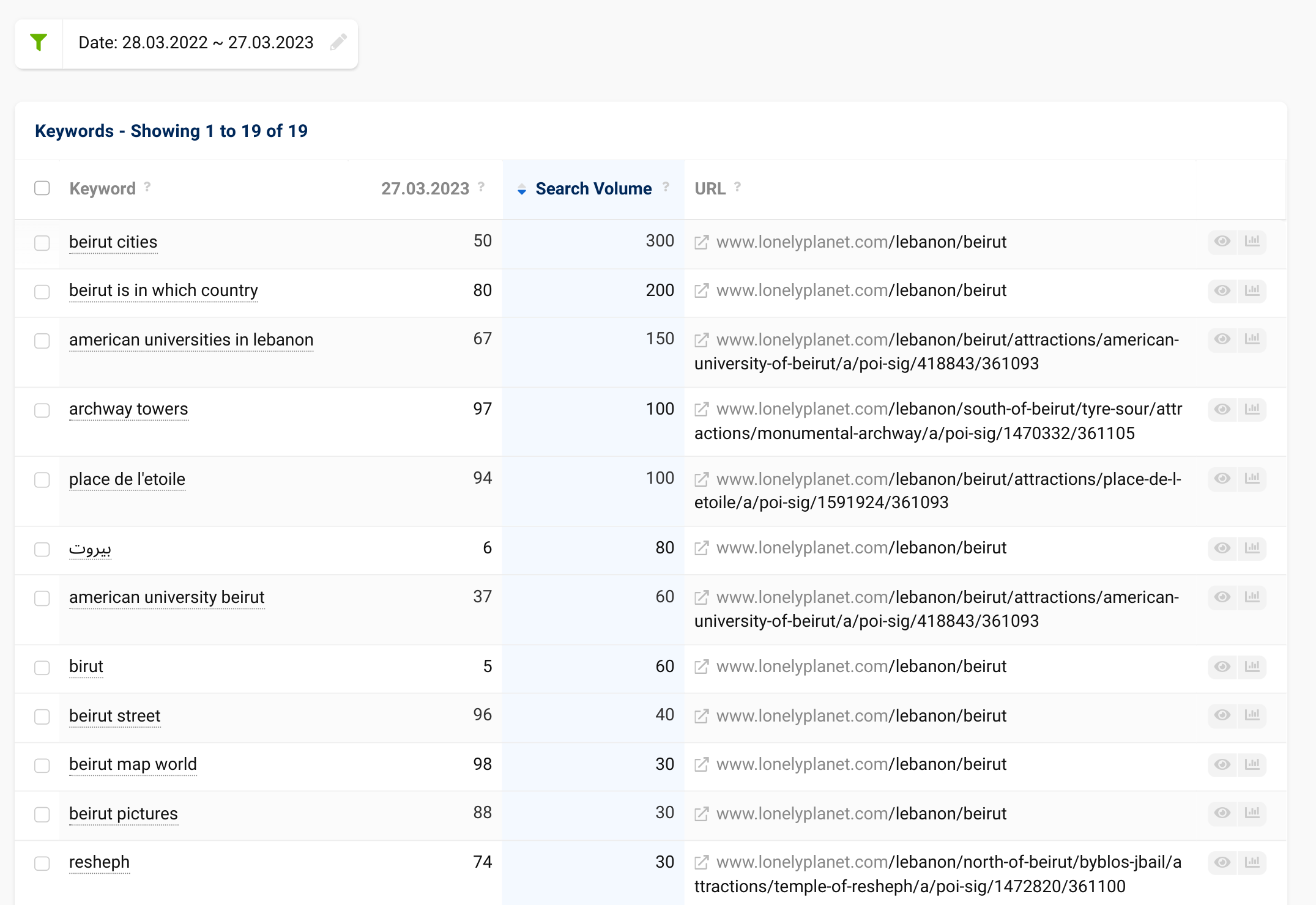 Analysing the main Lebanon page data from April 2022 reveals that it has undergone a rework from both a design and content perspective. The page now provides a stronger user journey, with text anchors to different page sections including "Must see experiences" and "Books & Guides". In addition, a new section has also been created for "Explore Lebanon". This includes a map visual highlighting the country's top attractions. The subpages, including Tripoli and Qadish Valley, have also been recipients of this upgrade.
Tour Operators: Jet2Holidays ("Know" & "Do" Intents)
Tour operators package all elements of a holiday; controlling, booking and devising whole trips for their customers.
It has been a double victory for Jet2Holidays, with their /city-breaks and /canary-islands sections having experienced prominent improvements.
Jet2holidays.com is the UK's second-largest tour operator, specialising in all-inclusive and package holidays. Beneath their company umbrella, they have a number of brands covering different budgets and realms of the market, including European villa holidays (Jet2Villas) and Indulgent Escapes (luxury European holidays).
City Breaks ("Do" Intent)
The "/city-breaks" subfolder offers escapes to European cities such as Paris, Budapest & Vienna, and is the home of Jet2CityBreaks.
Since March 2022, the subfolder has seen a 141.4% rise in organic search visibility. Despite residing on the root domain, Jet2CityBreaks functions like an independent site. It has its own homepage and bespoke search functionality which only includes the brand's focal destinations.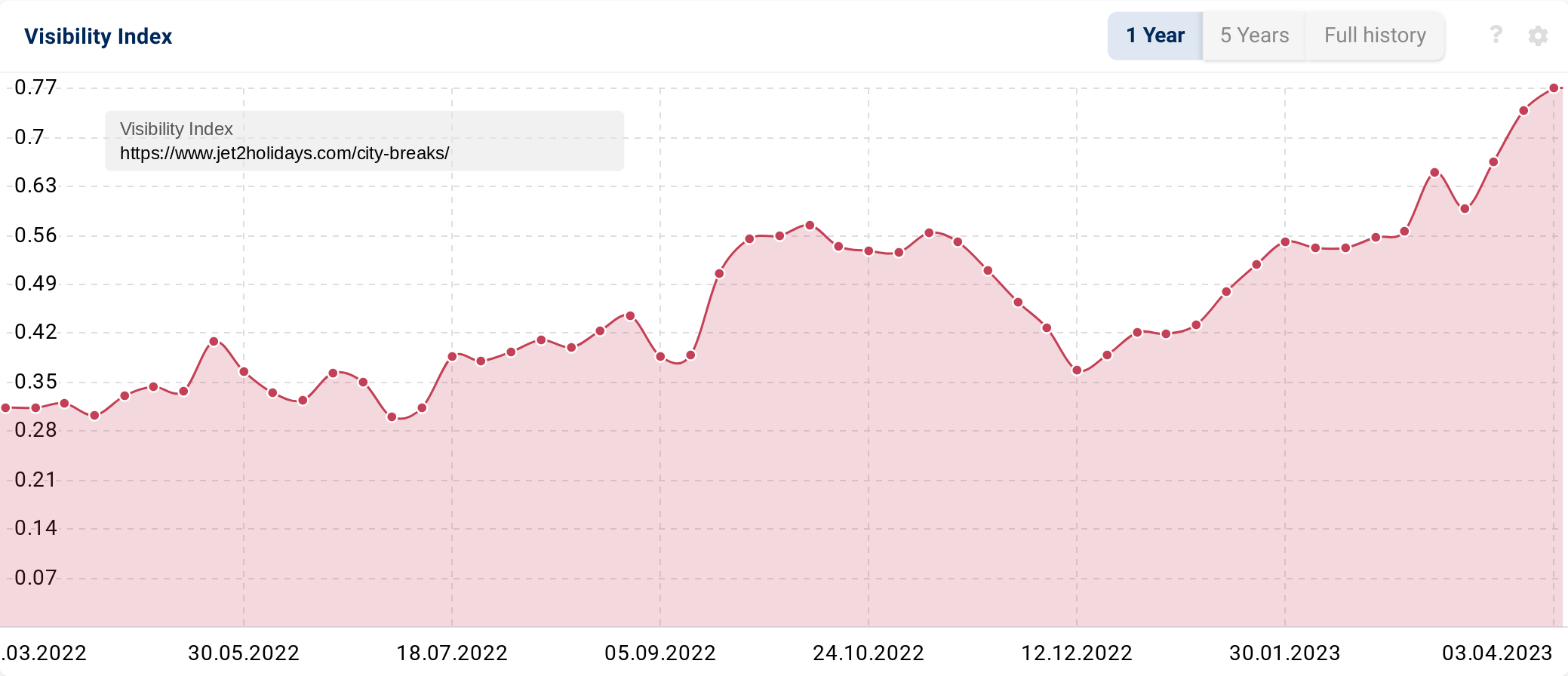 A closer inspection of performance confirms that country-specific "/destinations" sections have achieved the most growth, notably for Italy, France and the Czech Republic.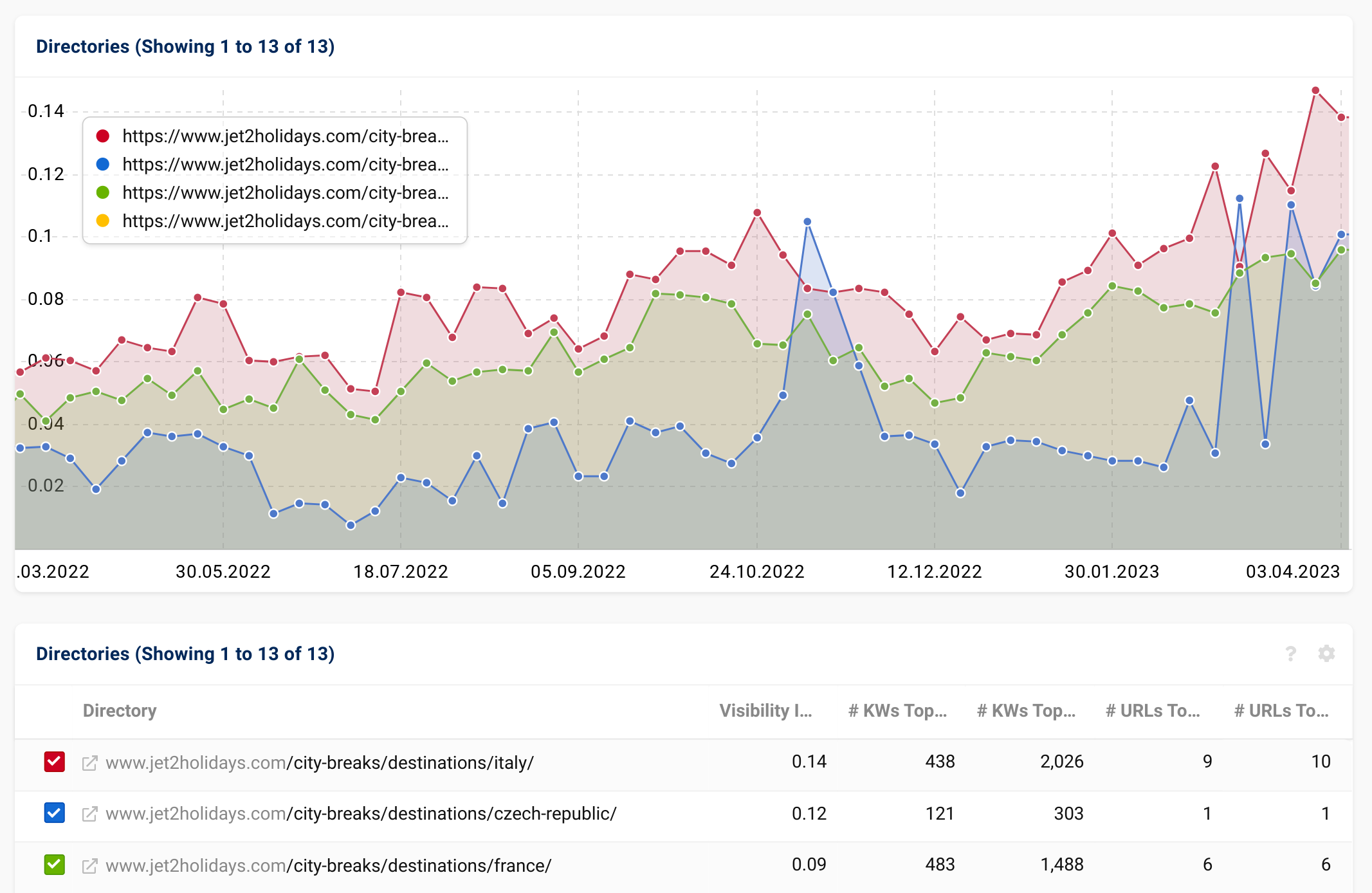 Over a year, the Italy destination pages alone have seen an impressive increase of 155.8% (from 0.0575 to 0.1471 VI points).
Like lonelyplanet.com, Jet2CityBreaks has acquired higher rankings for competitive keywords, such as "Rome city breaks", "Venice breaks" and "Verona holidays". Jet2holidays.com already ranked for many of these in the top 20 organic positions but did not hold the top spots.
Across all "/city-breaks/destinations/" pages, 14% of keywords rank in positions 1 to 10, with 9% in the top 5.
Canary Islands ("Know" Intent)
The second high-performing area is the Canary Islands section. "/canary-islands" is its own subfolder on the overarching domain. Year on year, its Google SERP prominence rose by 44.2%.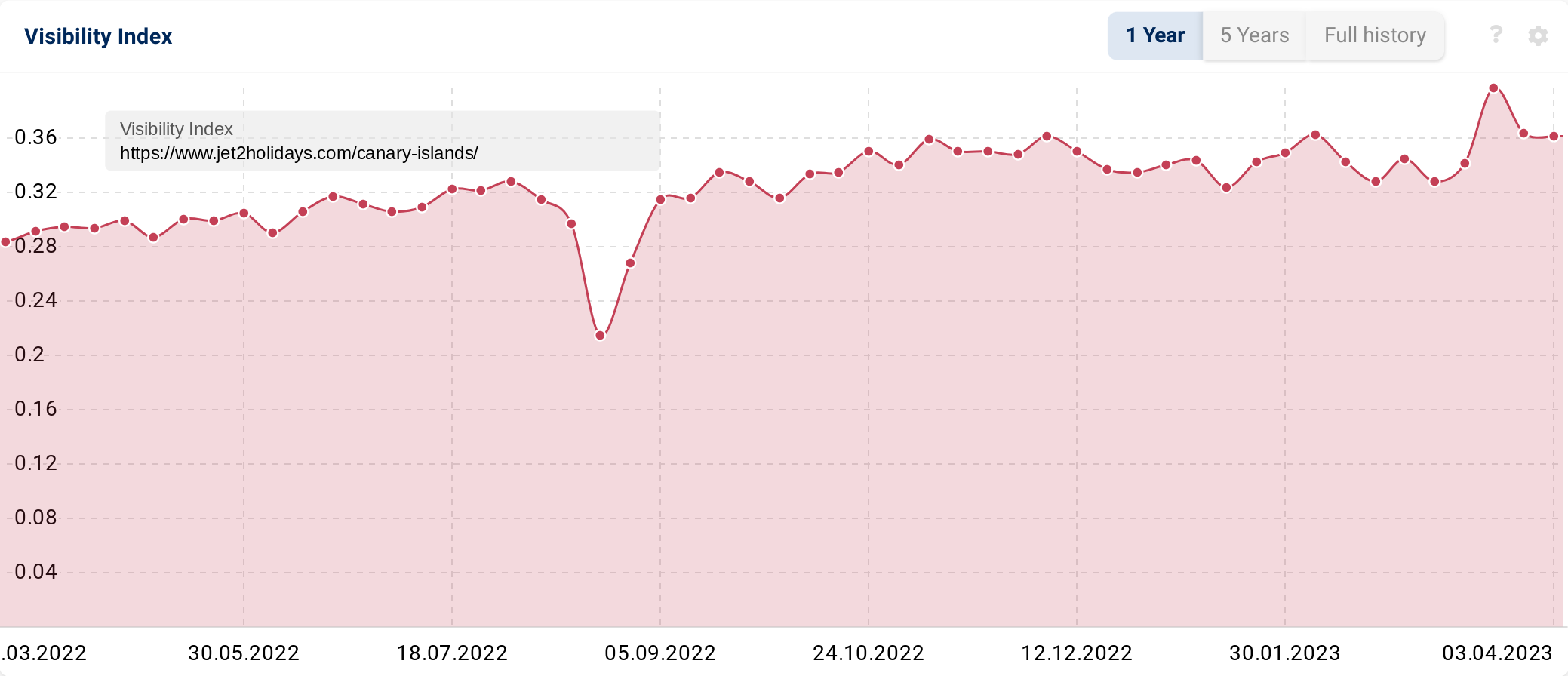 These destination pages, curated for more affordable holiday package deals, are similar to those on Jet2CityBreaks, but do have some slight design differences.
For example, the region and city level pages on "/canary-islands" display all the package offers higher up, whereas on, for example, "city-breaks/destinations/malaga", fewer package options are displayed, and there is more informational content is prioritised. This is a strong indicator that page intent isn't simply determined by keywords and sentences, but also their location.
Jet2Holidays Destination Page: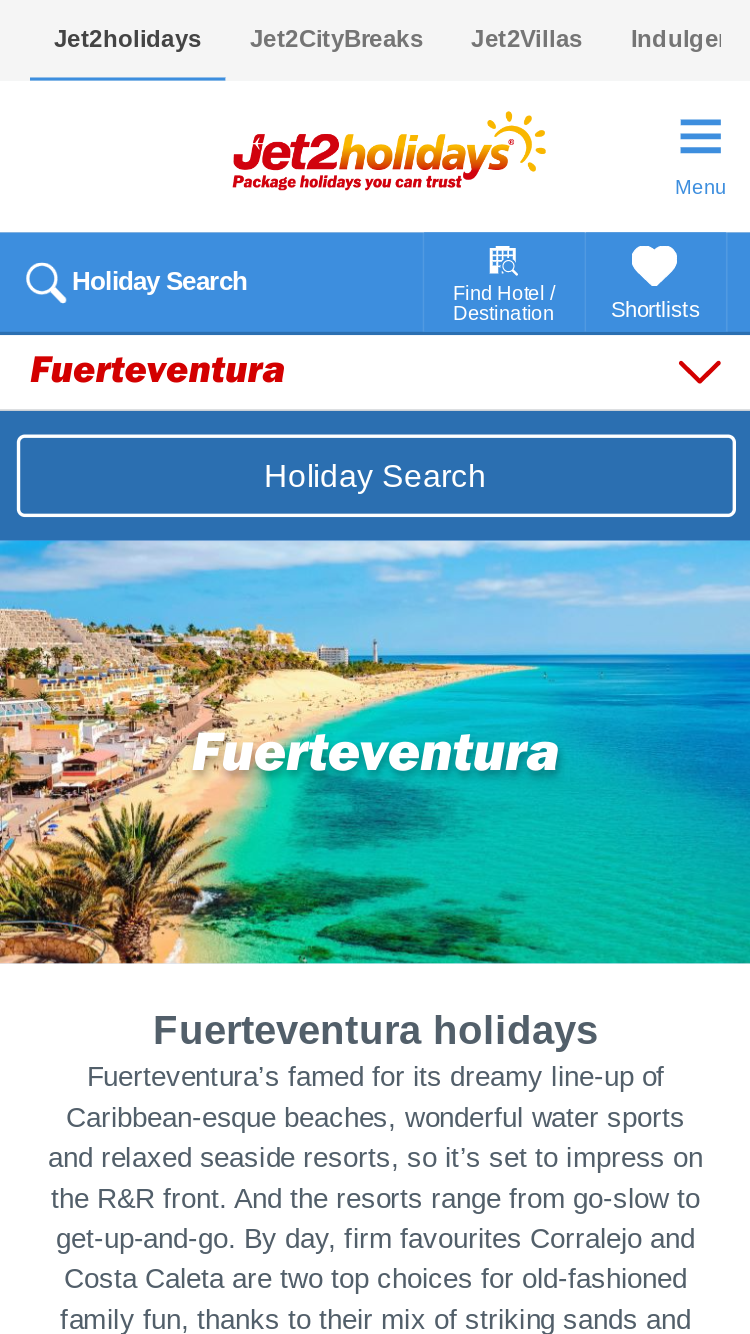 Out of all the Canary Island destination sub-pages, Tenerife has seen the most significant visibility growth over time (+47.2% compared to March 2022; from 0.1349 to 0.1987). Over the last 12 months, the ranking distribution across the section has shifted.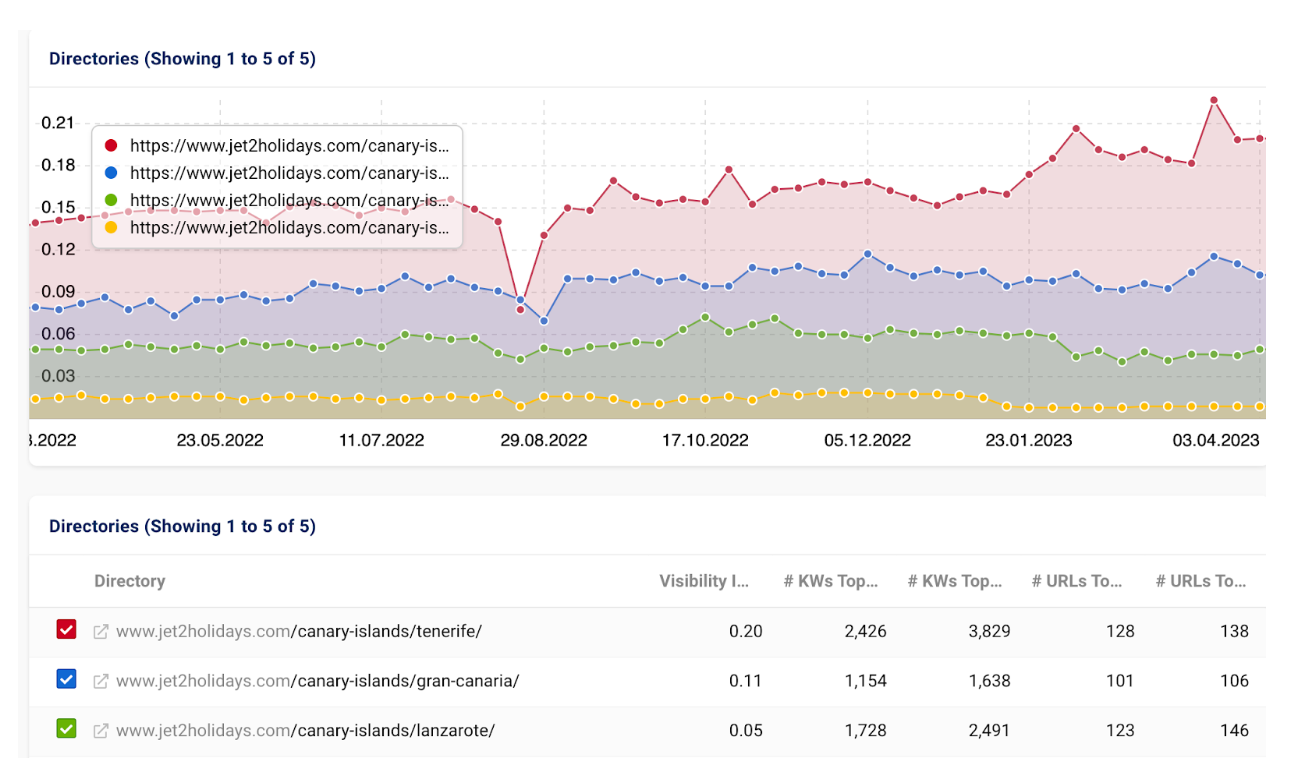 In April 2022, 36% of target keywords ranked on Page 1, 11% on Page 5 and 9% on both Pages 8 & 9.
Based on the evening of keyword distribution across Pages 1 to 10, it is apparent that Jet2Holidays has been making a conscious effort to tip the lower-lying rankings into more prominent ranking positions.
Across the "/canary-islands" section more broadly, the shifts are even more evident, with Page 1 rankings seeing the most substantial increase (from 33% to 38%). As of March 2023, 4,001 keywords (26%) are ranking in the top 5 positions.
Travel Agency: Newmarket Holidays ("Know" Intent)
Unlike tour operators who provide all elements of a package, travel agencies are the middle-man between customers and air/sea, land & ancillary product providers. They make and manage bookings and travel arrangements on the consumer's behalf.
Compared to March 2022, the Google search visibility of newmarketholidays.com's "/holiday-types" subfolder has increased by approx. 108.9%.
Newmarket Holidays is a travel agency with 40 years of sector experience. They provide a diverse range of holiday types to accommodate different customers, including cruises (river & sea), rail holidays and more conventional single and multi-centre destination holidays.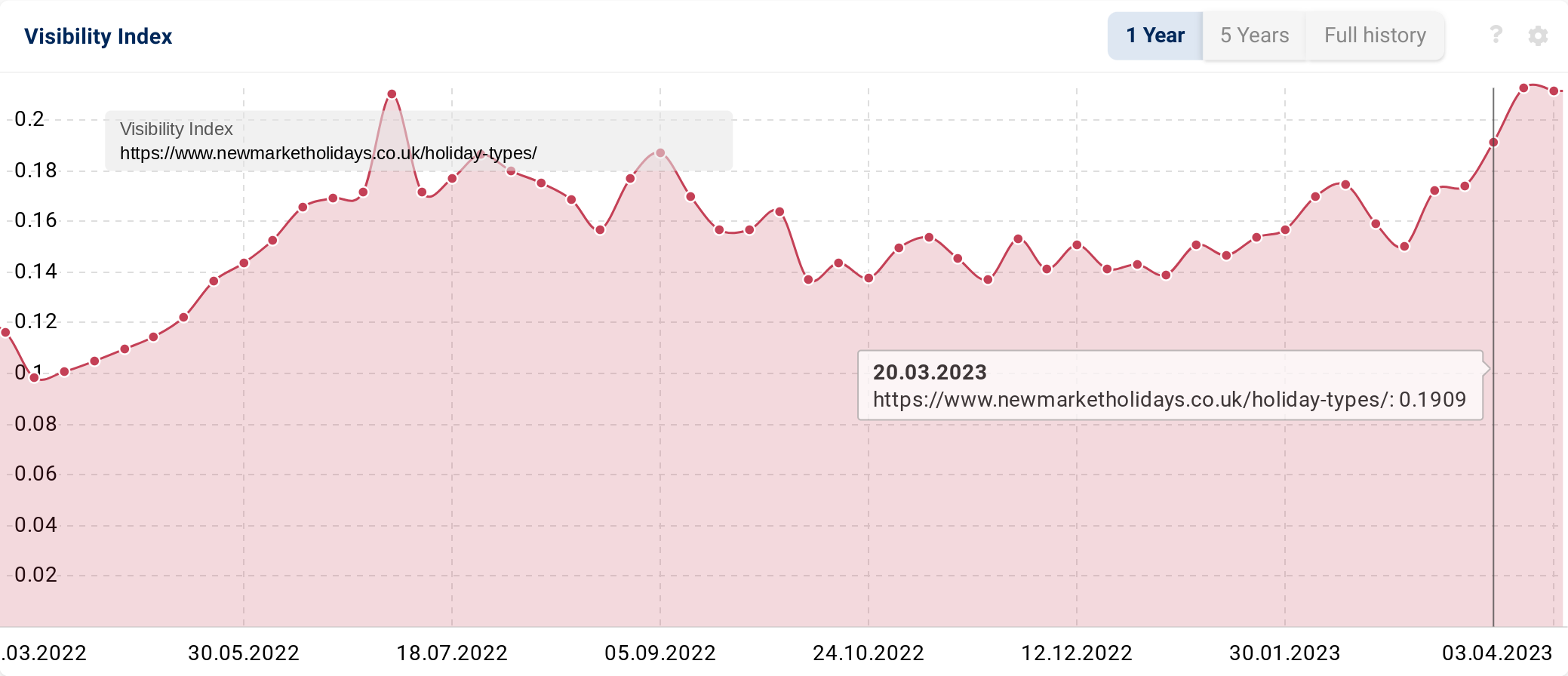 Although newmarketholidays.com appeared to go live as we know it back in 2006, our Visibility Index data only shows data from May 2019 onwards. This suggests that SEO – like for many other businesses – has not always been at the forefront of their digital strategy.
Despite this, from March 2022 to March 2023, their domain visibility has gone from strength to strength (+53%). So how exactly have they improved their visibility for "/holiday-types"?
Historical page data indicates that this particular section was introduced around April 2020, in recent years, the naming conventions of existing holiday types have been changed and new holiday types introduced altogether, including Wildlife Holidays & City Breaks.
Sometime between late 2021 and early 2023, the website underwent a redesign. Whilst the core Holiday Type page content and section structure did not change, the overall design has been modernised, and a Trustpilot review carousel has been integrated to maximise brand credibility and expertise.
Showcasing service reviews will certainly have helped bolster E-E-A-T, and it is likely that technical SEO changes were made which, consequently, enhanced page speed.
Analysing their technology profile reveals that their site is built on Umbraco. In the league of Content Management Systems (CMS), Umbraco provides a lot of technical flexibility which is ideal for SEO. Additionally, New Market Holidays also utilises Cloudflare CDN (Content Display Network) for fast loading times.
Airlines: United ("Do" Intent)
Headquartered in Chicago, United Airlines is one of the main air carriers in North America, operating both domestic and international flights.
Based on historic Visibility Index data, it seems that United rolled out their international SEO strategy in April 2019, starting with English-speaking countries. Gradually, over the years that followed, they continued expanding the website to accommodate different language versions.
However, over the last year, the "/en-gb" subfolder has experienced its fastest visibility growth across both mobile & desktop devices, which are equally important for the keywords ranking in this directory (+0.06 VI points / +102.2% on mobile).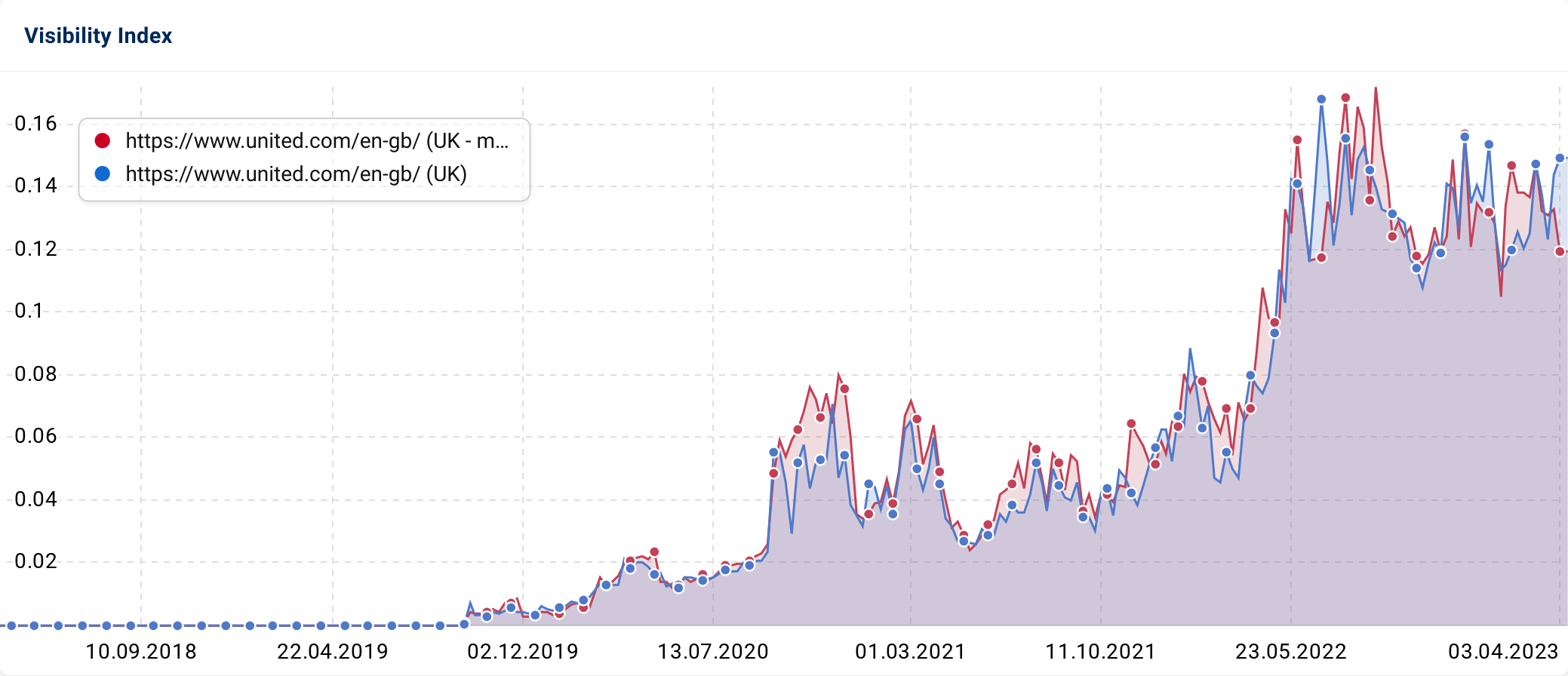 When reviewing the website's code for Hreflang, we also discovered that, like many enterprise brands, United Airlines is now utilising Edge SEO to optimise site speed and improve workflow efficiency and scalability.
Although it is difficult to pinpoint exactly when United adopted Akamai, it is clear that its adoption is not only improving time and resources but also reducing carbon footprint. With climate change being an ongoing, controversial topic worldwide and the aviation industry reportedly contributing up to 3.5% of global carbon emissions, the decision to utilise Edge SEO demonstrates a commitment to minimise a negative impact on the environment.
Anyway…back to website internationalisation! Injecting code into the website via Edge/CDN applications, including Hreflang markup, is going to be much more lightweight than incorporating directly into HTML pages.
Typical implementation approaches to Hreflang would be to only implement across core pages to reduce undesirable implications on page loading times. Is it possible that the low-impact nature of Edge has allowed Hreflang to be scaled across all pages, enhancing international SEO hints and allowing the "/en-gb" subfolder to overtake its "/en-us" counterpart?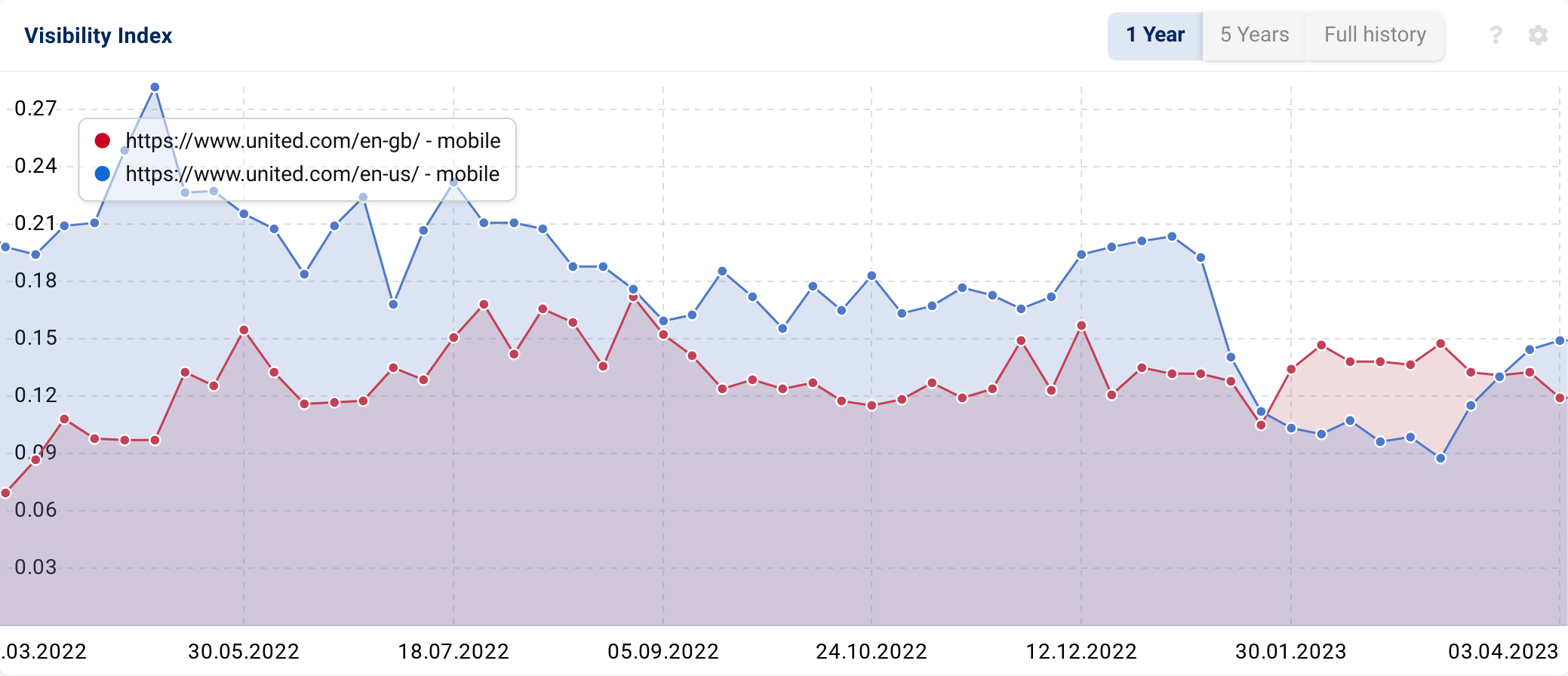 Accommodation: Holiday Lettings ("Do" Intent)
Year on year, holidaylettings.co.uk has seen a 33.7% organic visibility influx for their "/villas-with-pools" section.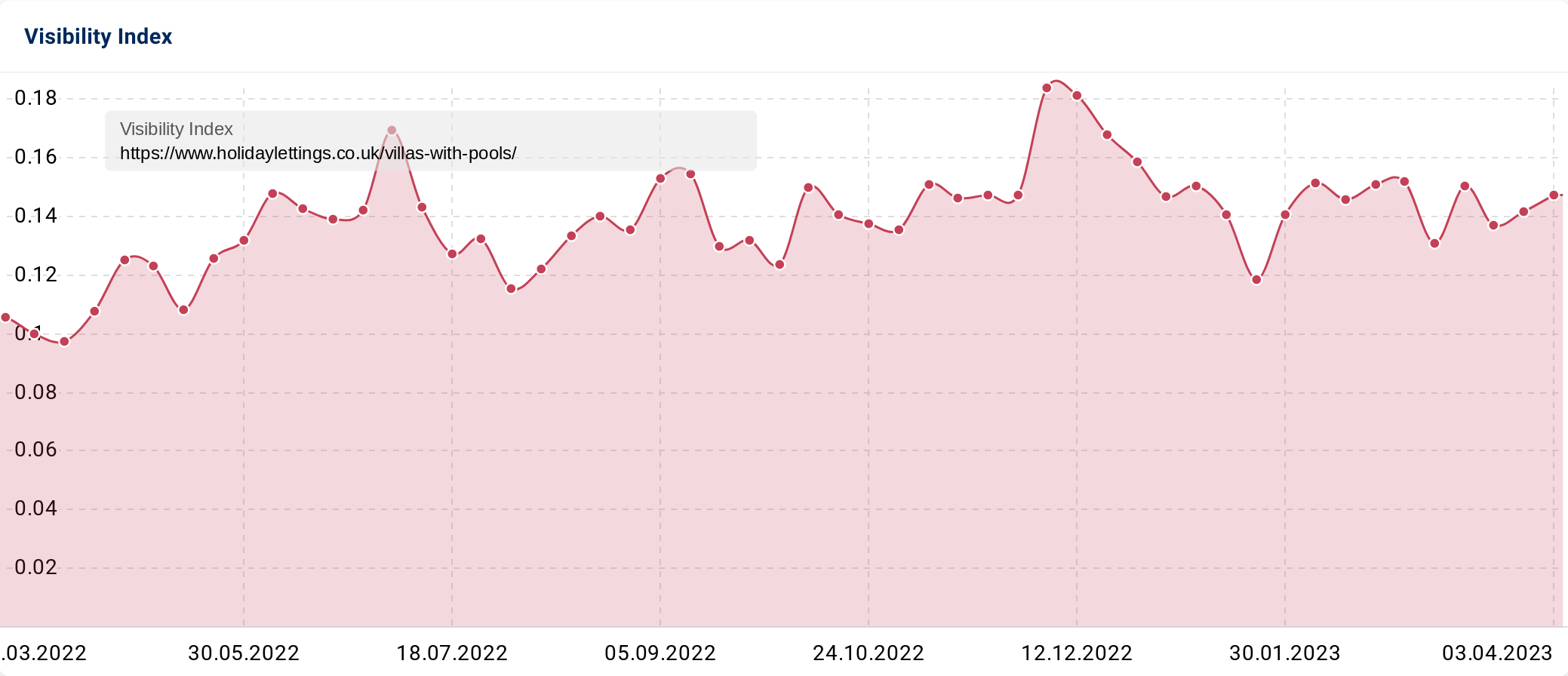 Holiday Lettings advertise privately-owned holiday properties worldwide; from London apartments to Mauritian villas. Like Newmarket Holidays, they've been trading since the early 2000s but were latecomers to SEO.
Despite this, they have been embracing the power of organic search since 2015. Since September of that year, "villas-with-pools" have sustained a reasonable level of visibility. However, the subfolder did experience a notable downward trajectory, initiated by the May 2020 Update.
Since March 2022, there has been a gradual improvement. The visibility levels seen in March 2023 are similar to those in June 2020; before the December Core Update struck and added further insult to injury(!). Whilst there is still more organic ground to recover, they've certainly put time and effort into their strategy more recently.
One element of our investigation that was particularly fascinating was their ranking distribution. In early April 2022, "villas-with-pools" only ranked for competitive keywords on specific SERPs. 77% of the section's target keywords were ranking on Page 1, 15% on Page 2 and 4% on both Pages 8 & 9.
It is very unusual for a site not to rank for terms across every page within the first 10 pages, even if a low quantity. This suggests that many of the keywords potentially ranking from Pages 3 to 7 are less competitive/lower volume long-tail keywords.
Based on the structure, look and content of the main "/villas-with-pools" page and the linked property-level pages remaining virtually the same over the last 2 years, Holiday Lettings' more recent visibility victory could be related to some or a combination of the following: an expanded property portfolio (+96 more keyword rankings vs March 2022), technical SEO efficiencies, a healthier backlink profile or even an increase in target keyword relevance (position have improved for 245 keywords YoY).
Regardless, as a result of strategic changes or pure luck, the "/villas-with-pools" section's share of competitive target keywords on Page 1 has increased to 82% (+5 YoY).
Experiences: Worldpackers ("Know" Intent)
Worldpackers.com is an online platform for those seeking more meaningful experiences abroad. It is a go-to website for work exchange programmes, volunteer projects and gap year travel, offering opportunities in over 100 countries across the globe.
Since March 2022, Worldpackers' "/search" subfolder has seen a notable increase in organic visibility, with the subfolder's VI points rising from 0.07 to 0.016 (+127.8%).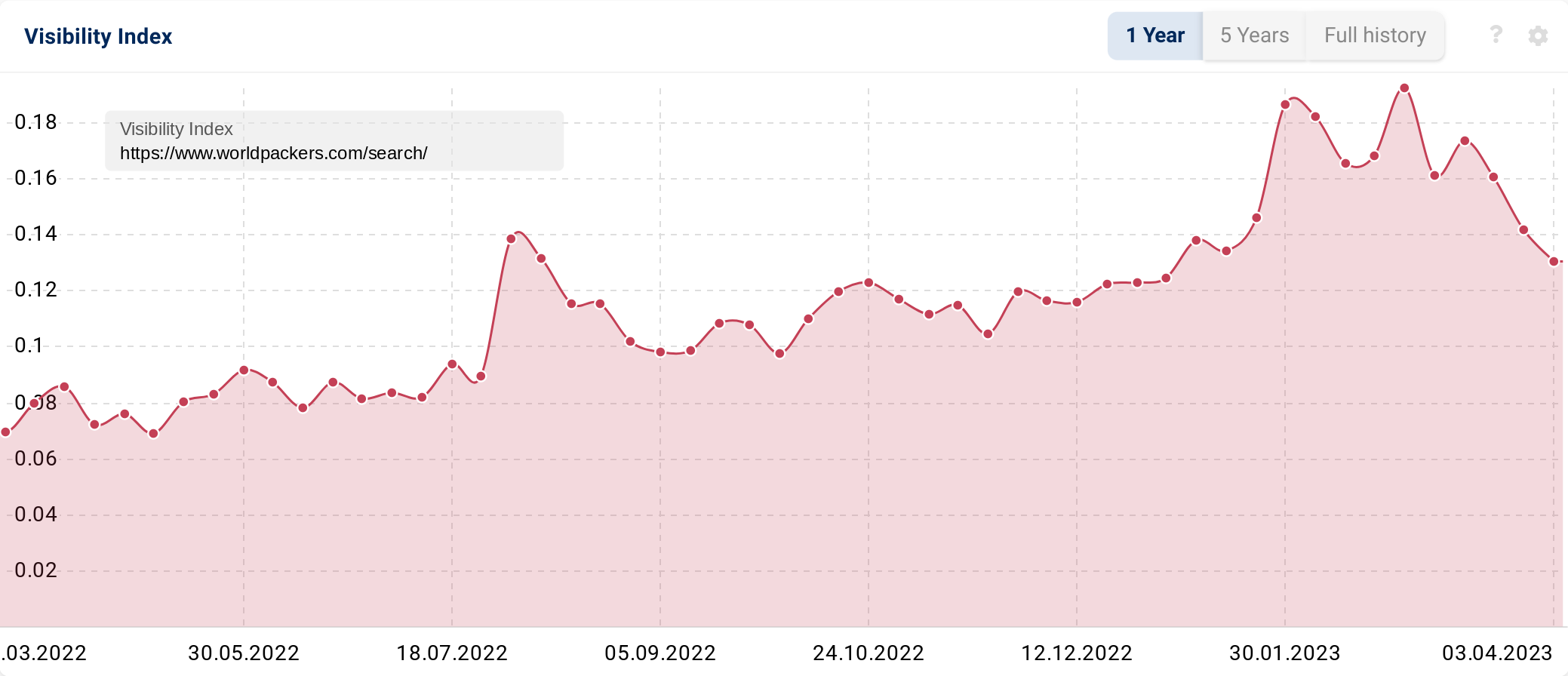 This particular area of the website houses all the experience pages, with the "/search" including different facets and filters to refine experiences based on the user's preference, including "By Destination", "By Program Type" & "By Purpose".
The subpages within "/search" are a combination of pages that align with the selectable options, specifically regions, experiences, skillsets (e.g. teaching, web development) and travel durations.
In the last year, the regional sections have seen significant growth, particularly Asia (+69.5% YoY) and North America (+19.5% YoY).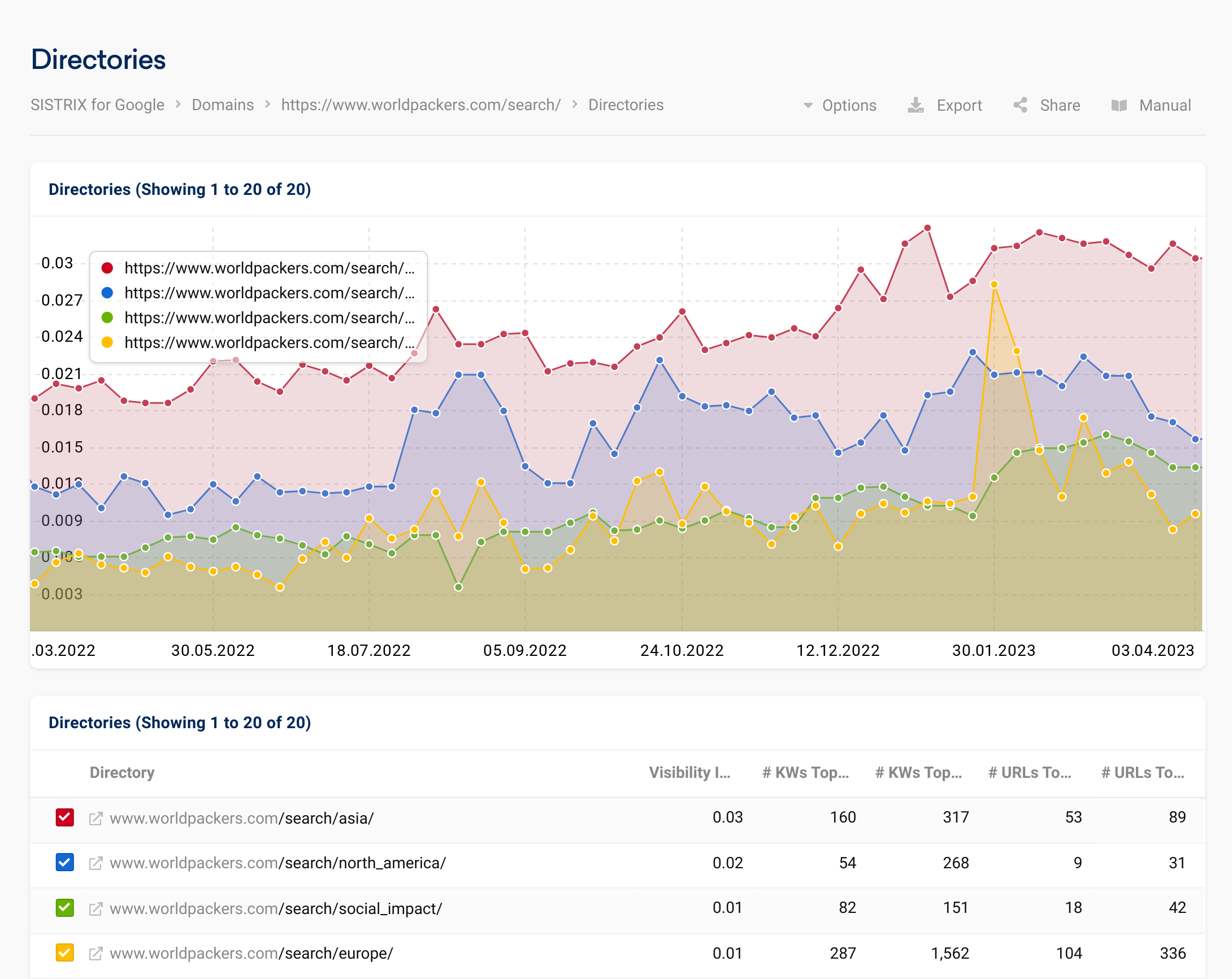 Interestingly, when we delve deeper into the visibility data for Asia, the only destination subpage that has visibility for competitive queries over time is South Korea.
Reviewing the historical visibility for North American pages has also highlighted dramatic fluctuations in rankings over time, inclusive of major drop-offs week on week. However, over the last 12 months, like the Asia subsection, only 1 destination subpage has been ranking for the most searched travel terms.
Inspecting the overall ranking distribution across "/search" does indicate that holidaylettings.co.uk have identified keyword opportunities on the cusp of the top 3 pages and has optimised accordingly (Page 1 to 3 rankings put by 15% compared to March 2022).
Perhaps it is just a case that they are missing the mark from a content and intent perspective for specific destinations? Hence why certain pages don't rank competitively and those that do, do so intermittently.
Table: 25 High Performance Content Directories
Listed below are the top 25 rising content directories, by percentage, listed with the primary intent.
Visibility Leaders Rising Content - Travel 2023
Path
Path VI
March 2022
Path VI
March 2023
Percent change
Dominant Intent
SISTRIX Link
https://uk.trip.com/flights/
0.30
1.81
508.98%
Do
To SISTRIX
https://www.lonelyplanet.com/lebanon/
0.07
0.41
484.04%
Know
To SISTRIX
https://www.icelolly.com/holidays/
0.13
0.66
398.27%
Do
To SISTRIX
https://www.skyscanner.com/routes/
0.05
0.24
359.46%
Do
To SISTRIX
https://www.getyourguide.co.uk/london-l57/
0.03
0.13
306.45%
Mixed
To SISTRIX
https://www.expedia.co.uk/lp/
0.59
1.48
152.10%
Do
To SISTRIX
https://www.jet2holidays.com/city-breaks/
0.31
0.74
141.40%
Do
To SISTRIX
https://travel.gc.ca/destinations/
0.26
0.62
141.38%
Know
To SISTRIX
https://tourscanner.com/blog/
0.26
0.63
137.18%
Mixed
To SISTRIX
https://www.worldpackers.com/search/
0.07
0.16
127.84%
Know
To SISTRIX
https://flights.virginatlantic.com/en-gb/
0.14
0.31
118.78%
Do
To SISTRIX
https://www.newmarketholidays.co.uk/holiday-types/
0.09
0.19
108.86%
Mixed
To SISTRIX
https://www.postoffice.co.uk/postage-finder/
0.42
0.87
108.29%
Know
To SISTRIX
https://theplanetd.com/wonders-of-the-world/
0.08
0.17
107.67%
Know
To SISTRIX
https://www.parkdeanresorts.co.uk/offers/
0.18
0.38
105.52%
Do
To SISTRIX
https://www.united.com/en-gb/
0.07
0.13
102.29%
Do
To SISTRIX
https://www.trailfinders.com/tours/
0.81
1.61
100.24%
Know
To SISTRIX
https://www.roughguides.com/usa/
0.17
0.33
93.74%
Know
To SISTRIX
https://www.secretescapes.com/spa/
0.12
0.22
82.35%
Do
To SISTRIX
https://www.nomadicmatt.com/travel-guides/
0.95
1.69
78.47%
Mixed
To SISTRIX
https://www.haystravel.co.uk/destinations/
0.48
0.85
77.75%
Mixed
To SISTRIX
https://www.onthebeach.co.uk/holidays/
2.25
3.96
76.38%
Do
To SISTRIX
https://www.kuoni.co.uk/honeymoons/
0.25
0.43
73.22%
Mixed
To SISTRIX
https://www.tourradar.com/g/
0.15
0.26
66.47%
Know
To SISTRIX
https://www.aa.com/booking/
0.13
0.21
65.87%
Do
To SISTRIX
Conclusion and Expert Tips
Across all elements of the travel industry, brands have achieved amazing visibility victories. But, what learnings can we take to inform our own organic strategies moving forward?
It is important to optimise with a user-first approach. Balance the SEO needs with design ones to provide the best possible user experience. User experience will improve performance across the board, not just organic acquisition and engagement.
The order that different page sections are displayed matters for contextual relevance; providing the optimum experience for users based on their search intent.
A website redesign, if approached correctly, has the potential to improve both page speed and experience for users by opting for lightweight themes
For YMYL (Your Money Your Life) sites, including travel marketplaces, reviews are essential for brand authority and trust, whilst also promoting a brand's expertise and legitimacy.
Site size can often hinder a larger website's organic search potential. Therefore, for enterprise brands with huge product inventories or high volumes of informational content, Edge SEO is worth considering to maximise optimisation efficiency and website performance.
Content optimisation is not always about opting for the most popular or most searched query. There is value to be had from highly-relevant long-tail and zero-volume search queries, particularly where the nature of products or services is niche.
Not all visibility gains are achieved through proactivity. The natural expansion of a website's content or inventory with an SEO-centric approach can almost effortlessly boost Google search prominence.
Do not underrate the benefits that can be offered through technical optimisations and link building practices. If prioritised/approached well, the rewards can be well compounded over time.
Sustaining rankings in an industry as large and competitive as travel can be tough! This is why it is important to target a mix of long-tail/lower volume and short-tail/higher volume terms. There is also great value in regular competitor analysis to understand where keyword intent may have changed or may not be optimum, and therefore, where you can add value. These two elements will help maximise the potential to be discovered in the SERPs.