The SEO Congress "Congreso SEO Profesional" is held every July in Madrid and specialises on presentations where website operators put their cards on the table, for all to see. Last year, for example, we had the opportunity to check out the exact data for the costs, auctions and traffic for TV-adds for two Spanish online-shops. It is not hard to guess why it is usually forbidden to take pictures of the sessions and write about them.
This year, we got extremely lucky in that one of the attendees, the owner of Floter.com (an online-shop for hardwood floors and laminate) and his SEO-consultant, MJ Cachón, gave us permission to tell their tale. I am sure this article will be quite helpful for anyone interested, especially due to the fact that we are able to share real numbers with everyone.
Floter.es and the bane of the Panda- & Penguin-Updates
This story starts out with a large scale linkbuying and -renting effort by Floter's owner. This actually worked quite well, for a while, but eventually led the domain into the fangs of three different Google updates. First came the Panda update due to a lack of investment in high quality content, which left the website with inferior texts. And then there were two different iterations of the Penguin update, which tore apart the domain's link profile. It all accumulated in Floter.es having to abandon their 9 year old domain.
Thanks to the link purchases, they managed to continually increase their rankings, at first, which also had a positive impact on the company financials. The owner then decided to hire an SEO professional, in order to take the business to the next level. His SEO-of-choice was MJ Cachón.
The first thing MJ did, was explain how the rankings were doing decently well, but how they were achieved through dubious methods. These methods actually led to the domain being hit by Google's Panda update only 10 days after MJ took over the project, of all things. The Panda caused a loss in many a precious ranking (All the lost keywords).
After working hard for a few month on extensive keyword research, a new strategy for the site architecture and user-friendly URLs, preparing high quality content, optimizing the user experience, creating a huge disavow file and many other suggestions, it became time to start implementing everything.
The website owner pretty much made his stance clear with the response, "Well how much is this going to cost? Now I need to pay for both content and an SEO. Buying links was much easier".
The response to this, incidentally, came from Google a short while later, in the form of the Penguin update 2.0, which penalized the purchased backlinks on the domain.
Going from SEO traffic to expensive AdWords traffic
The Penguin update cost the domain nearly all their traffic, which forced Floter to buy traffic through AdWords, in order to keep the company alive. Floter spent 4,000 Euro a month on Adwords, in the hopes of getting a handle on the update.
All in all, Floter spent 89,119 Euro on AdWords and still did not manage to satsify their need for visitors. Sadly, the large disavow file they uploaded did not help and soon, the company began to suffer. Due to this, after careful considerations, they decided to get rid of the old domain and start anew, on another domain.
Successful restart from scratch: Floter.es to Floter.com
The new domain cost 1,000 Euro and it was decided that there would be a clear cut, where the old domain would not be redirected to the new one. This protected the new domain from inheriting any of the filters on the old domain and also enabled the team to start their conversion strategy from scratch. Today, the results looks like this: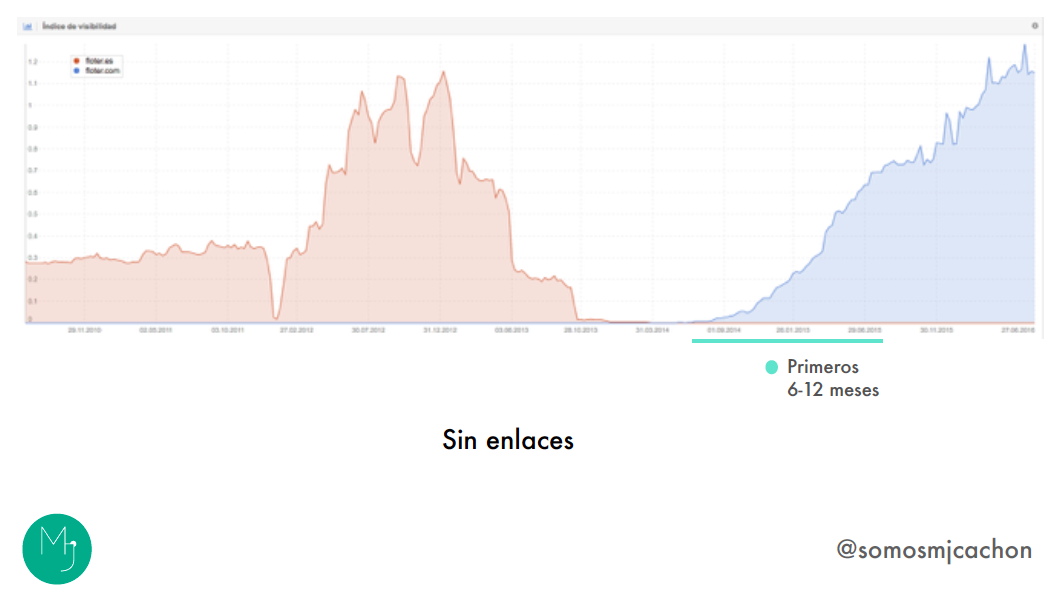 As we can nicely see in the slide from MJ's session – using the SISTRIX Visibility index – the new domain already commands more visibility than the old one. Many attendees were also surprised by the statement that the SEO strategy for the new domain did not include any unnatural linkbuilding efforts, on purpose.
And while links are still one of the two most important ranking factors, John Mueller actually made it clear in a Hangout, that websites without any links may actually rank very well. This case is a great example for his words.
MJ explained that this was the result of four high quality blogposts per week, a smart internal linking strategy between their blog-, brand- and product-pages, a user-friendly navigation & URL-structure and many things that would be unknown to anyone who believes that SEO is dead.
The next graph will show us the great work done by MJ Cachón. The logical result of any improvement to a website should be an increase in traffic, which is exactly what happened here:
Investment comparison: SEM vs SEO
You can get a good idea of how important SEO is for any online marketing strategy, thanks to the following numbers:
Floter spend a total of 99,000 Euros for their AdWords campaign – 90,000€ for the ads themselves and 9,000€ for the ad-management. The largest number of visitors they were able to generate during their AdWords campaign was 7,900, of which 2,200 visitors (27%) came from the organic search. Please also take into consideration that AdWords will only generate visitors temporarily. Afterwards, the money is gone.
Floter spent 37,500€ on their long-term SEO consultation and implementation – 25,200€ for the SEO project, 3,200€ for high quality content, 1,000€ for the Floter.com domain name, as well as 8,100€ for the redesign. Today, the domain generates 33.600 visitors a month, 25,000 (75%) of them from the free, organic search. 5x as much as through the fee-based AdWords! These investments also have a lasting impact.
Floter.com today
Floter managed to increase their revenue by 56%, attract big brand customers like Taco Bell and Tagliatella and now employs 35 people. They are also the official partner for the hardwood-floor manufacturer Tarimas Parador and expanded their offices by two large, 700 m2, warehouses. Floter how has more than 6.000 m2 of wood-floors waiting for a new home.
Final thoughts
MJ Cachón's expert SEO-consultation played an important role in this success story. No doubt about it. During her session she took us through each and every step of the way. Aside from MJ's expert knowledge, there were two additional factors to this success: the interest of Floter's owner in SEO and the high quality of their products.
Thanks to the drive of David Negueruela, Floter's owner, in wanting to understand SEO, it became possible for him to make the right decisions at the necessary points in time, even though some were rather painful. This is what makes this story so interesting for both SEOs and entrepeneurs alike. A website owner can only select a good SEO-consultant or -agency, work with them and make smart collective decisions, if they themselves understand at least the basics of what SEO is all about. In our case, David understood what had to be done during these 12 month.
I would like to thank both MJ Cachón and David Negueruela for their permission to let us write up their story. We hope you liked it and wish you success for your own projects.