Blogs don't work. Really? Here's an interesting example of a 'blog' that is working, thanks to a plan and some structure. William Russell used data-driven SEO insights from SISTRIX to build a content strategy for long-term, sustainable traffic and higher Google rankings.
In this post we take a look at the data and speak to the William Russell team to find out exactly how they went about building a strategy for success.
When you're analysing the competition for the blueprint for success you need to look for high-performance content formats. And this is one of them. In just 18 months, William Russell have built up visibility for their site with a carefully planned and executed SEO content project. And all it started with SISTRIX data analysis.

Before we move on to more details of why and how this SEO project took off, let's take a step back and put it into perspective.
How the story began
William Russell is an insurance provider dealing with international cover for expats (people living away from their home country) since 1992. It's a family owned business founded by Inez Cooper (she/her) in the UK. The company uses a wide network of insurance brokers to connect with its customers. However, what they didn't have was any authority in the online insurance space.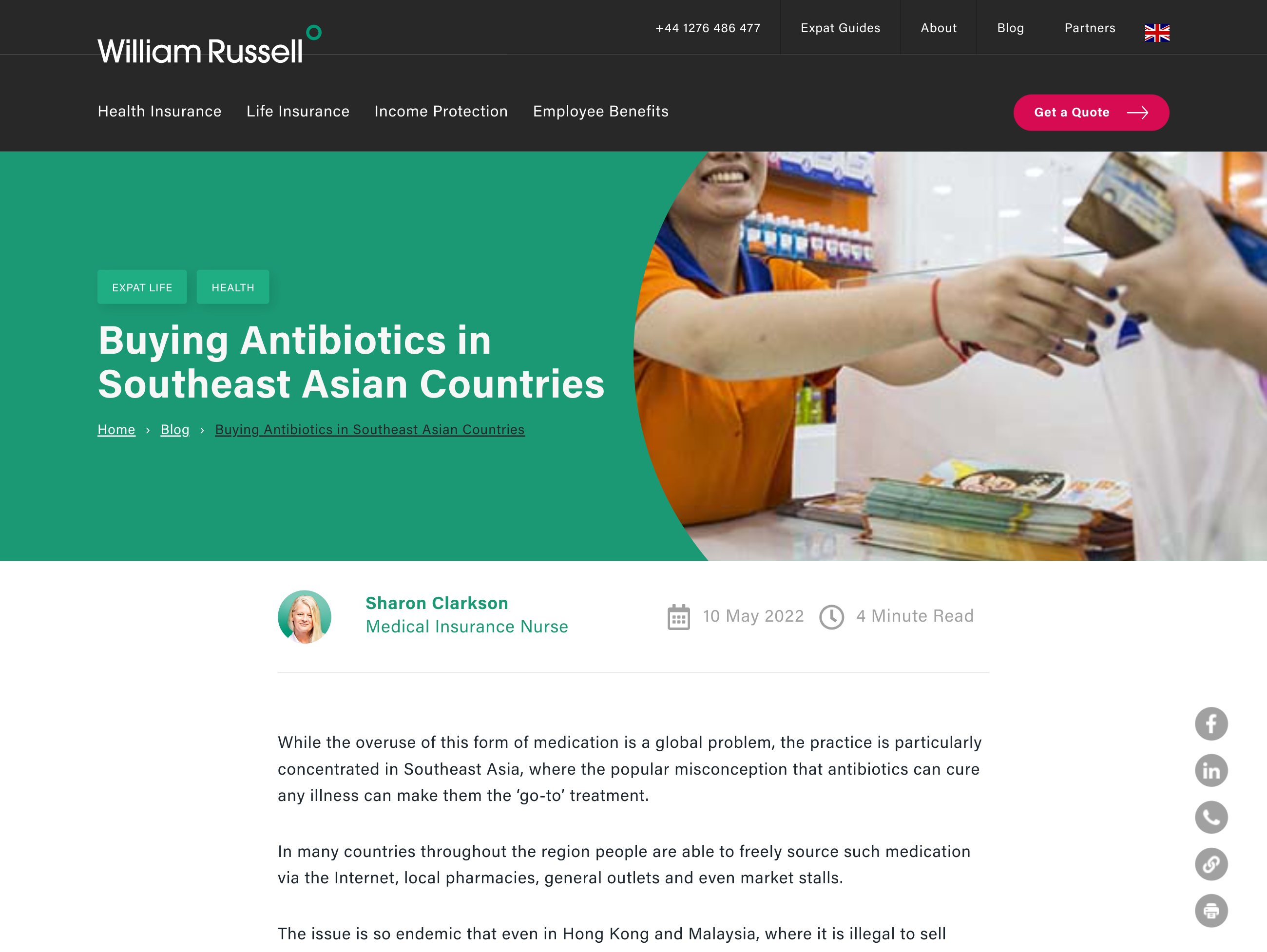 To tackle this challenge and raise their online profile, the William Russell team decided to invest in content marketing strategy for combined brand-building and lead generation. The new strategy formed part of a bigger process to explore a direct-to-customer model, using informative content to attract potential customers via increased search visibility.
"We saw the potential to position William Russell as a leading publisher on all things expat-related," said Eka Vankova, Head of Content and SEO at William Russell. "Our initial content strategy was to turn our blog – formerly used to publish content related only to the company and its products – into what is effectively a content source covering all aspects of expat life."
Being new to content marketing, it was important for the team to be able to build a platform free of major technical issues and to have access to a knowledgeable team and trusted tools. This is where SISTRIX came into the picture.
Laying the groundwork
Before launching into content creation, the team we had some groundwork to do. This started with on-page optimisation for already existing blog content. Meanwhile, the SISTRIX workshop training helped them to establish process and set their success parameters.
Eka said: "The training really helped make clear how important it was that we were ready before we started creating content. I now use the tools I learned during training every day to maintain our now thriving content hub."
First content and initial growth
Initial research revealed content gaps around healthcare for expatriates, education, finances and safety. Armed with over 100,000 lines of keyword research, William Russell produced a range of informational content including destination guides, independent advice on global healthcare and topical 'how to' pieces on subjects including getting your children into education in a new country, dealing with issues such as Brexit and COVID-19, finding a job, purchasing property and organising your finances overseas.
"We built a streamlined content pipeline to ensure a regular flow of content publication, informed by keyword trends to help us decide which topics to focus on month-by-month," said Eka.
The first ranking URLs under /blog were seen in SISTRIX data on 21 December 2020 with stable growth following, but it wasn't until 6 months later that page 1 rankings started to build.
Over the next 16 months, more than 100 articles were released, and from here site-wide performance began to accelerate.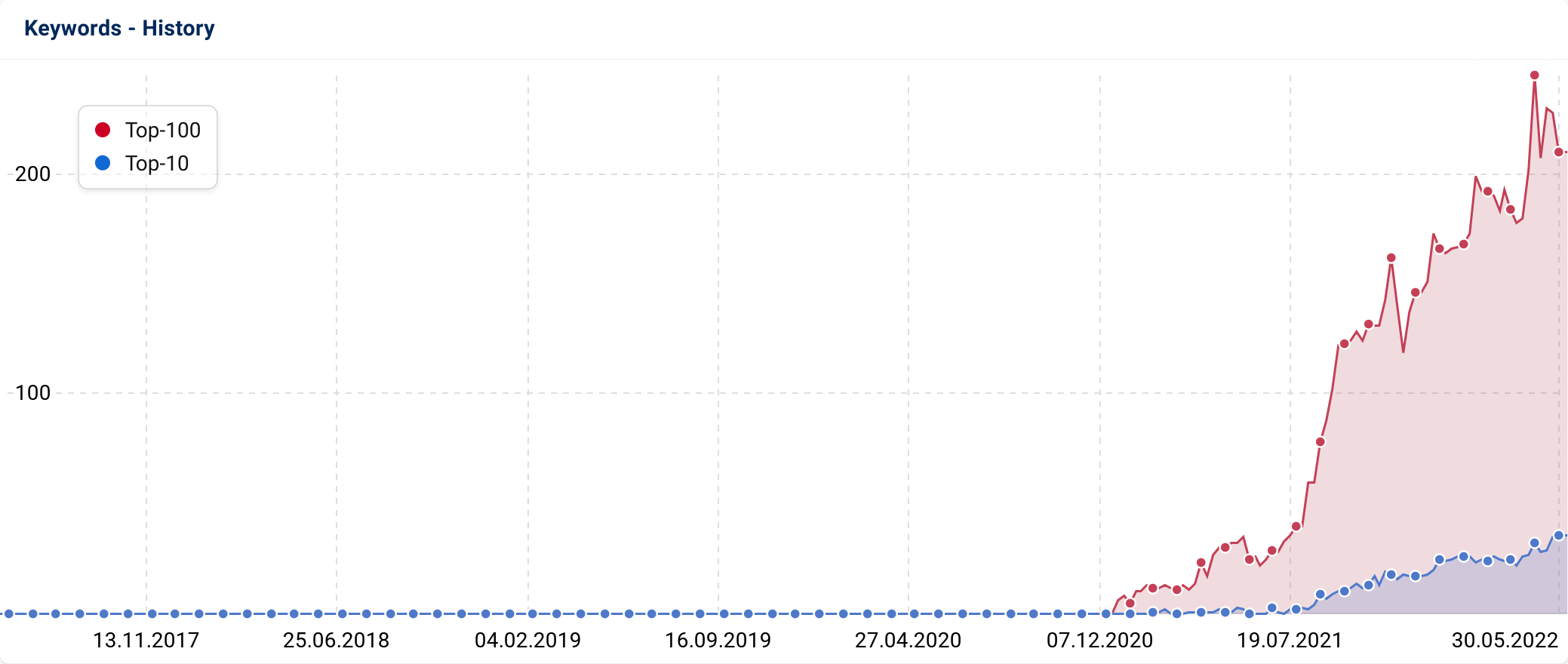 "Now we produce 6-7 content pieces per month. Every article is sense-checked for maximum SEO effectiveness. It's also long-form, backed up by peer-reviewed data, has data presented in accessible formats, annotated with graphs and images, considers global audiences (e.g. currency conversions), and is all written in an authoritative tone of voice."
Maintaining momentum
Once initial growth had been set, the William Russell team used SISTRIX to track and measure visibility against their competitors. They kept a monthly record of how they ranked against 30-35 competitors, slowly but surely overtaking them one-by-one. In January 2022, they overtook the international insurance website, Cigna.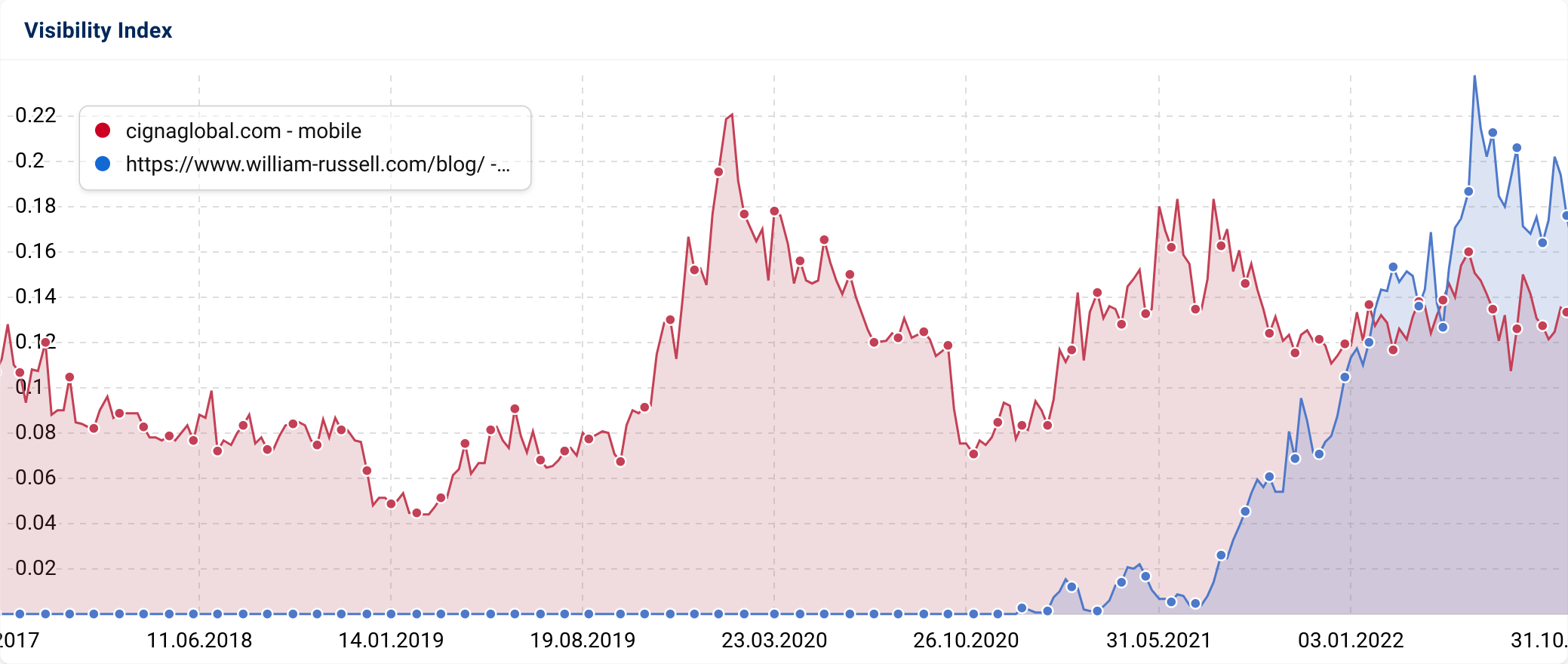 This success with keyword optimisation (along with the link building work going on in the background), enabled the William Russell team to provide an ongoing business case for content marketing and SEO. This led to new projects, including the migration of their internal knowledge resources for the company onto a publicly accessible FAQ hub with the aim of hoovering up some more niche, low-volume keywords.
Eka said: "We constantly train our team to make sure we are ahead of the SEO curve by attending SISTRIX trainings and related conferences like Brighton SEO. We constantly share news on Google algorithm updates to make sure we can bounce ideas off each other and prepare for the updates as efficiently as possible."
Performance analysis
Since mid-2021, growth has been seen through many metrics. Here are some examples and the Google Search Console graphic is shown below.
Impressions through search grew from 1.37m (April 2021) to 19.7m (April 2022) (Source: Google Analytics) – a 14x increase.
Six-monthly click-throughs through organic search increased from 22k (up to April 2021) to 699k (up to April 2022) – a 31x increase
/blog ranks for over 1300 new keywords in the top 20 and 527 keywords have been detected newly ranking in the top 5 positions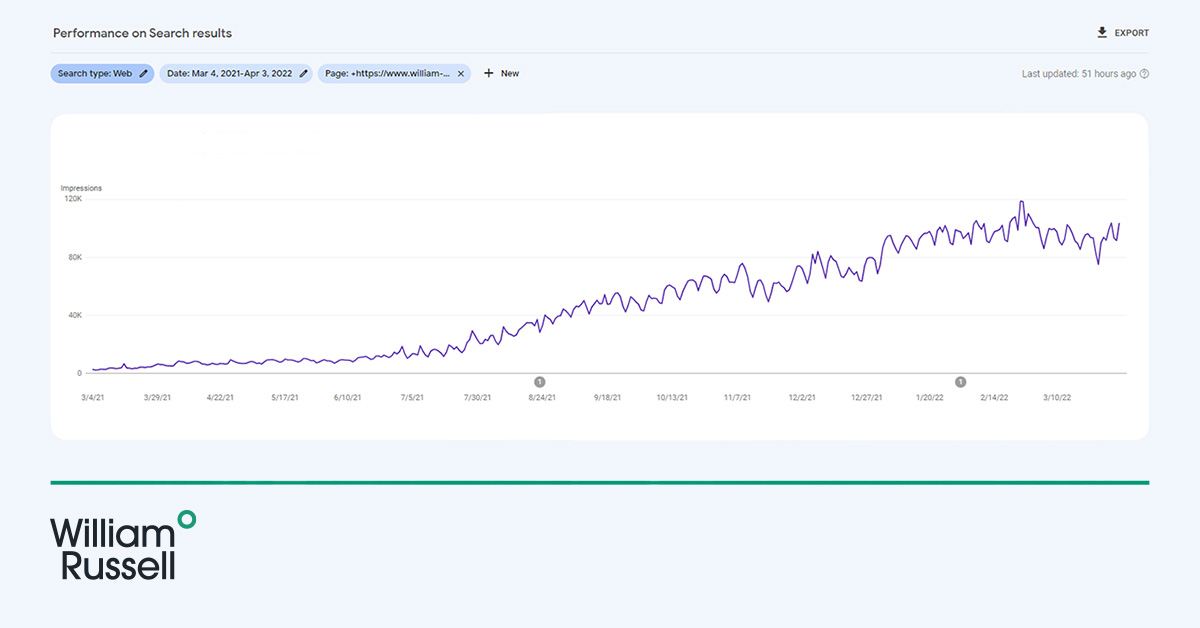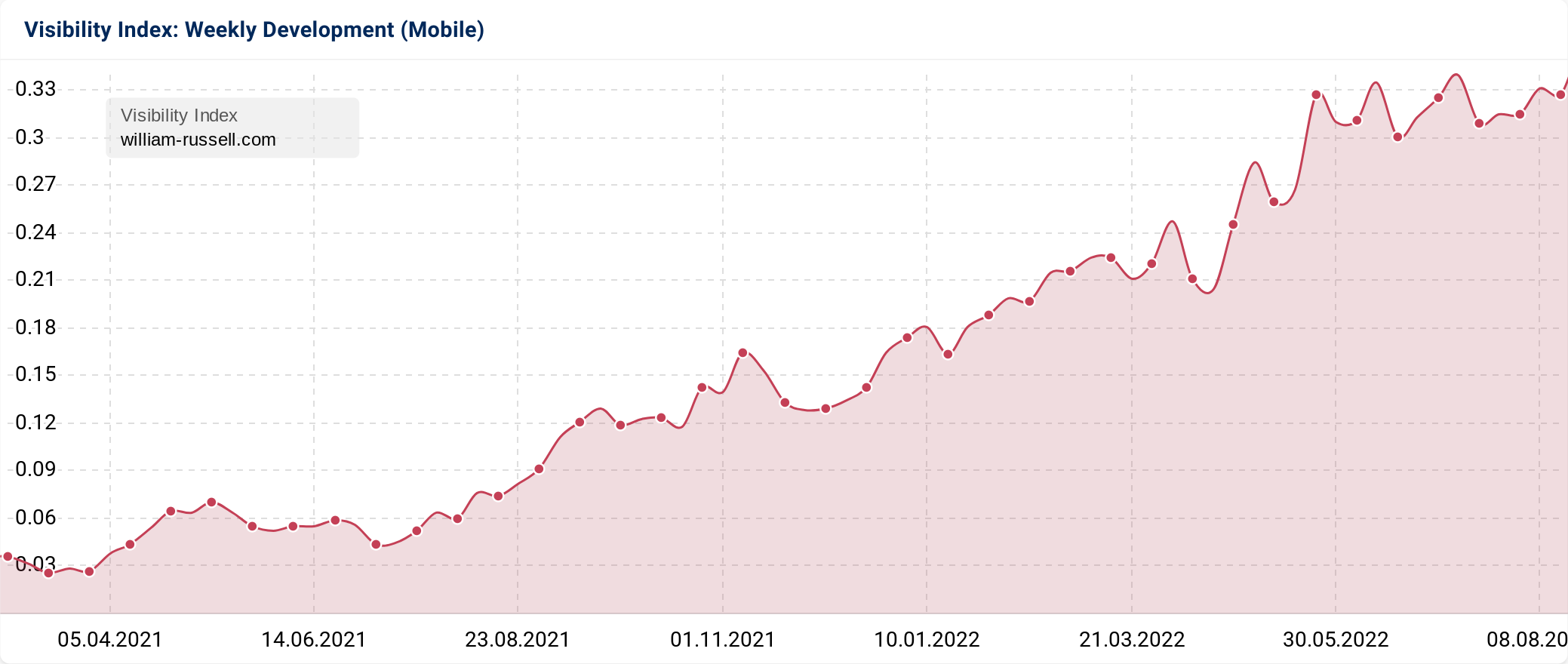 Success for businesses, big and small
What makes the success of this project so impressive is the relative size of the website. Even now, William Russell is not a huge content website, demonstrating that any small-medium business has the potential to become leaders within their own niche.