We had hardly got into July when the expected July Core Update hit. After a few days of rollout the data for the UK is now available for analysis. We take a look at affected domains, winners and losers in this article.
In the last few weeks, Google has laid out a veritable feast of updates for us, from the first Core Update in June to the start of the Page Experience update, two Spam Updates in the last few weeks and the current core update in July 2021: so many officially confirmed There has never been so many Google updates in such a short time.
The current July Core Update can be seen as an extension of the June Core Update – Google previously announced that they had not finished all the planned changes, but that they would already implement the completed changes in June, and that the rest would be postponed to July.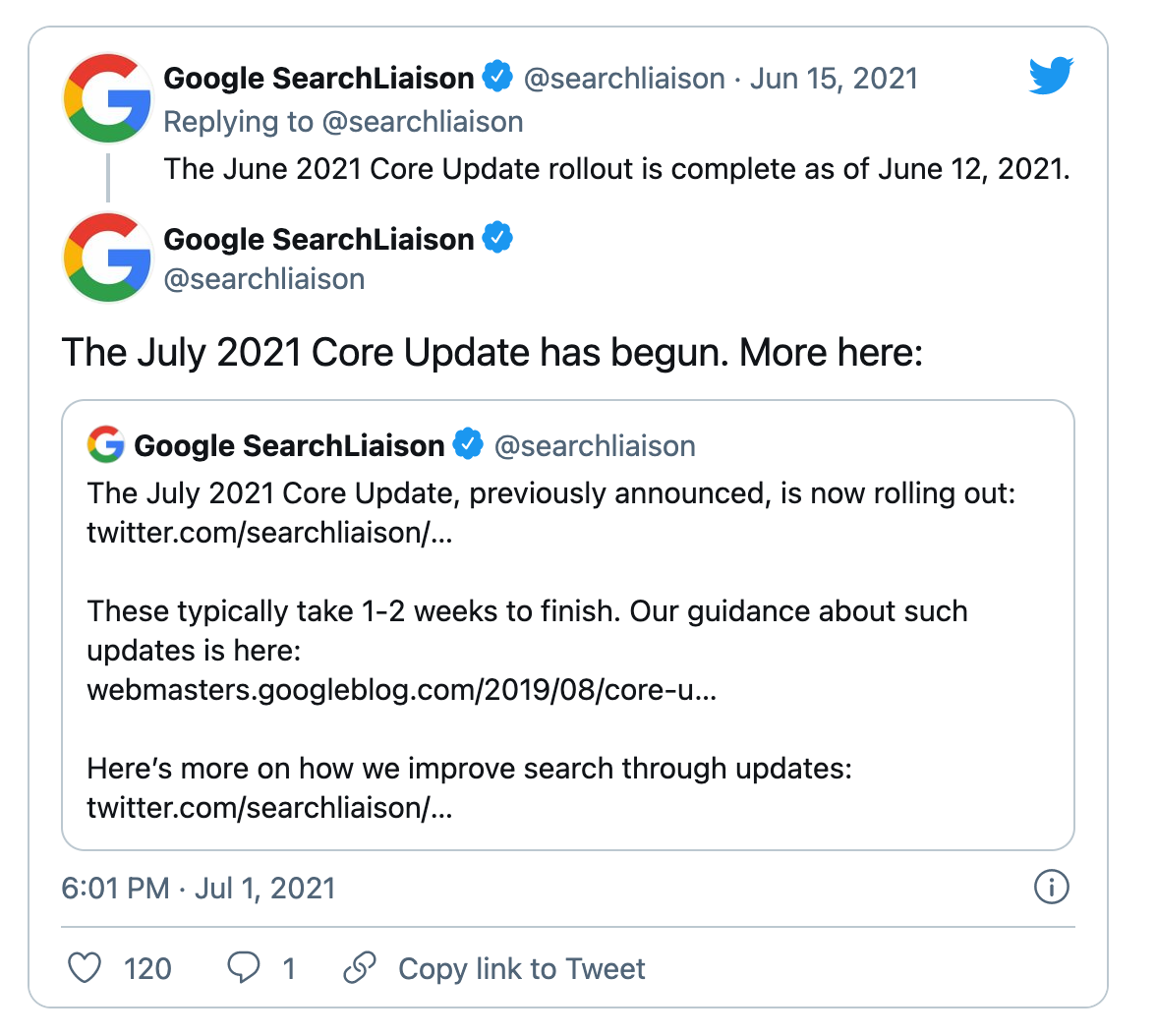 We've linked images below to the live data. If you don't have a SISTRIX account yet, you can sign up for a 14-day free trial here.
Two Core Updates in a 4-week period
Due to the many updates in the last few weeks (five), it is important to be able to separate the updates and their effects on domains properly. This is the only way to identify cause and effect.
In practice, we see domains that were affected by individual updates, but also a few examples that reacted to several or many of the updates. Here is an example of a domain that lost in both the June and July core updates: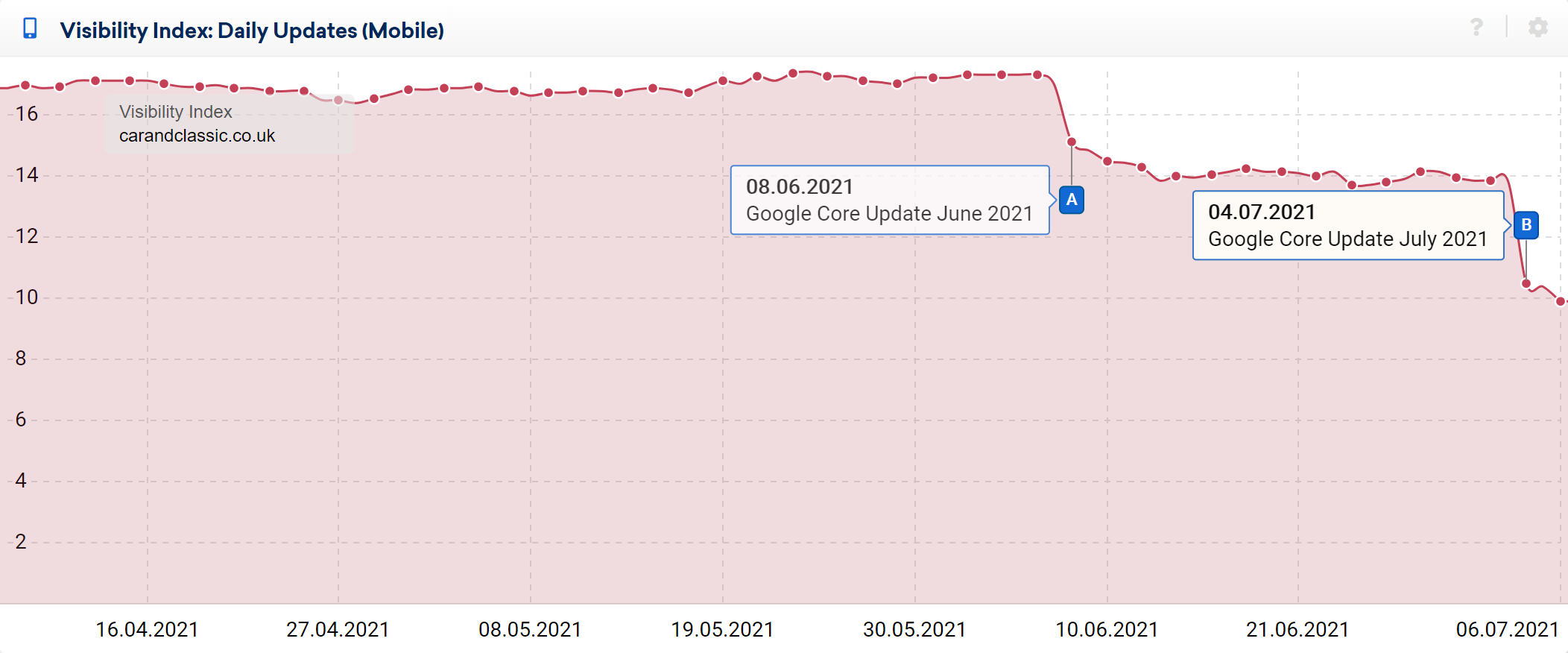 Examples of double-winners through the June and July Core Update are hard to find, but one can be seen in the entertainment sector.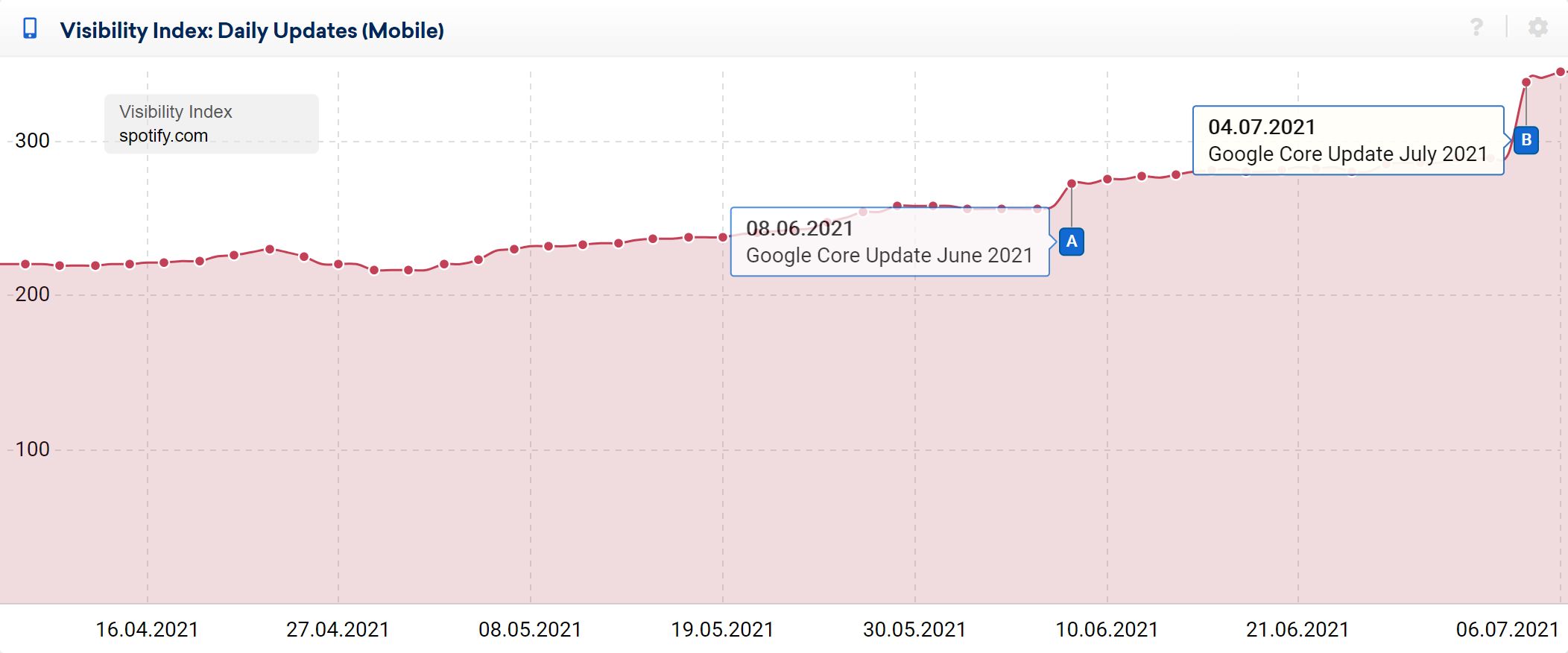 And here's an example of a domain, in both the entertainment and money space, that was hit by the Spam Update (Part 1 and Part2) and the July Core Update: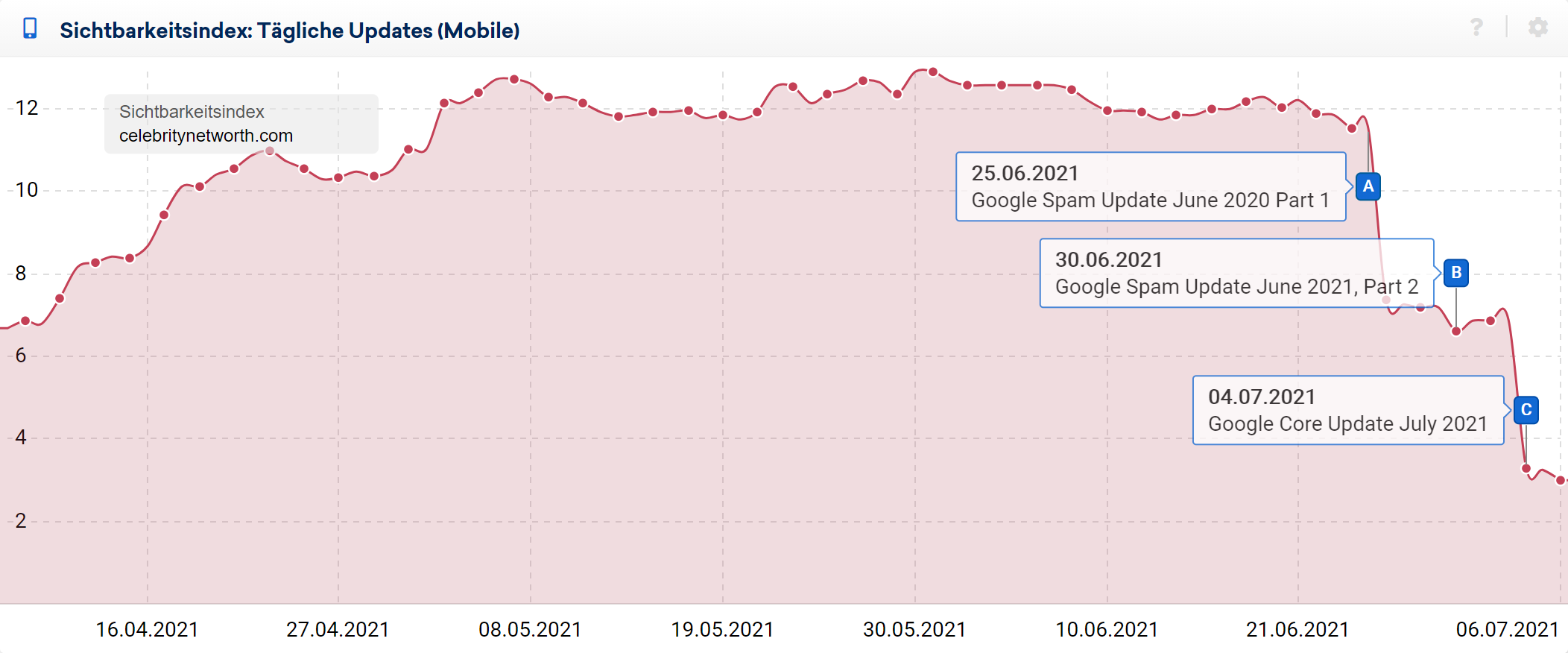 There are plenty of winners that are making gains following losses in the December 2020 Core Update: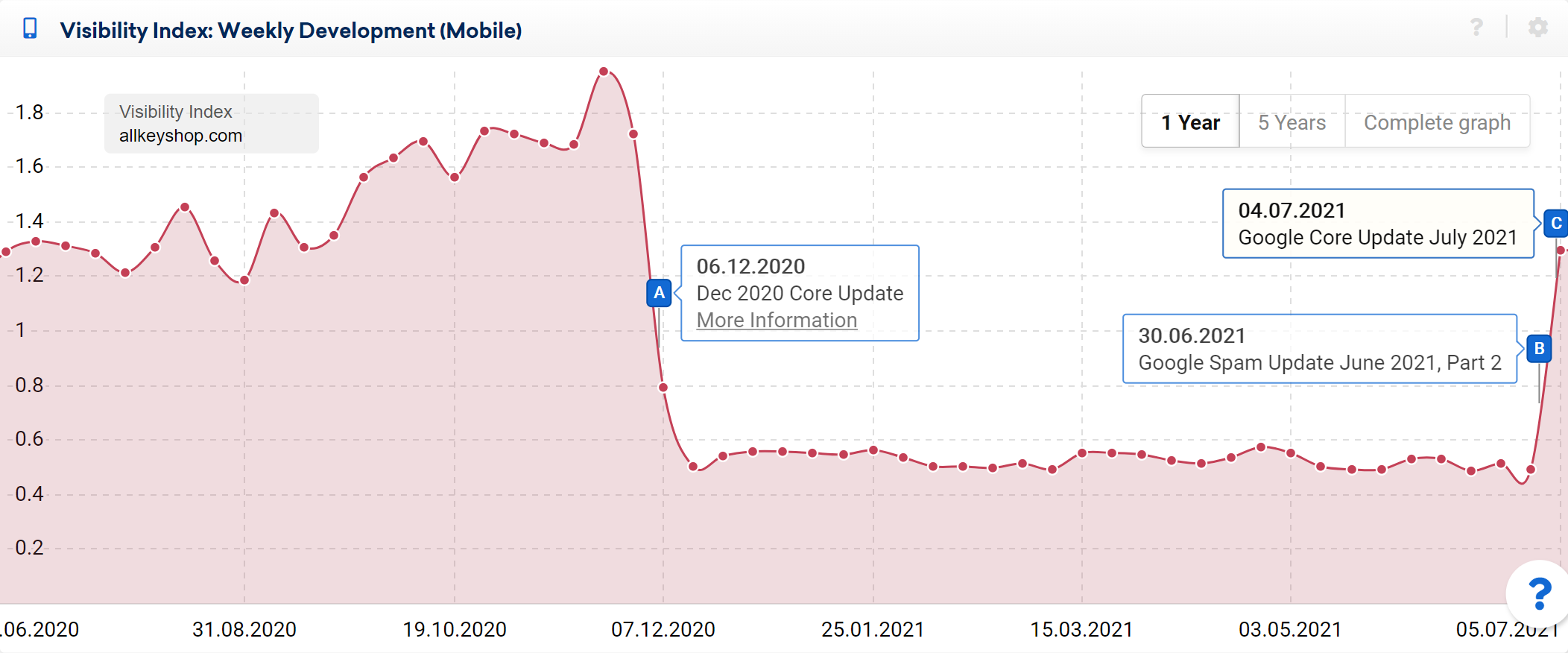 Where there are winners, you'll also find losers. In the car sector (which covers areas of car sales, finance, accessories and more) there have been a lot of movements in both directions: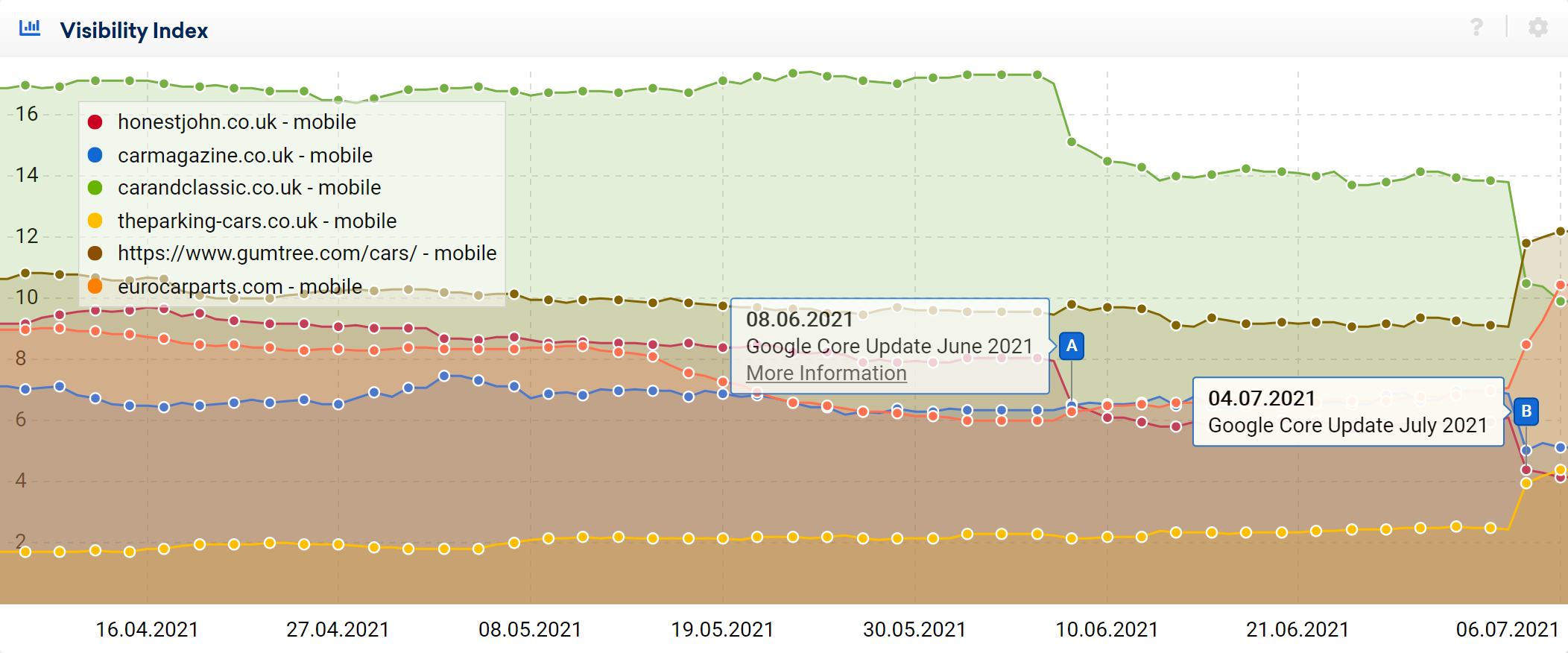 Other sectors that have seen big changes are possibly related. Music, video, celebrity, lyrics and TV websites make regular appearances in Core Updates and we're seeing them again this week. One has to wonder how Google's machine learning is getting on with modern song lyrics!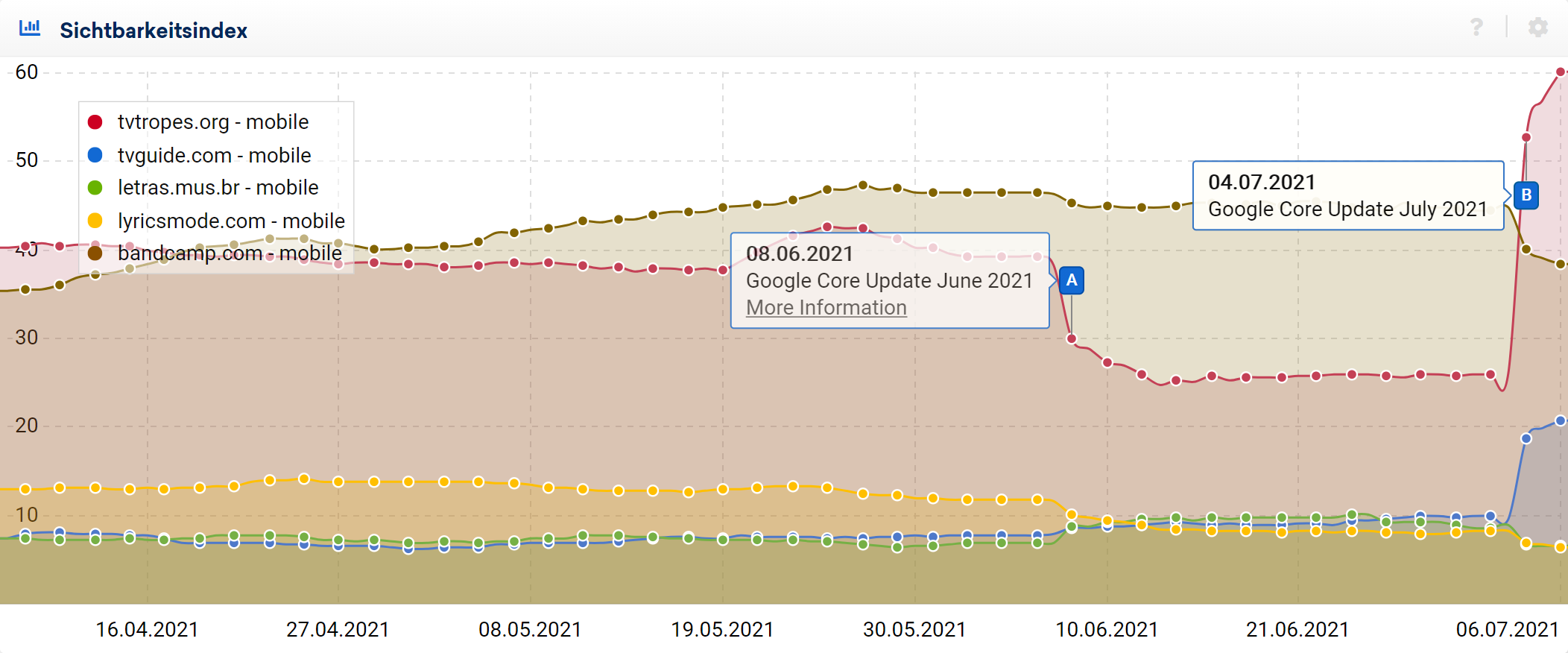 Spam update had major impact, page experience update not yet measurable
The two inconspicuous spam updates from Google had a major impact on affected domains. It's easy to to see in this project: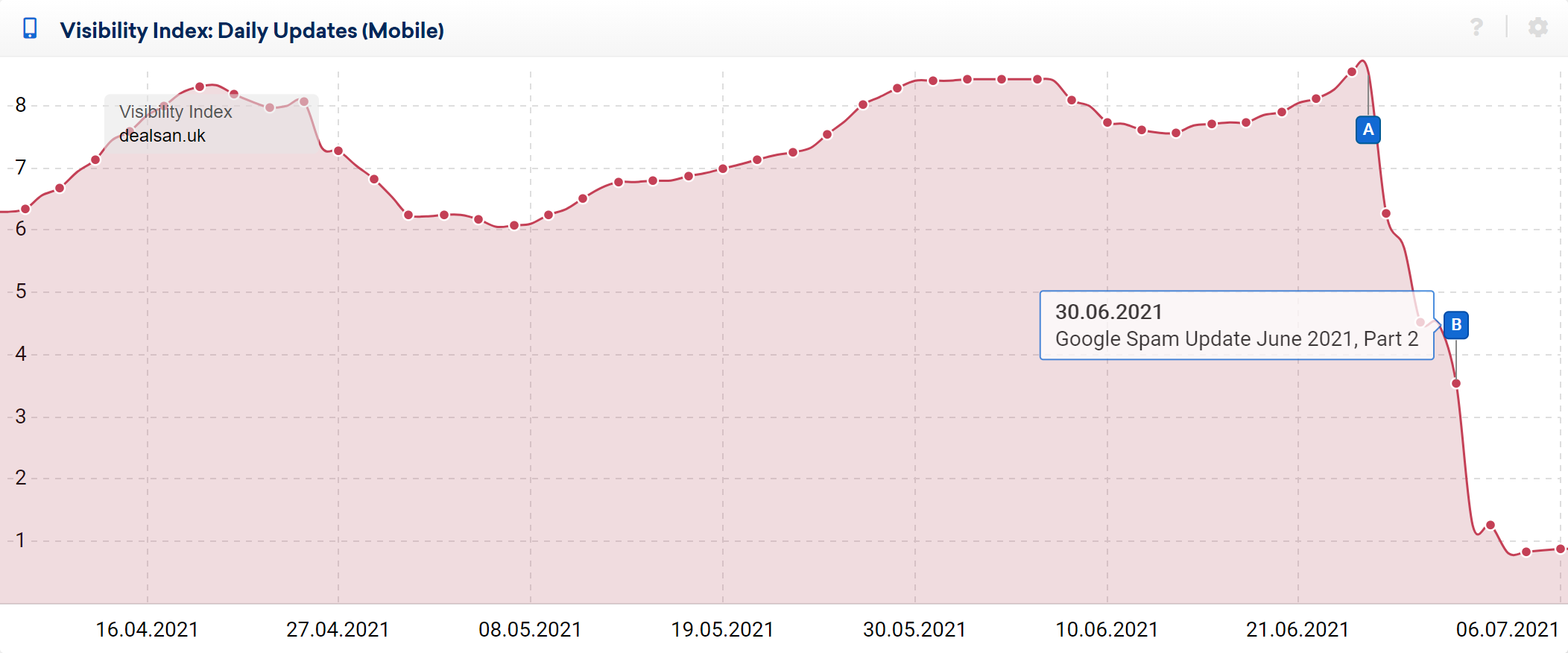 The domain dealsan.uk focuses on re-hosting Amazon and Ebay product offerings, naturally using affiliate codes where possible, and was effectively taken out by the two Spam Updates.
Incidentally, we have not yet seen any measurable effects of the Page Experience update. Domains with (very) bad Core Web Vital values are not ranking any worse than before. But who knows, maybe something will come eventually. Google gave itself 2.5 months to complete the rollout.
A regular Core Update
When looking at the affected domains, familiar patterns become apparent in this July Core Update. Many projects have been affected by previous updates, there are a few big YMYML losers and entertainment in the form of lyrics, celebrities and tv information is clearly visible. Dictionaries, translation and listings sites are, as before, moving around. One interesting and unexpected loss comes from the travel industry: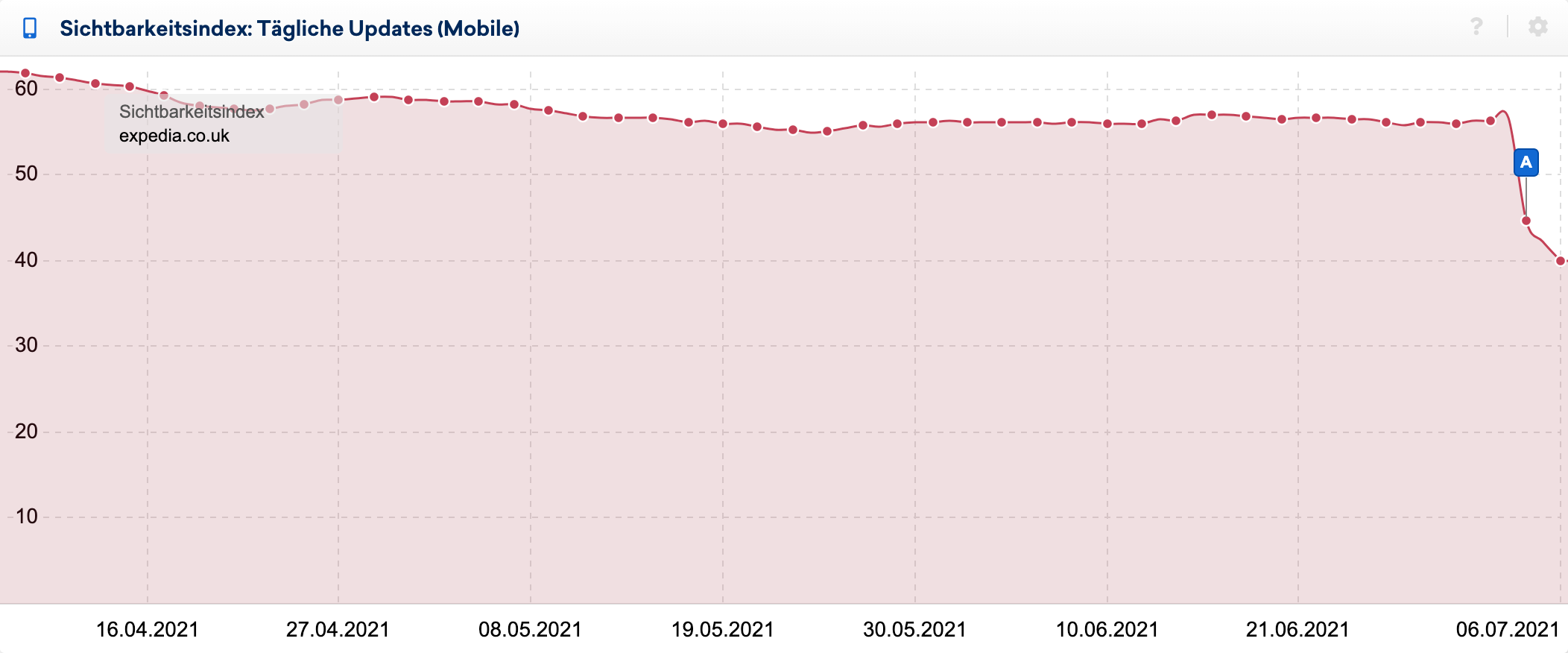 Winners and Losers
As already mentioned, this July core update is reminiscent of many of the known Core Updates of the past few years. To get a better impression of representative winners and losers, here are two excerpts from the corresponding lists. First 20 winners:
Google Core Update July 2021: UK Winners (Percentage, SISTRIX Data)
But of course there are also numerous domains that have lost visibility with this Core Update. Here, too, is an selected list of 20 losers:
Google Core Update July 2021: UK Loser (Percentage, SISTRIX Data)
Conclusion: The Summer of Google Updates
Google confirmed five updates in just a few weeks – we haven't had that much movement in the SERPs for a long time. It is more important than ever to be able to see exactly which Google update has affected the visibility of your own domains. The daily visibility data from SISTRIX is the perfect basis for this.
But with all the short-term hustle and bustle and movement, one must not forget Google's long-term goal. Show searchers the best content at the right time. Anyone who understands Google's thinking (written down in the Search Quality Evaluator Guidelines – PDF) and works towards the same goal cannot lose in the long term.
Core Update Data for countries DE, ES, IT, FR