Around half a year after the last major core update, Google is currently rolling out a new core update. In the SISTRIX blog here we have the first numbers, analyses and explanations.
Following Google's busy months of dealing with niches, industries and topics (examples: Helpful Content Update , Reviews Update ), there is finally one of the big, global core updates again: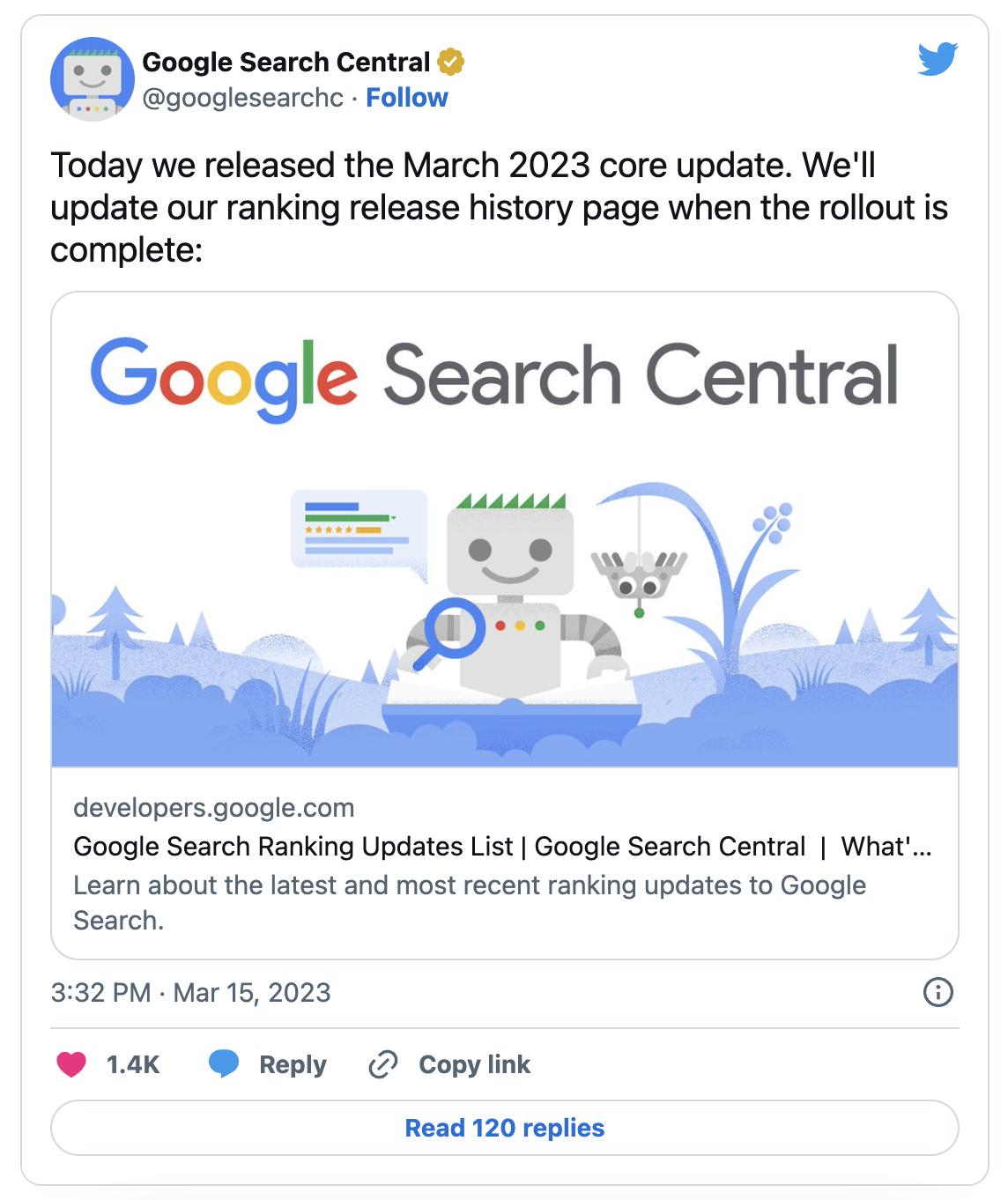 With the core updates, the search engine changes (Google says "improves") the basic evaluation and ranking algorithms. As a result, many domains are affected by these updates – and often noticeably so.
The first effects of the core update can be seen in the daily visibility index at SISTRIX since today (17/03). The movements are even more visible in the live data. Log in now or use our 7-day no-charge period.
How can I tell if a domain is affected?
With the major core updates, there are generally visibility winners and losers. The SISTRIX Visibility Index is the perfect tool to determine whether a domain benefits from this update or loses visibility. Since external influences such as weather, days of the week and other factors are ignored, it is quickly clear whether a domain is gaining or losing rankings.
As here with the example of the domain lookers.co.uk , you can see that the domain is currently gaining visibility with the core update in the UK: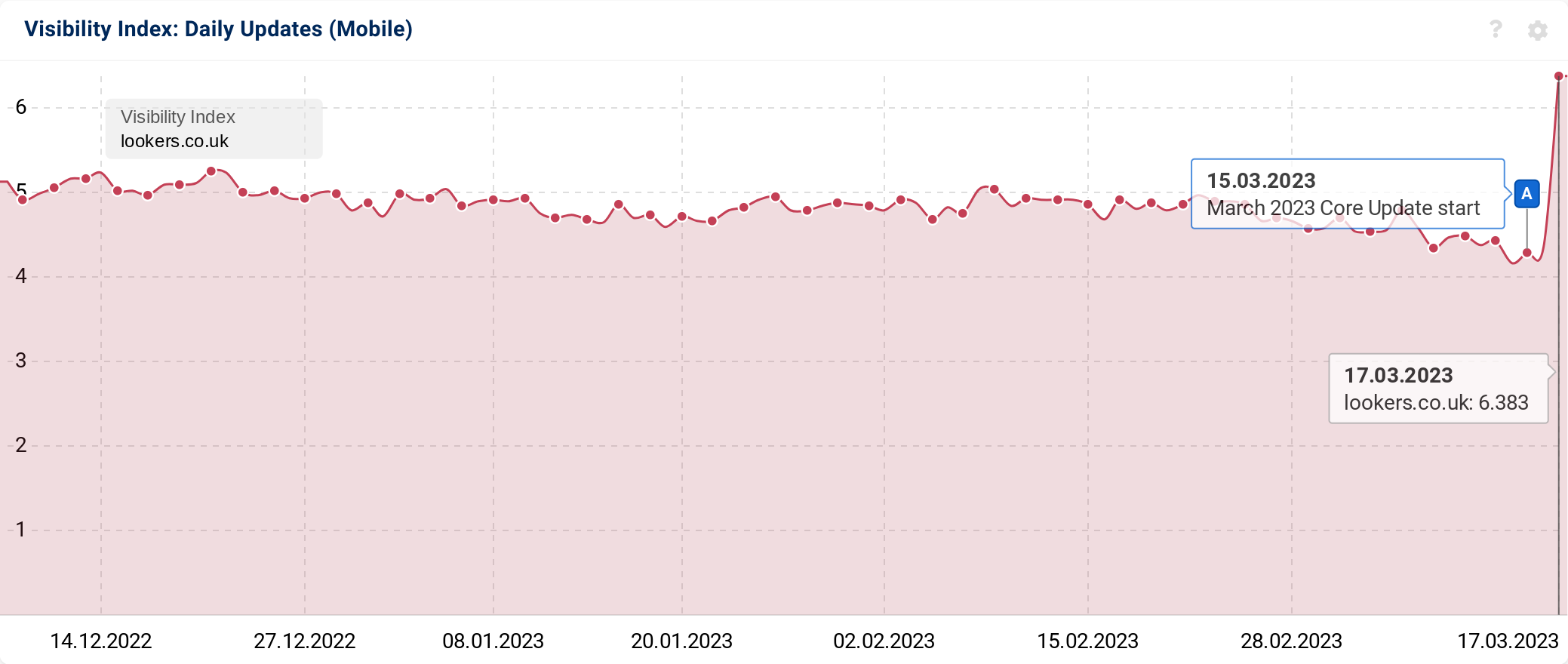 In the US, examples are also easy to find. The domain yamahamotorsports.com has lost significant visibility in the last 48 hours.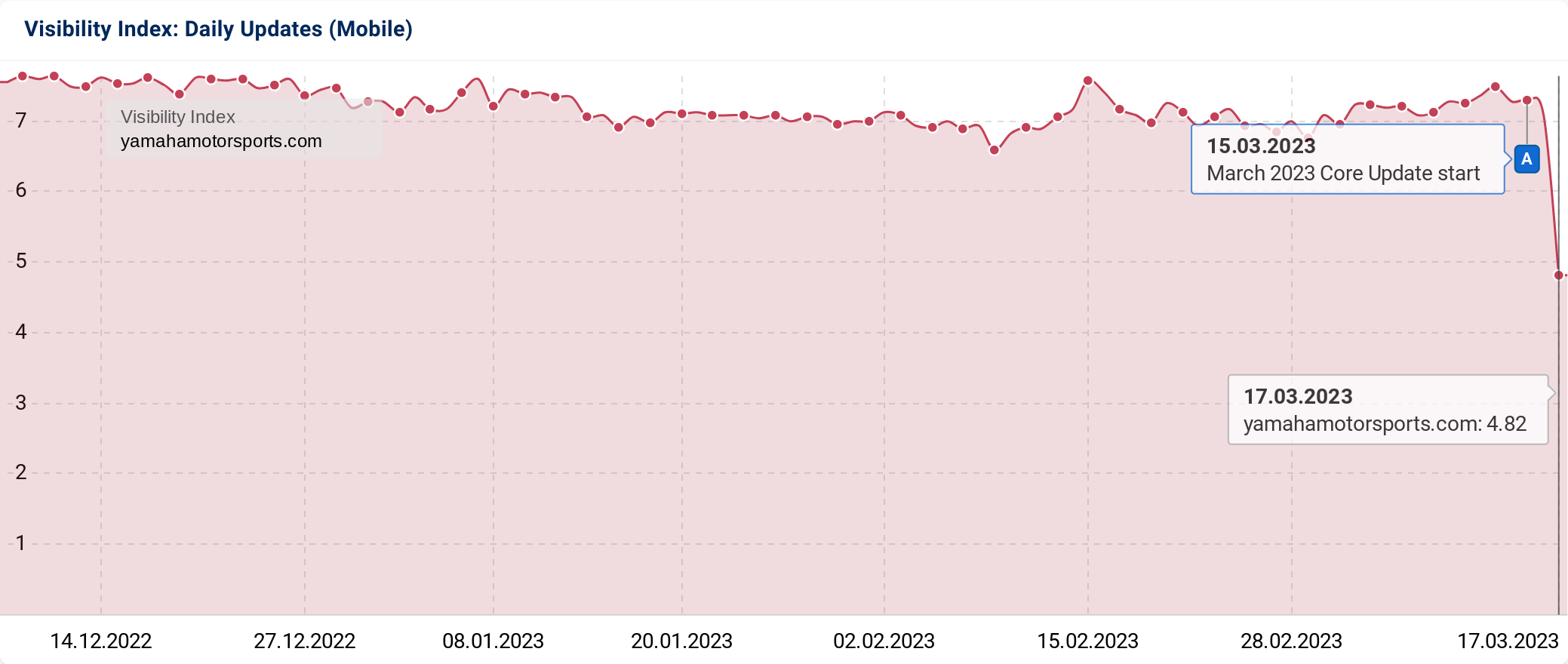 The current core update is still being distributed to the worldwide Google data centers. We assume that these shifts will intensify over the next few days and that we will be able to understand the developments by the beginning/middle of next week. We'll update this post with additional data regularly during the period of the update.
Update Sunday 19th March
As predicted, the changes have intensified to the point that the radar is showing a high level of change in the SERPs in the UK.

In contrast to the Helpful Content and Product Reviews updates, the major winners are as easy to find as the losers, across a wide spectrum of sectors.
Among the domains with a top 100 VI Rank there are more losses than gains with 17 domains losing more than 5%. Three well-known reference sites are among them.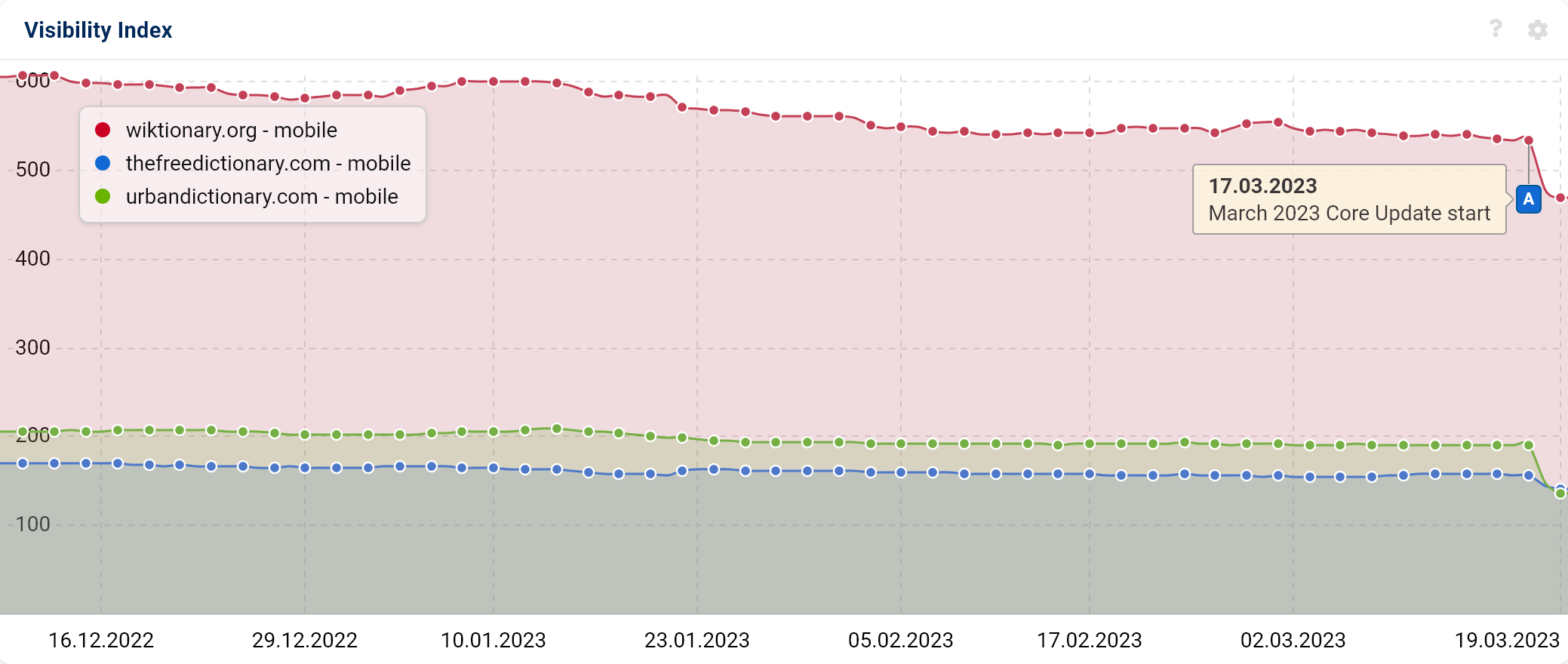 Other large reference sites with significant losses are wikivoyage.org (34.51%) and wikiquote.org (-25.53%)
Large percentage swings are more prevalent in the smaller domains. Among recently stable domains with a VI higher than 1 (includes about 10,000 domains from the 4.5 million in the UK database) are the following losers: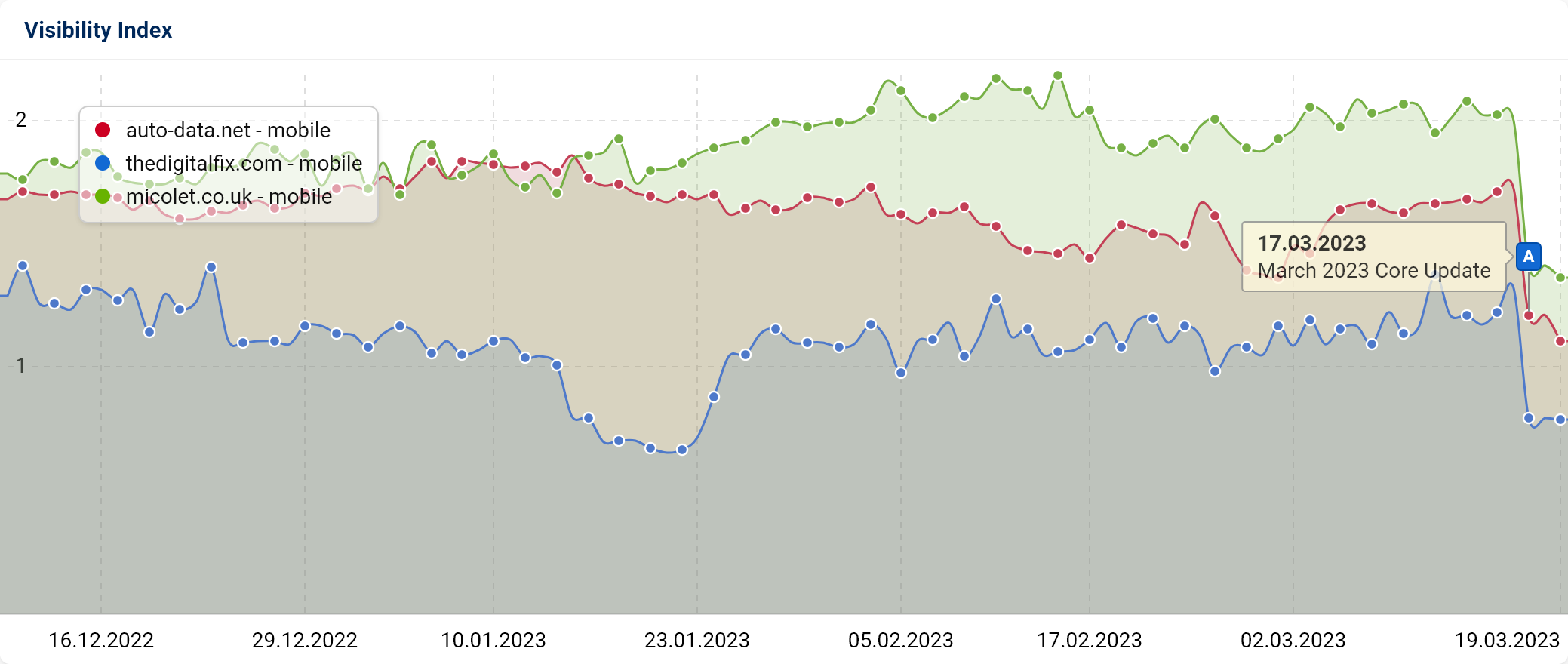 And the following winners: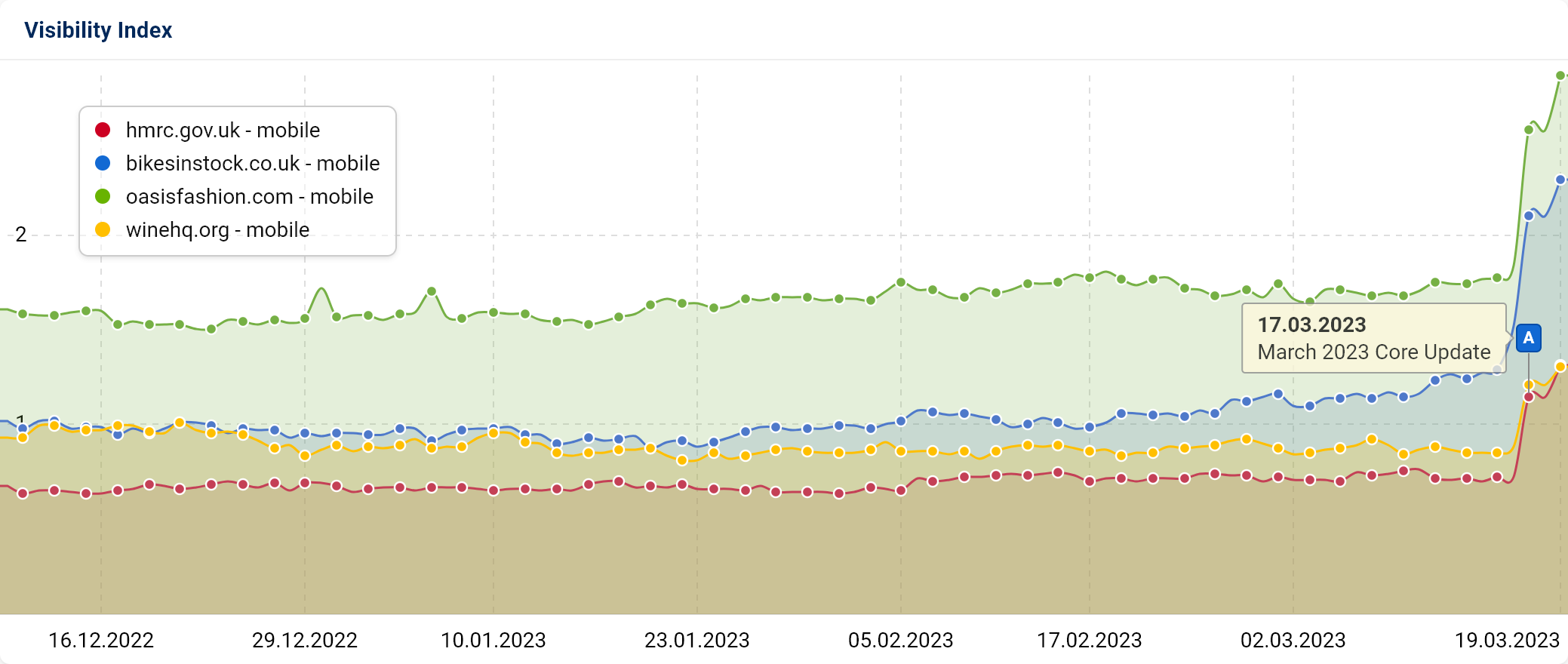 gov.uk domains get a boost
One sector that is seeing a general boost is UK government websites. Of 111 domains with a VI of over 1 there's an average 5.57% gain, net +51.9697, to date.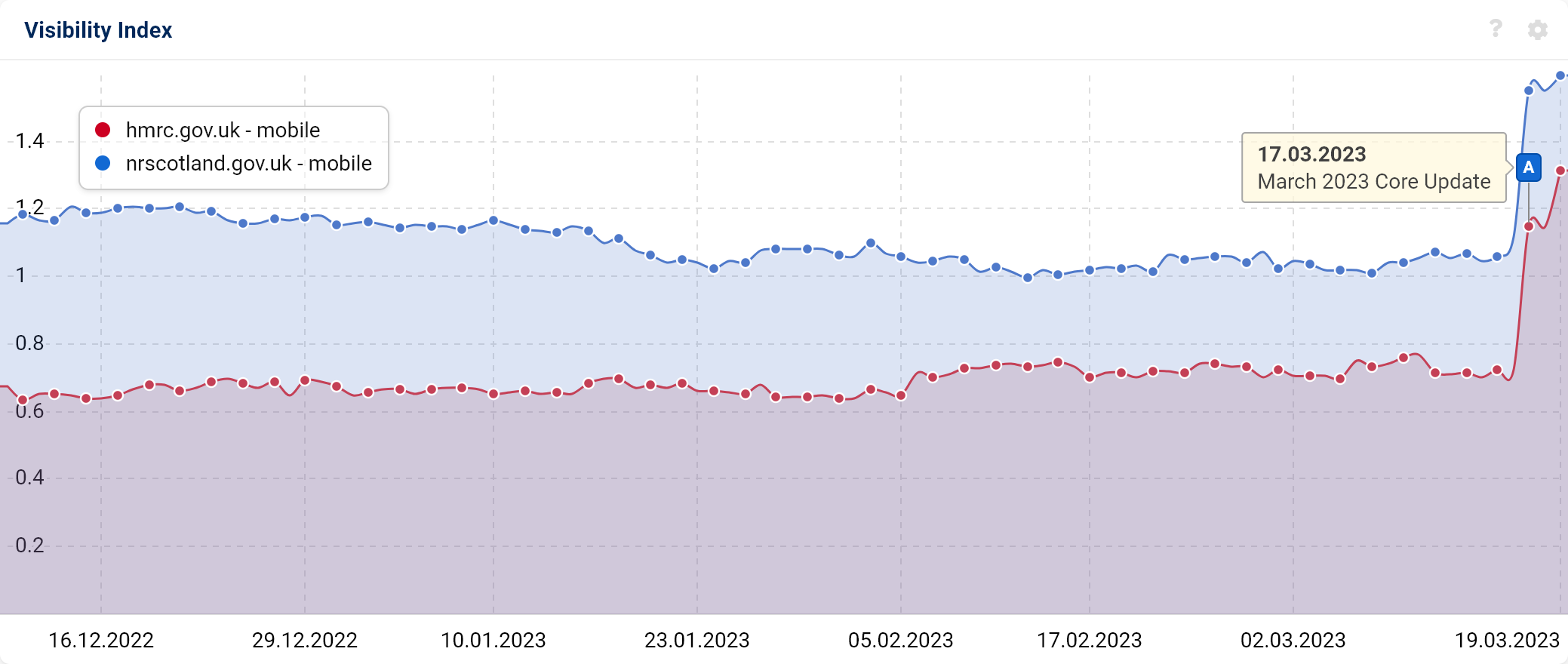 Update Monday 20th March
The Google Update radar in the UK reaches 11.54 points, which indicated a very high level of change in the SERPs in the last 24 hours.

Winners and Losers – March 2023 Core Update
Last updated 20th March 2023, here are winning and losing domains in Google UK search, selected from a list of established and stable domains.
Winners – Absolute
Top winning domains by absolute VI gains, March 2023 Core Update
Winners – Percentage
Top winning domains by percentage VI gains, March 2023 Core Update
Losers – Absolute
Top losing domains by absolute VI losses, March 2023 Core Update
Losers – Percentage
Top losing domains by percentage VI losses, March 2023 Core Update
News Media – Significant winners and losers
These highlights are taken from a news media tracker (48 domains in total.) There doesn't appear to be any topic focus among winners and losers and all areas of these sites appear to have been affected in equal measures.
News Media, March 2023 Core Update. SISTRIX VI changes
| Website | 2023-03-15 | 2023-03-23 | Change VI | Change % |
| --- | --- | --- | --- | --- |
| aljazeera.com | 10.82 | 14.61 | 3.79 | 35.04% |
| kentonline.co.uk | 1.01 | 1.25 | 0.24 | 23.46% |
| birminghammail.co.uk | 4.04 | 4.96 | 0.91 | 22.58% |
| news.sky.com | 20.28 | 24.83 | 4.55 | 22.46% |
| ladbible.com | 2.27 | 2.65 | 0.38 | 16.87% |
| theguardian.com | 211.70 | 245.43 | 33.74 | 15.94% |
| - | - | - | - | - |
| bloomberg.com | 30.62 | 27.64 | -2.97 | -9.71% |
| metro.co.uk | 25.03 | 22.47 | -2.56 | -10.23% |
| lancs.live | 1.47 | 1.30 | -0.17 | -11.28% |
| radiotimes.com | 24.69 | 16.81 | -7.88 | -31.90% |
| rt.com | 0.49 | 0.28 | -0.20 | -41.60% |
| express.co.uk | 21.35 | 12.19 | -9.16 | -42.89% |