For years, Google used to limit the length of snippet texts, are short text previews of the search results, to two rows. Over the last couple of days, Google eased up on this rule and will now also show longer snippets in the search results.
The snippet text is, together with the page title, one of the most important levers you have to persuade searchers to click on your result. Up until now, Google allowed you to have two rows of text to do so. Now, Google confirmed to Searchengineland that they are loosening up on this rule:
"We recently made a change to provide more descriptive and useful snippets, to help people better understand how pages are relevant to their searches. This resulted in snippets becoming slightly longer, on average."
We can see the effects of this move nicely within the SERPs, over the last few days. Many results do not have the regular two rows of text anymore. Now, Google allocates three or even four rows for the snippet texts. An Example:

In order to check how far reaching this change has been for the SERPs, we analysed the number of snippet texts since mid-November, the results of which you can see in this chart: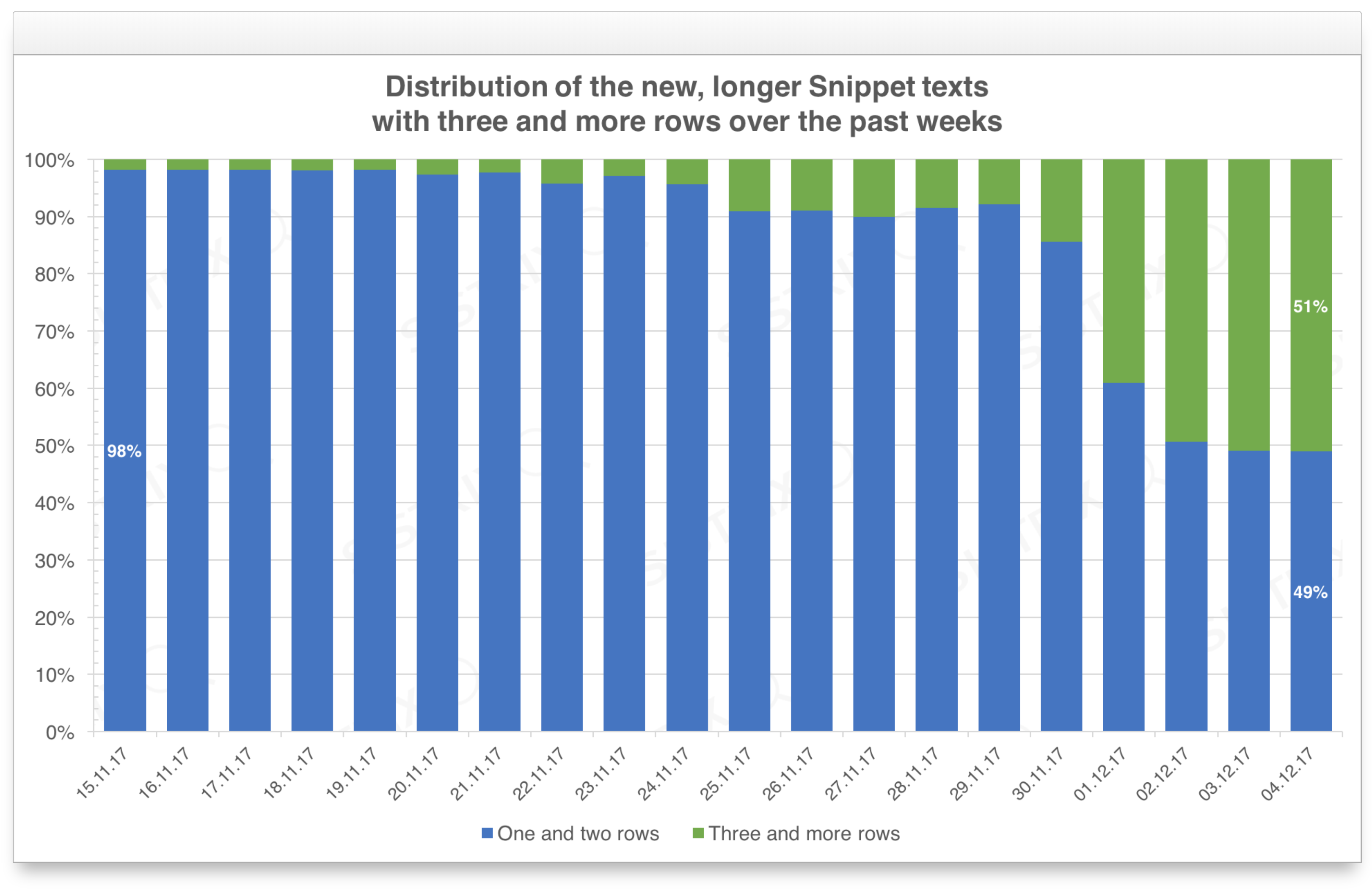 We can clearly see that, in mid November, nearly all text-snippets showed a maximum of two rows. Now, for about the past week, the percentage of snippets with 3 or more rows has grown continuously. At the moment, more than half of all text-snippets we evaluated use three or more rows. Additionally, this value has not changed over the past few days, anymore.
Concrete need for action for many websites
This Google change has a concrete impact on your day-to-day SEO-work: all snippet texts, which were optimised to use two rows, will now need to be reconsidered and reworked.
A good example for this is a search for "credit card": on the first results page, there is only one result, of ten, which seems to deliberately use three rows for their snippet. All other results only use two or the texts are so long that they are cut off by … – just as for this keyword, we need to rework all keywords which have a snippet text that is optimised through the meta-description.
Aside from the work this will take, this also opens up near-term opportunities: those who are quickest in optimising their snippets will likely reap an increased clickrate for the time being.
The SISTRIX Toolbox offers you a fitting new feature, which helps you analyse, filter and optimise your websites' snippet texts: Improve your SERP-Snippets with the Toolbox