As we wave goodbye to 2022, we also bid farewell to another year of organic search developments. Although we experienced one less core update than in 2021, the Google algorithm updates were more diverse – in 2022, we saw the Helpful Content Update. There were also many product review updates, and Google extended our beloved E-A-T to E-E-A-T (Experience, Expertise, Authoritativeness & Trustworthiness). Here is the annual list of winners, with analysis, in Google Search.
Methodology
The top winning domains have been defined using SISTRIX's Visibility Index, which assigns a visibility value to every domain analysed within Google's UK SERPs.
The Visibility Index reflects visibility fluctuations from algorithm changes and does not account for external factors, such as seasonality, national holidays, events or weather. Discover more about how the Visibility Index is calculated.
In the UK, SISTRIX measures the organic ranking of 50 million keywords across domains on both mobile and desktop devices.
The table of all domains is listed below, however, before we get to these, we've highlighted some exciting examples of the 2022 SEO winners we've uncovered. What will you take away from these for your own SEO strategies?
Major gains for media databases
In 2022, several media database websites saw significant visibility improvements. The most prominent being IMVDb (+618.6%). IMVDb is an online database specifically for music video content.
Another database site that has thrived over the year is themoviedb.org (+387.5%). Both of these domains also appear in the US IndexWatch list this year.
IMVDb's organic visibility did not start increasing until late June. Following July's product review update, there was a temporary visibility drop-off. However, since late August, the site's visibility has been on an upward trajectory.
The uplift occurred around the time of the Helpful Content Update. On 22nd August, the domain gained rankings for 35,053 new terms. 8,671 keywords also saw improved positions. These keywords include artist names, song names and combinations of the two.
Similarly, in the case of themoviedb.org, a database for films and tv series, "/person", "/tv", and "/movie" subfolders saw improved rankings, also indicating an enhancement in content quality and topical coverage.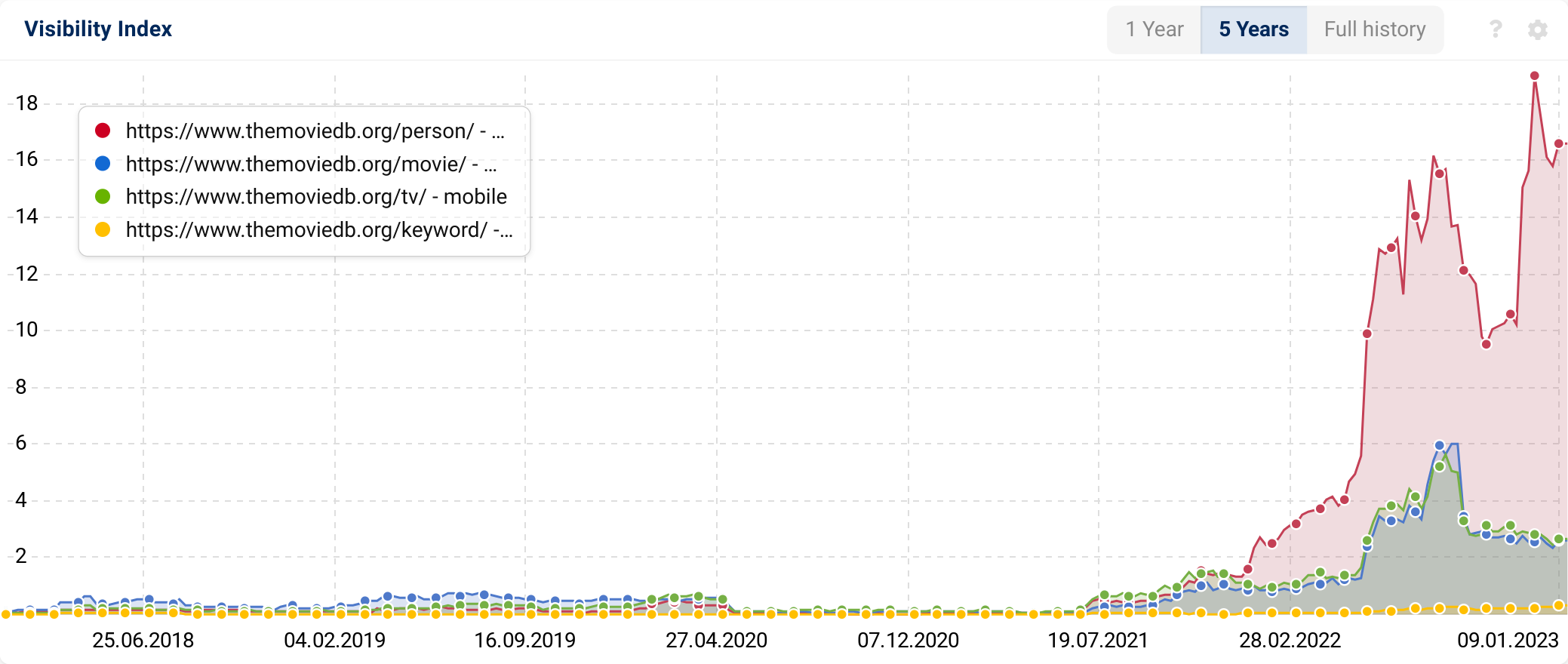 The percentage of page 1 keyword rankings have doubled during the year, with most of that increase coming at the same time as a core update.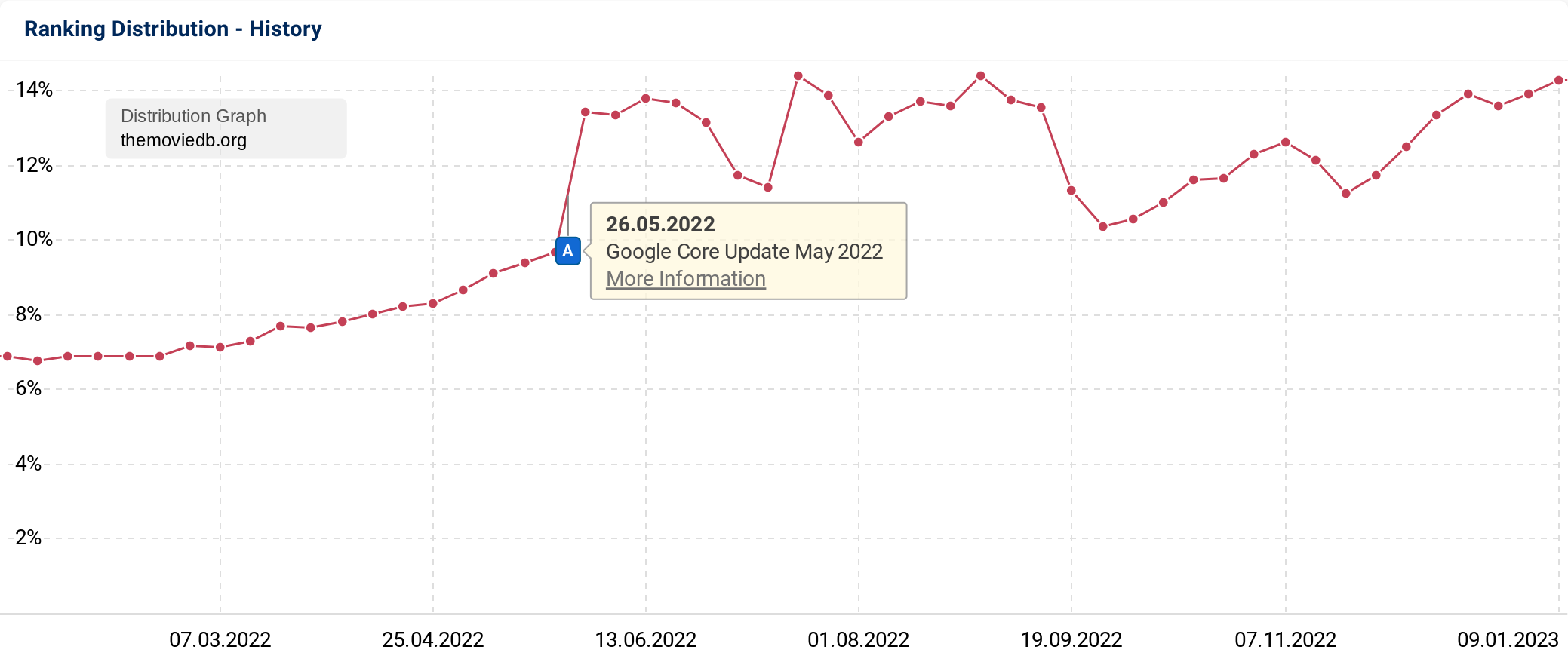 IMDb, one of the most established online databases, also saw year-on-year growth. The upshift in visibility seems to have stemmed from the May Core Update, with subsequent updates, including product review updates and the Helpful Content Update, further supporting its organic growth.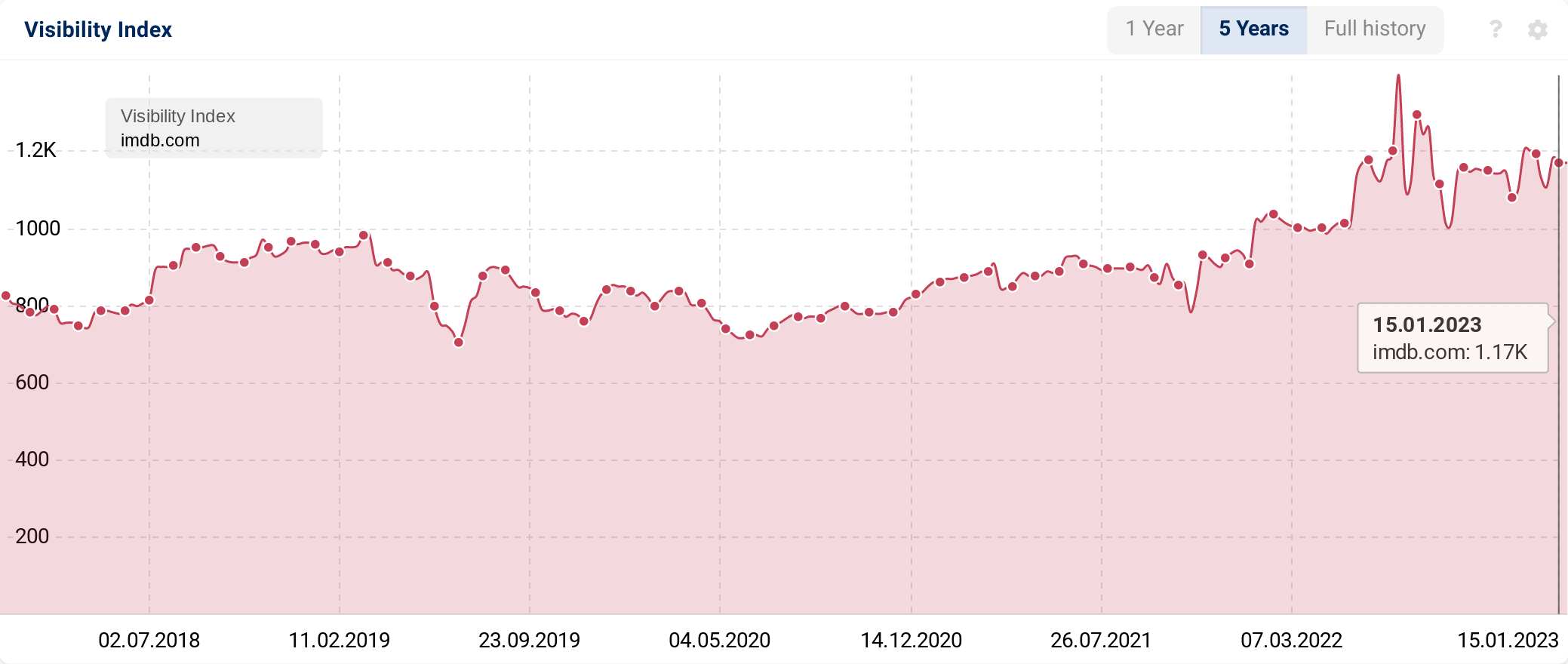 Reviewing the core pages across all three sites mentioned above confirms that there has been no major restructure or redesign.
Just one week into 2023, it was announced that TikTok is licensing data from IMDb to make it easier for users to search TV and film-related content in-app. It will be interesting to see how this affects TikTok's internal search and IMDb's Google SERP presence as we move through the year.
Positive momentum for marketplaces
There is no doubt that the world of eCommerce has evolved over the last couple of years. In fact, a recent report from Edge by Ascential forecasts that by 2027, 59% of global ecommerce will be done via online marketplaces. Currently, in the UK, the rate of internet sales as a percentage of total sales is 30.2% (Nov 2022), up from 21.6% in Nov 2019, before COVID.
Second-hand marketplace and hugely visible domain ebay.co.uk saw great organic success, with its Google visibility increasing by 752.8 VI points in 2022. During the last 12 months, the website's "/b" directory, which houses all the listing categories, saw a significant increase.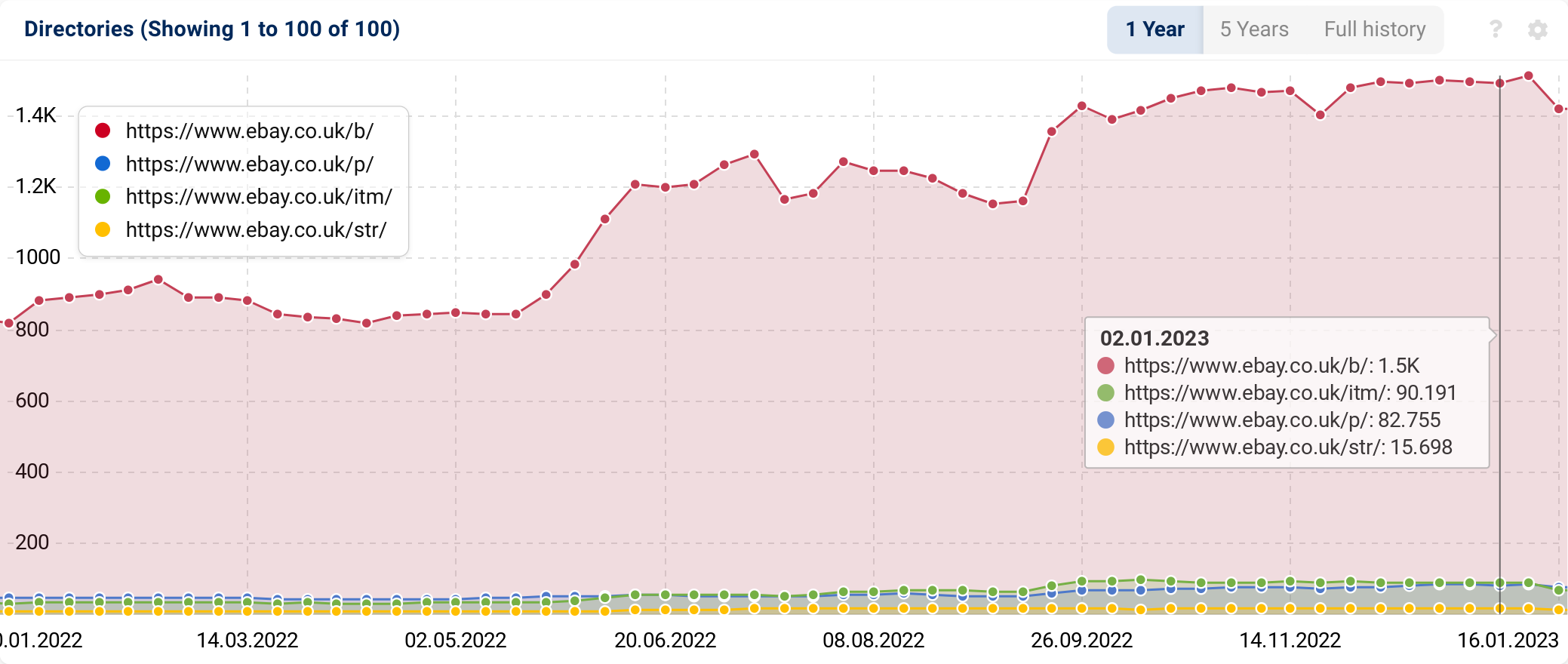 The "/b" category directories contain the ever-changing list of item URLs, but the category landing pages are clear to see in the table of most-visible URLS, below.
Due to the cost of living crisis and longer manufacture lead times, more and more people are turning to marketplaces like eBay to buy cheaper vehicles and second-hand or non-genuine replacement parts. Are Google's algorithms tuning into this activity?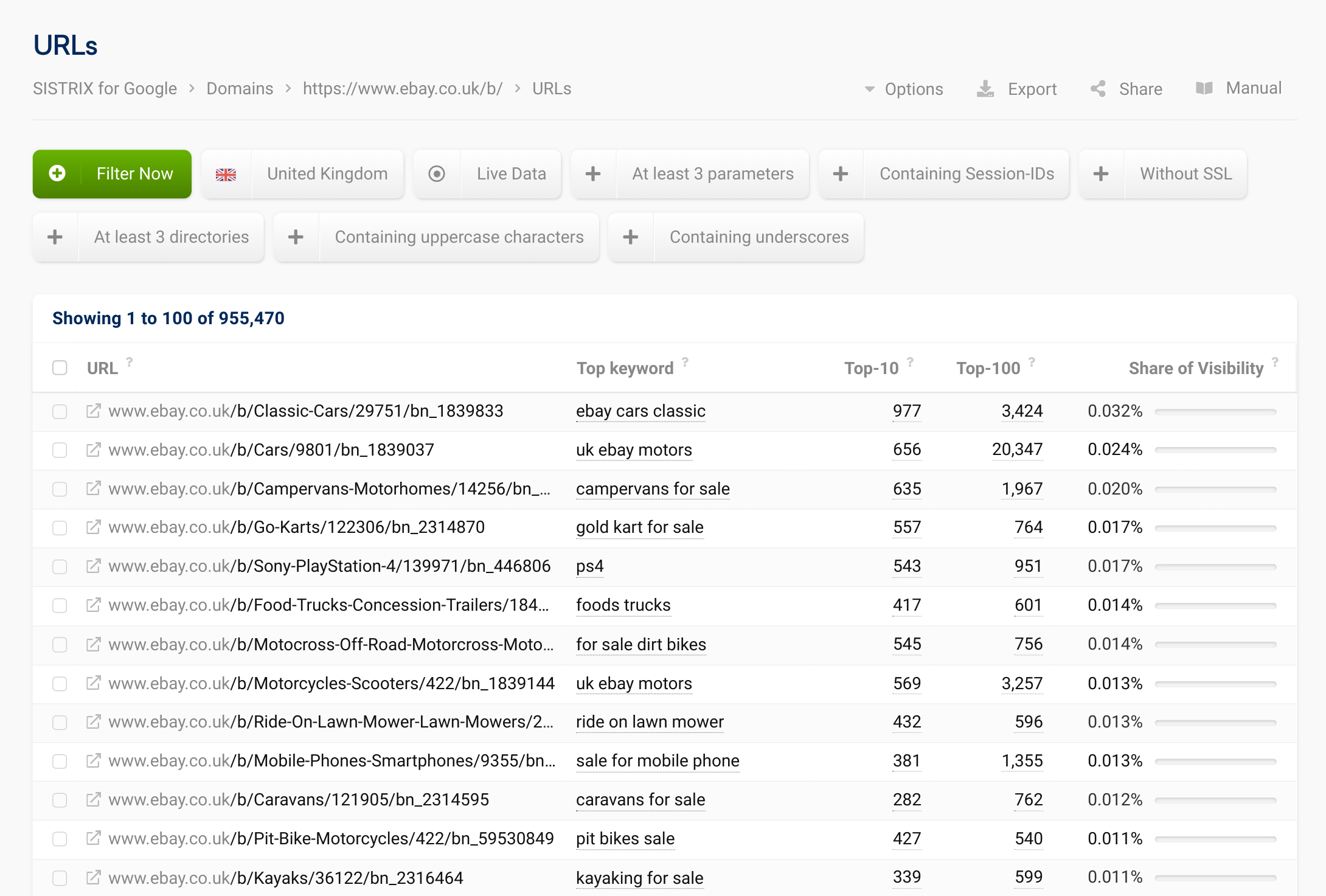 eBay also reaped the rewards of their second-hand fashion partnership with Love Island in 2022. This series ran between June & August, and once finished, contestant Tasha Ghouri became their brand ambassador. This is a partnership that eBay has confirmed will continue into 2023.
However, second-hand fashion isn't exclusive to eBay. In fact, in 2021, vintage marketplace Etsy acquired Depop to maximise its appeal to Gen Z.
Like eBay, Etsy.com has seen a rise in its Visibility Index score (+433.1 points). However, the section that has seen the most improvement on UK Google is the "/uk" subfolder.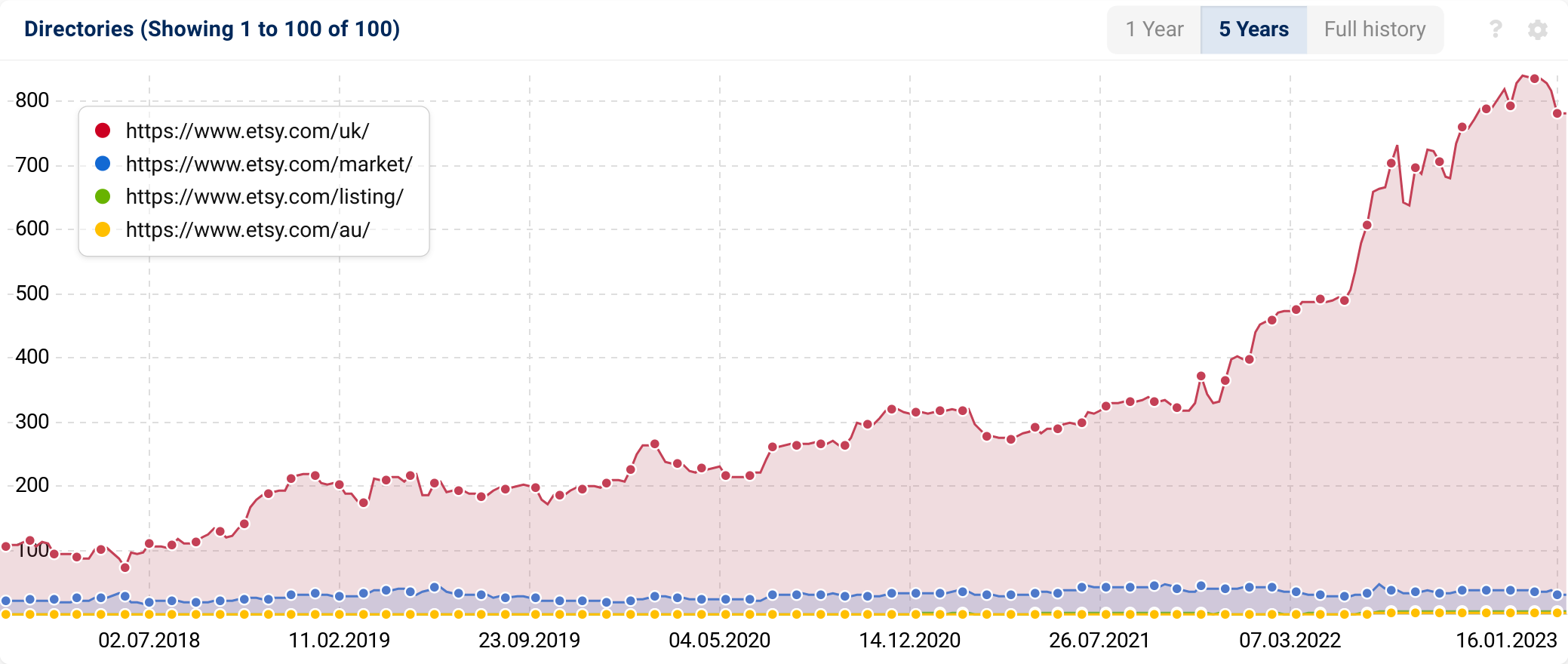 The effectiveness of Etsy's international SEO strategy has improved over the last year. For example, 29,253 keyword rankings have switched from US to UK pages for maximum SERP relevance.
Since 3rd January 2022, Etsy.com has also gained rankings for approx. 2.27M keywords, including many fashion-oriented terms, including "cute dresses", "korean fashion", and "shawls for dresses". 82,178 of Depop's overall keywords (approx. 59%) are also targeted on Etsy, further emphasising a shifted priority to gain a younger audience through second-hand fashion.
When it comes to brand acquisitions, it is not uncommon for the purchaser to take inspiration and carbon copy strategies to aid other businesses in their portfolio. Of course, there are instances where this does not happen from an SEO standpoint(!), but it seems that ETSY Inc has taken time to nurture Depop, understand its SEO strategy and use this as a basis to expand the other brands beneath its umbrella.
Search success for Shopify
Despite a turbulent year of layoffs and stock price decreases, Shopify's organic performance has improved considerably year-on-year (+515.4%).
Inspection of the site's top-performing subfolders confirms that, like Etsy, Shopify has also changed its international SEO strategy. As a result, many "/uk" pages have started ranking on UK Google Search, increasing the visibility of the section from 0 to 18.8. The main contributor to the UK directory's increased prominence is blog content.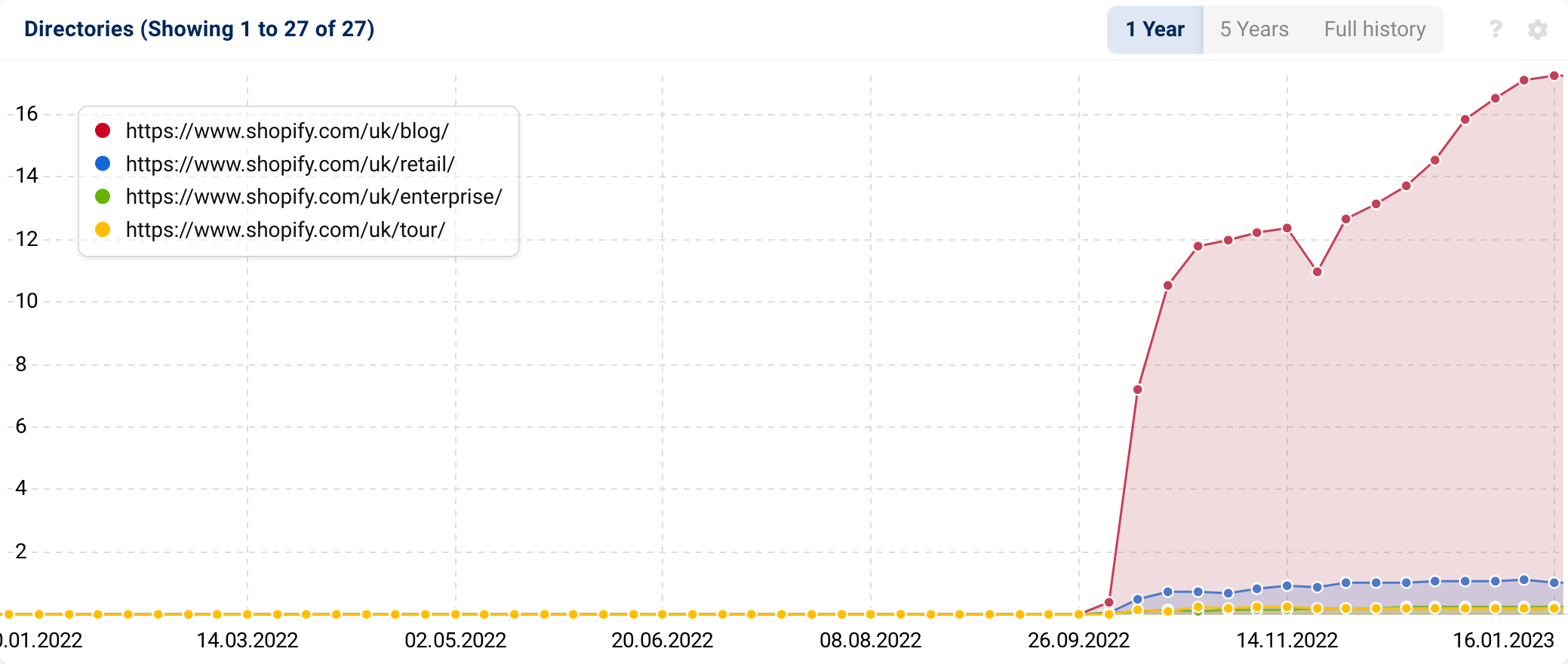 Due to the successful use of Hreflang, the US versions of the content are dropping out of the index and being replaced with their UK equivalents. The blog, actually a targeted SEO content project, contains 1,385 ranking URLs and an extremely good performance ratio.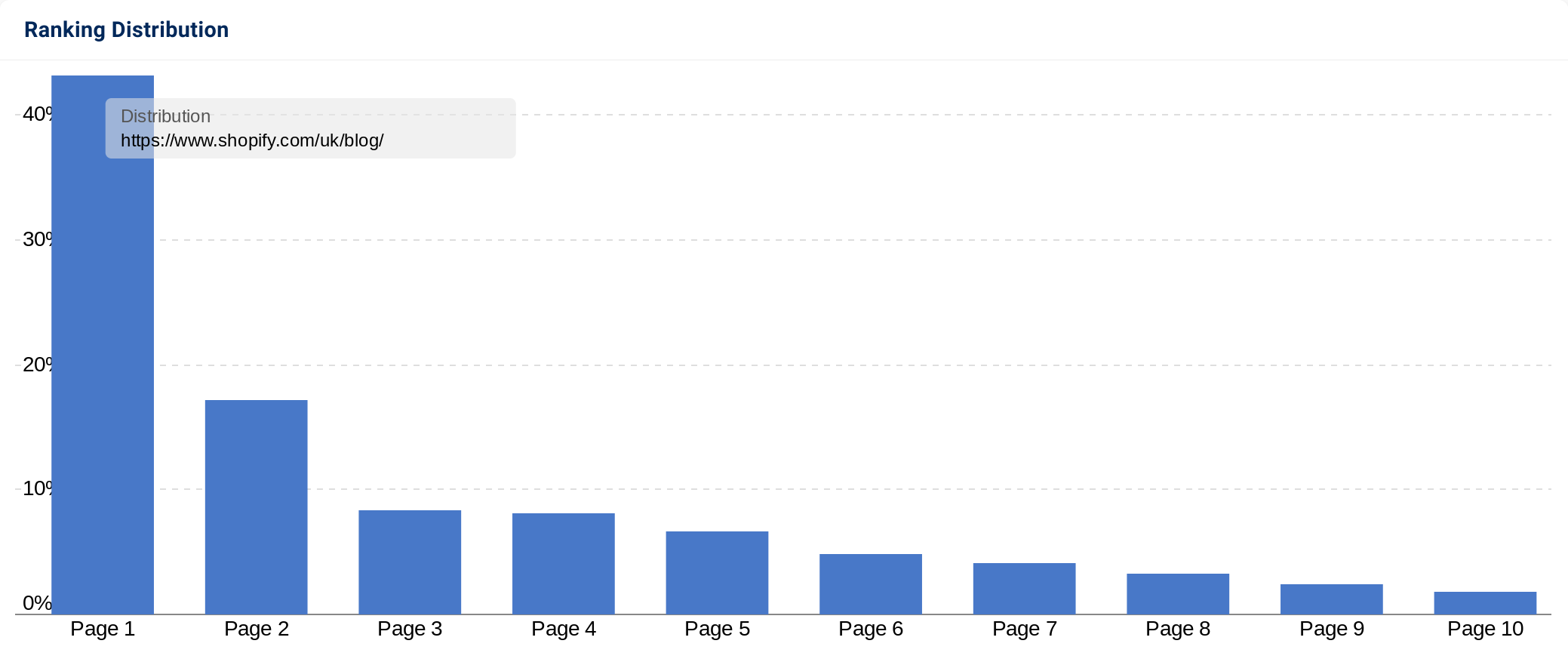 The topics covered through the "/uk/blog" section are diverse, with the UK subfolder achieving organic rankings for keywords from "daily inspirational quotes" through to "marketing plan examples", "breakeven analysis", and "dropshipping".
This highlights Shopify's holistic approach to content, which covers several business aspects. Based on the topics, it seems that Shopify is focusing on creating valuable content for new and less experienced business owners, which will, in turn, also influence the website's E-E-A-T.

Shopify.com has also been supplementing its UK subfolder with knowledge hubs for retailers and enterprise clients. This aligns with their newly announced Commerce Components (CCS) for enterprise retail, offering different ways for companies to integrate Shopify's technology within their existing solutions.
Heightened visibility for health sites
In alignment with the May Core Update, a number of health-oriented websites experienced an increase in SERP visibility, including UK-focused www.nhs.uk (+181.6 points) and US-focused sites: nih.gov (+83.9 points), mayoclinic.org (+79.3 points) and clevelandclinic.org (+70.9 points).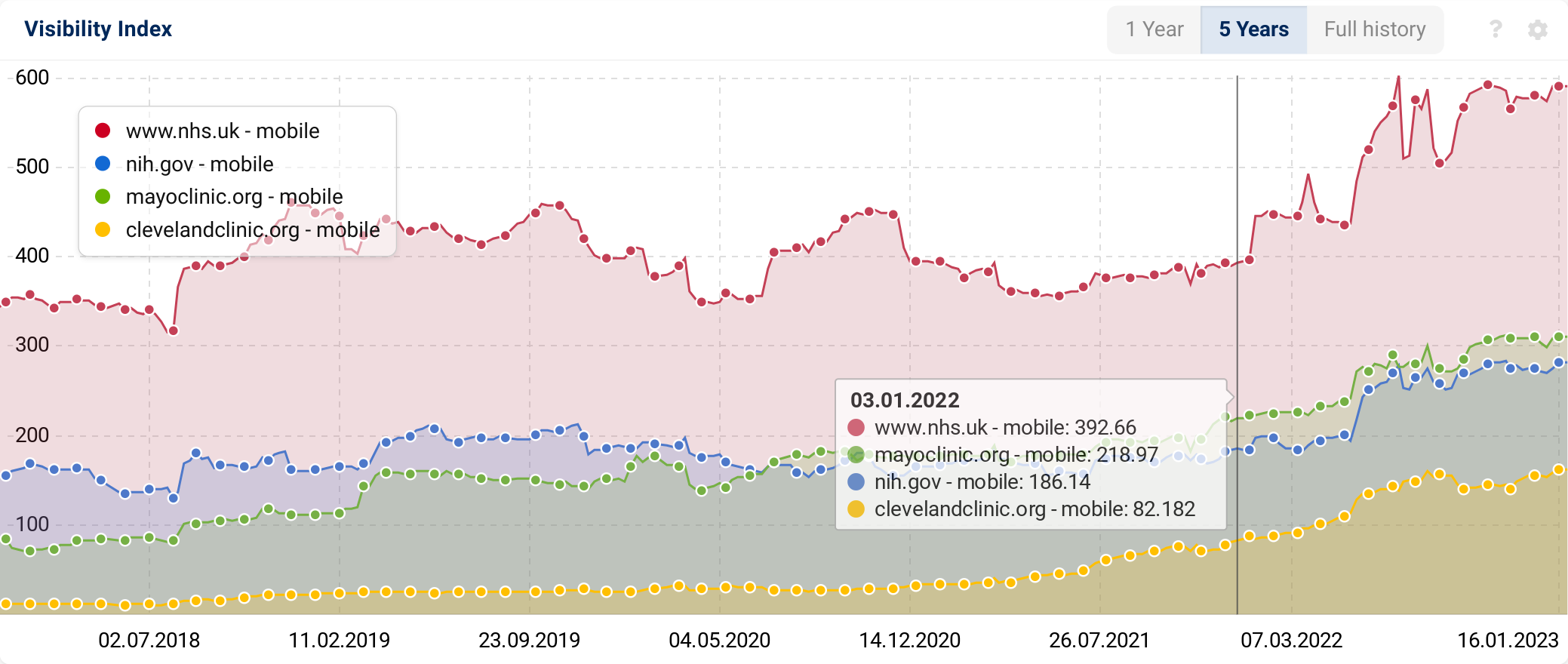 The biggest health winner, the NHS website, saw a rise in Google prominence, particularly for pages within its "/conditions" directory.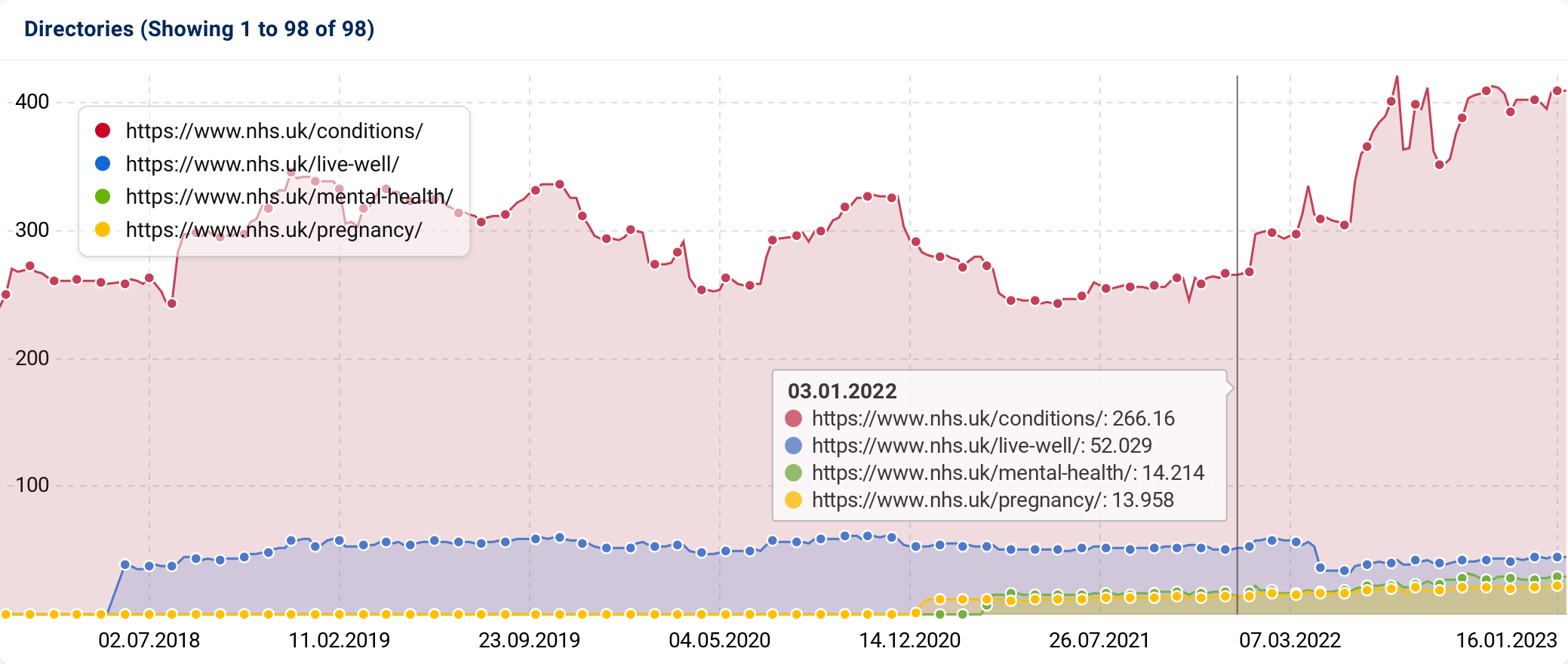 The /conditions directory is a high-performance content directory, with over 50% of ranking keywords appearing on page 1 of search results. It's rare to see such a big, and yet so successful content strategy.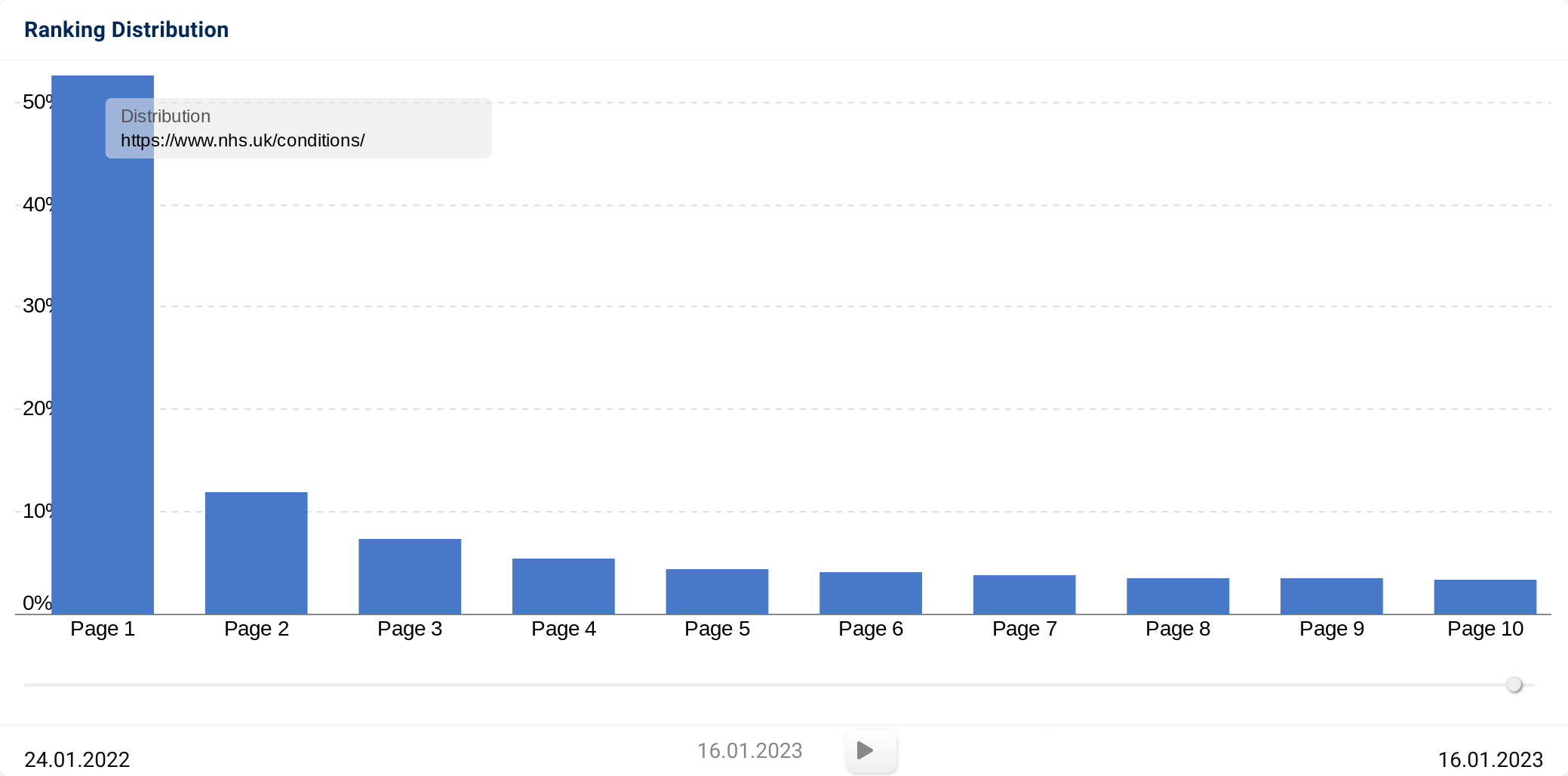 The number of featured snippets the NHS domain is showing for has increased by 119% (from 47,347 to 103,580). This is also the case for mayoclinic.org, which has seen a 76% featured snippet increase (from 42,195 to 74,163).
Like the NHS, mayoclinic.org, which also ranks high for many medical terms, has seen a significant uplift in the visibility of its "/diseases-conditions" section (+62.39 VI points).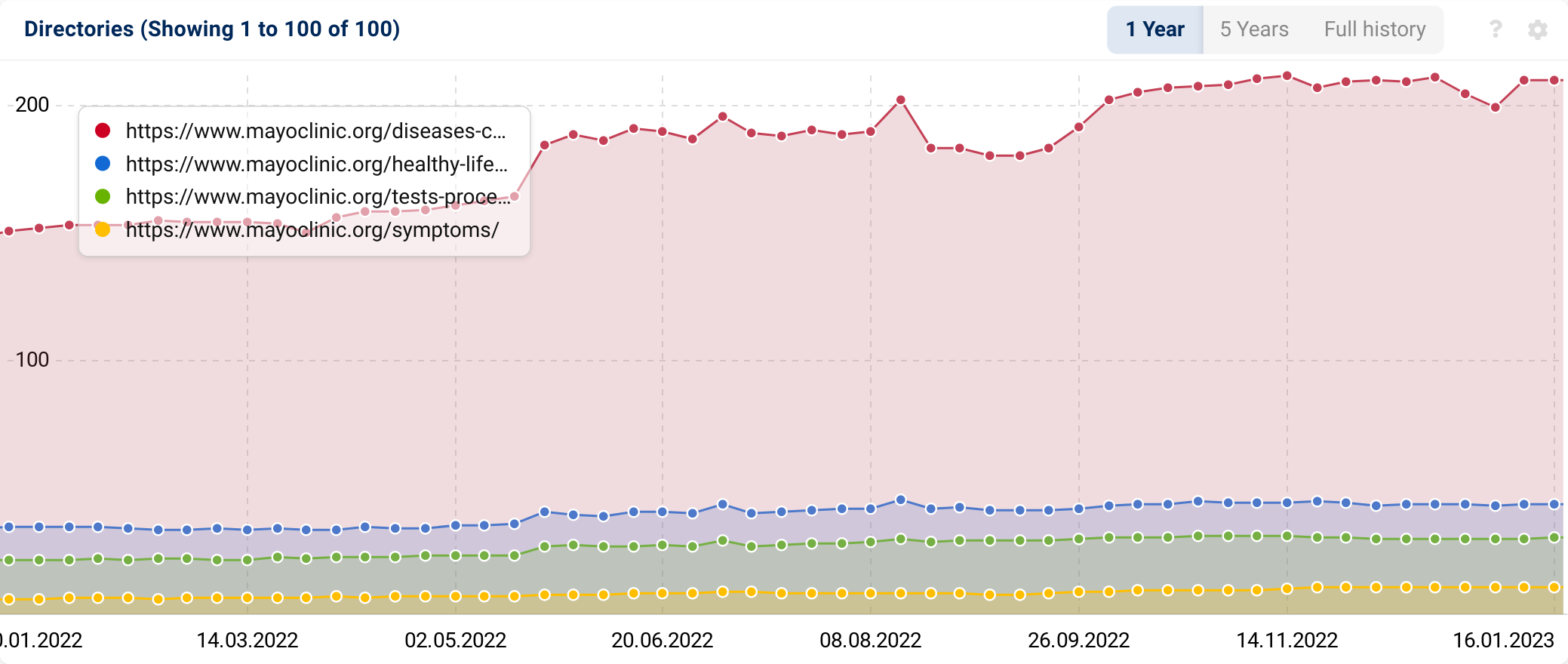 Since the beginning of 2022, Mayo Clinic has started ranking for 282,358 new keywords and has seen improved rankings for 637,893.
With the status of the NHS – staff strikes and shortages, treatment delays and patient capacity issues – it is more important than ever that the information provided within featured snippets for medical conditions and symptoms is pulled from trusted and authoritative sources.
In the case of Your Money Your Life (YMYL) queries, it seems that recent algorithm updates have heightened the bar significantly for the benefit of healthcare providers and searchers alike.
Complete list of 2022 winners (absolute & percentage tables)
Now that we've reflected on a small selection of 2022 Google UK winners, here is the full list of top domains.
Below, we have included two tables containing the top 25 domains (absolute and percent). These have been filtered to remove adult content.
Percentage increases:
IndexWatch 2022 UK mobile winners percentage
Absolute increases:
IndexWatch 2022 UK mobile absolute winners
Conclusion
There has been much fluctuation in the UK SERPs in 2022. Over the course of the year, algorithmic influences have resulted in SEOs rethinking their priorities. Through this particular article, we have observed that:
More and more brands are focusing on the long-term rather than the short-term. SEO has always required a holistic approach, but there seems to be more emphasis on content usefulness and experience over time.
Like during the Coronavirus pandemic, it does seem that Google's algorithms are tweaking to aid users during the cost of living crisis. This is apparent from looking into health content, but it is likely this is expanded across other YMYL topics.
For international businesses, like Shopify and Etsy, internationalisation is crucial for search relevance and maximising user engagement. In the case of these particular domains, users are now being served with the most relevant information and products based on their locations, improving the overall search experience.
Knowledge hubs are still key, particularly for showcasing E-E-A-T. Content is still very much king, and is it more important than ever to produce helpful and high-quality content with a purpose; to educate, engage and support website visitors.
Links still matter. There are always mutterings and mixed opinions in the industry about the power of links. However, the reality is, that links are one component of the SEO ecosystem, and they ultimately aid content and brand discovery whilst enhancing a user's browsing journey.
Other IndexWatch studies include DE, ES, IT and FR
The 2022 IndexWatch report is available for the following countries:
🇺🇲 US
🇩🇪 Germany
🇮🇹 Italy
🇪🇸 Spain
🇫🇷 France
All our current and past IndexWatch (UK and US) analyses are available here, including an analysis of the US data. You'll also find the UK and US losers as soon as they become available.