The quality and quantity of incoming links to a site are still the most important criteria for sorting search results on Google. This means that a purposeful linking to a site is a prerequisite for a good ranking, next to the on-page optimization.
Depending on the intensity of the competition for a specific keyword, link building can often require most of the resources (labour, money). Therefore, a SEO will often need to inform decision-makers within a company (CEO, department head, budget manager) about link building, in order to have the appropriate resources granted. This becomes harder depending on how little expert knowledge these stakeholders have in SEO. Hanns Kronenberg created an infographic for this kind of situation, in order to explain the fundamental basics of link-distribution (distribution, creation). This chart can also be used as a compact overview of each alternative, even by SEO-experts, which can be helpful during the organisation phase of their link-building strategy.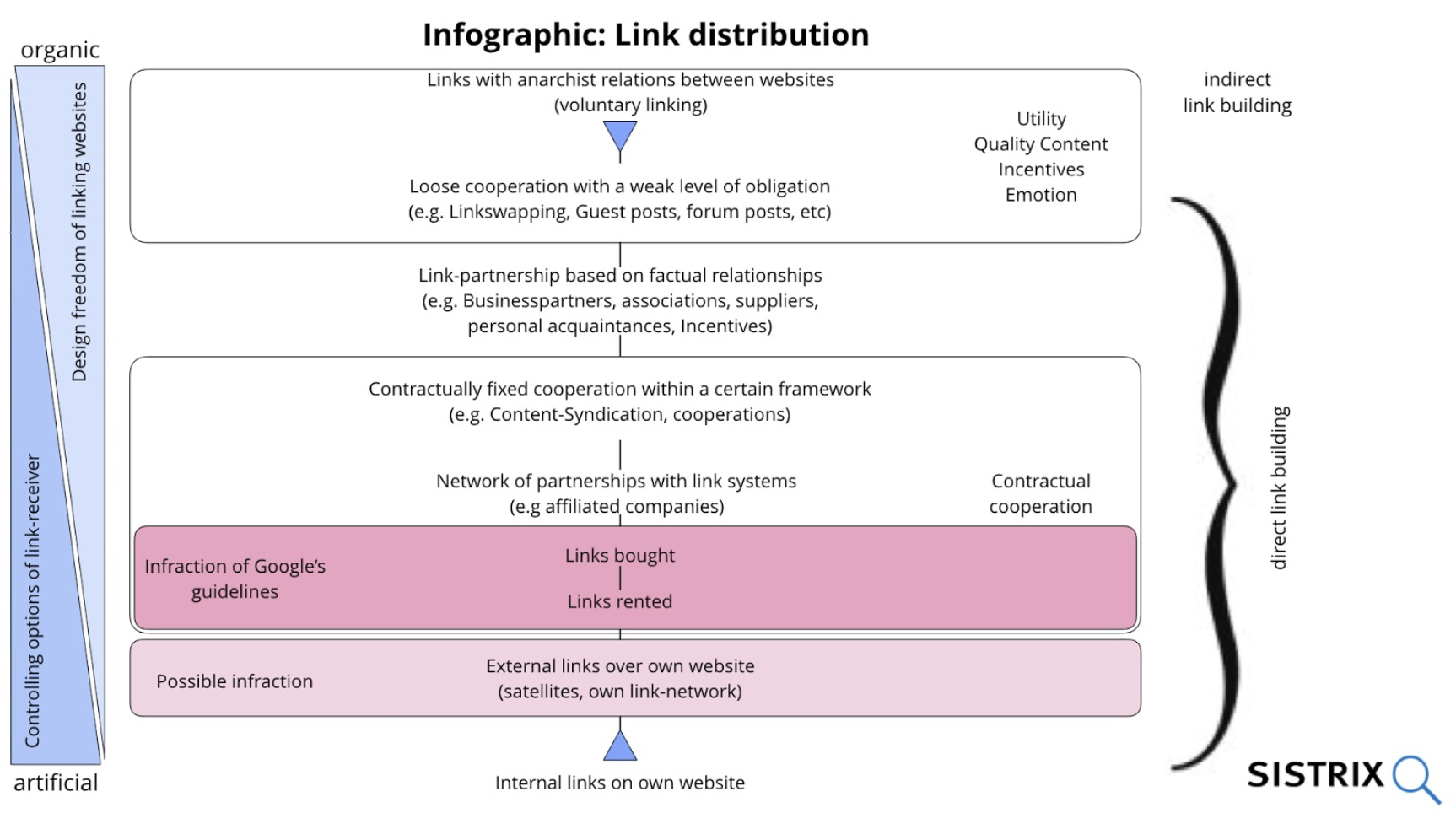 Just as the infographic shows, we can differentiate between different kinds of link-building, namely by the form of the relationships between the linking page (link-giver) and the page linked (link-receiver). The relationships range from links placed by entirely voluntary means, without any kind of bond between both websites (anarchistic relation), to links which have been placed by direct order of the link-receiver, for instance within their own link-network or on their own website (complete bond).
In the case of voluntarily placed links, the link-giver has unlimited freedom of design when it comes to these links (link text, follow vs. nofollow, duration, placement etc), this freedom will decrease the closer the link type gets to being a purely "ordered link". While, at the same time, the controlling options of the link-receiver will increase.
There are advantages and disadvantages to both extremes. If the link-receiver has of a lot of controlling options, he might be able to choose the link text, for instance. These links can prove to be indispensable for the website to achieve a top-placement in the search results, for those keywords subject to strong competition. At the same time, there is a high risk for artificially built links to have an unnatural looking link-profile. If Google recognizes this, the website will quickly end up in a filter.
Voluntarily placed links will help a website obtain an organic (natural) link-profile. With these kinds of links, the link-receiver will have very little influence on things such as the link-text. You will be hard pressed to ever find voluntarily placed links with such attractive anchor texts as "Insurance Comparison", "Credit Cards" or "Hotel London". And still, these links are extremely valuable. The more natural links you can get, the more "ordered links" may be within your link-mix without them having a negative impact on Google.
You could write an entire book on link-distribution and the explanation of all the different types of link-building techniques presented within the infographic, including their advantages and disadvantages. But this would go beyond the scope of this article. The important part is that the essential relationships presented in the chart should be self-explanatory.
Once again I would like to point out how truly important it is for the link-receiver to have a working relationship with the link-giver.
What link-building experts already know and use is still being neglected by many websites. Building and strengthening relationships to attractive link-partners is a valuable step on the path to achieving more control options over the link-distribution.
Here it is also worth having a look at distribution politics in commerce, in general. There, producers of goods will try to win over and strengthen their relationships to branch managers and purchasing agents with incentives (e.g. events, trips, other prizes). While merchants often have a gatekeeper-function in the distribution of goods, link-givers (you could also call them information-merchants) have a gatekeeper-function in the distribution of links.
The producer's goals (distribution of goods to merchants) and those of an SEO (distribution of links in other websites) are very similar to each other. A decision maker that has taken this relationship to heart, will usually grant the SEOs a higher budget regarding the link-building efforts.