As an event holder, you want to sell as many tickets as possible. Getting your event listed on search engines is the best way to make this happen and the Event Schema can help you achieve this.
Structured data is a language that allows you to create rich text snippets on search engine results. Events are just one of the main category types that can be created. It allows you to highlight what matters to those who are more likely to be interested such as your event.
If you are interested to learn how to promote your event using structured data, here is an overview to guide you.
What Is Event Schema?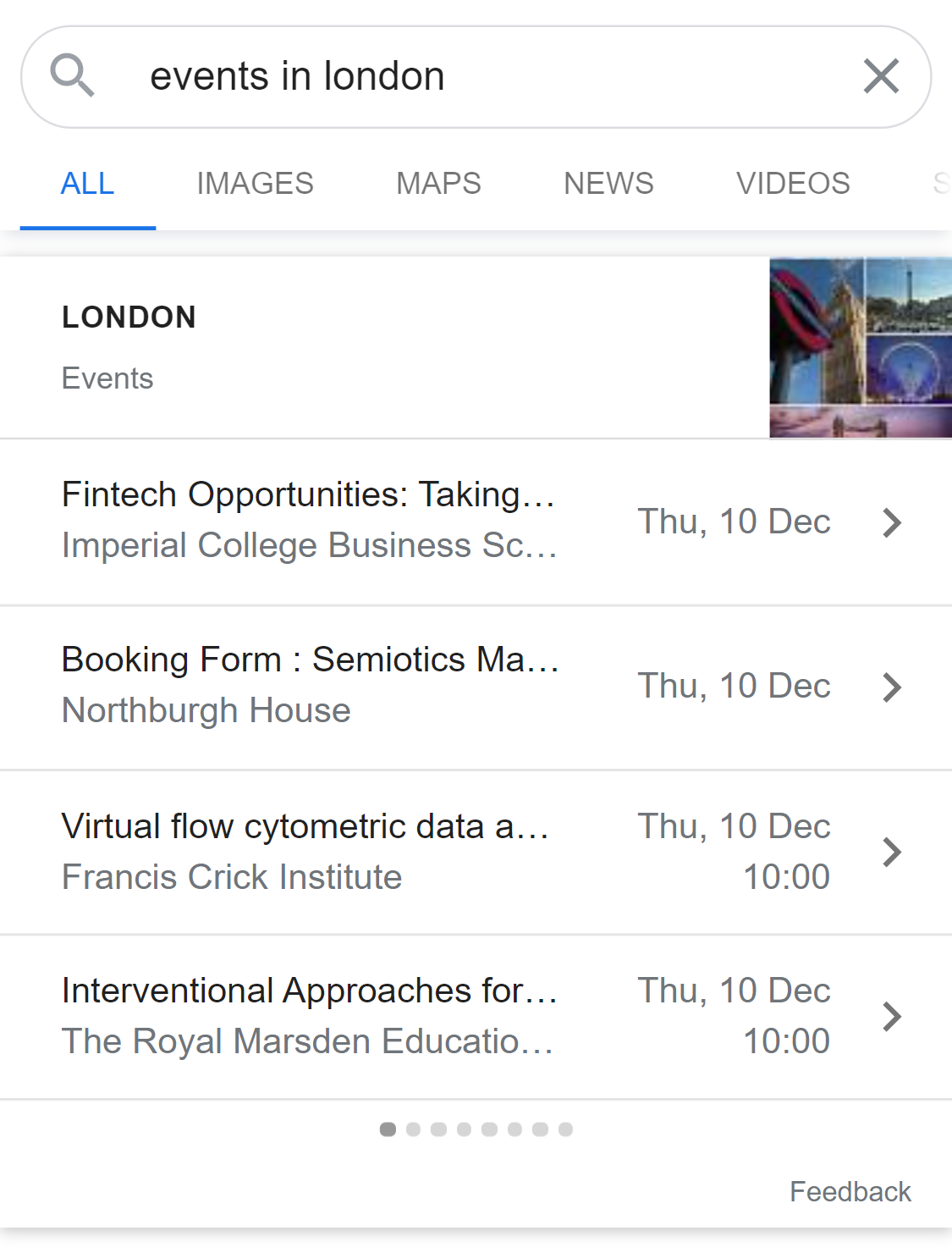 Event Schema relates to the Schema properties you can use to advertise your event. Schema can be used to create rich text results across many different categories such as films, recipes and jobs. Events are one such category, and it's important to choose the right category due to the way the rich results will be displayed on search engines.
In the case of event Schema, the main properties include the name of the event, location name, and the date of the performance. The idea is that when people search for any of the properties such as the artist's name, the listing along with all the relevant details about the event will be displayed.
Using event Schema will ensure details about your event are displayed to those who may not be aware it is taking place, alongside those actively searching for tickets. Eventbrite saw a 100% boost in traffic due to the use of event schema, and any event holder can use the same technique to increase awareness and ultimately sales for their event.
Implementing Structured Data For Events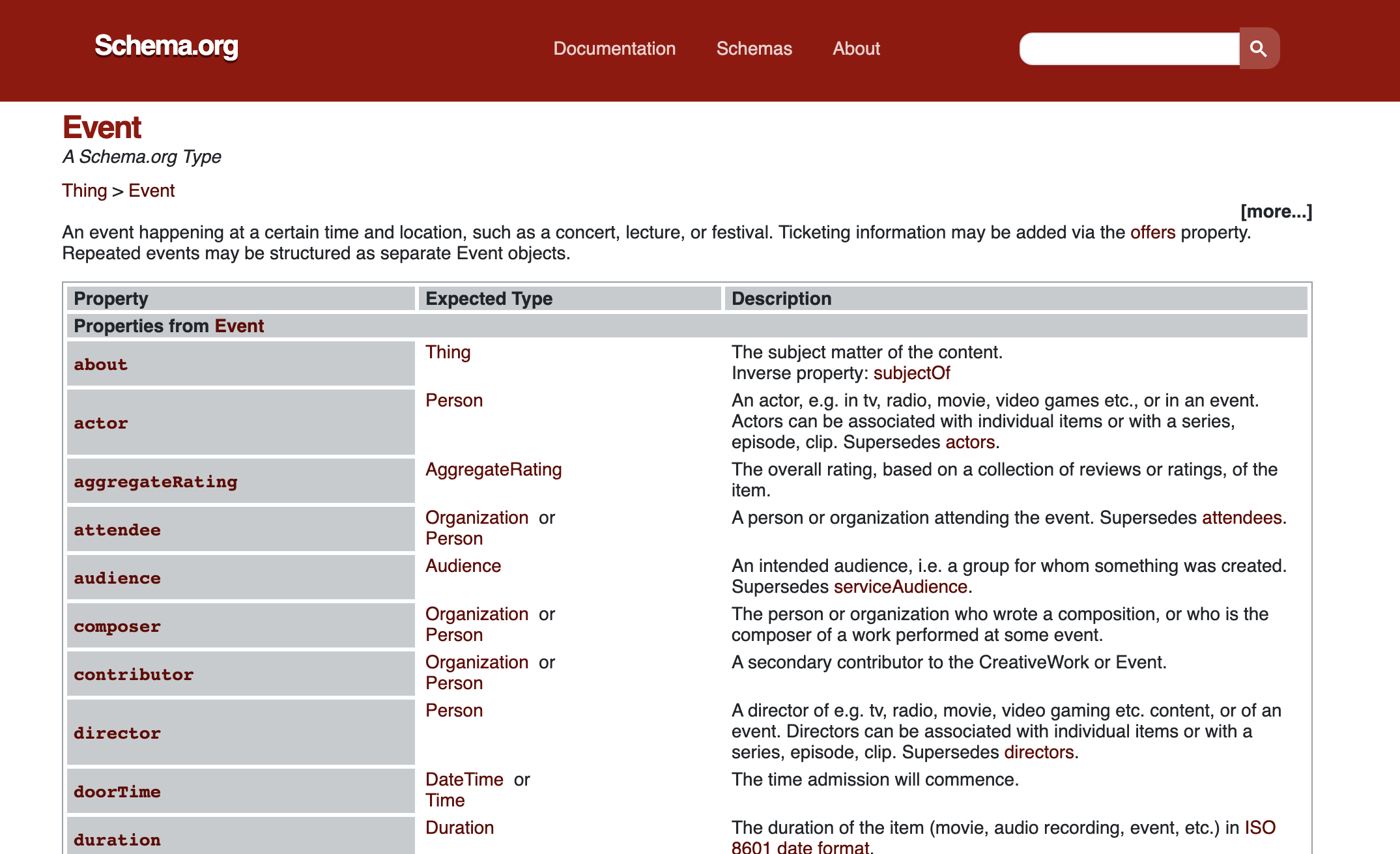 Depending on your level of technical ability, there are three different ways of implementing structured data to display your event on search engines.
The first is to use a 3rd party website such as ticketing platforms. If the platform is already integrated with Google (or other search engines) the information may automatically pull through.
The next is to use a plugin as part of your CMS. For example, the structured data plugin for WordPress. This method can make it much easier to implement structured data, especially if you don't have access to your website's HTML.
Finally, the most technical option is to edit your HTML directly using the Schema markup and generating a JSON-LD code to paste into the event pages of your website.
Event Schema Guidelines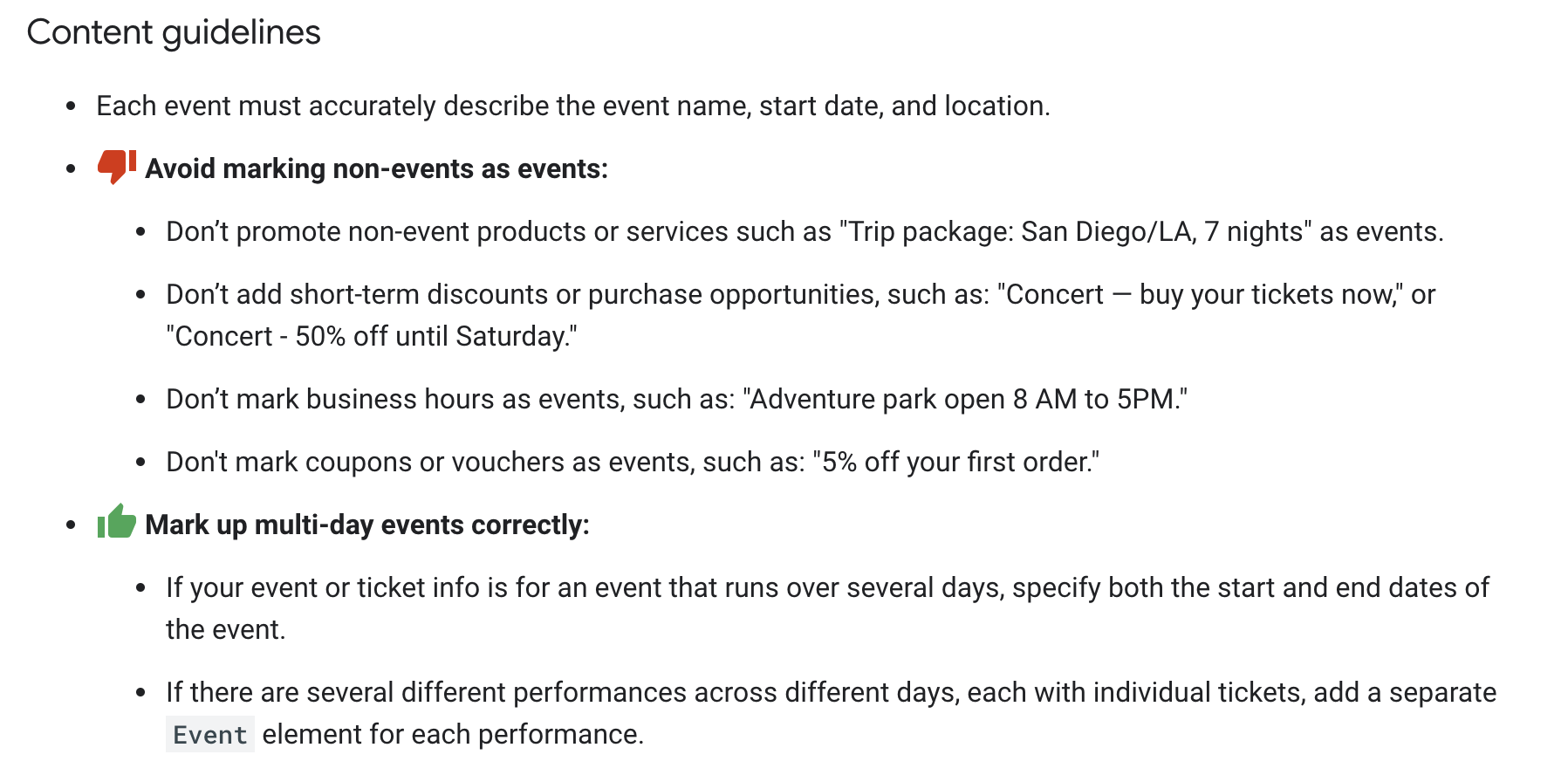 As with all forms of structured data, Google has a strict set of guidelines relating to the content you produce for event Schema. Understanding the correct format is important, as otherwise, your event post won't show up on Google, which can be very costly if this results in poor ticket sales.
First and foremost, you should only markup actual events as events. So while a concert, festival or exhibition would count as an event, a travel deal – even if it states a set of dates wouldn't. On that note, the Schema can contain information about the price, but not in a way that advertises a deal or looks to pressure the audience into buying a ticket.
At present, Google only supports linking to a page that focuses on a specific event. So, you cannot create structured data for an event post that links the user to lots of events. Instead, you'd need to create structured data for each event, linking users to an individual page about that event.
Rich Results Testing Tool
Before launching your structured data, you want to make sure it not only works great but displays the information about your event as intended. To do this, use Google's free testing tool. Simply paste your JSON-LD code or the URL, and it will give you a preview of how your event will appear to users on Google. 
How Do I Create An Event On Google Events?
Once you have created structured data for your event and it is live on Google, it is then easy for users to add this to their calendar and share on social media. However, it's also possible to create an event on Calendar and share it with others. The difference with this method is it's designed for sharing events with friends, coworkers etc. Only when using structured data will it be publicly searchable with the ability for users to then add the events to their calendar.
Conclusion
Implementing structured data to promote your event, can be an extremely effective SEO tactic. All that's required is for the user to enter a keyword or even pinpoint a location on a map, and your event will show up.
Requiring little technical ability, you can even use a plugin to create the structured data for you, and test it with ease before launching.
Compared with other digital marketing methods, event Schema can deliver incredible results with just a few minutes work.