When posting a job advertisement, your priority is to attract the right clients. After all, not only do you want to find the top talent, but you want to do so in an efficient way, especially with so many applicants per job.
One such method is to tailor the way your job posting appears on search engines – the place where people naturally visit first when browsing for a job online. The way to do this is by using structured data, which will add key details about your job to the result, rather than generating a standard link with a brief meta description.
Here is an overview of using structured data in a job posting to tell you more.
Benefits Of Structured Data Job Posts
Location specific
More applicant interest
Tailored to each industry
You can pick the elements you want to highlight
Great for SEO
Easy to implement
Actively encouraged by search engines
What Should Be Included In A Job Posting?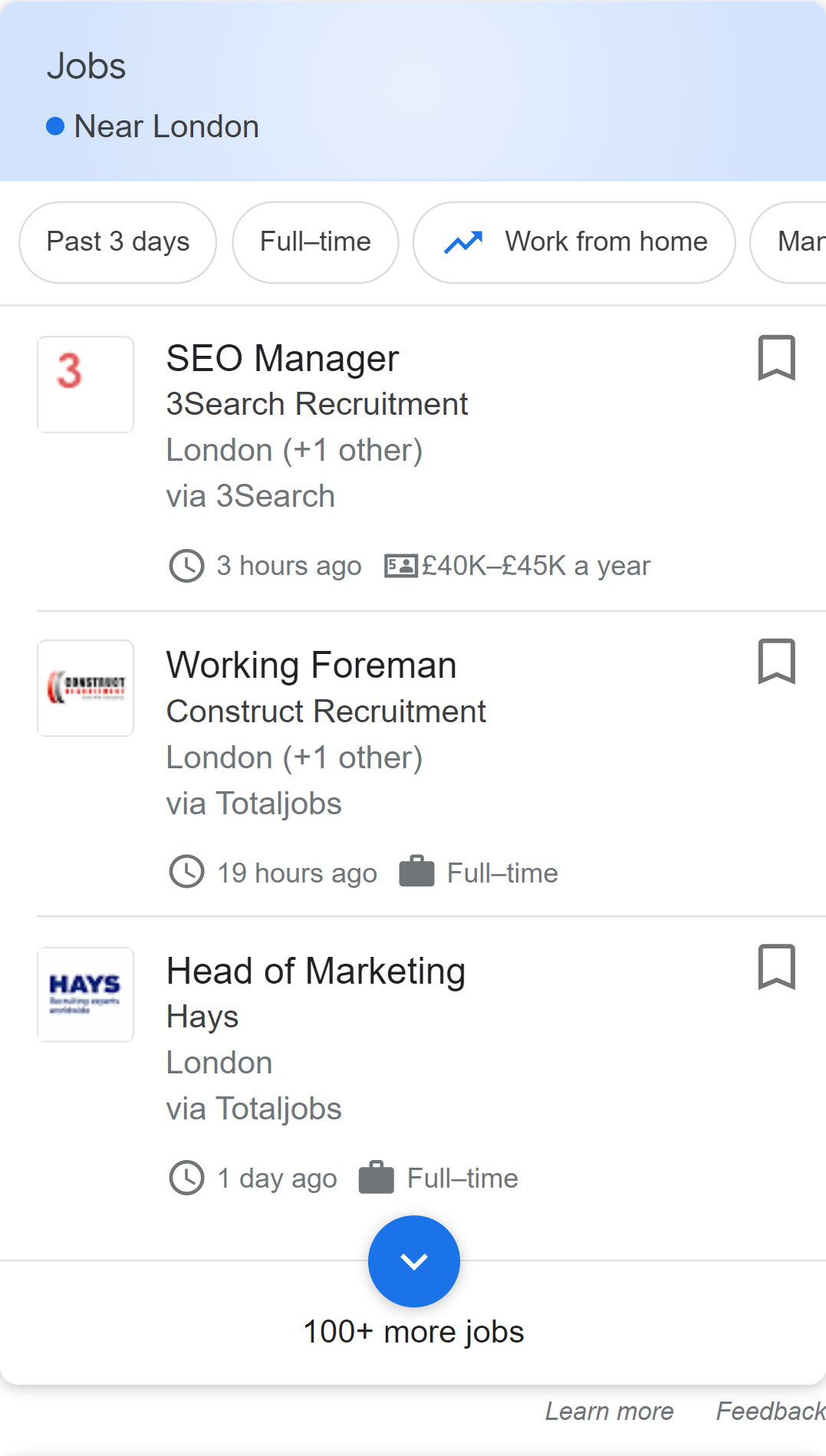 The key with a job posting is to give the right amount of details without being too vague or overloading the user with too much information.
After all, the structured data job posting is intended for search engines and is not the official application page. So, use the right structured data terms to outline what the job is, a brief description of the requirements, salary, location etc.
Google has also outlined its requirements for structured data job postings. For example, it will only allow posts which include how to apply. Posts that require a login to an external site to view the job post won't be allowed. This is a quality control measure that ensures the post remains helpful for its users.
Recommended Structured Data Job Posting Properties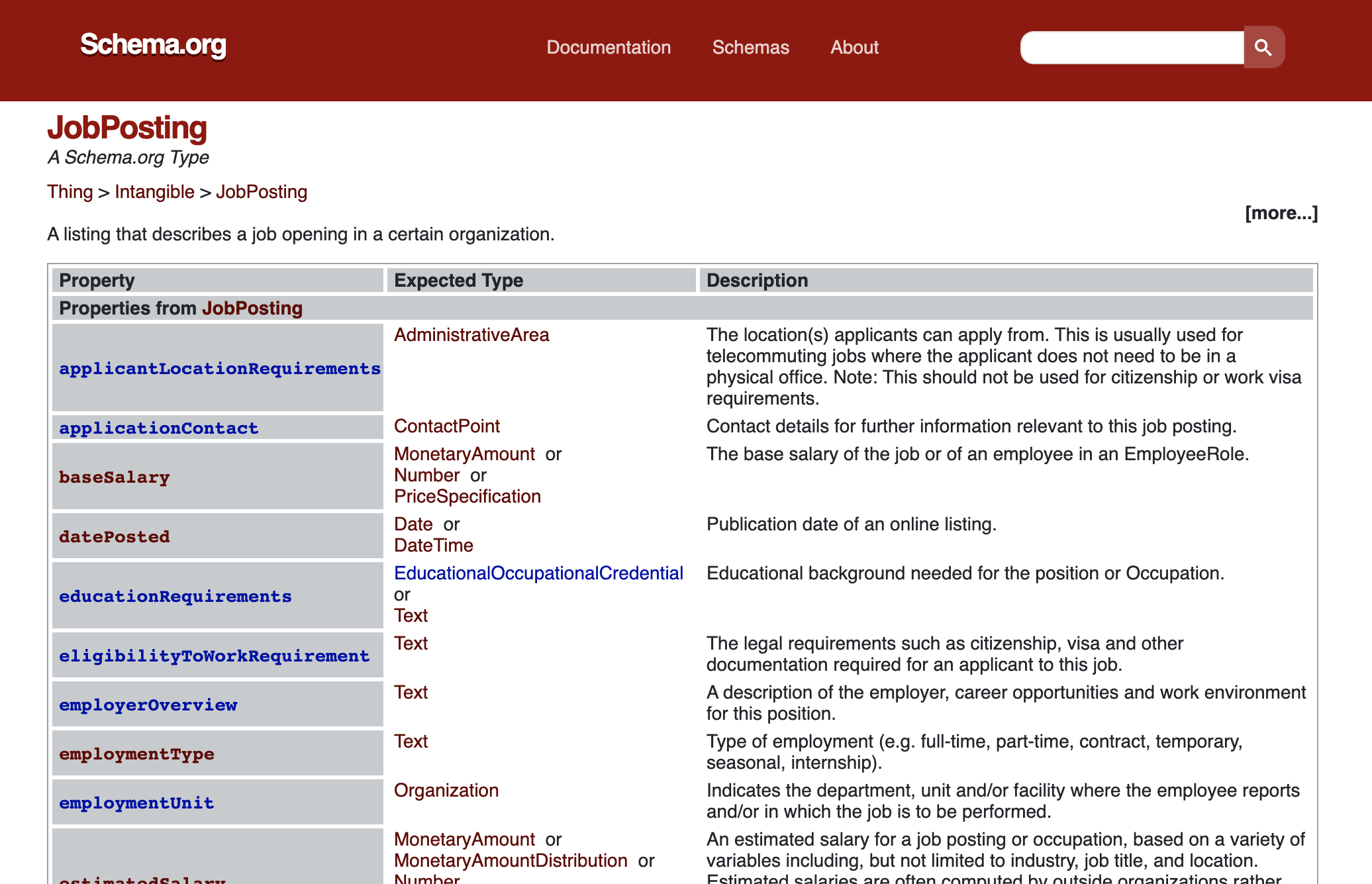 applicantLocationRequirements – The location where the applicants can apply from. Note: 'remote' location work is currently highly favourable on structured data job posting. Google is actively encouraging employers with remote work to post jobs on their platform for this reason.
baseSalary – The yearly wage of the job. Posting the salary offers better clarification for applicants and is highly advised. Some may also filter jobs based on the salary, meaning your job post won't show up if you don't specify the amount.
datePosted – The date on which the job went live. Those who post jobs also have a responsibility to remove expired posts promptly.
employmentType – State whether the position is part time, full time, temporary etc.
experienceRequirements – The work experience the candidate must have to apply.
The above list isn't exhaustive but gives an idea of the most common terms recruiters will use. The post can easily be tailored to each industry and job type by visiting the Schema job posting category page, and choosing the relevant properties for your post.
What Is Structured Data For SEO?
Structured data can greatly aid your current SEO, as it allows you to highlight relevant aspects that search engine users are looking for.
In the case of our job post, the location of the job and the industry would use incredibly searchable terms, such as 'chocolate tasters London'.
Structured data is created using JSON-LD which is a series of code that needs to be pasted into your website.
Before going live, you can preview your structured data job post using the Rich Results Test. By reviewing your keyword use, you can ensure your structured data is SEO friendly before posting.
Conclusion
If you want your job advertisement to get noticed on search engines, then structured data is the way to go about it. As structured data generates a rich text result, you can create an engaging piece of content that highlights all the perks of the job. In essence, it allows the content creator to cut to the chase and the candidate to be able to quickly scan the advert to assess its suitability. With so many Schema terms available for job postings, it's something that all recruiters should be aware of and actively use.