While the news around online fashion retail site ASOS is negative, the website growth is currently positive. Visibility in Google Search is now 57% greater than in Feb 2019. In this article we take a mobile-first view of some of the positive signals, and consider the international SEO picture.
ASOS had 19.2 million active customers in the 12 months to Feb 2019 driving £1.2bn of global sales in H1 2019. They operate in a very competitive £200bn online market for clothing and when they make two profit warnings in one year, everyone in the online retail industry takes notice.
In their half-year report for 2019, ASOS have outlined five areas of marketing that will be receive focus. Traffic acquisition and SEO are two of them, and it looks like they've already started. This is the Visibility Index history for Google UK search.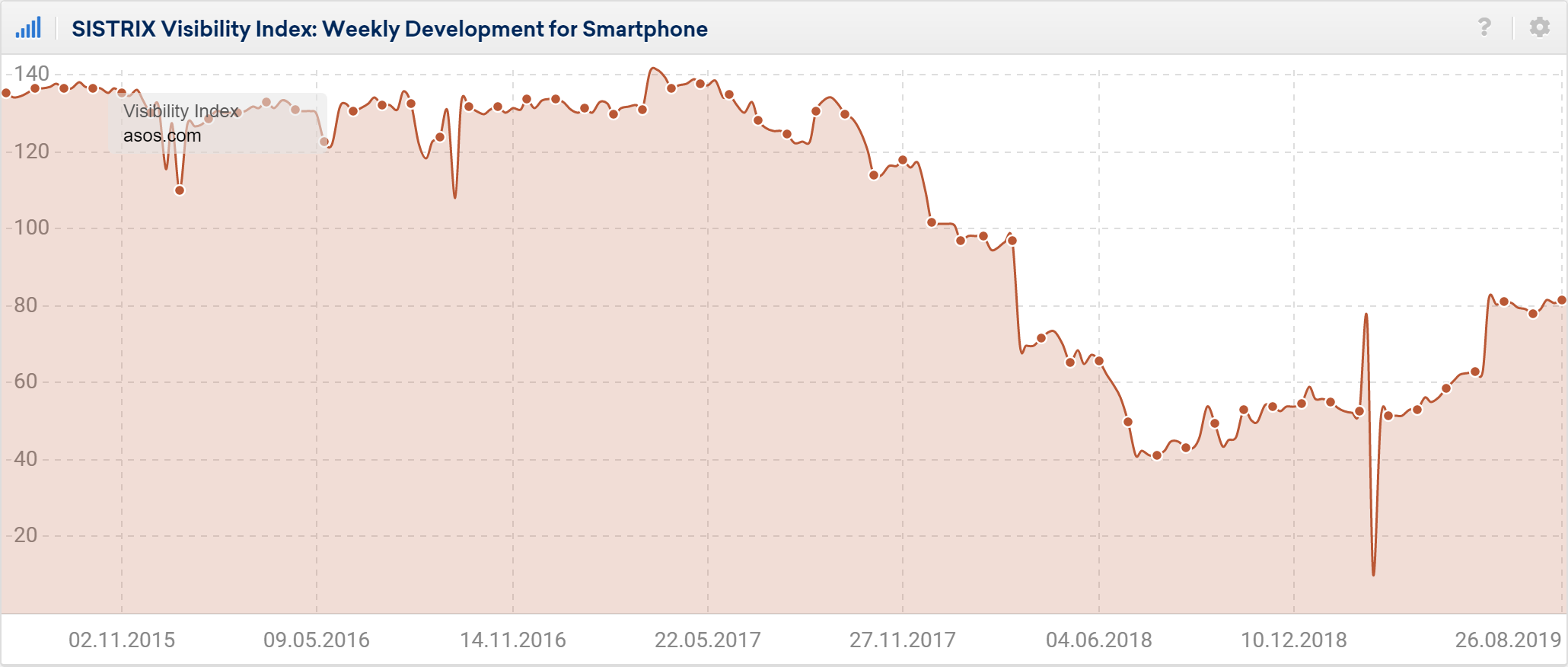 While a boost from the June 2019 Core Update is responsible for some of the recent growth, the new trend actually started before that, just as a separate mobile host was integrated into the www host.
Mobile site swapping
The separate mobile website, m.asos.com, had been in existence for many years but it had also been swapping in-and-out of Google UK Search with www.asos.com.  For any 'mobile-first' company, this is not the Visibility Index graph you are looking for.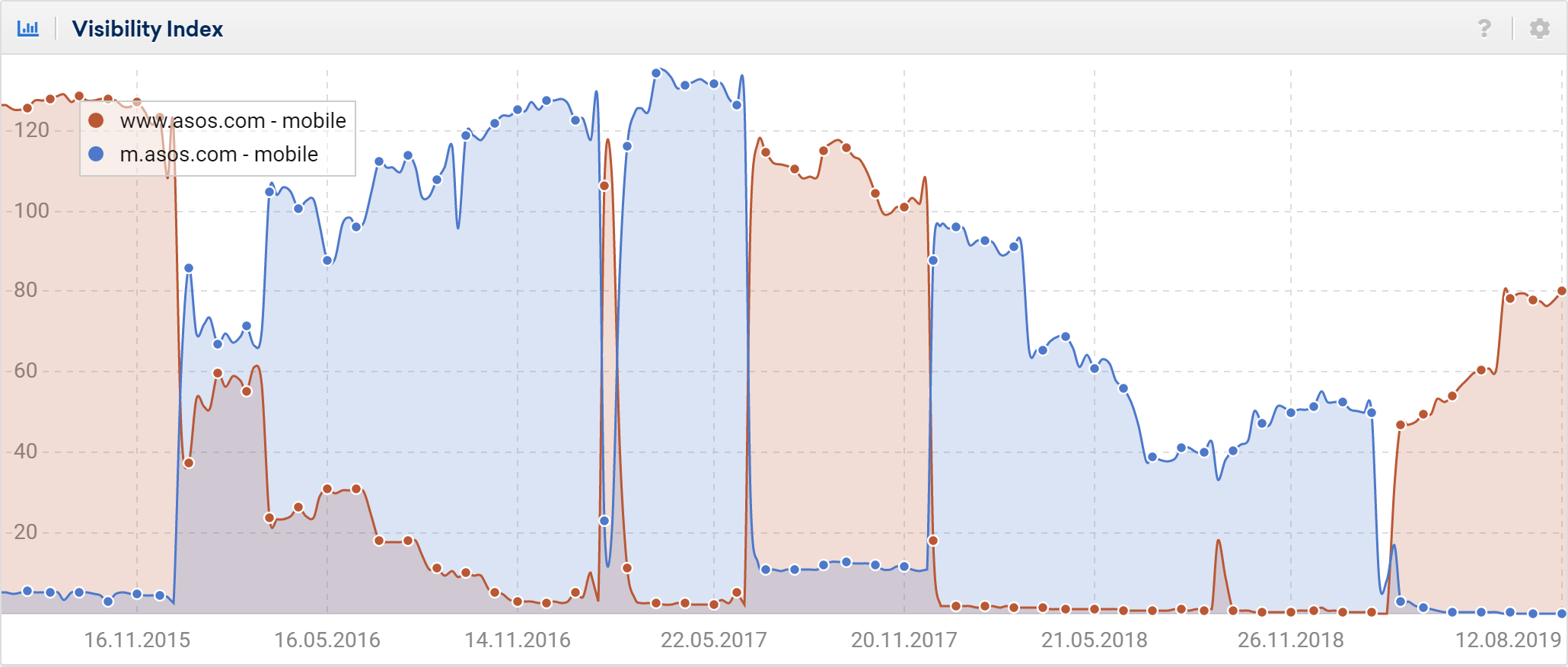 Around the 18th of Feb this year, the mobile site was turned off and the host www.asos.com website took over the rankings and started to grow. There have been significant Page 1 keyword gains since then, including these that have improved since the June Core Update….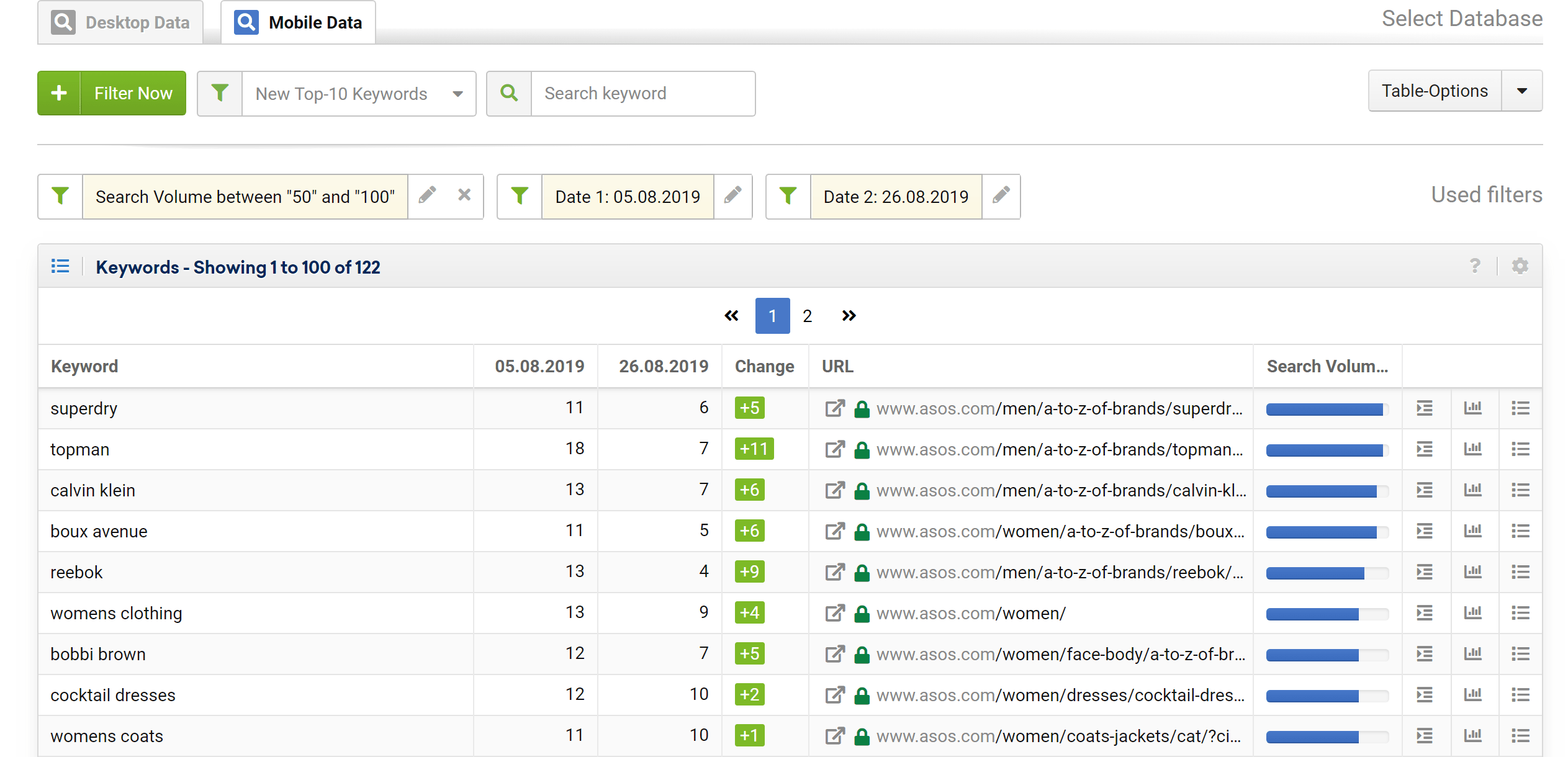 International SEO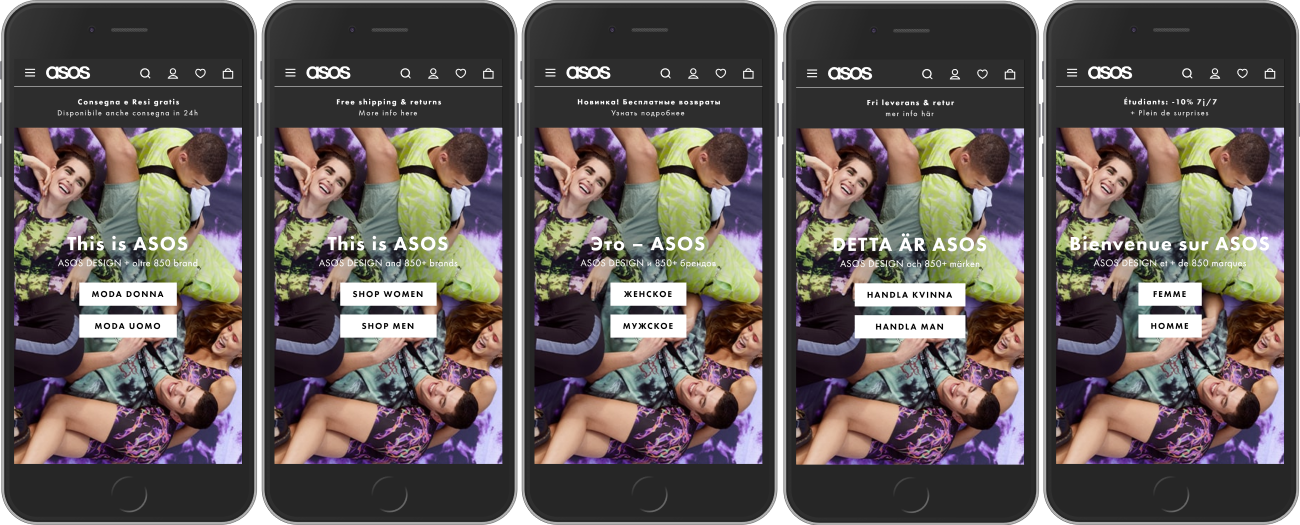 International retail sales account for over 60% of ASOS revenue (Source: Annual report) so improving the international SEO strategy is going to be very important for the future.
ASOS is using hreflang coding to direct Google to 11 country-language variations and it uses a mix of domains, subdomains and subdirectories to host the content. If you've ever wondered whether it's better to host international content under a ccTLD, a subdomain or a directory, asos.com is the domain to study.
Germany and France are served under their own ccTLD where, in both cases, growth has been significant since the m.asos.com mobile site was turned off. We talked about ccTLDs in our international SEO round-table and highlighted that the country-code can add to customer confidence about getting an in-country experience.
The USA appears to be served using a us.asos.com subdomain but if we take a view of four of the hosts that have been ranking for mobile search in the USA over the years, it looks like Google has been forced to spend a lot of effort (money) trying to keep up with ASOS. Today, www.asos.com still competes with us.asos.com and total mobile visibility is way off the highs of 2014-2017.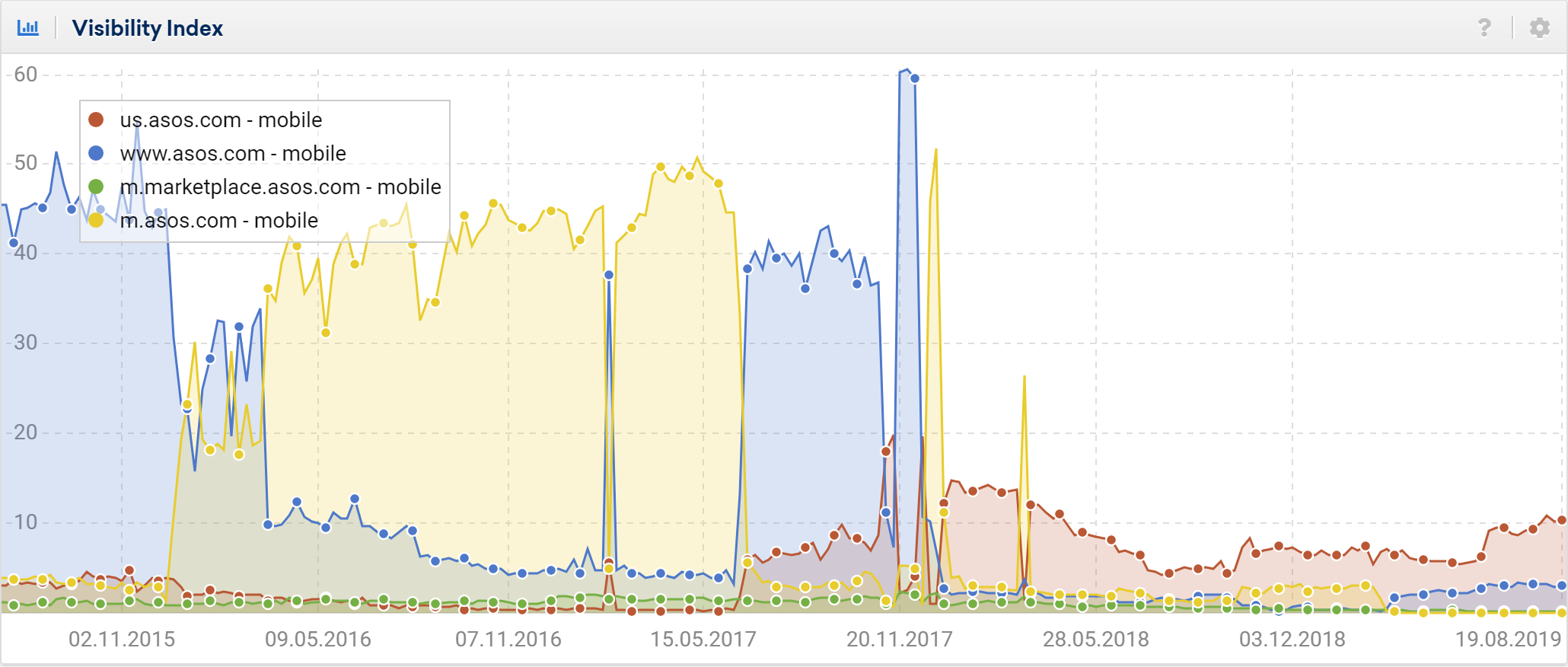 All other countries use a sub-directory of the main host. Spain, Russia, UK, Italy, Holland, Sweden, Australia.
Summary
The ASOS 'shopfront' appears to be growing and a new mobile website strategy might have been the reason why. Visibility in USA mobile search remains much lower than in previous years.
Our data reveals a wide range of international SEO strategies including two ccTLDs, a subdomain and many sub-directories for a total of 11 different target country-language combinations.
ASOS profit warnings were blamed on IT problems in new warehouses which it says will be fixed by September. Come next Black Friday, any gain in visibility will give ASOS a better chance to take advantage of improvements in their fulfilment processes.
The online fashion retail sector remains extremely competitive and will continue to provide SEOs with interesting good and bad-practice examples.
[Thanks to
Laura Crimmons
for the help on this ASOS research.]