Mydomaine and Byrdie were acquired by DotDash in January 2019. During the last 7 months, the two .com domains have achieved 675% growth in visibility in the UK. We look into how DotDash has achieved that, and the opportunities for the future.
Bought from Clique Brands, the two websites add to the DotDash portfolio which includes The Spruce, Verywell and Investopedia, sites that have been developed since the re-organisation of About.com in 2014. The properties currently attract 90 million customers per month and have a combined visibility in the UK that would give it a place in our Top 10 (577 VI points) and about the same visibility as About.com had when it was relaunched 5 years ago. In short, DotDash is currently a success story.
On the date of the acquisition news, the two new .com domains had a combined Visibility Index of 1.65 in the UK. Today, they've achieved a combined visibility of 10.8 – a growth of 675% in just over 7 months.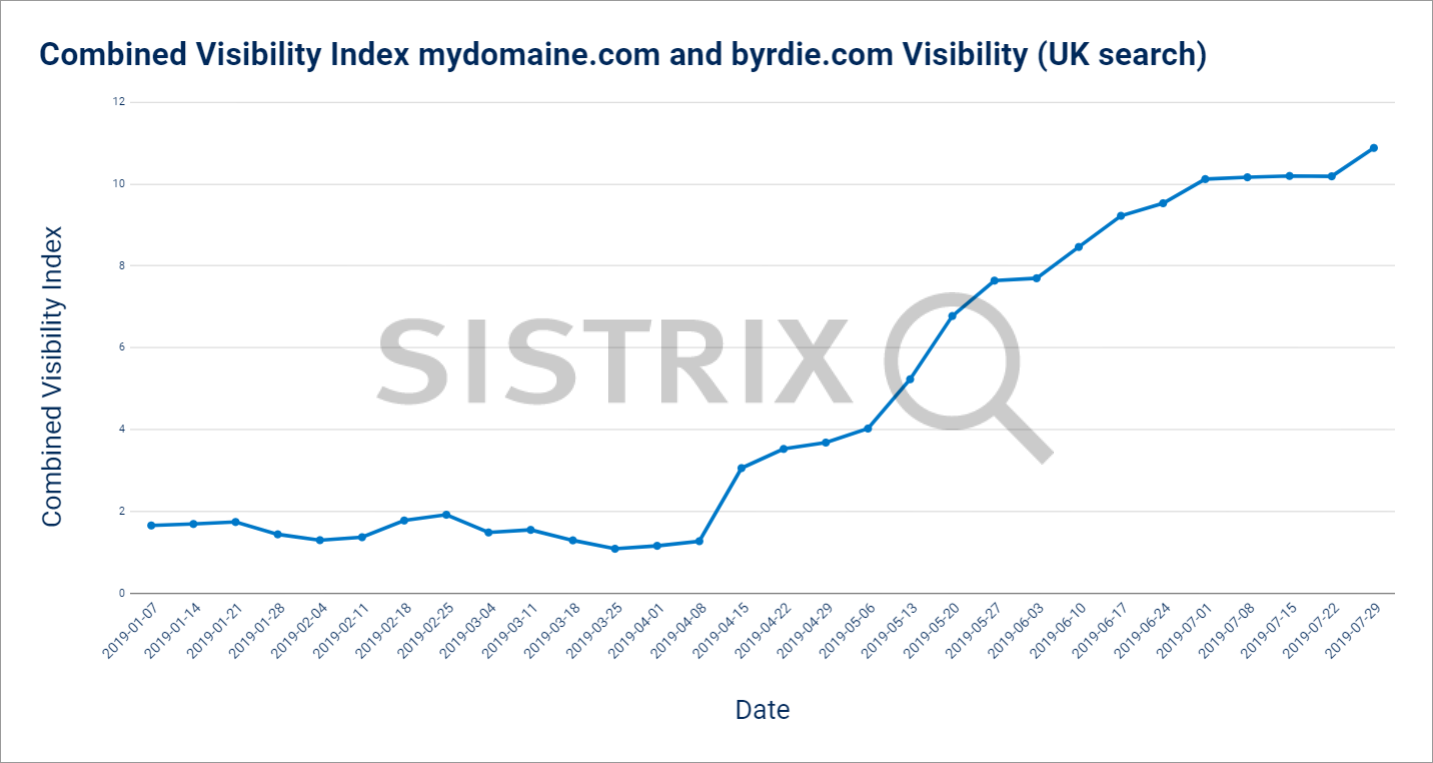 Internationalisation fixed
There's an interesting story within the history of both websites and one wonders if DotDash already knew about this when they bought them. It looks like both domains had attempted to switch to a country-specific domain and were struggling as a result. Take a look at the short-lived attempt to use mydomaine.co.uk in the UK.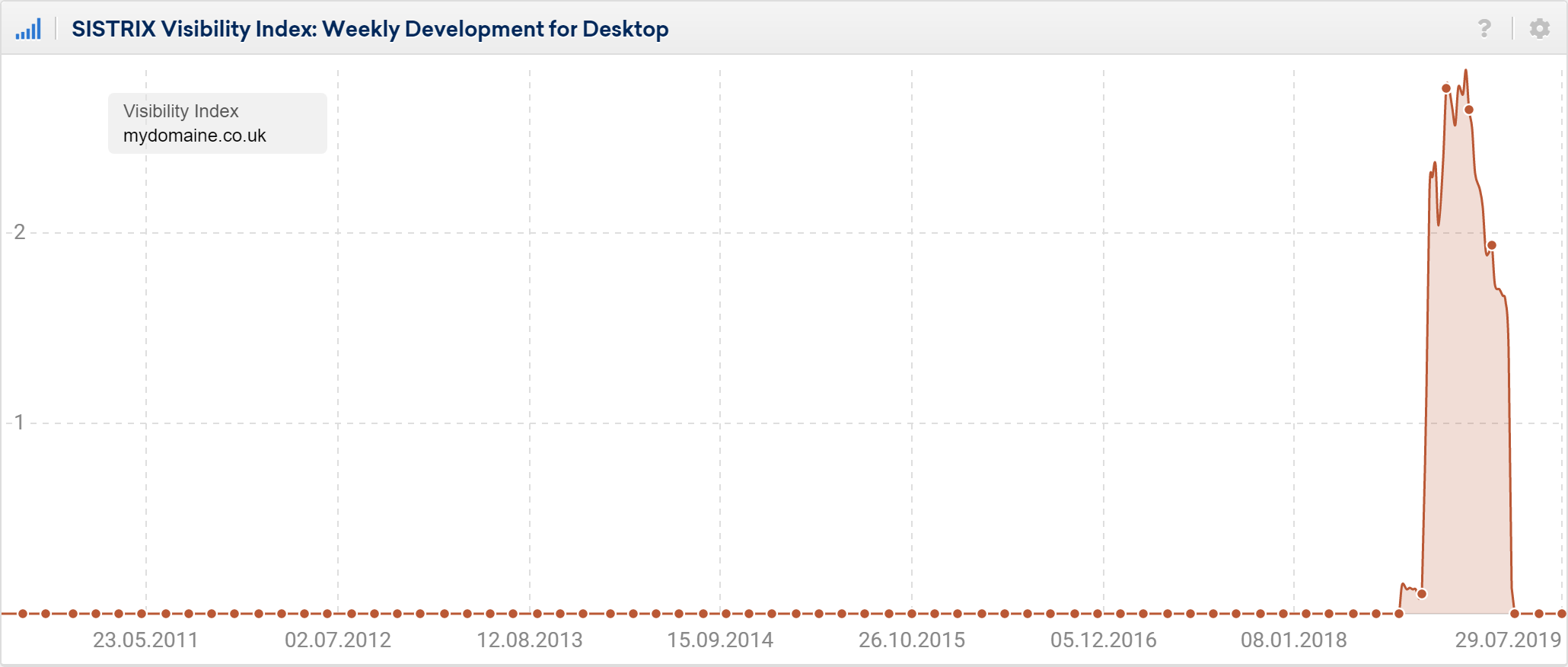 The domain was still in the hands of Clique Brands at the time and it's not really possible to know why the domain was moved to .co.uk. Was it an attempt to cover the European GDPR requirements, part of a UK branding push or perhaps part of an affiliate monetisation project?
If we overlay the UK visibility for the .com domain we can see where the domains were switched. The website returned to my domain.com in mid April.
Note the .com growth trend that continues from 2016 which is consistent with domain moves that don't include any site architecture or content changes. [See this article for more domain move examples.]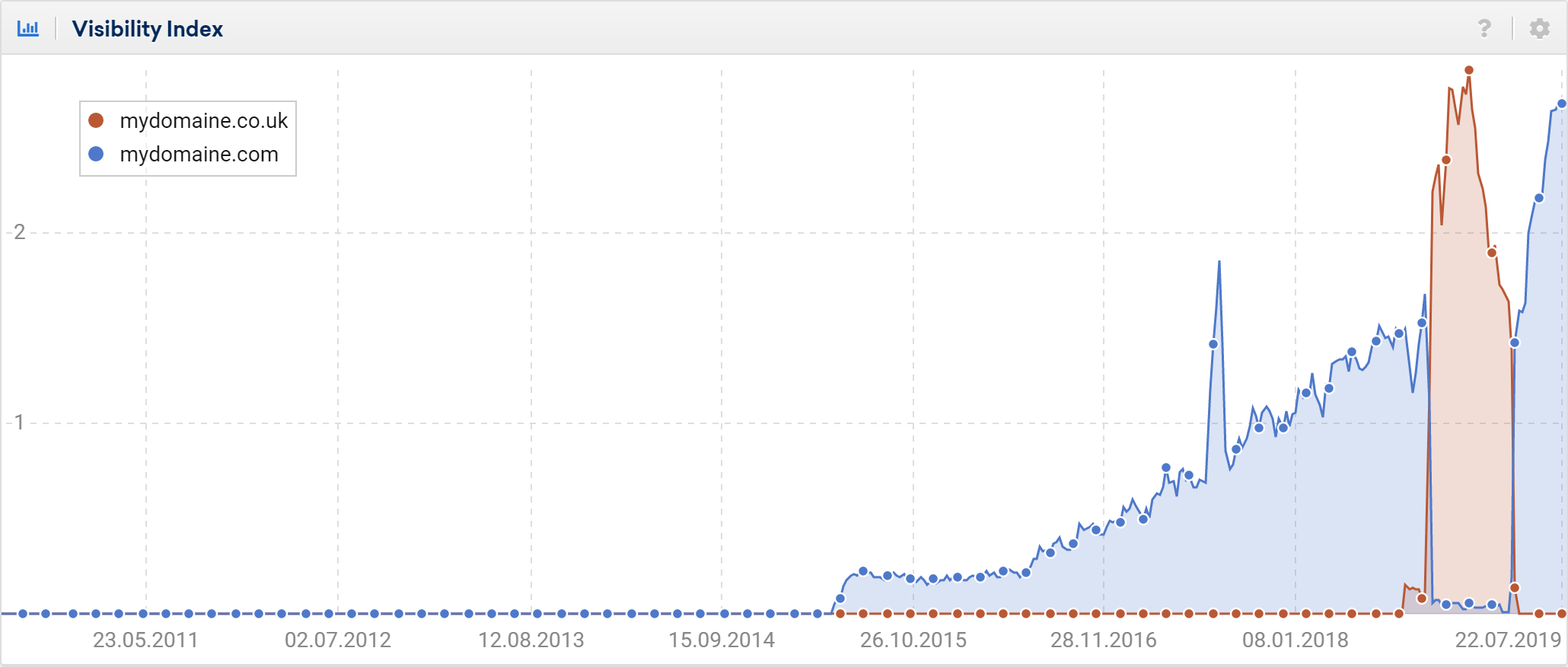 Byrdie has a more complex history. In this case, both the .co.uk and .com domains were ranking in the UK at the same time. The recovery shows a return to the original byrdie.com trend.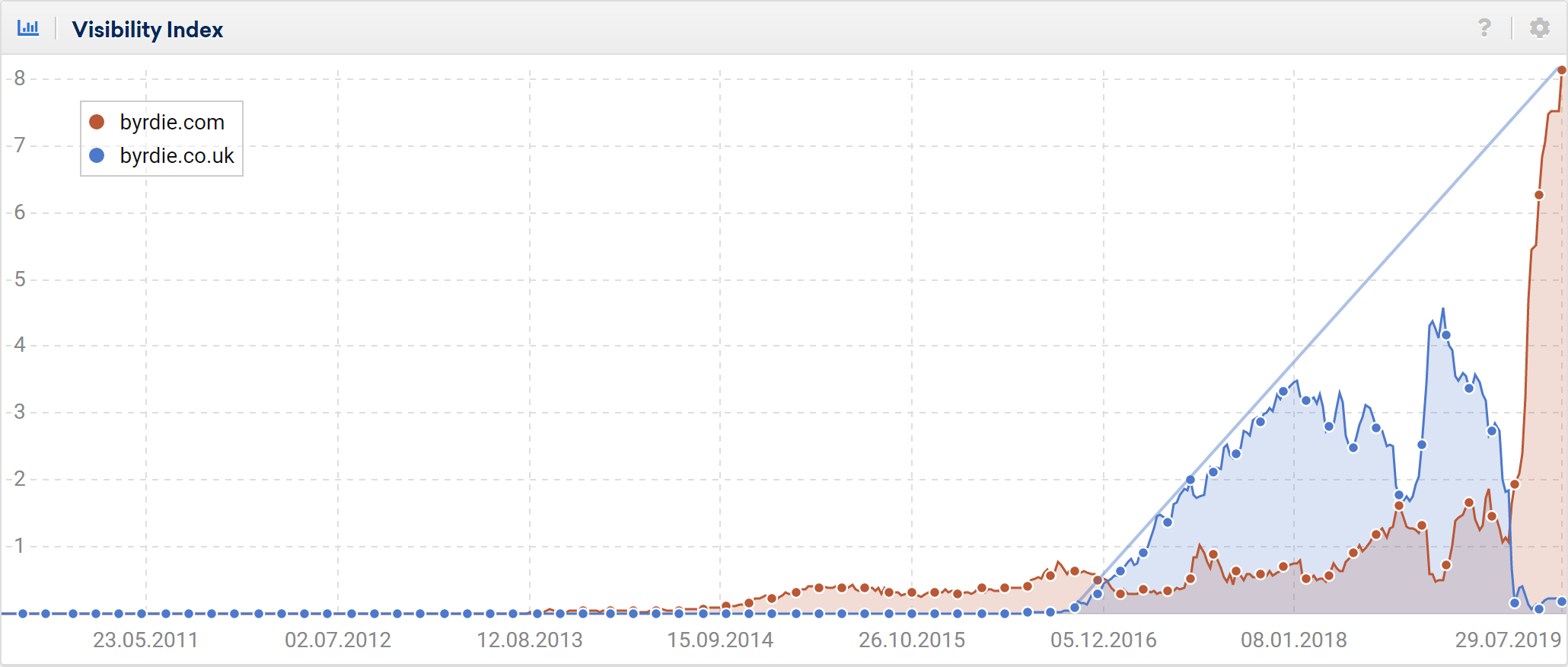 It appears, via archive.org, that there were some UK affiliate links and UK-focused content on the site and there's also evidence, in the hreflang coding, of an Australian site. The sites were all switched back to com in the same week as Mydomaine.
DotDash have taken two websites that were struggling with internationalisation and stabilised them. We suspect, however, that stage 2 of their plan is still to come.
Opportunity in the UK
DotDash find themselves with two highly-visible domains in the UK, and little in the way of monetisation or localisation which leads us to believe that work will continue on these two sites.
Here's a selection of high search volume keywords ranking well for byrdie.com in the UK.

Looking at just one of those URLs in the UK reveals affiliate links that still go to dollar-priced US-based websites. Some links are even resulting in dead-ends for UK customers.
As far as user experience goes, this isn't good for non US visitors which don't just include UK. The domain ranks well in Canada, Ireland and Australia too. In total, 132 million additional opportunities.
Summary
DotDash has succeeded in returning two domain names to form by reversing what looks like a failed attempt at internationalisation.
Issues remain with affiliate ads that lead to blocked content or non-local shopping experiences. This could cause some dissatisfaction with customers wanting to buy, but we assume it's something that DotDash will work on given the significant amount of visibility in the UK, Australia, Canada and Ireland.
Final thought: Is this a case of high quality digital due-diligence? Have DotDash got their sights on other domains that have made mistakes in the past?
DotDash Facts and Figures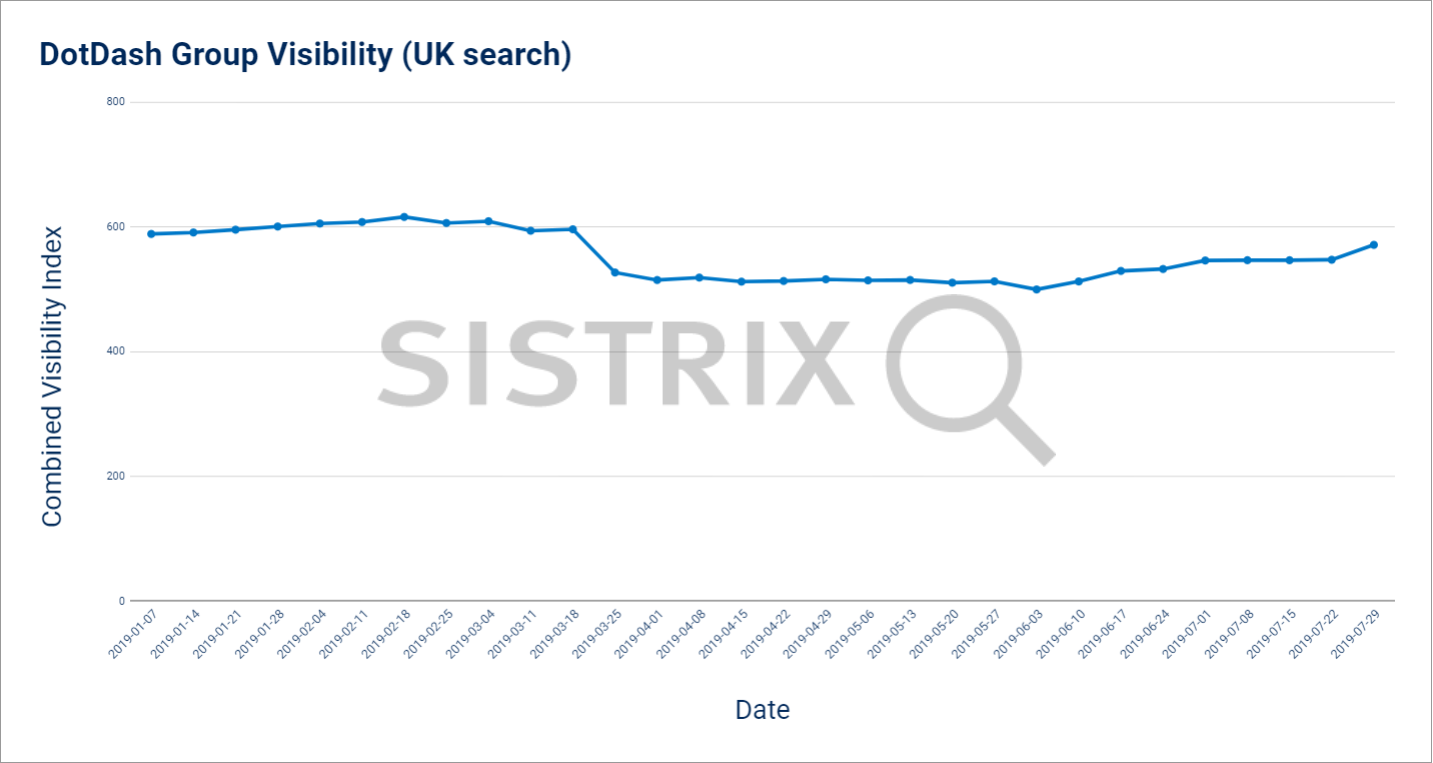 DotDash's combined Visibility Index is currently bigger than bbc.co.uk, the 11th most-visible domain in UK search.
DotDash Started life as part the About.com re-branding.
The company removed 75% of their 1.2m about.com articles as part of the re-structuring.
90 million visitors per month (Dec 2018.)
18 major websites.
Most visible domain: investopedia.com accounting for about 30% of the groups total visibility in UK search
March Core Update negatively impacted DotDash group visibility by 11%
Predicted EBITDA of $30 million to $40 million in 2019
Most recent acquisition: brides.com
"We looked at Google because it [also] answers people's questions. They want to serve the best content for every query. " Niel Vogel

Source: WSJ (paywall)
Note: Combined visibility graphs were created with Google Sheets using the SISTRIX API.