The year was full of changes and surprises, and this can also be seen in the Google search results. In this post we show you the domains that have gained the most visibility on Google in the last year.
As a rule, success does not grow in a vacuum, but rather through adaptation and development based on successful models. Todays SEO work should also be based on SEO role-models.
Based on the SISTRIX Visibility Index from the beginning and end of last year, we have identified the 250 domains with the strongest growth – both in percentage and in absolute terms.
Update: The losing domains are listed and analysed in this article.
You can see the complete tables with all domains at the end of the article. Before that, we analyse some interesting SEO winners from the year. With each example, consider whether you can learn and adapt something from it.
Core – Ranking PDFs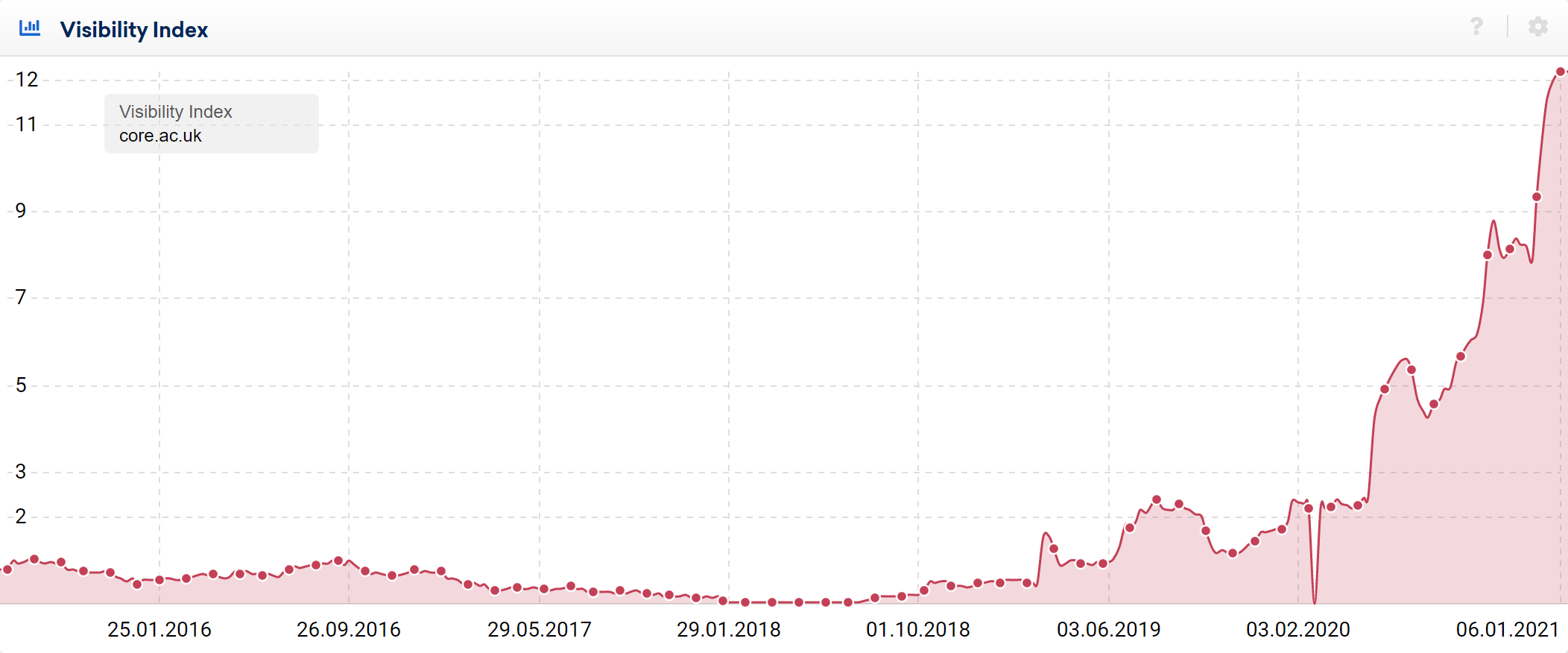 Core.ac.uk is an interesting non-profit project being run by Jisc (providing tech infrastructure for education in the UK) and the Open University which aggregates "all open access research outputs from repositories and journals worldwide." Core does not create new content.
Effectively it's a crawler and search engine. It uses directories to find other content and then indexes it (currently over 200 million papers) and makes it searchable via an algorithm. Does that sound familiar?
There are some obvious differences to commercial search engines and the first is, that this oviously isn't commercial. The other is that of 664,066 ranking URLs that we have in our database, over 96% are PDF documents in a download directory and not HTML documents. Who needs a meta-description!

While some PDFs are ranking in the Top 10 for some significant keywords, as in the example above for the keyword "effective learning", this is the exception. Core has built up a big Visibility Index based on the number of PDFs ranking, each contributing a little to potential traffic volumes coming through to the site.
A VI of 12.21, mainly built up over the last 24 months, is impressive but with 15.8 million indexed pages it can not be classed as a model of SEO success. Compare the ever-stable and slowly-growing site savethestudent.org which has a VI of 11.11 based on just 3620 indexed pages.
With the PDFs being big and slow to download this could be a site to watch after the Core Web Vitals are introduced as a ranking factor later this year.
Shpock – Transient URLs ranking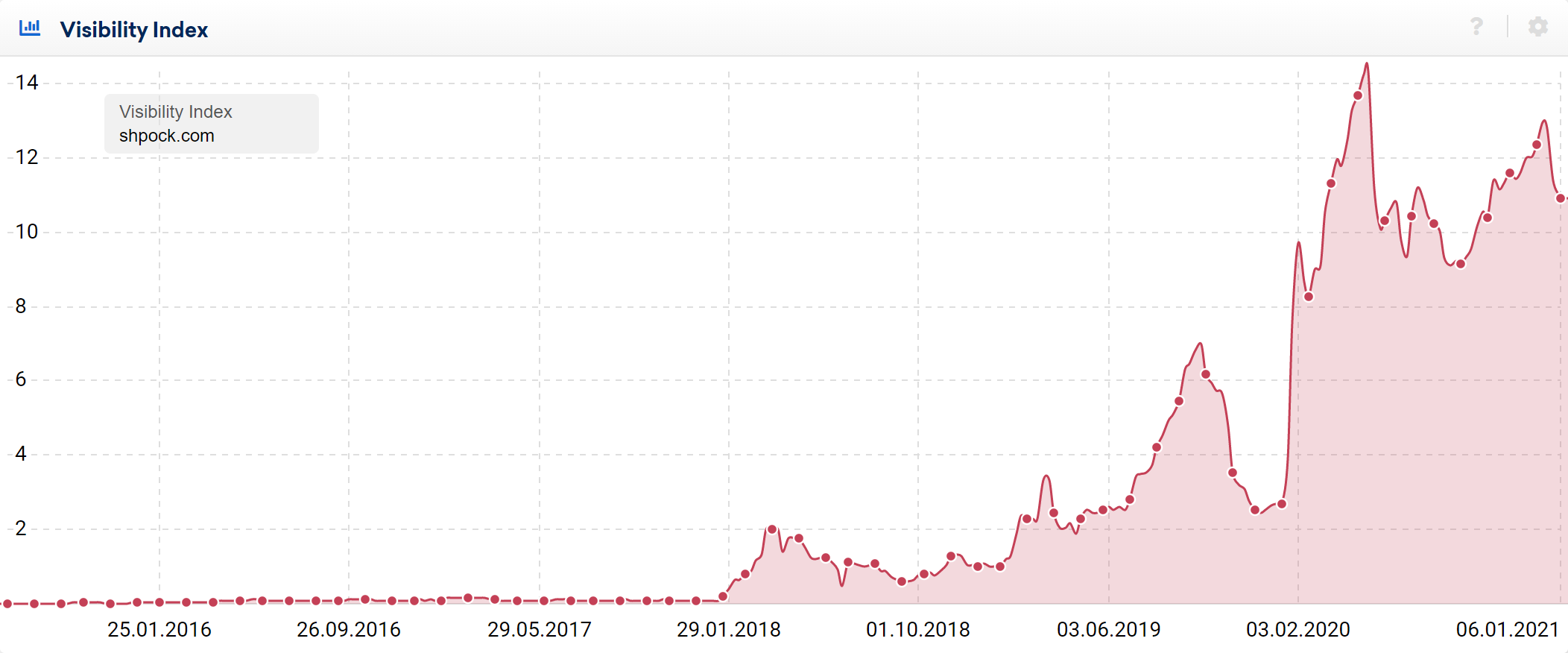 Shpock, the classifieds platform out of Austria, gained in the year when Gumtree, the leading classifieds platform in the UK lost. But it's wrong to think of all classified ad domains as the same. Does a classified ads site selling clothes compete with an site dealing in Electronics? No, they generally compete with, not only other similar classified sites, but the brands and the online shops that sell the same items.
Why Shpock has suddenly found its footing is somewhat difficult to analyse given that ranking URLs lead to a page with an error message, and effectively, a search result. 10/10 URLs that we tried, ended with a similar page to that shown below.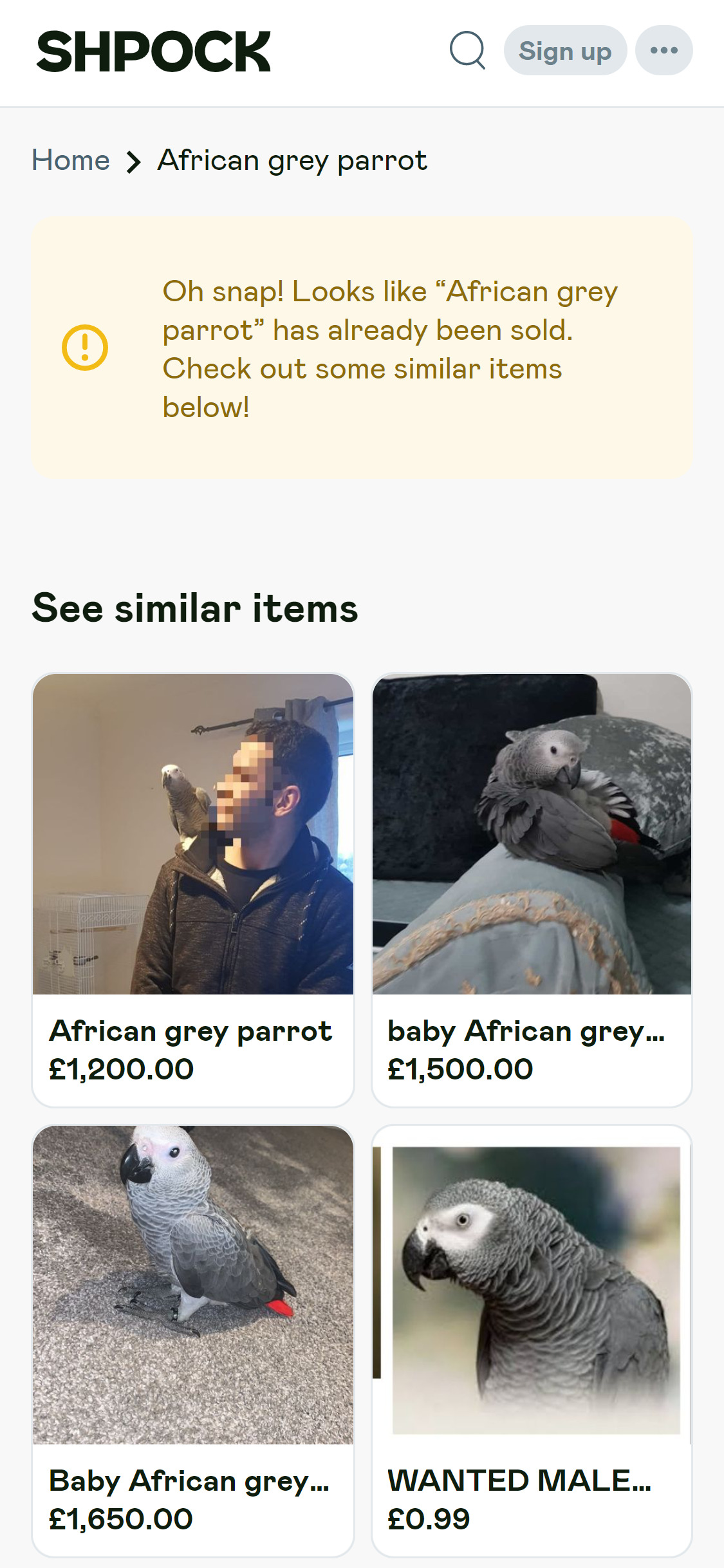 It begs the question…are these static URLs generated when an item becomes unavailable for a search term? Informative, they are not. But they certainly lead to relevant results, which fulfils the user intent. Having Google indexing your search result pages, however, comes with risks.
Pinterest: multi-country picture-puzzle
Pinterest, the tagged image directory and visual search engine, gained in the UK not only through pinterest.co.uk this year but also pinterest.com, pinterest.com.au and pinterest.ca. It's a confusing multi-country story.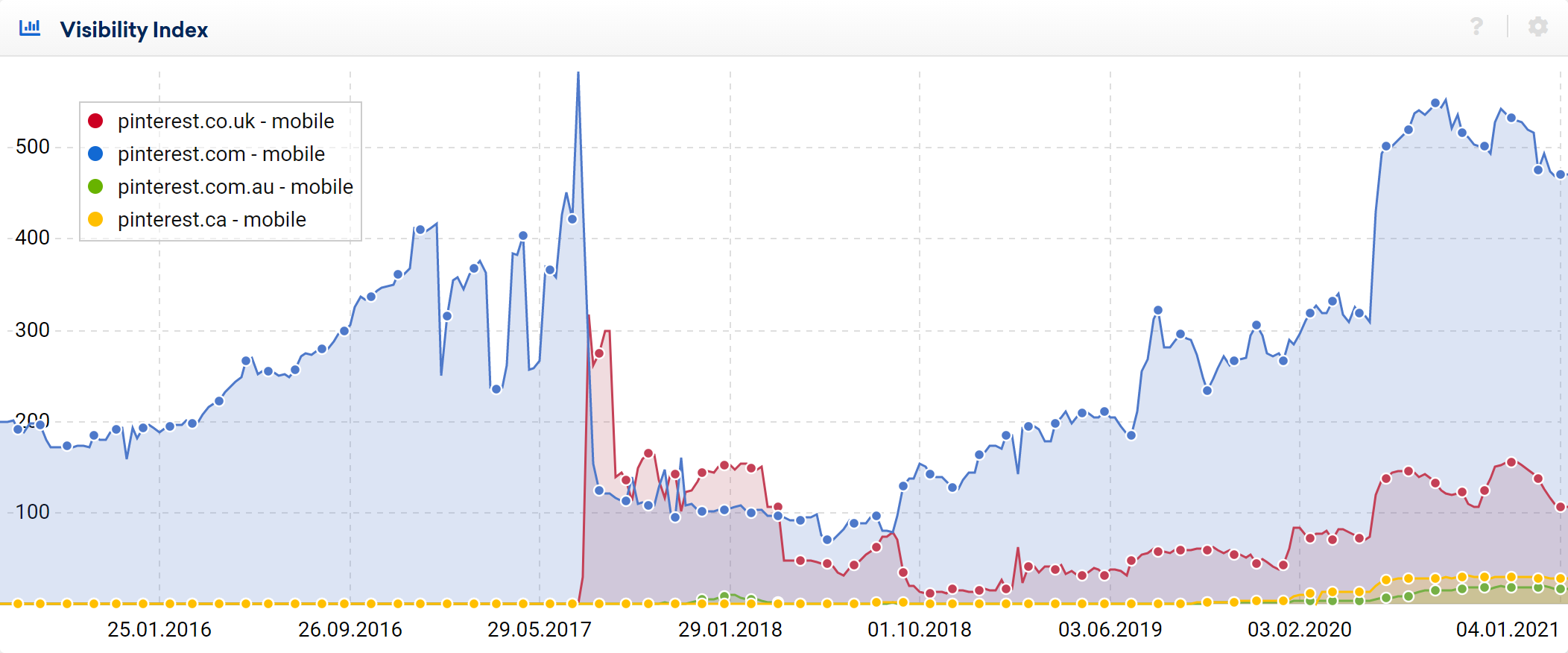 The history is shows a number of major changes across the domains and to find out why there has been such a positive change over the year would take more time than we have here. We do note, however that some gains have been lost recently. We'll keep an eye on this and if we see any developments worth learning from, we'll keep you updated here on the blog.
Stable growth – Britannica, Next and Good Housekeeping
Wildly rising visibility as a result of high percentage growth is interesting and exciting, but there's potentially more to be learnt from sites that are consistently growing. Britannica the reference site, Next the fashion retailer and the Good Housekeeping media publication appear in the top 25 absolute gains this year. All three domains are already in the Top 100 domains by UK Search Visibility and these gains strengthen their position.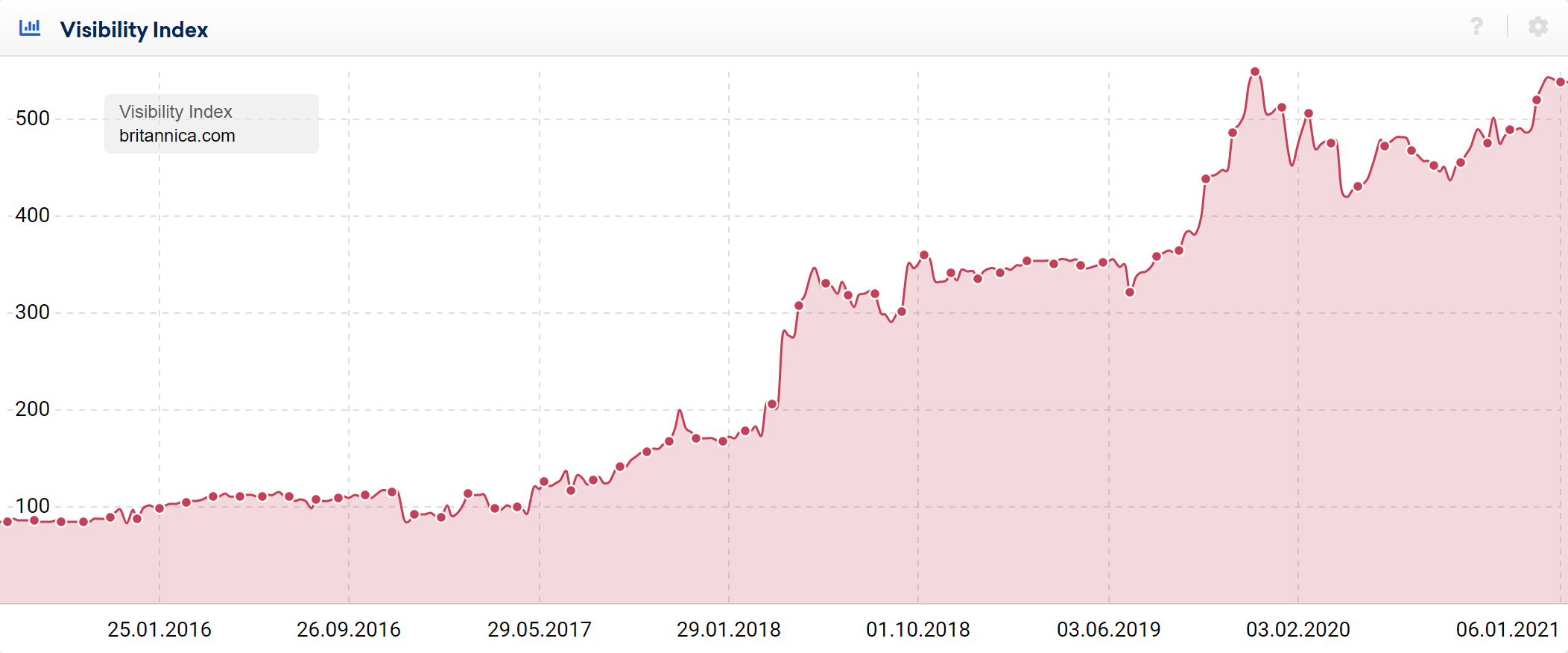 Brittanica.com (+34.1) is one of five reference sites in the list of absolute gains, sitting with thefreedictionary.com (+98.4), dictionary.com (+47.6), thesaurus.com (+39.3) and collinsdictionary.com (+28).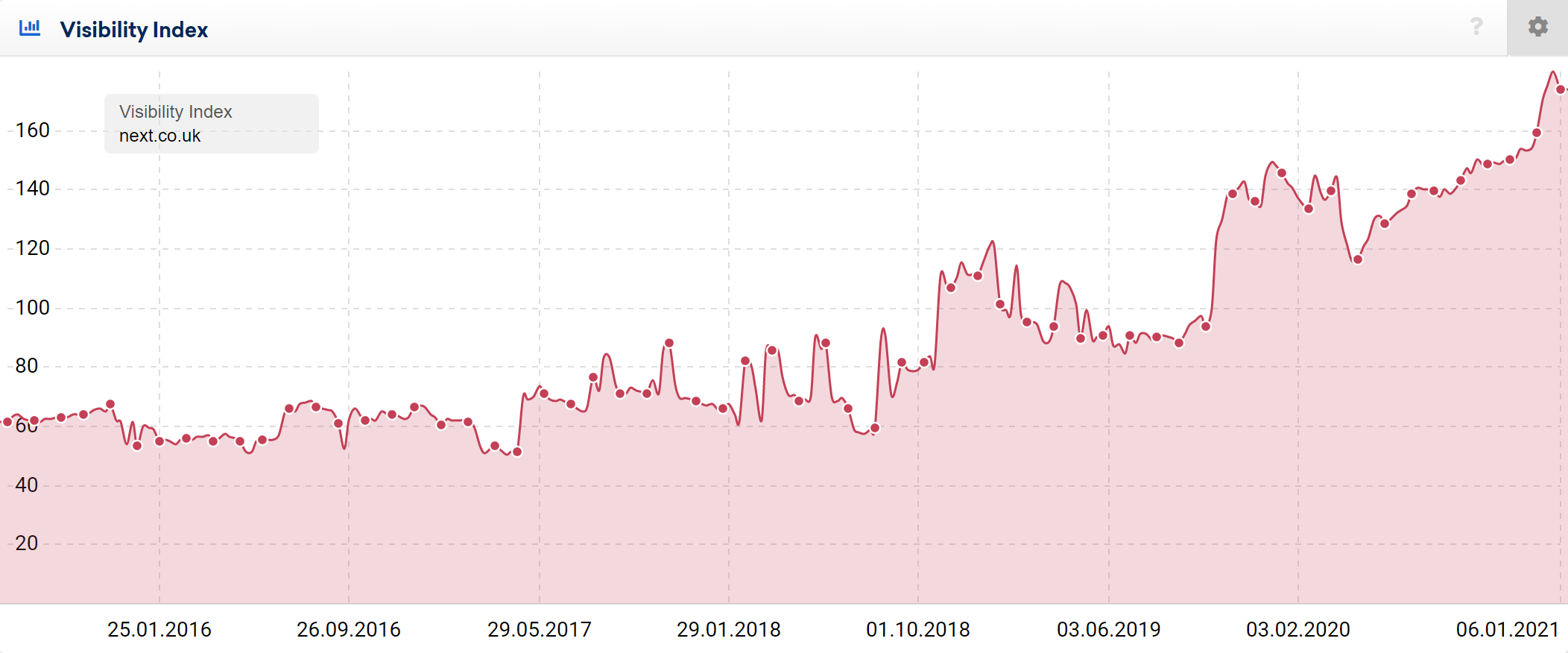 Next.co.uk also continues to grow and is now, as a fashion and homeware retailer, ahead of johnlewis.co.uk and the most visible fashion and homeware retailer in Googles UK search.
This strength is echoed in news this week that Next have been successful. Richard Lim, CE at Retail Economics also commented that "the retailer has benefitted from years of investment in its online platform" and that the results "are likely to set the tone for a polarised view of the retail sector which separates those with impressive online capabilities with those that do not." [source: LinkedIn]
Next.co.uk is one of only a handful of winning domains under the .co.uk TLD.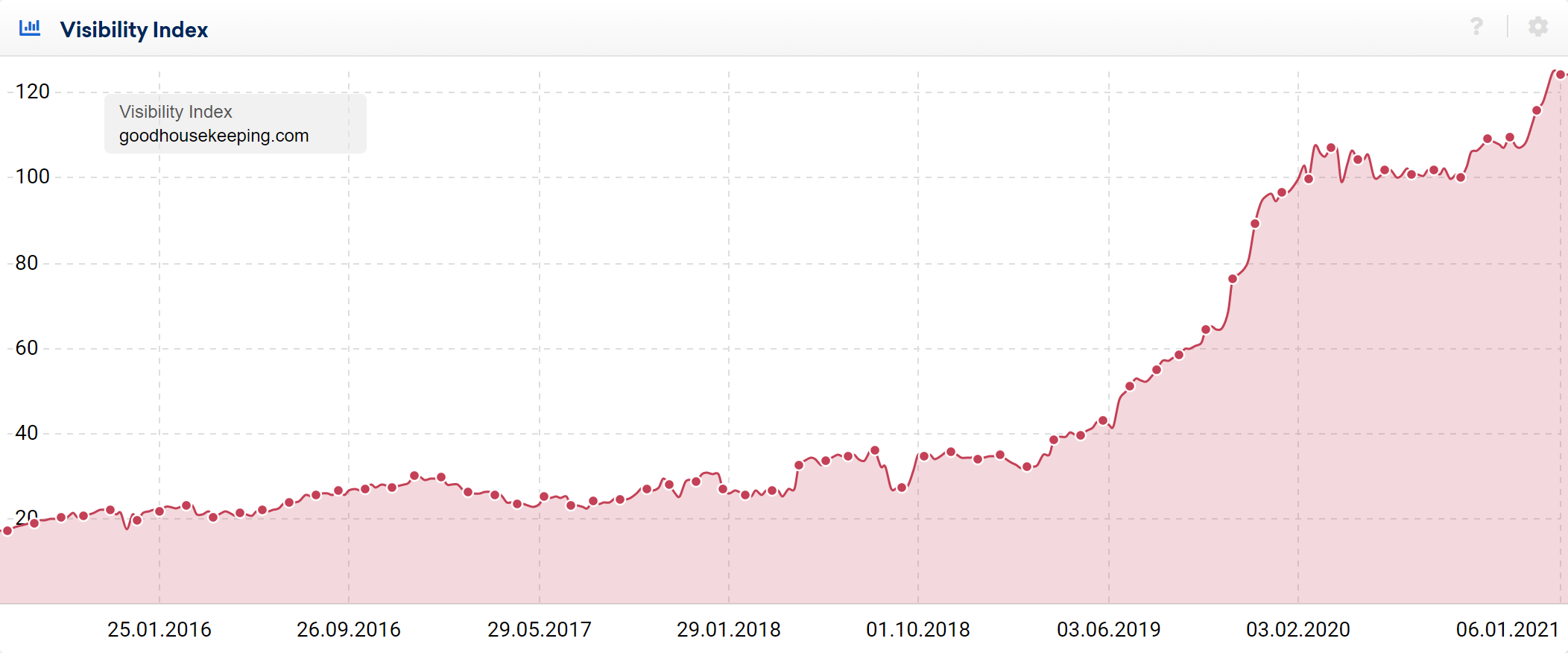 Good Housekeeping continues to be a leading example of a successful commercial media publication. We also highlighted it recently as a successful example of affiliate links usage.
Diving down into one of the most successful URLs on the domain shows room for improvement though. This informational page, stuffed with affiliate links, ranks well in the UK and, when people start searching for air conditioners, is likely to attract a lot of traffic. It's not localised though.
Not only are the affiliate links US-focused, but there's talk of the Department of Energy and window-mounted air conditioners, which are USA-focused topics.
This issue of localisation is, outside the /uk directory, widespread. Good Housekeeping migrated away from the .co.uk domain in 2018 and while direct visitors are kept captive in the UK content, searching via google.co.uk can lead elsewhere.
In some cases we can see cannibalisation too.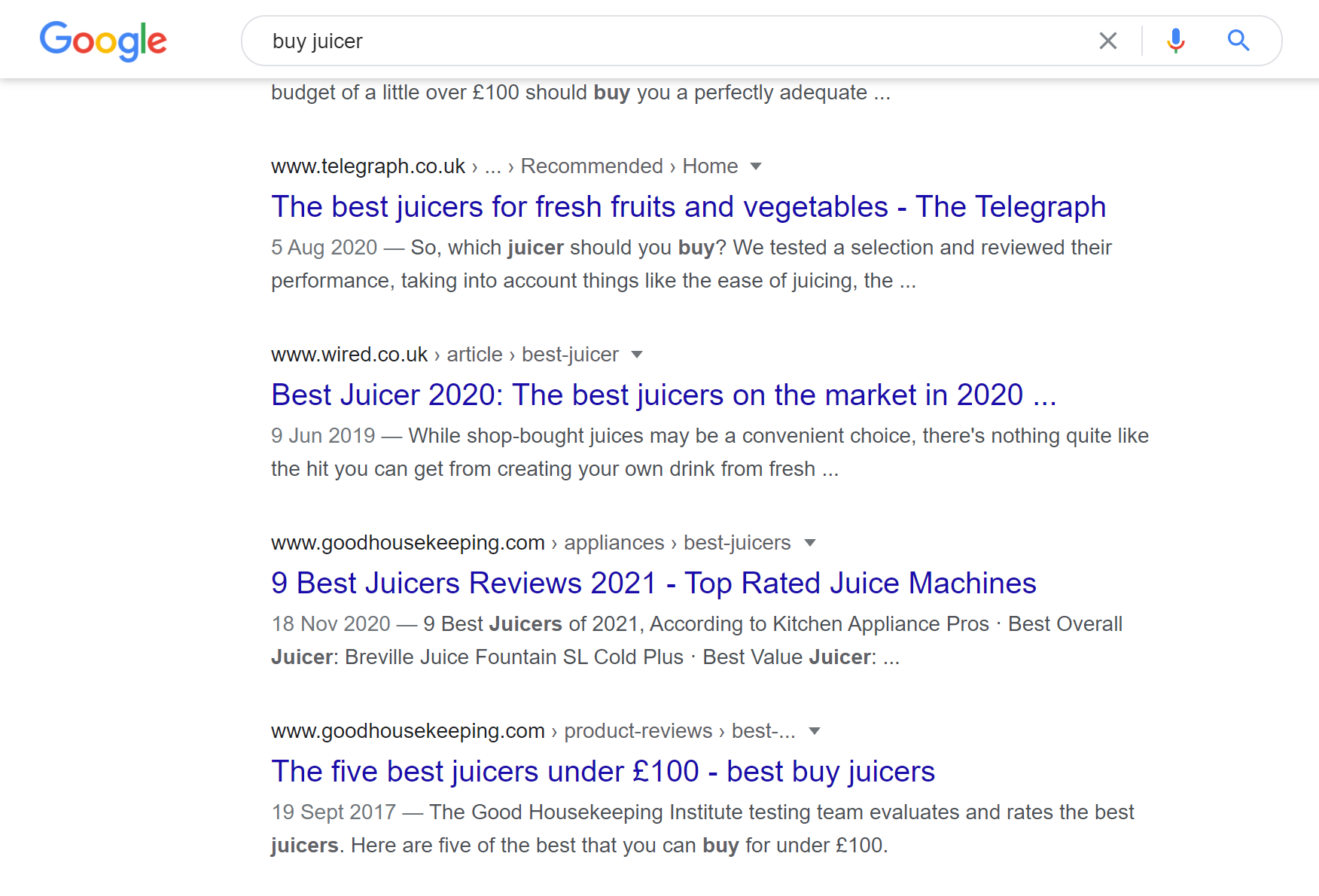 This example shows a recent US-focused "Best Juicer" article at position 12 outranking the UK-focused article, at position 13.
Fandom and Wikia
Fandom is the new brand for all the informative fan-group pages that were built up on wikia.com over the years. The migration continues to bear fruit.
Interestingly, some fan group pages were migrated to wikia.org and the topics might hint as to why. Military, psychology, family, religion and mythology are topics that could be difficult to show authority for on a site that leads with Disney, Star Wars, World of Warcraft and Tardis content.
Wikia.org grew 280% to 14.4 Visibility Index points but is still very much overshadowed by fandom.com which increased its Visibility Index by 237 to 528 this year.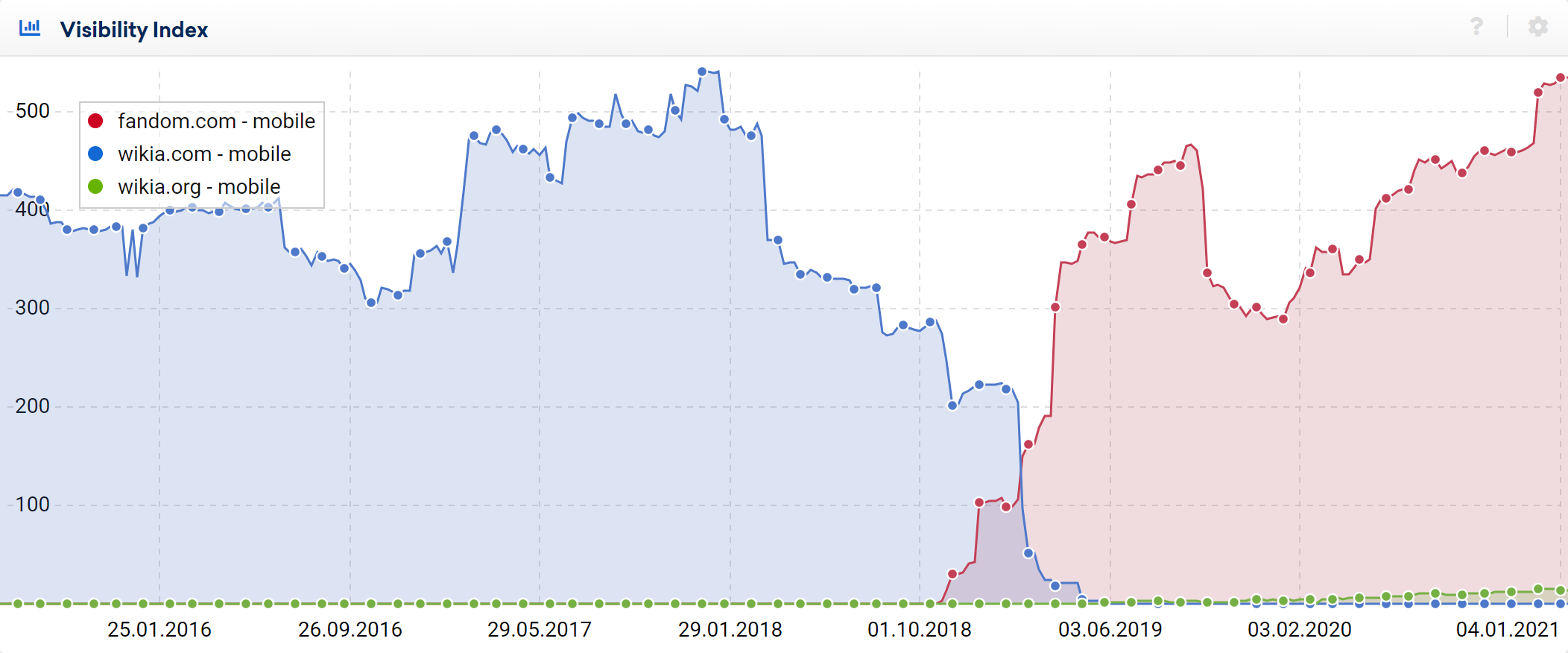 The migration plan is still available to read on fandom.com.
fandom.com is now the 11th biggest domain by Visibility Index in Google UK search and they report 200 million monthly unique visitors. It would be interesting to see how much of that is coming via Google search.
Over 20% of all top 100 keyword rankings are in the top 10 and the most visible host (each fan topic is hosted on a different subdomain, not in a subdirectory) is disney.fandom.com. But can you guess the topic of the URL that has the most keyword rankings overall? Answer below.
Google Core Updates also gave us winners (and losers)
The three major core updates of last year (January, May, December) again provided numerous winners (and losers) in terms of Google visibility.
This is shown impressively at verywellhealth.com. Content projects in the YMYL environment (Your Money, Your Life) are often affected by core updates, as you can see in this case.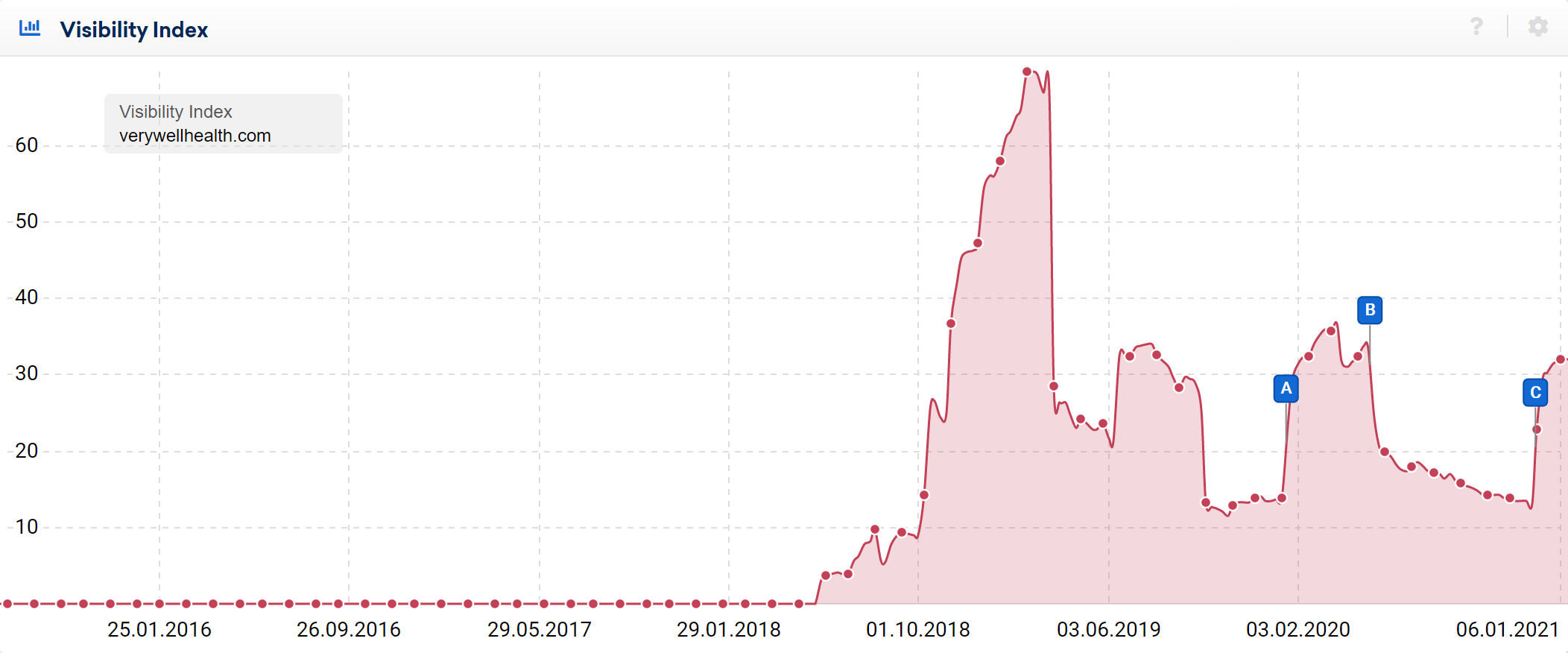 Points A, B and C mark the three Core Updates of 2020 and verywellhealth got hit by all three, ending the year with a net gain. Our feeling is that we'll see this one again in future winners and losers lists.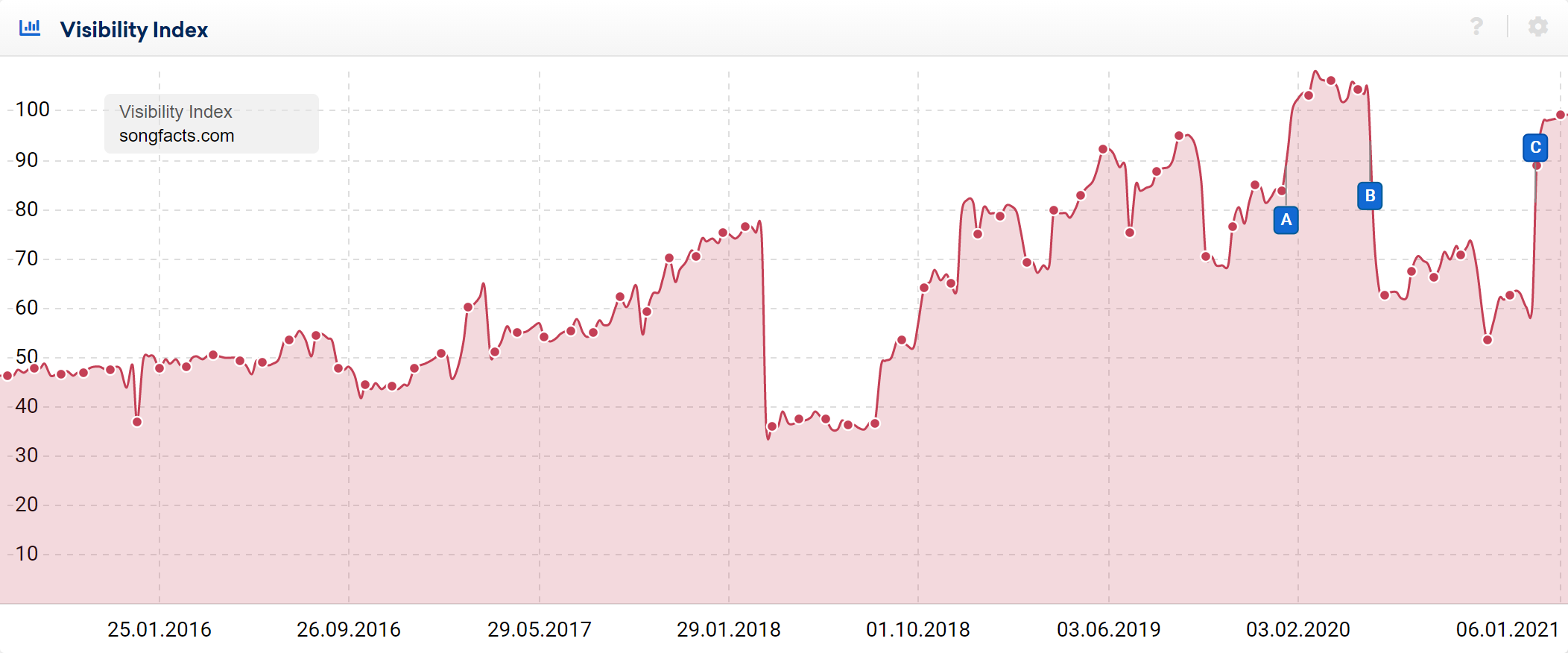 Also hit very clearly by all three core updates was songfacts.com. Domains that focus on song and lyric information were a common feature in winners and losers lists this year.
Full list of winners 2020 as percentage and absolute tables
After these five exemplary cases from the lists of Google 2020 winners, we now come to the complete lists and tables. Depending on your interests, you can see both the percentage and the absolute winners (more on this under the next heading).
Here in the blog we have added the first 25 entries of the table – cleaned them up as best as possible to remove adult content projects, domain moves and the like. Here is the list with the percentage winners 2020 in the UK:
IndexWatch 2020: Winners Percent
| Domain | 30.12.2019 | 28.12.2020 | Gain % |
| --- | --- | --- | --- |
| pinterest.com.au | 1.799 | 16.909 | 840.16% |
| pinterest.ca | 2.97 | 27.72 | 833.39% |
| audible.co.uk | 1.744 | 13.148 | 654.00% |
| core.ac.uk | 1.688 | 12.027 | 612.35% |
| cargurus.co.uk | 1.323 | 8.356 | 531.79% |
| muckrack.com | 1.033 | 5.877 | 468.94% |
| faroutmagazine.co.uk | 1.34 | 6.872 | 412.94% |
| masterclass.com | 2.79 | 13.66 | 389.65% |
| indianexpress.com | 1.015 | 4.968 | 389.55% |
| shpock.com | 2.658 | 11.391 | 328.60% |
| byjus.com | 1.678 | 6.486 | 286.65% |
| whoscored.com | 1.132 | 4.351 | 284.29% |
| wikia.org | 3.789 | 14.407 | 280.21% |
| britishmuseum.org | 2.272 | 8.544 | 276.01% |
| macmillanthesaurus.com | 2.575 | 9.626 | 273.90% |
| lovecrafts.com | 1.324 | 4.874 | 268.02% |
| wordnik.com | 6.503 | 23.4 | 259.82% |
| emerald.com | 1.423 | 4.963 | 248.85% |
| oliverbonas.com | 2.401 | 8.324 | 246.73% |
| babynames.com | 1.08 | 3.722 | 244.48% |
| pons.com | 2.025 | 6.793 | 235.48% |
| finedictionary.com | 1.05 | 3.349 | 219.00% |
| justjared.com | 1.132 | 3.593 | 217.40% |
| hartsofstur.com | 1.501 | 4.759 | 217.16% |
| caranddriver.com | 4.555 | 14.436 | 216.94% |
To see the full list of 250 domains, click the link below. There you'll find the (unfiltered) list of all winners:
View 250 percent winners in a Google Sheet.
Now we come to the winners in the absolute gain in Visibility Index points. Here's the first 25 of the list. Again, filtered to remove adult content.
IndexWatch 2020: Winners Absolute
| Domain | 30.12.2019 | 28.12.2020 | Change |
| --- | --- | --- | --- |
| ebay.co.uk | 769.963 | 1259.844 | 489.881 |
| fandom.com | 290.594 | 527.681 | 237.088 |
| youtube.com | 1486.631 | 1713.304 | 226.673 |
| pinterest.com | 270.973 | 468.948 | 197.975 |
| instagram.com | 248.628 | 415.280 | 166.652 |
| etsy.com | 230.502 | 352.641 | 122.139 |
| thefreedictionary.com | 126.741 | 225.124 | 98.384 |
| pinterest.co.uk | 40.630 | 109.620 | 68.991 |
| facebook.com | 955.854 | 1022.514 | 66.66 |
| rottentomatoes.com | 195.885 | 243.826 | 47.941 |
| dictionary.com | 450.656 | 498.513 | 47.857 |
| healthline.com | 335.816 | 382.890 | 47.074 |
| linkedin.com | 256.764 | 303.189 | 46.425 |
| bbc.com | 68.850 | 114.917 | 46.067 |
| thesaurus.com | 179.601 | 218.893 | 39.293 |
| pcmag.com | 54.532 | 89.589 | 35.057 |
| britannica.com | 506.685 | 540.818 | 34.133 |
| discogs.com | 157.856 | 191.065 | 33.209 |
| soundcloud.com | 111.241 | 142.001 | 30.761 |
| next.co.uk | 149.388 | 179.953 | 30.565 |
| boots.com | 43.948 | 73.381 | 29.434 |
| www.gov.uk | 235.181 | 264.222 | 29.041 |
| goodhousekeeping.com | 96.338 | 125.018 | 28.681 |
| cdc.gov | 28.397 | 56.519 | 28.121 |
| collinsdictionary.com | 292.245 | 320.252 | 28.007 |
We've also prepared the full list of 250 entries in a Google Sheet. View 250 absolute winners in a Google Sheet.
Our methodology – How we made our measurements
The SISTRIX Visibility Index is a key indicator for the visibility of a domain in Google's search results. It can be used to measure success in the Google SERPs in a reliable and traceable manner. You can find out more about how we calculate the Visibility Index here.
For the SEO winners of 2020, we compared the Visibility Index of almost 10 million domains from the end of 2019 (December 30, 2019) to the end of 2020 (December 28, 2020).
The comparison is based on the mobile Visibility Index, i.e. the numbers that are based on the measurement of search results on a smartphone. In 2021, Google will switch completely from Mobile First to Mobile Only.
We have identified both percentage and absolute winners. Both methods have their advantages and disadvantages:
Percentage winners are more likely to show domains that started to gain strongly from a low level. Some of these are "real" winners, but often domain relocations, consolidations or the like.

Absolute winners (ie the domains that have won the most visibility points) filter out these "fake" winners as far as possible. But you have the problem that very large and successful domains already have an advantage.

You can see both evaluations (absolute and percentage winners) a little further above.
Conclusion
So there you have it, last year's complete SEO winners. Despite all external uncertainties and surprises: the SERPs and Google have continued their development. In addition to the UK results we, as a team, have analysed multiple countries and present the following conclusions.
Stable domains and good offerings tend to stay stable. The three examples shown above, britannica.com, next.co.uk and goodhousekeeping.com show continued growth and good stability through core updates.
User generated content can rank. Fandom is arguably the authority in it's space though as fans get together to generate and curate their own thoughts and memes, that are often meeting the desires of other searchers.
Search intention is important, not just in theory. While Shpock takes a risk offering internal search results, it is matching the searchers desires to find products.
Google makes the rules. The search results belong to Google and that's exactly how Google behaves. Whether the increased efforts of the competition authorities can curb that this year? It's questionable.
There are still shortcuts. That Pinterest completely fills many search results with different TLD domains is certainly not in the interests of Google – but it is still possible.
Core updates shake-up the SERPs. The regular core updates are still highly relevant, especially for projects from the Your Money, Your Life area, and have a massive impact on visibility.
Congratulations to all last year's SEO winners and good luck to everyone for success in 2021.
Oh, and did you guess the content of the most visible URL on disney.fandom.com? Take a look, the content is no surprise. As for the user experience, we'll let you decide.