There are many ways to analyse retail market success. Growth, trends, competitors, brand awareness, footfall and advertising spending are important. Digital presence is also a critical part of any market analysis. At SISTRIX we measure a critical part of that digital presence.
The SISTRIX Visibility Index is a market-share indicator for Google organic search results and we've been collecting the data for 8 years in the UK. The index is targeted at SEOs but also gives insights into a domain's potential for online business activities. In this report we look at opportunities and trends for the top UK retail domains.
The UK retail sector has seen some major upsets in the last years with the failure of huge well-known brands such as House of Fraser, Maplin, Toys R Us and BHS but the biggest 'exit' we've seen came from Tesco. In late July they closed the Tesco Direct online retail business, a direct competitor to Amazon and Argos that had grown a huge share of search through some strong SEO work. Since then, the tesco.com Visibility Index has dropped by 60%, equivalent to a top-10 domain in the UK and a bigger loss of search presence, SEO, than any of the major retail failures over the previous two years.
That space, the 'online footfall' has now been handed over, by Google, to competitors such as Amazon, Ebay and long-time competitor Sainsbury's who now own Argos and are about to take over Asda to give them one of the largest combined search 'market shares' in the UK. They could move ahead of Tesco.
John Lewis' appear to have benefited too. Their index is up 20 points, 18% since Tesco and House of Fraser left the online retail space which gives them a strong opportunity.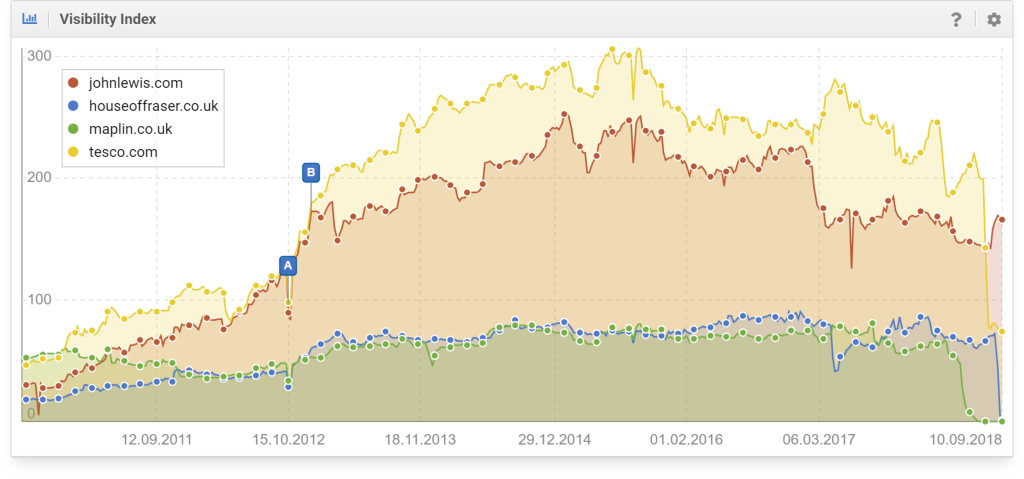 Why is Google search important?
Google dominates search. Between 90% and 95% of people searching online in Europe will be using Google. Those searches, from mobile and desktop devices, can bring huge amounts of traffic to a website. Organic search, paid search, ads, email marketing, affiliate links, direct traffic, referral links and social media bring traffic to websites too but studies are showing over and over again that organic search is not only a large percentage of traffic for e-commerce sites but that is easier to convert to sales than other sources. Additionally there's brand-awareness value in being part of the top 10 Google search results.
Values for organic search traffic for an established website commonly range from 20 to 40% which is a huge, free traffic source, a brand-awareness vehicle and, given enough ranking brands under one parent company, a way to reduce traffic and visibility for competitors.
While search result presence is definitely not a direct indicator of turnover or profit, it's a very good indicator of online opportunity.
Read more about the SISTRIX Visibility Index data.
Retail domains visibility analysis.
We've taken a look at the biggest online retail / e-commerce domains in the UK based on search visibility and here are the results. The table below shows all domains that appear in our TOP 100 of domains.
Retail-focused domains in the SISTRIX Top 100 of visibility
| Domain | Visibility Index | 2 year trend | Country | Company |
| --- | --- | --- | --- | --- |
| amazon.co.uk | 2215 | RISE | USA | Amazon |
| ebay.co.uk | 1450 | RISE | USA | Ebay |
| amazon.com | 625 | FLAT | USA | Amazon |
| argos.co.uk | 408 | FLAT | UK | Sainsburys |
| gumtree.com | 294 | RISE | USA | Ebay |
| ebay.com | 270 | FALL | USA | Ebay |
| apple.com | 265 | FALL | USA | Apple |
| johnlewis.com | 166 | FALL | UK | (+Waitrose) |
| debenhams.com | 159 | RISE | UK | Debenhams |
| etsy.com | 137 | FLAT | USA | Etsy |
| screwfix.com | 123 | RISE | UK | Kingfisher |
| wayfair.co.uk | 105 | RISE | USA | Wayfair |
| currys.co.uk | 102 | FALL | UK | Dixonscarphone |
| next.co.uk | 100 | FLAT | UK | Next |
| ikea.com | 86 | FALL | Sweden / Lichtenstein | Inter Ikea |
| diy.com | 77 | FLAT | UK | Kingfisher |
| tesco.com | 77 | FALL | UK | Tesco |
The second table includes a selection of additional well-known or interesting smaller domains that we will discuss below. We've left out newspapers, reference and medical sites that are mainly supported by advertising, government or donations. There are a number of pornography websites, jobs sites and entertainment sites that we've also left out.
Interesting Retail-focused domains.
| Domain | Visibility Index | 2 year trend | Country | Company |
| --- | --- | --- | --- | --- |
| asda.com | 64 | FLAT | USA | Wallmart (Sainsburys takeover?) |
| boots.com | 62 | FALL | USA | Walgreens |
| asos.com | 56 | FALL | UK | Asos |
| sportsdirect.com | 56 | FALL | UK | Sports Direct |
| dunelm.com | 55 | RISE | UK | Dunelm Group |
| newlook.com | 46 | FLAT | UK | Brait SA |
| marksandspencer.com | 44 | FALL | UK | Marks and Spencer |
| wickes.co.uk | 43 | FALL | UK | Travis Perkins |
| mothercare.com | 43 | FLAT | UK | Mothercare |
| boohoo.com | 38 | FLAT | UK | Boohoo.com |
| sainsburys.co.uk | 36 | RISE | UK | Sainsburys |
| netflix.com | 34 | RISE | USA | Netflix |
| very.co.uk | 33 | FALL | UK | Shop Direct |
| nationalrail.co.uk | 14 | FALL | UK | Rail delivery group |
| waitrose.com | 12 | RISE | UK | John Lewis |
| o2.co.uk | 11 | FALL | UK / Spain | Telefonica |
| just-eat.co.uk | 8 | FALL | UK | Just Eat |
| ryanair.com | 5 | RISE | IRE | Ryanair |
Facebook must also be considered for a growing sales platform in their Marketplace product but it appears that this is not optimised for Google search at the moment.
US companies Amazon and Ebay dominate the organic search space in the UK with figures that dwarf even the most successful of the UK online domains. Argos.co.uk, part of Sainsburys and ex competitor to Tesco Direct still has a huge presence though. Sainsburys also owns Habitat, which adds a 15-point Visibility Index, and is trying to buy Asda (64 points). All that visibility adds up to a lot of potential to dominate organic search rankings and push competitors out, at a time when Tesco have given up 130 points.
Apple are extremely visible although most of their search visibility comes via iTunes search results and is no threat to UK retail brands. Other notable US companies are Etsy, the platform for unique vintage and handmade items, and Wayfair, a furnishings site that has grown to where it is today (105 points) in just 24 months creating one of the most impressive results of the last 2 years.
Diy.com is one of the most quirky of the domain name successes. At first glance one would be forgiven for thinking that it's a 'how-to' website. It's actually the website for home improvement store B and Q but their original website succeeds along with sister company Screwfix as a leading online presence for the home improvement market. Kingfisher, the parent company, had previously tried to buy Asda but now focuses entirely on the home improvements sector.
Currys, a retail electronics store must not be ignored as it belongs to Dixons Carphone which, along with its various other brands, commands a total of 165 Visibility Index points.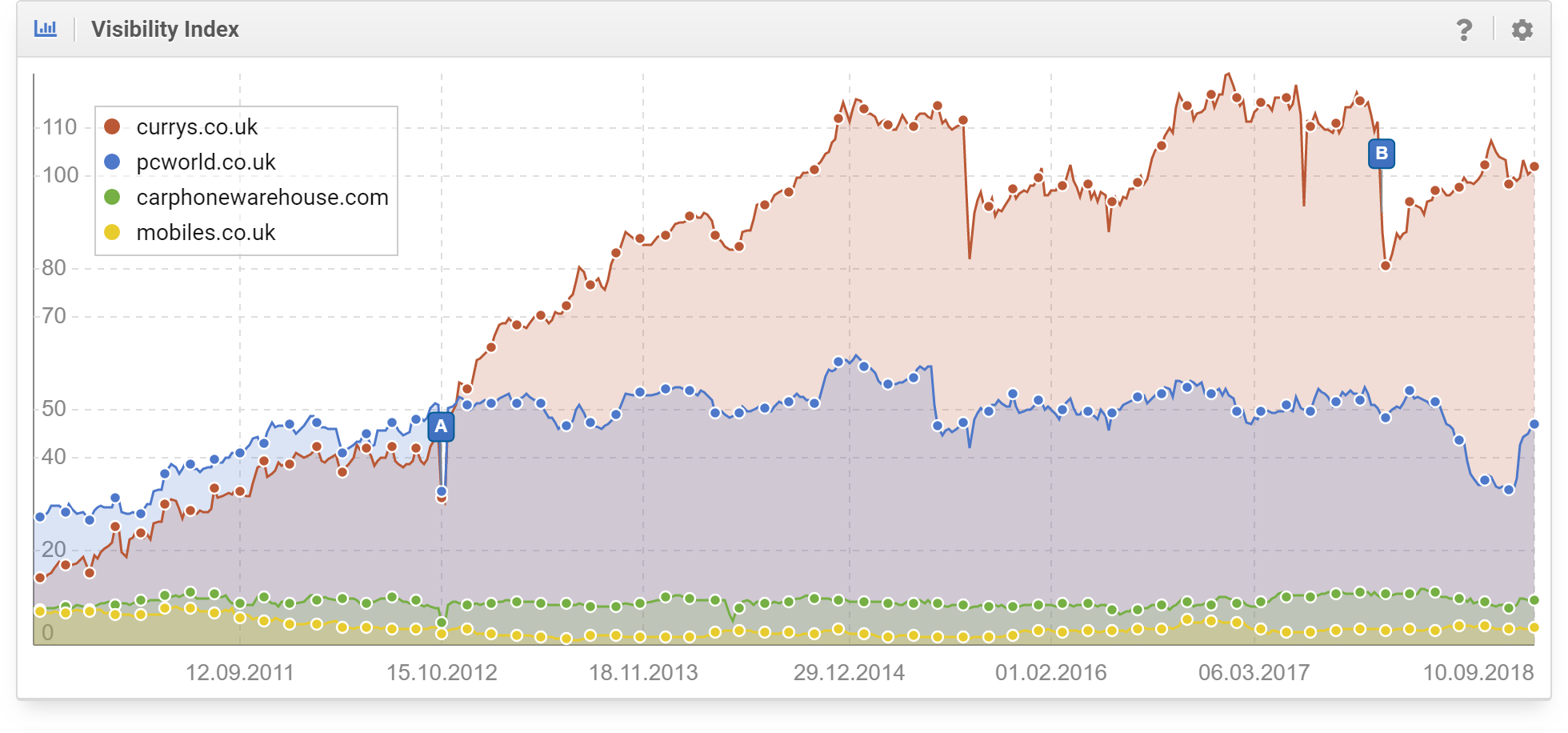 There are two other interesting domains that should be highlighted. Ryanair, the largest European airline by passenger numbers, does not have a huge online presence. As with many airlines, customers make bookings via agencies, such as Booking.com which has 50x the Visibility Index.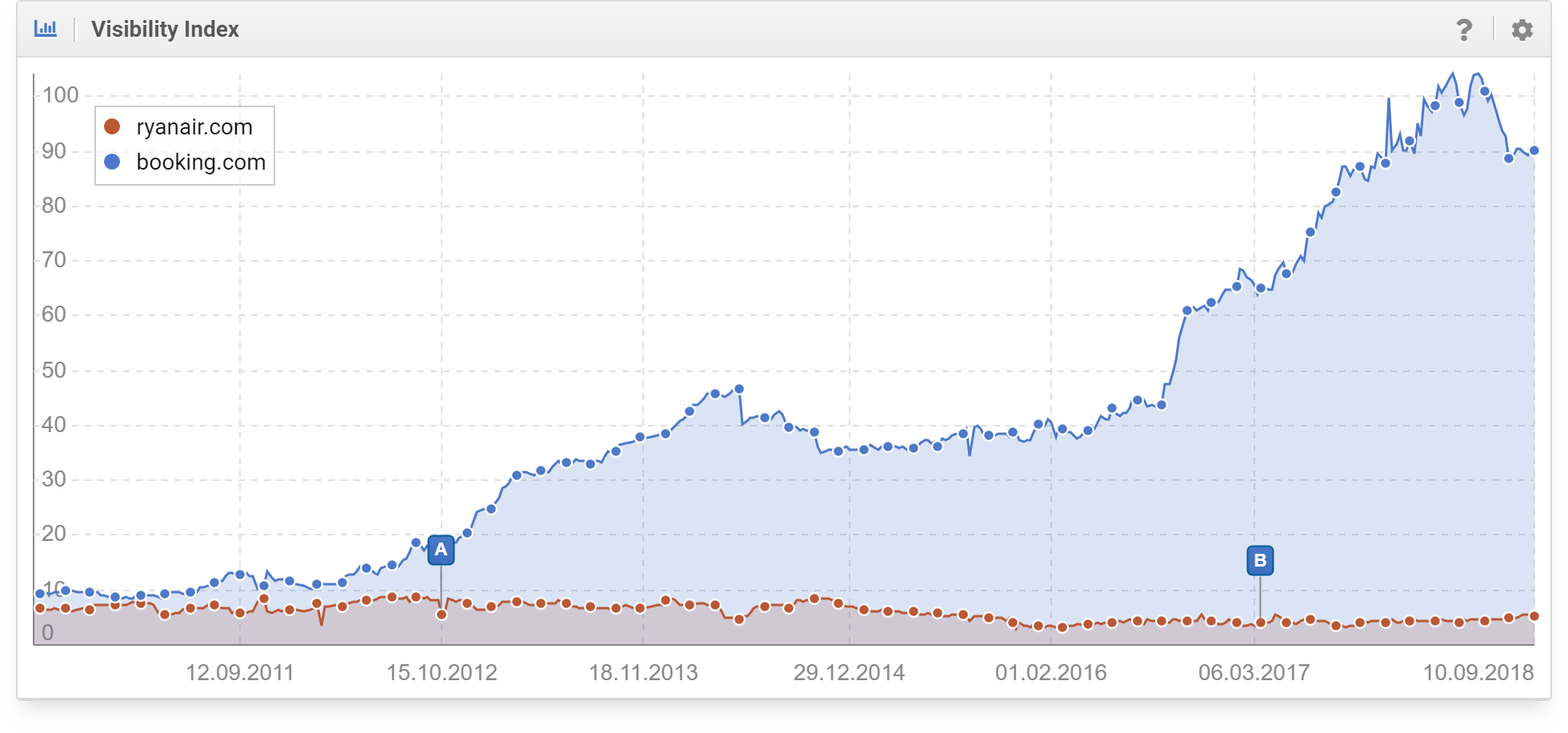 Finally, Just Eat, the leader in the new sector of prepared food deliveries, has a search presence of 8, which is not far behind high-end supermarket Waitrose and ahead of Aldi and Lidl.
Summary.
If the UK retail sector is moving towards online sales and in-store pick-up to gain retail market share then a look at the organic search market share, the Visibility Index, is important in order to understand what opportunities these companies have.
Tesco have given a lot away and Sainsbury's now has a good opportunity. John Lewis remains solid and the home improvements sector appears to have been locked-in by Kingfisher. USA owned companies still dominate and Amazon are way ahead in search presence but Wayfair shows that it's still possible to grow quickly.
Facebook are sleeping right now but their Marketplace platform could affect all the top players if they are able to optimise for online search presence as well as Ebay and Amazon do. As an opportunity, this is a big one for Facebook.
A look at our list shows most of the leaders but it might also give startups, investors and journalists an additional and interesting slant on 'success' along with an alternative view on opportunities in the retail sector.
A note about SISTRIX data.
SISTRIX provides daily data on organic search positioning and URLs for 1 million keywords in the leading search engine for 13 countries. In the UK we have 8 years of data in our SISTRIX Toolbox. Google search has over 90% share of the search engine market in the UK. You can find out more about the Visibility Index here.
The Top 100 is updated and published weekly for 13 countries for customers of the Toolbox. We also publish the top winners and losers within our Toolbox and customers are able to view the history for any domain that ranked in the top 100 of Google search results during last 8 years.