The "Keywords" section in the Ads Module of the SISTRIX Toolbox will help you to find the top keywords for which your domain ranks, that have been targeted by ads. Video walk-through below.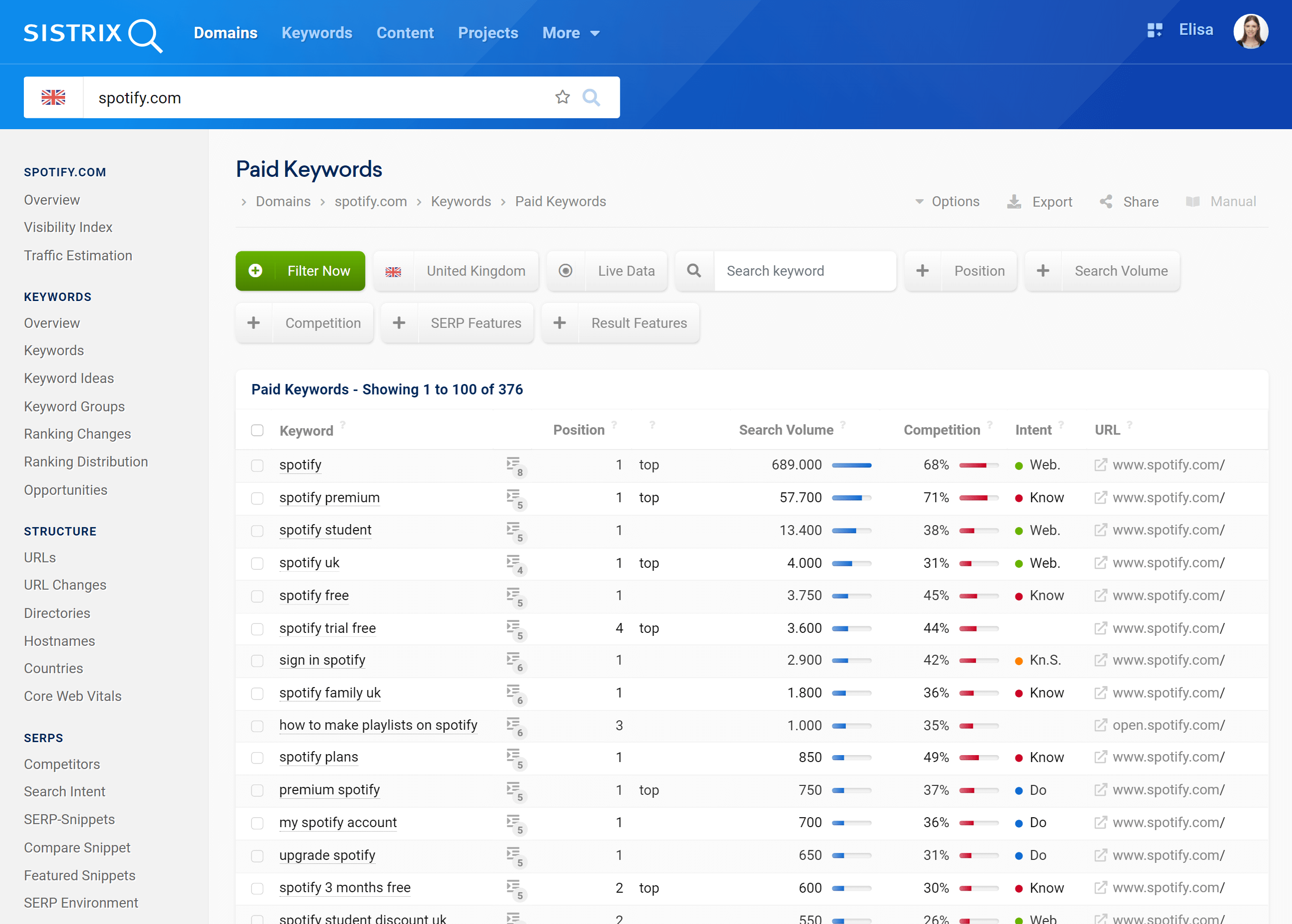 General options
At the top right corner you'll find general settings for the whole page, in particular:
Date: if you don't choose a date, the Toolbox will show the data for the current week. Thanks to this option you'll be able to go back in time and find out how the Ads of the website developed over the years.
Options: tailor the table according to your personal needs and requirements. Thanks to the function "Select column" you'll be able to add more interesting columns to the table. The "Expert filter" allows you to create complex filter combinations, which you can also save and load.
Data source: the Toolbox offers an extended database for mobile SERPs, which is why this is the default option for the table. Here you can also change the data-source, selecting desktop results.
Export: with this button you can export the displayed table, download the (filtered) keywords and the data contained in every column. Read more about exports and credits here.
Shortlink: share the page with other Toolbox users. You'll get a personalised shortlink, active for a few days, that you can share without any limitations.
Keyword Table
The table shows the top paid keywords for the domain. To determine the results we take into consideration the Ad position, the competition level and the traffic for the keyword.
Keyword: Paid keyword exactly as it is written.
Position: Ad position for that keyword.
Display Position: Position of the Ad inside Google's search results pages (top or bottom).
Search Volume: Estimated number of monthly search queries for this keyword on Google for the chosen Country.
Competition: This indicator shows the level of competition for the keyword: 0 (low) until 100 (extremely high).
Intent: The type of search intent which is predominant for that keyword.
CPC: Average click price that you would pay on Google Ads, if you'd like to get a paid click for this keyword. It's an average value, so it could vary.
URL: Display-URL shown in the Ad.
Click on the green button "Filter now" to select one or more filters and sort the data according to your needs.
Video walk-through with closed captions