Being successful in your day-to-day online-marketing work necessitates working alongside a number of people from your organisation. For this, our user-profiles enable you to work alongside up to five of your colleagues within the SISTRIX Toolbox at the same time and no additional cost. This tutorial will show you how you can create, manage and use the profiles.
The User-Profiles in the SISTRIX Toolbox
Aside from your main account that you set up when you purchase the Toolbox, we want to enable up to five of your colleagues to use the SISTRIX Toolbox, alongside you, at no additional cost. If you need additional profiles, you can easily purchase them, too.
We want to be frank: there are a number of rules that enable us to offer the user profiles. Please stick to the rules so that we can continue to make it possible for the profiles to use the Toolbox, at the same time, without much interference and restrictions.
It is important for us to know that behind every user-profile, there is a real, living human. User-profiles are not intended as "role-accounts" and cannot be set-up as one. Please supply us with the real, full name of the person using the profile.
We also need a real, existing and personalised e-mail-address within your company domain. Once you set up a user-profile, we will send the new user an email with a link that she needs to click on to verify the profile.
Only employees of the company purchasing the Toolbox are eligible for user-accounts. Please do not set up profiles for contractors, freelancers or anyone else outside your company. We trust you on this, as we want to keep setting-up and using profiles as quick and easy as possible. Please treat the user-profiles accordingly.
Add a new User-Profile
In order to add a new user-profile please click on the "Add new Profile" button on the login page. You can also click on "My Account" and then on "Profile-Management", if you are already logged into the Toolbox:
On there, simply fill out the short form. Tell us the full name of your employee and add their company email-address: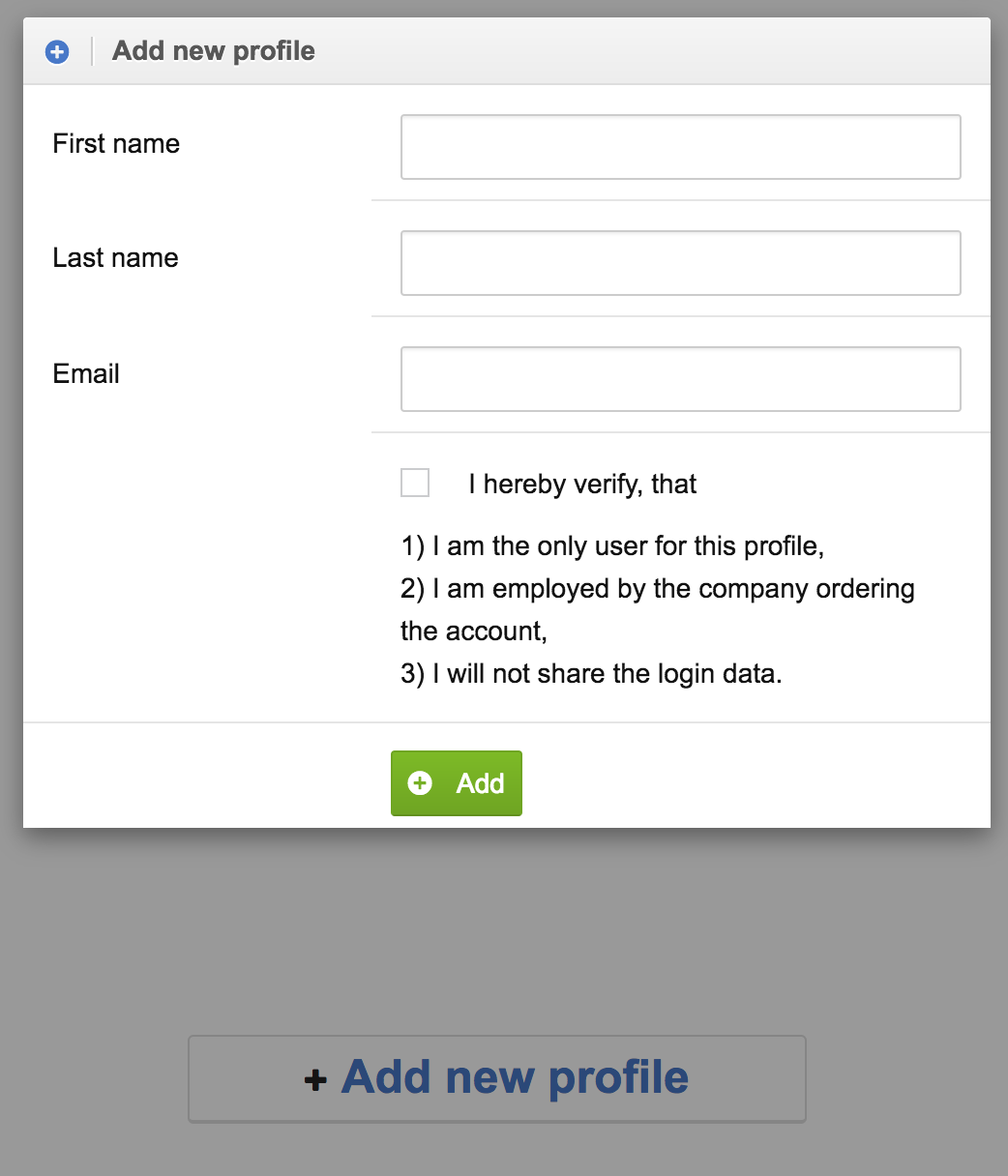 We will now send out a confirmation email, with a link for the new user to click on. Afterwards the profile is ready to go and you can select it from the login page.
The normal use-case is for everyone to log into the Toolbox with their personalised email-address and one account-wide password. For big enterprise-customers we also offer an extensive rights- and user-management with individual passwords. If you are interested in this offer, please contact our support and they will talk you through all the necessary steps.
Edit and Manage Profiles
You are able to edit and manage all the profiles for your account. Please click on "My Account" in the Toolbox and then on "Profile-Management". Here you will see all available profiles and you can quickly change or delete them, by clicking on "Edit Profile". Please note that deleting a profile will also delete all reports, dashboards and lists associated with this profile, too.