The term "search intent" is used by SEOs to signal that there is an intent behind every search query. In this part of our series on SEO strategy, you will learn what search intent is and why it is so important for SEO.
Developing an SEO strategy does not just entail researching keywords, but also addressing these search intents and then providing an effective website structure for them.
Search Intent – what is it?
There is already a very good article on the topic of search intent/user intent here at SISTRIX ("User-Intent as the Key to Long-Term SEO Success"). So, here is a rather short introduction: the search intent/user intent refers to the user's need that a user wants to satisfy with their specific search query.
"In the past" there were three intents:
Informational (the user wants to know something)
Transactional (the user wants to carry out a transaction – usually a purchase)
Navigational (the user wants to reach a specific website of a business/an event …)
Google has "replaced" these classic intents with the following:
Do (the user wants to carry out a specific task; formerly: transactional)
Know (the user wants to receive information; formerly: informational)
Know Simple (the user has a question that can be answered clearly and easily, e.g., "how old is tom cruise")
Website (the user wants to visit a website; formerly: navigational)
Visit in Person (the user wants to visit a local object, e.g., a restaurant)
But why is this such an important topic overall? Why do SEOs talk so much about search intent/user intent?
Google classifies search queries according to these intents and arranges the various elements in the search results (normal search result, image search display, local results …), so they optimally match the intent. If you want to achieve good rankings, you need to consider the intent in order to provide the right answer to a search query – or to understand that some search queries are also better not served at all.
Search Intent: Three key questions
Question #1: Do I have the right content for this search term?
If you search for "nike women sneakers", you will notice that there are only shop pages (especially category pages of shops) on the first search result page. And if you browse the search results for "crochet pompom hat", you will discover almost only editorial sites or platforms like Pinterest. This is not a coincidence, but a result of Google's algorithms that display the optimal results for each search query.
Therefore, it is virtually impossible to achieve good rankings for the search query "nike women sneakers" with a blog site, as Google knows that this is a commercial search query and that users also expect shops there.
Of course, this is primarily important if you want to optimise for one specific search term. So, it is always worth looking at the search terms and checking what types of search results are displayed there.
A small tip here: In a search query, different tabs are displayed above the search results (Shopping, Images, Videos …). The first tab (right next to "All") clearly indicates the primary search intent: If it says "Shopping", it is most likely also a transactional search term:

Question #2: Do I have a realistic chance of getting clicks?
For some search terms, the question also arises whether one has any chance at all of being clicked on – even if one would have a very good ranking. This happens especially with "Know Simple" requests. For example, if you search for "how old is tom cruise" or "tom cruise age", you will already be able to see the answer to the question in the Google suggestions: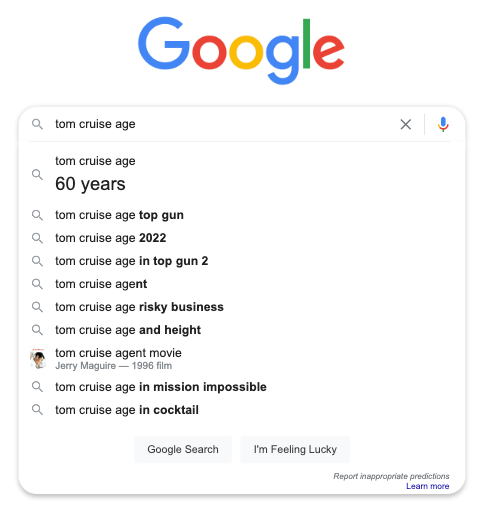 Even those who overlook it there will get the answer displayed in a large way on the search results page. Therefore, it simply does not make sense to optimise for such a search term. Even if you could oust Wikipedia from the first position (which is hardly possible), you would in fact hardly generate any clicks, as the answer is already available (so-called "No Click" searches).
The same applies to search queries of the type "Navigational" (old classification) or "Website" (new classification). For example, someone searching for "kölner dom" or "haribo" will usually look for the respective website. Even if you were to achieve a ranking at position 4 for these search terms, you would hardly get any clicks, since the search result at position 1 is likely to attract almost all clicks.
Question #3: What are my attack options?
From the analysis of the SERP features (i.e., Which elements appear in the search results?), one can also recognise one thing well: By which means can you actually achieve a ranking? If you take a look at this in SISTRIX for one keyword, you will quickly see that not just ten "normal" search results (SEO-speak: "ten blue links") are displayed: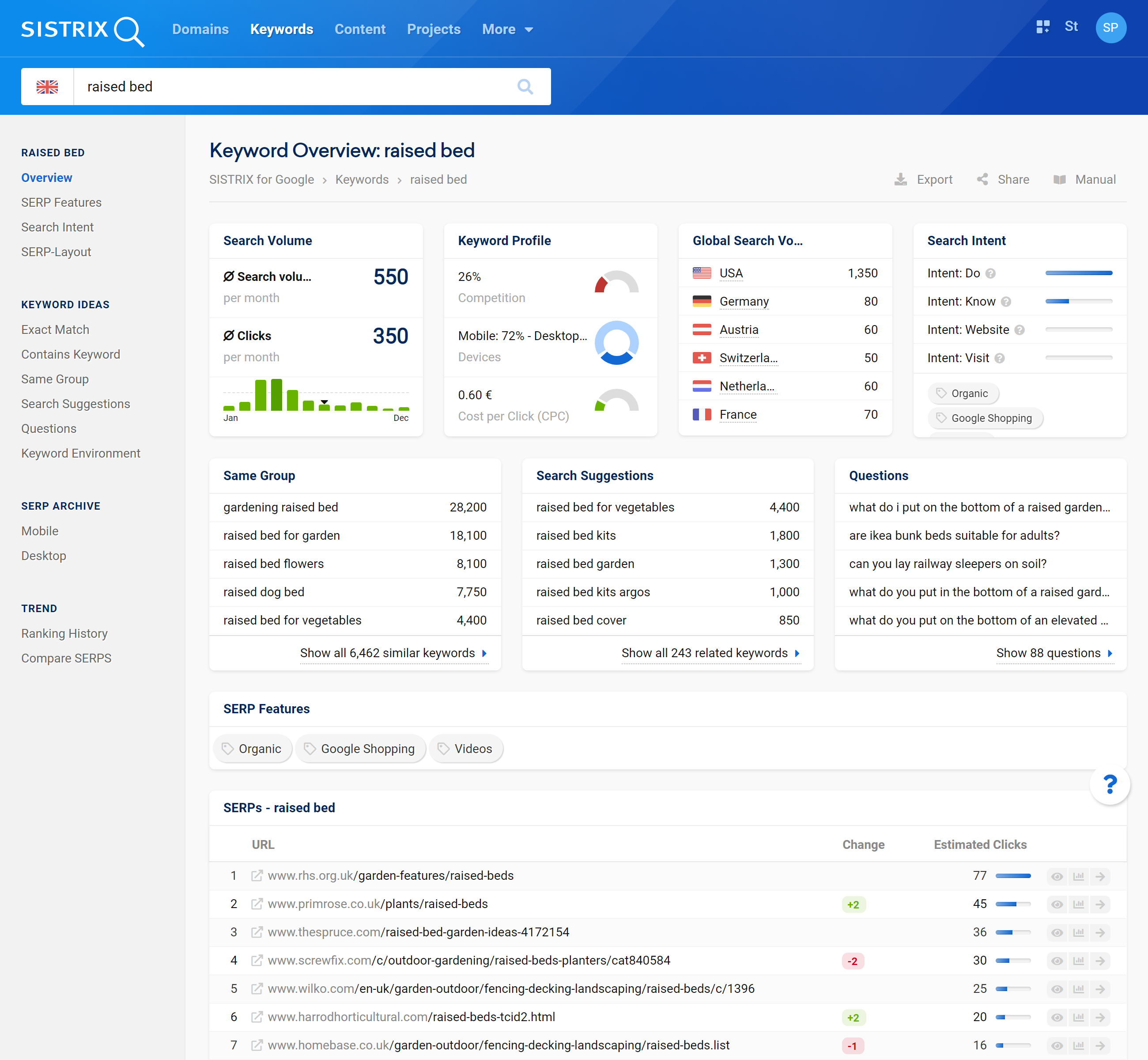 Like this, you can discover the measures with which you can generate visibility here:
"Local Search": Local listings (via Google My Business)
"Videos": Videos hosted on YouTube, for example
"Images": Optimisation of images for Google Image Search
"Top Stories": News that show up in Google News
…
Of course, these options are not always possible or reasonable. Especially the targeted optimisation for Google News is rather disproportionate for many companies, as most posts there have a very short "lifetime". Creating videos can of course also be quite time-consuming.
Here, each company must decide for themselves how far they want to go in dominating the search results. Theoretically, it is certainly possible to obtain visibility in different areas of the search results at the same time – e.g., in the normal organic search results, in the image search and in the video search.
Keyword Research and Website Structure: Neither will work without the other
Keyword research is extremely important. But what is the point if you've found 10,000 good keywords, but your website only consists of 20 pages? Keyword research and website structure must therefore always fit together.
Typically, one would divide the website into page types first. Even a website that consists of millions of pages often has only a handful of different page types, such as the home page, a product list, a product detail page, a blog page, an FAQ page – and that may be it.
Then it is a matter of assigning the search terms to the different types of pages: Which page types are best for covering the search term?
In doing so, you may well find that you need additional pages on top of the existing ones. If you only have 100 product lists but 1,000 search terms, you may have to create additional product lists.
You may also realise that the page types currently available are not enough. Perhaps you may need a filter list to show all products – limited to a certain property. Or a branch page that displays all information about one branch of a store, which is then able to target local search terms.
Ideally, all these considerations have already been made when creating the website. Unfortunately, this is often not the case, which means that this SEO measure has to then be carried out subsequently.
Example 1: Online store for mattresses
Online stores have the advantage of having a clearly defined structure:
Home page
Category pages
Product detail pages
Content pages (e.g., blog)
Thus, there is a clear rule for keyword research – illustrated here using an example of an online store for mattresses:
Category pages should be created for all high-volume generic search terms ("mattresses", "cold-foam mattresses", "visco-foam mattresses" …). The category structure should be chosen sensibly, so that, for example, the category "mattresses" becomes the parent category of "cold-foam mattresses". Generally, the most searched terms are located in the category pages of the first level, while rarely searched terms are covered by the third and fourth levels.
Patterns can be used for the product detail pages. If you know that a type of mattress is being searched for in combination with the specific dimensions and degree of hardness, you can then optimise a specific mattress for the search term "cold-foam mattress 90×200 cm hardness h4". This way, you do not need to do keyword research for every single product – the pattern is entirely sufficient!
An advice section helps cover informational search terms like "cold-foam mattress lifespan years", "cold-foam mattress vs. spring mattress" or "cold-foam mattress advantages" – provided that you write the right content for it.
Example 2: Manufacturer of vacuum cleaners
A fictitious manufacturer of vacuum cleaners has an overview page (/vacuumcleaner/) and ten different products (e.g. /vacuumcleaner/vacuummaxx3000) that are linked from the overview page. Keyword research for the "big" search term "vacuum cleaner" initially shows that there are no synonyms for this term.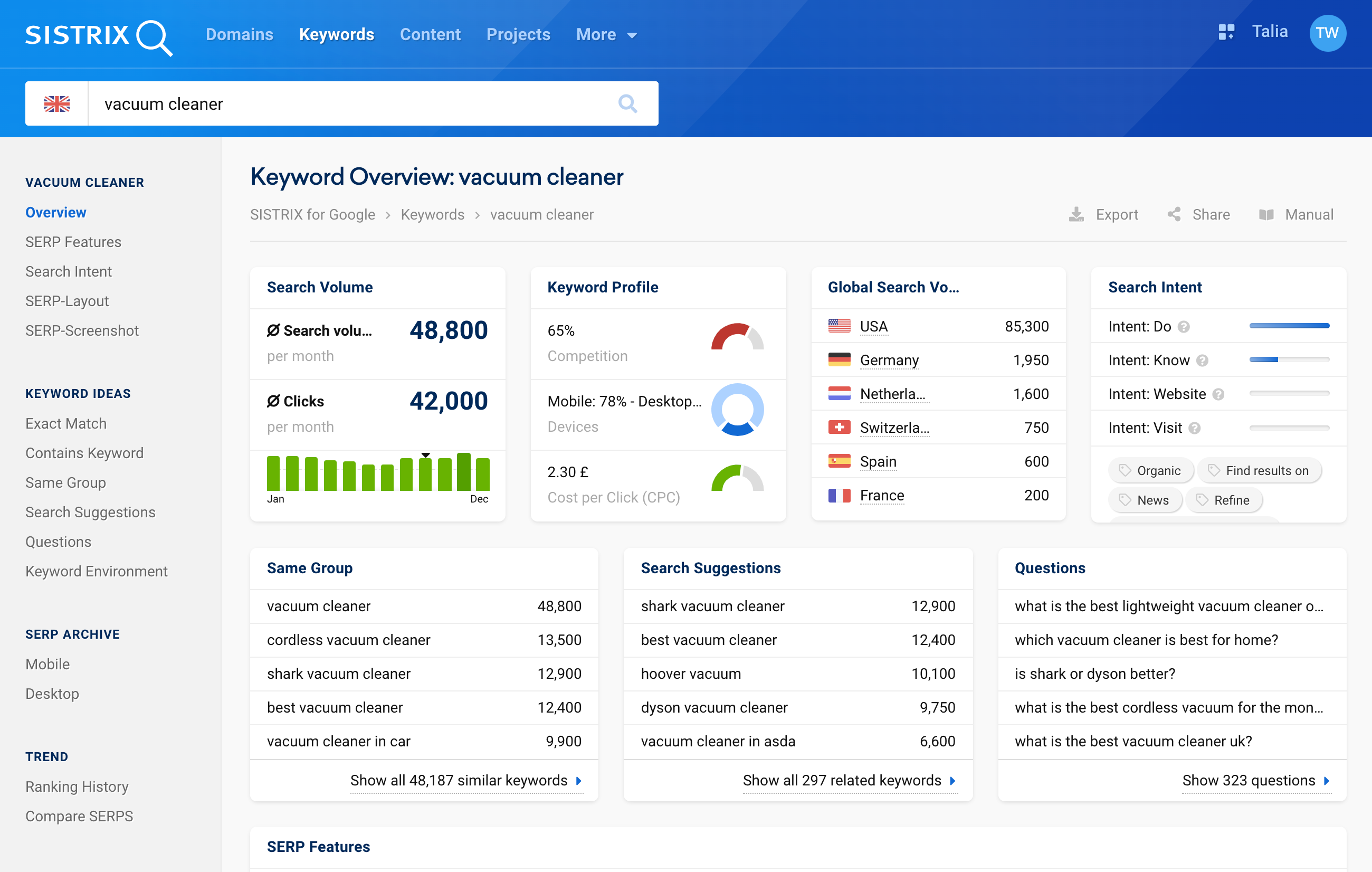 The keyword universe relevant for this manufacturer will revolve around the search term "vacuum cleaner" – and, of course, primarily around the word combinations. How do potential new customers search for specific vacuum cleaners?
Here, the manufacturer will find that there are multiple interesting combinations, e.g.,
vacuum cleaner battery
vacuum cleaner industrial
vacuum cleaner robot
vacuum cleaner handheld
vacuum cleaner dust container
vacuum cleaner lifespan
vacuum cleaner oil spill
…
Once the manufacturer has identified these search terms, they will
optimise the overview page /vacuumcleaner/ for the big search term "vacuum cleaner",
optimise the specific product pages (e.g., /vacuumcleaner/vacuummaxx3000) for relevant and generic transactional search terms (e.g., "vacuum cleaner robot" because the Vacuummaxx3000 is a robot vacuum cleaner),
create appropriate blog posts for relevant search terms that are informational, e.g., "Which vacuum cleaner for oil spill removal" or "How long is the lifespan of a vacuum cleaner".
The example shows once again: the user is generally directed to a page optimal for them. A user who enters an informational search query into Google can be served with a blog post. Someone who simply wants to buy a vacuum cleaner and searches for "vacuum cleaner robot", for example, will be directed to a product detail page.
Perhaps at this point, the manufacturer also discovers that there are search terms for which they currently do not have suitable page types. Since they only have ten product pages, they can thus also only cover ten search terms that relate to specific product features.
However, for a search term like "vacuum cleaner dust container" they have no matching page, as they have multiple products with dust containers. The logical consequence would be to create category/list pages that display all matching products for such search queries.
Conclusion
Search intent is important in order to be able to provide the optimal answer for a search query. This way you also won't struggle with optimising for search queries for which you have no chance to obtain rankings or clicks anyhow.
If you have read and implemented Part 2 of this guide, you should have a list of search terms. This list should be narrowed down first. All search queries that are of the "Know Simple" or "Website" type are generally not relevant targets for companies.
After that, the respective search intent should be entered for each search term, in order to then match each search query with the page types. In other words: Which page type can optimally serve the respective search intent? If page types are still missing, they should be added.
As soon as the page types have been determined, you must then check if pages already exist for all relevant search terms. If not, the missing content needs to be created. Of course, this does not have to/cannot happen in one day alone.
Many companies take years to fill a blog, for example, with relevant posts for all determined search terms. One thing also has to be mentioned: The content or the page must of course still meet quality requirements. So, it is not enough to simply create any page that somehow matches the search intent, e.g., a blog page for an informational search term.
The SEO Strategy Guide
Take the next step in this training program. This set of learning documents will help improve your SEO results and the way you use SISTRIX.
Overview
SEO Strategy Made Easy
Introduction to the SISTRIX step-by-step guide
Determine Search Intent and Plan Website Structure
How does the user intent help me optimise the structure of my website?
This guide was created in cooperation with Markus Hövener from Bloofusion. Your feedback is welcome.