Concluding the SEO strategy guideline, there are two more important aspects when it comes to SEO – especially for Google: the efficient use of the Google Search Console and optimisation for the different verticals.
Google Search Console
With the Google Search Console, Google offers a free tool that provides a lot of data for your website. In any case, it is important to note that there is no obligation to use the Google Search Console. There are no direct advantages you can gain by doing so. However, it certainly does make sense, because you can often obtain concrete recommendations to improve your website here.
To use the Google Search Console, you need to first prove that it is also your own website. Only when you have confirmed access to the website (e.g., via DNS entry or meta tag) you are granted access to the data of this so-called property.
But which features are actually important? And what can the individual reports be used for?
"Performance" Report
You can look back a total of 16 months with the performance data: Which search queries led to your website being displayed (impressions) or clicked on (clicks) in the search results? And on which average search position with which click rate (CTR) did these clicks occur?
For some years now, this data has only been available via the Google Search Console or via import into other tools such as Google Analytics. You can use this data to improve your website: Are there relevant keywords for which you can be found on the second page (positions 11–20)? Then, with minor optimisation measures, it may be possible to boost the webpage to the first search results page.
"Page Indexing" Report
In any case, it makes sense to deal with the crawling and indexing of your website. It doesn't matter how well a website is optimised if it is not indexed and not displayed in the search results.
The optimal check can be done in combination with XML sitemaps. These files list all URLs of a website – ideally separated by page type. You can then submit these sitemaps to Google via the Google Search Console – as if to say: Here are the 80,000 pages that are important to me. With the "Pages" feature, you can then answer the question: How many of these pages are indexed? And which ones are not?
First, you need to submit the XML sitemaps, which are usually generated fully automatically by the content management or shop system, via the feature "Sitemaps > Add a new sitemap". Then you can switch to the "Pages" report. As can be seen in the image below, in this case about 1,600 pages were examined, of which only about 1,460 pages have actually been indexed: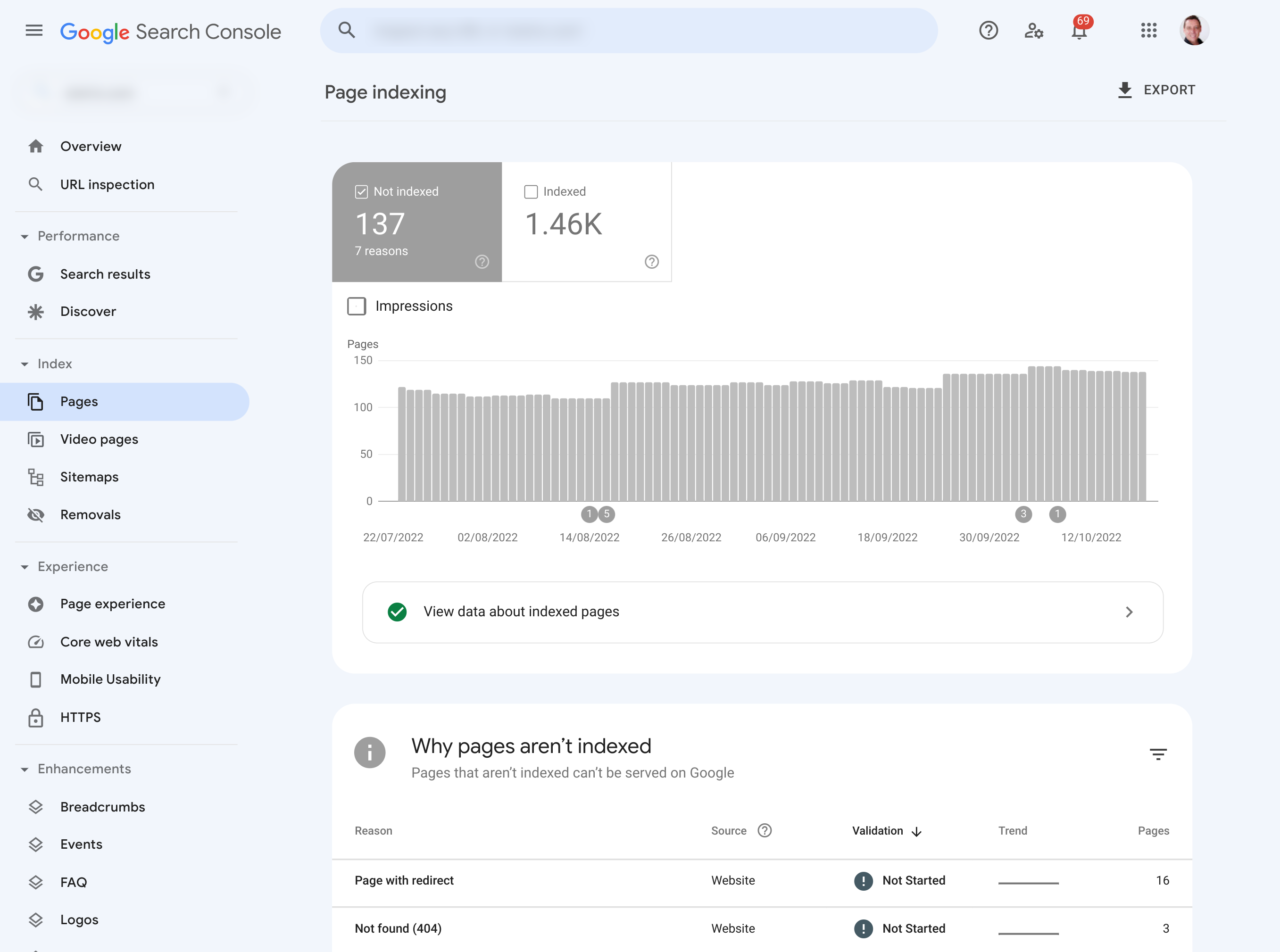 Here, 137 pages have not been indexed. There may be various technical or content-related reasons that prevent either crawling or indexing. These reasons should then be addressed and ideally remedied. Of course, the tool will give technical or very general reasons and will not point out that the content is too low-quality to be indexed. Unfortunately, you need to make an effort to understand the "error messages" and to draw the right conclusions from them.
"URL Inspection" Report
If you are unsure whether a specific page is indexed or whether it has errors, you can check this using the "URL Inspection" tool. There you can see if Google indexed your page or if there may have been errors in the past. By clicking "Test live URL" Google will also retrieve the URL directly and display important information.
Here you can also check the so-called rendering. In other words, can Google display the page correctly or are CSS files blocked, for example, so that Google cannot get a proper idea of the page?
Therefore, the "URL Inspection" tool is always useful if you suspect errors on a specific page or if you want to do a one-time check of the website. In the latter case, it does not make sense to check each and every page of a website, as this will take a very long time. Instead, you should rather check one page per page type – e.g., the homepage, a news page, a blog post and so on.
"Core Web Vitals" Report
It is becoming increasingly important for Google that a website can be retrieved and displayed quickly. For this reason, Google announced the "Web Vitals" (see https://web.dev/vitals/) in 2020: clear PageSpeed limits that websites should adhere to, so they do not suffer any disadvantages in the search results.
Using the "Core Web Vitals" report, you can find out whether your website is doing the same. This report is based on real world usage data – the so-called "CrUX report" (Chrome User Experience Report, see https://developer.chrome.com/docs/crux/). Since not all user data is measured, it is possible that no data is available for certain pages, especially with smaller websites. In practice, that is no problem, as most errors are rather systematic.
If pages are too slow, you need to run diagnostics. Tools such as PageSpeed Insights can then provide concrete recommendations or indicate measures that can lead to significant improvements.
Reports for Markup
Structured data (see Part 4 of this guideline) can be important for purposefully delivering website content to Google – with the aim of gaining visual advantages in the search results or getting into certain Google databases (such as Google Jobs). However, errors sometimes creep into the essential HTML code, which leads to the desired advantage not being realised.
To find such errors, there are many individual reports under "Enhancements" that show which specific pages have problems with certain markups (Product, BreadcrumbList …). In the following report, you can see over time whether there have been problems with the markup for navigation paths (BreadcrumbList).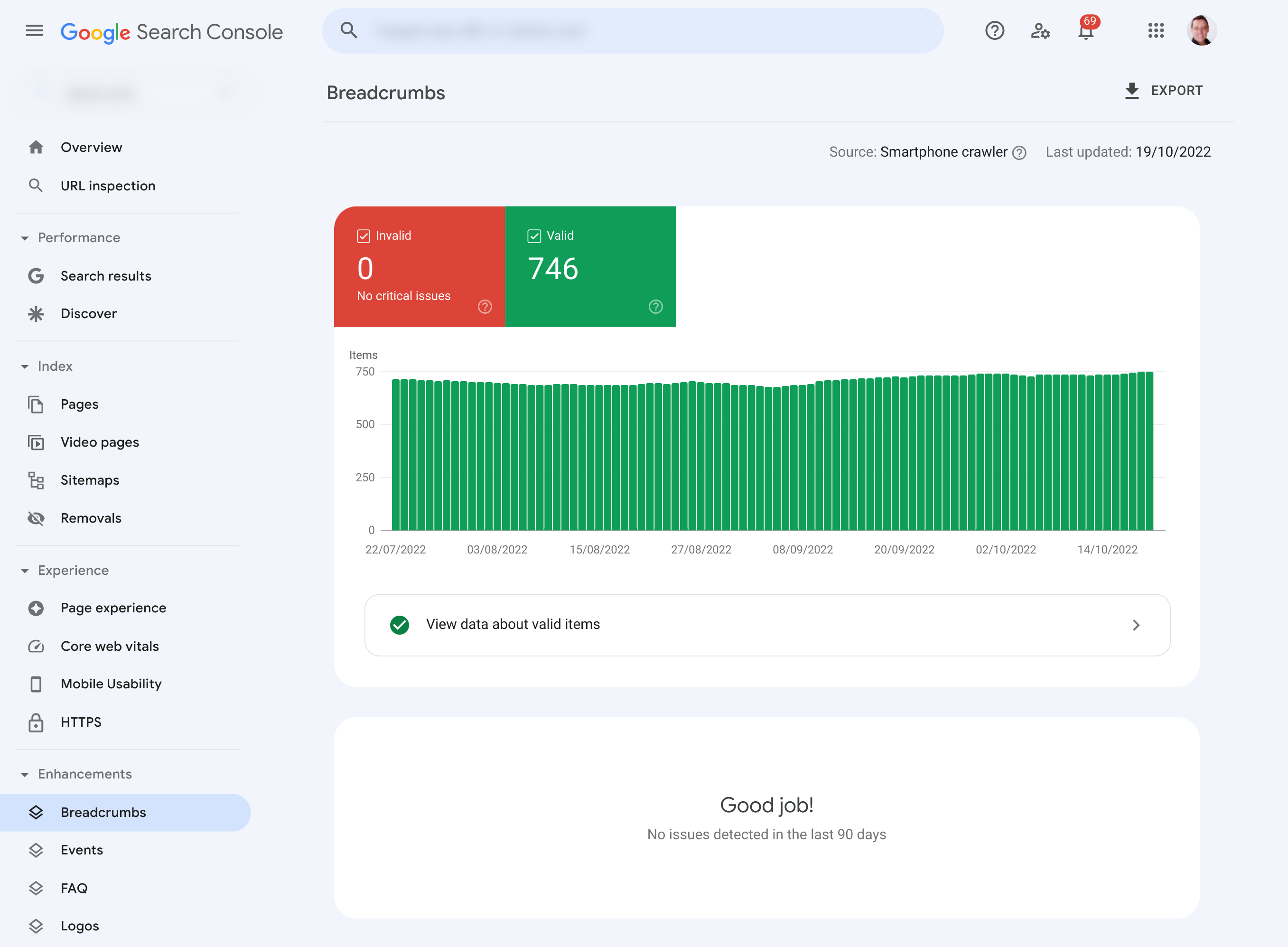 "Security & Manual Actions" Report
Hopefully, you will never see a notice in the "Security & Manual Actions" report. That is where website operators are notified if, for example, a website has been hacked or if Google carries out a penalty (manual action).
In all of these cases, you will be notified and should then quickly take countermeasures. Especially in the case of security problems, Google points out the problems in the search results, so that the real organic traffic quickly reaches the zero mark. Therefore, it is advisable to take such notifications seriously – and of course to ensure in advance that the e-mail notifications also reach an address that is regularly checked.
Recommendation: Monthly Check
Foremost, if something "bad" happens or something occurs that deviates significantly from the previous performance, you will be notified, as already mentioned. However, a regular monthly check also makes sense in any event:
"Performance" report: How has traffic developed? Are there reasons for negative developments? What can be learned from positive trends?
"Coverage" report: How does the coverage change over time? Is the indexation constant? Or have new problems appeared?
"Enhancements" section: All reports should be checked here. Have there been any negative changes here?
"Security & Manual Actions" report: Here, you should only check to ensure that there are no entries you have missed.
By the Way: Beyond Google …
Other search engine operators also offer similar tools. Primarily, these are the Bing Webmaster Tools, which have a high utility value – and which can also directly import the websites registered in the Google Search Console, so that no additional effort is needed here.
Even "local" search engines offer their own tools for website operators, like Yandex with Yandex.Webmaster (https://webmaster.yandex.com/). So, if you conduct international SEO, you should also take a look at the tools of other search engines – and do at least the standard homework there (above all: submitting XML sitemaps).
More Google …
While this strategy guideline generally deals with the "normal" Google search, it is of course important to know that other Google special searches exist ("verticals") that also offer optimisation potential.
These verticals – and their ground rules – are briefly presented below.
Google Maps/Local Search
In the local search, Google uses local listings. These listings (currently the results page always displays three) appear when someone explicitly searches for something local (e.g., "lawyer liverpool") or when Google assumes a local search intent (e.g., when someone searches for "dentist"). Therefore, these local entries are especially important for companies that also have a local context (freelancers, health care professions …) – but also for classic British medium-sized businesses.
The listings can be created and maintained through Google My Business – and that free of charge. The most important thing is to select the correct category and fill in all fields as much as possible (e.g., descriptions or images).
Image Search
The optimisation for image search was already discussed in Part 5 of this guideline. Since images are often displayed in the search results, a lot of users are "lured" into the image search in order to search for products there, for example. Image search is therefore particularly interesting for companies whose products or services are visual (e.g., wedding cards or exhibition stands).
Video Search
As the name suggests, video search is suitable for all companies that also offer videos. Generally, YouTube videos can be found here, even if videos from other hosting providers can be found in the video index – or videos that are self-hosted.
Shopping
Physical products that are available for purchase can be found in the Google product search. While the product search could only be filled via paid listings in the past, this changed at the beginning of 2020 with the Google programme "Surfaces across Google".
To take part in this, you need to provide a so-called product feed – i.e., a file that encompasses all products together with important attributes (description, price, availability …). You can then upload this in the Merchant Center after you have registered your participation in the Google programme there.
Google News
The news search is particularly interesting for websites that regularly publish news. If Google determines that a search query relates to current events, news items are usually featured prominently in the Google search results – a strong potential for publishers and bloggers.
If you want to participate in this, you can submit a so-called news feed via the Publisher Center. However, similar to the product search, this requirement has also been watered down in 2020, so that – theoretically – every news article can show up in Google News. In practice, however, this rarely happens, so that the way via the Publisher Center is probably still the best way.
Google Discover
In the Google app, select news and other interesting articles have been displayed on the start page for some time. This feature is called Google Discover (formerly: "Google Feed").
These articles are evaluated algorithmically by Google. Whoever is featured in Google News definitely has advantages here – but not necessarily. Theoretically, every article has the chance to be selected by Google.
Google Jobs
To be included in the Google job search (which is displayed for search queries such as "job vacancies bristol") there are practically only two requirements: The job posting must be on a separate indexable HTML page and the markup "JobPosting" (see https://developers.google.com/search/docs/appearance/structured-data/job-posting) must be implemented there.
Google Event Search
The event search, which appears for search queries such as "events brighton", has similar requirements. Again, there must be a separate page for the event. The markup "Event" (see https://developers.google.com/search/docs/appearance/structured-data/event) must be included there so that Google also recognises the event as such.
… and much more
There are also several additional special searches, e.g., for hotels or flights. However, these are usually not free of charge and are probably only relevant for a few companies. Nevertheless, it is worth checking your own search results to see if there are any relevant features there.
Final words …
Thank you for reading all nine parts. We hope that you have found valuable information for your strategy here. Of course, it still needs to be brought to life. And no one says it's easy. Especially topics like content creation and link building involve a lot of hard work.
While there are certainly some shortcuts, usually they are not advisable. Of course, you can buy links on eBay or commission any author to create content for you at low cost. However, Google has become far too clever to be outwitted by simple tricks. Google also always points out that the user should be the focus. A low-quality text is not good for users – therefore, it also isn't good for Google.
Strategy is very important for SEO: long-term thinking that always aims to deliver an optimal website. Optimal in terms of content, structure and technology.
Strong backlinks and, above all, the establishment as a brand are important goals for a website that wants to move forward sustainably. Certain signals simply cannot be bought, so you really have to work towards being visible "online".
The SEO Strategy Guide
Take the next step in this training program. This set of learning documents will help improve your SEO results and the way you use SISTRIX.
Use Google Search Console + Google Verticals
How do I effectively use Google Search Console and optimise my website for different verticals?
This guide was created in cooperation with Markus Hövener from Bloofusion. Your feedback is welcome.