The title tag or your web page is a vital part of SEO. There are lots of examples of titles tags that work really well, and plenty more that don't follow best practices. In this article, we'll show you both good and bad examples.
As we've seen, it's very simple to get a basic title tag into your WordPress post because it's initially a reflection of the page title. The next step is to optimise it.
To help you write a search engine optimised title tag for your blog, product, or home page, we're going to cover:
The principles of writing a good title tag
Factors that make a good title tag plus examples
Things that make a bad title tag including examples
What are the best practices for title tags?
The title tag is the first thing most people will see of your web page in search results. It's the blue hyperlinked text on Google and other search engines. It's also the text used to label the browser window and may appear on your actual page, too.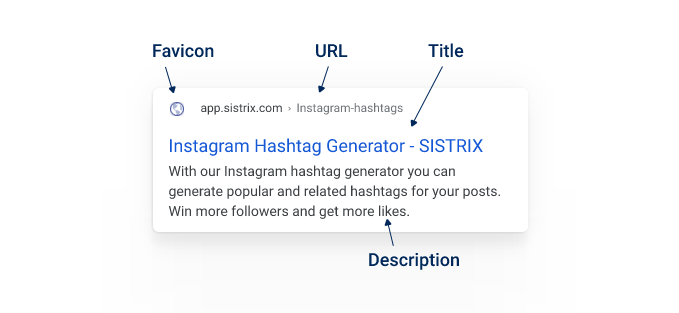 The first thing you need to know is that every page needs a title tag. Without a specified title, Google will try to parse one from the text, figuring out what your page is about. It's best that you control the title for every page.
In that vein, every page needs to have a unique title tag. This will help search engines index your page.
Having the right length title tag is important. Too short, and it probably won't have enough information in it; too long and Google will cut it off. The optimum title tag will be around 50-60 characters long – technically it has to be 600 pixels long but that's not so easy to measure.
For more details about how to optimise your title tags for your website, we've got a full guide available to check out. We also have a guide to the 5 most common mistakes made in title and descriptions.
How to use title tags for SEO
First, let's take a look at how to write a title tag that should rank well. A good title tag will:
Be relevant to the content on the page
Include the keyword that you want the page to rank for
Use the longtail keyword, too – this can be in conjunction with the main keyword
Have the keyword at the start of the title
Here are some title tag examples when trying to optimise for search:
| Keyword | Long-tail keyword | Example title tag |
| --- | --- | --- |
| Hotel in Rome | Luxury hotel in Rome | Luxury Hotel in Rome, 5* Rome Hotel |
| Electric screwdriver | Best electric screwdriver | The Best Electric Screwdrivers You Can Buy |
| Upload video | How to upload video YouTube | Upload a Video to YouTube – a Full Guide |
These aren't finished yet. We'll improve these as we go through the other best practices.
How to use title tags to improve your CTR
Your CTR is your click-through ratio. It's how many people see your page in the SERPs compared to how many actually click and go through to your website.
Getting on the first page of the SERPs is part of the challenge. Once there, you need people to see the value in your content and your title tag is the first step. The next step is your meta description, which we go into more detail on in another post.
To get people clicking, you need to demonstrate the value of your content or product on your page. There are a few different characteristics that you need to highlight in your title tags:
Show your content is deep and thorough – using language such as "ultimate guide", "complete process", "everything you need to know about" etc. will pique interest
Use numbers when you've written a list, these types of articles are appealing and the number of products, people, or steps grab attention, e.g. "5 of the best", "25 people who", or "7 steps to"
Highlight how useful and speedy your content is, if it is something quick. "Quick guide to", "instantly finish", "15-minutes for a"
Make your content look fresh by adding a year and/or season to your title tag – life is fast-paced so you need your page to show it's up-to-date. Include "for 2020" or "in Spring 2021" for example
Power words are also likely to grab the attention of your potential clickers and customers. Some examples for your title tags include "amazing", "exquisite", "tasty", "best value" – you get the idea
Let's see what the examples we used a little earlier could look like taking these tips into account:
| Keyword | Long-tail keyword | Example title tag |
| --- | --- | --- |
| Hotel in Rome | Luxury hotel in Rome | 10 Luxury Hotels in Rome to Book for Summer 2020 |
| Electric screwdriver | Best electric screwdriver | 12 Best Electric Screwdrivers to Order Now |
| Upload video | How to upload video YouTube | Upload a Video to YouTube – Quick 5-Step Guide |
Note: It's highly unlikely you'll be able to use every single value point we've covered in one title, so don't try! The most important thing is that your title is relevant and doesn't feel forced.
What makes a bad title tag?
First, doing the exact opposite of what we've just covered will give you a bad title tag! As well as duplicating titles or eschewing them entirely, there are other things you really ought not to do.
Every page on your website should have a keyword, not using it in your title tag is a massive missed opportunity since it's such a big factor on your SERP ranking.
Nearly as bad is putting your keyword anywhere but at the start. Ideally, your keyword should be the first word of your title tag, although if grammar means it's the second then it's not the end of the world.
Sticking with the key word theme, don't stuff keywords into your title. Too many keywords will make the title nonsense so people aren't going to click on it.
Keep your length within the parameters set by Google. It won't push your page lower in the rankings with a long title, but you want all the information visible to your potential customer.
Just for fun, let's see what our title tag examples would look like if we did everything wrong:
| Keyword | Long-tail keyword | Example title tag |
| --- | --- | --- |
| Hotel in Rome | Luxury hotel in Rome | Hotel in Rome, Rome Hotel, Luxury Hotel Rome, Luxurious Hotel |
| Electric screwdriver | Best electric screwdriver | Where You Need to Shop to Buy a Screwdriver |
| Upload video | How to upload video YouTube | Here's What You Need to Do to Add Content to Popular Video Websites |
Would you want to click on any of those titles?
Good and bad titles – a summary
Title tags are akin to the front window of your shop – it's the first thing many people will see so you need to make it good. Getting your page to where it can be seen is the first challenge and your title tag plays a huge part in that.
Use the best practices we've outlined to create a title tag that'll work for SEO. Once you're covered for search, you then need to get people clicking on your title tag and getting on to your page. Our tips for demonstrating the value of your content through the title should give you a strong CTR.
Knowing what doesn't work is also really important. Avoid the pitfalls of title writing and you should get a good ranking.
Remember, you can change your title tag if it's not working and test different ways you can get a better SERPs ranking or improve your CTR.