Google SafeSearch has been keeping pornography and explicit material out of your searches since 2000. It's been trying to, at least.
SafeSearch is a setting on Google's search engine that should stop content related to porn and explicit nudity be returned in a search query. That's the theory, but it is known to be faulty – lots of innocuous websites can be filtered with SafeSearch, and you can still encounter adult content with it turned on.
What is Google SafeSearch?
SafeSearch is Google's search option for a cleaner, filtered set of search results that will exclude sexually explicit content. It is intended for home and school use but it doesn't guarantee that all explicit content will be removed.
How does Google SafeSearch work?
Like with everything Google does, the search engine doesn't disclose exactly how it identifies pornographic content. There are generally two ways that explicit images are filtered on Google – banning URLs that are known to be pornographic content and filtering for flesh tones in images.
Any content that's flagged as explicit won't show in SERPs for users that have SafeSearch turned on. The facility filters out:
It doesn't stop the browser from accessing porn, e.g. if someone were to type in the address of a porn site, it'll still be displayed on the browser.
What effect does SafeSearch have on my website's SERPs ranking?
Most websites will probably not encounter an issue with SafeSearch. It's not something you can be certain of though, even if your site is harmlessly selling flowers or advertising your vets' surgery.
However, there has been a study done by Harvard Law School that found pages from the White House and Northwestern University were being blocked by SafeSearch. This does date back to 2003, and the internet has come a long way since then.
Looking at more recent information, on Google Webmaster help, there are intermittent reports of websites being inadvertently picked up by SafeSearch. Only site owners who pay attention to their search engine optimisation (SEO) would likely notice that Google's filters weren't working right.
How do I remove my website from Google SafeSearch filters?
Whether you can stop content being filtered, or ask for filtered content to be reviewed, isn't clear. Using Google Search Console, you can check if any of your pages have been flagged for removal from search results.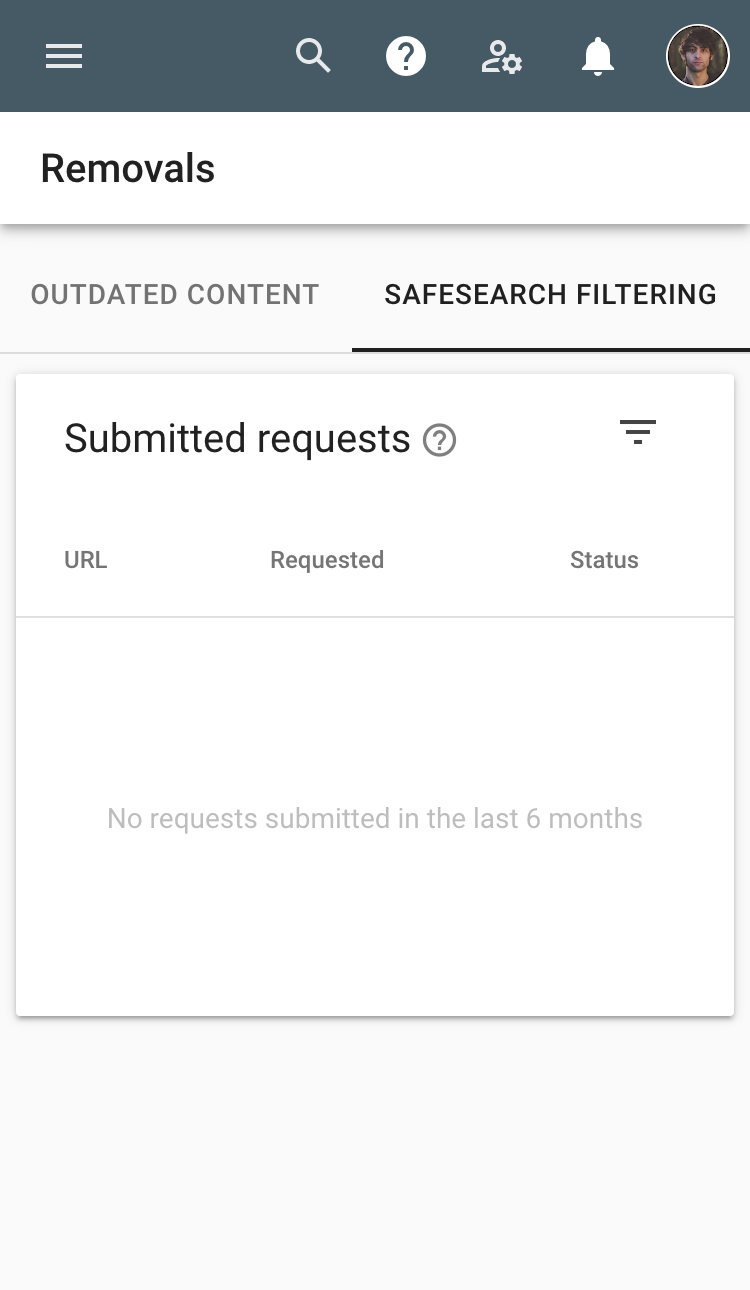 Another tactic is to remove all content flagged as inappropriate. This is a long-term tactic which relies on Google to continue to crawl your pages and recognise the offending content has been removed.
How do I enable Google SafeSearch?
Whether you're a parent concerned about what your kids are accessing, a network administrator who wants to prevent explicit content on your system, or just a person who doesn't want porn cropping up everywhere, you can turn on SafeSearch.
Turn on SafeSearch as a parent
It's rather easy to turn off SafeSearch once you set it. It's not beyond the capabilities of an internet-savvy child. To prevent your children accessing pornography, you need to download the Family Link app on your Android device running version 5 or higher, or an iOS device running version 9 or higher.
You and your child will need a Google account so that you can set it to be controlled by you. Follow the in-app instructions to permanently enable it on your Google settings.
Enable SafeSearch on a network
As more and more websites are using the HTTPS protocol, you need to embed SafeSearch at a DNS level to protect your network from sexual content. You need to divert DNS requests from normal servers to forcesafesearch.google.com. This setting maintains the security encryption and sends all traffic to a server that will only return safe results.
Turn on SafeSearch on your computer and phone
To turn on SafeSearch on your laptop, open Google and type in any search term. Under the search bar, before the results, there is a button called Settings. In the drop-down, you will have an option to Show or Hide explicit content – the default setting should be to hide the content and you can toggle it on and off.
On your Android device, you need to :
Open your Google Search app and type in a search term
On the bottom right of the screen, tap the three dots labelled More.
Select Settings, then choose General
You will have a toggle button called SafeSearch
The process is similar on an Apple device to enable SafeSearch:
Go into your Chrome or Google app and type a search term
On the top left between the search results and the search bar, tap the three lines
Select Settings
Under the heading SafeSearch Filters you can select to Show or Hide explicit content
How to turn off Google SafeSearch on mobile
Choose the operating system from the options above to be able to switch between having SafeSearch on or off. As a parent that uses Family Link, your child won't be able to turn off SafeSearch on their mobile.
What alternatives to Google SafeSearch are there?
Still concerned about the level of safety your children get from seeing explicit content on the internet? There are alternative search engines, such as:
Kiddle.co which has search results vetted by editors at the top of their SERPs.
McAfee SafeFamily gives parents full parental control over their children's devices and allows them to block pornography.
Norton LifeLock is another online security system that allows parents to block out pornography.
Conclusion
Google's SafeSearch feature isn't perfect, but it will stop the vast majority of pornography and explicitly sexual material being shown. There is a trade-off to SafeSearch; some perfectly fine and normal websites might get caught as being inappropriate.
Depending on your needs as a parent, network administrator, or someone who just doesn't want to see a lot of porn, you can choose to turn on SafeSearch features. It's reasonably simple to figure out and once you've learned to turn it on, turning off SafeSearch is just as easy.