Google blessed us with 2 updates in the last three months that have caused big movements in SERPs. They add an interesting dynamic to the usual shifting of SERPs and we analyse another three months of movements. We've selected and analysed 12 domains that have seen both positive and negative visibility fluctuations and included a list of the big movers this quarter.
Winners in UK Search Q1 2023
A list of 50 rising domains, by absolute and percentage gains, is shown below but here are six domains that we've selected for further analysis.
Prime Video
Amazon's streaming service, primevideo.com, has seen considerable growth. Compared to January, its Google search visibility has increased by a whopping 277.4%.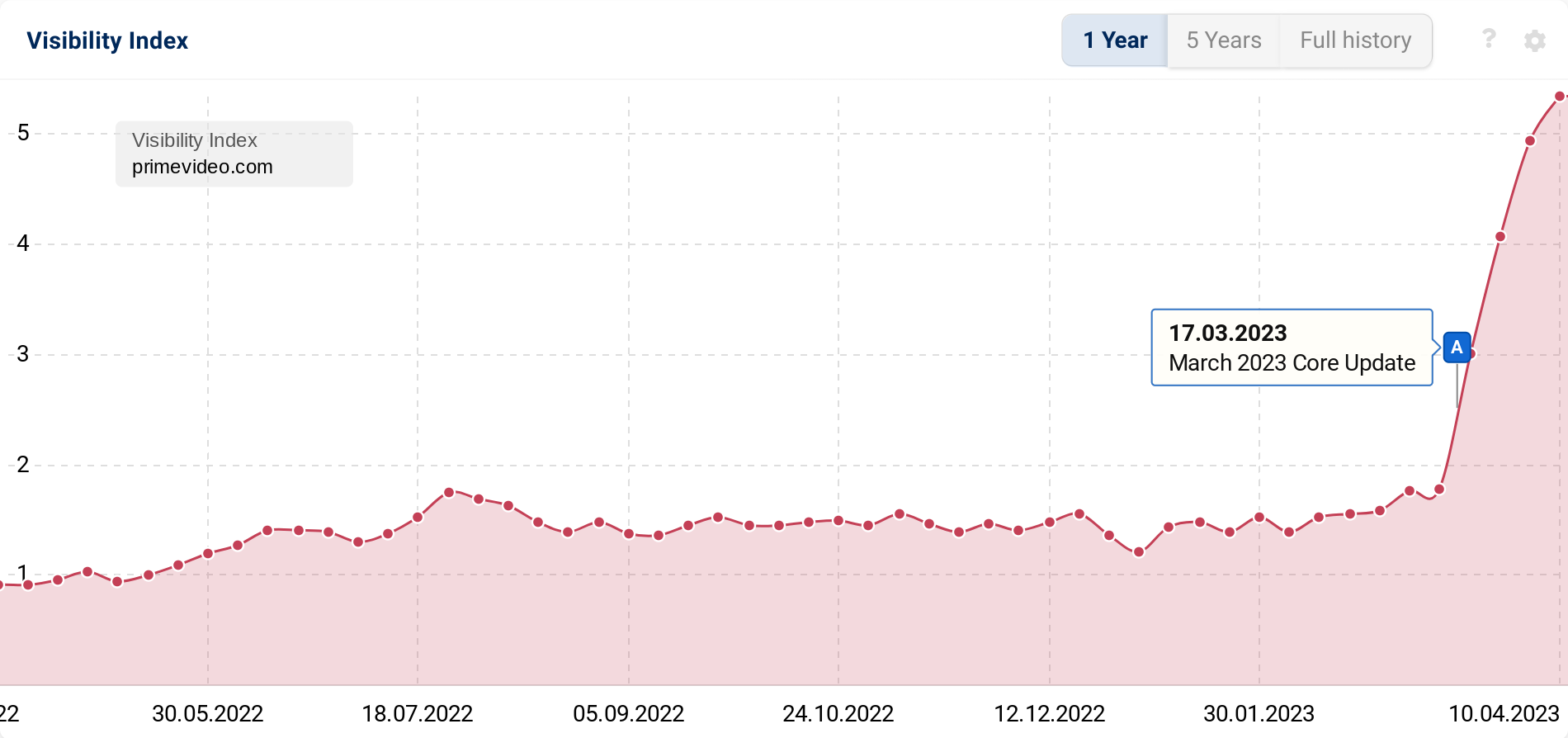 The domain's VI points started rising after the February Product Review Update. Combined with the March Core Update, this may have helped to supercharge performance.
Deeper analysis indicates that the "/detail" directory saw the most benefit. This particular area houses the synopses for movies and TV series.
Domain's rankings on Pages 1 have improved but there's a huge amount of content in the directory that doesn't rank for keywords on page 1. The ratio of rankings in page 1, to rankings in pages 2-10 is extremely low at 4%. High performing directories would attract a ratio of 20% or more.
We explored the nature of the newly acquired keywords. This revealed that the majority relate to TV series and films (e.g. "Love Island Australia Season 3", "Moon (2009)" and "Bananaman").
Sky Store
Sky's video rental service has also seen vast improvement, with its visibility score seeing a 190.8% improvement over the quarter. For those who are unfamiliar, Sky is a British TV and video streaming company that is part of the Comcast in the USA. Target markets include UK, Germany and Italy.
As you can see below, their pattern of organic SERP growth is similar to their competitor, Prime Video.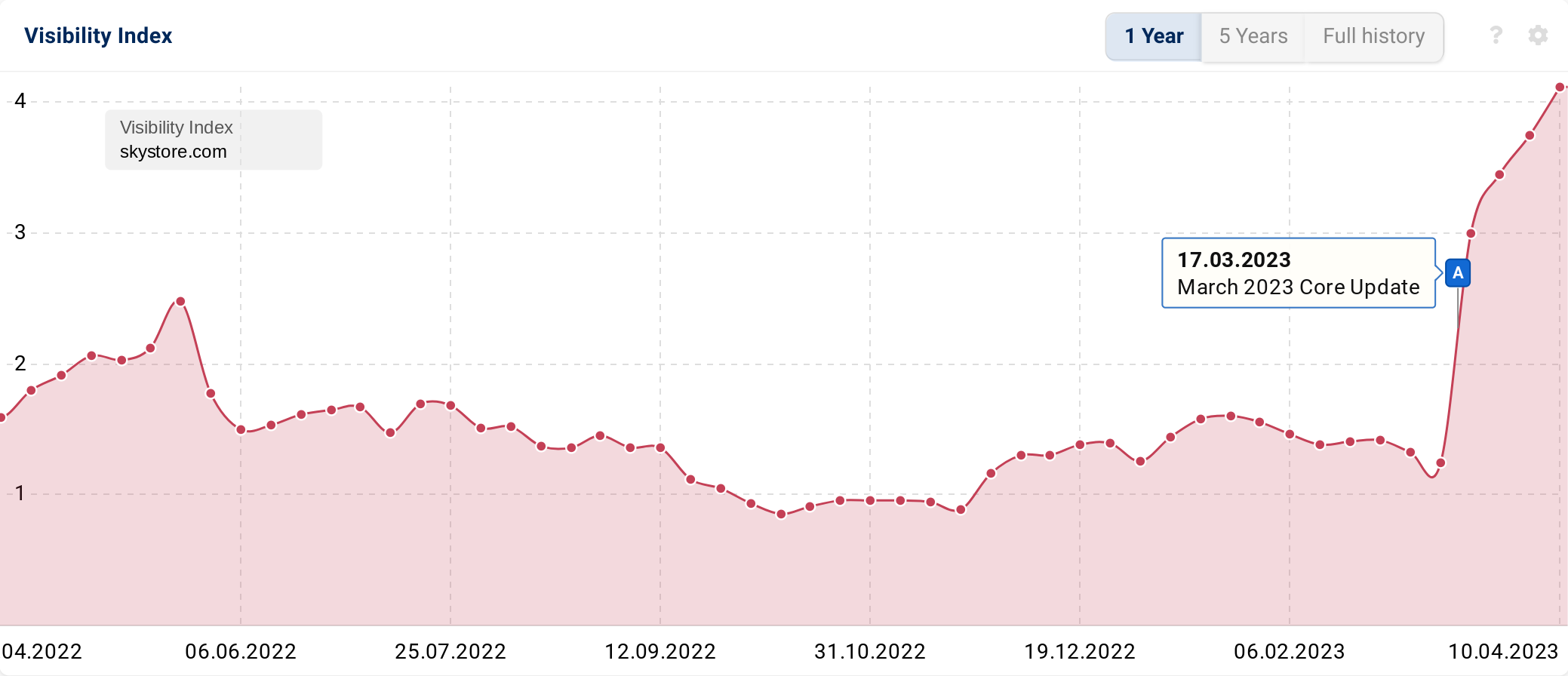 Further analysis confirms that the main contributor to the increase is "/product" (+223.5%). These are the Sky-equivalent of Prime Video's "/detail" pages. These pages include a synopsis of the film or TV show along with buy and rental prices. The subfolder's visibility started increasing pre-update, but the update itself boosted its performance.
Like Prime Video, Sky Store has seen improved keyword positions for TV series & films (e.g. "Chicago Fire Season 10" & "Fantastic Beasts 3". This suggests that an increase in authoritative and high-quality content is also responsible.
Roman
Following large decreases in 2022, roman.co.uk has experienced a 134.2% uplift over the last 3 months, bringing it back to all-time highs.
Roman is a fashion brand that sells womenswear for all occasions. Their recent SERP success has stemmed from February's Product Review Update. However, this has been further enhanced by the March Core Update.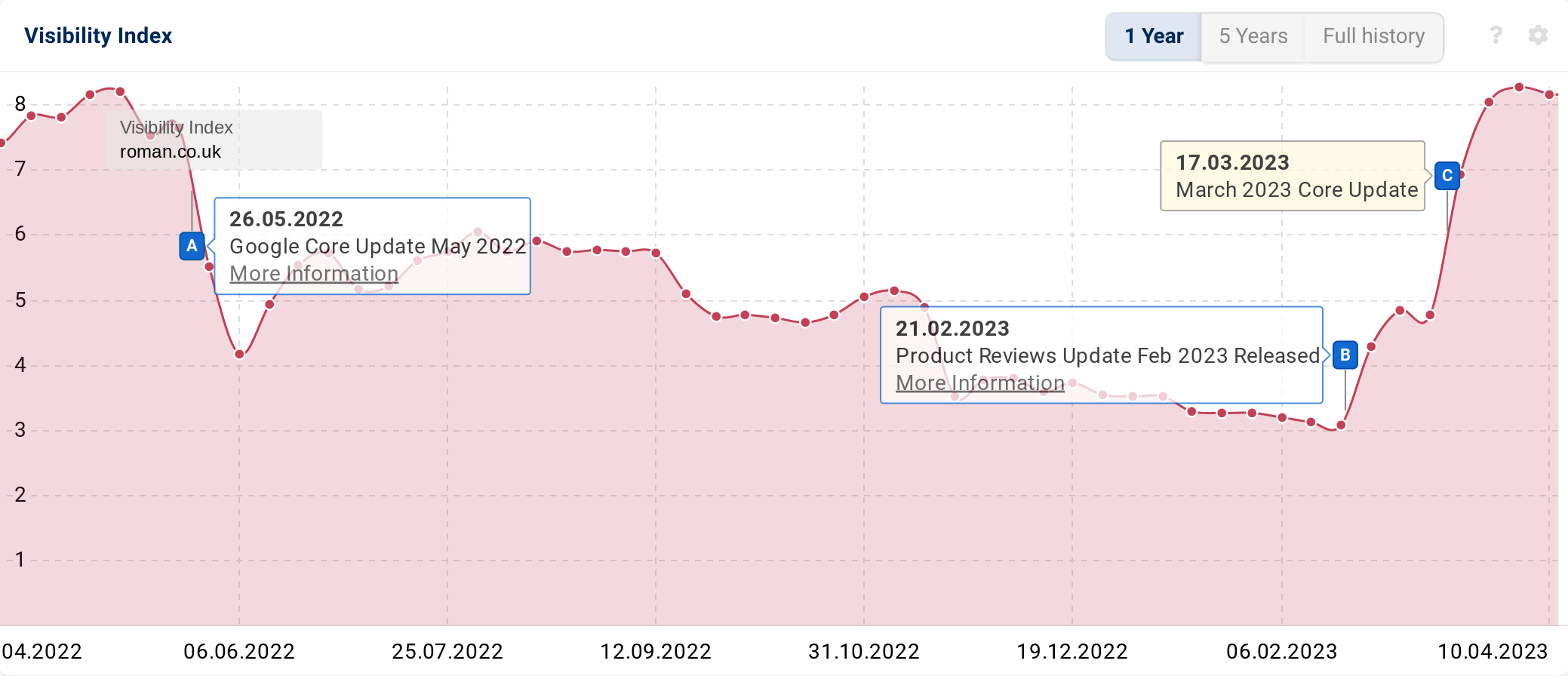 Since the first of these two updates, Roman has seen an increase in rankings for 34,657 terms and acquired 19,571 new ones.
Analysing the directories confirms that the sections that have benefited most from the updates are "/dresses" (+96.3%) and "/tops" (+59.6%).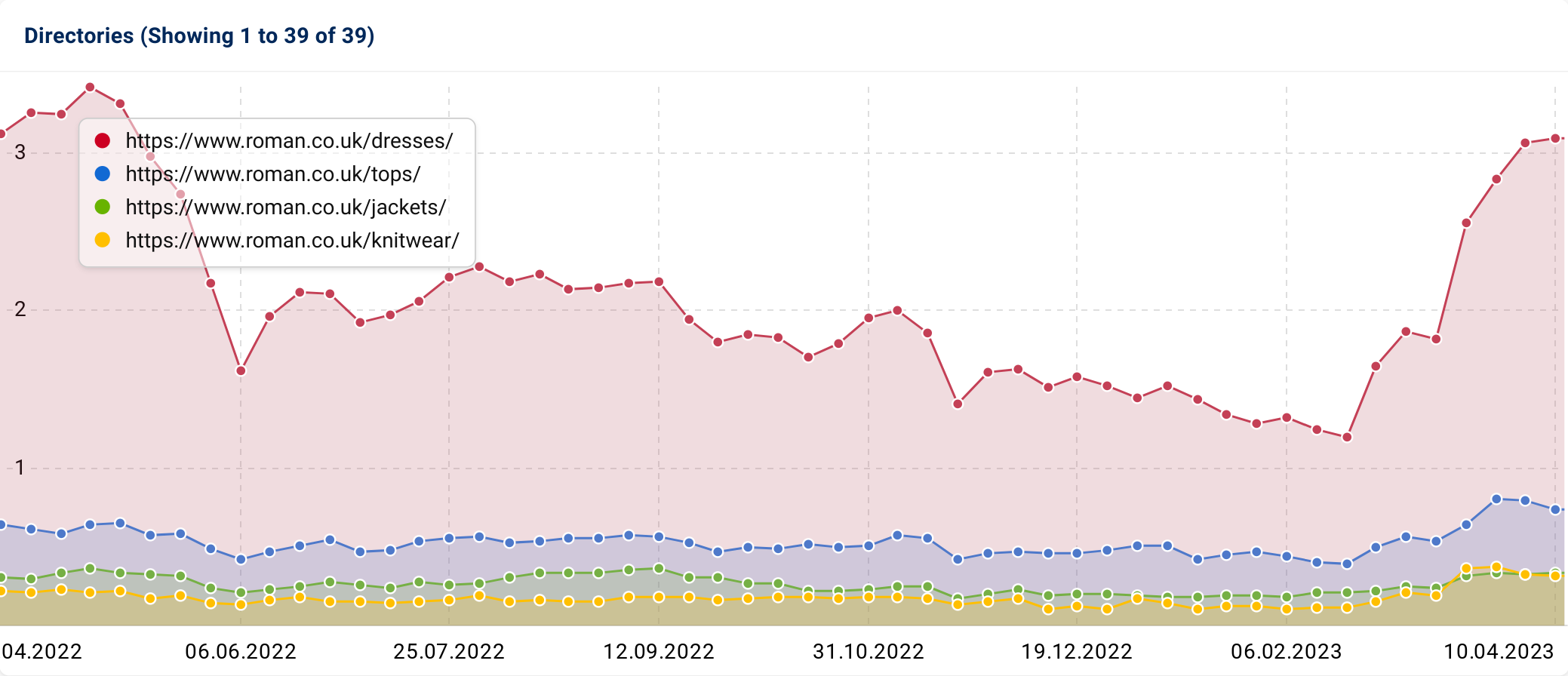 There's evidence of a re-design when looking at the archive.org history: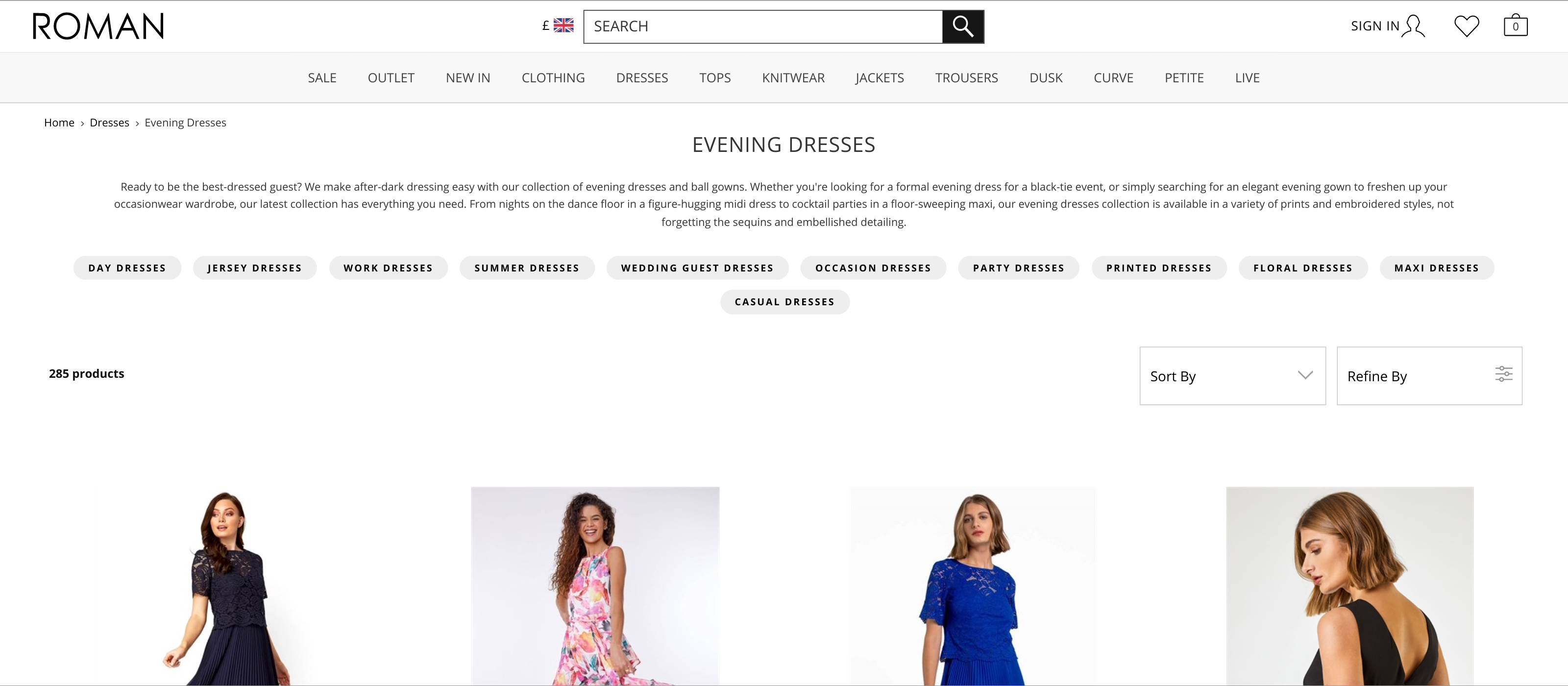 and comparing it with what we see on the site today, where we can see that more facet & filter options have been added. Indexable facets have opened up Roman to ranking opportunities for longer-tail queries (e.g. "black evening dress").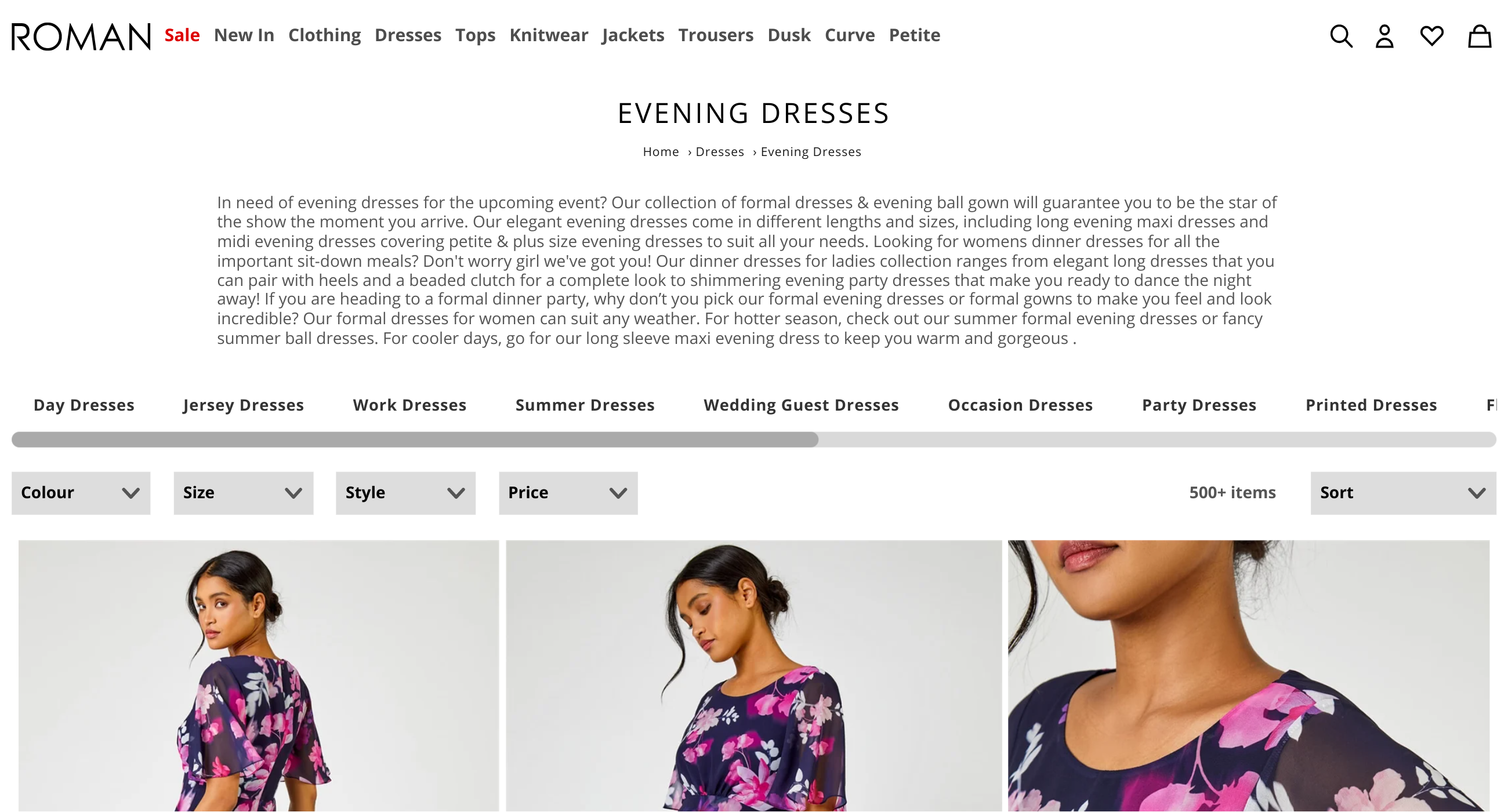 Oasis
Oasis is a longstanding UK women's fashion brand. Over the last 3 months, their website's Google search visibility has increased by 117.4%. Like the previous brands analysed, their visibility influx started pre-March Update, continuing thereafter.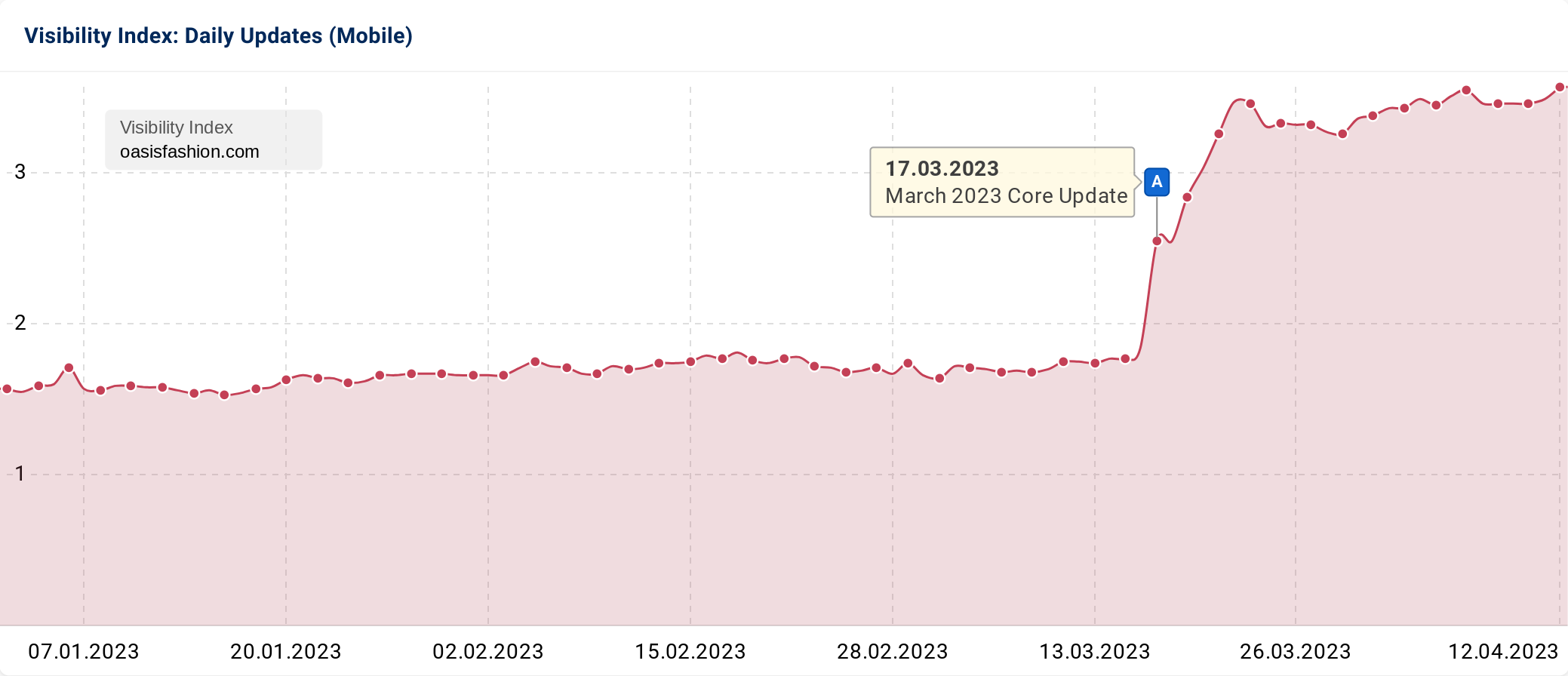 Oasis was founded in 1991 and ran for a long time on the oasis-stores.com domain. In July 2021 they migrated and lost a lot of visibility. They have seen a gradual increase in SEO prominence over time and as a result of their efforts, as of April, their organic visibility has reached its highest-ever level.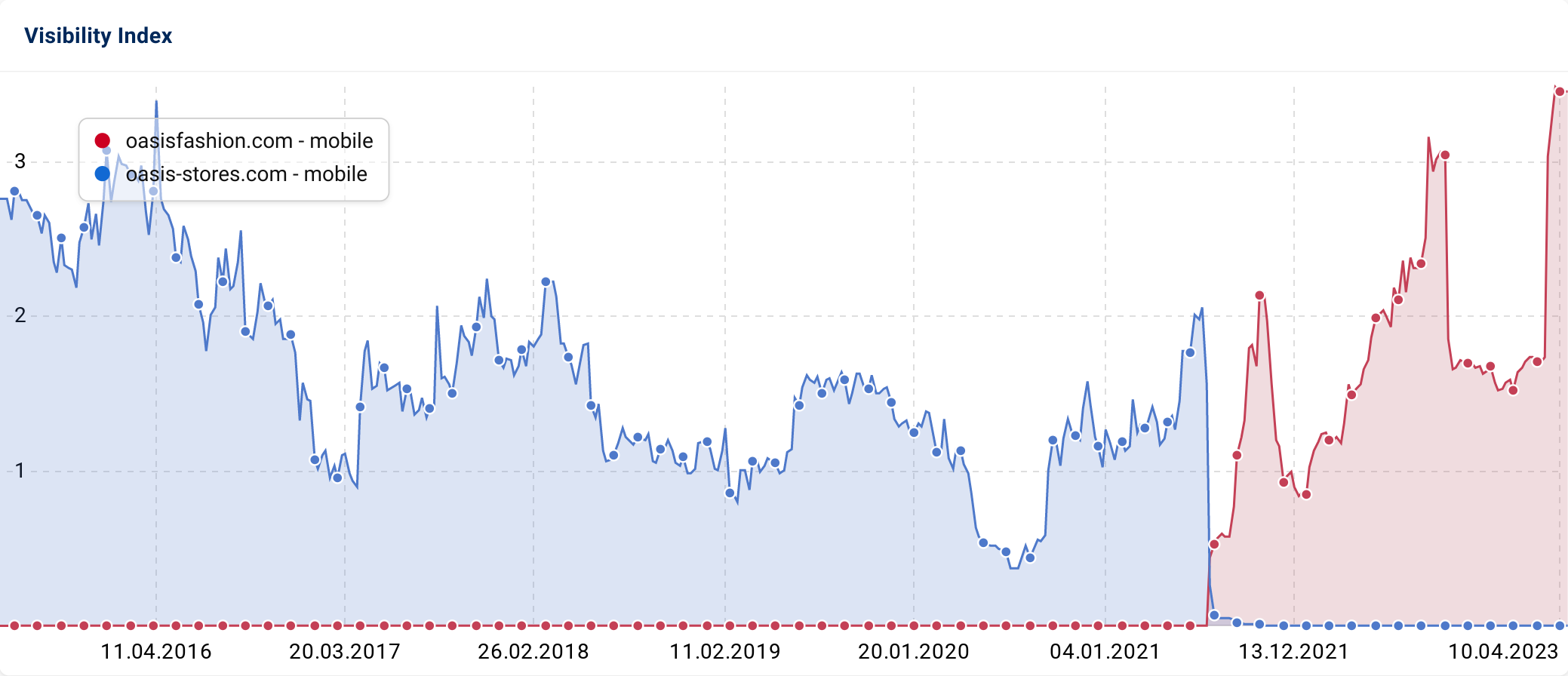 Since January, there has been an increase in ranking positions in the first 4 search result pages (+8.4%), with Page 2 seeing the largest increase (+4.2%). Current page-1 ratio is 10.36%, which is not class-leading.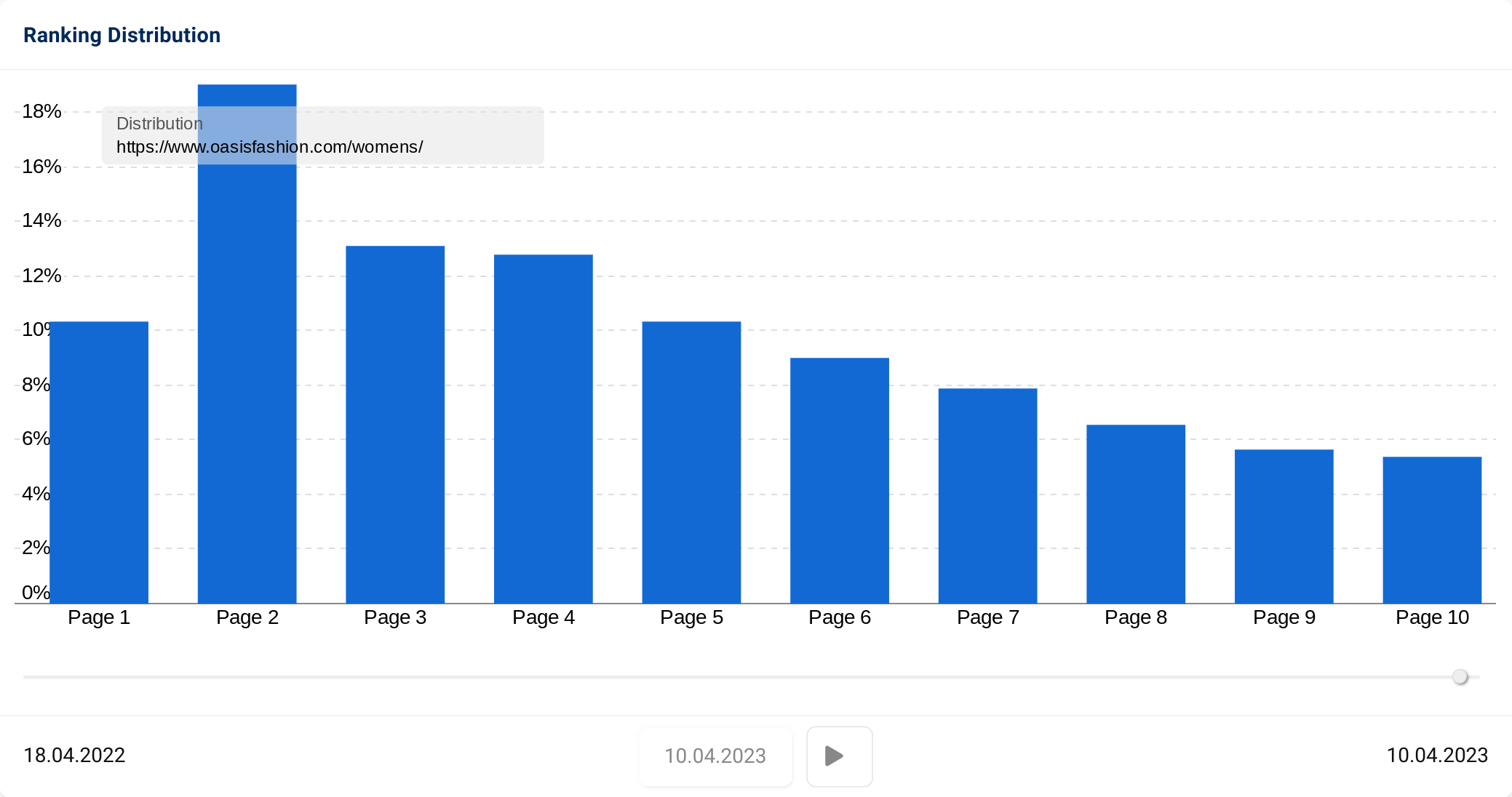 In an SEO study into fashion coats last year we found many examples that are better performing so Oasis still have a challenge ahead of them. Maybe they can pick a few tips up from the visibility leaders!
AllMusic
Over the last quarter, AllMusic's UK SERP visibility has increased by 146.4%.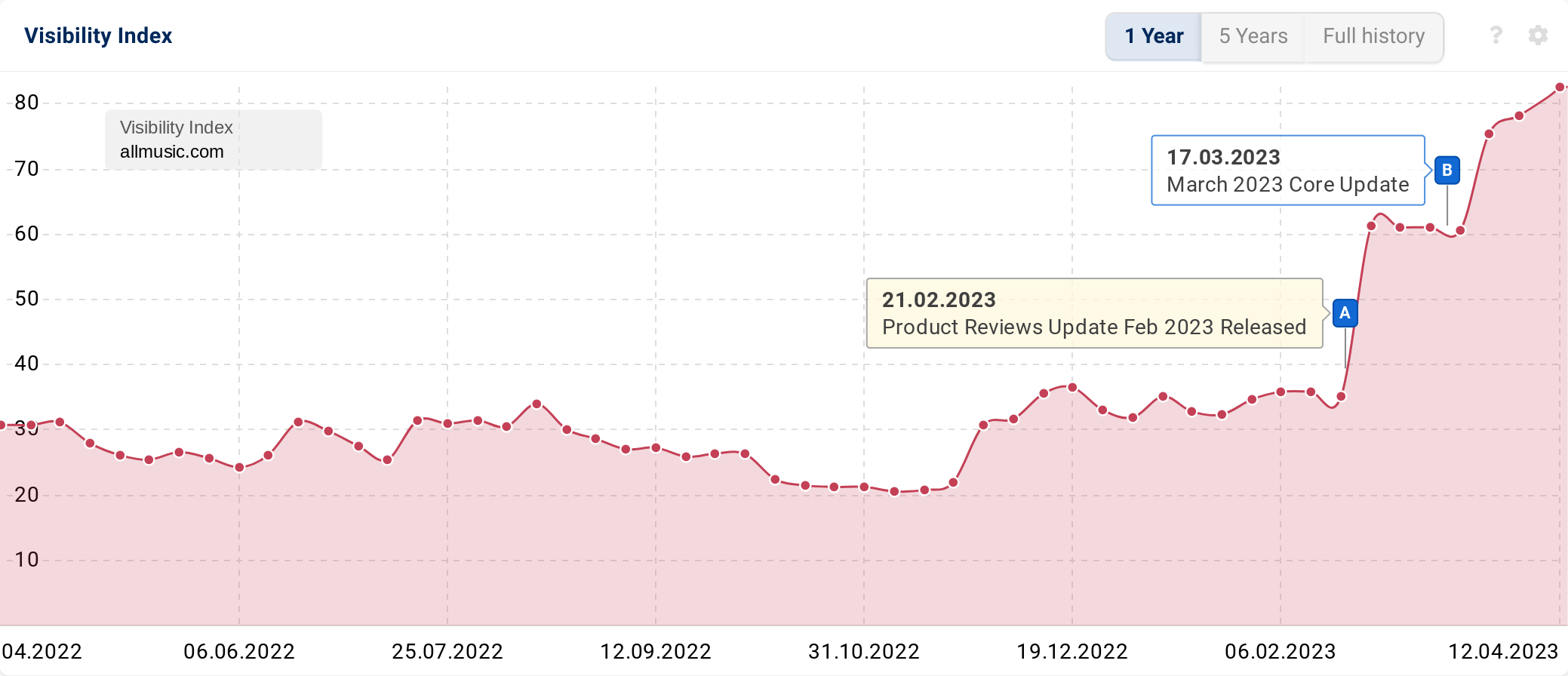 Allmusic.com is a domain dedicated to providing in-depth information about everything music. From details about a specific song and reviews of new albums to sound samples, you can find it all here.
The "/artist" directory saw the most significant visibility increase (+146.7%) and we've found over 8000 keywords newly ranking in the top-10 with 28.24% of the URLs being the /biography sub-pages. We wonder whether there's been work in that area over the last year.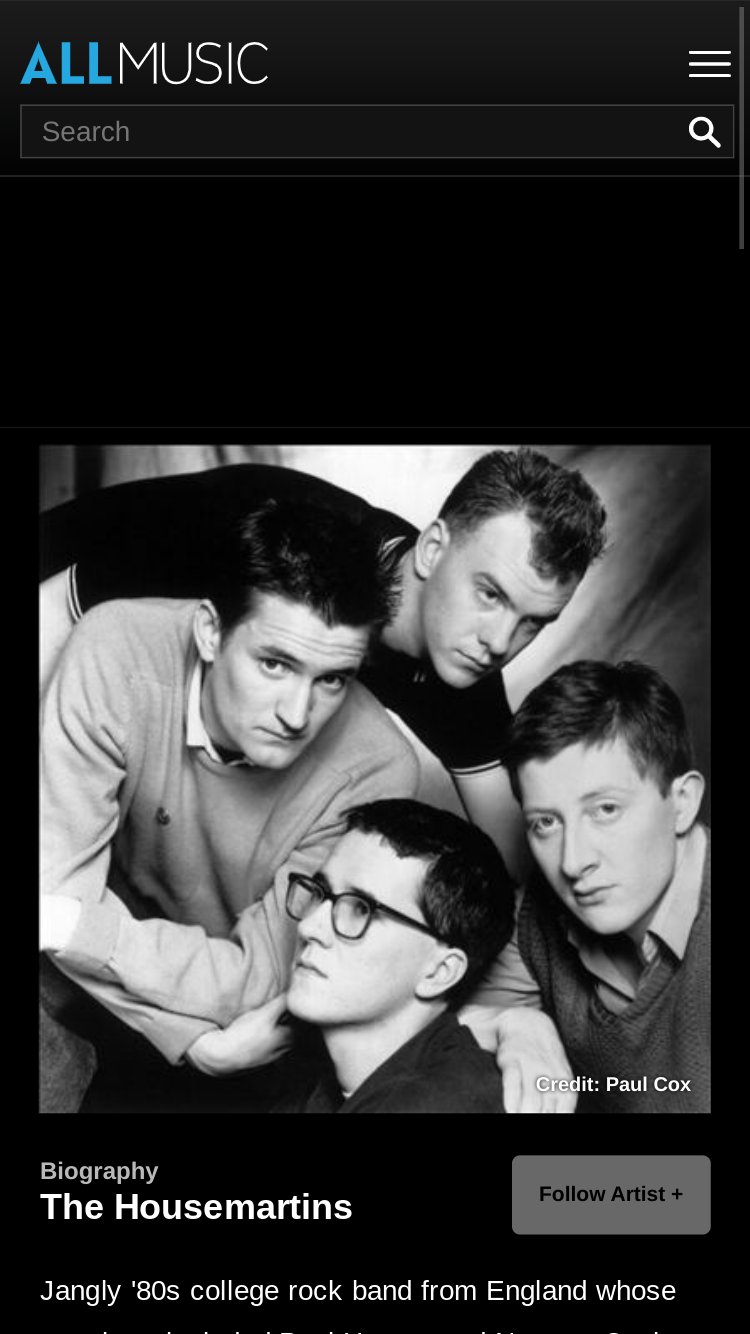 Mixcloud
Popular music streaming platform, mixcloud.com, has seen 111.2% visibility growth since the start of January.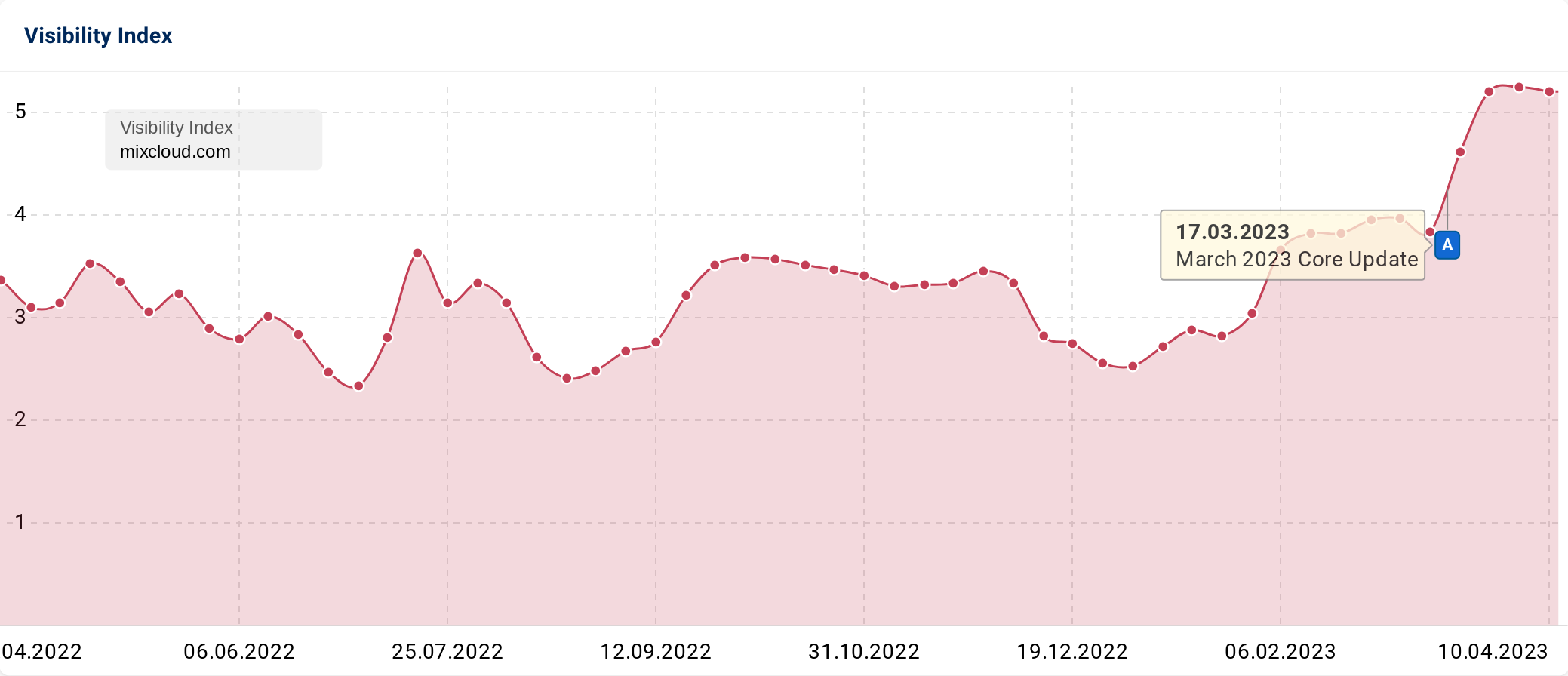 The page that has seen the biggest visibility win is "/discover". Discover is essentially an internal search for music lovers to find music to enjoy. Within this section, there are mini search engines for subgenres (e.g. EDM, Experimental etc.).
In the lead-up to March 2023, some genre pages have been re-optimised. This work has included removing redundant genres and in some instances, content consolidation (e.g. "Bass" changing to "Bass & Club Music").
"/Discover" keyword data also highlights ranking acquisition and improvements for genre and "remix" terms. This suggests an improvement in contextual relevance and quality.
Reviewing this section has also revealed the use of "/usa" and "/gbr" at the end of some genre pages. Presumably, this is to maximise suggestion relevance based on location. If so, this is a very unusual implementation of Hreflang. It will be interesting to see what happens with this in the future.
Search visibility winners Q1 2023
Here is the list of the 50 biggest gains by absolute Visibility Index for Q1 2023.
Top Visibility Index gains in Q1 2023. Data: SISTRIX. Country:UK
Here is the list of the 50 biggest gains by percentage Visibility Index for Q1 2023
Top Visibility Index gains in Q1 2023. Data: SISTRIX. Country:UK
Losers
A list of 50 falling domains, by absolute and percentage losses, is shown below but first, here are six domains that we've selected for further analysis.
Healthline
In last year's Visibility Leaders, Healthline was one of our winners. Over time, they have also seen strong organic performance vs competitors. Yet, in Q1, they've seen a 17.9% decline in their UK SERP visibility which, given this is a top 25 site (was at #21) means they've lost a huge amount of potential clicks. The VI loss is 70.63 points, which is as much as the whole of the successful, and VI Rank #100 website, moneysavingexpert.com.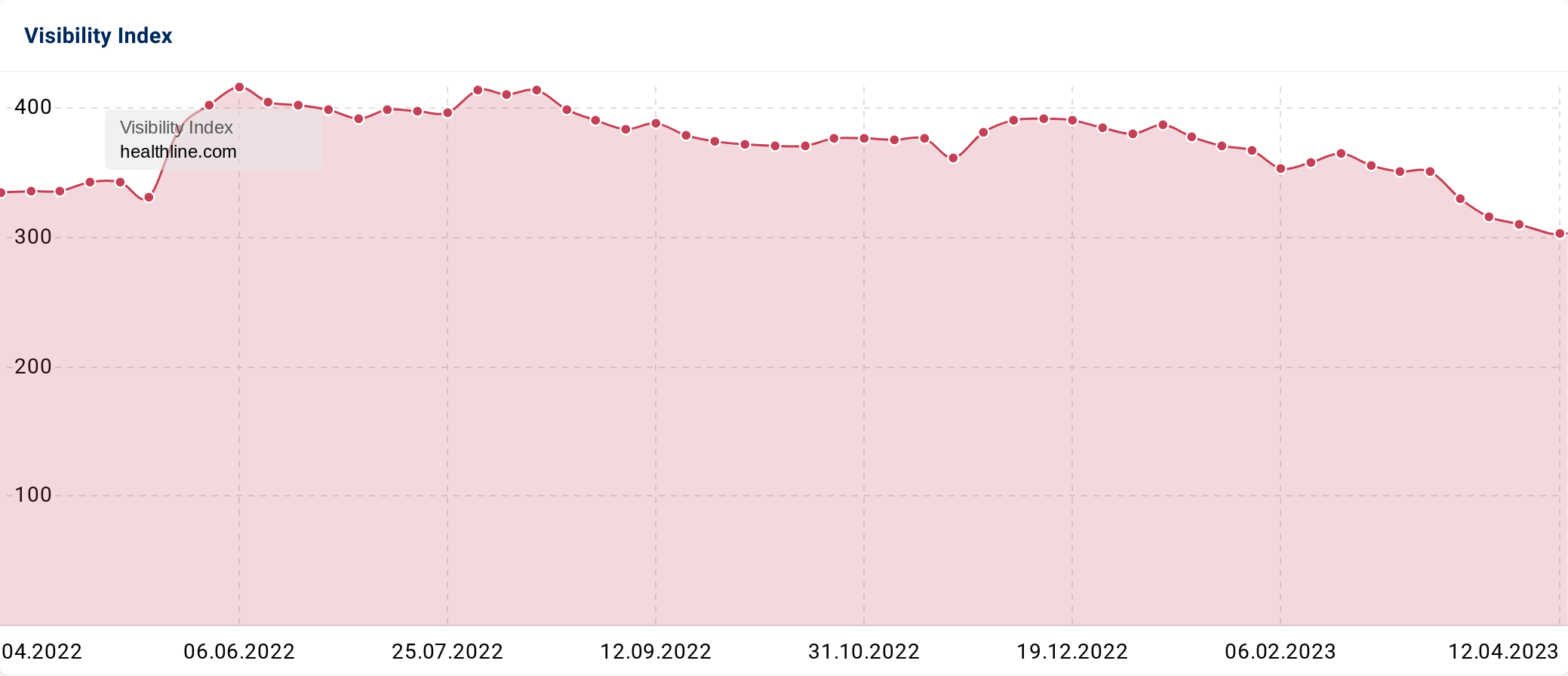 From historic explorations of Healthline, we know their E-E-A-T-centric approach has paid dividends. Is it possible that this has lapsed?
The directory data reveals that many sections have seen a gradual decline. The most notable decline was "/health" (-20.8%). This houses all the health condition pages and articles that are topically related. Delving even further, we can see that the specific subsection that suffered the most is "/beauty-skin-care" (-22.2%).
To understand more about the decline in Beauty & Skincare, we looked at keyword losses. We can see that they stopped ranking for "laser hair removal" which led to losing 215 clicks. Likewise, "coldsore" saw clicks drop by a further 155. These total ranking losses appear alongside many thousands of keyword ranking drops on page 1 of results.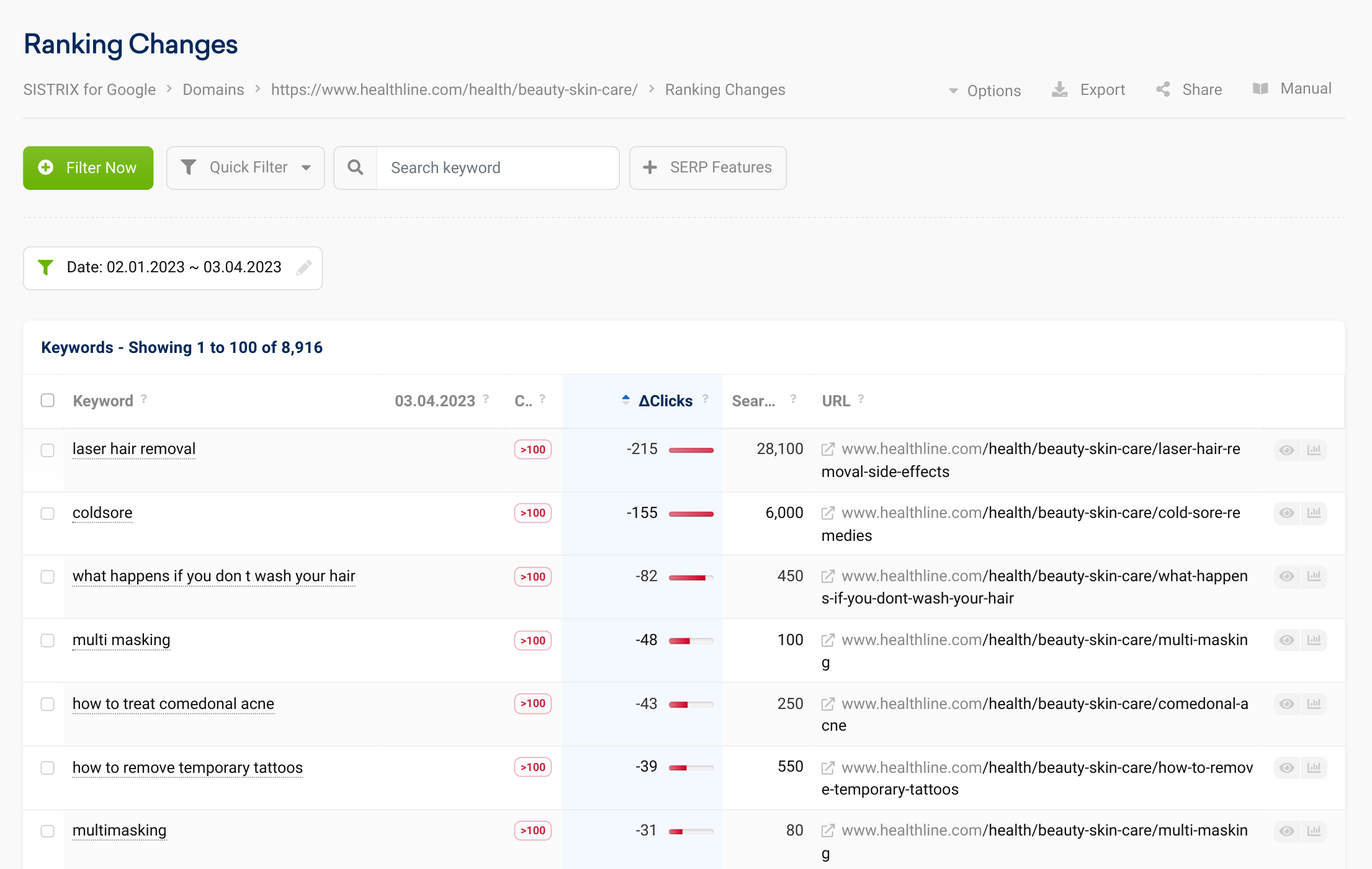 A manual review of the SERPs for "laser hair removal" reveals that, aside from the NHS, the top results are for clinics that offer it as a service.
In the case of "coldsore", the NHS website is yet again at the top. But this time, competitor sites like NHS Inform, Mayo Clinic & WebMD are also surfacing.
Based on these findings, it seems that there is a combination of factors at play. Through recent updates, Google may have been more heavy-handed in assessing content relevance. They seem to have also prioritised the NHS over other medical sources (like other government services). Additionally, for certain topics, their content has been deemed weaker. This could be due to an overlap with other industries or niche websites on these topics.
NHS Wales
Between January & March, wales.nhs.uk experienced a visibility drop-off of 1.46 VI points. This subdomain includes a symptom checker, health condition and local service information.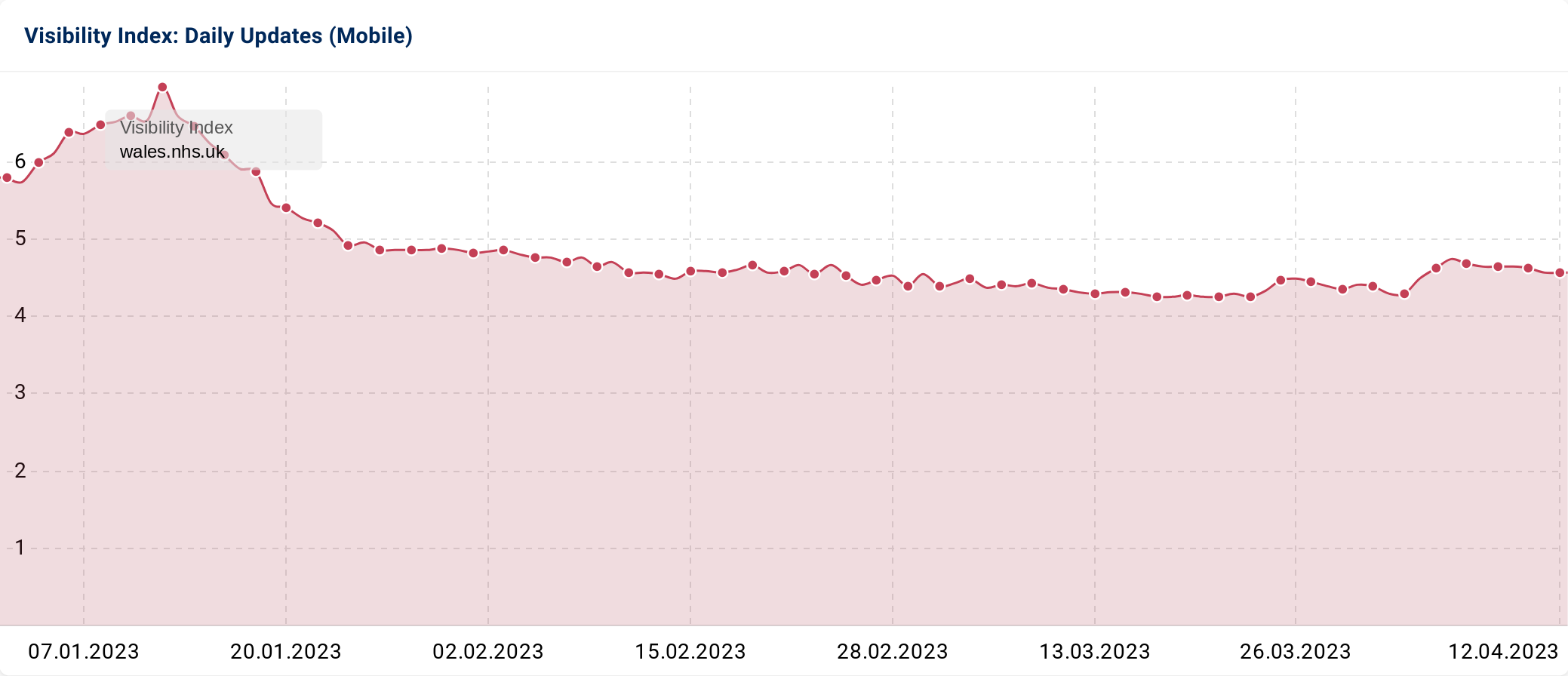 Like Healthline, the health conditions section – "/encyclopaedia" – saw the biggest decrease (-40.2%). As a subdomain, wales.nhs.uk is its own website and does not get organic benefit from the root domain (nhs.uk). It is also far smaller than the NHS root domain and competitors with similar content. This means that retained organic positions can be particularly challenging.
This is evident from the events of the last 3 months. During this period, the health encyclopaedia has lost positions for 6,724 keywords.
SongBPM
Songbpm.com's SERP prominence has decreased by 82.9%. SongBPM is a search engine which allows users to find the beat per minute and key for any song they desire.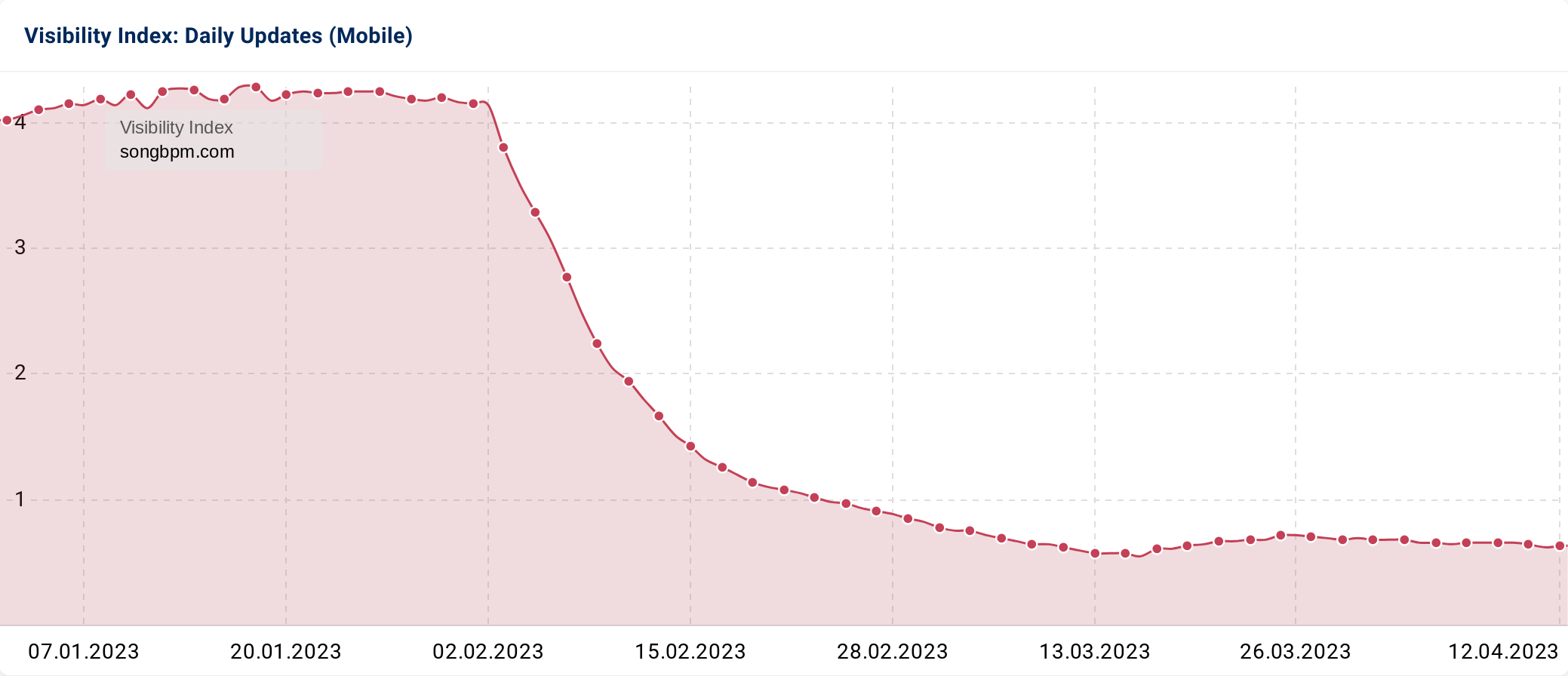 The domain's decline started around 30th January and continued to decrease into late March. In alignment with this, the domain's Page 2 & 3 rankings have more than halved (from a total of 34% to 12%).
Some of the ranking drops correlate with natural instances of keyword cannibalisation. For example, where songs and/or albums have the same name like "love is blindness". "Love is blindness" previously served a U2 page and now serves a Jack White one.
In other cases, search competitors provide a better user experience. For example, for short-tail song queries, an audio file or lyrics may be more appropriate.
Spotalike
Spotalike is a tool which generates playlists based on a person's favourite song. Typing the song into the search function initiates the production of a playlist containing similar songs. The playlist generated can then be saved to a Spotify account.
Since January, spotalike.com's UK search visibility has declined by 58.2%.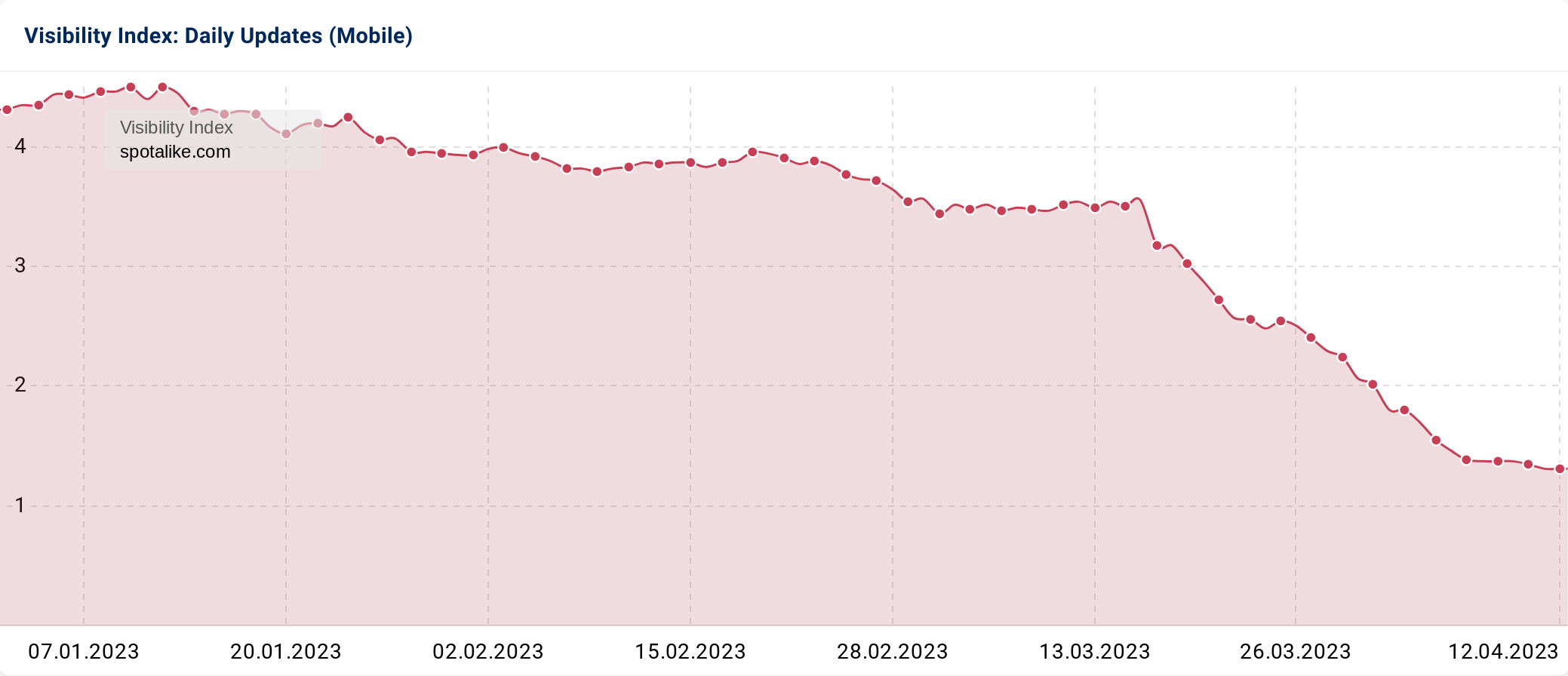 Unlike other sites reviewed, Spotalike's URL structure is very simple. It only has one subfolder, "/songs-similar-to", which contains over 42000 URLs. Very few of the URLs generate any page 1 keyword rankings at all, resulting in one of the lowest page-1 distribution ratio's we've ever seen.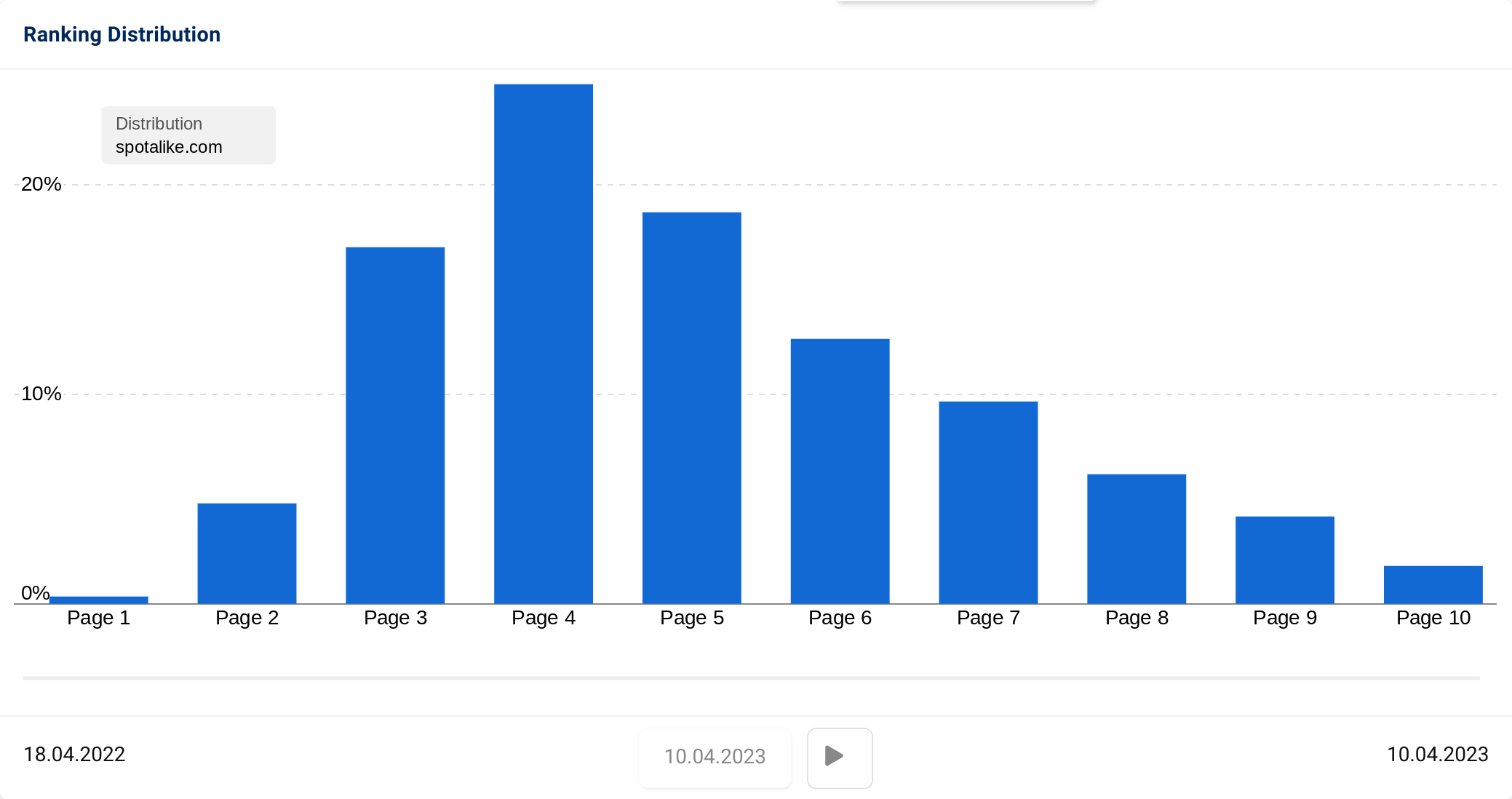 Like SongBPM, it seems that keyword intent is playing a part in the visibility decline, with Google prioritising song audio and lyric results. The website's flat architecture is likely to be unhelpful for ranking purposes too. As we all know, if many pages reside at a similar level, it is hard to determine which pages are more important than others.
Garden Toolbox
A core update can flip a domain from success, to problem. Over the quarter, gardentoolbox.co.uk, a leading domain in our recent Garden Tools analysis, dropped visibility by 60.3%. Garden Toolbox is an affiliate site full of garden-oriented content; from strimmers to barbeques. The Q1 data shows a worrying story.
Edit: It looks like a recovery is already underway for this domain. The graphic below shows the daily Visibility Index development up until 12.04.2023. We'll keep a close eye on this one as it's rare to see such a quick recovery after a Core Update.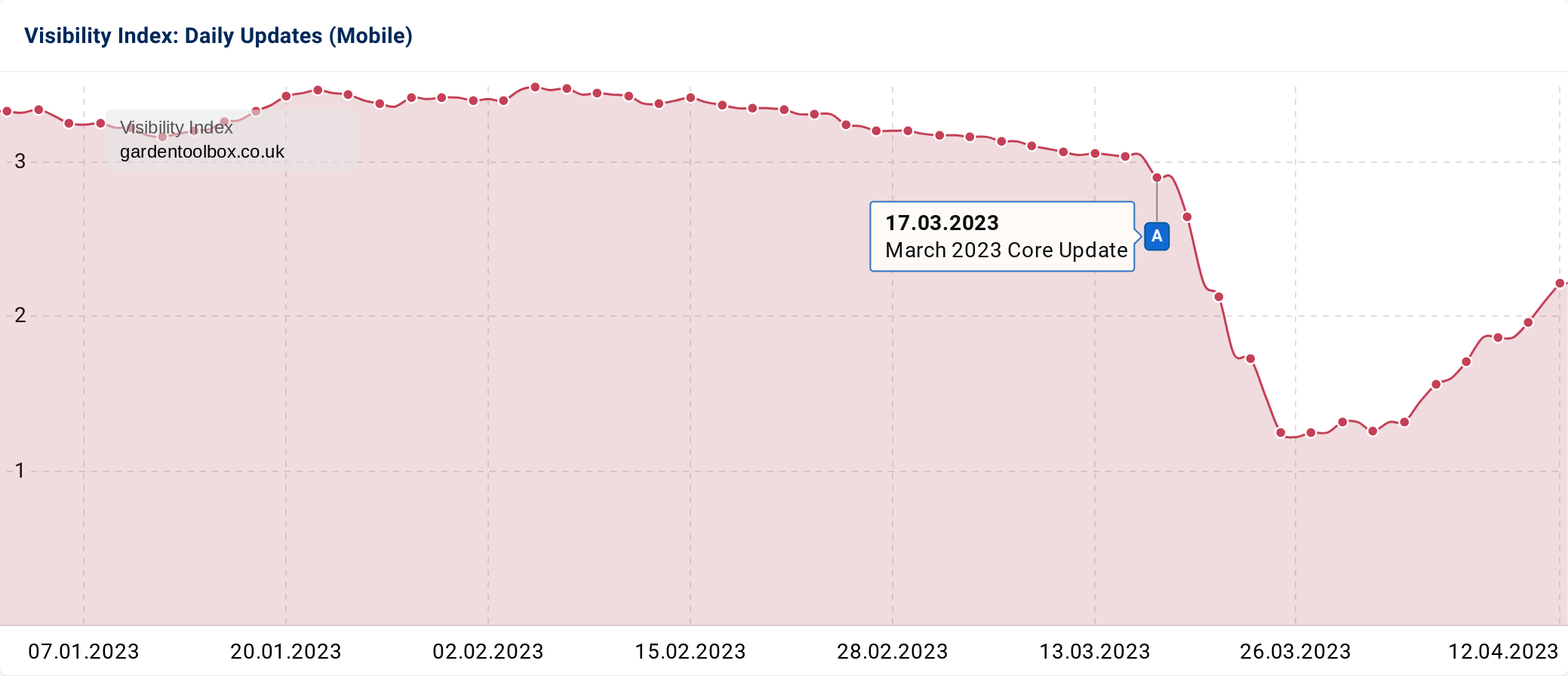 Original analysis continues…
Despite the visibility decrease, the rankings for obtained keywords are still strong. This and ranking losses for short-tail product terms suggest Google has deemed other sites more suitable to serve.
Conducting manual checks on a sample of articles also reveals a lack of "rel=sponsored" markup. This is used to indicate that the link's destination content is a paid placement.
Has the combination of intent refinement and high volumes of unclassified paid links led to the site's performance struggles? Quite possibly.
Primrose
Primrose is an Ecommerce site that sells garden products including plants, water features and awnings. In Q1, their visibility on Google UK decreased by 47.7%.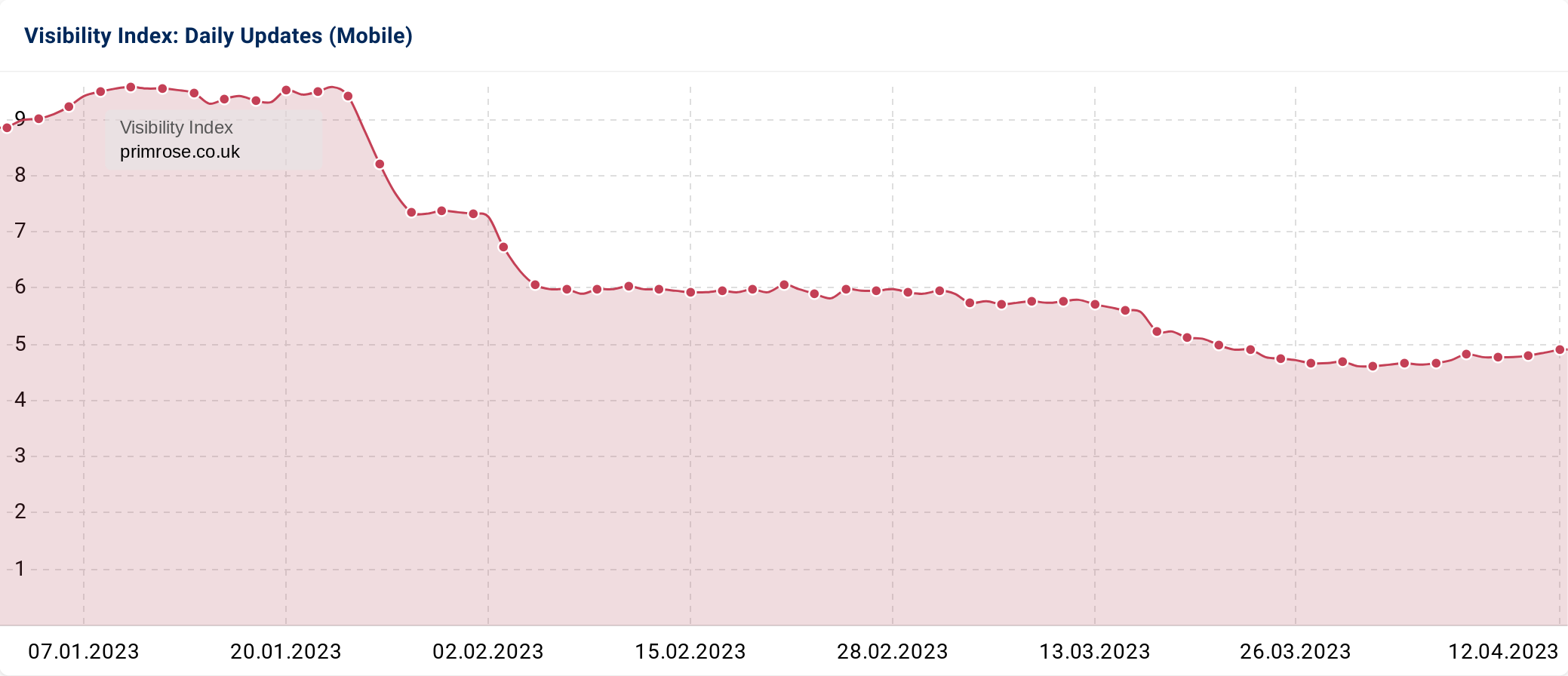 Primrose.co.uk's decrease started in late January, however, the Core Update set it on more of a downward trajectory.
Several directories saw a decline in parallel with the domain decrease. The main contributor was "/plants" (-53%). Since early January, this subfolder has lost 3,488 rankings and seen declines for 8,362.
Like SongBPM, many of the position decreases for "/plants" are due to keyword cannibalisation. These instances are across similar products as well as product categories.
The ranking losses experienced are for the popular, short-tail queries (e.g. "bamboo" & "jasmine flower"). In the case of "bamboo", due to being so generic, the top results are a mixture of horticultural, fashion and technology companies. It is likely that other plant and flowers also present this issue, resulting in a lack of ranking sustainability.
Search visibility losers Q1 2023
Here is the list of the 50 biggest loses by absolute Visibility Index for Q1 2023.
Top Visibility Index losses in Q1 2023. Data: SISTRIX. Country:UK
Here is the list of the 50 biggest losses by percentage Visibility Index for Q1 2023
Top Visibility Index losses in Q1 2023. Data: SISTRIX. Country:UK
Conclusion
So, what can we conclude from Q1's visibility winners and losers?
Visibility improvement can be down to the most basic things, such as content expansion. In some cases, sheer luck can play a part too.

More recent algorithm changes seem to have focused heavily on ensuring only the highest intent content is served for keywords, particularly transactional ones. There also seems to be an increased emphasis on prioritising government-based content, such as the NHS website, for Your Money Your Life (YMYL) queries.

Facets & filters can open up new ranking opportunities, allowing online stores to rank for very specific and long-tail search terms. If implemented considerately and on a large scale, this has potential to really ramp up organic visibility.

To avoid URL issues when expanding a website structure, internationalisation and Hreflang should ideally be implemented at a subdomain or subfolder level.

Having an authoritative website which covers a broad topic rather than a niche can be a blessing or a curse. In the case of Healthline where certain topics correlate with other industries and niches, this seems to have led to a visibility decline. Equally, authoritative websites can also cause smaller sites to lose out on rankings too. It really depends on what is best serving the user for each query.

A flat website architecture has the potential to hinder organic ranking potential. If every piece of content sits at the same level, how will Google know what content is more important?

Google knows when links are paid for or have a monetary value appended to them. In the case of affiliate sites, it is best to be transparent with the nature of links to reduce the risk of an undesirable impact during algorithm updates.

Naturally, very popular and generic terms can lead to search results covering multiple industries rather than their primary one (in the case of Primrose, gardening). To maximise ranking opportunities and position sustainability, it is crucial to target longer-tail queries on product pages and also cross-link relevant articles to emphasise topical authority.
Methodology
We've utilised the SISTRIX Visibility Index to discover and analyse the 250 winners and losers for the UK Google SERPs. These domains have seen the most substantial changes in visibility between Monday 2nd January 2023 and Monday 3rd April 2023.
More information on the Visibility Index including calculation details and background, can be found on the Visibility Index content hub.