This month SectorWatch will keep you warm and toasty as we investigate who is winning the search market for coats and winter jackets. We'll show you the most successful domains & examples of the best-performing content – who is keeping us looking sharp as the weather turns colder?
Leading brands and domains
As a hugely popular topic within the highly-competitive fashion retail sector, it is easy to find a lot of competitors hoping to rank for keywords focused on coats.
The search query 'womens coats' is searched over 30,000 times a month on average, with almost 76,000 searches in December – a high ranking for a popular keyword is worth a lot of traffic.
And it is not only retailers who have an interest in this sector. Many shoppers use search engines to find guidance on the different options to buy and these searches offer a chance for informational content & different website types – such as publishers – to appear.
For this research, we've looked at these different search intents, representing shoppers at different stages of the buying cycle. We've curated two lists of keywords, one for each of the major intents we see for coats & winter jackets.
The first is for 'do' intent keywords where our shopper is looking to buy a coat right now. These are searches with a transactional intent & bring back commercial content, mainly product listing pages (PLPs). Examples include winter coats (searched for 13,000 times a month on average in the UK) and warm men's coats (2,900 searches a month).
Our second list of keywords covers the 'know' intent, keywords with a commercial research focus where our shopper is looking for advice, inspiration or suggestions for the best coat options. Some examples of this 'know' intent are 'best mens winter coats' (1,600 searches a month) and 'best down jacket' (700 searches a month).
Intent analysis helps us find keywords with these 'do' and 'know' intents.
Notes: For this research, we excluded any keywords with manufacturer brand terms as well as searches with retailer names. Though it is interesting to see how popular some brand searches are, such as 'coats barbour' which is searched for over 18,000 times a month in the UK.
We also excluded terms around children's coats (keeping the focus on coats for adults), coats for spring & summer and also the very popular category of coats for dogs.
We've got more detail on our winners below but first, here is the main headline. The top domains by visibility for our curated keyword lists in Google search in the UK:
Top 3 domains for 'do' (commercial intent) searches (based on 1,206 curated keywords):
next.co.uk
amazon.co.uk
asos.com
Top 3 domains for 'know' (informational intent) searches (based on 346 curated keywords):
esquire.com
outdoorgearlab.com
cosmopolitan.com
Domain analysis: The top competitors in the online market for coats
So, who's wrapped up well and who's left out in the cold? Let's take a look:
Leading 25 domains: Coats (do intent)
Leading domains: Coats - Do Intent
| Domain | Market Share |
| --- | --- |
| next.co.uk | 7.98% |
| amazon.co.uk | 7.18% |
| asos.com | 6.70% |
| houseoffraser.co.uk | 6.68% |
| johnlewis.com | 5.40% |
| debenhams.com | 4.46% |
| boohoo.com | 3.30% |
| zalando.co.uk | 2.86% |
| ebay.co.uk | 2.75% |
| marksandspencer.com | 2.22% |
| very.co.uk | 1.94% |
| universal-search-box.com | 1.80% |
| matalan.co.uk | 1.77% |
| sportsdirect.com | 1.76% |
| newlook.com | 1.67% |
| gooutdoors.co.uk | 1.56% |
| selfridges.com | 1.54% |
| etsy.com | 1.24% |
| tkmaxx.com | 1.24% |
| cotswoldoutdoor.com | 1.15% |
| lovethesales.com | 1.11% |
| millets.co.uk | 1.06% |
| esquire.com | 0.98% |
| footasylum.com | 0.98% |
| blacks.co.uk | 0.91% |
Leading 25 domains: Coats (know intent)
Leading domains: Coats - Know Intent
| Domain | Market Share |
| --- | --- |
| esquire.com | 7.66% |
| outdoorgearlab.com | 5.13% |
| cosmopolitan.com | 4.59% |
| switchbacktravel.com | 4.44% |
| outdoorsmagic.com | 4.29% |
| gq-magazine.co.uk | 2.96% |
| menshealth.com | 2.80% |
| luxe.digital | 2.57% |
| glamourmagazine.co.uk | 2.50% |
| universal-search-box.com | 2.42% |
| gq.com | 2.18% |
| campingsecrets.co.uk | 2.01% |
| t3.com | 2.01% |
| johnlewis.com | 1.91% |
| goodhousekeeping.com | 1.82% |
| whowhatwear.co.uk | 1.73% |
| amazon.co.uk | 1.59% |
| expertworldtravel.com | 1.59% |
| thetrendspotter.net | 1.58% |
| houseoffraser.co.uk | 1.43% |
| independent.co.uk | 1.37% |
| travelandleisure.com | 1.26% |
| expertreviews.co.uk | 1.22% |
| apetogentleman.com | 1.15% |
| womanandhome.com | 1.10% |
The keywords used in this analysis are listed at the end of the article.
Content examples: What type of content is performing?
Taking a look at our top 25 sites for each list, we find some immediate takeaways:
It is almost exclusively ecommerce sites & shopping pages ranking well for our 'do' keywords. Google is clear that the searcher's intent means they want to see a list of products
The top ten for our 'do' keywords contains some of the biggest names in online fashion ecommerce in the UK

There are big high-street names with successful online stores such as Next (the second-largest online fashion retailer in the UK), John Lewis (4th biggest) & Marks & Spencer (9th biggest)
Online fashion giants ASOS (the UK's third-largest online fashion retailer), Boohoo & Zalando also, unsurprisingly, do well. Very, the UK's fifth-largest online fashion store comes in our list at 11
Acquisitions of former-high-street names are paying off, with Debenhams (owned by Boohoo) at six in our list of the most successful sites and House of Fraser (owned by the Frasers Group at four

Outdoor and sports goods sites do well, taking five of the top twenty-five positions. This reflects the market for warm, waterproof or outdoor activity coats
When it comes to shopping guidance – our 'know' keywords – big-name publications do well at the top of the list. Lifestyle names notable for fashion guidance such as Esquire (ranking in the top 10 for 130 of our 346 keywords), GQ, Cosmopolitan, Men's Health & Glamour all appear in the top ten competitors

In fact, two versions of GQ appear in the top ten sites – articles from gq.com (the US site) & gq-magazine (the UK version) are seen as high-quality answers by Google

But it isn't just the online versions of notable magazines doing well. There are also several sites that are notable for their outdoor gear reviews in the top ten – Outdoor Gear Lab, Switch Back Travel & Outdoor Magic.

This is thanks to how well they do for searches around the warmest coats where their reviews & roundups are particularly valued. These keywords are very popular, with 'warmest men's jacket' getting 2,900 searches a month (9,900 searches in November)

Other sites famous for gear reviews & roundups across multiple sectors appear among our winners as well, with T3, The Independent & Expert Reviews all doing well
To get a better understanding of the content experiences Google wants to reward, we can take a look at some of our strongest domains. What types of content, and what formats, help searchers looking to buy a coat?
High-performance content can be easy to spot. We classify it as a set of content for which keyword rankings are weighted towards the first page of Google search results. Content that consistently ranks highly for relevant keywords. Let's look at some examples from the sites finding success in this sector.
High-performance 'do' content examples
Our 'do' content is dominated by ecommerce (retail) sites, and we can use these to learn the types of shopping experiences Google wants to rank.
One of our top sites is ASOS, the fashion retail giant. It ranks for 1,131 out of the 1,206 keywords in our set, with over half (669) on page one.
The ASOS site uses a smart strategy common in ecommerce to divide its product offering up with its structure & information architecture.
In practical terms, this means they have departments for major clothing types (having already broken the store into separate men's and women's sections), with each department having multiple categories & subcategories.
In the case of coats, there is a coats department product listing page (PLP) listing all the women's coats they offer. Then you find a whole wardrobes-worth of category pages (such as a page dedicated to coats & another to jackets) and subcategories based around coat types, such as men's puffer jackets, women's winter coats and women's parkas.
This structure gives dedicated, optimised landing pages to all the main types of coats, excellent for relevancy and showing off a breadth of products to customers and search engines alike.
Even better, ASOS use good (though could be even better) internal linking to connect these pages. This is done via sub-menus & breadcrumbs. Combined with the clear information architecture highlighted by the URL and ASOS are building mini-ecommerce-topic-clusters.
At the time of writing (October), ASOS not only have a link to the relevant overall coats PLP in their main menu for both women's and men's section, but they also have a section of the main menu dedicated to coats. This lists 9 links to key coat subcategories, right when they most need them as we are at the beginning of peak coat demand.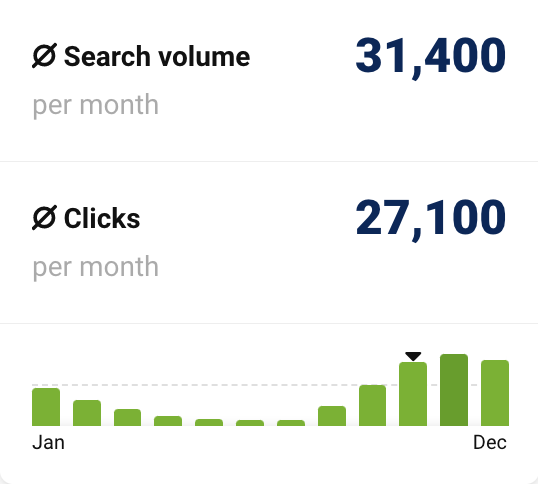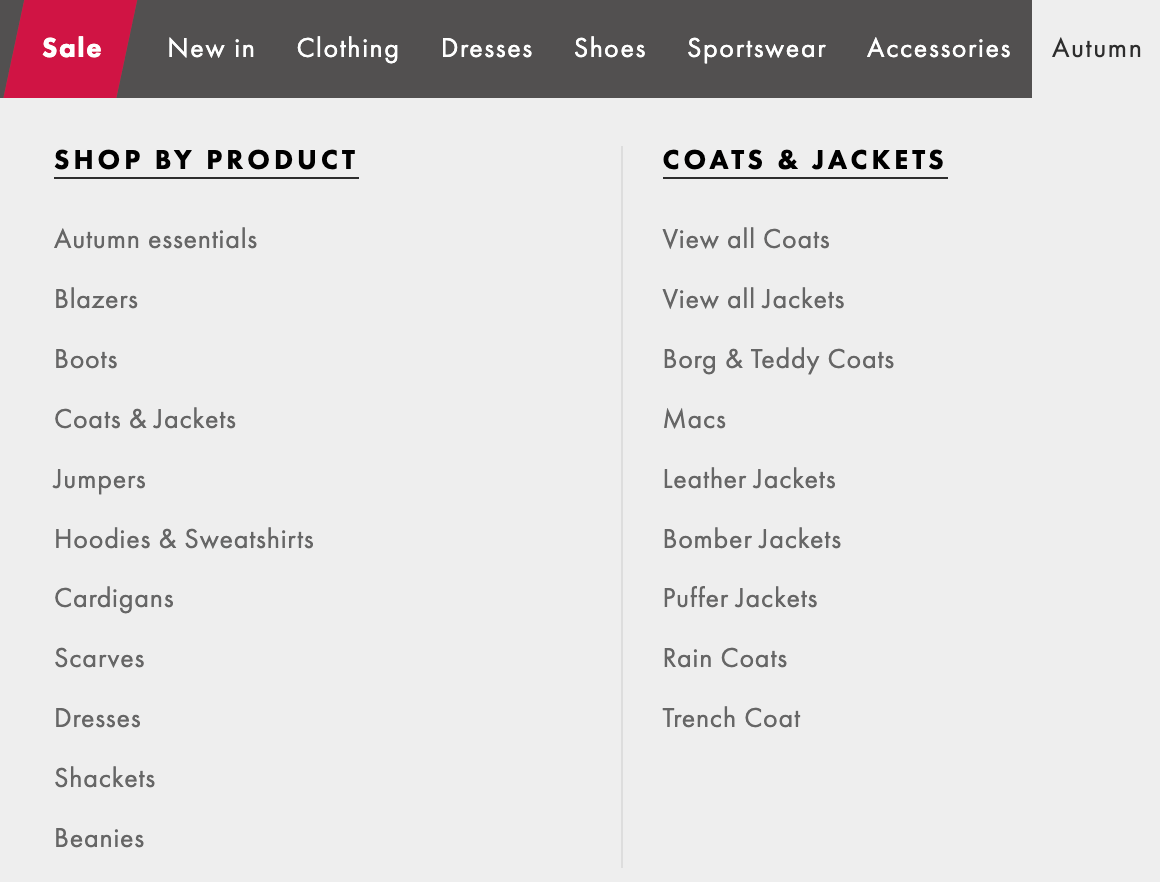 As well as this seasonal boost for the most important coat subcategories, ASOS have strong on-page optimisation of their PLPs:
On-page SEO elements such as the title tag, H1 and meta description are keyword-rich & optimised for attracting clicks from the search results
There's an intro paragraph for each PLP written with ASOS' signature tone of voice.

This not only reinforces the brand's shopping experience, it helps ensure Google understands the purpose of the page & what's on display
ASOS could also use this for further internal linking, either to related sub-categories or cross-merchandising to other relevant PLPs (such as other subcategories that peak in autumn or winter)

On the department PLP, there is a sub-menu highlighting the most important subcategories

Interestingly, this isn't carried through to the category & subcategory PLPs. ASOS might be missing something here, as they could help customer journeys & internal linking signals by having submenus on more of the portfolio – especially on the coats and the jackets category pages that are very broad in nature
ASOS have dozens & dozens of coat subcategories, with everything from trucker jackets to pea coats – a few more internal links to the more hidden ones could help with internal linking signals as well as preventing orphan pages

ASOS have a huge range of coat options, helping Google see it as a helpful answer to the search query
The PLPs use breadcrumbs to show the page's position within the structure
And comprehensive faceted navigation that lets you filter in many ways, from colour to how recently the coat arrived on the site
Add all the positive aspects together – plus ASOS' authority in the fashion sector – and you have a potent recipe for organic success.
66 coats PLPs in the men's section and 92 pages in the women's section rank for at least one keyword in the UK. Even better, the women's coats directory ranks for over 23k keywords in the UK, and for over 65% of the most important ones, they rank on page one.


This success is repeated in the men's coats department, where the directory ranks for 16k keywords, with over 60% of those rankings on page one.

ASOS is an excellent example of a site:
Understanding the intent behind its target keywords
Utilising an intelligent site structure that makes it easy for search engines & users to see how the site works
And following many ecommerce on-page SEO & UX best practices
High-performance guidance content
Next is our look at the best performing 'know' content. For this, we looked at a selection of potential queries a shopper might ask when choosing a new coat, from the best coat options for men and women to the names of the different coat styles.
The site at the top of our curated list is Esquire, which describes itself as the "smart man's guide to the best in men's fashion, restaurants, accessories and tech".
In this case of coats, it isn't just an idle boast. Despite only having several articles on the topic, the site ranks for 204 of the keywords in our set, with 130 of those ranking on page one.
This is primarily driven by two articles – an article on the 30 best coats to keep you warm & dry no matter what and their guide to the best men's winter coats.
These are not new articles – we can see from their Visibility Index history they've been around for a while, but only started appearing in mobile results this year. Both have been updated in the past few weeks to refresh their content & appear as up-to-date as possible.
The guide to the best winter coats is a huge article, with over 2.5k words and many images. It's broken down by coat type, with 11 different styles explained complete with celebrity image and three examples you can buy right now (via an affiliate link of course).
This article ranks for 825 keywords in the UK & displays some good E-A-T signals Google is looking for, though does lack some such as an author bio and an explanation of the methods used to pick these examples.
More intriguing is GearLab. Despite being a US-based site – so the products are listed with prices in dollars – it is in second place for our 'know' keyword set. It ranks for 189 of our 346 keywords, 120 of those (34.7%) on page one.
GearLab is a great example of a site aiming to create top-quality helpful content. Focused on outdoor & sports gear, GearLab make its mission clear on the about page – "to create the world's best outdoor gear reviews".
They are looking to be seen as the experts in this sector, and from the growing success of their content, they are doing a good job. The domain has seen good growth in visibility in the UK, with notable increases following several of Google's Product Review Updates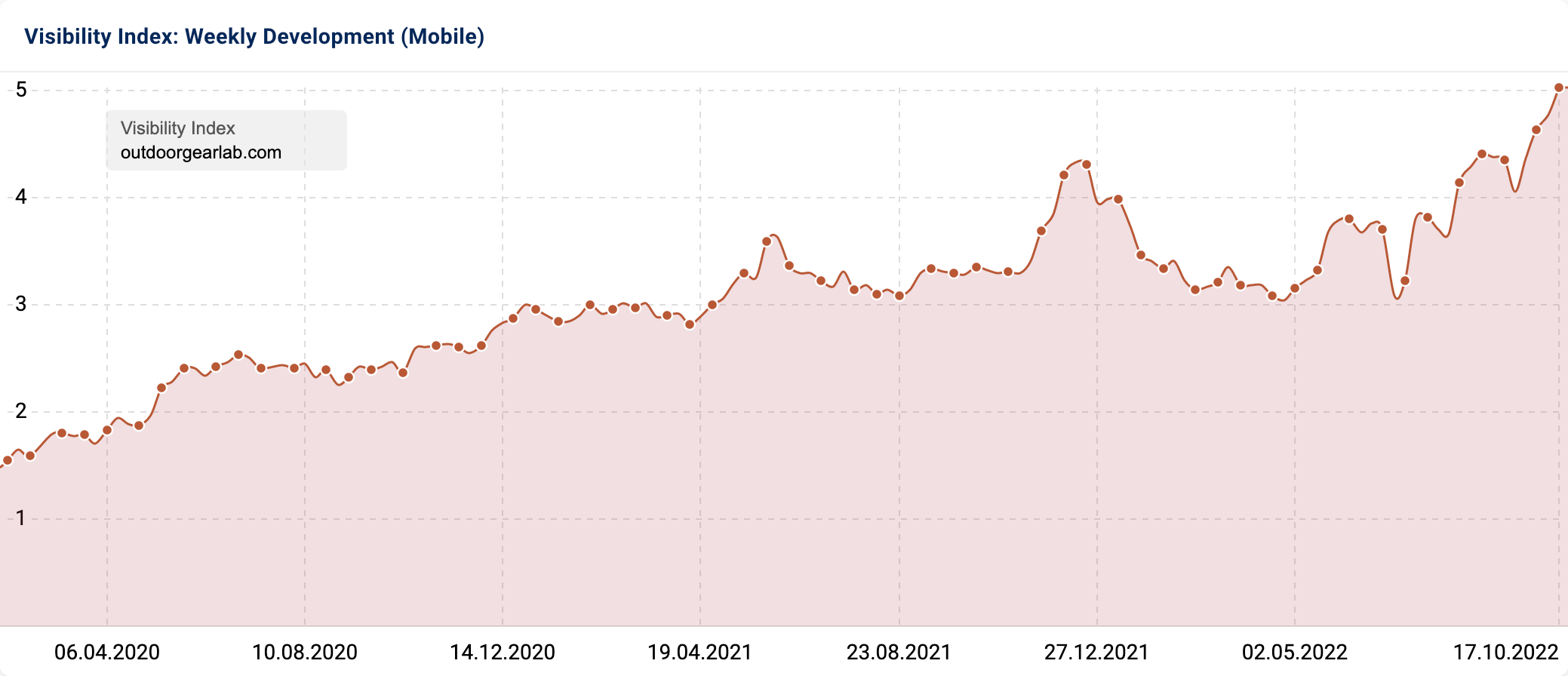 As an example, let's take a look at one of the most successful roundups from our keyword set – GearLab's Best Winter Jackets of 2022.
This article boasts many of the key attributes Google have said they want to reward in helpful review content. Some of the highlights that signal E-A-T & usefulness include:
Named authors, complete with links to their author pages. There you can see that these writers have written on many related subjects & also have a great deal of relevant experience, helping mark them as experts in the field
Three child pages – as well as the main overview, GearLab provide incredible further information with child pages (found via tabs at the top of the article) to compare up to three coats, their guide to buying men's winter jackets (which has another 3,000 words, this time covering what winter jackets are, the different types & the features. You know, the stuff most writers use to pad out their 'best picks article) & details on how they tested the jackets (more evidence of first-hand experience with the products)
The article is comprehensive. At over 7,000 words, the overview alone certainly goes into depth on the subject
A comparison table detailing key attributes, ratings & the pros & cons of their top fifteen products. This makes it easy to see the strongest options in different fields
Clear guidance with six 'best for [X]' options, including a 'Best Overall' award (helping show they have used the products & are making a decision). This no doubt helps it rank for longer-tail queries as well
Links through to full reviews of many of the coats
A table of contents with links to key sections
Many pictures, the majority of which are by GearLab, not from the manufacturer
As well as the separate 'how we tested' page, the guide also has sections on 'why you should trust us' (again, ticking the E-A-T) boxes
And the article includes the test results, such as a graph of performance vs price, and charts & detail on various aspects tested including warmth rating, weather resistance, comfort, features (hood, pockets, two-way zips etc.), durability and style.
The article also focuses on finding the warmest coats & dedicates everything to that angle. It's not trying to find the most fashionable for example. By staying in one lane, it makes it clear exactly when it is very relevant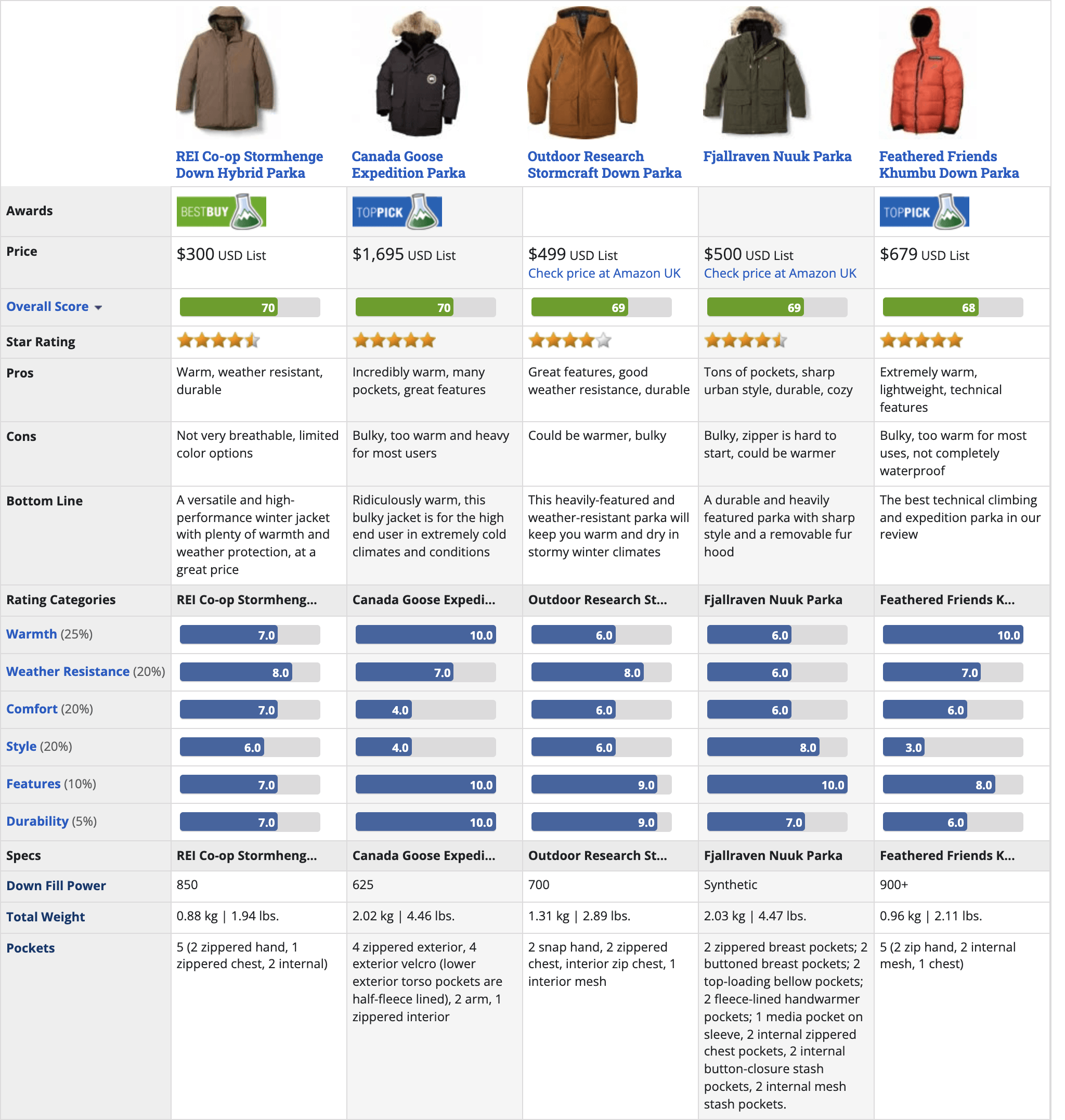 An incredible display of E-A-T-rich product review content. And it pays off, with over 1,900 keyword rankings in the UK. In GearLab's native US, the article ranks on page one for a third of all keywords it appears for:

It's not just their roundups doing well. We also have some of GearLab's individual reviews appearing for some of our 'know' keyword set. In fact, those – very detailed – individual reviews are a great high-performing content example.
Pages from the /reviews/ directory rank for over 42k keywords in the UK, with 15.9% of those rankings on page one and another 14.9% on page two:

Another interesting site in our competitor list is Luxe Digital, which came in 8th. Set up by a former Googler & a digital expert, Luxe Digital is smaller than the big-name publications it is competing against in our list.
It has an interesting strategy – a library of tightly-focused roundups for many of the different subcategories we see retailers creating PLPs around. For example, you can find roundups on the best men's winter coats & jackets to stay warm, the best women's trench coats and the best bomber jackets for men.
This lets them target the earlier part of the buying cycle (and less competitive longer-tail keywords) for many popular ecommerce searches.
It also works. We found they ranked in the top 10 for 74 of our 346 'know' keywords. And the article on the best winter coats for men? That ranks for over 1,200 keywords in the UK.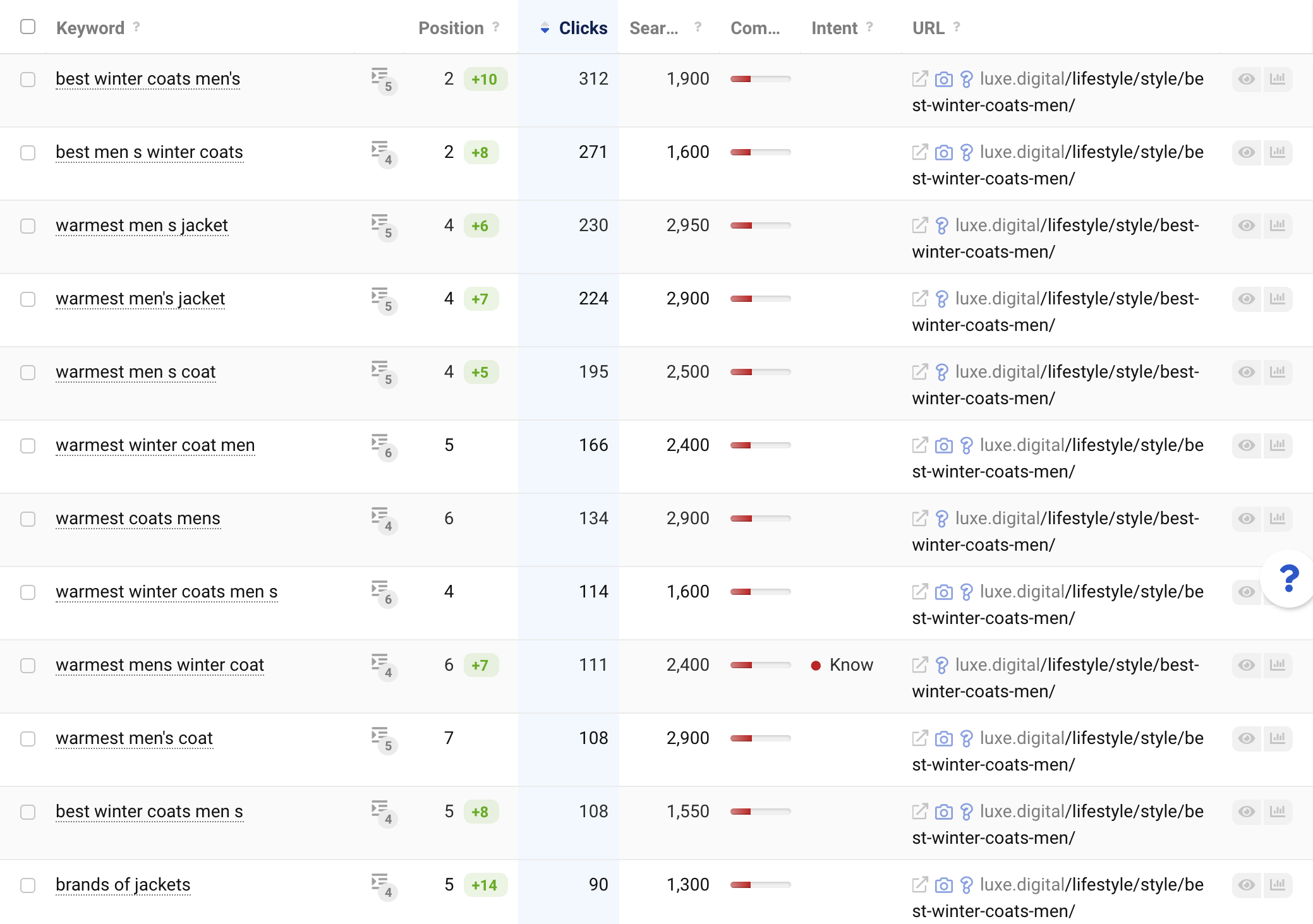 Summary
In our look at what's working well in the coats & winter jackets sector, we find a few useful takeaways we can apply to our ecommerce & product review content.
As always, intent is key within a sector – you need to right kind of content to rank for 'do' and 'know' keywords, and it usually isn't the same
To compete for commercial keywords in a saturated market such as fashion, smart information architecture & internal linking – setting your site up for success from the start – is almost a prerequisite foundation
Genuine experience with products is easy to spot. Articles that make clear recommendations have unique images & explain their testing methods provide evidence of that experience, and no doubt help prove their E-A-T credentials at the same time
But, it's not the only way to help people in the right sector. We can see articles that have collated examples of the best coats do well despite not testing those coats out or having evidence of first-hand experience

These articles do well as they use their credentials as fashion experts – an article from these writers/sites on the most fashionable coats in 2022 is worthy of a high ranking as their approval is enough
Being fashionable isn't something that can be tested in a lab & the article is helpful in other ways – so high-performing informational content can take on a myriad of forms, as long as it serves its audience in a way they find helpful, educational or inspirational
Methodology and data
SectorWatch follows a fixed process which you can also learn in our free competitor analysis Academy class.
For this SectorWatch, we used relevant keywords from a selection of coat-related keyword discovery tables.
We took a selection of highly targeted keywords with a 'Do' or 'know' intent. From these, we harvest all the ranking keywords for the URLs in the SERPs. We call this the Keyword Environment. Most SERPs will have some mixed intent so we re-filter the list for the correct intents and sanitise it by hand to leave a smaller, highly-relevant set of searches made by the UK public. The results are based only on organic result positions.
Keyword Set: Coats & winter jackets
Core keywords: winter coats, women's coats, men's coats, ladies coats, designer coats, best winter coats, warmest coats, best coats for women, best men's coats.
The full keyword set is available for download and further analysis can be done in the SISTRIX keyword lists feature, including competitor analysis, SERP feature analysis, questions, keyword clusters and the traffic forecast shown below.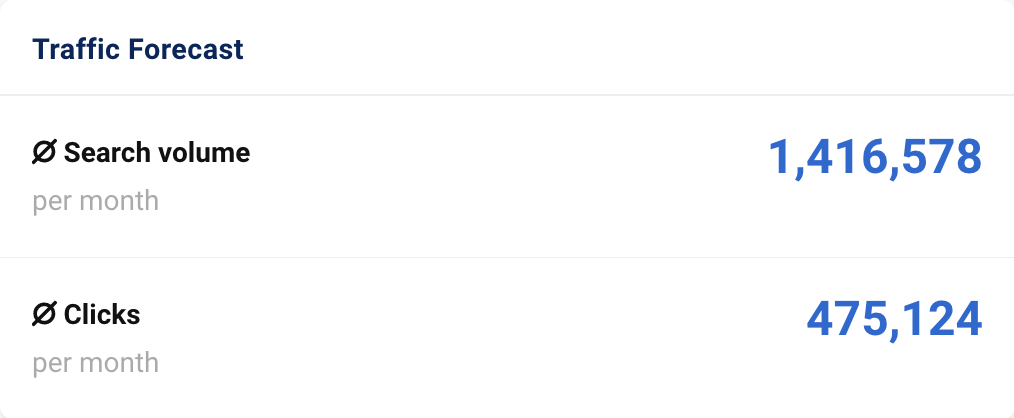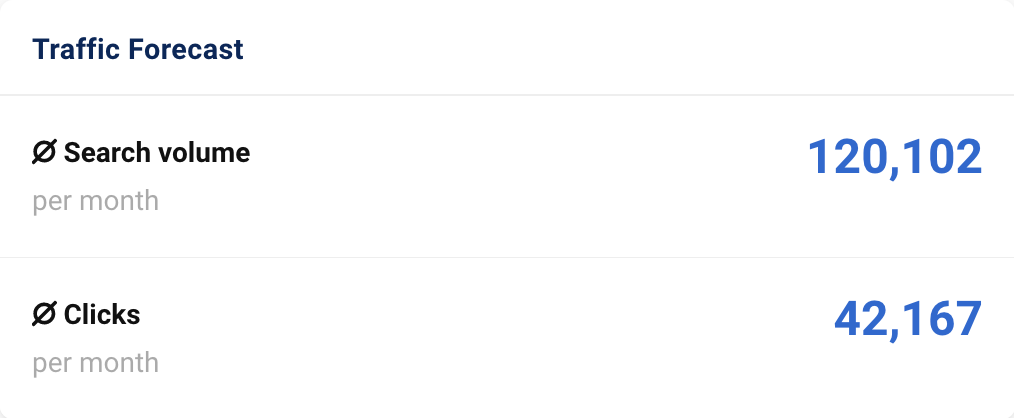 SectorWatch is a monthly publication from the SISTRIX data journalism team. Related analyses can be found in the TrendWatch newsletter, IndexWatch analysis along with specific case studies in our blog. New article notifications are available through Twitter & Facebook.