This month SectorWatch is heading for the garden to fire up the grill as we find out who is winning the market for searches for barbecues. We're looking to find the most successful domains & the best-performing content – who does Google think is serving up the tastiest fare?
Leading brands and domains
The market for barbecues is highly competitive. While it might be a larger, niche item, many household names, as well as specialist retailers, offer barbecues for sale, both in-store and online:
Generalist retailers and supermarkets such as Tesco, Asda and The Range
Department stores such as John Lewis
Gardenware retailers from DIY stores like B&Q, Robert Dyas and Homebase to garden centres
Barbecue manufacturers such as Weber (the most popular brand in our sample list of searches)
And barbecue specialist ecommerce sites, such as BBQ World
When buying a new product like a barbecue, we often search for guidance on the best options. These 'commercial research' searches also offer a chance for different sites, such as publications, to be part of the buying experience.
As a popular 'shopping' sector, there are many 'do' intent keywords, covering this buying journey. For this SectorWatch, we've focused on these commercial intent searches to see who is appearing most often when aspiring chefs are searching for their next barbecue.
We created a large list of 1,165 popular barbecue searches, all potential customers at the transactional or commercial research stage. This includes keywords for many of the most popular types of barbecue (from gas & charcoal to portable & camping models) and the biggest brand names plus the most popular searches looking for help choosing the 'best' barbecue models to buy.
We've looked at searches like gas bbq (which has 49,500 searches a month on average), green egg barbecues (6,600 searches), sale barbecue (22,400 searches a month) and best bbq (3,850 searches on average).
Looking to buy now or research potential options, these searchers are looking for suppliers (shops) or guidance (shops or publishers). Intent analysis helps us spot these searches with this 'do' goal.
We've got more on the winners below but first, here is the main headline. The top domains by visibility for our curated keyword set in Google search in the UK:
Top 3 domains for 'do' (commercial intent) searches (based on 1,200 curated keywords):
amazon.co.uk
argos.co.uk
bbqworld.co.uk
Domain analysis: The top competitors in the barbecue market
While the UK isn't always known for its sunny weather, there's no doubting the popularity of barbecues and outdoor cooking.
The barbecue & outdoor dining market is worth a sizzling £2.2 billion in the UK, with a recent survey finding Brits typically host three and attend four BBQs each year. And there was a considerable increase in the amount of grilling in the UK over the Covid-19 lockdowns, rising by 40% in 2020, as the country embraced al fresco dining.
Even in a post-lockdown market, barbecues remain very popular with three-quarters of UK households owning some type of grill.
So, who's cooking with gas (or charcoal)? And whose rankings look a little burnt? Let's find out.
Leading domains: Barbecues (do intent)
Leading domains: Barbecues - Do Intent
| Domain | Share of voice |
| --- | --- |
| amazon.co.uk | 11.15% |
| argos.co.uk | 6.45% |
| bbqworld.co.uk | 5.65% |
| ebay.co.uk | 4.97% |
| weber.com | 3.84% |
| diy.com | 2.94% |
| universal-search-box.com | 2.31% |
| therange.co.uk | 2.19% |
| independent.co.uk | 2.12% |
| homebase.co.uk | 1.90% |
| thebbqshop.co.uk | 1.83% |
| bbcgoodfood.com | 1.77% |
| wowbbq.co.uk | 1.70% |
| appliancesdirect.co.uk | 1.60% |
| johnlewis.com | 1.46% |
| riversidegardencentre.co.uk | 1.43% |
| pricerunner.com | 1.43% |
| gardentoolbox.co.uk | 1.42% |
| outbackbarbecues.com | 1.40% |
| robertdyas.co.uk | 1.39% |
| t3.com | 1.26% |
| wayfair.co.uk | 1.20% |
| manomano.co.uk | 1.18% |
| expertreviews.co.uk | 1.16% |
The keywords used in this analysis are listed at the end of the article.
Content examples: What type of content is performing?
Looking at the top 25 competitors for our keyword set, we see some immediate patterns:
Many of the UK's big high street retailers have translated their offline reputation for barbecues to online success. Argos, B&Q, The Range and Homebase are all in the top ten most visible domains

John Lewis & Rober Dyas also make the top competitor list

Headed up by our most visible domain, Amazon, online retailers also make up a large portion of the most visible sites, with eBay, Appliances Direct, Wayfair and ManoMano all doing well
The most popular brands, Weber & Outback, are also very successful, with Weber the fifth most visible site

This is powered by the popularity of brand searches, with Weber having 150 branded keywords in our list and Outback 68. This shows the power of branding as if your audience knows your name & searches for your products, you can compete with much larger, more authoritative sites
Big Green Egg's site was the 29th most visible in our list, just missing out on the top list

Publishers can compete with retailers by targeting those searches made just before a transactional search. In our top competitor list, The Independent, BBC Good Food, T3 and Expert Reviews all appear with their buying guides (Which also just missed out, ranking at 26)

These publications target research and comparison searches – the commercial research stage. Our sample list contains 176 such keywords, but Google will also often show the best guides for more directly commercial queries, especially for head terms where the searcher's intent isn't completely clear
Many of these posts have affiliate links, monetising them. By appearing when our target audience of grillers is still deciding on the right barbecue for them, these publishers can potentially skip out the transactional search by directing readers to exactly where to buy their recommendations

Finally, smaller, specialist retailers can compete with these huge names in ecommerce. BBQ World appears third on our list and others – The BBQ Shop and WOW BBQ – also get a lot of targeted traffic
To get a better understanding of the content Google wants to reward, we need to take a deeper look at our strongest domains. What types and content, and what formats, help users looking to buy a barbeque?
High-performance content is generally very easy to spot. We classify it as a set of content for which keyword rankings are weighted towards the first page of Google search results. Let's look at some examples through the sites whose content consistently performs.
High-performance content examples:
One of the biggest sites for these 'do' keywords is Argos. For non-UK readers, they are a long-established high-street catalogue retailer operating in the UK and Ireland. Getting 6.45% of the available organic market share for our keywords (second place), we should take a look at their barbecue offering.
Their main barbecue page ranks for over 1,900 keywords, 776 of those on page one. Building on this, a few of the major facets on this page, such as fuel type, barbecue type and brand are also indexable. Together these versions of the page rank for 2,479 keywords in the UK, and over 70% of these are on page one.

So, what's so good about these pages? Why are they a great answer for searchers, beyond the brand strength of Argos itself?
Agros' PLPs follow many ecommerce best practices that appeal to customers and search engines alike:
Clear & keyword-focused title tags & meta descriptions
Breadcrumbs that help show where you are in the store's structure (& offer internal links), though it is notable that subcategories use the same breadcrumbs as the main barbecue page rather than adding an extra level
The introductory copy (below the product listings, perhaps indicating it is more for search engines than visitors!) provides context by explaining what you'll find on the page. It is written in the site's tone of voice, gives an opportunity to add related keywords and offers the opportunity to link to child or related categories plus cross-merchandising opportunities.
Argos even use subheadings, such as gas BBQs, Portable Barbecues and BBQ accessories, targeting closely related searches. These are perfect for adding information depth and internal links to subcategories (Argos' PLPs don't use a sub-menu or a related category links section, so this is doubly important)
Argos also link to their buying guide. This displays expertise & of course allows Argos to target users at the previous step in the buying cycle. This buying guide ranks for 191 keywords in the UK, showing Google thinks it has value.
An easy-to-use mobile experience (we estimate 79% of visits to these pages are on mobile).
A link to the main barbecue page in the main navigation helps ensure link equity flows to this section.
And a good range of products (42 at the time of writing) shows Google there is plenty of choices here.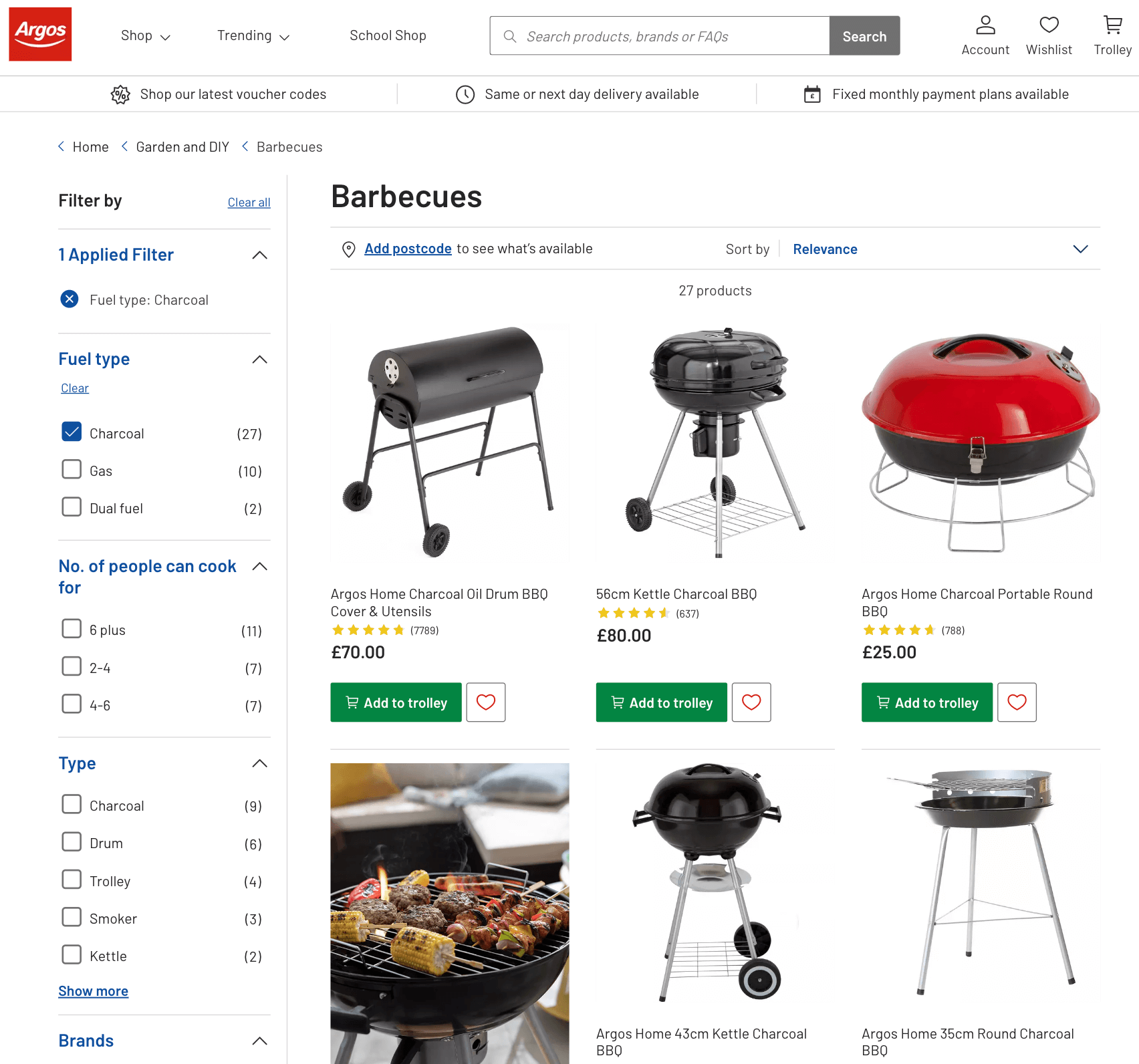 One area of improvement Argos could make is with the child category PLPs. While these exist on their own URL and each subcategory, such as the gas barbecues page, has a unique & targeted title tag and meta description, they all use the same H1 and intro copy. By using a unique H1 & copy, you give yourself the best opportunity to define a page's purpose.
Argos also benefit from their strong domain of course. At the time of writing, argos.co.uk is 13th in our Top domains list by Visibility Index in the UK. With such a strong brand presence, it is no surprise that a well-optimised category is one of the strongest in this sector.
As well as the main child subcategories, Argos also have a host of other PLP landing pages that aim to capture traffic for a large variety of barbecue searches.
Argos use their /sd/ folder for such landing pages, and for barbecues, we see a range of subtopics that aren't always covered by the indexable faceted navigation pages, though many of the most popular ones are. These include pages for electric BBQs, smokers, portable barbecues and kettle BBQs.
These pages do have unique H1 tags, as well as unique title tags & meta descriptions. They do lack intro copy and internal linking, however.
It isn't only Argos doing well of course. As well as Amazon (whose success for ecommerce has been extensively covered), we see B&Q ranking consistently for our keyword set. Their barbecue PLP section ranks for over 5,600 keywords in the UK and has steadily gained visibility over the past several years, often around Google updates.

B&Qs PLPs also consistently rank strongly, indicating high-performance content we should look at:

B&Qs PLPs do an excellent job covering ecommerce fundamentals & offering a strong shopping experience. If we take their charcoal BBQs page as an example, we see a big range of products (91!) to choose from, intro copy offering just enough context to make it clear to search engines what the page is about, easy to filter faceted navigation options and a good mobile experience.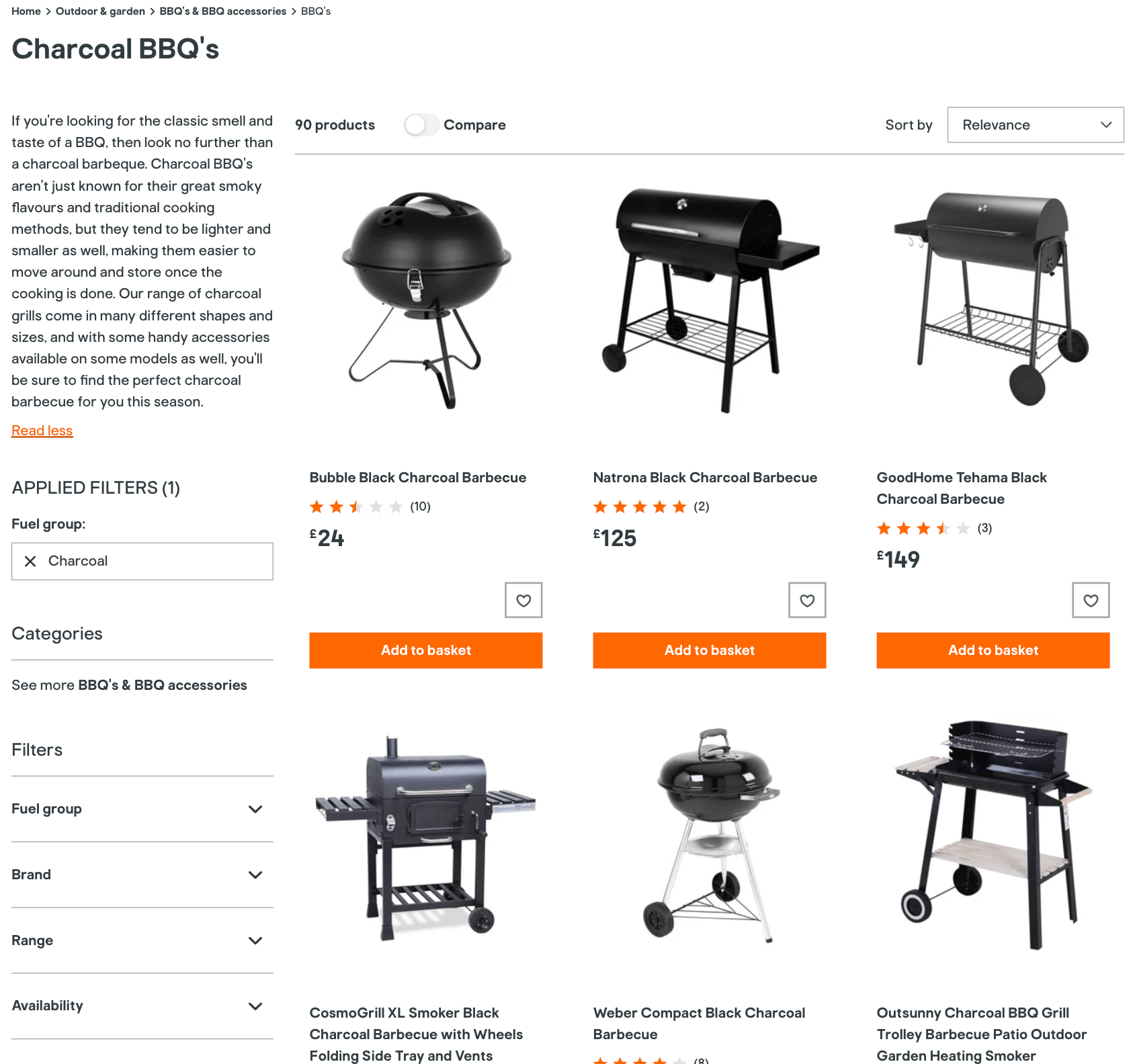 If you look at the main BBQs department page, B&Q have listings for a variety of sub-departments, related products (pizza ovens) and ideas & advice. These guidance articles include advice on hosting a garden party and a buying guide for barbecues (there are other barbecue guides in the /ideas-advice/ directory, but they are not linked to, which could be an opportunity).
The buying guide isn't hugely in-depth and doesn't make recommendations. It focuses more on explaining the different types of barbecue & accessories you might need. So, room for improvement, but it still shows Google there is supporting buying advice on the site & ranks for 130 keywords in the UK.
Another site worth noting is BBQ World. As a smaller specialist, they have worked hard to compete with huge domains and are the third most visible for our sample keyword set.
BBQ World has employed a simple but robust site structure, with dedicated PLPs for each subcategory. Their page for Weber barbecues for example does well, ranking for 348 keywords, over 200 of which are on page one.
Interestingly, this page acts as a bit of a cross between a department page (linking with images to different Weber barbecue subcategories) and a PLP (with full product listings lower down the page).
The subcategories – such as the charcoal Weber BBQ page – follow a traditional PLP structure plus customer reviews. There is a huge intro copy section, which uses manufacturer copy – another opportunity for a bit of SEO improvement.
Also interesting is that BBQ World is still running a separate mobile site (which is ranking for desktop queries as well thanks to mobile-first indexing). With an updated website & shopping experience, you can envisage BBQ World performing even better.
Buying guides
We see a few sites in our top 25 most visible domains that aren't retailers. They are publishers who are ranking for these 'do' keywords through their buying guide content.
The most visible for our sample keywords is The Independent, a site that is well known for its product review content. A quick search for their BBQ articles shows they have a variety of shopping guides and have created topic hub pages that contain all their tagged content:
The gas article is a particular winner. This (the AMP version) ranks for close to 2,000 keywords, almost 400 of these on page one. The article itself was first published in 2020 and has been updated each year with the latest information.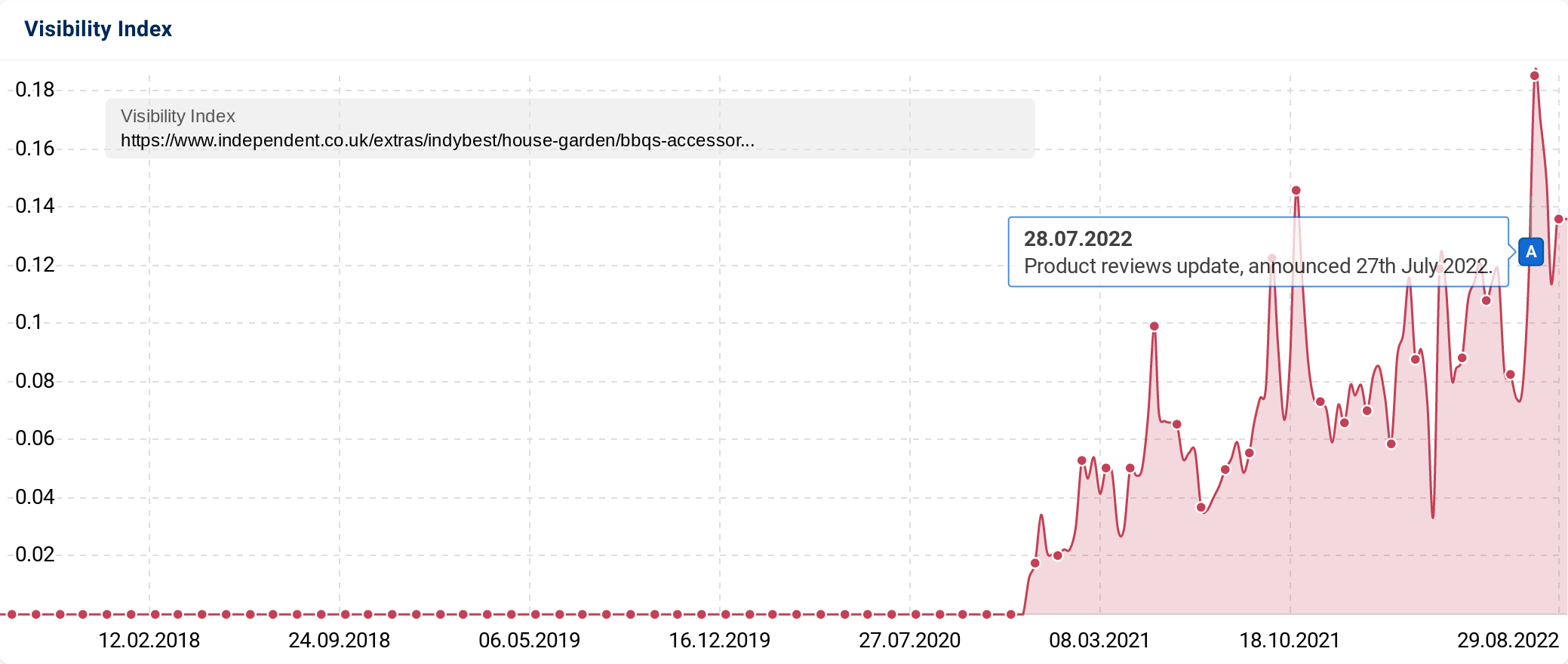 It ranks for a host of comparison & commercial research keywords, such as best gas bbq, best bbq uk and gas bbq reviews. If you are searching for advice on a good gas barbecue, there's a good chance you'll see this article.
So, what about it makes it high-performance content?
It comes from one of the UK's most trusted authority sites, one that Google shows for all kinds of product reviews & roundups
We have a named author and a link to an author page listing all the articles they've worked on, including a few BBQ reviews.
The article demonstrates first-hand experience with the products (though some unique images rather than manufacturer ones would help reinforce this).
There are clear scores & content that shows the article is offering an opinion, rather than just collating thoughts from other sites.
There is a 'how we tested' section, explaining the parameters & tests each model was put through.
There are links to articles on closely related subjects, such as the 10 best barbecue accessories, 8 best charcoals & 8 best pizza ovens. This helps demonstrate a depth of knowledge & expertise in the wider sector.
And there are a variety of recommendations & models for different use cases. For example, the best overall gas barbecue, the best with four burners, the best value-for-money and plenty more. This helps make the article relevant for a host of longer-tail 'best barbecue' queries as well as making the article more comprehensive (and more helpful) for generic queries.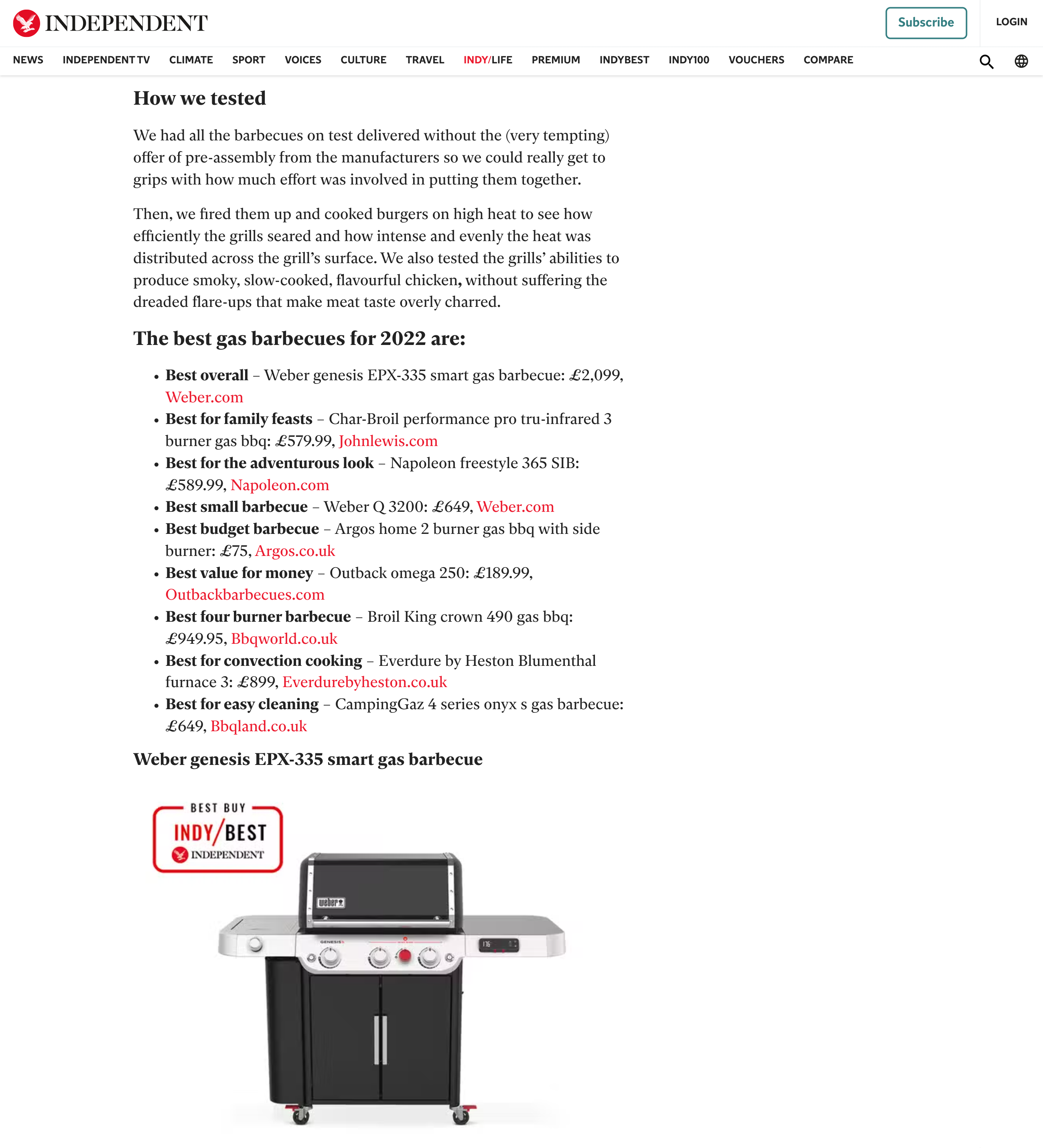 Add these together and we have an article that clearly demonstrates E-A-T and answers a lot of the key points Google wants you to consider for your product review content. We can see in the Visibility Index chart that this article did well at the time of the latest Product Review Update in July.
Another example of this in action is T3, the technology magazine that appears in our top-25 competitors. Barbecues are not strictly a technology product, but there is enough cross-over their core offering that it is a supporting 'lifestyle purchase' where getting good quality kit is important to many buyers.
T3 have a variety of barbecue review guides ranking for a wide spread of keywords, showing their knowledge in this sector. But the most notable is their best BBQ 2022 guide, which ranks for over 1,200 keywords in the UK, 16.7% of them on page one.
Like The Independent, the article has noted authors, including an author bio which mentions BBQs as an area of expertise.
There are also a large variety of products listed and the article is broken down into the best charcoal, gas and pellet barbecues, helping make it relevant for a wide variety of 'best barbecue' keywords. The guide is impressively comprehensive, with 26 models included, many of which include a link to a full review article of the model.
At almost 9,000 words, this is a great guide for anyone looking to find a good model for their needs, with plenty of signals that will satisfy Google's desire for E-A-T and helpful information.
Summary
Through our look at the content that ranks for barbecues, we have several useful takeaways:
For competitive keywords, having the right content for the intent of the search is key. For a considered purchase such as a barbecue, it is worth having different content for each potential stage of the buying cycle.

If you are a retailer selling barbecues (or a product with a similar consideration process), having comparison & buying guide content to support your main ecommerce pages (PLPs) is worthwhile.

If you want to do well for competitive retail queries, your shopping experience needs to be excellent, with a variety of products, a good mobile experience & helpful supporting content such as reviews.
Even though you might be in a competitive market, you don't have to concede all the search landscape to the big brands. It is possible for specialist retailers to rank well & earn good organic traffic. However, you need to prove your worth, as simply 'keyword-matching' the sector isn't enough.
Conversely, if you are a well-established retailer with strong ecommerce templates, moving into a new sector is likely to bring success, as long as you live up to your existing standards.
And if you are a strong publication with a reputation for helpful product reviews or shopping guidance, you can rank well in related sectors.
Methodology and data
SectorWatch follows a fixed process which you can also learn in our free competitor analysis Academy class.
For this SectorWatch, we used relevant keywords from a selection of BBQ and barbecue keyword discovery tables.
We took a selection of highly targeted keywords with a 'Do' or 'know' intent. From these, we harvest all the ranking keywords for the URLs in the SERPs. We call this the Keyword Environment. Most SERPs will have some mixed intent so we re-filter the list for the correct intents and sanitise it by hand to leave a smaller, highly-relevant set of searches made by the UK public. The results are based only on organic result positions.
Keyword Set: Barbecues & BBQs
Core keywords: gas barbecue, gas bbq, charcoal barbecue, charcoal bbq, best barbecue, best bbq, weber bbq, portable bbq, egg bbq.
Total keywords after harvesting and re-filtering: 1,165 (Barbecues keyword list available here)
The full keyword set is available for download and further analysis can be done in the SISTRIX keyword lists feature, including competitor analysis, SERP feature analysis, questions, keyword clusters and the traffic forecast shown below.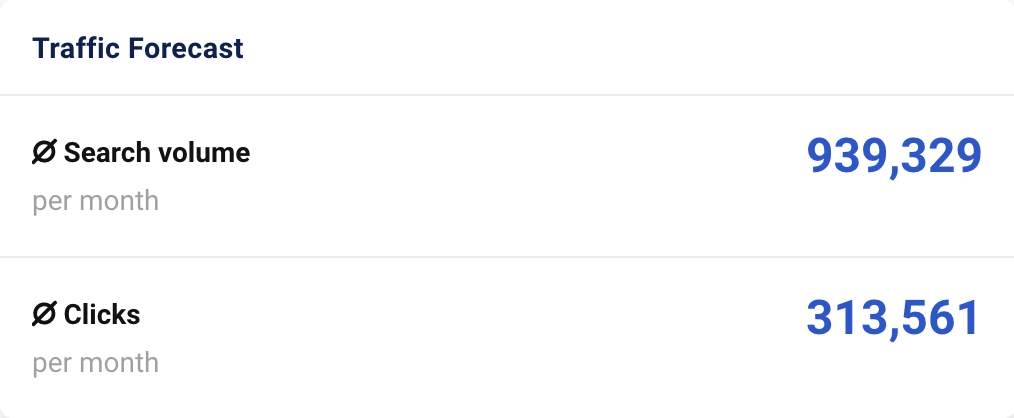 SectorWatch is a monthly publication from the SISTRIX data journalism team. Related analyses can be found in the TrendWatch newsletter, IndexWatch analysis along with specific case studies in our blog. New article notifications are available through Twitter & Facebook.