As we head towards summer, thoughts turn to holidays so this month, SectorWatch takes a deep dive into the sustainable travel industry to find the real competitors and high-performing content in Google's organic search results.
Leading brands and domains
You don't have to look far to find lists of sustainable travel companies in the national press. Among those often name-checked are:
Original Travel
Much Better Adventures
Intrepid Travel
Responsible Travel
G Adventures
Pura Aventura
& Joro Experiences
They of course compete with some of the biggest names in the industry, from online giants such as Expedia to traditional names like Thomas Cook and TUI.
We'll go into more detail below but first, here's the top three domains, by visibility for a curated keyword set in Google search. As is often the case, competitors in search are not the same as commonly reported:
Top 3 domains for sustainable travel/holidays 'know' searches (based on 180 curated keywords)
responsibletravel.com
sustainabletravel.org
theguardian.com
Top 3 domains for sustainable tourism 'know' searches (based on 142 curated keywords)
wikipedia.org
thetravelfoundation.org.uk
gstcouncil.org
Normally in our Sectorwatch articles, we look at both Know and Do intent keywords. But this time, we found very few keywords where Google targets a Do (or transactional / commercial) intent – more on this coming up.
Domain analysis: The competitors in the sustainable travel market
Sustainable travel is becoming a big business. Booking.com's 2021 Sustainable Travel Report revealed that a survey by the travel giant found that 83% of travellers believe sustainable travel is "vital", and 61% have found the COVID-19 pandemic has made them want to travel more sustainably in the future.
Leaning into this trend, Booking.com have even introduced the Travel Sustainable badge, which marks properties that meet sustainability standards.
So, whose sustainable travel rankings are ready for takeoff? And who's stuck on the runway? Let's find out.
We've curated a list of market keywords for the sector using a well-defined process and SISTRIX data. These keywords are common search terms used by potential customers & those looking to learn more about how they can enjoy a sustainable holiday.
Our first list (sustainable travel) is for potential travellers searching for suitable destinations, where they can book a sustainable trip or even what sustainable travel means. This includes searches like sustainable tours, sustainable holidays and eco holidays.
While there is some (eventual) commercial intent, customers at this stage are often still very much at the research stage. Looking to know more, they are seeking ideas, destinations and suppliers. Intent analysis data helps us spot these searches that have this know goal.
Our second list looks at the related subject of 'sustainable tourism'. This has a deeply 'know' intent, with searchers looking to understand what the concept means. Searches here are looking for 'definition', 'examples' and simply 'what is sustainable (or responsible) tourism'.
Often, these are searches by those in the industry or seeking to understand it. We found many related searches (not in our final keyword set) for jobs in sustainable tourism or looking for university courses studying it.
Here are the top 25 domains for each topic.
Leading domains: Sustainable travel & holidays (know intent)
Leading domains: Sustainable travel
| Domain | Market Share |
| --- | --- |
| universal-search-box.com | 10.53% |
| responsibletravel.com | 7.22% |
| sustainabletravel.org | 4.31% |
| theguardian.com | 4.31% |
| nytimes.com | 3.61% |
| thetimes.co.uk | 3.37% |
| pebblemag.com | 2.42% |
| charlieontravel.com | 2.30% |
| sustainablejungle.com | 2.30% |
| timeout.com | 2.29% |
| independent.co.uk | 2.04% |
| cntraveller.com | 1.95% |
| wikipedia.org | 1.78% |
| lonelyplanet.com | 1.74% |
| nationalgeographic.co.uk | 1.45% |
| earth-changers.com | 1.34% |
| euronews.com | 1.24% |
| farawaylucy.com | 1.06% |
| hayesandjarvis.co.uk | 1.06% |
| volcanoessafaris.com | 1.04% |
| exodus.co.uk | 0.93% |
| worldnomads.com | 0.91% |
| tui.co.uk | 0.90% |
| thetravelfoundation.org.uk | 0.88% |
| theculturetrip.com | 0.86% |
In total, 232 keywords were used for this analysis.
Leading domains: Sustainable tourism (know intent)
Leading domains: Sustainable tourism
| Domain | Market Share |
| --- | --- |
| universal-search-box.com | 14.40% |
| wikipedia.org | 5.40% |
| thetravelfoundation.org.uk | 5.13% |
| gstcouncil.org | 4.13% |
| futurelearn.com | 4.08% |
| unwto.org | 3.20% |
| sustainabletourism.net | 3.14% |
| responsibletravel.com | 2.02% |
| visitscotland.org | 1.88% |
| tourismteacher.com | 1.76% |
| responsibletourismpartnership.org | 1.74% |
| gdrc.org | 1.73% |
| green-tourism.com | 1.52% |
| revfine.com | 1.27% |
| biospheretourism.com | 1.26% |
| weforum.org | 1.21% |
| gooverseas.com | 1.10% |
| greentourism.eu | 1.07% |
| sumas.ch | 1.01% |
| broganabroad.com | 0.98% |
| google.co.uk | 0.96% |
| tiqets.com | 0.96% |
| verdict.co.uk | 0.96% |
| conserve-energy-future.com | 0.92% |
| heritagehotelsofeurope.com | 0.90% |
In total, 142 keywords were used for this evaluation.
Content Analysis: What type of content is performing?
A look at the competitors offers us immediate hints as to what's working in this sector:
For our 'travel' keywords, one specialist in the field, Responsible Travel, is at the top of the list, partly thanks to it doing well for the keywords that exactly match its brand.

After this, the top 25 is largely dominated by publishers. They are filling the gap we might have expected to see the major travel brands fill.

We also see some specialist bloggers in the field doing well.

Only after a selection of these do we start to see more general travel agents such as Hayes & Jarvis and TUI.
With an emphasis on know keywords rather than purely commercial searches, it is perhaps not a surprise that travel agents don't dominate the list of the top domains. However, in other areas travel agent sites produce a wide range of content-marketing style content to target those in the research stage.
Here, we instead find the most common group is advice from neutral or third-party sites. Newspapers such as the New York Times, Guardian, Times and the Independent as well as travel publications like Lonely Planet, CNN Traveller and National Geographic.
Our next step is to look at what content experiences are presented to our audience.
High-performance content that Google wants to reward can be easy to spot. We classify it as a set of content for which keyword rankings are weighted towards the first page of Google search results. Let's find some examples.
High-performance content examples
Looking at the publishers, we often see individual articles rank well, rather than sections.
A good example of this is the New York Times article, Be a More Sustainable Traveller. This travel guide ranks for 143 keywords in the UK, with over 25% of those rankings on page one, and another 50% ranking on page two. It has steadily grown in Visibility Index since it was published in the summer of 2021.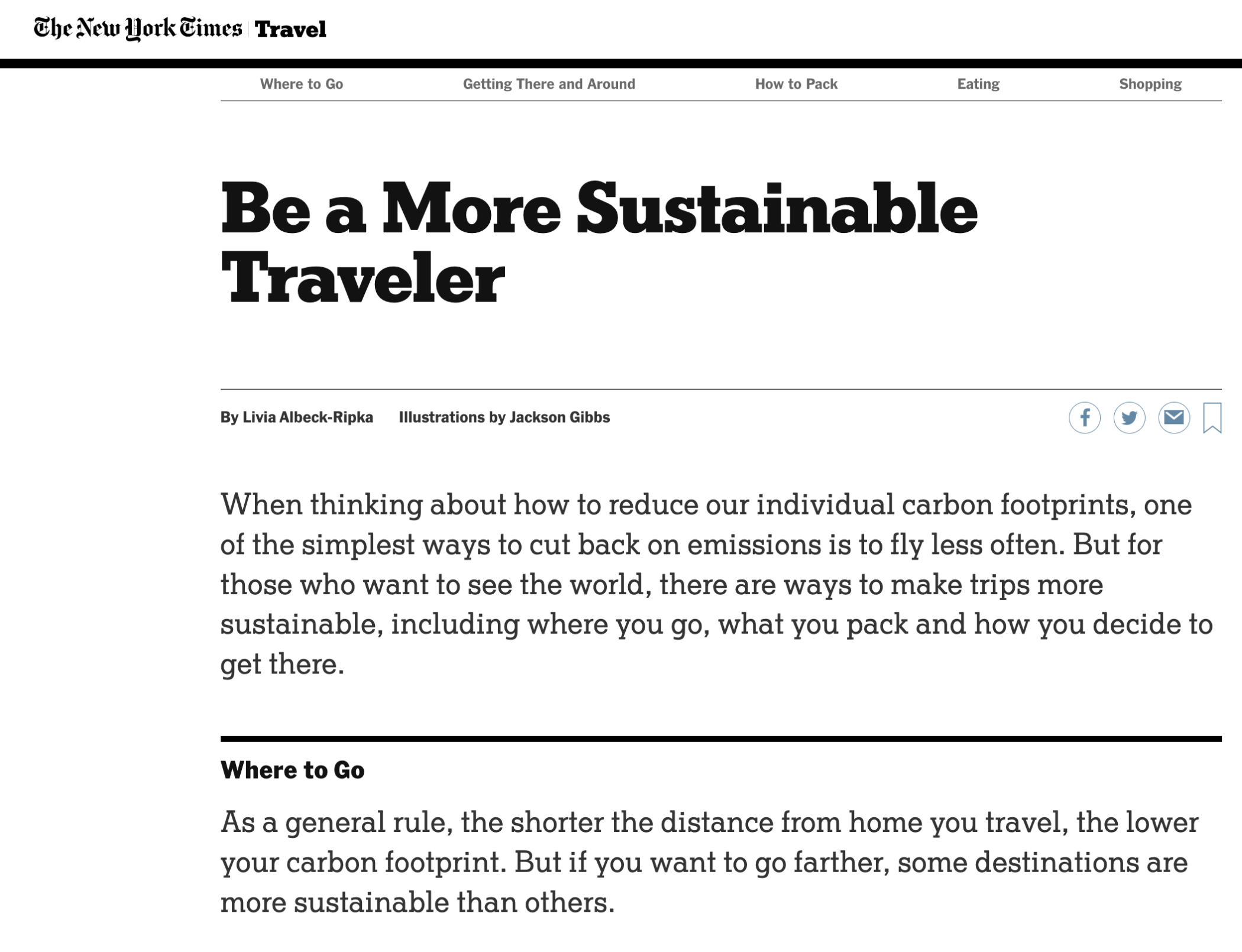 So, what does it do well to get these rankings?
The article satisfies a lot of what Google is looking for in helpful guidance content. A very highly respected source (the New York Times) that is an expert in travel, with a dedicated section on the topic that has been established – and earned a reputation for excellence – for years.

The article is written by a journalist (Livia Albeck-Ripka) who writes on a variety of topics, including environmental issues. There are clear signals around

expertise

to satisfy Google's Expertise, Authoritativeness & Trustworthiness (E-A-T) requirements.

The article is impeccably written, packed with detail and has an easy-to-follow layout. It is broken down into clear sections such as

Where to Go

,

Getting There and Around

,

Eating

,

Shopping

and even

What to Pack

.

Each of these is broken down into further sections, offering more detail and adding relevancy for even longer-tail queries, such as

The Most Sustainable Destinations

.

In fact, if you look at just the headings for the page, they lay out everything you will learn & neatly demonstrate the depth the article offers. This makes it very easy for search engines – and readers -to see what they'll learn in this guide.

There are also links to related, expert articles on topics like

Sustainable Travel Can Be Budget-Friendly

and

By Air, Land and Sea, Travel is Electrifying

. This can keep a reader on the site & show search engines there is a cluster of information on the topic.
Similarly, our top-rated publisher is the Guardian, which has a pair of articles, on 22 sustainable holiday ideas for 2022 and 20 of the best sustainable holidays in Europe for 2020, ranking well for important keywords in our set such as sustainable holidays. Similarly, the Independent has an article on Nine of the best eco-conscious holidays that ranks for eco holidays.
These follow a similar format: A well-renowned travel section, written by expert journalists and offering links to related articles. A quick search finds over 40 articles in the Guardian's travel section with 'sustainable' in the URL. As with the NY Times guide, the Guardian's '22 sustainable holiday ideas for 2022' is a longer-form piece with a more bespoke layout.
It isn't always individual articles doing well. Lonely Planet has a sustainable travel news category, which forms a topic landing page. This clever use of a hub page helps Lonely Planet rank for a few top-level terms without creating specific guides through the use of tagging or categorisation making the most of news content they are already producing.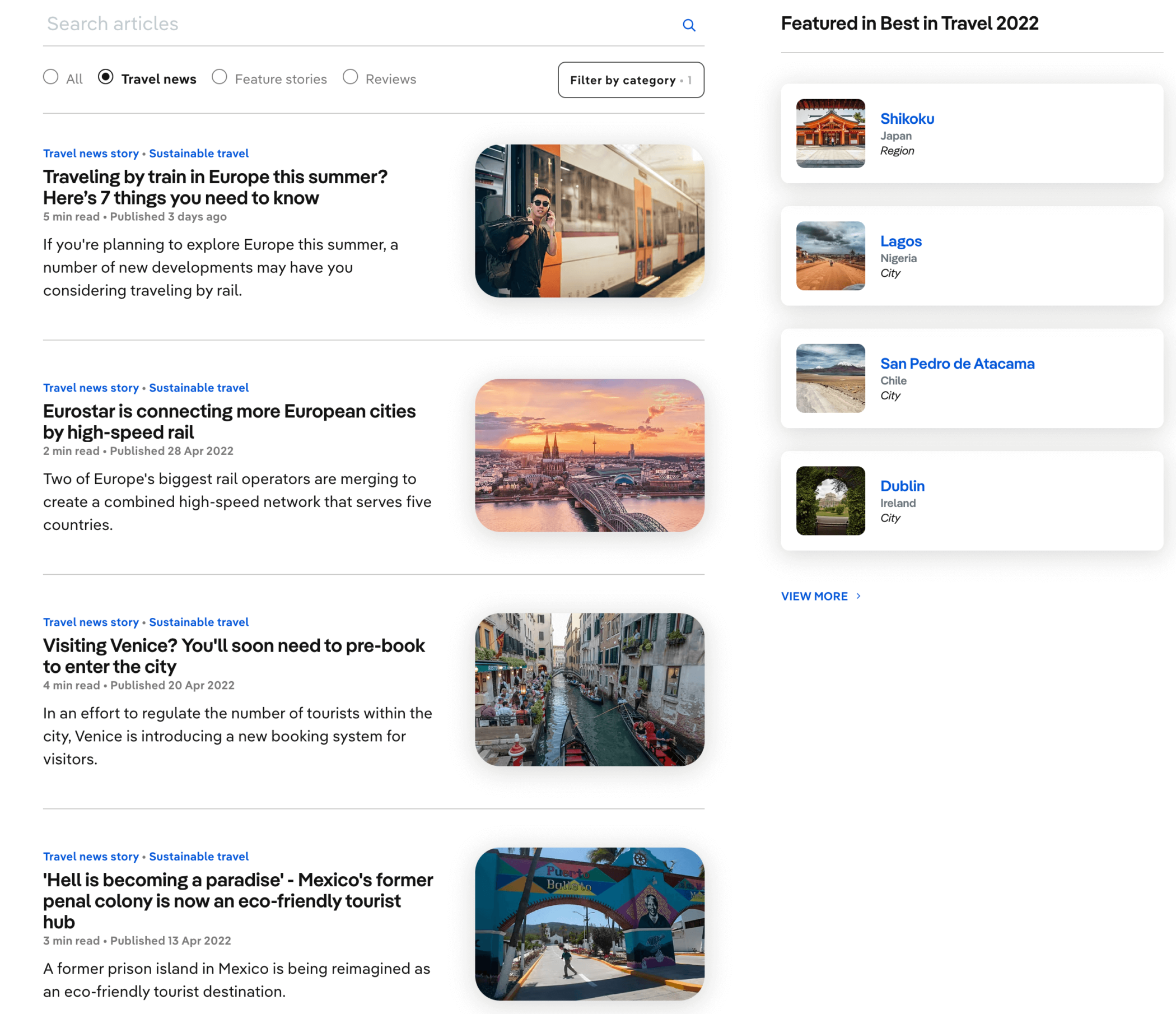 Another site that is doing well is Timeout. They launched a big initiative in 2021 on how they wanted to cover travel, and since then they have published a small range of articles on related subjects.
One such article is their list of sustainable travel companies, which ranks for highly-relevant 72 keywords in the UK, with 46% on page one or two.
Notably though, despite this push for related content, they don't have a sustainable travel hub/topic page which could help them rank for more top-level searches, even though they dedicate a section of their main Travel page to the subject.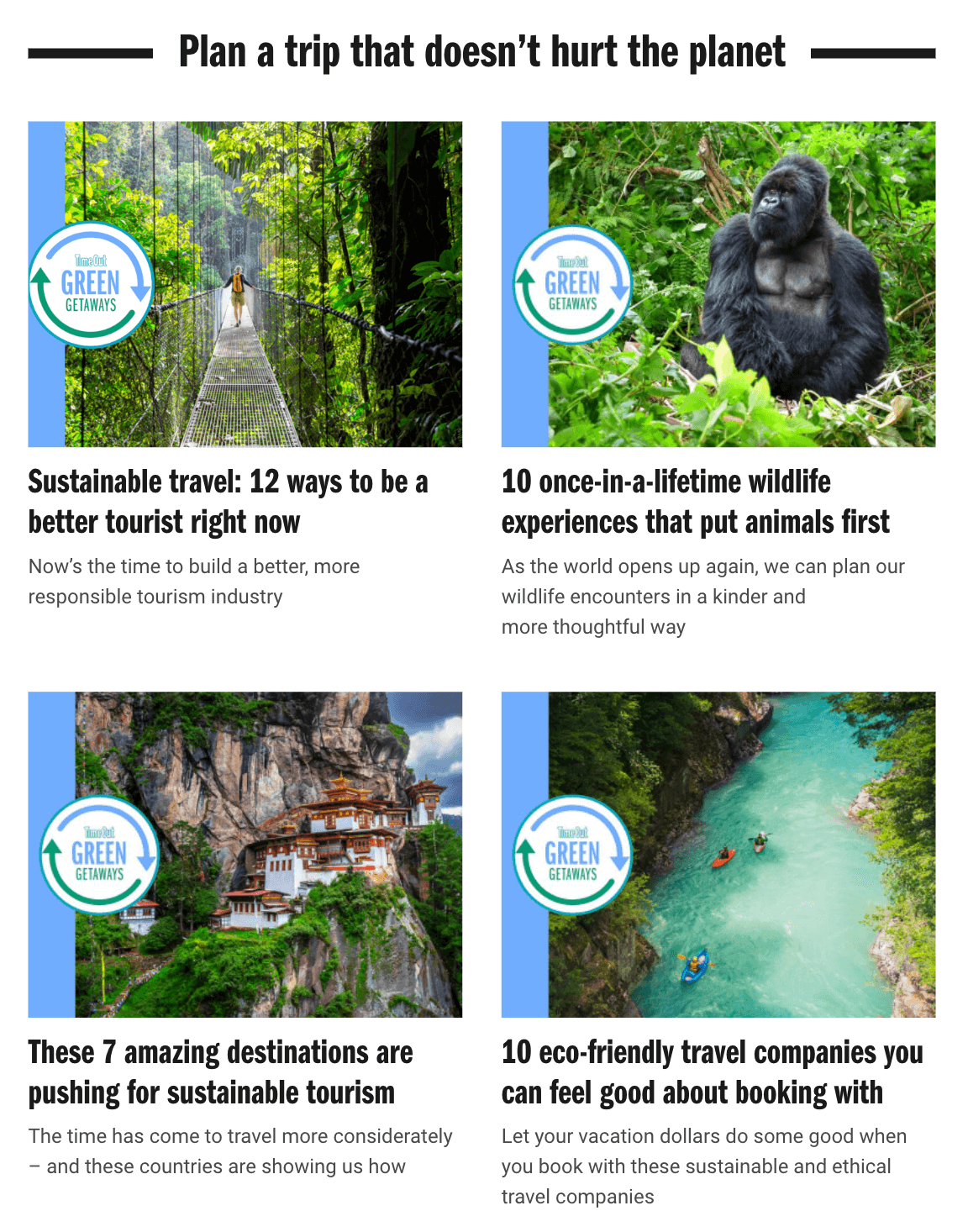 It's not just publications getting in on the act. This is an area where travel bloggers still appear, with Faraway Lucy's eco-friendly travel content and Charlie on Travel's sustainable travel content regularly ranking in our sample list.
Travel agent content
Of course, it is not only publishers on the list – We also have some travel agent sites.
Of the more general holiday sites, Hayes & Jarvis is an interesting example of how to approach this topic. They have a dedicated holiday type page – a commercial proposition – on luxury eco-friendly holidays.
This displays some of the sights you can see and hotels you can book for this type of trip. We see it ranking at #1 for 'eco holidays' and in the top ten for a group of sustainable package holiday keywords, often as the highest commercial-intent content. Over 47% of its keyword rankings are on page one.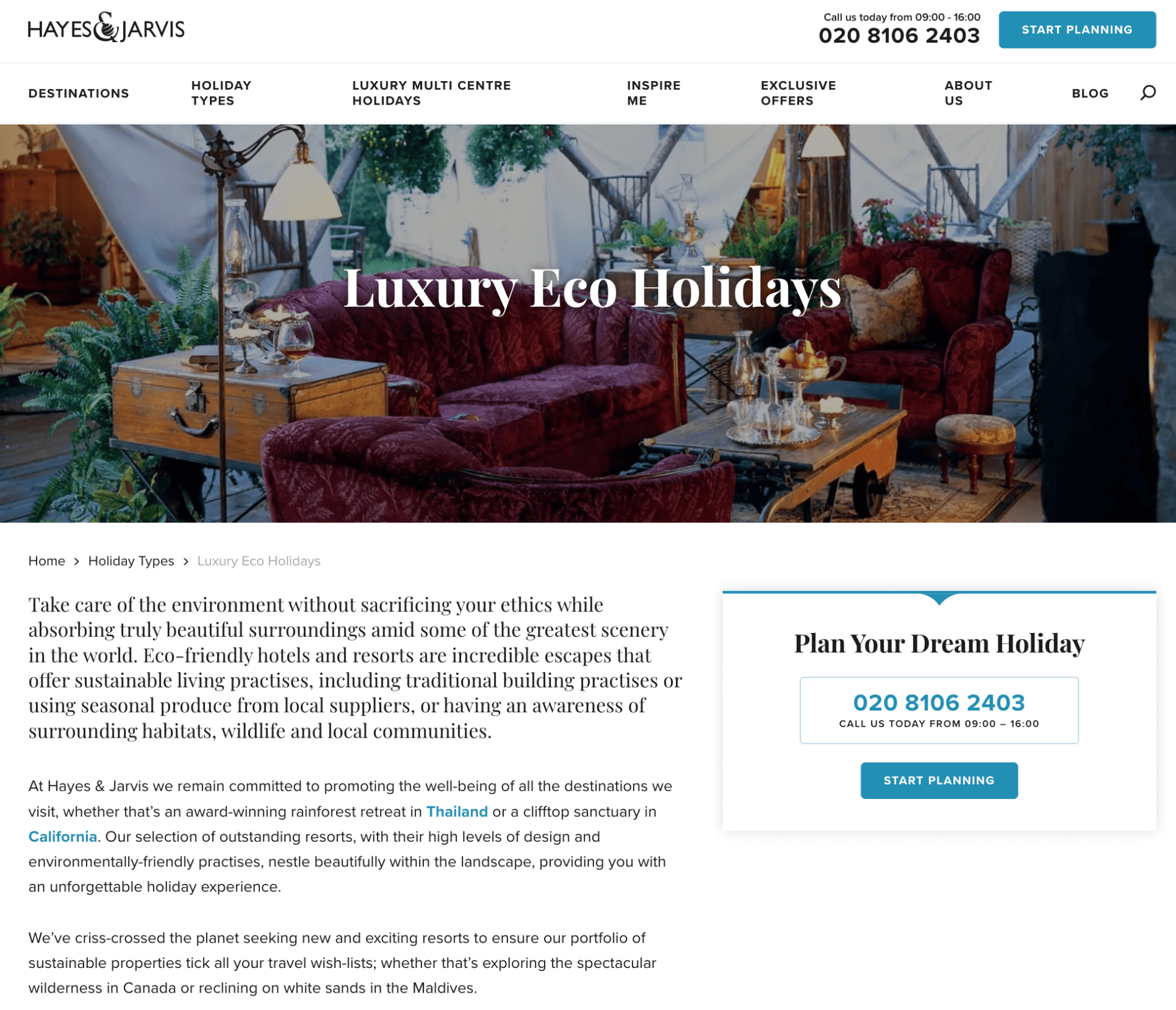 This isn't the only relevant content on the site though. Hayes & Jarvis back this up with a small smattering of blog posts (and even a blog category page collating them), a content marketing piece on eco escapes and even a dedicated 'about us' page that details how they believe in responsible tourism.
Meanwhile, despite being one of the most famous names in the UK for travel, TUI is languishing low down in our list.
And looking at the content that does rank for our keyword set, you can see why.
TUI only have a couple of blog posts targeting the subject:
One is on

how they are moving to make their holidays more sustainable

– good information, but not that helpful to those looking for inspiration or direct options to book.

The other is on

the best eco-friendly holidays

. While they are obviously experts on holidays, this article lacks the depth, range and expertise (through recognised journalistic qualifications & publication authority) to compete with the articles from the publishers we've seen above.
Notable domain: Responsible Travel
The most visible domain we've seen in our sustainable travel/holidays topic is Responsible Travel with a Visibility Index of 2.63 [live data.]
The domain's most visible content comes under the domain /holidays

There's potential for improvement though as over 20% of ranking keywords appear on page 2.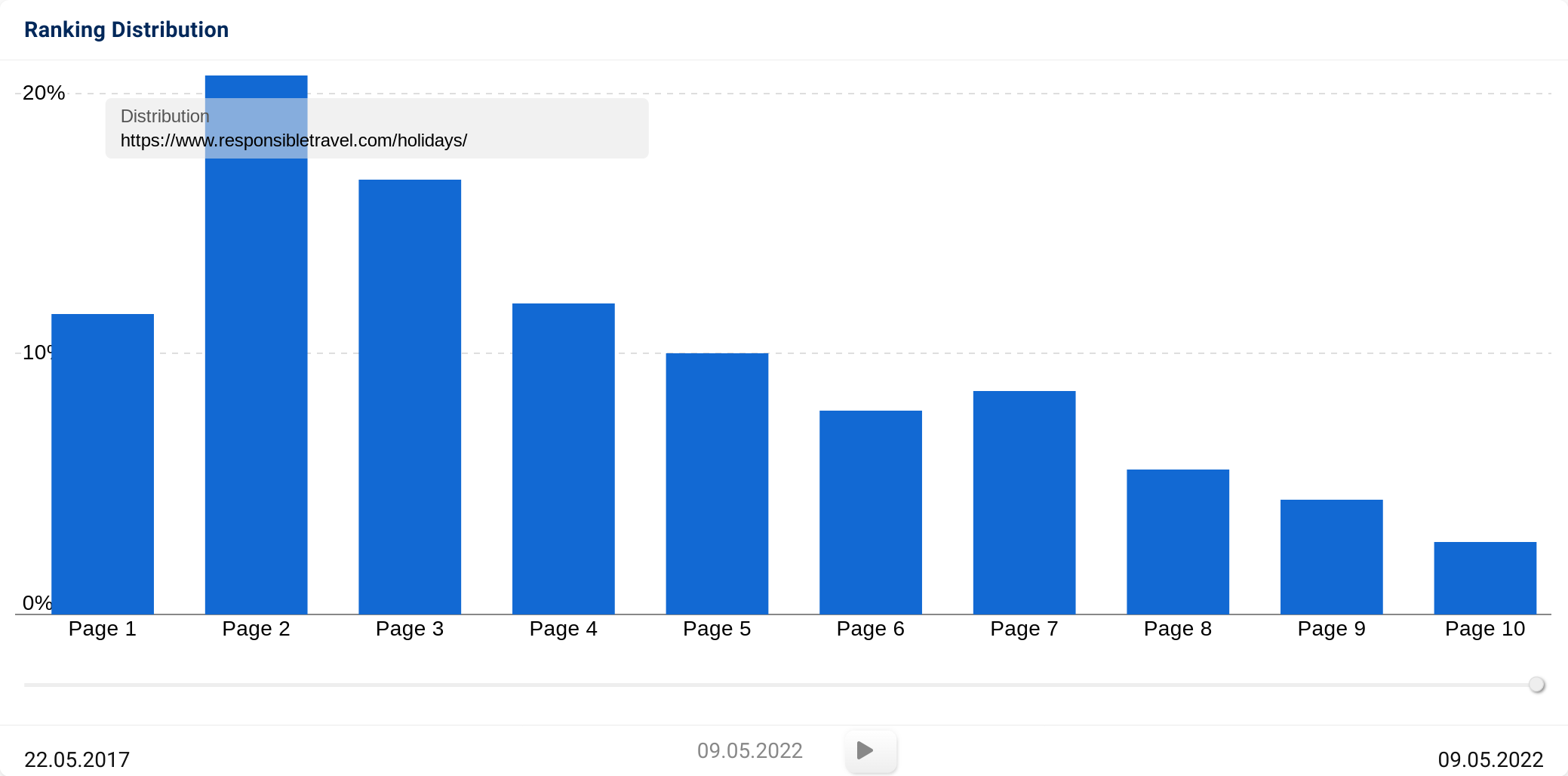 As a whole, the site has been growing steadily and currently ranks for over 78k keywords in the UK. The trend for 2022 has been positive so far: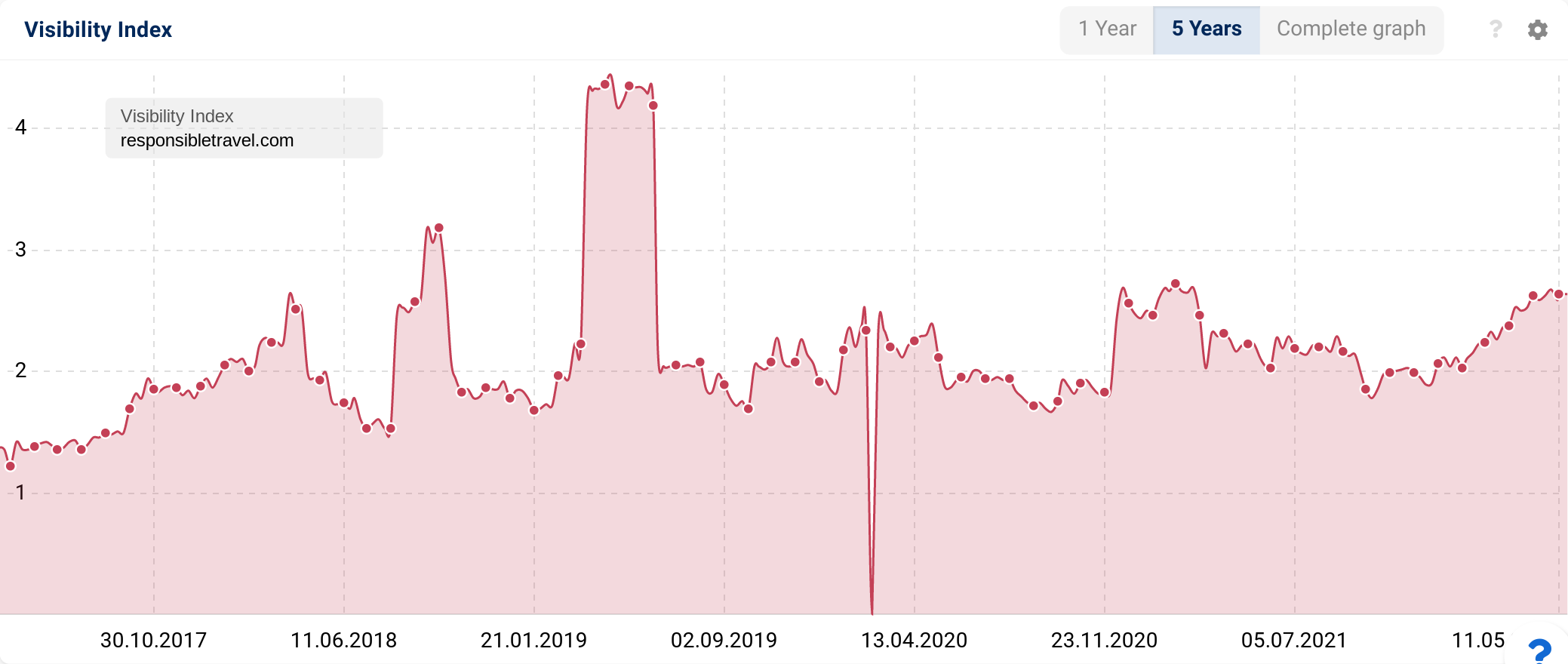 Some of the site's most successful content is its travel guides, which the site has for each major destination. It is these guides which give Responsible Travel most of its 'expertise' in Google's eyes.
Each country is broken down into multiple pages, with an overview and holiday listings (the commercial content), travel guide, map, highlights, things to do and info on the best time to go.
It is the 'best time to go' content that is doing a lot of heavy lifting. For example, the best time to visit Iceland article appears for 674 keywords and the best time to visit the Caribbean guide appears for 286, with 118 of those on page one!
However, the depth of the guidance content for each country section is impressive. For example, for Iceland we can find:
An

overview article

which introduces the country, its people,

culture

, history and food and also picks out 'underrated' and 'overrated' aspects.

The best time to visit which included highlights by month, average temperatures, dates for events & festivals, how to avoid the crowds & answers to common questions such as "

What is the cheapest time to go to Iceland?

" and "

When is the best time to see whales in Iceland?

".

The

best landscapes

to check out on a visit.

Information on

seeing the Northern Lights in Iceland

.

Related articles in other sections of the site, such as the guide to

whale watching in Iceland

.

And an article on

responsible tourism in Iceland

– very on-brand!

And more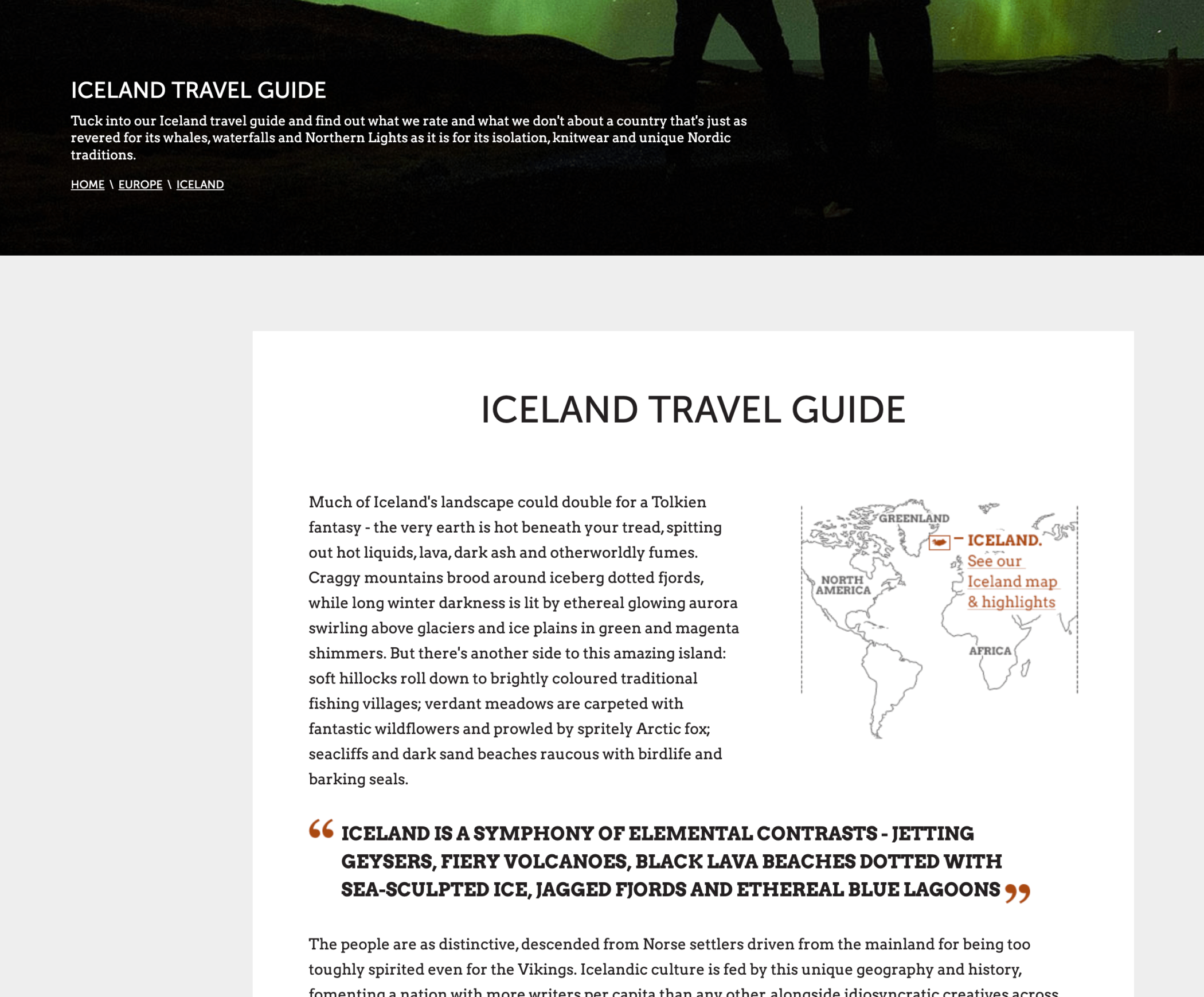 Add this together, and you have a very comprehensive topic cluster built around visiting Iceland, doing so in a responsible, sustainable way and getting to see the very best the country had to offer. And this is repeated in nearly 200 countries.
That is dedication to a content effort to build expertise in the eyes of both customers and search engines. This no doubt contributes to the success the site sees for sustainable travel searches as well as more general holiday queries.
Summary
While we've seen a wide range of site types and content formats, there are some themes to learn from.
At least according to Google, most searches around sustainable travel have a know – or informational – intent. Potential holidaymakers are researching ideas for sustainable holidays, who to book with or destinations to check out. When it comes to the final booking stage, we search by location or the holiday type we want, such as "walking holidays in Amalfi".

This means that searchers who then move through the buying journey will search for those specific holiday types or locations next (using different search language). Sustainable travel specialists would be wise to create content around those terms to target customers who are at the next stage (as Responsible Travel has done).
It is not enough to simply have a page on sustainable travel or eco holidays. To get in front of searchers you need dedicated content that helps them understand the options or inspires them to search for that more specific destination or holiday format.

Many major travel brands are missing out by not having both:

Dedicated informational content listing sustainable travel ideas (newspapers & travel publishers are doing this well).
And commercial landing pages showing off their sustainable holiday offerings, ready for when Google does want to show commercial pages for keywords they think have at least some do intent.
The fact that many of the biggest names in travel don't appear for the head terms in our keyword set is an opportunity for the rest of the market, at least for now. It's a surprise not see to content-rich and SEO-savvy names like Airbnb on the list.

When it comes to holiday ideas, Google wants to show content from experts, whether that's specialist providers or publishers with a reputation for travel content.
Methodology and data
SectorWatch follows a fixed process which you can also learn in our free competitor analysis Academy class.
For this SectorWatch, we used relevant keywords from the sustainable travel and sustainable tourism keyword discovery tables.
We took a selection of highly targeted keywords with a 'Know' intent. From this, we harvest all the ranking keywords for the URLs in the SERPs. We call this the Keyword Environment. Most SERPS will have mixed intent so we re-filter the list for the correct intents and sanitise it by hand to leave a smaller, highly-relevant set of searches made by the UK public. The results are based only on organic result positions.
Keyword Set: Sustainable travel & holidays
Core keywords: sustainable travel companies, sustainable travel tips, sustainable holidays, sustainable tourism destinations, sustainable tours, responsible holidays, sustainable tourism, eco holidays.
Total keywords after harvesting and re-filtering: 375


SectorWatch is a monthly publication from the SISTRIX data journalism team. Related analyses can be found in the TrendWatch newsletter, IndexWatch analysis along specific case studies in our blog. New article notifications are available through Twitter, Facebook.