Christmas is also a festival of traditions. That's why our Christmas big wheel turns again this year . Our goal: 10,000 euros of funding for the women's rights organization Terre des Femmes eV.
Despite a world that continues to be shaped by crises and uncertainties, we have come a good deal closer to our goal – equal opportunities and transparency on the Internet – in the past year.
We were able to expand our offices in Bonn , re-established the Digital Marketing Meetup and developed numerous new features and data for our custoemrs. The live databases , knowledge graph analyses , the content planner and improvements to our Amazon tool are just a small selection . If you want to be part of it: we are still hiring despite the confusing economic situation.
10,000 euros for Terre des Femmes eV
Women's rights, even in 2022, can not be taken for granted, whether it's in Taliban ruled Afghanistan, at the World Cup in Qatar or here in Germany.
The women's rights organization Terre des Femmes is committed to equal rights and self-determined lives for girls and women worldwide. The main topics of the association are domestic and sexual violence, forced marriage and crimes of honor, female genital mutilation, trafficking and prostitution.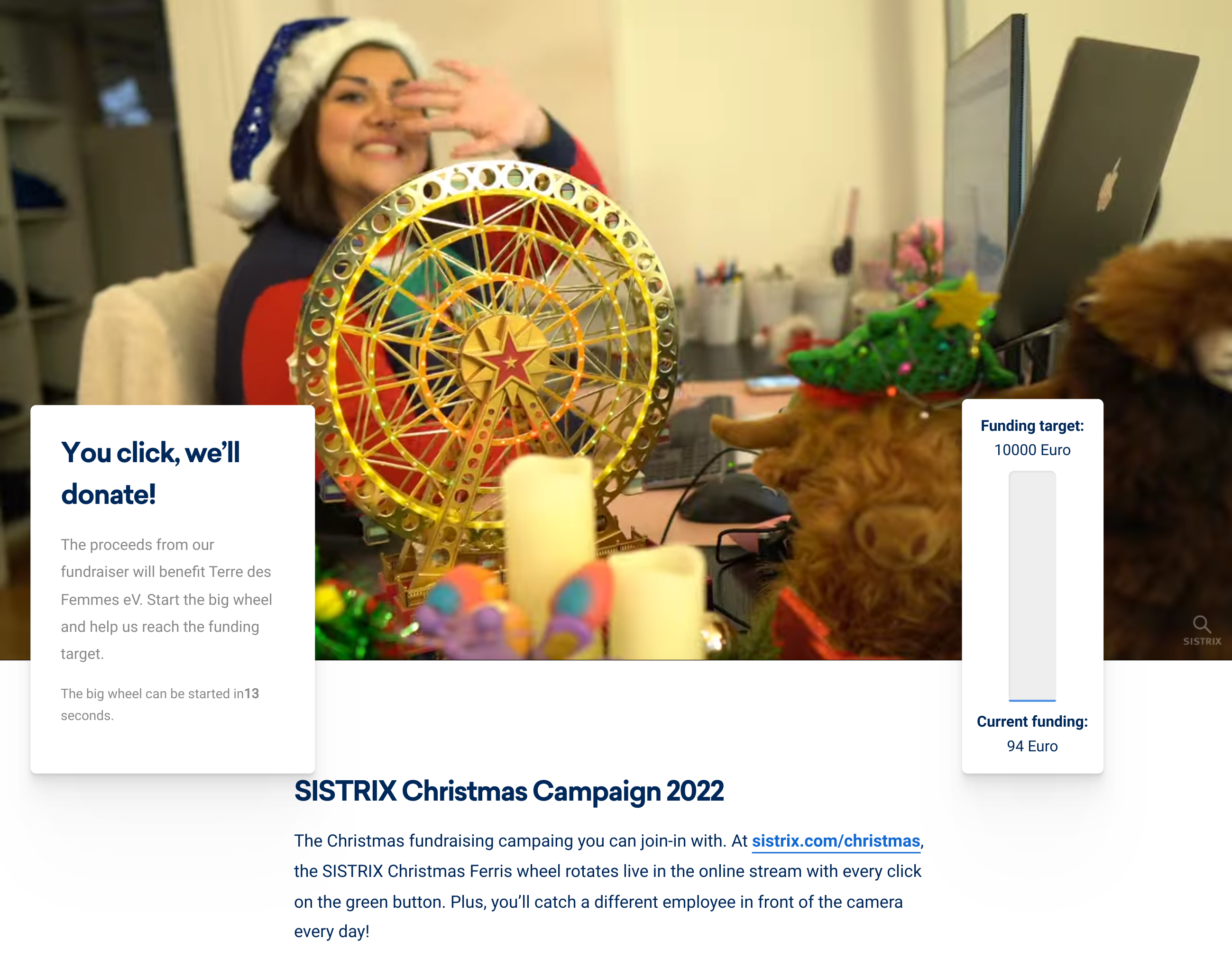 You click, we donate
The Christmas campaign thrives on participation With every click on the green button, the SISTRIX Christmas big wheel rotates live in the online stream at sistrix.com/christmas. In addition, you'll regularly catch various employees waving a thank-you in front of the camera!
For every click that makes the big wheel turn, we donate to the women's rights organization Terre des Femmes eV, until the donation goal of 10,000 euros is reached.
We wish everyone in the world a peaceful and merry Christmas season (and great rankings)!