SectorWatch exposes true competitors and analyses the high performance content that appears in Google's organic search results. In this report we're analysing the project management software marketplace. Who's serving the demand? What type of sites and content are performing? Are the players who you think they are?
Classic vs Online: What are the leading brands and domains?
A classic view of leaders in the market reveals no surprises to those that work in the sector. Some of the leading names in this space include:
Jira
Microsoft Project
Trello
Asana
Basecamp
Wrike
Smartsheet
ClickUp
Zoho
monday.com
The online view is very different. When we look at the two types of search intent, the landscape is different.
Top 3 domains for 'do' searches (191 keywords)
thedigitalprojectmanager.com
zapier.com
pcmag.com
Top 3 domains for 'know' searches (354 keywords)
thedigitalprojectmanager.com
pcmag.com
wrike.com
Clearly there's a big difference. Read on for more domains and an analysis of the high performance content in the leading domains.
Domain analysis: The competitors for the project management software market
The ability to plan projects, manage a team's schedule, share files and communicate effectively is a key part of how many teams work, from agencies to IT departments. It's a topic that notably gained in popularity as we adjusted to the increasing need for collaborative tools and the sector is worth over US$3.5 billion a year and growing. But who's getting the traffic when we, potential customers, search for a new tool? Or for help in getting started? Or for one of the hundreds of other search terms that are used?
We've curated two lists of keywords for the sector using a well-defined process and SISTRIX data. These keyword lists are the search terms used by potential customers.
The first list is for a potential customer doing research and include searches from those at the beginning of the journey asking about project management techniques to those considering the options with searches such as advantages of project management software and project management software reviews. For these types of searches, Google will typically show more informative pages.
The second keyword list is the search terms used where our audience is looking to do something. In this case, they want to find a solution. Intent analysis data helps us spot searches like project management tools that have this do intent. Normally for these searches, Google tends to prefer direct-buy, ecommerce-style results where you can buy, download or order from a supplier.
For each set of keywords, Google presents a different type of content in order to satisfy the searchers' intent – the ultimate goal they have when making the search.
Here are the top 25 domains for each category of search terms.
Leading domains: Do
Leading domains: project management software 'do'
| Domain | Market Share of Keywords |
| --- | --- |
| thedigitalprojectmanager.com | 8.95% |
| zapier.com | 3.30% |
| pcmag.com | 3.28% |
| clickup.com | 3.03% |
| teamwork.com | 2.84% |
| projectmanager.com | 2.54% |
| ntaskmanager.com | 2.54% |
| proofhub.com | 2.50% |
| softwareadvice.co.uk | 2.45% |
| project-management.com | 2.07% |
| capterra.com | 1.96% |
| kissflow.com | 1.94% |
| hive.com | 1.93% |
| microsoft.com | 1.87% |
| wrike.com | 1.82% |
| openproject.org | 1.74% |
| trello.com | 1.74% |
| hubspot.com | 1.70% |
| toggl.com | 1.69% |
| scoro.com | 1.54% |
| getapp.com | 1.44% |
| asana.com | 1.41% |
| wikipedia.org | 1.29% |
| g2.com | 1.19% |
| smartsheet.com | 1.13% |
In total 191 keywords were used for the do evaluation.
Leading domains: Know
Leading domains: project management software 'know'
| Domain | Market Share of keywords |
| --- | --- |
| thedigitalprojectmanager.com | 6.01% |
| pcmag.com | 4.43% |
| projectmanager.com | 2.65% |
| wrike.com | 2.60% |
| proofhub.com | 2.58% |
| kissflow.com | 2.41% |
| zapier.com | 2.29% |
| project-management.com | 2.06% |
| scoro.com | 1.95% |
| hive.com | 1.88% |
| clickup.com | 1.87% |
| teamwork.com | 1.79% |
| asana.com | 1.66% |
| capterra.com | 1.43% |
| toggl.com | 1.42% |
| atlassian.com | 1.42% |
| openproject.org | 1.36% |
| monday.com | 1.29% |
| microsoft.com | 1.24% |
| ntaskmanager.com | 1.24% |
| softwareadvice.co.uk | 1.22% |
| mopinion.com | 1.09% |
| capterra.co.uk | 1.06% |
| techradar.com | 1.05% |
| wikipedia.org | 0.96% |
In total 354 keywords were used for the know evaluation.
Content Analysis: What type of content is performing?
A quick scan through the results gives us immediate hints as to who, and what, is performing.
Providers of project management software do very well for our set of 'do' keywords.
Thirteen of the twenty most visible domains are software providers.
Only four of the classic competitors listed above make the top twenty
Other providers in the top twenty include Teamwork, Project Manager, nTask, Proofhub, Kissflow, Hike, OpenProject & Scoro.
Surprisingly, the market leader (globally and in the UK) Jira – which is on the manufacturer's domain, atlassian.com – ranks in the mid-sixties. This indicates that their success might be based on other channels, such as paid search, advertising, word-of-mouth and direct traffic through branding. But we also know that a lot of Atlassian's organic strategy is based on builing content moats around resource hubs on related topics, such as agile working, that their core audiences care about.
In order to find detailed examples, we need to take a look into the domains. What part of the domain is really performing in search?
High performance content is generally very easy to spot. We classify it as a set of content for which keyword rankings are weighted towards the first page of Google search results. Let's look at some examples.
High performance content at clickup.com
For clickup.com, it is the /blog directory that does the heavy lifting in search. They have a range of articles, targeting specific keyword variants where a list of software options ranks well – a deliberate SEO content strategy building articles around closely-related search intents.
For example, ClickUp has an article on "22 Free Project Management Software Tools For 2022". This ranks for 380 keywords in the UK and over 2,000 globally. This one article ranks for 36 keywords in our 'do' bucket – unsurprisingly, many of the 'free' variants.
Well written with a strong, clear layout and packed with helpful information, this article has seen a boost in its visibility since January, perhaps through being updated.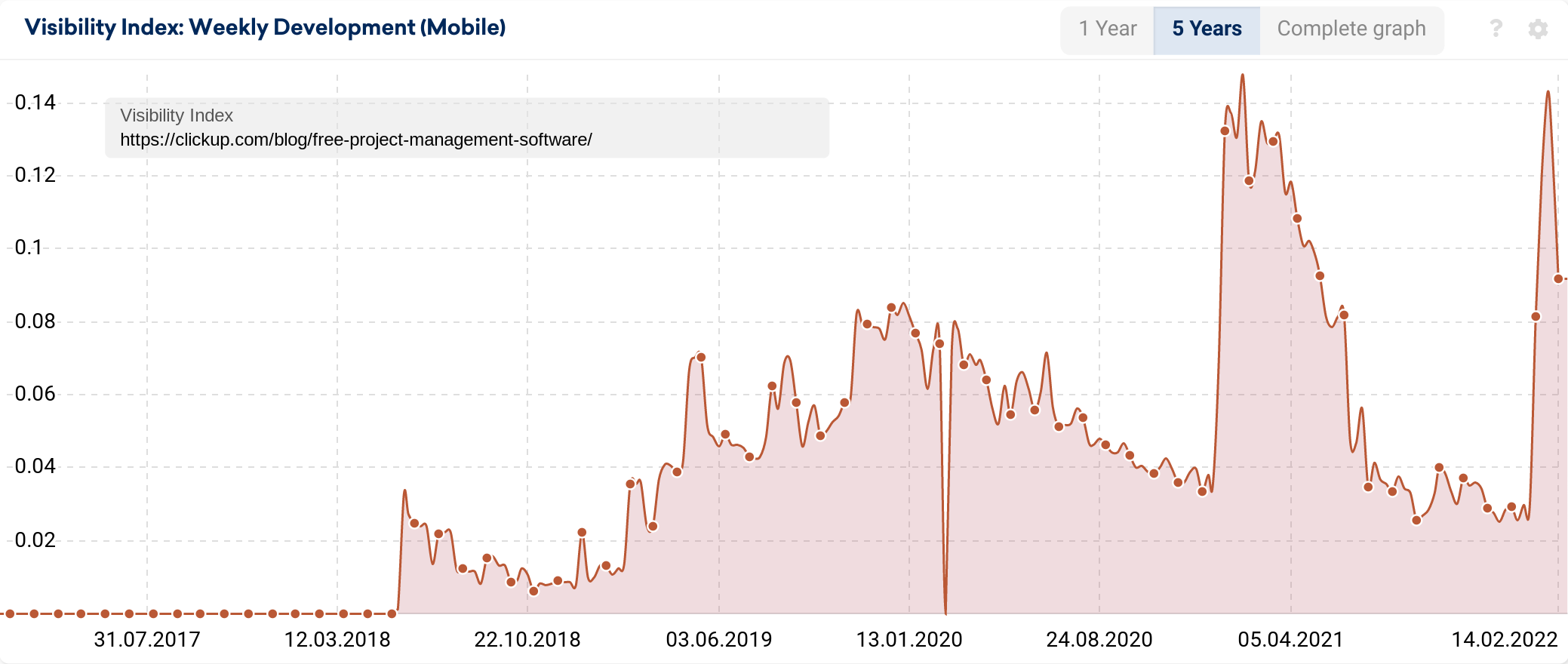 There is also a blog article on the 10 best project management tools which goes into great detail on each listed option. Exactly the kind of expert, in-depth content that can be rewarded. ClickUp also has a series of listicles for specific niches within this space.
Then we find articles on Agile tools for project management, the best marketing project management software, construction project management software and many more.
A quick assessment of the ranking distribution of the /blog directory shows a bias towards page 1 – page 3 rankings. It's slightly above average, but there's room for improvement there.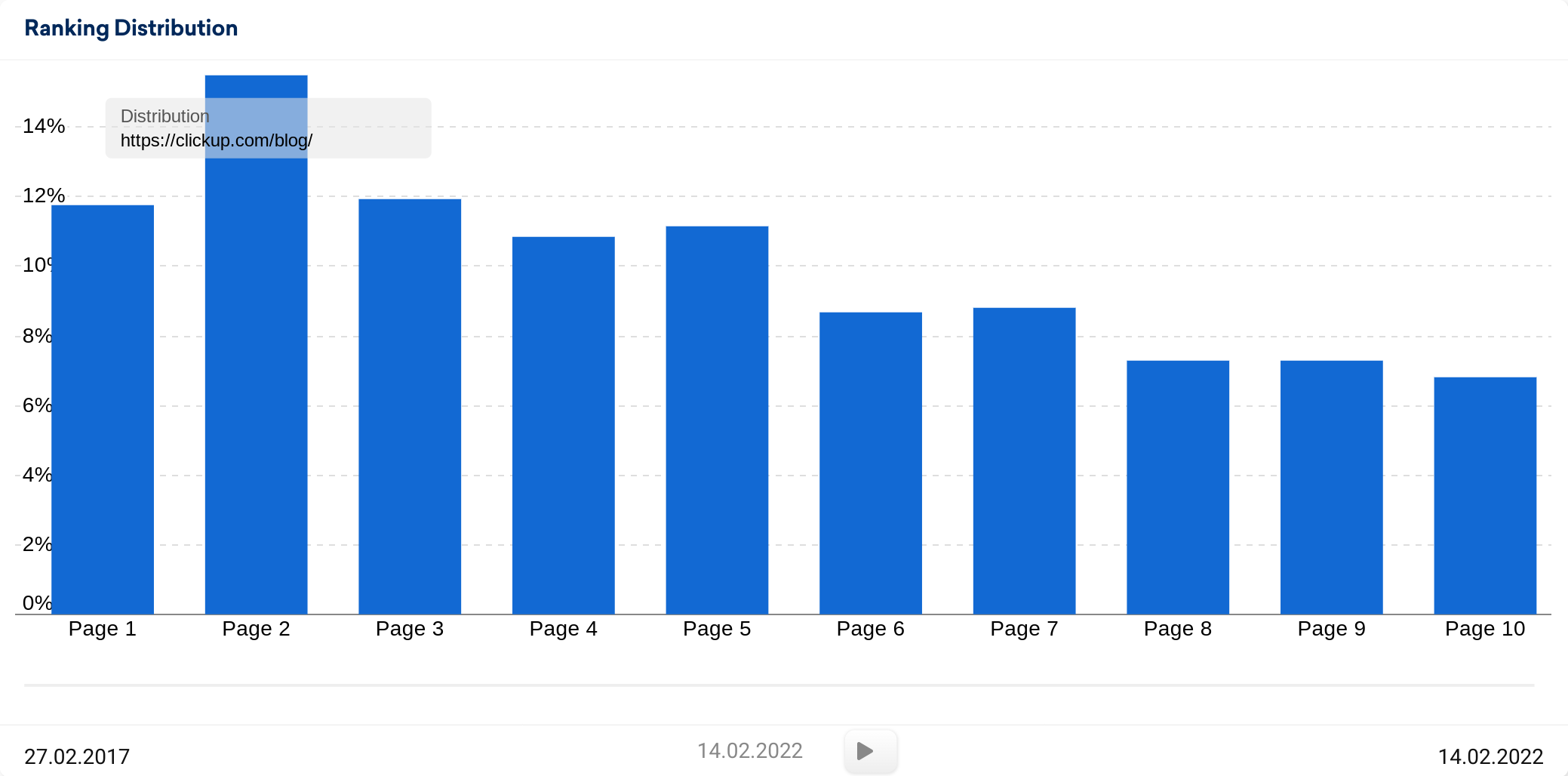 This isn't the only way the winning domains rank. For dedicated project management software, the homepage often does well (Teamwork, Trello, ProjectManager), showing a well-optimised and focused approach can be seen as highly relevant.
Further examples of high performance content
Landing pages focusing on a specific aspect, just as the blog posts do, also work. See Teamwork's page on Cloud Project Management Software as an example.
But for many sites, a lot of their commercial intent keyword rankings come from informative articles – and in many cases, they are placed under the /blog directory.
See Hive's hugely comprehensive guide of fifty-five tools to check out (which ranks for 455 keywords in the UK and ~1.7k globally) or monday.com's list of two-hundred-and-ninety-three (yes, 293!) software choices which – understandably – only goes into basic detail on each but also has FAQ answers helping it rank for a variety of queries (285 in the UK).
This is a great example of high performance content. Monday.com's project management blog accounts for over half of their entire organic presence in the UK. And this one article makes up 10% of their entire site's success.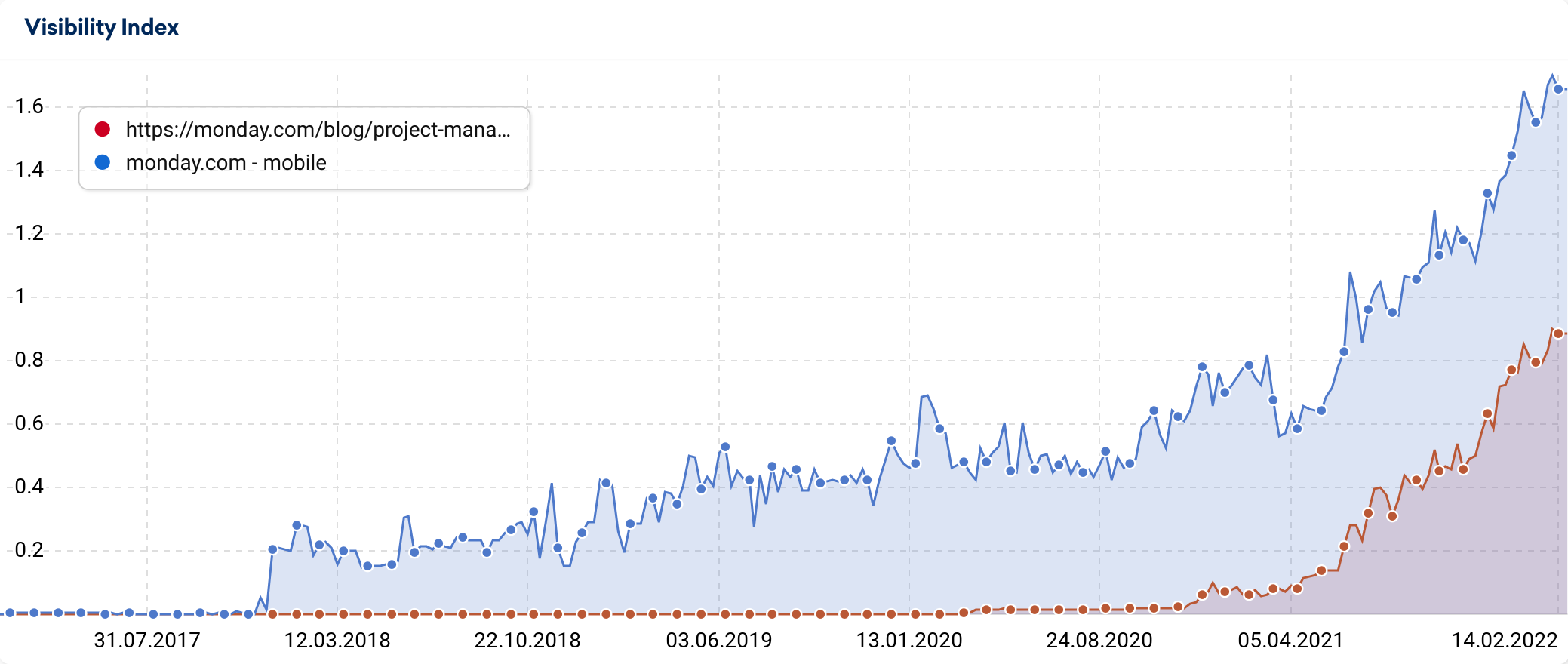 Monday.com's article not only has a giant list. It breaks them down by use cases, such as the best for startups or kanban or gannt chart use. This lets users select what works for them, and helps make it more relevant for a wider variety of searches.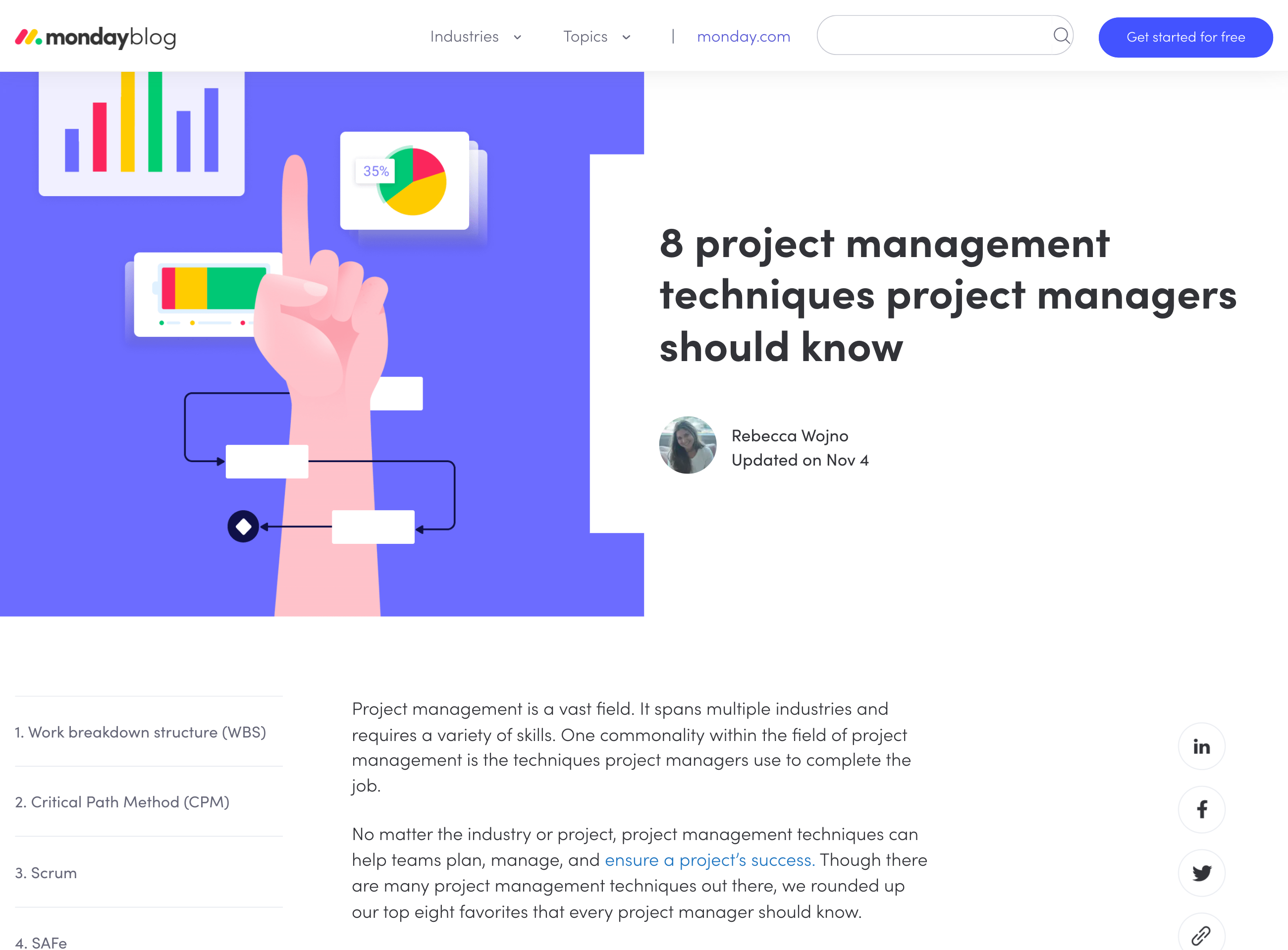 Hive's article accounts for 66% of its UK visibility. That's a piece of high performance content marketing making a huge difference to the number of potential customers who see their software.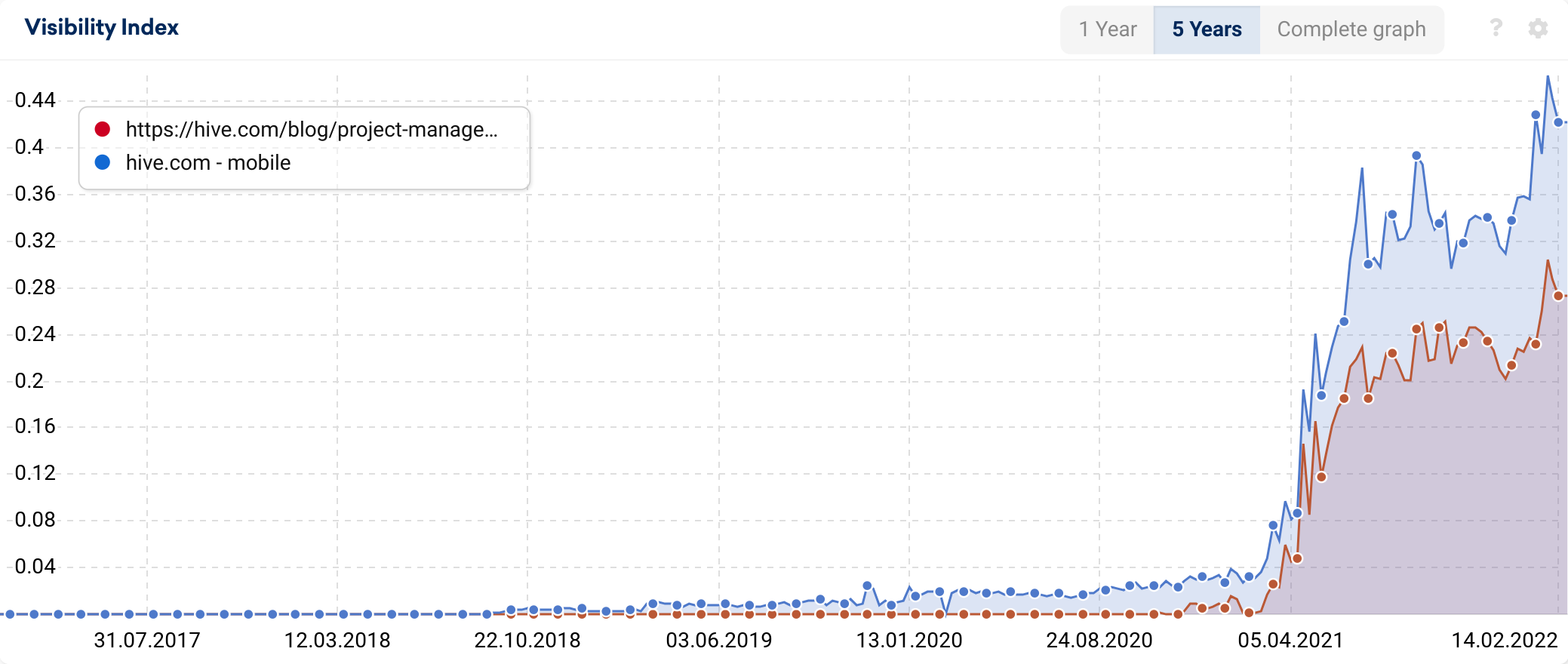 To rank well, helpful content is key
We've seen there is a lot of cross-over between the top-ranking domains in our different sets of keywords.
Whether the search is more do or know in intent, Google is rewarding guides packed with helpful content. These long-form articles both answer a lot of questions and list popular options for those looking to try one right now. This makes them a safe bet for a variety of searches.
If we take two of the leading sites across both keyword sets, we see The Digital Project Manager and PCMag doing extremely well.
As a large publication, PCMag has the reputation – and domain authority – to rank well on a wide range of computer subjects. They have one article on the best project management software, and it accounts for nearly all their rankings in our sample set. Overall, it appears for 692 keywords in the UK and 3.2k globally.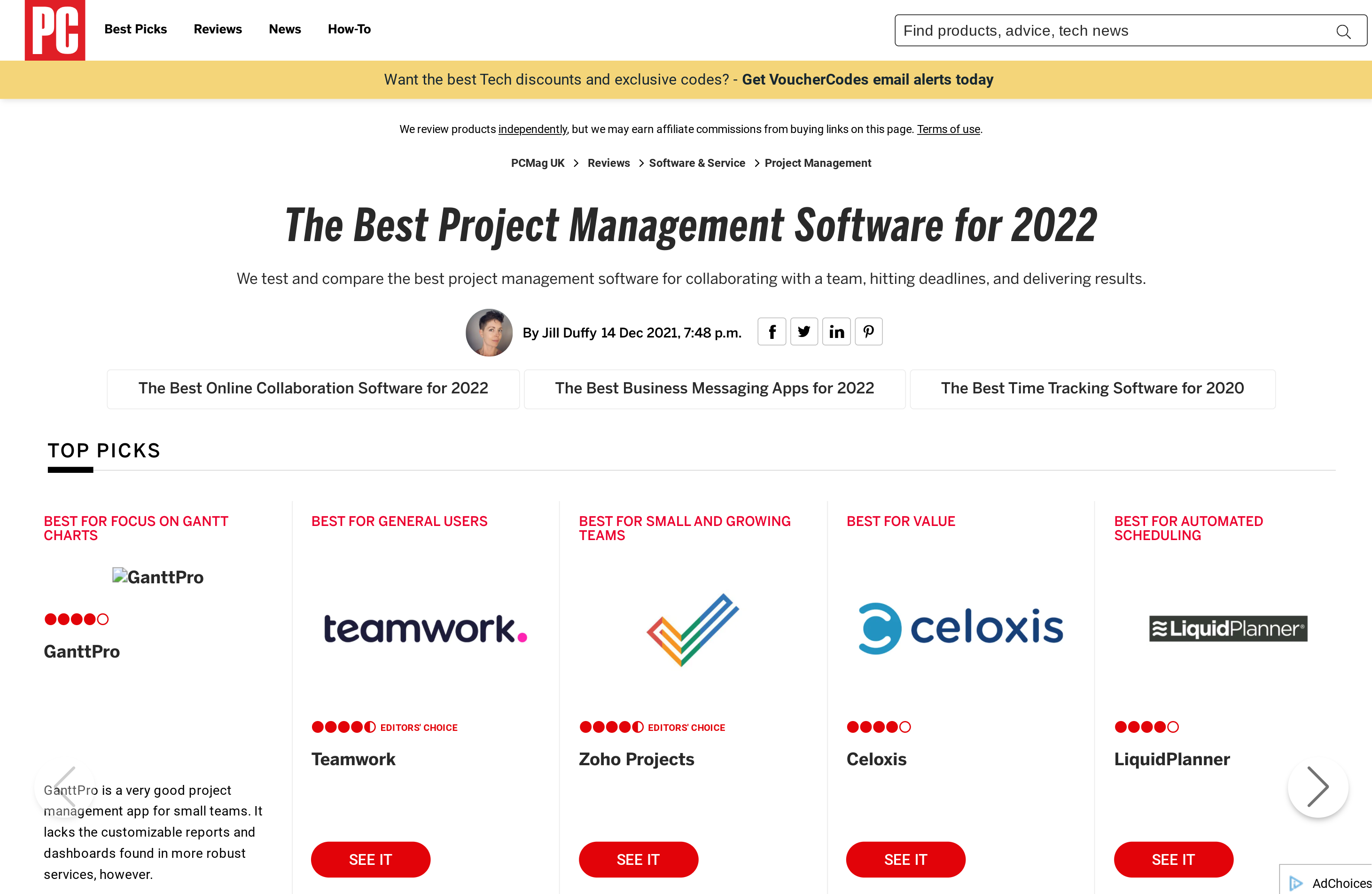 Interestingly, the article itself isn't the largest we see ranking but it does a couple of things that none of the providers can compete with.
As a neutral, and expert site, PC Mag compares and ranks a shortlist of software options, rather than just listing as many as possible.
They pick the best option for a variety of scenarios, such as for large or small businesses and free options. They also list the pros and cons of their choices & have a large comparison table. Add in the fact this article is written by a known author (the deputy managing editor of the Software team at PCMag) and there are links to full reviews of each of the shortlist and you have the ingredients for an 'expert' review – the type Google has been looking to reward more with some of their recent updates.
Zapier ranks second for our "do' keyword set – and highly for the 'know' set as well – with one article on the best free project management software, pus a few other articles on the best kanban apps, the best for small business and a guide to learning project management.
This fits in perfectly with their hugely successful strategy of using listicles to drive organic traffic. Zapier does this for software their product can integrate with, and project management tools are perfect candidates.
One provider, Wrike, also does very well, ranking third for 'know' keywords. They have some success with their homepage as a tool themselves as well as their blog, but it is their hub of knowledge through their guide to project management and various FAQ subpages that earns them a lot of traffic.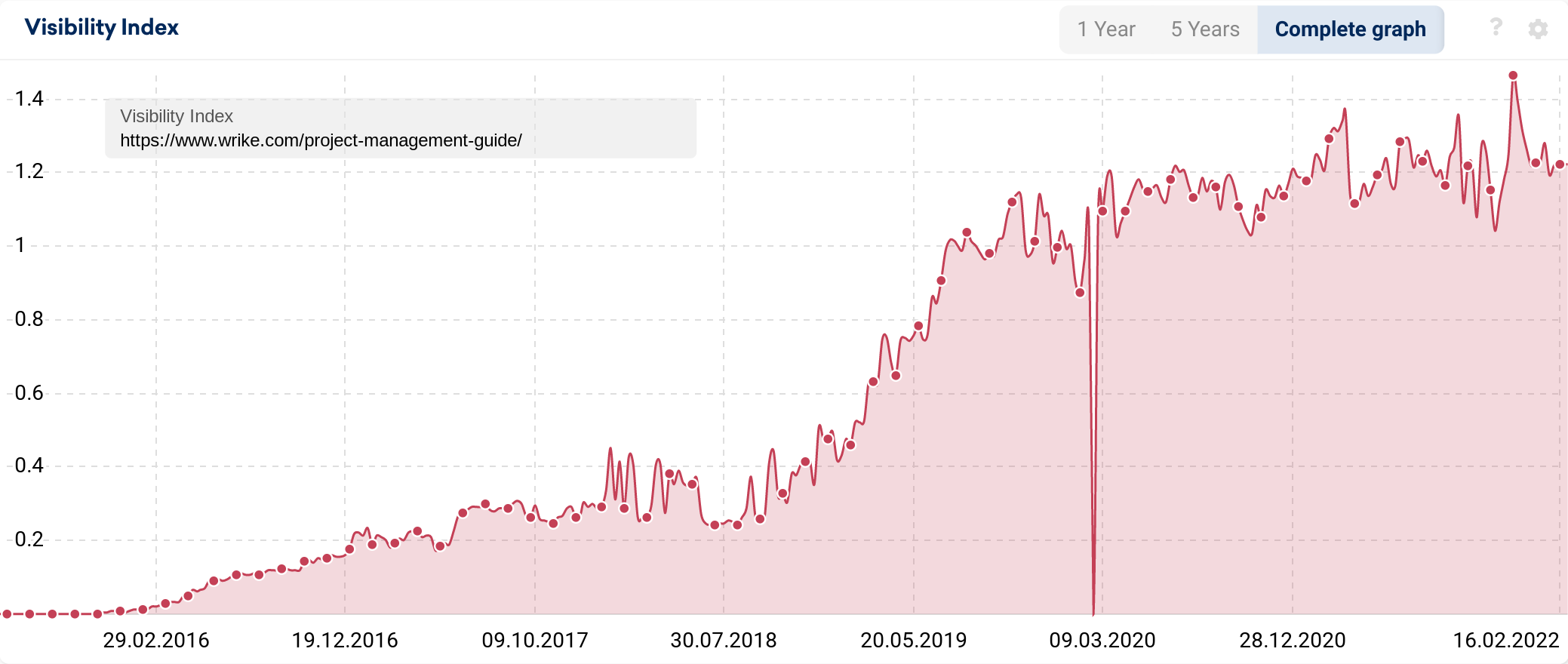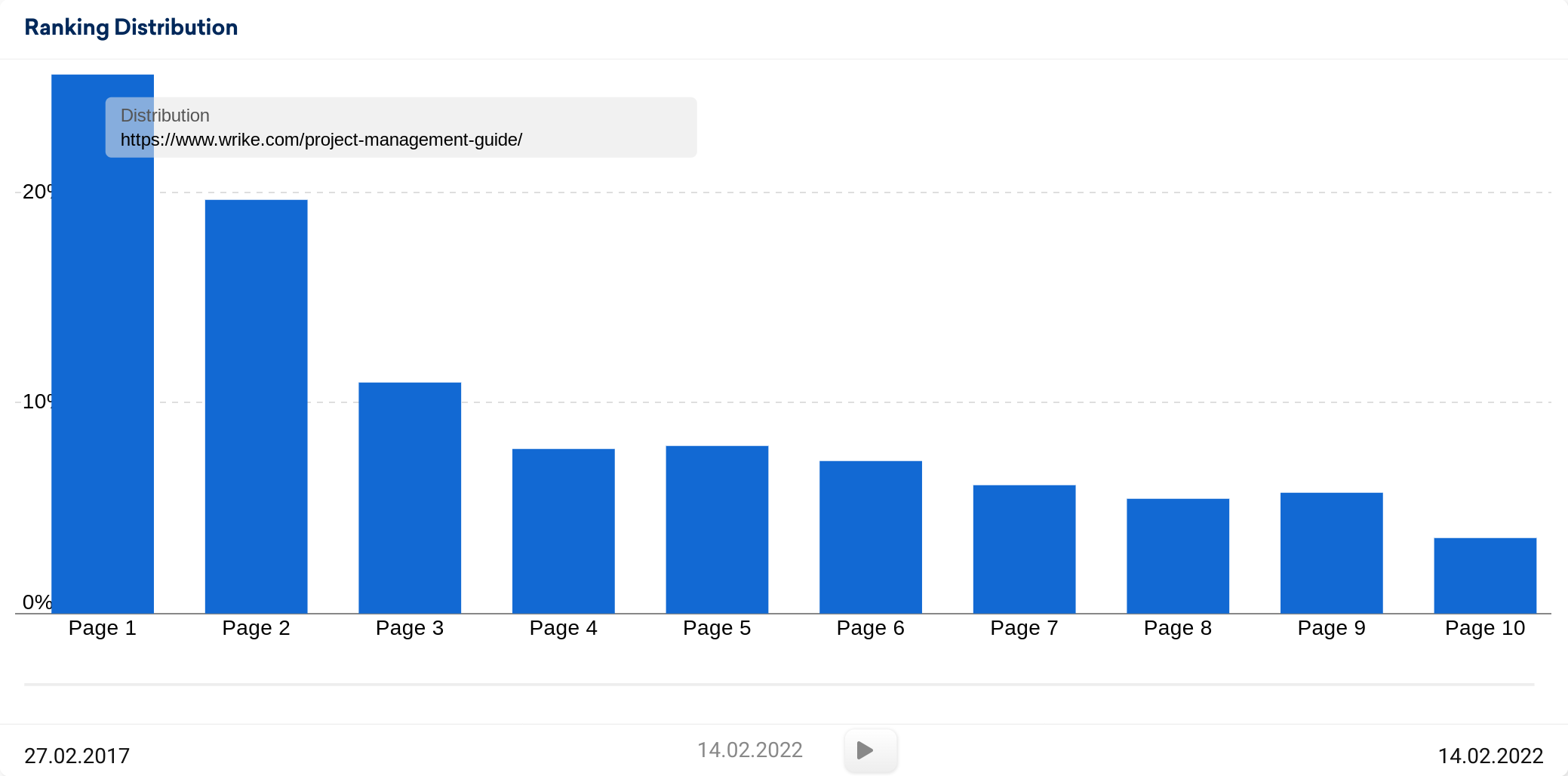 Winning Domain: The Digital Project Manager
The winning domain for each keyword set is The Digital Project Manager. They achieve this with a version of the classic topic cluster covering the subject of project management software. The performance is clear to see in the ranking distribution. Here's the directory dedicated to project management software: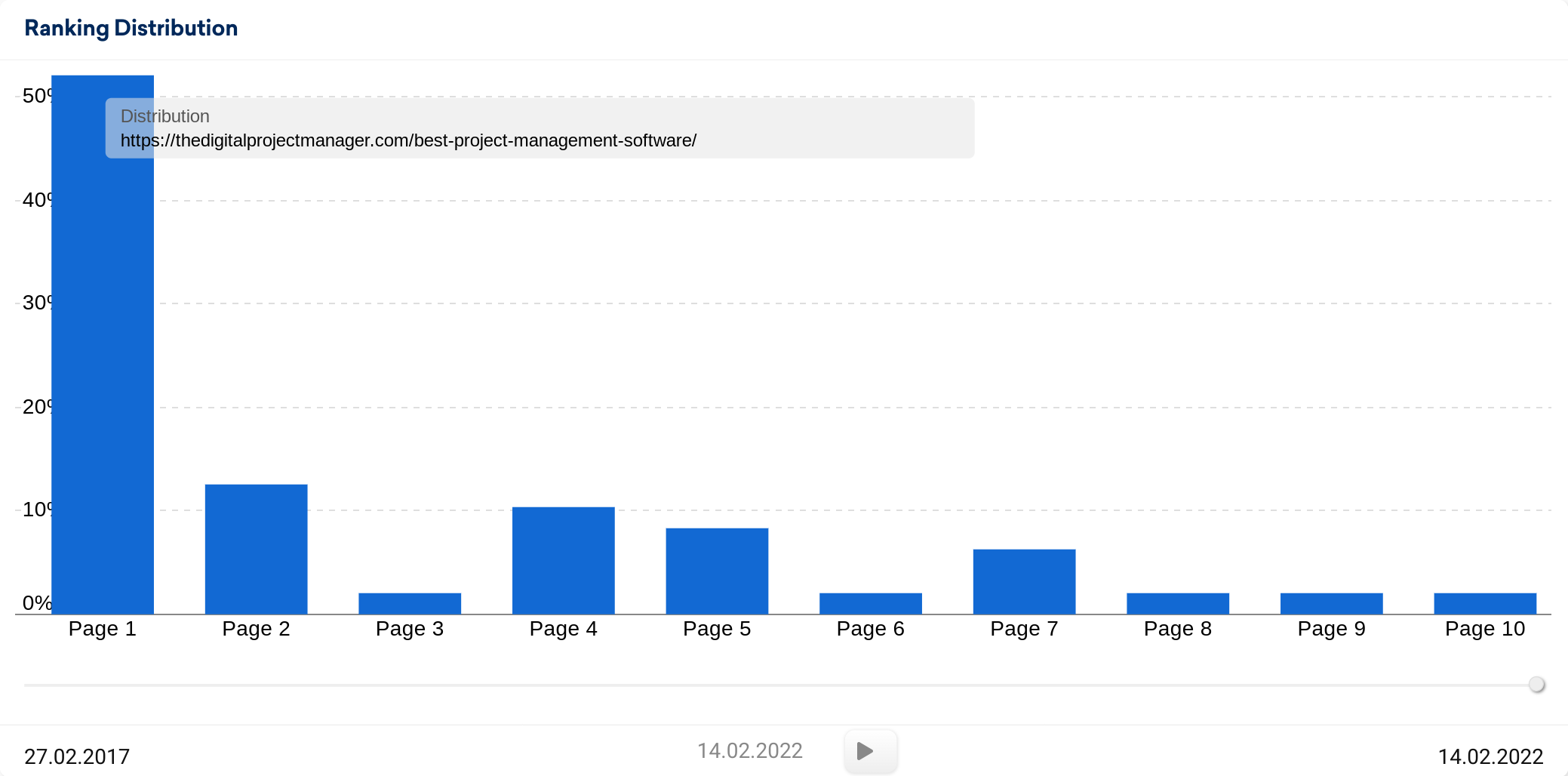 The biggest single URL contributor to the rankings is the article on the best 15 project management software options, under the /tools directory.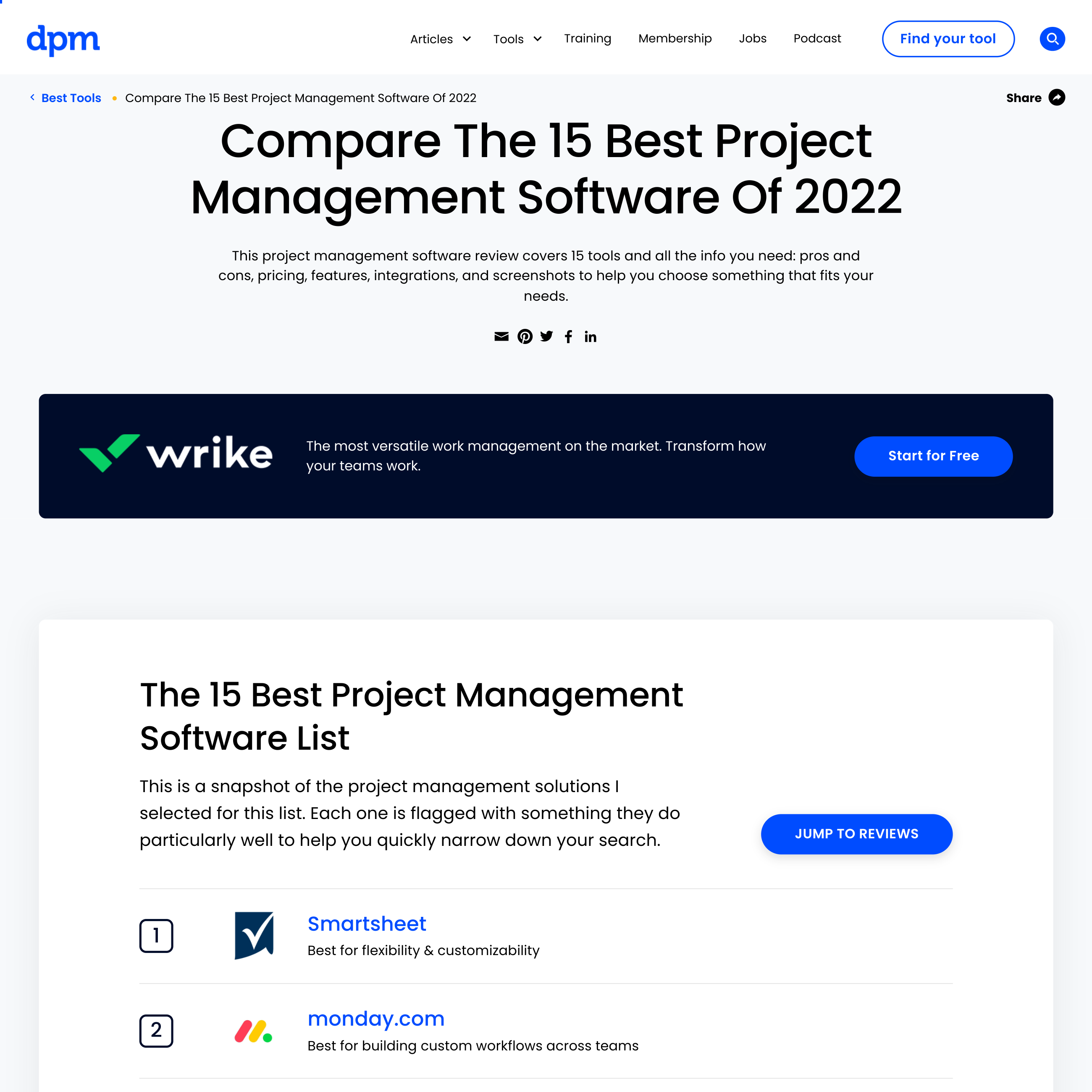 This well-optimised article has many of the features you want for doing well in a competitive space like this:
A wide selection of options (15)
An index table at the beginning lets you navigate to each review
Pros and cons for each choice
Links to more detailed reviews of each
Links to the tool's website
A large summary table at the end for easier comparison
A list of another 12 tools to consider
Answers to common questions on the subject such as what is project management software (which will often appear as People Also Ask questions in the SERPs or have notable search demand in their own right)
An expert author (on the subject of project management)
Interestingly, DPM have just redirected this page from https://thedigitalprojectmanager.com/best-project-management-software/ to https://thedigitalprojectmanager.com/tools/best-project-management-software/. It could be (temporarily) affecting organic performance as there is a delay in the new version picking up the lost rankings (as of time of writing) – something to keep an eye on!
Where the DPM shines is how they've turned this into a topic cluster. This main article links to a host of related articles, each on a sub-topic of the wider 'best project management software' topic.
As well as the reviews for each tool, DPM's article links to introductory topics such as "why use project management software" and "the benefits of project management software".
Next, the DPM adds articles on finding the best software for a wide variety of use-cases, such as for agencies, for remote teams, for Mac or even for architects: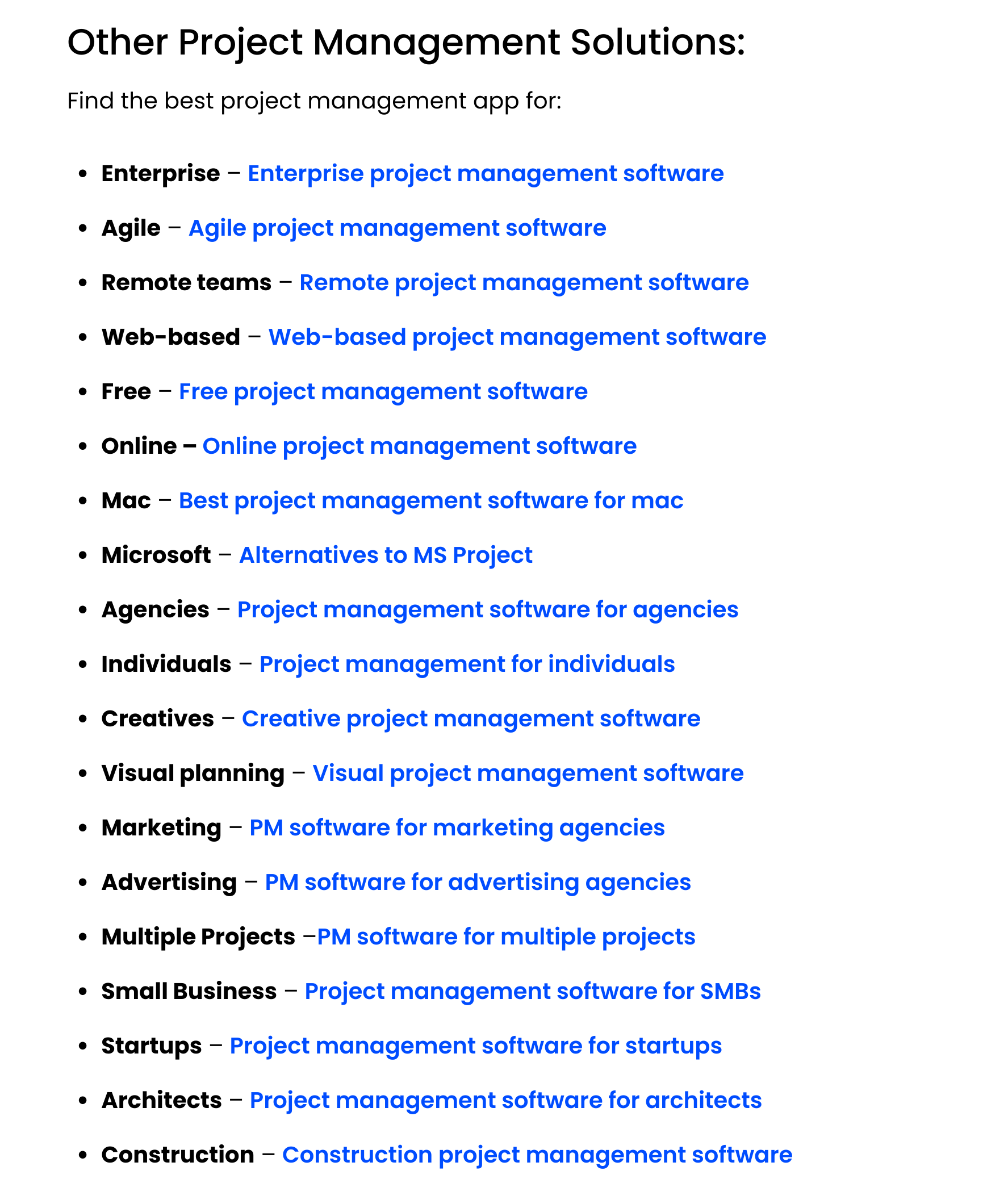 They even have niche articles for long-tail variants such as 'Trello alternatives'. This adds up to arguably the most comprehensive set of articles in the market.
As with PCMag, the DPM's approach is neutral (at least, superficially), allowing it to recommend a variety of options and appear non-biased to readers & search engines alike.
DPM monetise this highly-ranking content through affiliate links, but it also helps get them in front of their target market – project managers or team leads who might be interested in their training or membership products.
We see these same tactics applied on other sites that have done well.
Summary
This SectorWatch has exposed the leading domains and high performance content for two sets of keywords in the project management software marketplace. One keyword set was filtered for a 'do' intent and the other with a 'know' intent, representing two types of persona.
In this SAAS category, product facet, use-case or benefit landing pages can do well, but the biggest success goes to informative articles that compile or compare software options or answer questions.
Both commercial (do) and informational (know) searches tend to be served by the same brands & even content.
Providers do well, though – as is common in SAAS – it is their informational content that tends to have the biggest spread of keyword rankings.
Being a big name in the space – such as Jira – doesn't guarantee ranking success.
Horizontal SAAS models do well, but their increased domain scope doesn't always translate to better rankings in this market.
High performance content formats are identifiable by their page-one weighted ranking distribution.
The leading domains are not the same as those in the 'classic' view of competitors.
There are more project management tools available than we ever imagined!
Methodology and data
SectorWatch follows a fixed process which you can also learn in our free competitor analysis Academy class.
For this SectorWatch, we used relevant keywords from the project management software keyword discovery table.
We took a selection of highly targeted keywords with a ' do ' intent and another selection with a ' know ' intent. From this we harvest all the ranking keywords for the URLs in the SERPs. We call this the Keyword Environment. Most SERPS will have mixed intent so we re-filter the list for the correct intents and sanitise it by hand to leave a smaller, highly-relevant set of searches made by the UK public. The results are based only on organic result positions.
Keyword set: Do intent
Core keywords: project management tool, cloud project management, free project management software
Total keywords after harvesting and re-filtering: 191


Keyword Set: Know intent
Core keywords: best project management software, project management software
Total keywords after harvesting and re-filtering: 354


SectorWatch is a monthly publication from the SISTRIX data journalism team. Related analyses can be found in the TrendWatch newsletter, IndexWatch analysis along with specific case studies in our blog. New article notifications are available through Twitter, Facebook.