It's time to get back in the saddle & start peddling (though not too hard) as this month SectorWatch takes a look at who is winning the search market for electric bikes. What can we learn from studying the most successful sites & the best-performing content in this growing transport sector?
Leading brands & domains
We might be in the middle of the Tour de France, but we're interested in a slightly more prosaic form of cycling as we investigate electric bikes – a category that began to sell out in 2020 during the early Covid-19 lockdowns.
As a sector that is bringing new technology to an established market (cycling), there is a range of sites offering electric bikes:
From big retail names such as Decathlon, Halfords, Evans Cycles & Amazon
To online bike specialists such as Tredz
Traditional manufacturers such as Giant, Raleigh & Canyon
And newer e-bike specialists like Ribble, Volt & Gocycle, plus specialist electric vehicle retailers
As an electric bike is a higher-value ecommerce purchase, there are plenty of searches – and content – designed for different stages of the buyer's journey. We've curated two lists of popular keywords around these searches.
The first is based on the 'know' intent, where the searcher would like to learn more about a specific topic. We've got purely informational searches here for those thinking about whether to get an electric bike such as 'how does an electric bike work' or 'are electric bikes worth it'. And we have lots of commercial research searches by those looking to find the right electric bike for them. Examples include 'which are the best electric bikes?' (8,250 searches a month in the UK),'best electric bike under £1000' (3,600 searches a month) and 'electric bike review' (400 searches a month).
Our second list has the 'do' intent keywords. Those where the searcher is looking to buy or order a product or ticket, hire a service or download something. This includes searches like 'electric mountain bike' (22,800 searches a month) and 'foldable e-bike uk' (6,600 searches).
We've got more on the winners below but first, here is our main headline. The top domains by visibility for our curated keyword sets in Google in the UK:
Top 3 domains for 'do' (transactional intent) searches (based on 344 curated keywords):
halfords.com
amazon.co.uk
tredz.com
Top 3 domains for 'know' (informational & commercial research intent) searches (based on 539 curated keywords):
cyclingweekly.com
bikeradar.com
techradar.com
Domain analysis
Fueled by increasing petrol prices, environmental concerns & a rapidly evolving product offering, electric bike sales haven't stopped post-Covid. The UK e-bike market was valued at $240m last year – and is predicted to jump up to $440m by 2027.
It's not just in the UK – EU electric bike sales are predicted to grow from 3.7 million sold in 2019 to a whopping 17 million in 2030. Meanwhile, in the US the growth rate for electric bicycles is 16 times that for general cycling.
So, who's moving in top gear? And who's found themselves stuck with a flat tyre? Let's find out.
Leading domains: Electric bikes (do intent)
Leading domains: Electric Bikes - Do Intent
| Domain | Market Share |
| --- | --- |
| halfords.com | 6.41% |
| amazon.co.uk | 6.12% |
| tredz.co.uk | 4.99% |
| evanscycles.com | 4.80% |
| ebay.co.uk | 4.28% |
| e-bikesdirect.co.uk | 3.80% |
| pureelectric.com | 3.74% |
| universal-search-box.com | 3.43% |
| e-bikeshop.co.uk | 3.16% |
| cyclingnews.com | 2.95% |
| bikeradar.com | 2.72% |
| decathlon.co.uk | 2.27% |
| cyclingweekly.com | 1.91% |
| bicycling.com | 1.68% |
| leisurelakesbikes.com | 1.61% |
| canyon.com | 1.61% |
| road.cc | 1.54% |
| raleigh.co.uk | 1.51% |
| giant-bicycles.com | 1.51% |
| rutlandcycling.com | 1.43% |
| ribblecycles.co.uk | 1.38% |
| electricbikesales.co.uk | 1.22% |
| electric-bike-conversions.co.uk | 1.17% |
| winstanleysbikes.co.uk | 1.12% |
| electric-biking.com | 1.05% |
Leading domains: Electric bikes (know intent)
Leading domains: Electric bikes, Know Intent
| Domain | Market share |
| --- | --- |
| cyclingweekly.com | 6.58% |
| universal-search-box.com | 6.11% |
| bikeradar.com | 5.48% |
| techradar.com | 5.17% |
| bicycling.com | 3.53% |
| road.cc | 3.24% |
| expertreviews.co.uk | 2.93% |
| cyclingnews.com | 2.92% |
| t3.com | 2.74% |
| mbr.co.uk | 2.60% |
| cyclist.co.uk | 2.29% |
| ebikechoices.com | 2.06% |
| which.co.uk | 1.61% |
| electric-biking.com | 1.55% |
| halfords.com | 1.49% |
| ebike-mtb.com | 1.22% |
| independent.co.uk | 1.21% |
| cycleplan.co.uk | 1.17% |
| bikeperfect.com | 1.09% |
| electrek.co | 1.08% |
| goodhousekeeping.com | 1.03% |
| tomsguide.com | 1.01% |
| tredz.co.uk | 0.94% |
| electricbikereport.com | 0.92% |
| amazon.co.uk | 0.89% |
The keywords used in this analysis are listed at the end of the article.
Content examples: What type of content is performing?
In our top 25 competitor lists we find some immediate takeaways:
Many of the UK's most popular bike retailers have successfully branched their position into the electric bike market:

For our 'do' keyword set, many of the biggest names in bike sales are in the top fifteen sites. We have high-street names such as Halfords & Decathlon, online giants such as Amazon & eBay and online bike retailers such as Tredz & Evans

But we also see some variety thanks to newer sites dedicated to this sector, with retailers like e-bikesdirect.co.uk & pureelectric.com (who specialise in all types of personal electric transport) in the top ten and manufacturers like Canyon, Raleigh & Giant all doing well (and representing a wide range of price points).
For our list of 'know' keywords, publishers dominate. Guidance content from specialist cycling sites & tech publishers takes up most of the top twenty-five.

Sites that do well generally with review articles & guidance to picking the best tech, such as TechRadar, Expert Reviews, T3 and The Independent are competing with some of the biggest names in cycling sites such as Cycling Weekly, Bike Radar & Cycling News.
This isn't exclusively what is doing well though. Some news sites – such as Bike Radar and Cycling weekly appear in our top twenty-five sites for 'do' keywords.
This is Google putting some shopping guidance content into their commercial results. Usually when the keyword is slightly more generic & has a more ambiguous intent. Similarly, some retailers – notably Halfords & Tredz – also appear in our top competitors for 'know' keywords. Why? Well, these sites also have put together good guidance content, letting them target more of the buying journey.
To understand what content Google is looking to reward, we need to take a deeper look into the domains. What pieces of content, and which formats, are doing well?
High-performance content is generally very easy to spot. We classify it as a set of content for which keyword rankings are weighted towards the first page of Google search results. Let's look at some examples by finding the stores whose content consistently performs.
High-performance content examples:
Our biggest site for 'do' keywords is Halfords. For non-UK readers, they are a long-established business and the UK's biggest bike retailer, both online & offline. They have a variety of pages on the subject, many of which are performing very well.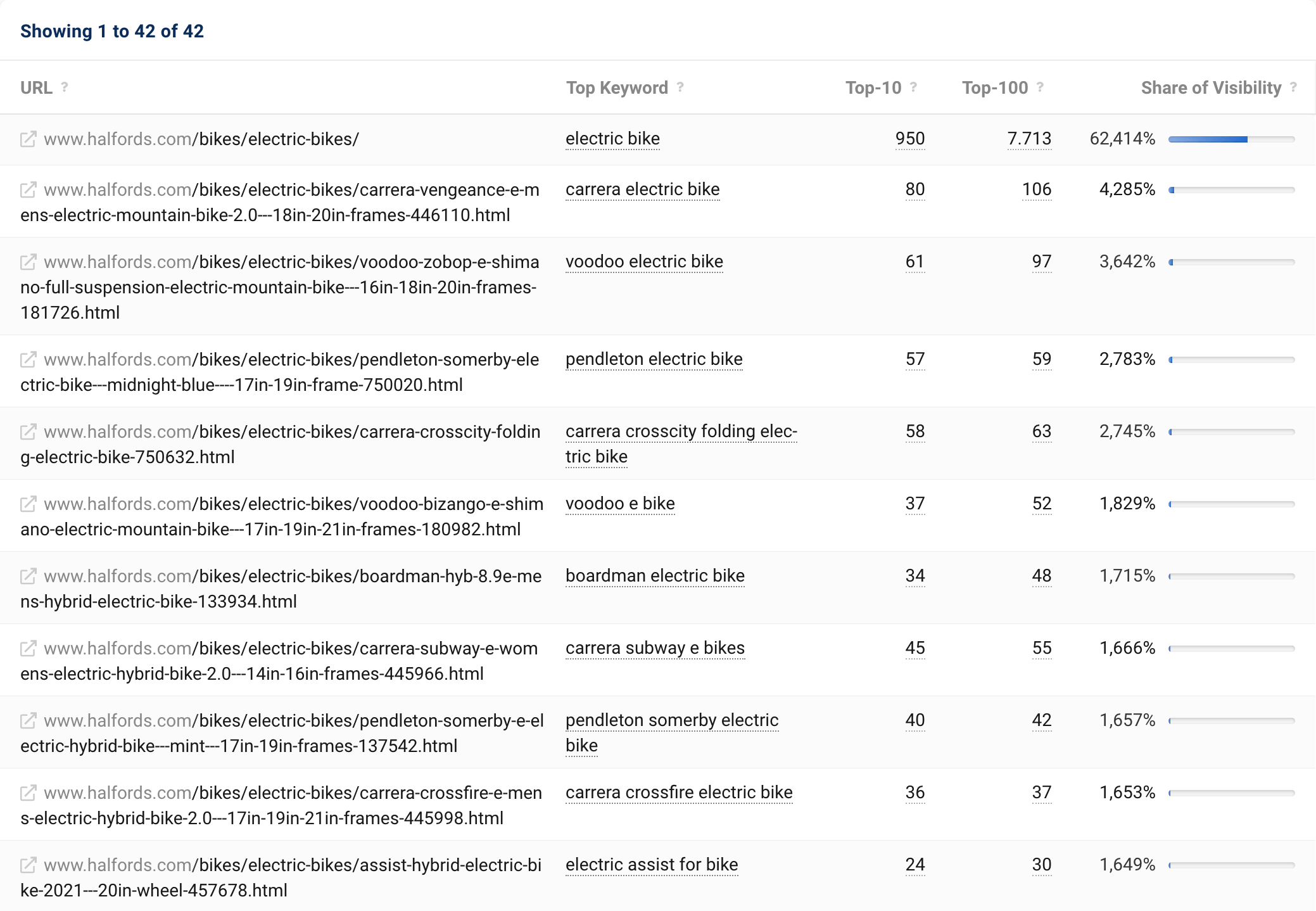 The main /bikes/electric-bikes/ section ranks for over 9,000 keywords in the UK, with over 17% of those rankings for the entire directory on page one. Their main electric bikes page accounts for almost 8,000 of those keywords, with 964 (12%) ranking in the top ten positions. That's a hard-working product listings page (PLP)!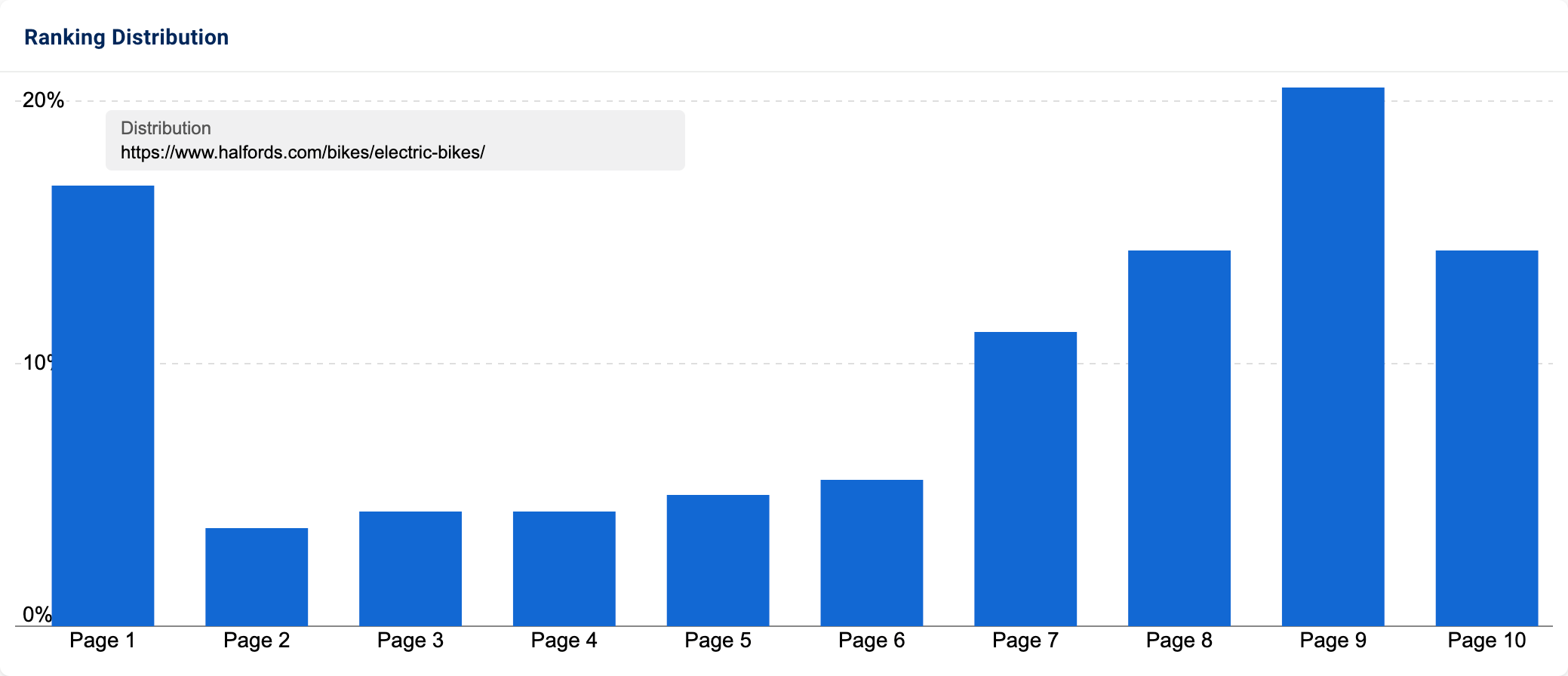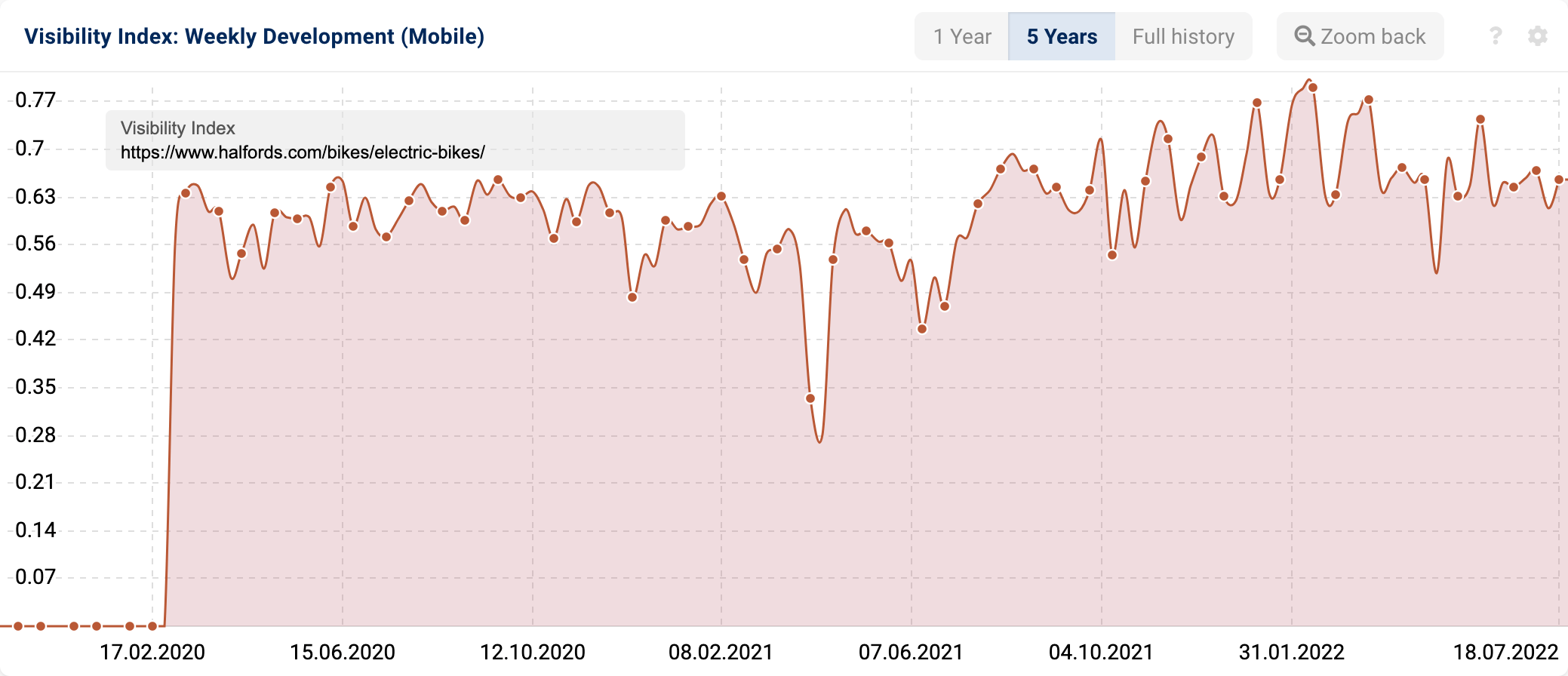 It's not just that page though. Halfords also have a dedicated PLP for electric mountain bikes, which ranks for another 349 keywords, fully two-thirds of those on page one.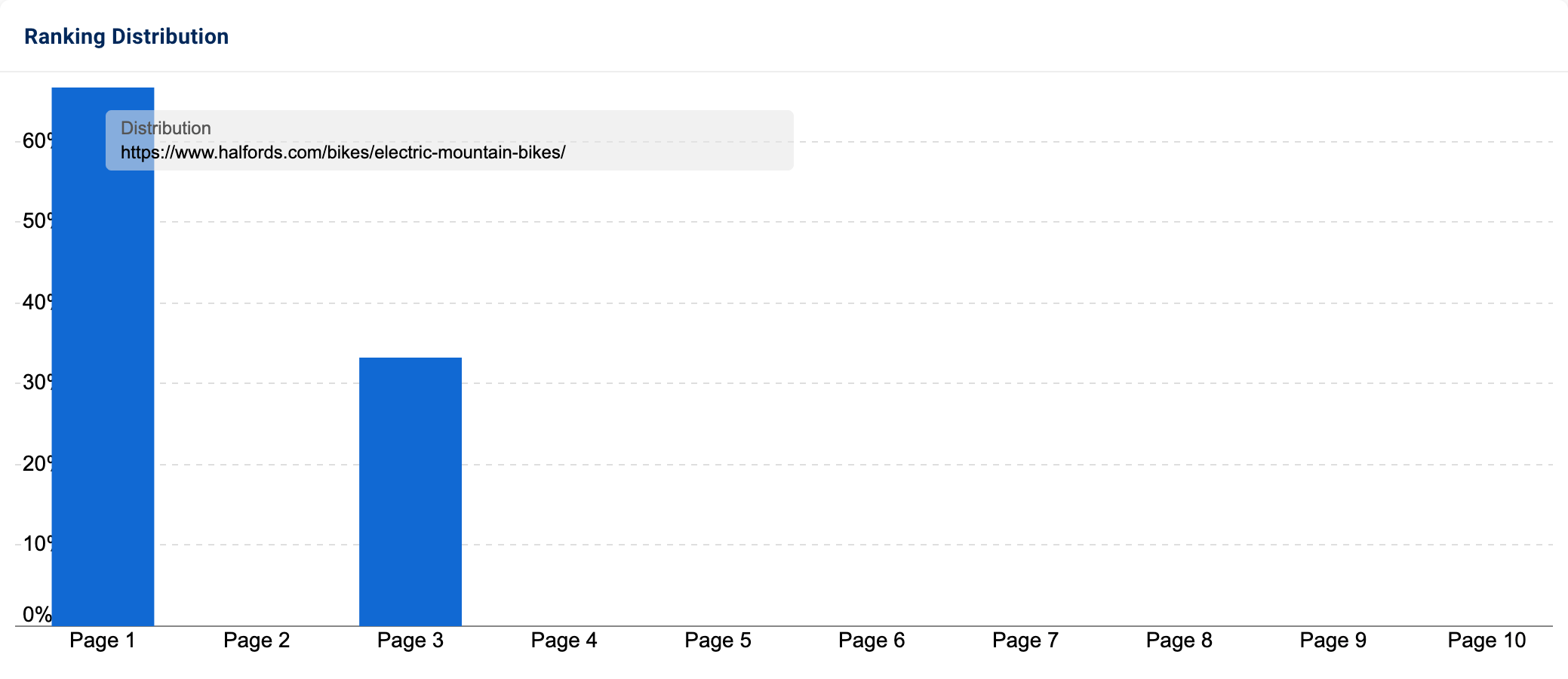 Even with this success, you can imagine that Halfords might be able to do even more with dedicated PLPs for other popular subcategories such as women's electric bikes or making more of their folding electric bikes page (which ranks for 'commuter' keywords but not 'folding' ones at the time of writing).
So, why does this ecommerce content do so well?
As well as some strong brand signals & brand reputation (E-A-T-like signals around their history with bikes as a category), Halfords have built a strong shopping experience, ticking many of the boxes needed in a competitive sector: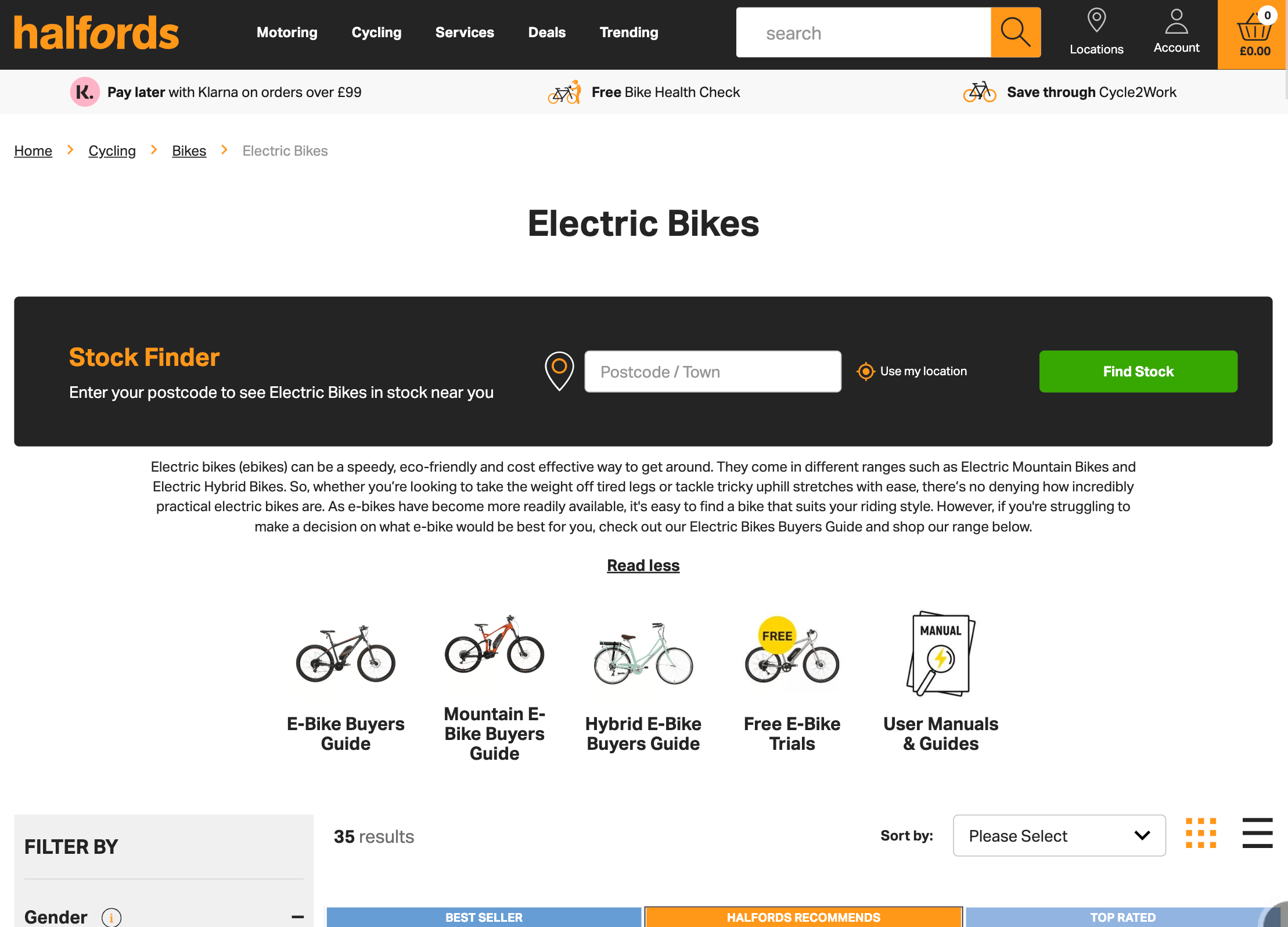 The main electric bikes PLP is in the main navigation, giving it site-wide links, plus prominent main content links from important pages including a sub-menu link on the main /bikes/ page. There are also internal links via the breadcrumbs from each electric bike product page, creating a mini-cluster of related pages.
The page is well-optimised, using foundational elements tags such as the keyword-rich title tag, H1 and more to make it clear what the page is about.
Breadcrumbs at the top make it simple to see where you are in the site structure & offer internal link opportunities, a context for search engines plus the opportunity for structured data markup.
Halfords have added some introductory copy above the product listings, neatly sprinkling in related keywords such as subcategories (which could also be made internal links!), keyword variants ("e-bikes") & semantically related language. All written for the customer & without keyword stuffing.
Evidence of expertise within this topic. Halfords have a row of links below their intro copy. But rather than to other PLPs, they link to their extensive guidance content. This is not only potentially useful for customers (replicating some of the in-store experience), it shows Google that they have a depth of knowledge, perhaps encouraging them to rank them highly for more transactional searches as well.
An easy-to-use mobile experience – we estimate 73% of their organic traffic is by customers on their phones.
Customer reviews of the bikes they sell. The is adds a layer of trust (for both customers & search engines) and also user-generated content that helps their pages have unique content & potentially target a wider range of related keywords.
Halfords even offer a free trial of an electric bike for up to six hours!
This is a recipe for an excellent contemporary online shopping experience.
It is not only Halfords doing well though. If we take a look at our third-ranking 'do' site, Tredz, we see they have a range of electric bike PLPs. Many of these are doing very well, with the main PLP ranking for 719 keywords, over 30% of which rank on page one and the electric mountain bike PLP appearing for 284 keywords (68% of which rank in the top ten). Tredz also has a wide range of subcategory PLPs, including one for each of the brands they sell. This neat information architecture builds a cluster of pages on closely related shopping journeys plus offers excellent internal-linking opportunities.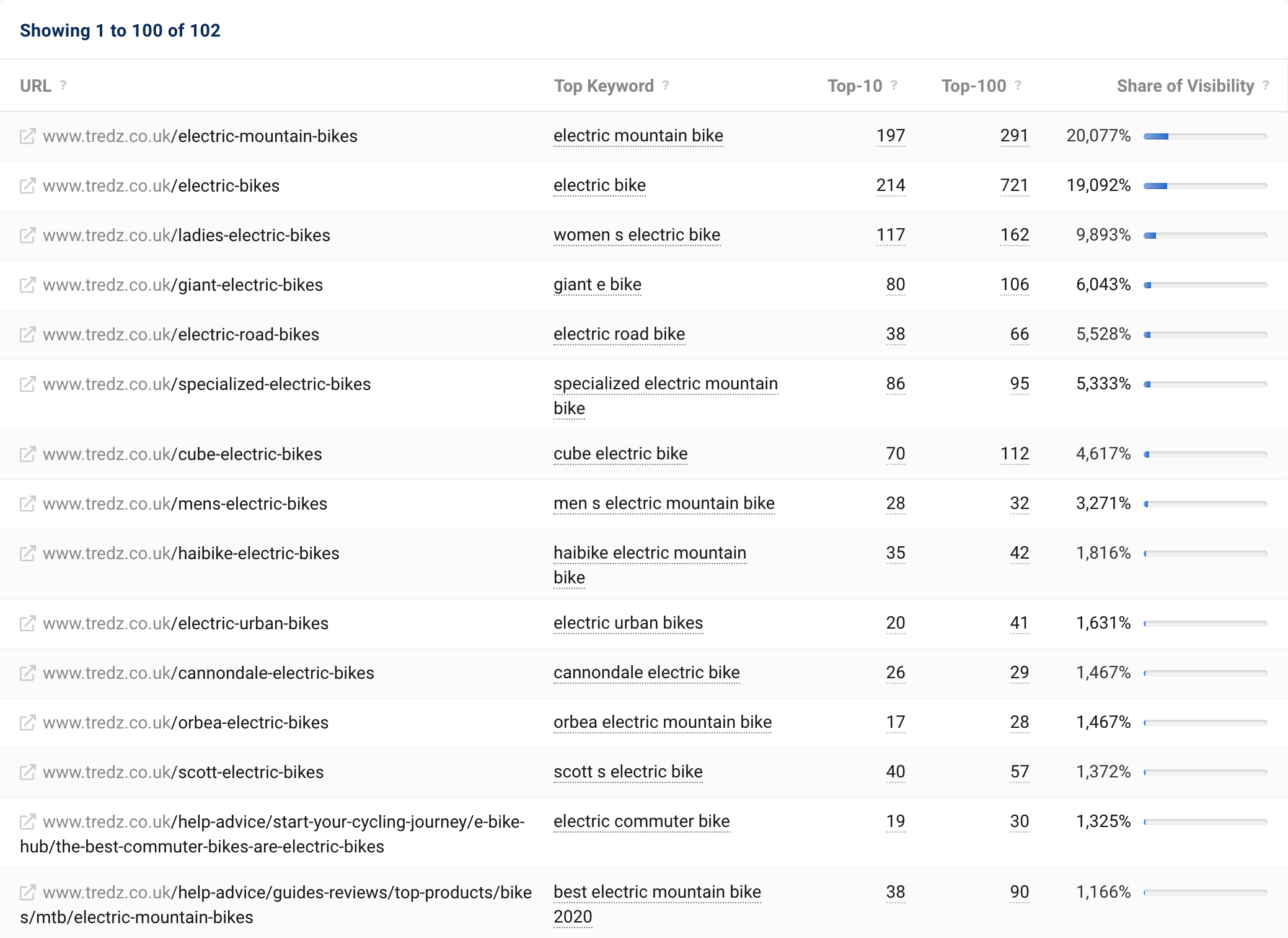 If we look at their PLP design, we see many of the same great ecommerce features. Tredz has links to buying guides, introductory copy & decent foundational on-page SEO.
They also boast 239 products to choose from (a great range size) plus internal links to subcategories on the main electric bikes PLP plus a spot in the main navigation for important subcategories such as electric road bikes and electric folding bikes. The advantage of a tighter product range compared to Halfords is being able to link deeper into the site in the main navigation.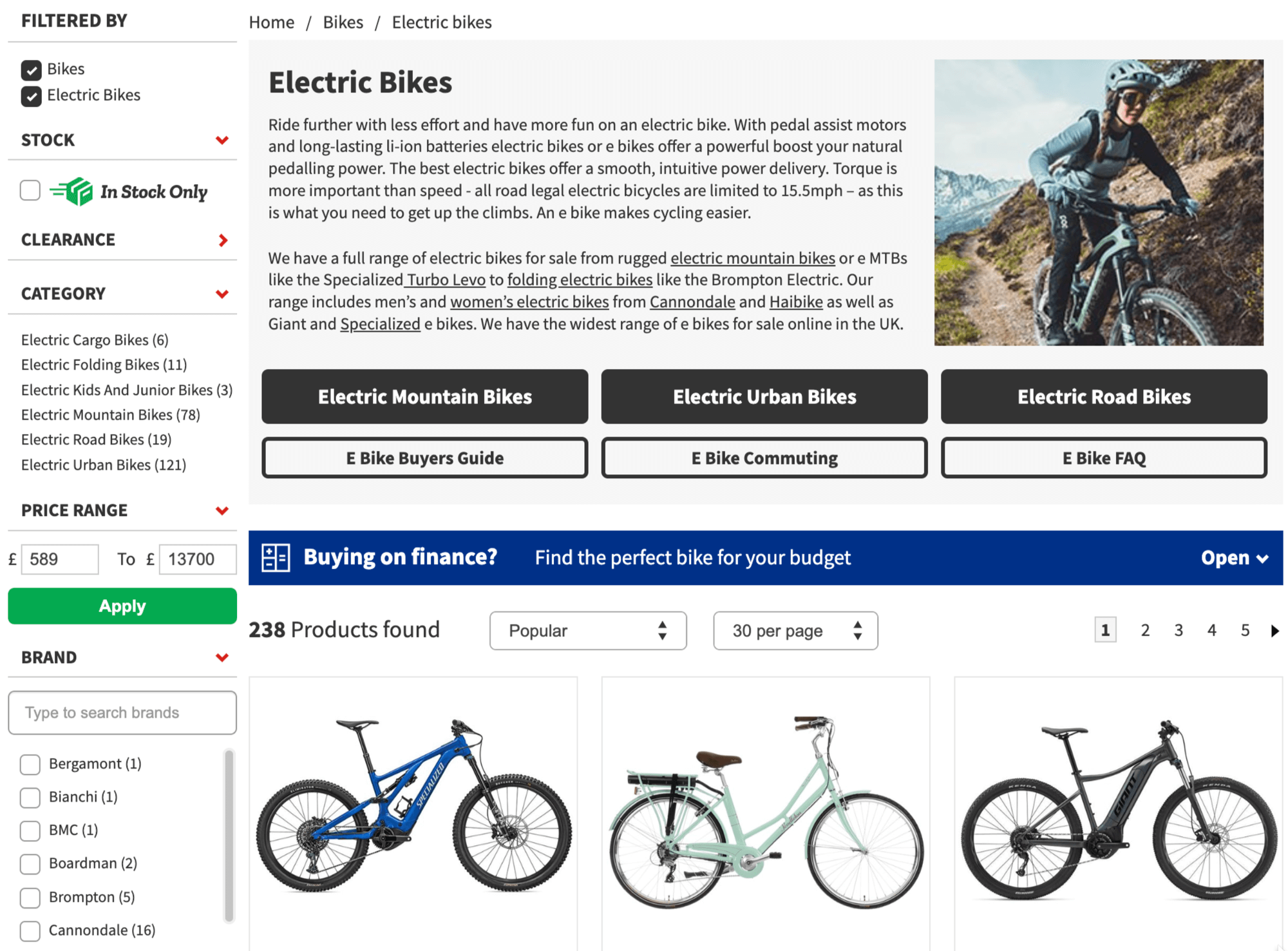 It is also worth noting the success of Halford's informational content – the guides that their PLPs link to. These guides stand up well themselves and put Halfords 15th in our list of competitors for our 'know' keyword set.
Halfords have a /cycling/buying-guides/ directory plus a /cycling/advice/ directory with this informational content. The electric bike buyers guide is the third-most successful cycling guide at the time of writing, appearing for 157 keywords in the UK.
The guide itself is a good introductory article and well formatted for SEO success. It uses sub-headings to cover some of the most common questions for those starting out on this topic, such as why choose an e-bike? It also introduces the most common model types, including links to Halford's subcategory pages and further guides specialising in those more niche aspects, such as their guide to buying an electric mountain bike.
There's also an FAQ section (no doubt partly inspired by People Also Ask boxes in the search results) and a video version of the guide.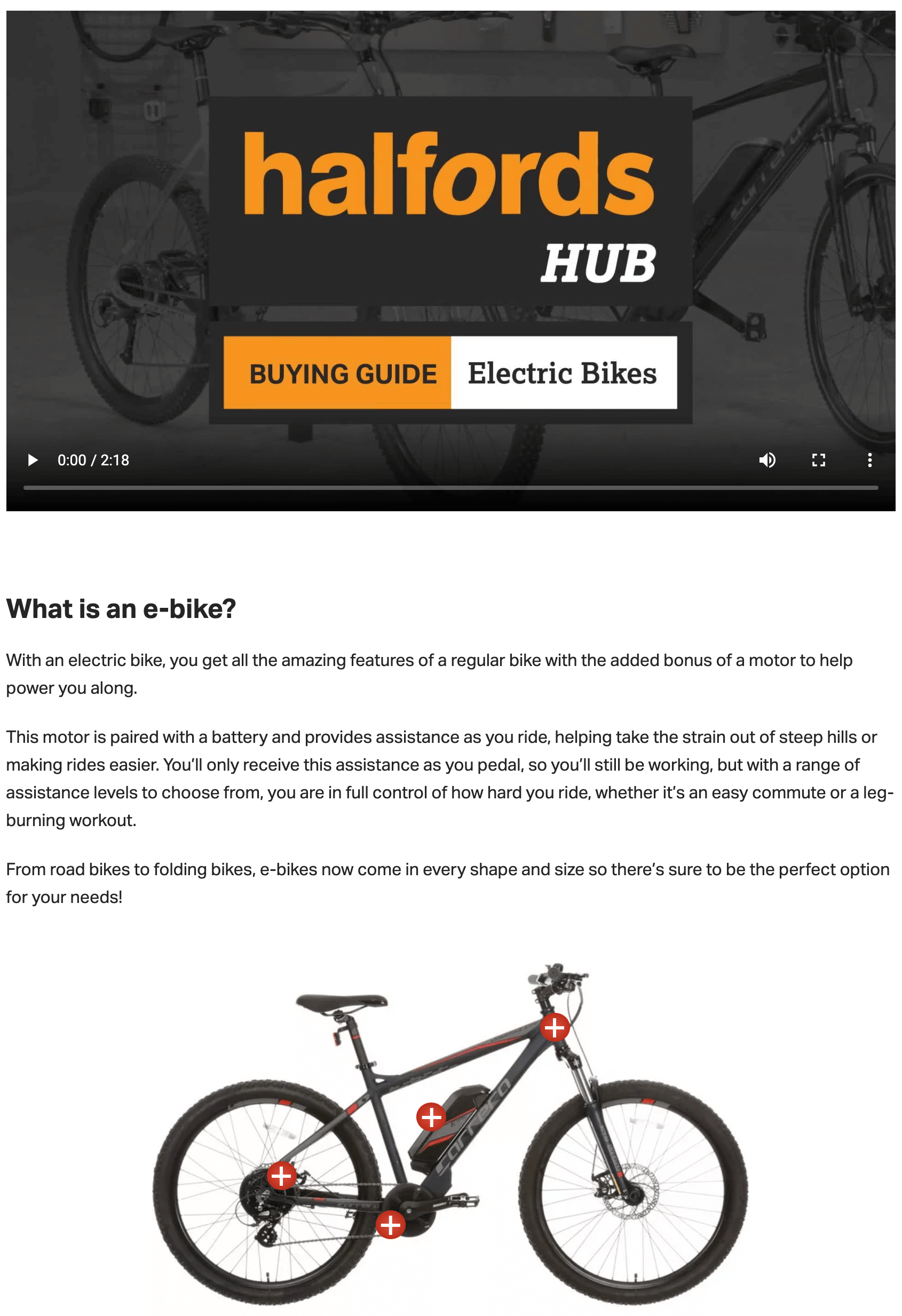 Halfords don't stop there – they also have another section of informational content on blog.halfords.com, including electric bike articles such as this post on electric bikes under £500.
High-performance 'know' content
Turning our attention to more of the best performing 'know' content, the most visible site for our keywords is Cycling Weekly. Established in the 19th century, it is a well-known magazine in the sector & has seemingly translated that reputation into online success.
As a site dedicated to cycling news, reviews & advice, it is no surprise it has a range of pages on electric bikes. Their overview guide on "the best electric bikes for every kind of rider" ranks for over 1.3k keywords, with over 35% of those rankings on page one or two.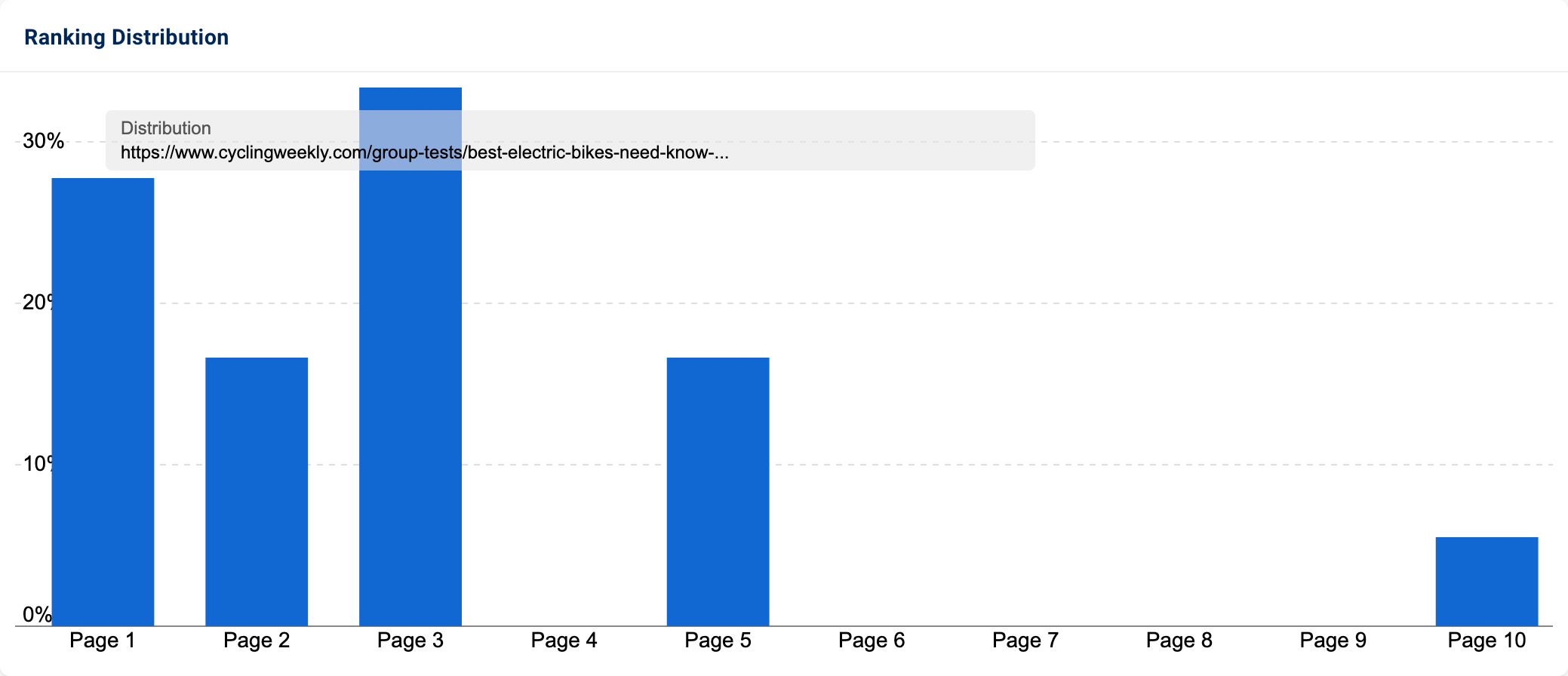 This includes top five rankings for popular keywords such as best electric bike (5,500 searches a month). The article is clearly geared to target such search queries, with a lot of on-page optimisations – even '2022' inserted into the H1 without working grammatically.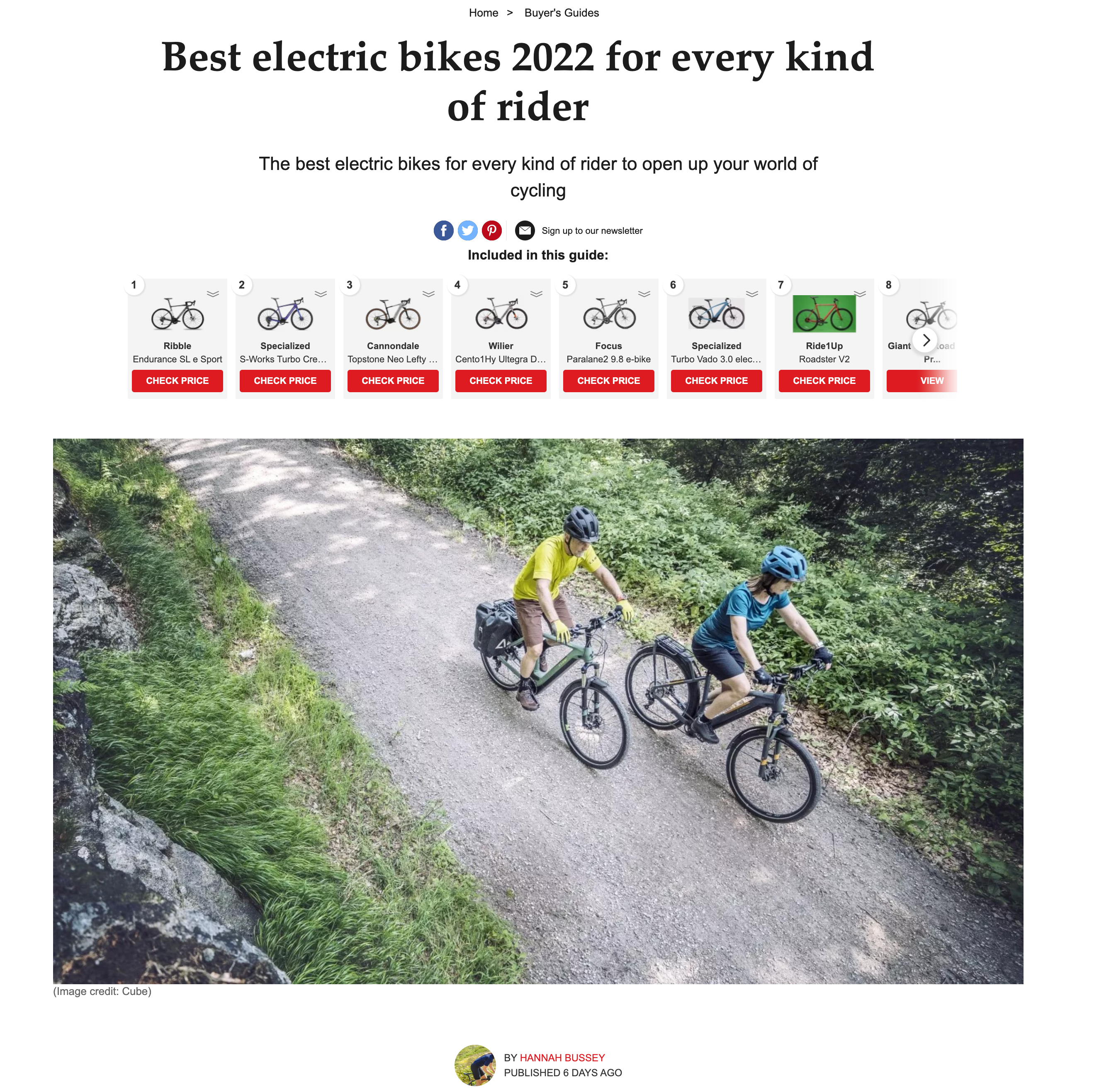 The page offers good E-A-T signals as a suitable guide for an expensive purchase. As well as the brand's reputation, this article has an expert author complete with a bio & link to an author page plus references to plenty more information.
The main expertise demonstrated though is the detail in the article itself:
There's a long introduction with useful links to relevant articles, such as their guide if you want to convert an existing bike.
Then a breakdown of the 'best electric bikes' by type, with sections for road, hybrid and folding bikes
Each section has links to specialist guides for that type of bike (and related guides).
Each section lists a range of bike options, linking to an individual review of a model when available. Each bike also has 'specifications', 'reasons to buy' and 'reasons to avoid' – all marked with headers – to make it easy to understand the pros and cons of each. The article lists fifteen different models to consider – enough to qualify as a round-up of the 'best' options.
The sections & the reviews also help demonstrate first-hand experience with the products, which we know is vital for doing well with product reviews.
And to follow this, the article offers some buying advice as well. This offers answers to common questions, such as 'why would you buy an electric bike?' and 'how far do the best electric bikes go?'. This makes the article a well-rounded guide offering a range of different advice.
Overall, the article clocks in at over 7k words – enough to qualify as in-depth.
These positive signals more than outweigh the fact the article is stuffed with affiliate links.
Cycling Weekly don't stop there. They also have shopping guides on a variety of more specific purchases such as the best women's electric bikes, the best electric gravel bikes and the best electric folding bikes. There are also deal roundups such as the best Black Friday electric bike deals, reviews of individual models and articles on key questions such as if an electric bike is worth it for commuting.
Add these together and you have evidence of widespread expertise from a trusted expert source in the sector. Between these E-A-T signals and some smart on-page SEO & interlinking, you have pages that Google clearly likes to show for a wide range of search queries.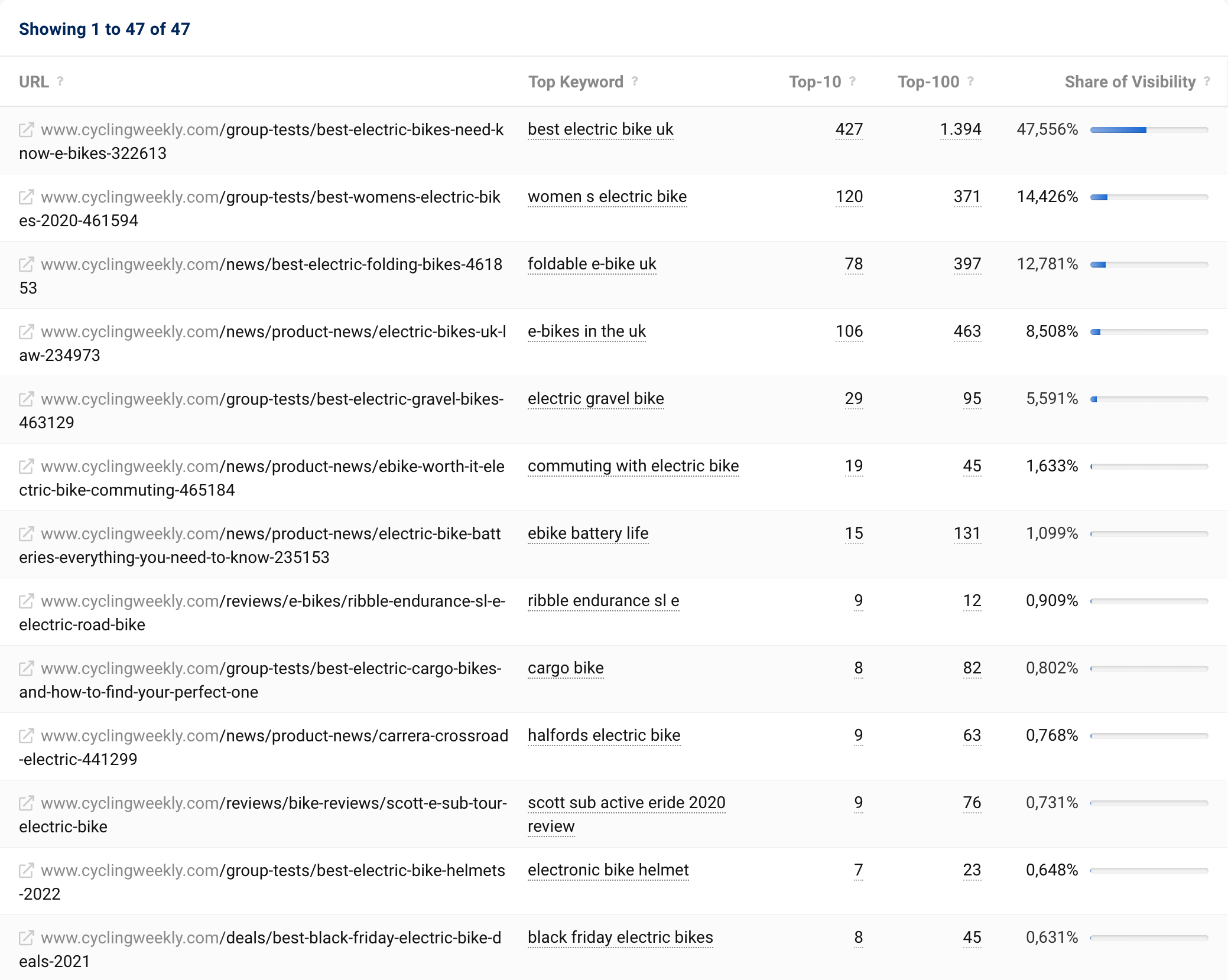 Of course, we can see other sites do well with a spread of articles. Techradar's guide to the best electric bikes in 2022 ranks for over 1,400 keywords in the UK, 25% of those on page one. Similarly, Bicycling.com's guide to the best electric bikes ranks for a massive 2,889 keywords in the UK, with 43% of those ranking on page 1!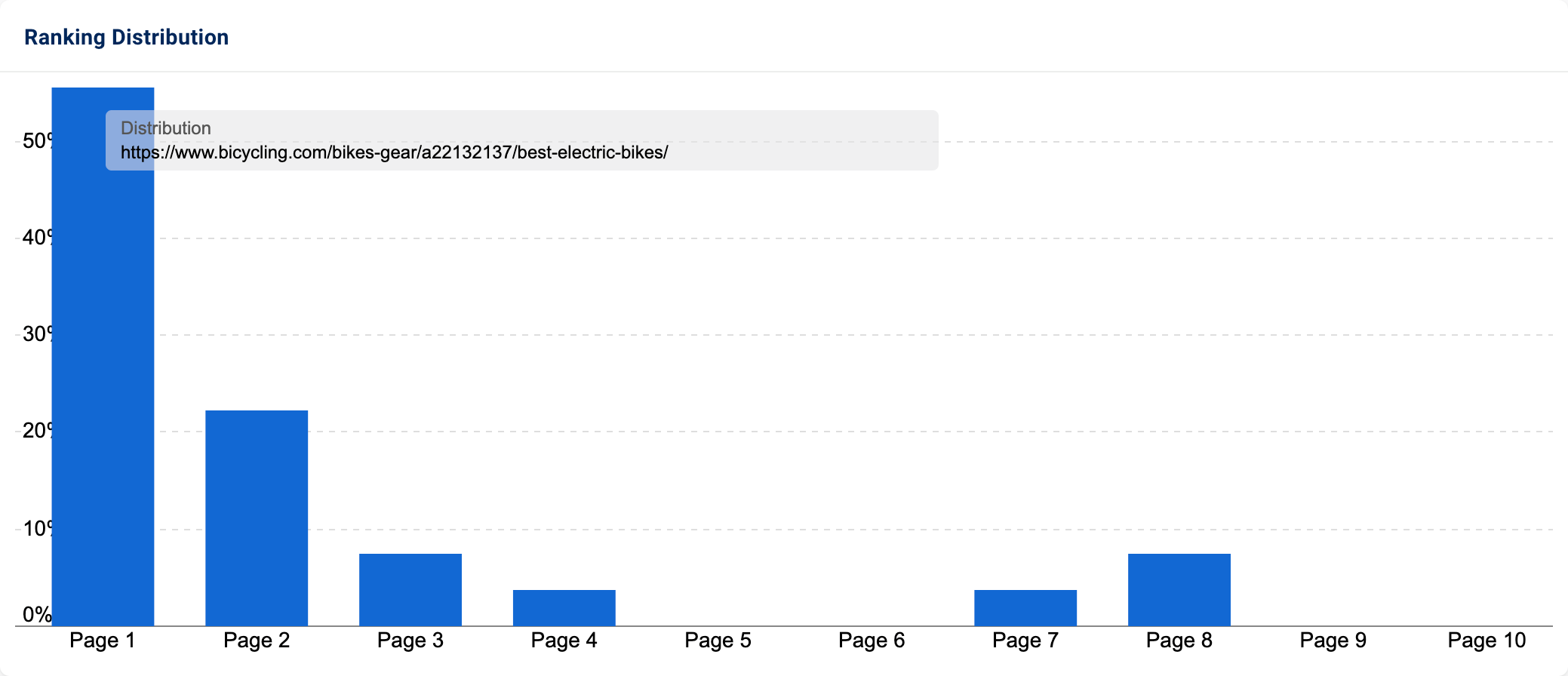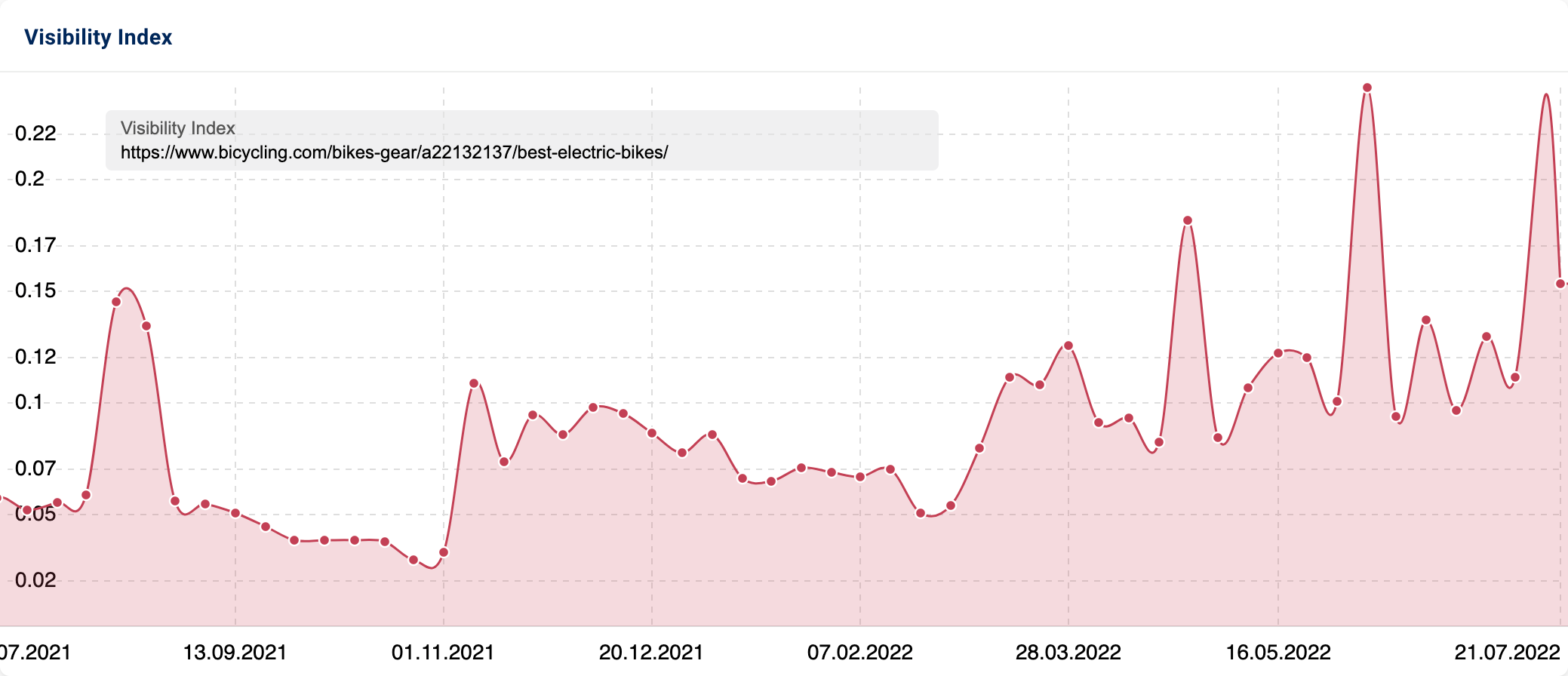 These are also big guides, with the Techradar article containing over 3k words & the Bicycling one 4.5k. They also have good E-A-T signals such as authors and a small section on how they tested & compared models (another positive signal for reviews). The Bicycling guide is written by the deputy editor who leads the site's product test team & used to work in product development for bike brands – that's a trusted source! This guide also introduces the different classes of e-bikes in the US, important terms to understand & features to consider. These are all very useful in a buying guide.
This detail, plus the fact it introduces 17 different options, each with a description of who it is best for (the 'best e-mountain bike' or the 'best for families' helps make it a thoroughly comprehensive guide. This means it ranks at number one for keywords such as best electric bike despite being an article from the US.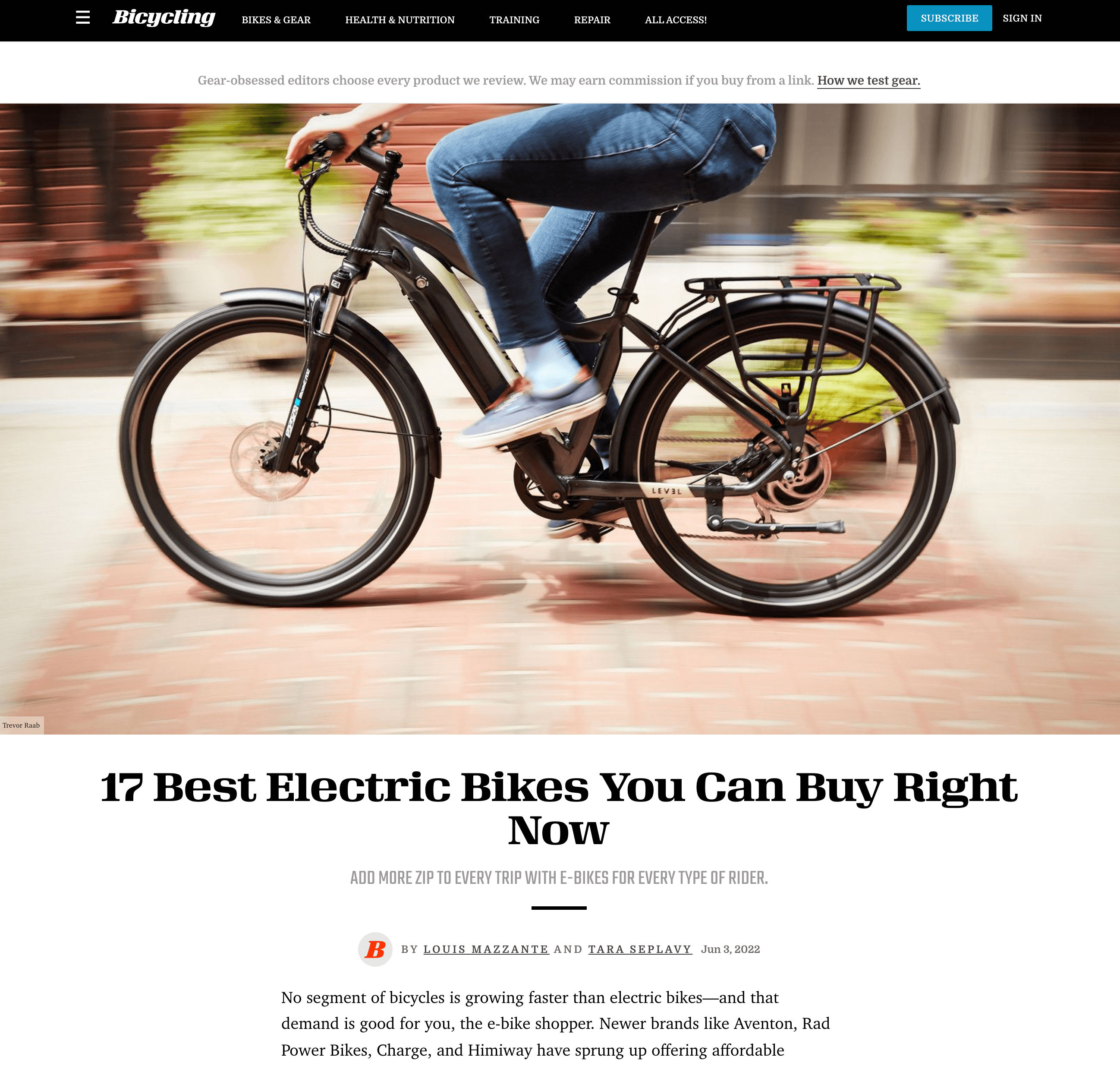 Summary
In our deep dive into the world of electric bikes, we can see some important lessons from the content that ranks:
For competitive keywords, having the right content for the intent of the search is key. And if you are in a sector with expensive purchases, it is well worth having content that targets different stages of the buying cycle.
You can rank in this sector for commercial (buying) searches without being a high-street or online giant (such as Decathlon or eBay), but you do need to have signals of a relevant offer and a great shopping experience to do so. If you don't appear to be following best practices for ecommerce, you might struggle.
With plenty of electric bike retailers to choose from, Google must use a variety of signals to help distinguish between superficially similar shopping experiences. This could be the amount of high-quality supporting guide content, the brand's reputation, the breadth of products on offer, the extra depth of content for products thanks to elements like customer reviews or even signals on which content seems to most regularly fulfil the searcher's goal.
When it comes to appearing for 'know' (informational or commercial research) searches, if you don't have clear expertise in the subject matter, you're not going to rank. If you aren't a cycling or tech publisher (electric bikes sit in the middle of a Venn diagram between the two), why would Google trust you to have helpful guidance on the subject?

And when it comes to guidance, size might well matter – if you aren't in-depth, you aren't as good a resource in this sector.
Methodology and data
SectorWatch follows a fixed process which you can also learn in our free competitor analysis Academy class.
For this SectorWatch, we used relevant keywords from a selection of electric bike keyword discovery tables.
We took a selection of highly targeted keywords with a 'Do' or 'know' intent. From these, we harvest all the ranking keywords for the URLs in the SERPs. We call this the Keyword Environment. Most SERPs will have some mixed intent so we re-filter the list for the correct intents and sanitise it by hand to leave a smaller, highly-relevant set of searches made by the UK public. The results are based only on organic result positions.
Keyword Set: Electric Bikes
Core keywords: best electric bike, electric bike review, how to make a bike electric, how much is an electric bike, electric bike, women's electric bike, men's electric bike, electric folding bike, electric road bike, electric mountain bike, electric bike conversion kit, electric hybrid bike.
Total keywords after harvesting and re-filtering: Do intent: 345. Know intent: 540.
The full keyword set is available for download and further analysis can be done in the SISTRIX keyword lists feature, including competitor analysis, SERP feature analysis, questions, keyword clusters and the traffic forecast shown below.


SectorWatch is a monthly publication from the SISTRIX data journalism team. Related analyses can be found in the TrendWatch newsletter, IndexWatch analysis along with specific case studies in our blog. New article notifications are available through Twitter & Facebook.