Un buen contenido a menudo también habla con imágenes. Muchas imágenes son perfectas para clasificar en Google y, por lo tanto, generan más tráfico para su sitio web. Es por eso que es útil realizar un seguimiento de la clasificación de sus imágenes, que le permite optimizar específicamente estas imágenes, para aumentar su clasificación.
El SISTRIX Toolbox tiene una serie de características disponibles en el " Módulo de búsqueda universal " que le permiten analizar rápidamente la búsqueda de imágenes, Google Maps y otros servicios de Google.
---
Encontrar clasificaciones de imágenes
You start out by typing in a domain, subdomain or URL into the searchbar in the top right of your Toolbox. Next, please click on "Universal Search > Overview" in the left-hand navigation. Here, you will already see the keyword history as a chart.
If you hover your mouse cursor over the lines on "Keyword – Development" you can see the exact number of keywords for which we were able to find Universal-Search results in the respective week.
The specific keywords for which we found picture rankings for your page can be found in the Universal-Search Module of our Toolbox by clicking on "Pictures". There, you will also get a single chart that gives you an overview of the historic development for the domain.
For the search term "Meteoriteneinschlag" (meteorite impact) you can find a picture from "spiegel.de" in the picture search. You will see two columns in the toolbox that show a position. I would like to quickly explain this by using an example.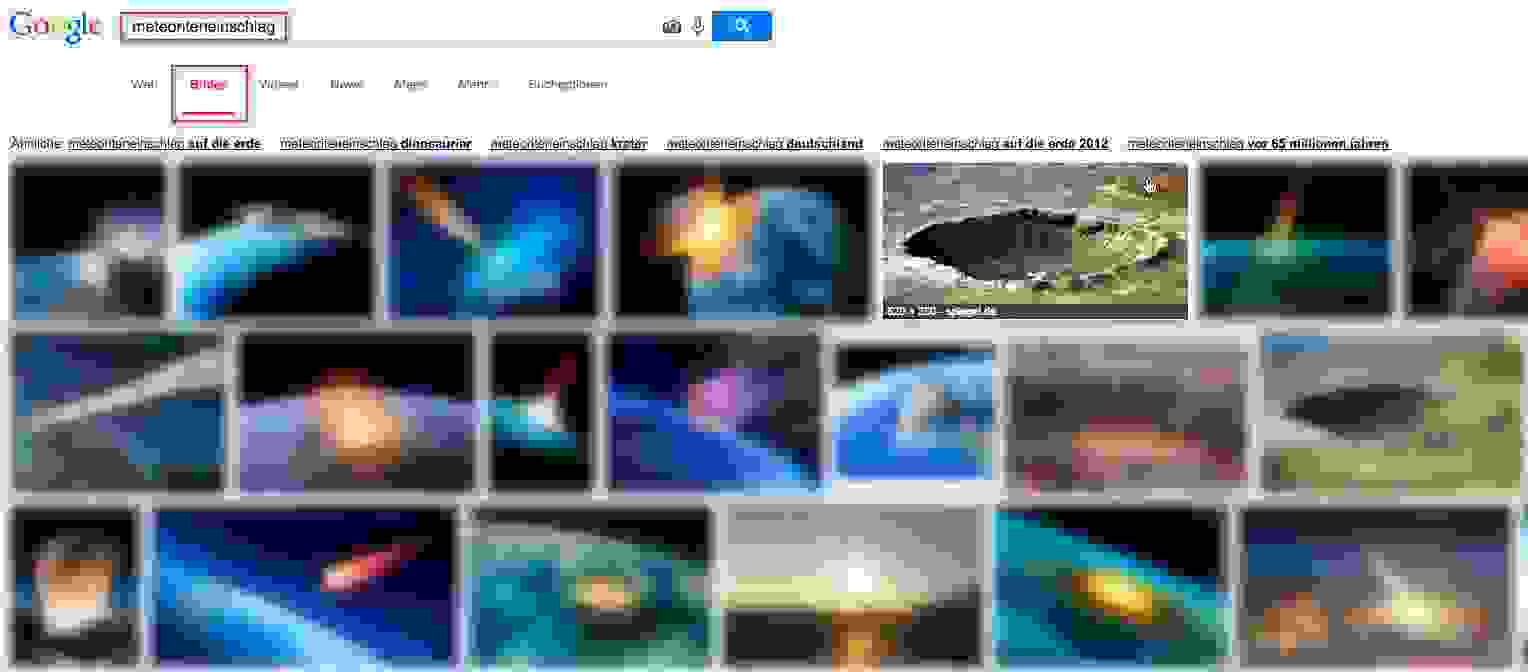 The column "position" shows the row the picture is in. The following column "Position intern" tells you which picture within this row is the picture in question. For our "meteorite impact", SPON (Spiegel Online) ranks in the first row on the fifth spot. On the screenshot, you can see a total of three rows.
Pictures with traffic-potential
Back in the Toolbox: In the column "Traffic" you can get an idea of the pictures potential. The next column (Traffic Trend) shows you the seasonal dependency of the search requests. You can also sort the results by clicking on the header for that table, above each column. This enables you to quickly sort for the picture rankings with the highest traffic potential. For the example "Spiegel.de", this sorting leads us to the term "Angela Merkel". With the name of the chancellor, spiegel.de ranks in row 4, position 2.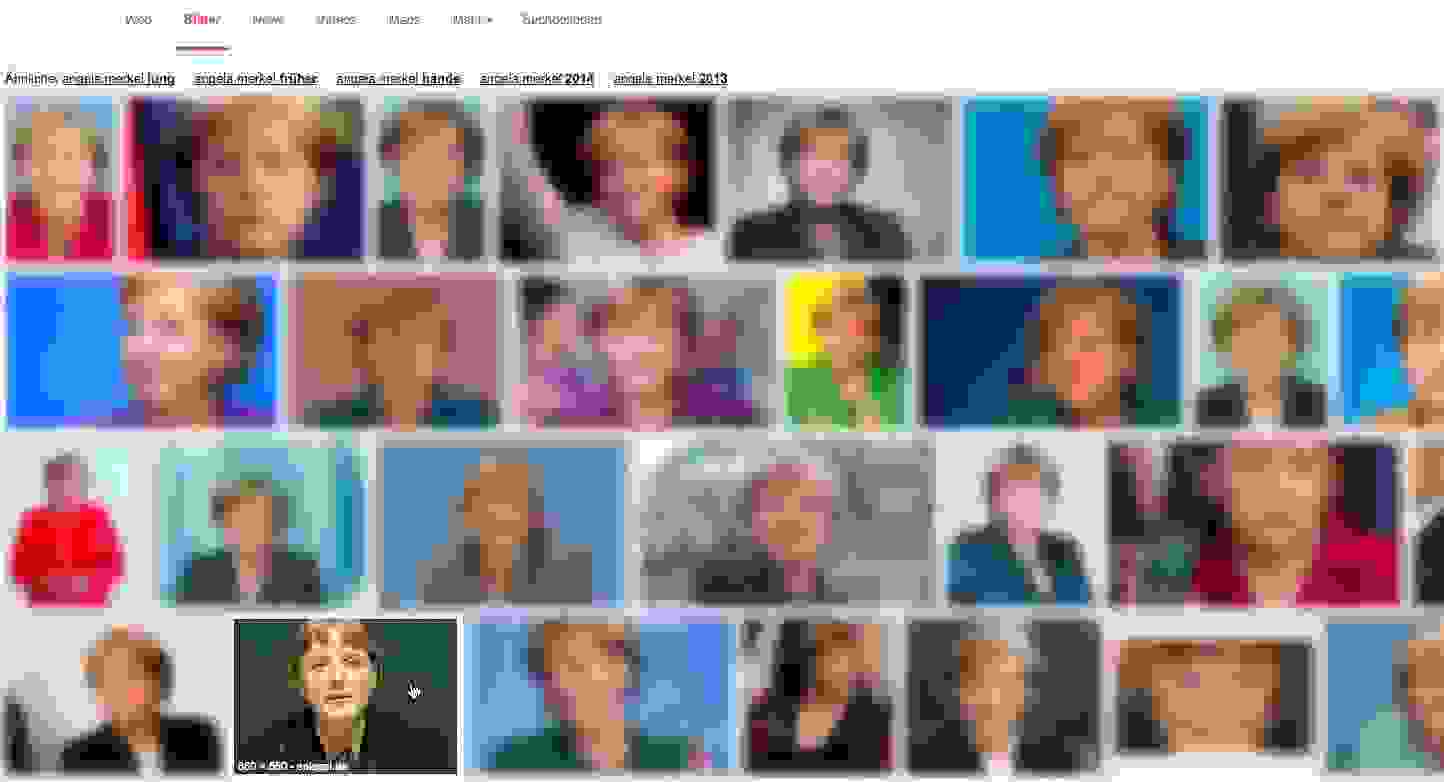 The picture integration on SPON simply consists of a gallery with only a short description below the picture. Also SPON has more pictures of the chancellor in the gallery, which enables the site to take up more rankings in the picture search. These, however, change regularly. With a few optimising measures, the full potential of the picture could be used to gain more traffic for their website.
Tips for optimising pictures
Picture sizes
Google prefers picture sizes that are in themselves quite expressive and offer something meaningful for the user. That usually counts for pictures with a size of at least 300 pixels (length or width). Most pictures on the top positions in the Google picture search rank with a maximum size of 1280×960, with 4:3 formats having a distinct advantage.
Filenames
Las imágenes a menudo se clasifican únicamente para las palabras clave que también están presentes en el nombre del archivo. Si tiene varios términos en el nombre de archivo, debe usar – para dividir los términos. Intenta no usar _. Matt Cutts ( ex director del equipo de spam web de Google) explica la diferencia entre estos dos signos en el siguiente video.
https://www.youtube.com/embed/AQcSFsQyct8
Atributos Alt
Debe agregar un atributo alt individual a todas las imágenes. Este atributo también debe contener las palabras clave importantes. Una mejor práctica sería una breve descripción de lo que se puede ver en la imagen, que también contiene las palabras clave.
Consejo: detecta errores y problemas en el Optimizador
Si utiliza el Optimizador SISTRIX , también obtendrá errores, advertencias y sugerencias para sus imágenes. Las imágenes sin un atributo alt y las que tardan demasiado en cargarse se muestran rápidamente, lo que le permite optimizar específicamente estas partes de su sitio web.
Contenido en la vecindad de la imagen
Una buena optimización de la imagen también significa mostrar contenido relevante cerca de la imagen. La palabra clave deseada debe mostrarse al menos una vez en el contenido circundante de la imagen. Las páginas más grandes que tienen contenido más relevante para una imagen generalmente logran obtener mejores clasificaciones en la búsqueda de imágenes de Google.
Un flujo de trabajo típico.
With the SISTRIX Toolbox, you can check if pictures on your domain already rank within the picture search. You can sort the columns in the universal search module for the desired KPIs, if you like. Following that, you check the page with the pictures and make sure it follows the basics of a good picture optimisation and improve it, if necessary. In the SISTRIX Optimizer, you create a project for your website and let our crawler run an analysis, which you can then evaluate.
The time it takes until any changes reflect on the rankings of your pictures can vary. It may take only a few days or even a few weeks.