Landing pages are a must-have for businesses that want to generate leads and conversions. Whether they reach their full potential, however, depends largely on the design.
A key characteristic of landing pages is in the name: They are pages that people "land" on when they click on a search result, an ad, or a link.
They are usually not accessible via the navigation menu of a website meaning that in a way, they are detached from the company or organisation's website.
But landing alone is not enough. Landing pages should also get visitors to perform an action.
These are the goals you achieve with landing pages
In most cases, companies use landing pages to pursue one of two goals:
Lead generation: Often, landing pages are used to get contact information, for example, by signing up for a newsletter or in exchange for downloading a free whitepaper.
Conversions: They can also be used to persuade customers to make a purchase or place an order. In this case, you send users further into your sales funnel via a button on the landing page.
You can also use landing pages for other purposes. For example, to generate more traffic or attention. It is crucial that the design and content of the page are subordinate to this one goal.
Advantages of landing pages
Landing pages have decisive advantages over "normal" sub-pages of a website:
They directly address the needs or objectives of a specific target group.
They provide visitors with the exact information, suggestions or offers they are looking for.
Landing pages are easy to update – independent of your website.
You have many opportunities to test different variants, for example with A/B tests, and to measure success.
Creating landing pages is cheap and requires little effort, provided you know what to look out for.
By optimising the page for the right search queries, you give your offer more visibility in Google.
All these advantages make landing pages very effective for achieving various goals. How effective, however, depends crucially on their design and structure.
How to get visitors to landing pages
Landing pages only serve their purpose if they are visited. So you need to attract attention, not to just anyone, but to the right people.
If you want to sell car insurance, visitors who are looking for liability insurance are of little use to you. In fact, if you link to landing pages through ads, you lose a lot of money.
To generate traffic on landing pages, you can use the following means:
Organic search ads
Links in emails or newsletters
Links in social media
Links in videos
Advertisements, for example AdWords ads
Offline advertising with QR codes
Often, you will achieve the best results using a mix of different methods.
Important elements of a landing page
With landing pages, there are different ways to achieve good results. However, the following elements play a key role in a convincing design:
A logo at the top of the page identifies your company and ensures recognition.
Appealing graphics, for example in the form of a hero shot, attract attention.
The headline – possibly with a subline – summarises the advantages and benefits of products or services.
Bulleted lists, videos and tables make the most important benefits clear.
A concise call-to-action provides the decisive incentive.
In addition, trust elements such as testimonials create confidence among potential customers. Contact information should not be missing either.
The following example combines all these elements: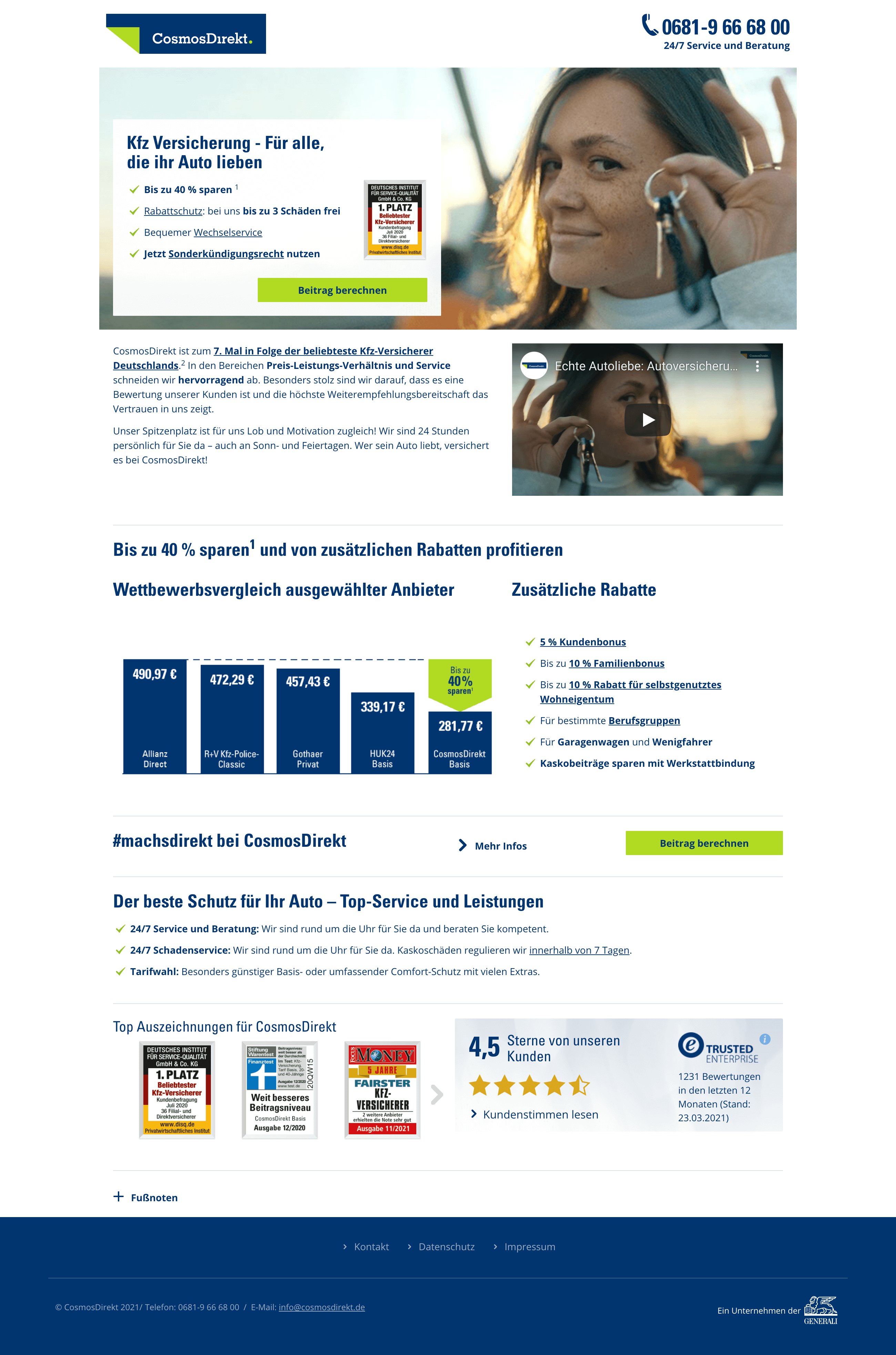 Tips for successful landing pages
Good landing pages immediately convince visitors that they are in the right place. The following tips will help you do just that:
Focus on the essentials
Landing pages concentrate on one thing or one offer so avoid all elements and content that lead away from this. Get straight to the point and make the most important thing clear. When it comes to design, less is more. Too many colourful images and design elements distract from the main point.
Highlight advantages and benefits
What added value do visitors get from your products? What benefits do they get when they sign up for your newsletter? The answers to these questions should be immediately obvious. The most important benefits can be listed directly under the headline. If necessary, you can expand on them further down the page. As a general rule, the important things should be at the top. This brings us to the next point:
Everything important is above the fold
If visitors have to scroll to understand what you're offering and what they can get out of it, the risk of them leaving the page increases. You can prevent this by paying special attention to the "above-the-fold" area.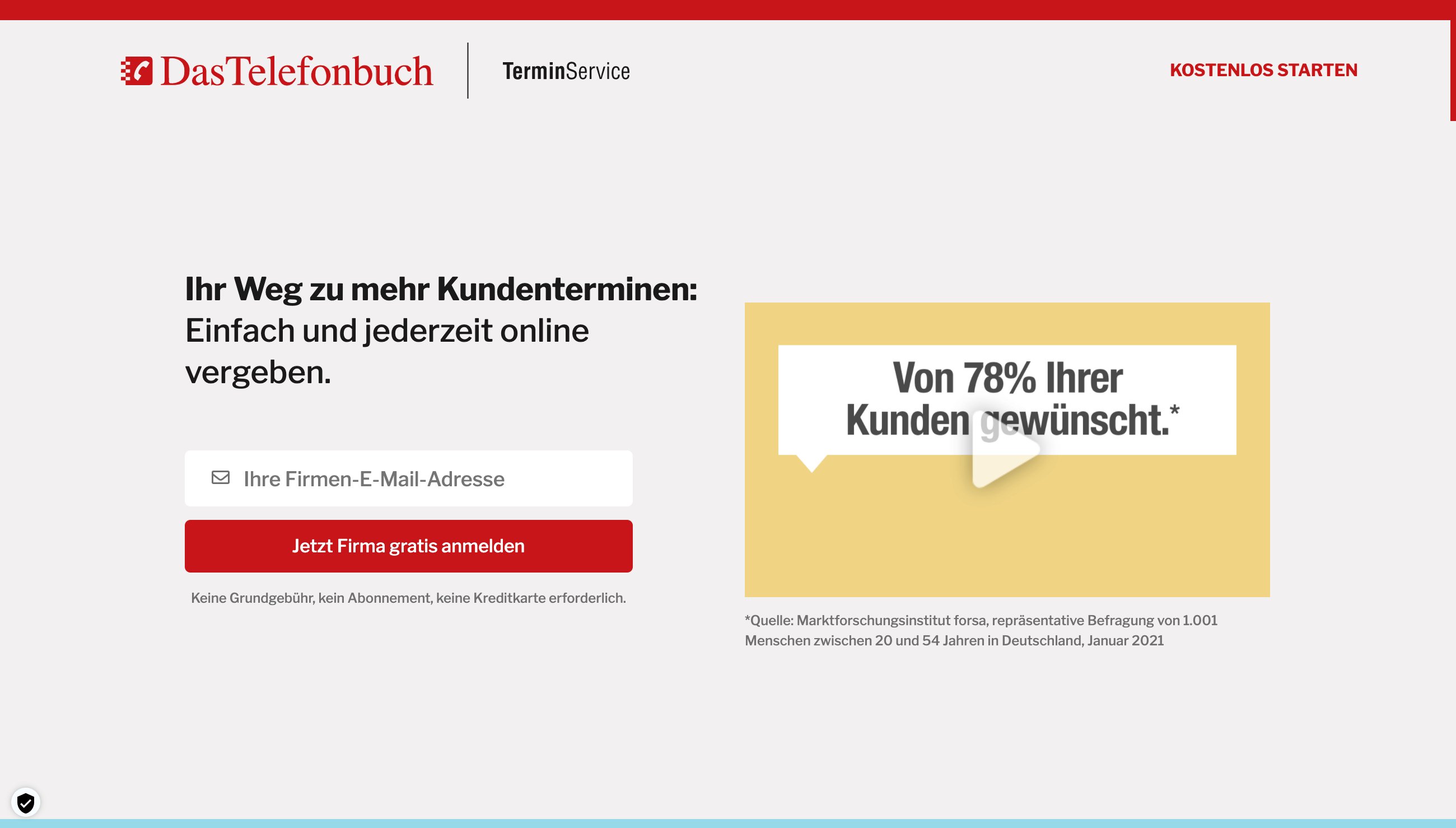 Pay attention to clarity
Many people only skim pages online. Therefore, clarity plays a key part in the design of landing pages.
You can achieve this in the following way:
Highlight important elements such as CTAs, headlines and benefits. CTA buttons in particular are even more important on landing pages than on other pages.
Structure the text in short paragraphs and avoid so-called "text deserts".
Use bulleted lists, tables and info boxes to improve readability.
Comprehensibility is also important. This starts with concise, simple language.
Optimise landing pages
Targeted keyword optimisation helps landing pages rank better in organic search and helps ensure they are displayed to the right people as ads. It also helps you pick up on user intent.
The technical performance has to be right, too. This starts with a fast load time and includes optimisation for mobile devices. Remember: More and more people are surfing the Internet on their phones.
Several landing pages are often better than one
A landing page only shows its advantages if it is monothematic. That is, it is entirely tailored to one product, event, or aspect, and targets a narrow audience. To reach more people and showcase different aspects of your services, create multiple landing pages.
Conclusion
Landing pages are among the most important elements in online marketing. Because they focus on one topic and one target group, they convert particularly well.
The prerequisite for this is that you bring visitors to your landing page. Secondly, the page needs a focused and attention-grabbing design. Both of these are a strong combination for more leads and more sales.