Metasearch engines submit search queries to a number of other search engines. The results are then sorted according to certain filters and displayed to searchers.
What is a metasearch engine?
The idea behind metasearch engines is that more results, from different sources, can lead to better answers. In addition, by querying different, smaller databases, a higher recall for more general search queries can be achieved.
The time before Google
In the days before Google shook up web search, metasearch engines were a frequently used service. Rather than the index of one search engine being searched for queries, the indexes of several search engines were consulted at the same time. This gave a broader picture of the website landscape: at the turn of the millennium, the indexes of the search engines were very manageable compared to today.
With the advent of Google and the constant expansion of the Google index, the era of general metasearch engines came to an end. In most cases, Google had sufficiently diversified results in its index to generate the best result for web searchers.
Metasearch engines today
Metasearch engines have become more specialised over the years: they have moved away from general search queries to very specific questions, which can often be covered better by specialised services than by Google itself.
Metasearch engines for specific vertical searches
Even today, there are a number of metasearch engines that can hold their own in web search and often make up the top search results on Google for the non-specific but very high-traffic, short-tail keywords that relate to certain subject areas.
Some of the best-known and widely-used metasearch engines and their corresponding subject areas can be found here:
Flights
In the flight search landscape, there are meta-searches that focus entirely on flights, such as fly.com and skyscanner.net, as well as larger travel comparison portals, such as expedia.com, and general price comparisons like airhint.com.
This vertical is also served by Google itself with Google Flight Search (google.com/flights), which occupies its own box above the organic results.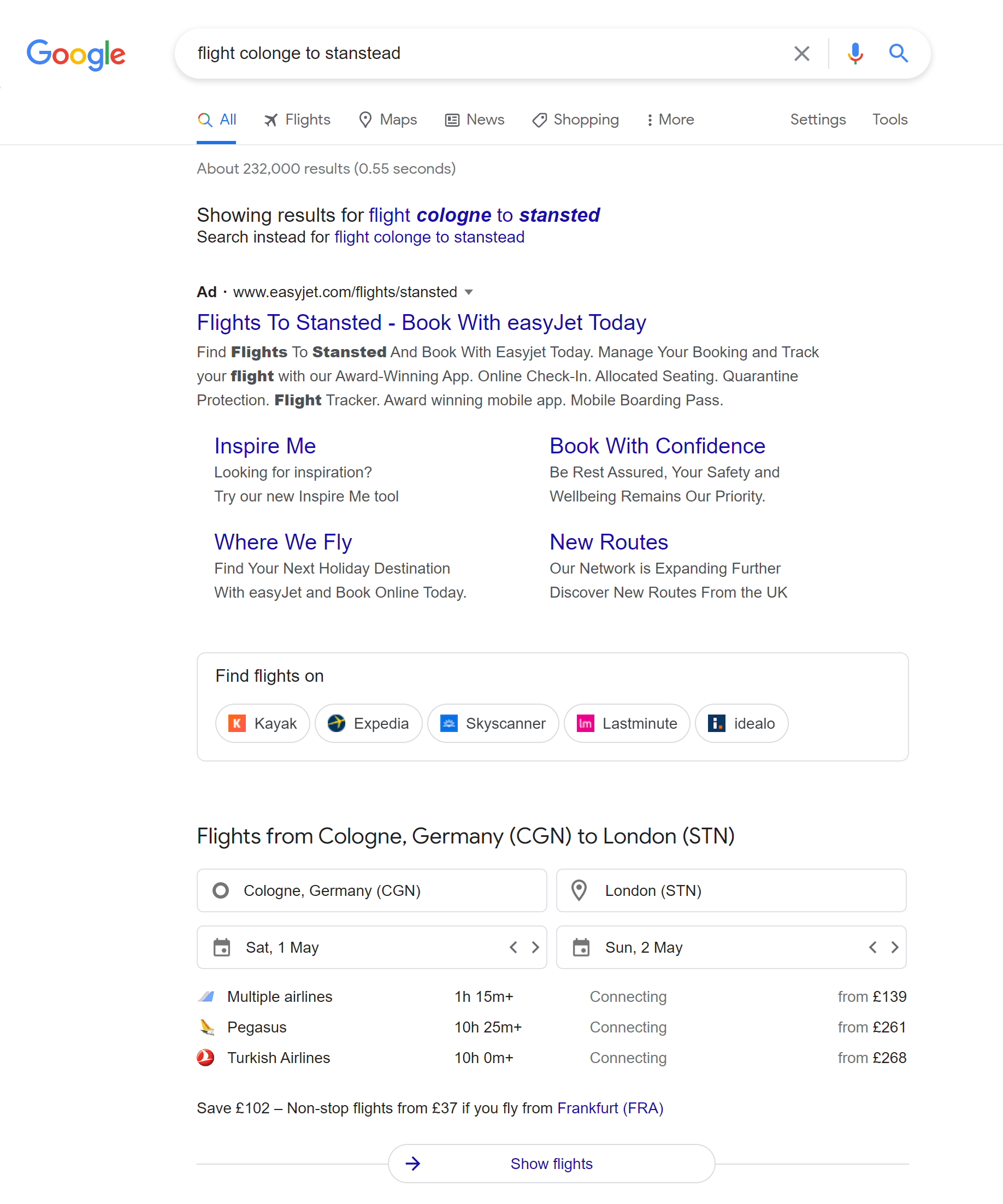 With Google Flights results, it is important to note that Google also acts as an aggregator of aggregators and displays results from direct providers, e.g. Lufthansa, in addition to flight portals, e.g. Expedia, and forwards web users on to the respective platform for bookings.
Hotels
In the case of hotels, we again find websites that are focused on one subject area, such as hotels.com, as well as the larger travel comparison portals and general comparison portals, such as trivago.co.uk.
Google is also represented in hotel search with its own information box, the Maps integration, which is again displayed above the organic search results. This box moves the organic hits beneath the fold on a 27 inch monitor, as can be seen in this screenshot: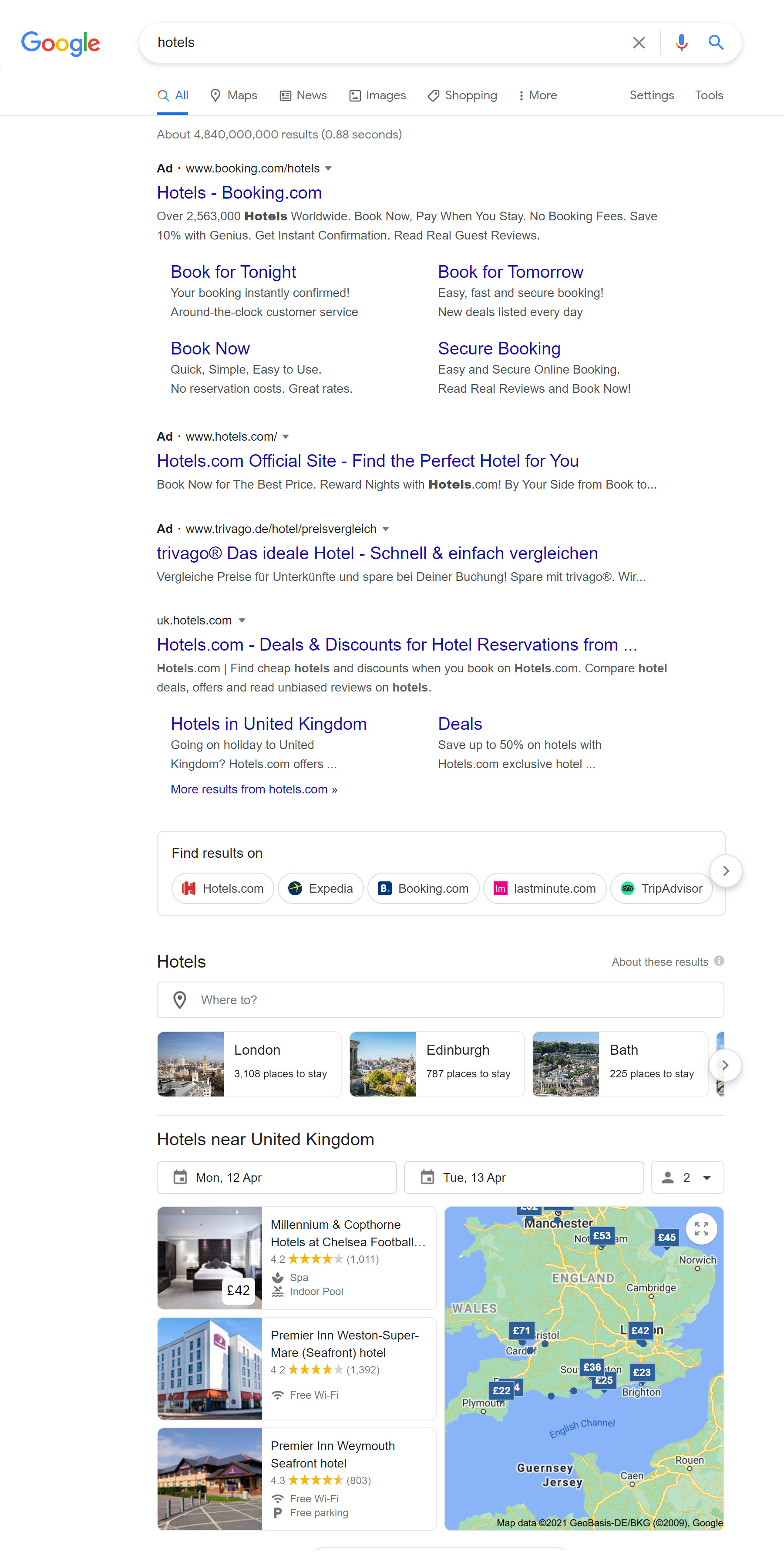 Google's hotel search feature

With the Maps results, it is important to note that Google acts as an aggregator of aggregators and displays the results that it has compiled. When it comes to making bookings, the searcher is forwarded to the respective platform, such as Booking.com.
Holiday flats
In this example, Google has not only displayed AdWords ads for holiday homes, it has lso integrated a Google Maps integration above the organic results.
The organic hits below this include large (travel) comparison platforms, such as booking.com, in addition to local and specialist sites.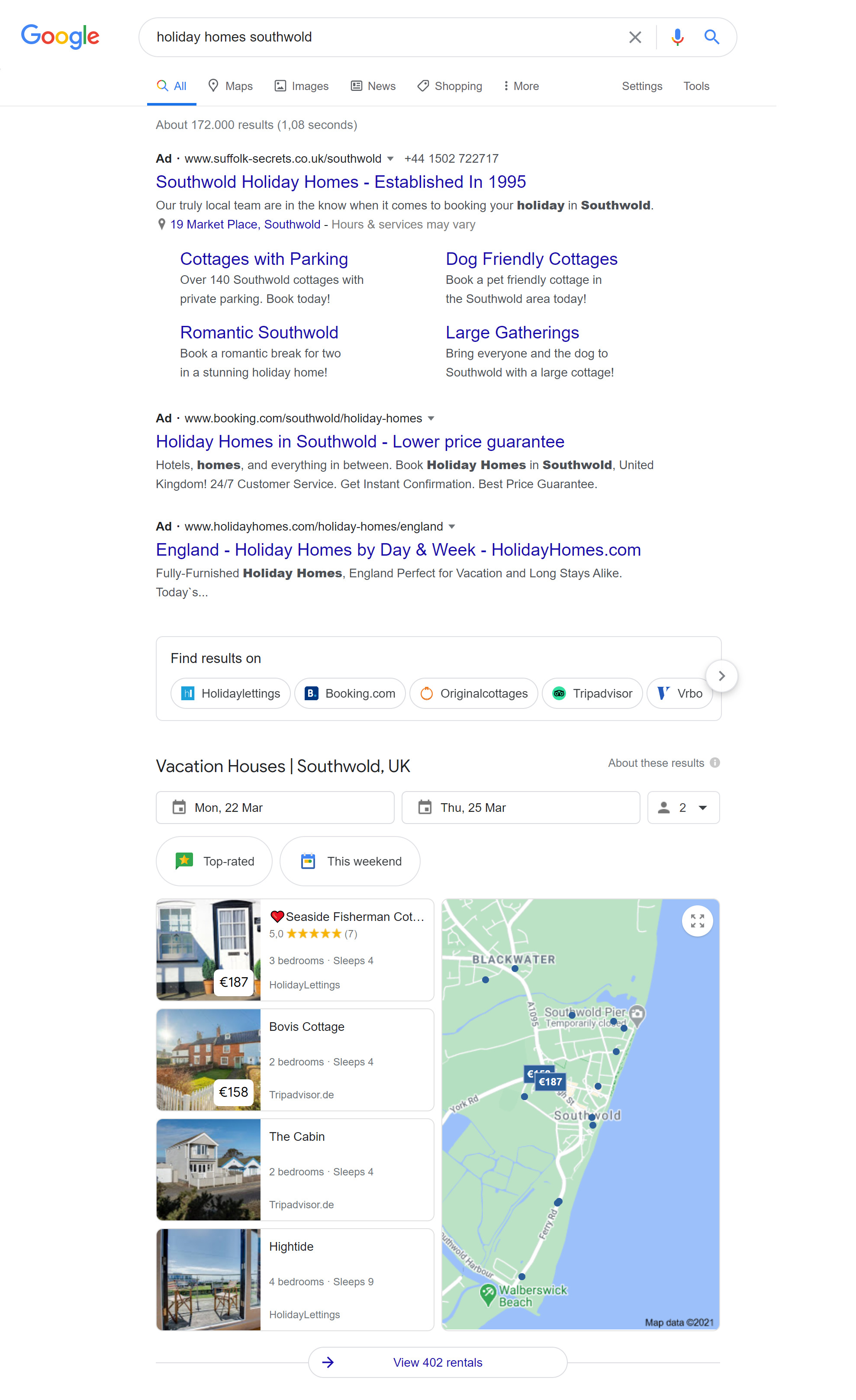 With the Maps results, it is important to note that Google acts as an aggregator of aggregators and displays the results that it has compiled. For bookings, the searcher is forwarded to the relevant platform.
Jobs
In the job search, aggregators are not, in the below example, having to compete with paid search ads or Google integrations. The top dogs here are stepstone.de, indeed.com and monster.de: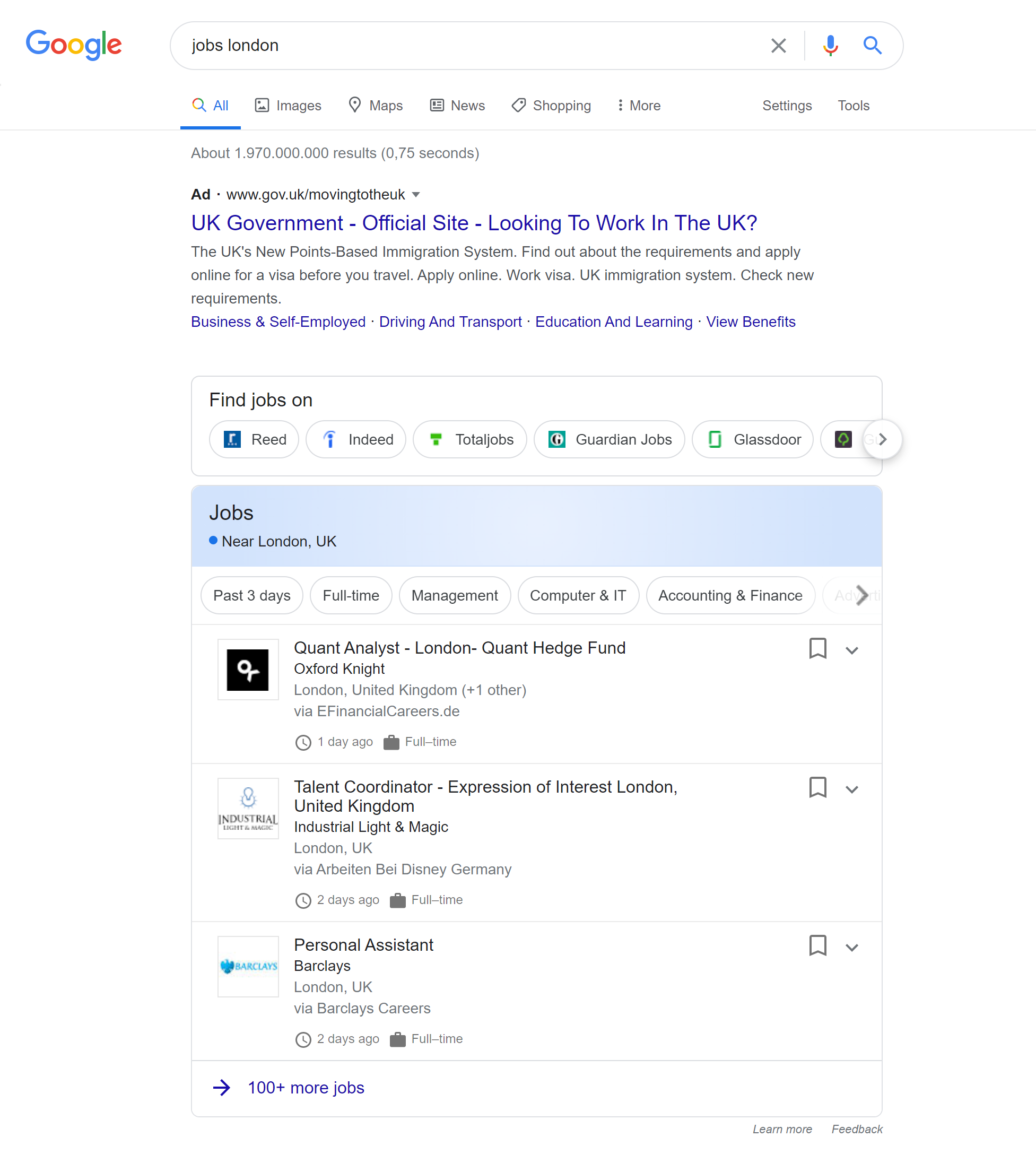 Google's job search feature
However, this state of affairs could come to an end in the foreseeable future, as Google is currently testing its own job search in English-speaking countries.
Car Rentals
In the rental car search space, the organic results only start, as with the holiday homes rental example above, after the ads and the Google Maps search results.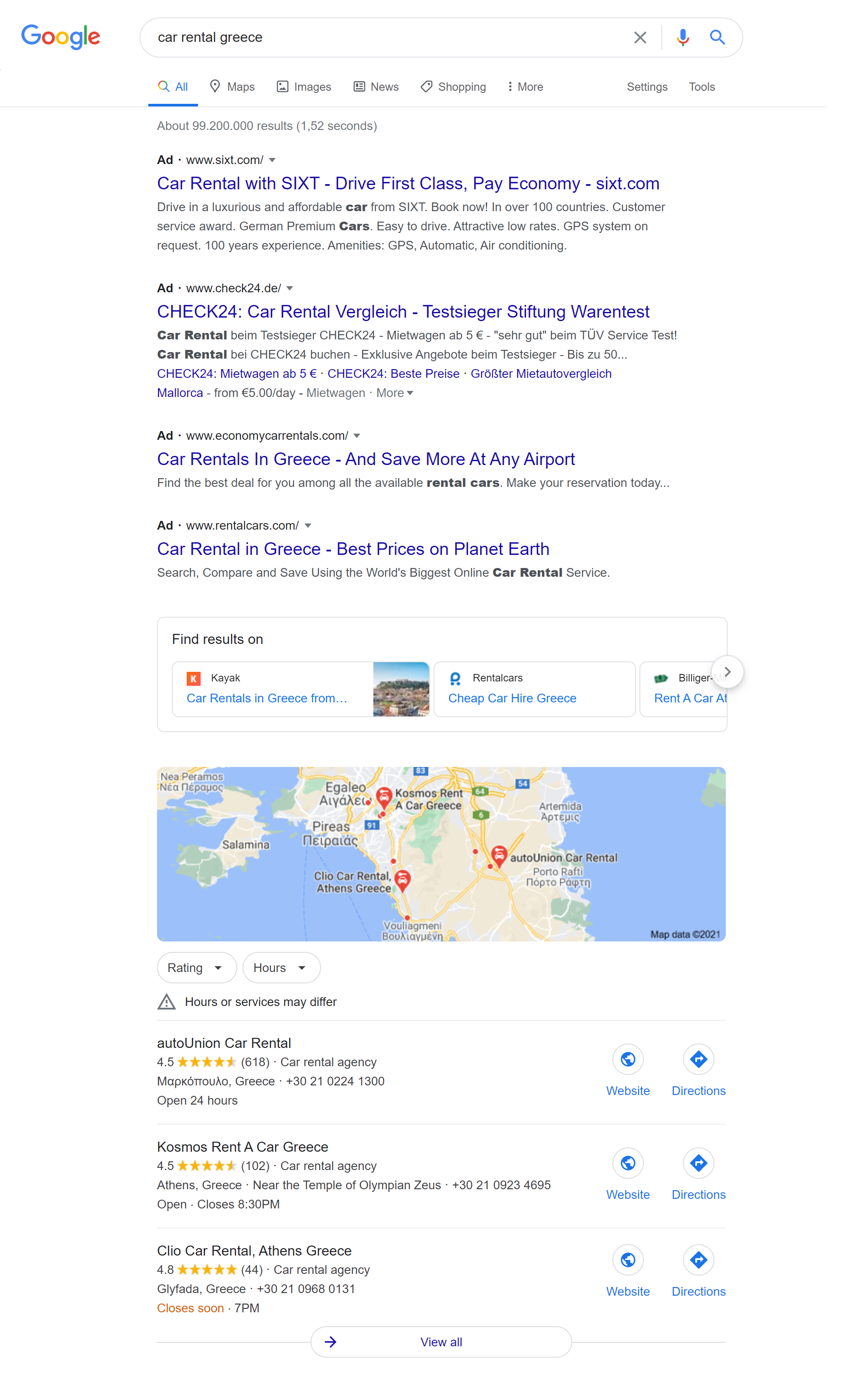 On a smartphone the ads are not shown. Only the maps search results are shown and the first organic result starts after the user has scrolled up.
Shopping
With shopping-related searches, the picture is rather different. In this search result from Germany we find a number of comparison and sales platforms, such as idealo.de and ebay.de, as well as computerbild.de (a publication and affiliate site) and the Apple Shop.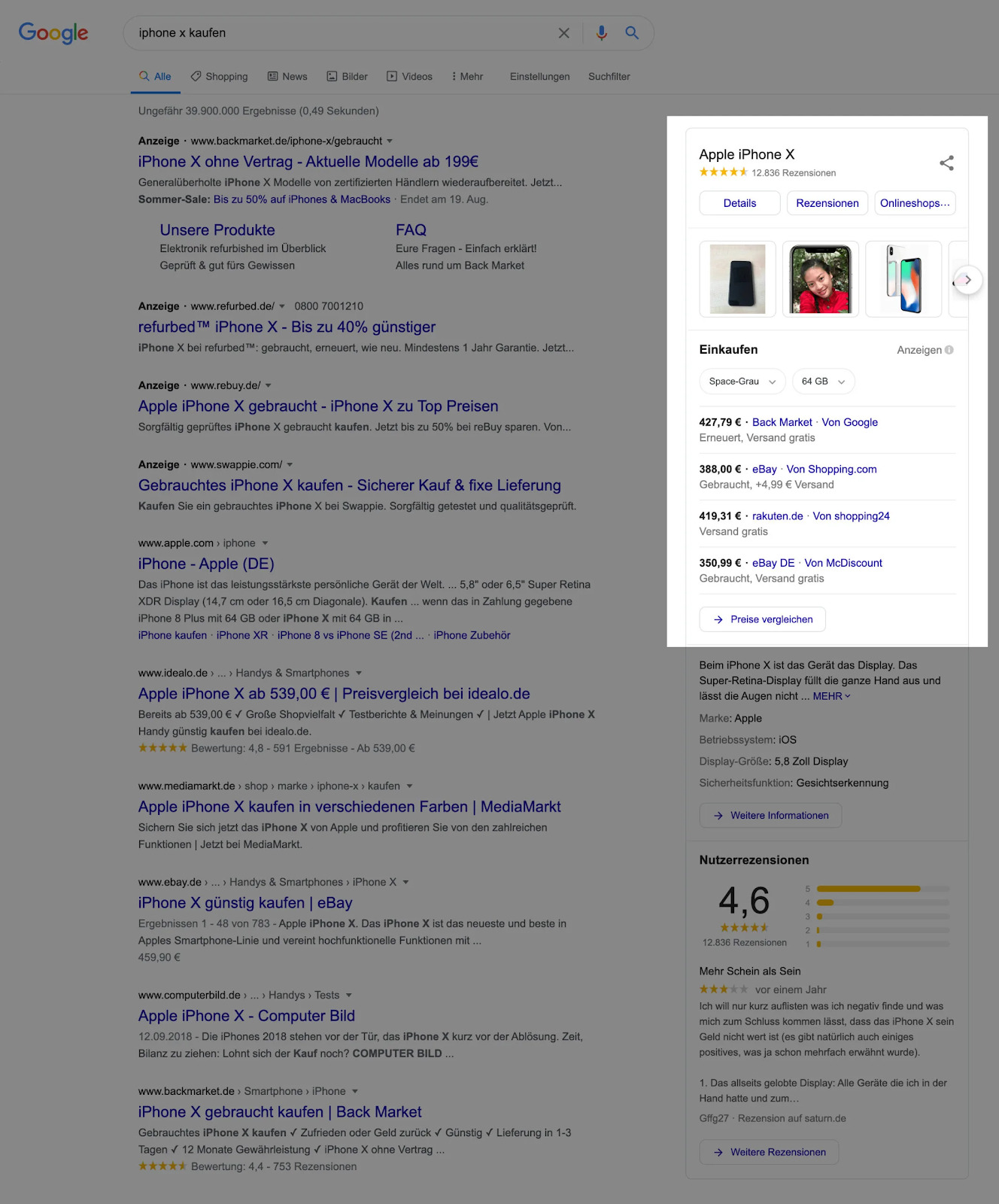 However, Google does not miss the opportunity to include its own service here. In the Knowledge Graph box on the right-hand side, you'll find information about the iPhone X and two ads from Google's Product Listing Ads inventory.
Metasearch Engines and SEO
Metasearch engines that have a strong presence in certain verticals can be an effective target of your search engine optimisation. If I am responsible for the website of a small hotel in Bonn, it is in many cases not possible, nor is it economically justifiable, to rank for the strongest keywords such as "hotel" or "hotel brighton". These rankings are full of the Bookings, KAYAKs and Tripadvisors of this world.
It might be worth taking a look at the biggest platforms and seeing how you could appear in their rankings for your region. This way, you can use the SEO work undertaken by these platforms as a means of moving visitors to your site.
Conclusion
In general web searches, metasearch engines are practically no longer offered, as the results from Google are so good in most cases that they do not need to be filtered again.
In specialised subject areas, however, portals that offer meta-searches are still to be found. Optimising for the strongest meta search(s) in each case can often serve as a sensible strategy, as these portals often rank for many high-traffic keywords.
With specialised metasearch engines, however, bear in mind that the likelihood that Google will choose to compete with the top dogs is very high.