The SISTRIX Visibility Index is a reference number for a domain's visibility in Google's search result pages. The higher the value, the more visitors the domain is expected to gain from Google.
The Visibility index is therefore extremely well suited to measure and rate the success of SEO-actions or to analyse the consequences of changes to the Google algorithm.
A question that comes up quite often is whether it makes sense to compare this index value with other SEO KPI?
We want to use this article to demonstrate why the SISTRIX Visibility Index should neither be compared with just any key performance indicators nor with the data from other tools. The one indicator, on the other hand, that does benefit greatly from a comparison is the organic Traffic, visible through Google Analytics.
Why should you not compare the SISTRIX Visibility Index to indicator values belonging to other tools?
SISTRIX was the first SEO-Tool on the German market to begin calculating an index value for the Visibility of a domain in Google's search results, back in 2008. The thing is, there is no set unit of measurement for how visible a domain is on searchengines. While we can measure and compare temperatures in either degrees Celsius or Kelvin, each tool provider will use their own definition of "visibility".
You can find out exactly how we calculate our SISTRIX Visibility Index in our article What is the SISTRIX Visibility Index?. In short, once a week, we evaluate the top 100 results for 1.000.000 keywords for a particular search market, such as google.co.uk for the United Kingdom. We then weigh these results by position and search volume for every keyword. These values are summed up for every domain and make up the SISTRIX Visibility Index score for that domain.
Other tools calculate their index values in different ways and use different keyword-sets. That is why it is not easily possible to directly compare the visibility values, as well as the development over time, between different SEO tools.
There are some tools where it is pretty much irrelevant whether a result was found on position 5 or 50, or how high the search-volume for each keyword is. They, more or less, only count the sheer number of top 100 rankings, no matter the ranking-position or search-volume.
Other tools enable their users to add their own keywords to the public keyword-set. This causes an inferior data-quality, as the users can freely manipulate the main keyword-set, thereby making it impossible to clearly compare the same index value to the past, as the keyword-set might have changed significantly between the different weeks.
Why is it so useful to compare the SISTRIX Visibility Index with the traffic-values from Google Analytics?
The Visibility Index is independent of seasonal cycles or external effects. Let me give you an example: The domain christmas-trees.com could theoretically have the same Visibility Index value every month of the year. That said, they would, understandably, still get all their visitors only in the months leading up to Christmas.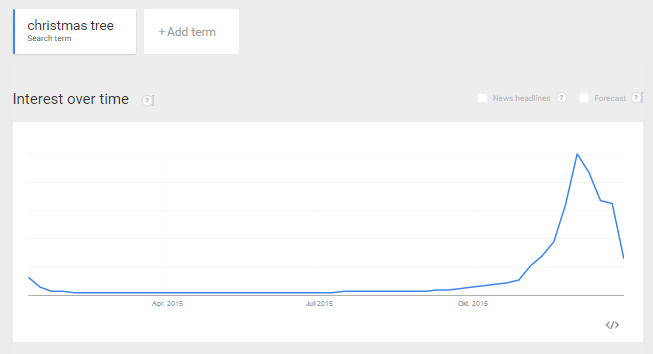 This means that a rise in the Visibility Index value does not have to have an immediate effect on the actual traffic. If the domain christmas-trees.com could manage to double their Visibility Index value throughout the spring and summer (and keep this level), they would only be able to notice a significant change in traffic during the winter season. Other temporary differences between the Visibility Index value and actual traffic can result from the weather, large events, national holidays and much more.
When we look at the Visibility Index vs. organic traffic, it becomes possible to recognise problems as well as chances for your traffic well ahead of time. If, for example, the Visibility for christmas-trees.com started to nosedive in the spring, which would be due to lost keyword rankings, then there could be ample time to fix the underlying issues and get the rankings back, before the next seasonal fiscal year (winter) comes around.
Looking past the temporary influences we talked about before, we see a high correlation between the Visibility Index value and the actual number of visitors through Google.
You can compare the Visibility Index of your own domain in the SISTRIX Toolbox with the traffic-values from your Google Analytics account. To do so, you only have to connect the two under My Account > Google API Connection.
What do I have to keep in mind when running domain comparisons based on the Visibility Index?
You can quickly and easily compare the Visibility Index for multiple domains in the SISTRIX Toolbox by clicking on the cogwheel in the upper right corner of the Visibility Index history graph for a domain. There, just click on "compare diagram" and you are able to type in up to four domains, hosts, directories, or URLs (or a combination thereof) and we will show you all the results within one graph.
When you run these comparisons, it is important to keep in mind that, for each country-index, the Visibility Index is based on a keyword-set which is made up of keywords which are a good representation of the country-specific search behaviour. This means that a large retailer with a wide variety of goods can have a much larger Visibility Index value than a small, specialised online-retailer, who concentrates on a specific niche. If we take a look at the Visibility curves for the large German all-purpose retailer galeria-kaufhof.de and compare it to the specialised online-shop chrono24.de, which focuses on selling watches, then we will see the proverbial David (Chrono24.de with a Visibility of 8,87) going up against Goliath (Galeria-kaufhof.de with a Visibility of 62,49).
If, on the other hand, we only look at the relevant "watches"-directory for Galeria-Kaufhof, https://www.galeria-kaufhof.de/uhren/, and compare it with Chrono24.de, we will suddenly see a quite different picture. The "watches"-directory on galeria-kaufhof.de has a Visibility of 6,42 – which is suddenly smaller than Chrono24.
This shows that, while it is always advisable to compare domains to their direct competitors, it becomes important to look at the appropriate parts of those websites that offer a wide variety of goods and cover more than one topic.