This month SectorWatch is dressing to impress as we jump into the world of fashion retail & find out who is winning the market for searches on dresses. We're looking for the leading competitors & the best-performing content – who does Google think is on-trend?
Leading brands and domains
As one of the most popular retail ecommerce sectors, there is no shortage of well-known names in fashion. From ecommerce giants to high street retailers, there are a host of household names you might expect to see when searching for a new dress:
Asos
Boohoo
Missguided
Pretty Little Thing
Shein
John Lewis
Next
Marks & Spencer
Zara
And of course ecommerce giants such as Amazon, eBay & Etsy
What complicates this further is that many of these retailers sell the others' lines as well. To mitigate this, we've based our research on non-branded searches only.
One of the biggest 'shopping' sectors, dresses, and the core keywords related to them, are almost exclusively focused at women and dominated by 'do' intent keywords. For this SectorWatch, we've focused on these commercial intent searches.
Women's fashion covers many categories and dresses is one of the most competitive – often the measure of success – so it works brilliantly as a case study of which sites are doing well from search traffic. We created a list of 1,200 popular dress searches covering many of the most important categories or collections – from maxi to mini and from work to the beach.
We've got more on the winners below but first, here is the main headline. The top domains by visibility for our curated keyword set in Google search in the UK:
Top 3 domains for 'do' (commercial intent) searches (based on 1,200 curated keywords):
boohoo.com
next.co.uk
asos.com
Domain analysis: The top competitors in the dresses market
The online women's fashion sector is expected to grow to a value of around $11.5b in 2022. Part of the growth is thanks to the demand for fast & affordable fashion, the introduction of buy-now-pay-later services and the influence of social media.
But fortunes can change quickly, as shown by Missguided's recent fall into administration, though the immediate purchase of the intellectual property by the Frasers Group shows the value of a notable brand in the sector. With many sites relying heavily on organic search for their traffic, visibility in Google is often tied to a brand's financial success.
To see who's getting that visibility, we've curated a list of market keywords for the sector using our well-defined process and SISTRIX data.
Our main list this month is a large selection (1,200) of the most common 'dress' search terms. Potential shoppers searching for new dresses, whether looking for a particular style or hoping to browse through the digital racks. This includes searches like women's dresses, summer dresses, party dresses and midi dresses.
Customers at this stage are usually at the transactional or commercial research stage. Looking to buy now or research potential options, these searchers are looking for suppliers (shops). Intent analysis data helps us spot these searches that have this know goal.
So, whose rankings look fresh from the catwalk? And who is distinctly out of fashion? Let's find out.
Leading domains: Dresses (do intent)
| Domain | Market share |
| --- | --- |
| boohoo.com | 9.79% |
| next.co.uk | 8.66% |
| asos.com | 7.29% |
| prettylittlething.com | 5.76% |
| johnlewis.com | 5.27% |
| amazon.co.uk | 4.63% |
| newlook.com | 3.41% |
| debenhams.com | 2.95% |
| quizclothing.co.uk | 2.85% |
| The complete list of 100 domains is available in a Google Sheet. | |
In total, 1,200 keywords were used for this analysis.
Content Analysis: What type of content is performing?
The top 25 domain list offers a fascinating snapshot into the sector.
Some of the biggest online names are the most successful – Boohoo, Asos & PrettyLittleThing.
Pretty Little Thing is owned by the Boohoo Group, giving them two of the five most visible names for dresses. Boohoo also owns Debenhams.com, giving them three of the top ten!
Perhaps surprisingly, six of the top ten most visible sites are high street retailers. While the high street retail market has its challenges, these brands have successfully built an online presence. There are other high street names such as H&M, Coast, Marks & Spencer and Roman in the top twenty-five.
Fashion retailer Next is one of the biggest success stories, with their range of brands online outstripping what they could put in their physical stores, but combining well with the reputation their high street history brings.
As this is a deeper look at who is doing well for this curation of shopping-intent keywords, it's no surprise that our list of top domains is almost exclusively retailers. It is only once we get outside the top fifty that we see other sites such as Pinterest and magazines like Cosmopolitan & Glamour.
It is clear that for any generic 'dress type' search, such as work dresses or maxi dresses, Google thinks there is a single intent – to shop for such products.
To understand what content Google is looking to reward, we need to take a deeper look into the domains. What pieces of content, and which formats, are doing well?
High-performance content is generally very easy to spot. We classify it as a set of content for which keyword rankings are weighted towards the first page of Google search results. Let's look at some examples by finding the stores whose dress content consistently performs.
High-performance content examples
The biggest site for our sample list of dress keywords is Boohoo, with a 9.78% share of the overall market visibility available.
The dresses homepage itself ranks for over 10k keywords in our UK database, with over 19% of those rankings on page one.
The dresses section of the website is even better. With a Visibility Index score of 8.7, it ranks for over 30k keywords in our UK database, with an incredible 54.8% of those rankings on page one of the search results. At the time of writing, this section is estimated to attract almost 1.5m visits a month from organic search.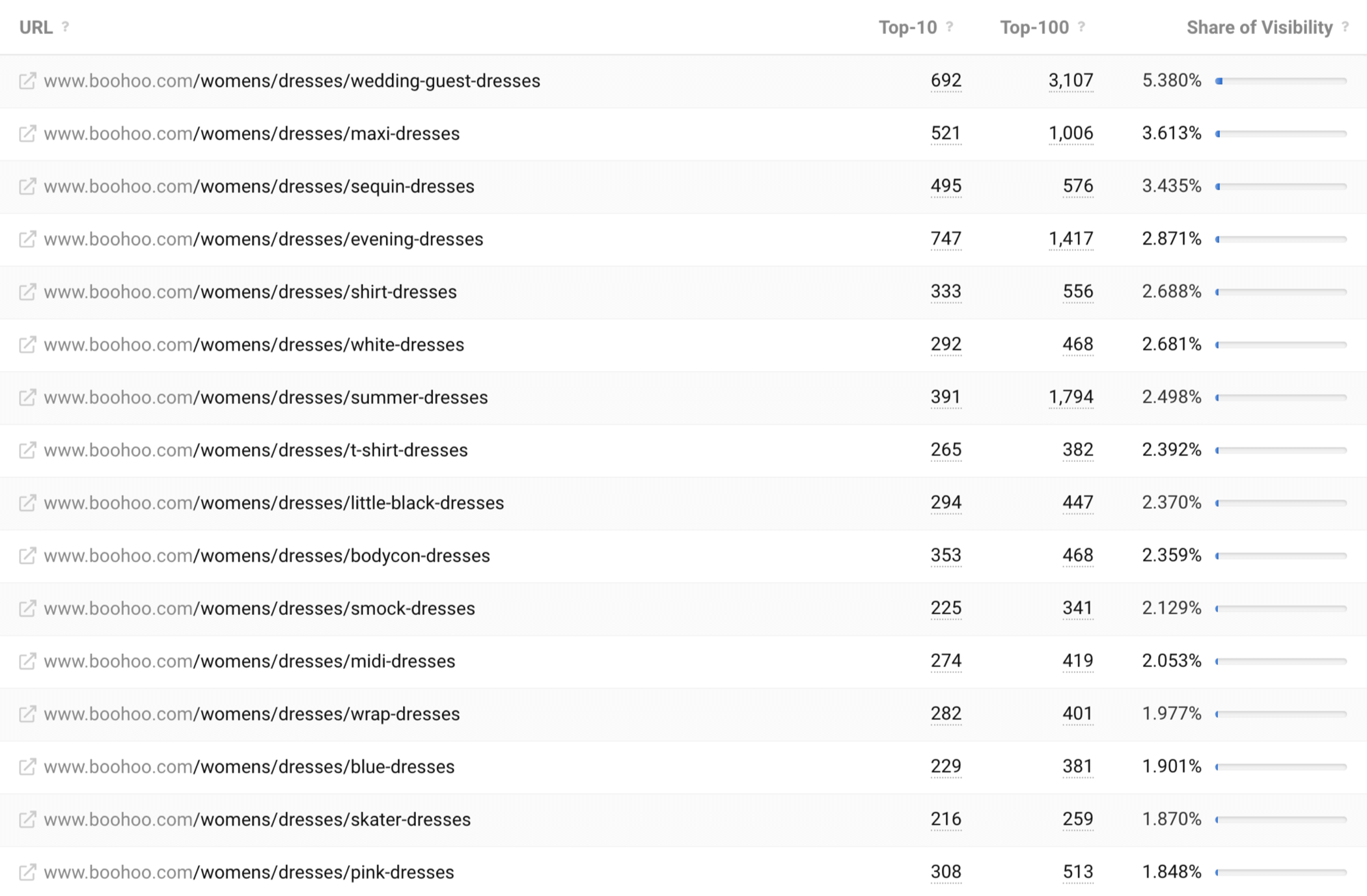 Essentially, if it is an important dress topic that Boohoo has a page for, there's a great chance that it ranks on page one, putting it in front of most searches for the subject.
In fact, dresses is Boohoo's most important category for generating organic traffic. We can see that its visibility has grown consistently over the past twelve months.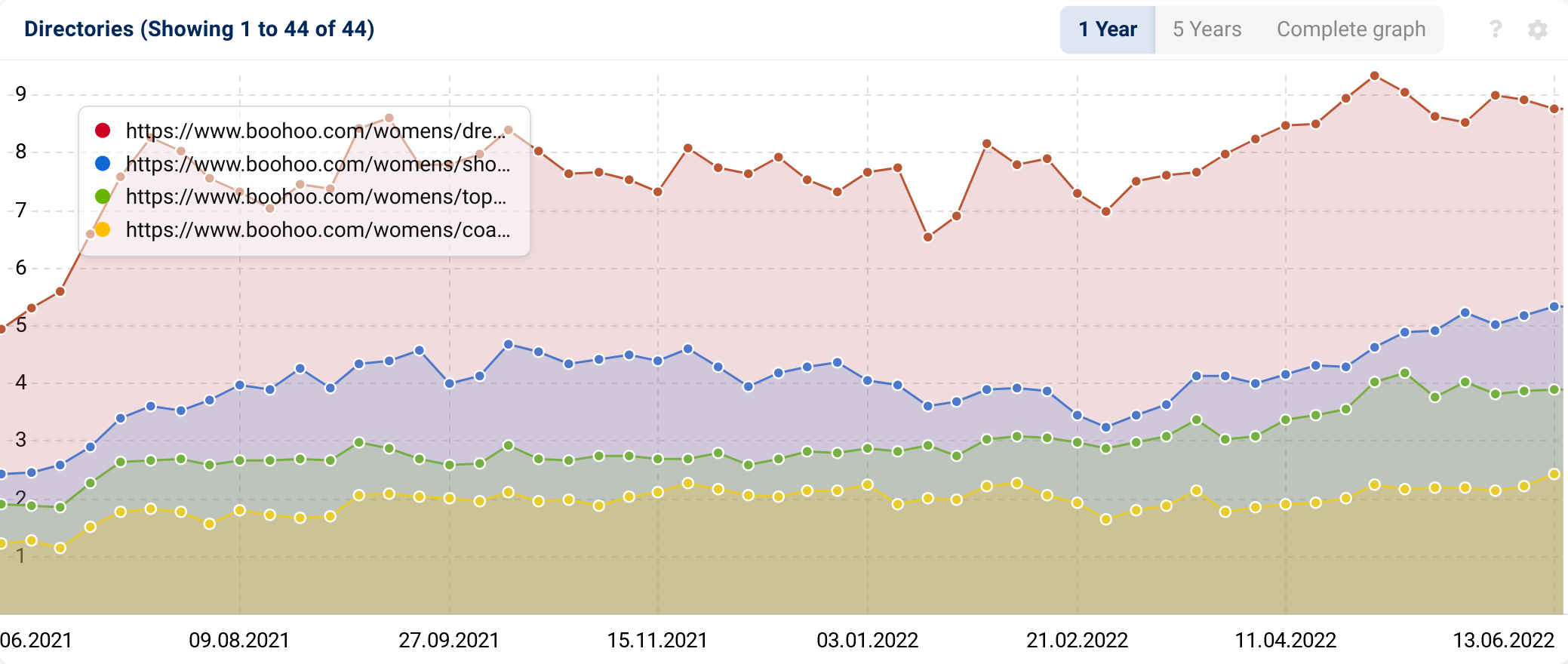 There are 163 different pages (including the main dresses page) powering these rankings, with dedicated pages for:
Every type of dress, from skater to bodycon.
Dresses for different occasions & uses, such as for wedding guests or the summer.
Dresses by colour.
And classic ways to shop for dresses, such as a dedicated page for finding a little black dress (though modifying the main 'black dresses' page).
This smart taxonomy & architecture builds what functions as a topic cluster on dress shopping. A closely related set of pages that combine to form comprehensive coverage of a subject, link to each and all to their logical parents & the pillar page and look to fulfil the customer's intent.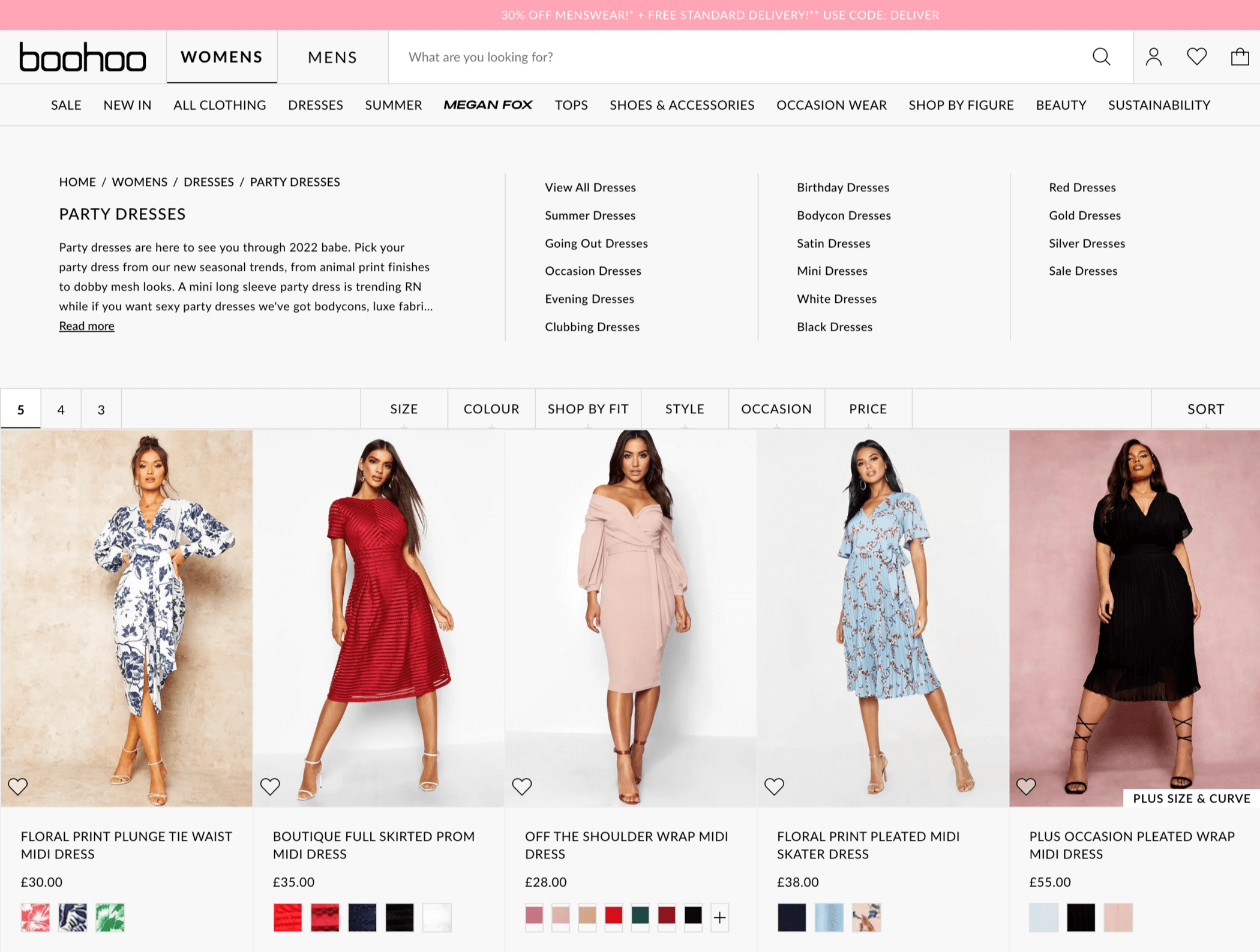 Of course, this isn't exclusive to Boohoo – other sites try and do this as well. What we can learn from Boohoo though is how well they execute this. The dresses section includes many best practice optimisations for both customers & search engines:
The main product listing pages (PLPs, or category pages) in the main navigation offer quick access & site-wide internal links.
Breadcrumbs make it easy to see where you are in the site structure & offering search engines context plus the opportunity for structured data markup.
Introductory copy above the products, written in the perfect tone of voice for the target audience, featuring related keywords & offering search engines more clues to what the page is about.
Well-used on-page optimisation tags such as keyword-rich title tags & clear main heading (H1) tags.
Links to other related PLPs, including cross-merchandising opportunities where appropriate.
An easy-to-use mobile experience – we estimate 88% of their organic traffic is by customers on their phones.
And a huge selection of products. Over 8.2k at the time of writing. It is no coincidence that most of our top-ranking sites have hundreds or thousands of dresses to choose from. Our keywords are more generic, so with fewer specifics to work with, Google seems to reward sites with a wide range of stock.
And more.
Add this together, and you have perhaps the quintessential contemporary online shopping experience.
It's a design we see across many of the top twenty-five domains: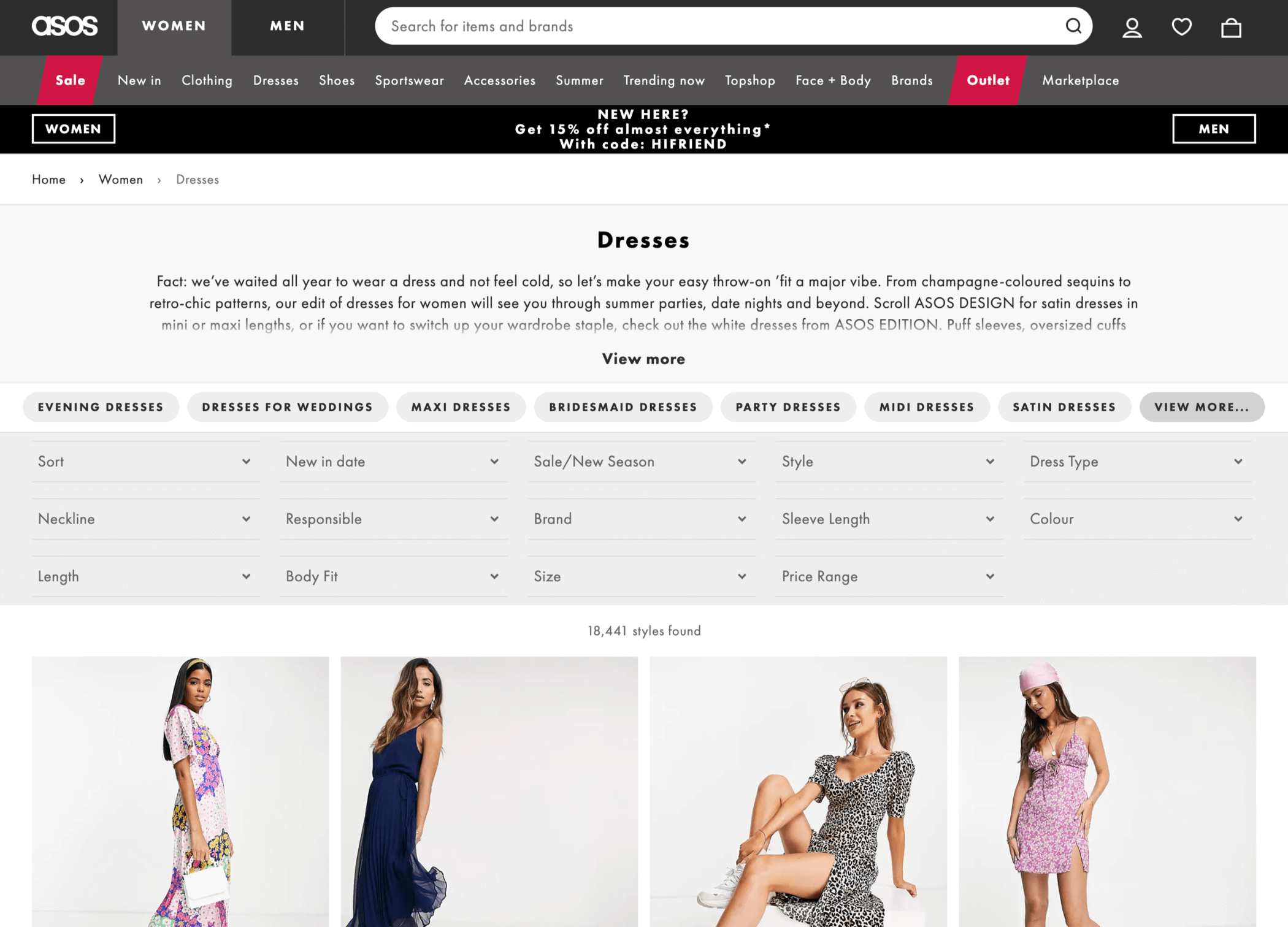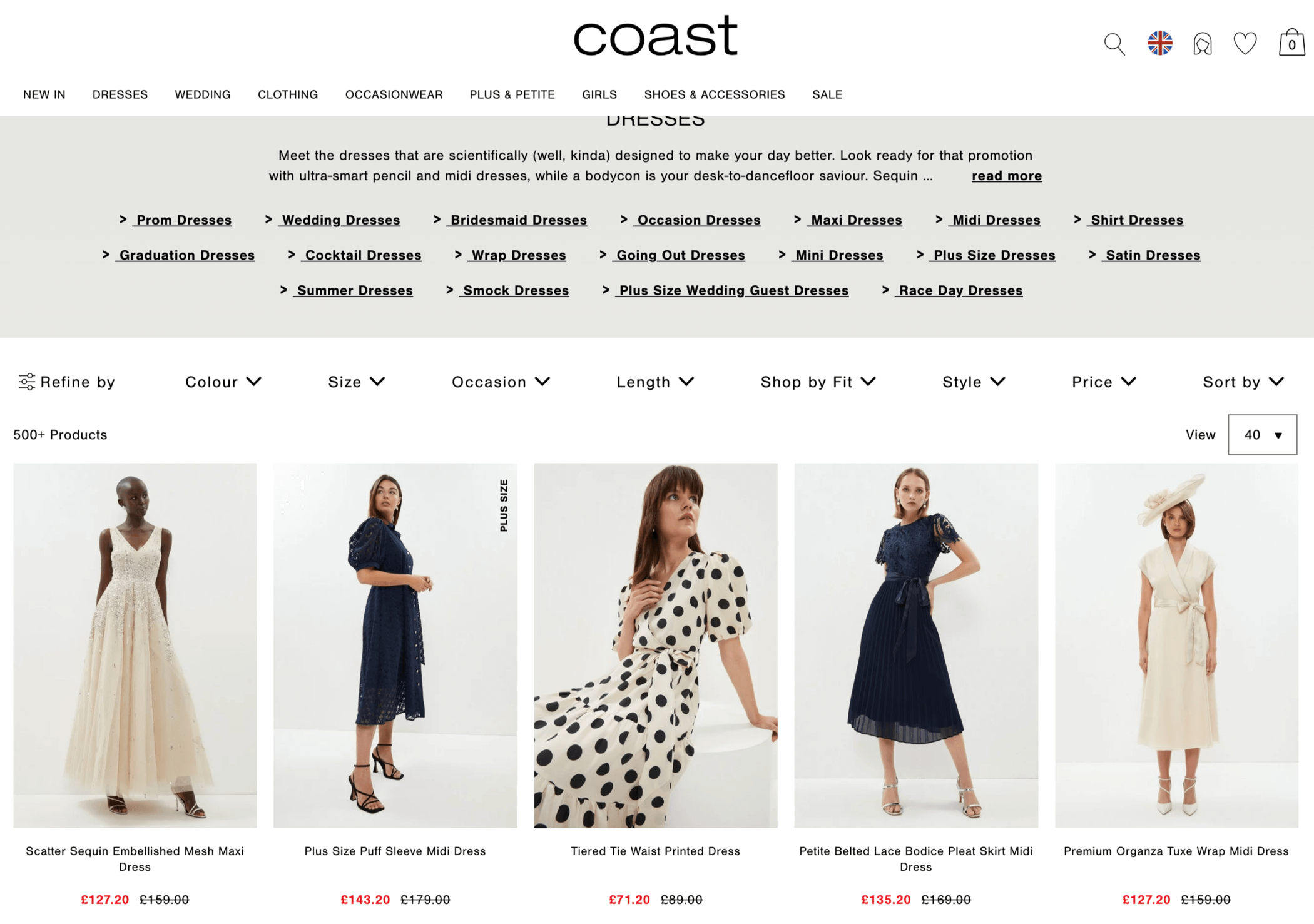 John Lewis has a very different background to Boohoo as a retailer but has arrived at a similar destination with their shopping experience.
Their dresses section is another example of high-performing content, ranking for 40k keywords in the UK, with over half of the representative sample SISTRIX uses for its Visibility Index ranking on page one. You can also see major growth in performance over the past twelve months.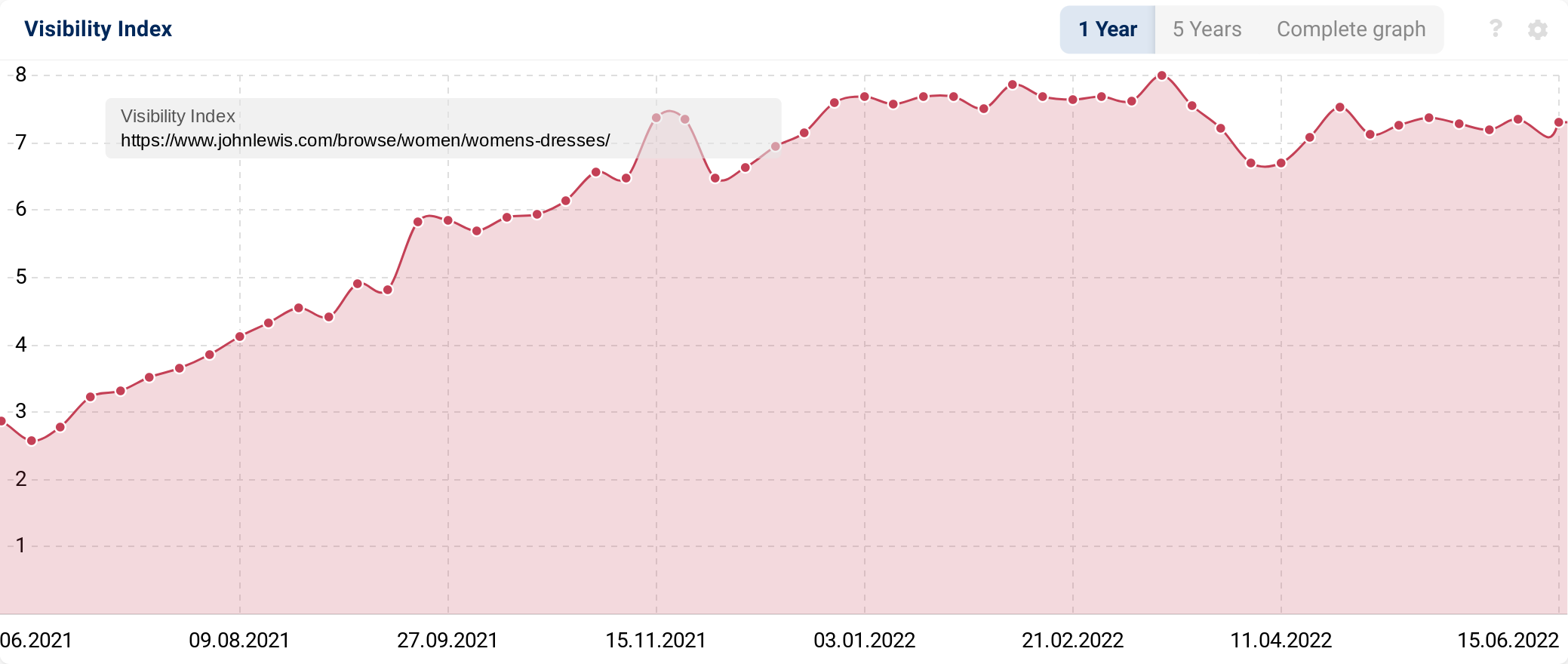 Today, after impressive improvement over the past year, we estimate this section earns 1.19m organic visits a month.
Where we see them differ in approach to Boohoo is the number of dress landing page options they present.
John Lewis has a wide structure of PLPs thanks to having a lot of options in their faceted navigation (product filtering results). As well as types of dresses there are pages by brand, colour, shape, pattern, size, material, sleeve length and more. We see over two thousand ranking for at least one keyword in the UK.
Their strongest pages rank for hundreds of keywords and have many of the same best practices as Boohoo – good on-page SEO, introductory copy (though this is at the bottom of the page & likely rarely seen by customers) and some internal links highlighting key subcategories (and links through the filtering options).
Also important is their range. At the time of writing, the site lists over 6.4k different dresses to buy. That's far more than you can find in any of their department stores & allows John Lewis compete with the online-online retailers.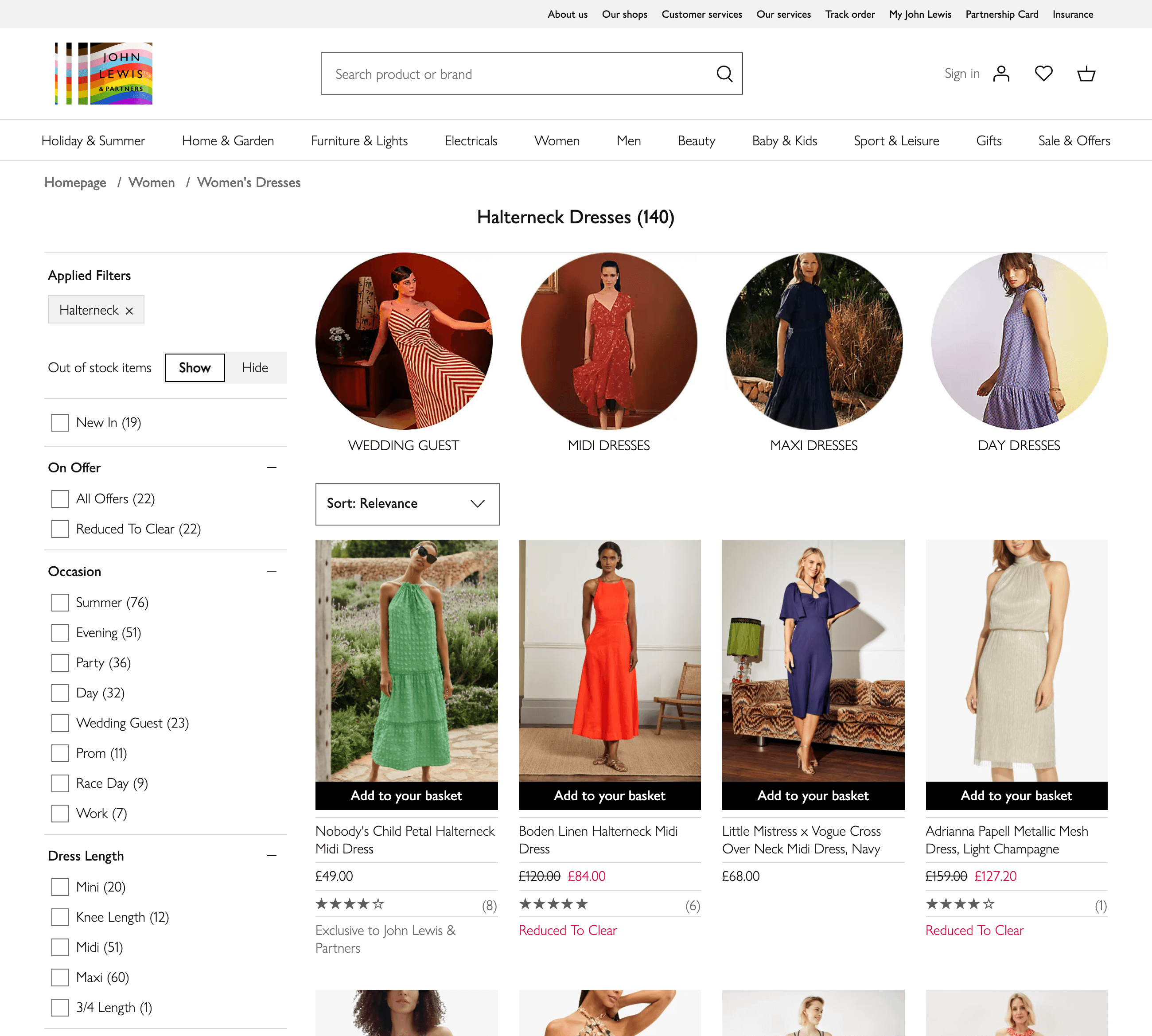 Missguided
An interesting note is that Missguided is still in the top 15 domains for dresses – and that's despite a recent dip in visibility following the move to administration.
At the time of writing, the main Missguided.co.uk site returns a 500 server response, with the message that the site is down for maintenance. It will be back up & running soon, but in the meantime, Google has been quick to reduce how often they show it in the search results.
Encouragingly for Missguided, House of Fraser – another brand run by the Frasers Group who have bought the Missguided name – appears in the top ten most visible domains.
Notable other domains
A final interesting note is that you don't have to be one of the most famous retailers or a dominant ecommerce giant to have success in this space.
SilkFred (with a VI score of 2.315) has a successful dress section, ranking for over 17k keywords overall (25% on page one or two), and competing with the household names in our list.
They put dresses front & centre on their site, with a dedicated space on the main menu – other categories have to compete under the 'shop by' heading – and offer thousands of options to choose from. Combined with a well-optimised page and they are set up for success.
Much of their success comes from a few categories – wrap dresses, sequin dresses and off-the-shoulder dresses (all listed on the main menu) leading the way. They have a wider range of PLPs on the site, so there's perhaps an opportunity for them to work on these further and get an even large slice of the market.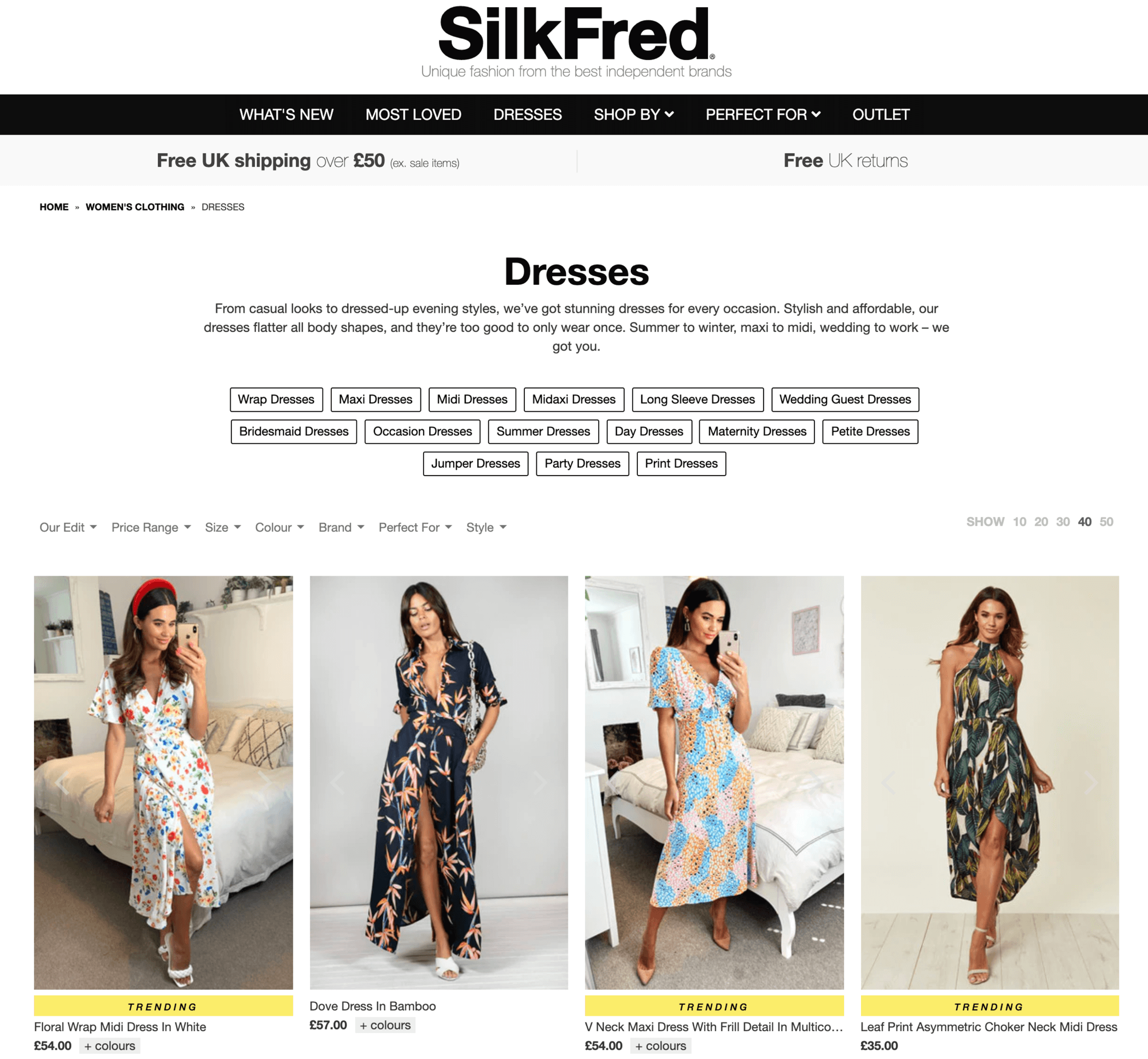 Little Black Dress, I Saw It First and Femme Luxe are other sites with smaller overall visibility that are (stylishly) crashing the party to appear in the top twenty-five domains for our dresses sample.
Primark – invisible dresses?
There's one extremely popular retailer not in the list above, and not even in the top 100 domains competing for visibility, Primark. A recent re-launch of their website has done nothing to change that. The reason is simple as Primark doesn't offer online sales, which clearly doesn't satisfy the intent of the searchers in this keyword set. We continue to track the progress as new features are added to the website and you'll find our analysis in a recent SISTRIX article.
Summary
In our deep dive into the dresses part of the women's fashion retail sector, we've found a few important patterns.
Google believes that most searches for a dress type, category or purpose have an inherently 'do' intent. The searcher is looking to find & buy a dress.

The intent behind these searches is well established and leads to a set of industry standards that nearly all rankings pages adhere to. This gives us a blueprint for the type of content that Google wants to show.
On the other hand, this homogeneous shopping experience means it is harder for stores to differentiate themselves on their dress pages. Linking to an occasional guide to excellent cross-merchandising is as different as it gets.

This broad commercial nature of our sample keywords means Google wants to show sites that offer a wide choice of that type of product. For the most popular dress categories or collections, that means listing hundreds of products to rank.

Related to this, we also see sites thrive with a strong, sensible architecture that lets them build a large series of targeted landing pages for the many dress variants the market searches for.

It is possible to rank well in this highly competitive sector without being one of the biggest ecommerce brands, but it requires you to follow the best practices the market currently dictates.
As the content experience is so similar in many ways, Google must use other signals to determine the best retailers to show.

Those signals could include E-A-T-associated signals around expertise in the space through supporting guide content and authority via links acting as recommendations.
And brand signals, especially signals of a brand reputation for dresses, are also likely important.
A superb all-around shopping experience is much more than just a list of products, no matter how well optimised. In a basket full of similar PLPs, it's those sites that deliver more that Google is looking to reward.

Primark is a good example of a large fashion retailer not fulfilling searchers requests and, as a result, not visible in this sector.
Methodology and data
SectorWatch follows a fixed process which you can also learn in our free competitor analysis Academy class.
For this SectorWatch, we used relevant keywords from a selection of dresses keyword discovery tables.
We took a selection of highly targeted keywords with a 'Do' intent. From this, we harvest all the ranking keywords for the URLs in the SERPs. We call this the Keyword Environment. Most SERPs will have some mixed intent so we re-filter the list for the correct intents and sanitise it by hand to leave a smaller, highly-relevant set of searches made by the UK public. The results are based only on organic result positions.
Keyword Set: Women's dresses
Core keywords: women's dresses, occasion dresses, party dresses, summer dresses, maxi dresses, midi dresses, mini dresses.
Total keywords after harvesting and re-filtering: 1200. The full keyword set is available for download and further analysis can be done in the SISTRIX keyword lists feature, including competitor analysis, SERP feature analysis, questions, keyword clusters and the traffic forecast shown below.


SectorWatch is a monthly publication from the SISTRIX data journalism team. Related analyses can be found in the TrendWatch newsletter, IndexWatch analysis along with specific case studies in our blog. New article notifications are available through Twitter & Facebook.