The SISTRIX Visibility Index is a key indicator of visibility and makes success in the Google SERPs reliably and transparently measurable. Below, you will quickly learn about the most important advantages and limitations of the Visibility Index.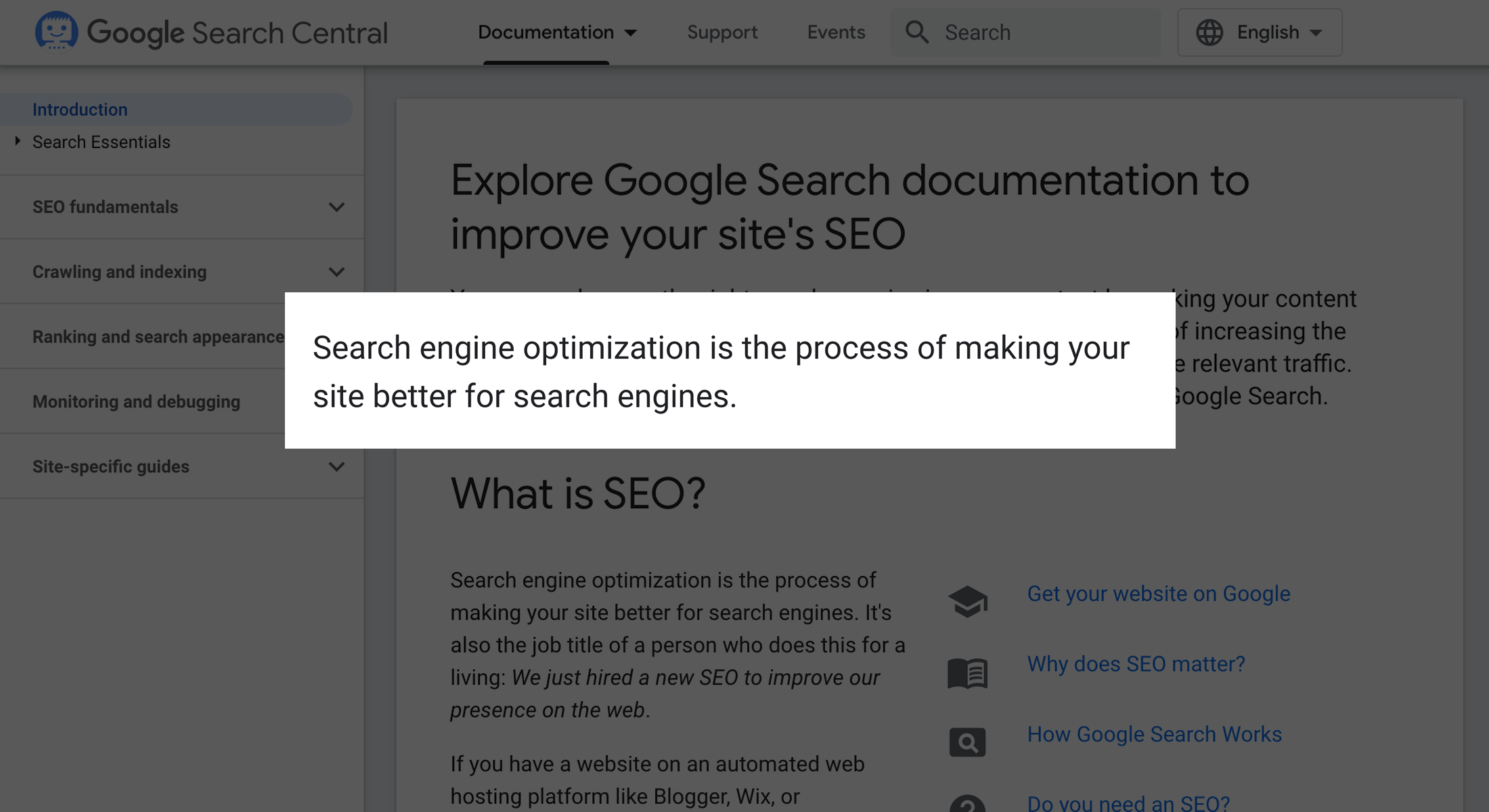 "Search engine optimization, or SEO, is the process of increasing the visibility of website pages on search engines in order to attract more relevant traffic." – this is how Google itself defines the term search engine optimisation and the work involved. For targeted analysis and improvement, we invented the Visibility Index in 2008. Since then, it has established itself as the gold standard for measuring SEO success.
The most relevant benefits of the Visibility Index include:
Competitor analysis – You can view the Visibility Index for any domain. Find the market leaders in your segment to provide you with a blueprint for future SEO success.
Historical data – The Visibility Index is available for each domain retrospectively. For some countries, back to 2008! Learn from the developments, wins and losses of the past years.
Independent success measurement, daily – The calculation of the Visibility Index condensed into one key figure enables a targeted measurement of how successful your SEO work is. We calculate the Visibility Index with fresh data, every single day.
If you are still new to SEO and would first like to know how the Visibility Index fits into the SEO cosmos and what it means, first read our article on the Visibility Index in the SEO Cosmos first.
Analyse Successful Competitors and Use Them as a Blueprint for Your Website
Top performance is impossible without an objective comparison with your competitors. With reliable and comparable data, we show you at a glance how well you rank compared to your competitors.
This benchmarking feature is one of the core tasks of SISTRIX. This way, the market leaders in your segment provide you with a blueprint for future SEO success.
We collect data from over 40 countries – both desktop and mobile – and condense it into this one key figure. And you have access to it. There are no synthesised figures in SISTRIX. This makes the Visibility Index perfect for meaningful competitor analyses.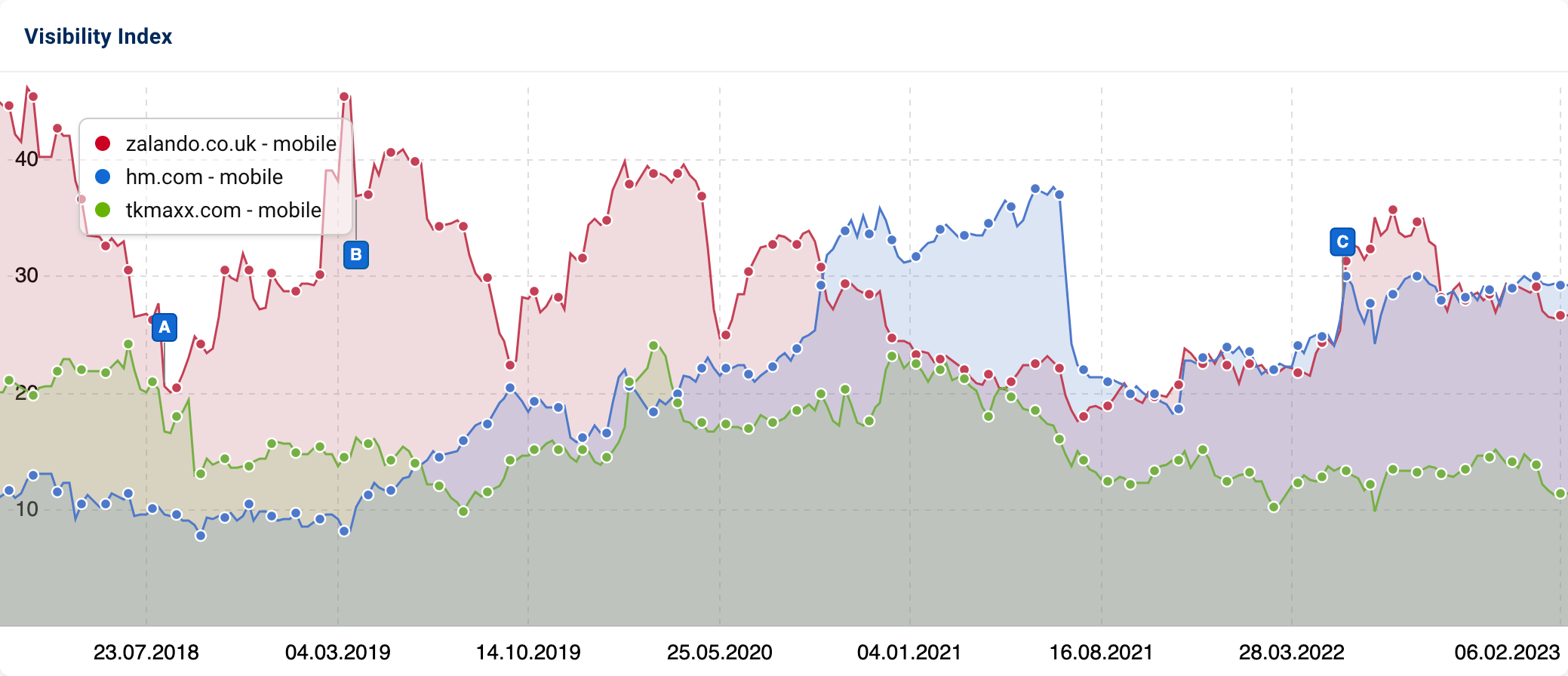 Use Data From the Past for Your SEO Success of Tomorrow
SISTRIX comes with an integrated time machine: We been collecting relevant search results since 2008, so you don't have to configure keywords tracking projects and wait for results.
We show you Visibility values for more than 100 million domains and 40 countries at the push of a button. This allows you to understand developments retrospectively and plan your future SEO success.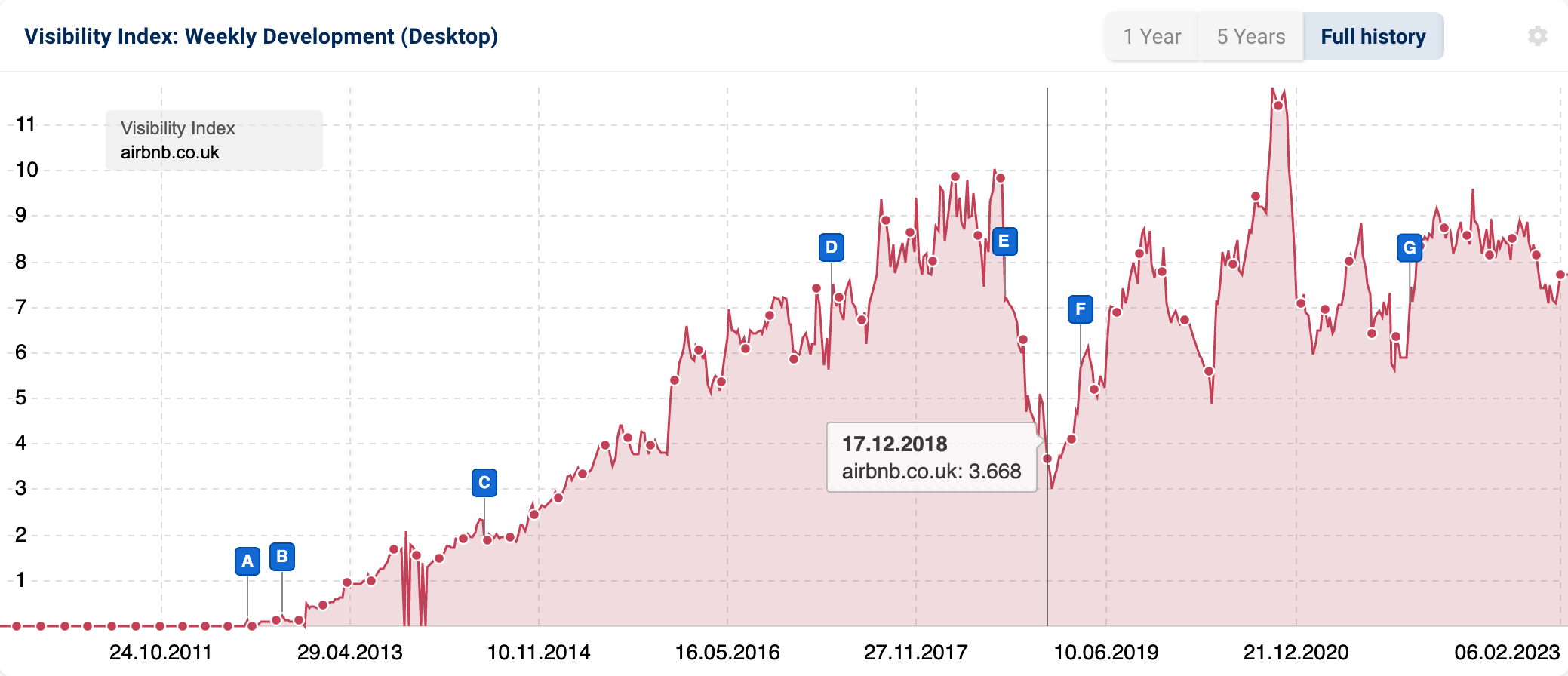 Thanks to our daily data updates, you can also measure and react to very recent changes in your Visibility Index. With informational and configurable event pins, you also keep track of relevant events in your domain's history.
SEO Is Already Complex Enough: Understand causes and effects more easily
The SISTRIX Visibility Index is not a traffic index and does not want to be one. We measure SEO success, not visitors on your website. Although the number of visitors correlates strongly with the Visibility Index in most cases, there can be deviations due to external influences, seasonality and other factors.
With the Visibility Index, you can see whether your SEO measures are crowned with success or are going in the wrong direction. Various influencing factors are reduced or dampened for the calculation, so the Visibility Index enables the precise identification of the causes for ranking shifts.
More Strengths of the Visibility Index
The SISTRIX Visibility Index has existed since 2008, based on desktop data. However, user behaviour has shifted more and more towards mobile searches, and even Google has adapted its index accordingly.
This is why we have also provided a smartphone Visibility Index since 2015. You can directly compare desktop and mobile Visibility Index in SISTRIX.
Regular Google updates change the rankings and thus the visibility of individual domains, sometimes significantly. So that you can quickly recognise and track changes in rankings, visibility and other key figures, we mark the corresponding date with an event pin in the Visibility history.
For the sake of clarity, we only do this if the visibility of the examined domain has changed significantly at the time of the update.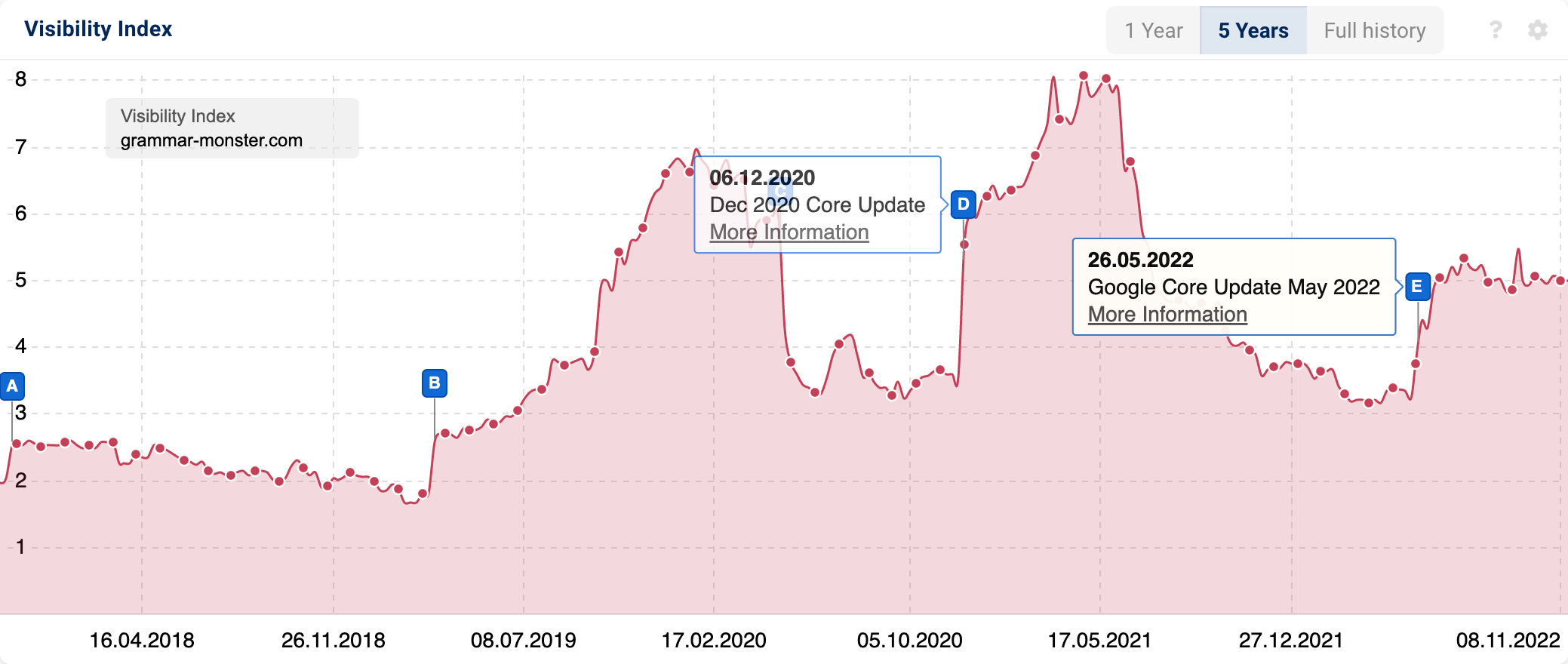 In the graph of Visibility history, you see at-a-glance when the visibility of your domain, a subdomain, a host or an individual URL changes.
With reports, you can individually compile the Visibility histories of different domains, directories or hosts for monitoring. This allows you to keep track of the key figures that are currently relevant to you.
With Optimizer projects, you can see errors, warnings and notices for your website and fix them before anyone else notices them.
Criticism of the Visibility Index
It is right and important to criticise because this is the only way to improve yourself and your products. Whenever we receive criticism about SISTRIX, we consider whether we can change or improve something. We would like to briefly address a few points that often reach us.
"There is no Visibility Index for my niche." – There may be small specific topics that have a search volume that is too low to be sufficiently represented in the keyword set of the Visibility Index. In these cases, you can create your own project Visibility Index based on your keywords. This is also recommended for long-tail or regional keywords.
"The traffic analysis of another SEO tool is much more precise." – This is correct and that is how it should stay. We present the visibility of a domain in a reliably measurable way, free from external influences. You can use the Visibility Index in addition to a traffic index, for example, because each key figure allows different interpretations and conclusions. Learn more.
"Seasonal fluctuations are not shown." – For the calculation of the Visibility Index, the often fluctuating changes in search volume are averaged in order to present visibility changes as a figure without any seasonal distortion. For the VI calculation, an annual average of the search volume is calculated. In this way, the Visibility Index provides you with meaningful signals at exactly the right time to manage your SEO work. Learn more.
"The SISTRIX Visibility Index does not know all search terms." – 15% of all Google searches have never been made before, according to Google itself. Therefore, even the best SEO tool cannot cover all search terms. But with the 1 million keywords used to calculate our Visibility Index, we already cover a large range of search terms. For comparison: The Oxford English Dictionary currently contains around 600 thousand words. Beyond that our keyword set is representative of the searchers in the country. This works in the same way as the projections for a general election.
"Current search terms do not appear in the SISTRIX Visibility Index." – This is partly correct. This is because the Visibility Index is primarily intended to help you track long-term changes. Keywords that are searched for a lot only for a short time are not relevant for this. However, in order to be able to reflect current and long-term changes in demand, we regularly exchange a fixed proportion of our representative keyword set.
"The calculation of the Visibility Index is not explained transparently." – We believe that only those who know the basis of their data can also work with it. This is why the calculation of our Visibility Index has never been a secret. More about the calculation.
"The click rate is not included in the calculation of the Visibility Index." – After determining the 100 million data points from 1 million search queries, we weight the results. The click probability is one of the weighting criteria, as is the respective search volume or search intent. More about the calculation.
"Nobody knows where the data for the Visibility Index comes from." – The data source of our Visibility Index is the data from Google's search engine. We do not carry out any "evaluation" at any point – we only measure what Google ranks. Those who rank in Google's search results for our representative keywords also appear in our Visibility Index.
"High-volume keywords cause the visibility of a page to fluctuate, even though they are not relevant for clicks & conversion." – The SISTRIX Visibility Index is a key figure for the visibility of a domain in Google's search results. We measure how relevant Google thinks your page is for certain keywords. So if your page ranks for a lot of what you think are the wrong keywords, you may be sending the wrong signals to Google. Learn more.
"Local search results for generic search queries are disregarded." – That is right, because we always evaluate the Visibility Index for the whole country. However, for the query "hotel", Google displays different results in Liverpool than in London. Here, too, you have the option of setting local targeting with your own project Visibility Index. Learn more.
"It is difficult to find out the cause of fluctuations." – While there are some common causes for fluctuations in the Visibility Index, it is sometimes not so easy to find the right ones. However, not every fluctuation requires immediate reaction from you. Sometimes, for example, your competition has done something wrong from which you profit. In our tutorials, you will find many different use cases explained step by step. Go to the tutorials.
"Various search intents are not taken into account." – Different search intents affect the click probabilities of search results. These in turn factor into our calculation. Depending on the search intent, only the first results are clicked on, but for a "Know" intent, for example, results further down on the SERP are also clicked on. More about search intents.
"The data is not live, so short-term adjustments are not possible." – By default, we calculate the Visibility Index daily for the UK and twelve other countries. Since 2022, you can also view live data on your rankings, which is updated every five minutes. This ensures that we have the most up-to-date data compared to other providers. Learn more.
"New websites are not taken into account." – As soon as a domain shows up in the Top 100 search results of one of our 1 million keywords, it is reflected in the Visibility Index during the next crawl. Since we recalculate the Visibility Index daily, new websites can be displayed very quickly.
"The Visibility Index is not comparable with other tools." – Every tool has its own characteristics and particularities. That doesn't have to be a bad thing. You may not be able to compare values 1:1, but you can use the tools complementary and optimise your SEO work that way. More about the features of the Visibility Index.
"The Visibility Index only refers to Google visibility, not to other search engines." – For years, Google has been the search engine with the largest market share worldwide. This means that the people who are interested in your products, services or information are also browsing there. Therefore, we have made it our goal to calculate the visibility of domains precisely there. However, with your own project Visibility Index, you can also specify that a search engine other than Google is crawled.
"Any loss of position due to Google Ads is not included in the calculation of click probabilities." – The fundamental problem with measuring Google Ads is time. This is because when the ads are set up, times of day are usually defined when a paid result should be displayed, depending on the target group. However, our crawlers (and those of many other tools) are mainly active at night due to resource constraints. The figures that we would determine in this way would therefore not be conclusive.
"Measuring pixels in the SERPs is much more significant than just counting positions." – The pixel rank can certainly be a helpful metric for specific SERP analyses, which is why it is also available in SISTRIX under the keyword feature "SERP Layout". However, this only works for one screen size, resolution or device. Ranking positions are therefore still the more significant metric.
Calculation, Differentiation and Use of the Visibility Index