The Visibility Index is the core of our SEO software. It allows you to measure success in the Google SERPs. In SISTRIX, you can also create your own Visibility Index. For example, if you are active in a niche or a specific topic.
In this tutorial, we will show you step by step when it makes sense to create your own Visibility Index, and how exactly this is done.
Why create your own Visibility Index?
By setting up a project in SISTRIX to create your own Visibility Index, much more than that is ultimately possible:
Create your own Visibility Index to easily monitor changes in your individual keyword set.
Add competitors and observe how their rankings change for your selected keywords.
Track keywords that SISTRIX did not know before (e.g., for niches and specific topics).
Have keywords updated daily, when SISTRIX usually updates them monthly.
Specify locations for which keywords are to be tracked (e.g., for locally targeted sub-pages).
All of this for more than 200 countries and languages.
If you have also added your competitors, you will get regular comparisons which enable you to see when and where the visibility of your competitors is changing – all that on the basis of identical keywords. This allows you to conduct timely evaluations and take emergency measures if needed.
A real advantage over any competitor who does not use this tool!
Step by Step to your own Visibility Index
Set up a keyword set
Before you create a project and with it your own Visibility Index, you should set up a suitable keyword set. Intensive keyword research is an essential part of good SEO work.
The better your keyword set, the more meaningful your project Visibility Index will be later on. Therefore, thorough research pays off in the end.
Furthermore, any subsequent changes to your keyword set will affect your Visibility Index and make the results less comparable over time. You should only do the fine-tuning later on.
In SISTRIX, the Keyword Discovery and Keyword Ideas features are particularly useful for keyword research.
If you want to use not only keywords for which your domain already ranks for your own Visibility Index, but also keywords for which you might want to rank in the future or for which your competitor already ranks well, take a look at our tutorial "Find New Keyword Opportunities Through Competitors". You can also use Keyword Groups and the Google Knowledge Graph to help you find new and relevant keywords.
You can collect all keywords relevant to you in a list in SISTRIX and then add them later when setting up a project. You can also add keywords from the Google Search Console there.
Create a project in SISTRIX
As soon as you have set up a keyword set, you can move on to the creation of a project in SISTRIX.
This is how it's done

Once you are logged in to your SISTRIX account, you will find the menu item "Projects" in the navigation bar at the top of the start page. On this overview page you will find your existing projects as well as the button to set up a new project.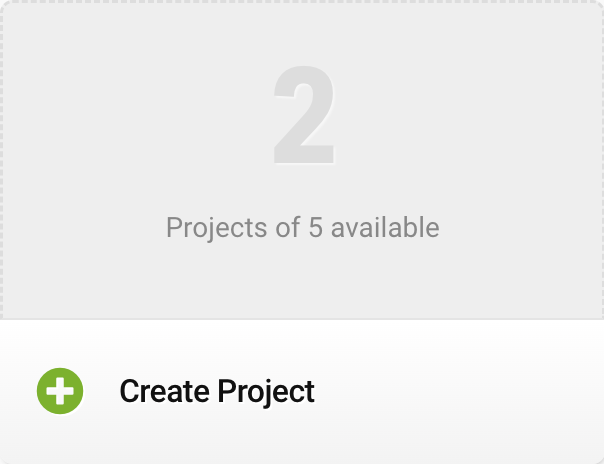 Give the project a meaningful name and enter the domain to be crawled as well as the competitors. Do not enter the keywords here yet, we will do that later.

As soon as you click on the green "Create Project" button at the bottom of the page, the SISTRIX crawler will search through your project and check the OnPage factors.
However, this tutorial will focus on your own Visibility Index and your own keywords.
Add your own keyword set
In the next step, we will add your thoroughly researched keywords.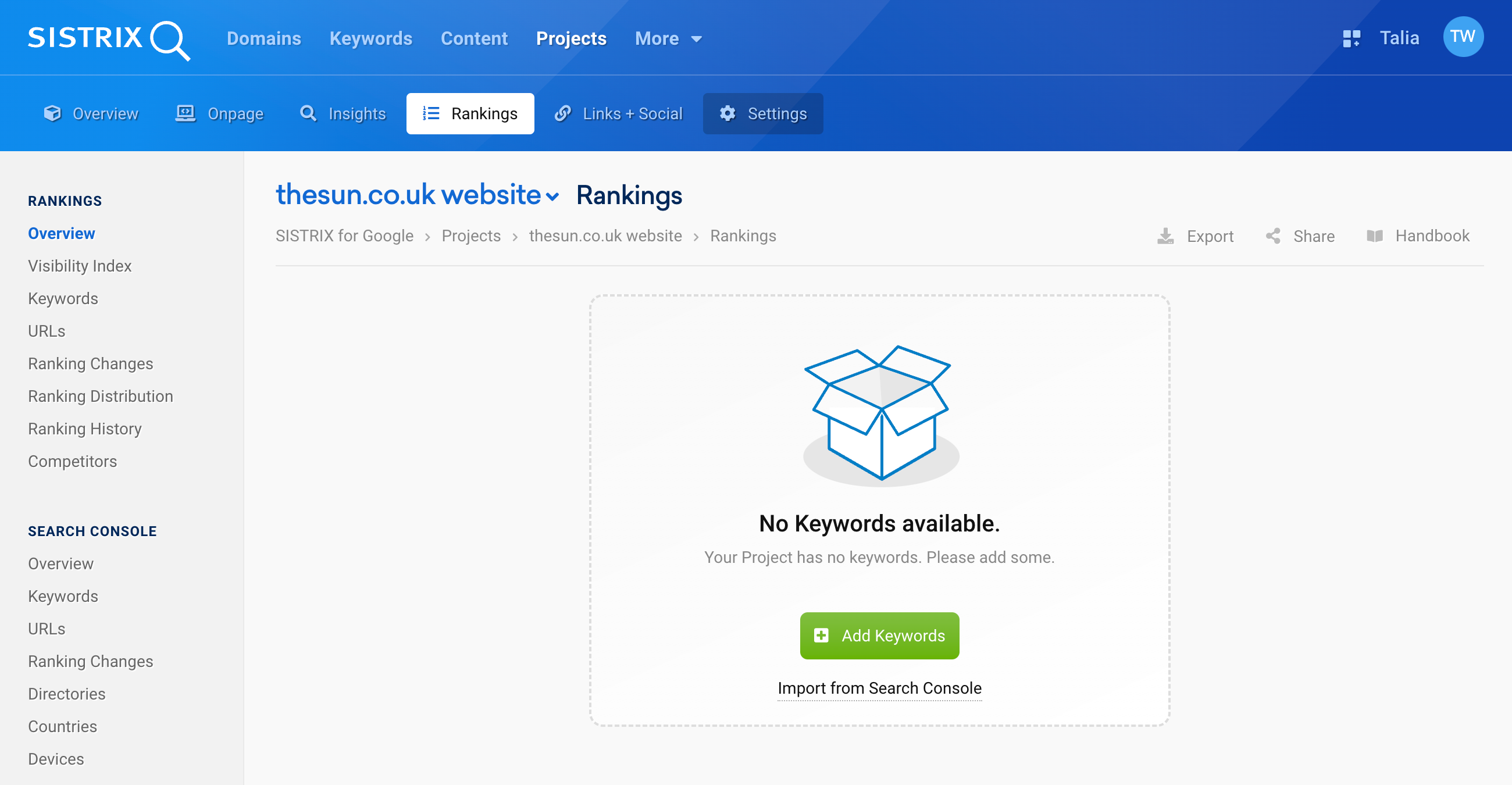 In the project navigation, you will find the item "Rankings" 1. As you have not yet added any keywords, a button 2 will automatically appear, with which you can add new keywords.

Alternatively, you can also open your SISTRIX list, select the relevant keywords and add them to this project. 3
Both ways will then lead you to the keyword settings.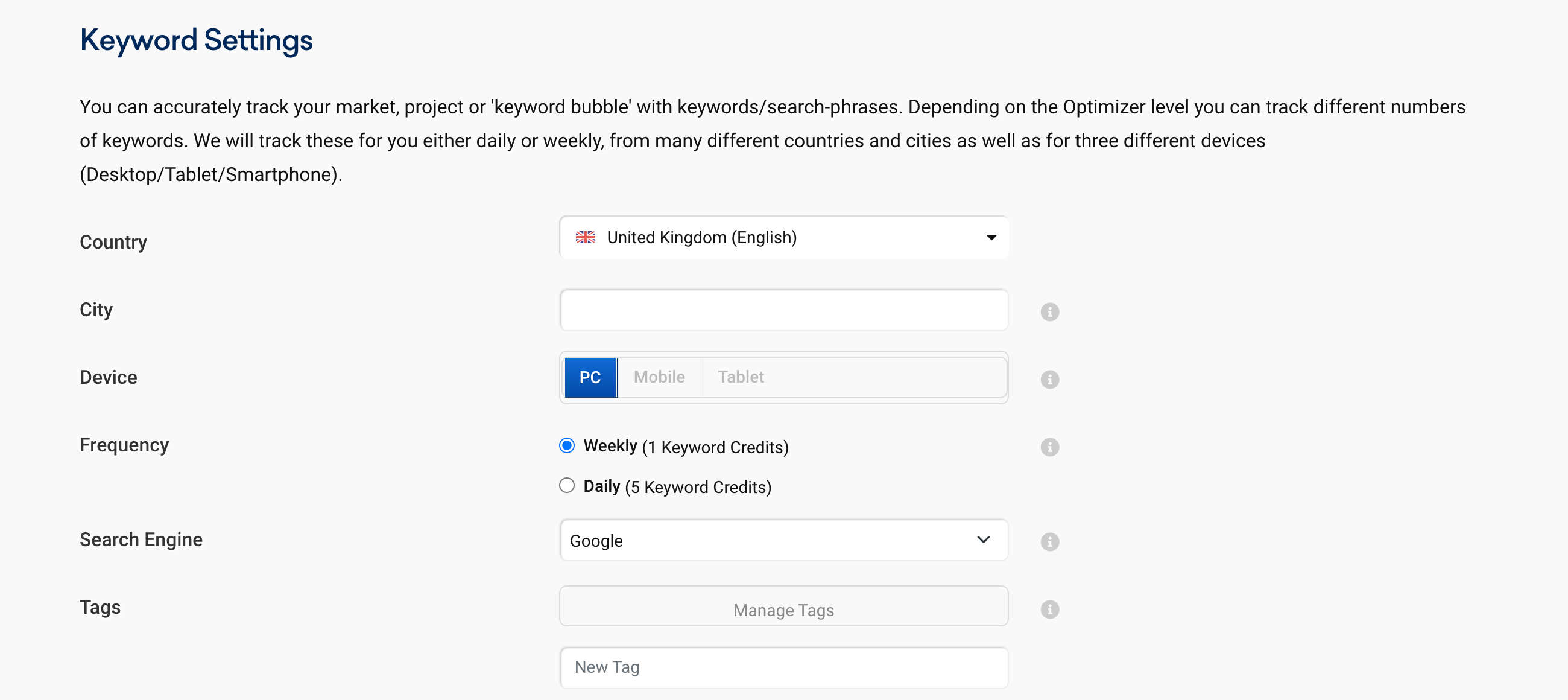 You can set up the monitoring on many types of device (PC, mobile, tablet) and even track the keywords locally by adding a country and city. There is a total of over 360 language/country combinations available at the moment.
At this point, you are already able to add tags to the keywords. This is only useful if you only typed in keywords that should be part of that tag. More details on that, below.
Click on "Save all changes" to apply the keywords in the Optimizer. Next, you will see a confirmation page in which we will show you the number of keywords that can be added. If there's a problem, it will also show up on this page. For example when you do not have enough keyword-credits to add all the keywords.
On the following page you can adjust the keyword settings, add and edit tags, delete keywords and add new ones. Now we can easily add tags to help our analysis.
Categorise keywords with tags
We will now assign various tags to the keywords and thus create a well-sorted keyword set. Later, we will analyze Visibility Index values for each tag and compare them with competitors.
In order to not need to edit each keyword separately, it is useful to set up filters to view all keywords you want to tag. Just type in one keyword or set up additional keyword-filters.

Once filtered, we can now select all the keywords that need a specific Tag, click on "Add tag" and give the tag a name.

Repeat the process for multiple keywords and created specific categories, as well as country specific tags.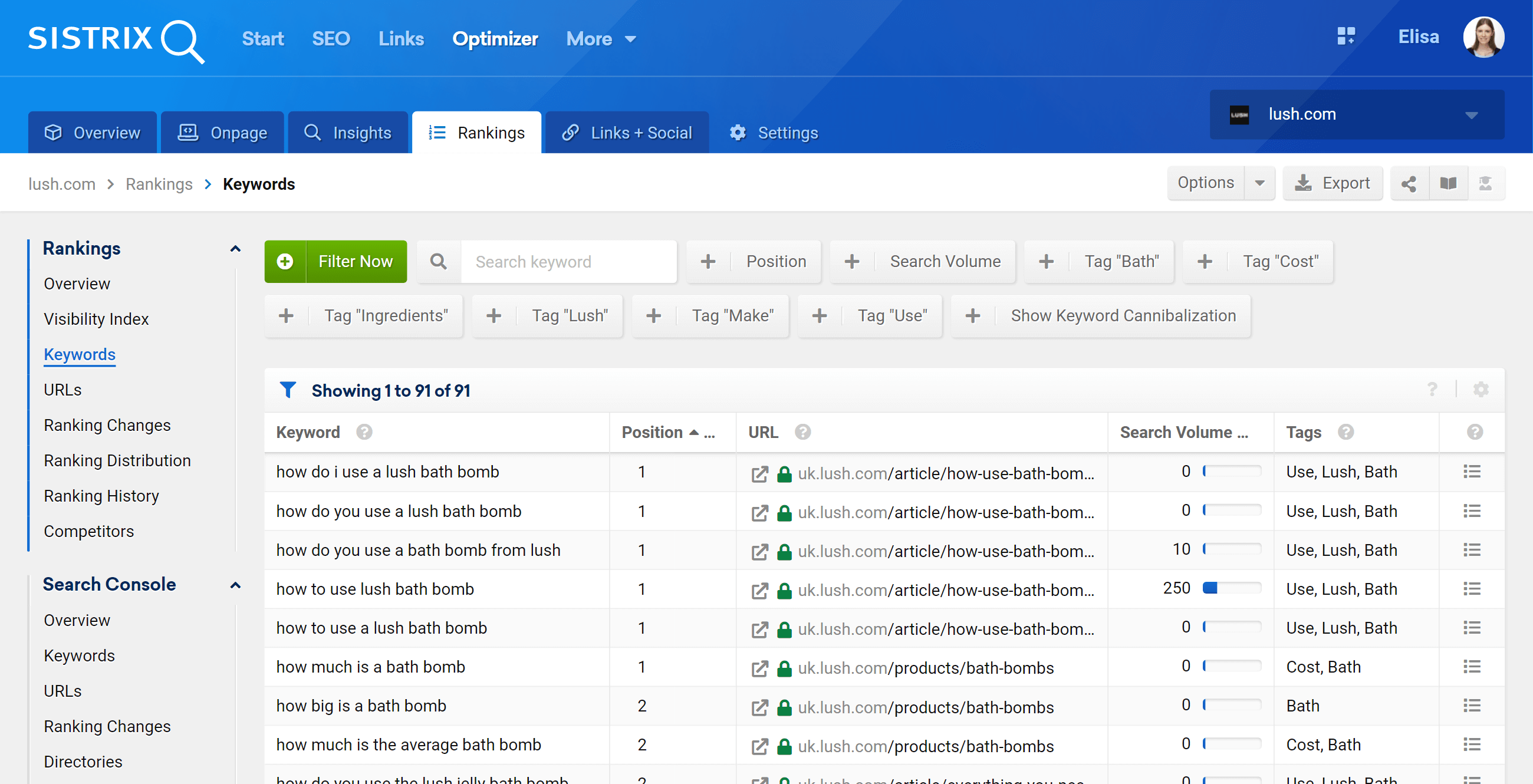 This sets the foundation for solid evaluations and your own Visibility Index score. Now, depending on the number of keywords, you will have to wait for a couple of hours until the Toolbox has collected all of the ranking data. To be able to view a first Visibility Index in the chart, let a day pass by at the very least.
While waiting you could take a look at the crawl results and improve the On-Page optimization of your website.
Working with your own Visibility Index
Having set the keyword monitoring to a daily frequency, a new data-point is added to the Visibility Index every day. After a few days, you will see the new trend for the daily movements of your search terms. For this tutorial we will use an example Visibility Index trend for a keyword set of 91 keywords.

The Visibility Index score only changes minimally between the first and last day. While the change in this case is barely noticeable in both the project and public Visibility Index score, it will become especially helpful if you are trying to figure out bigger up- or downward trends.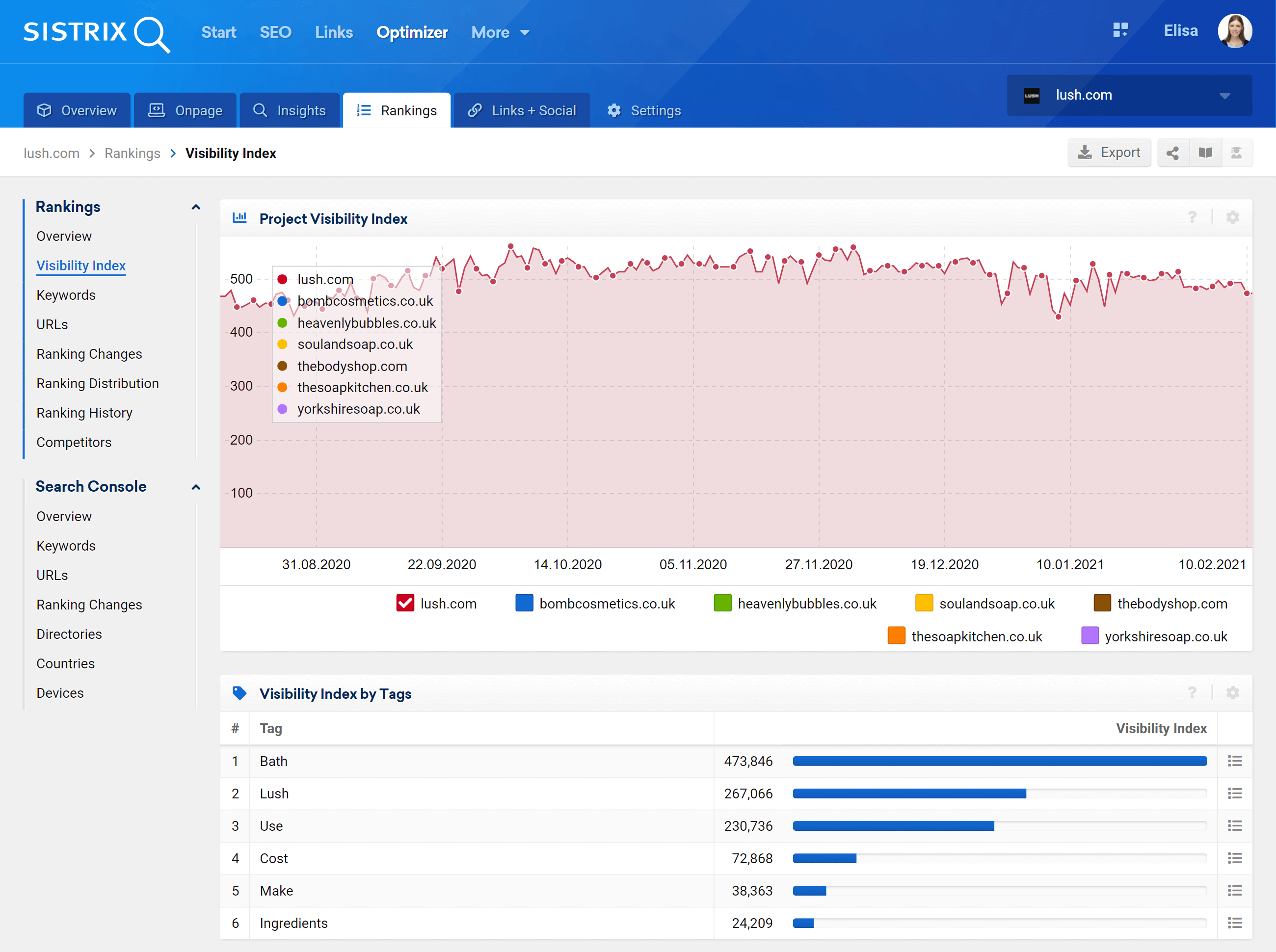 If you assigned tags to your keywords, you can easily evaluate ranking changes within those tags. To do so, click on "Visibility Index" to see them all. The last button of the table shows you more details about that specific tag, for example the total amount of positive and negative ranking changes.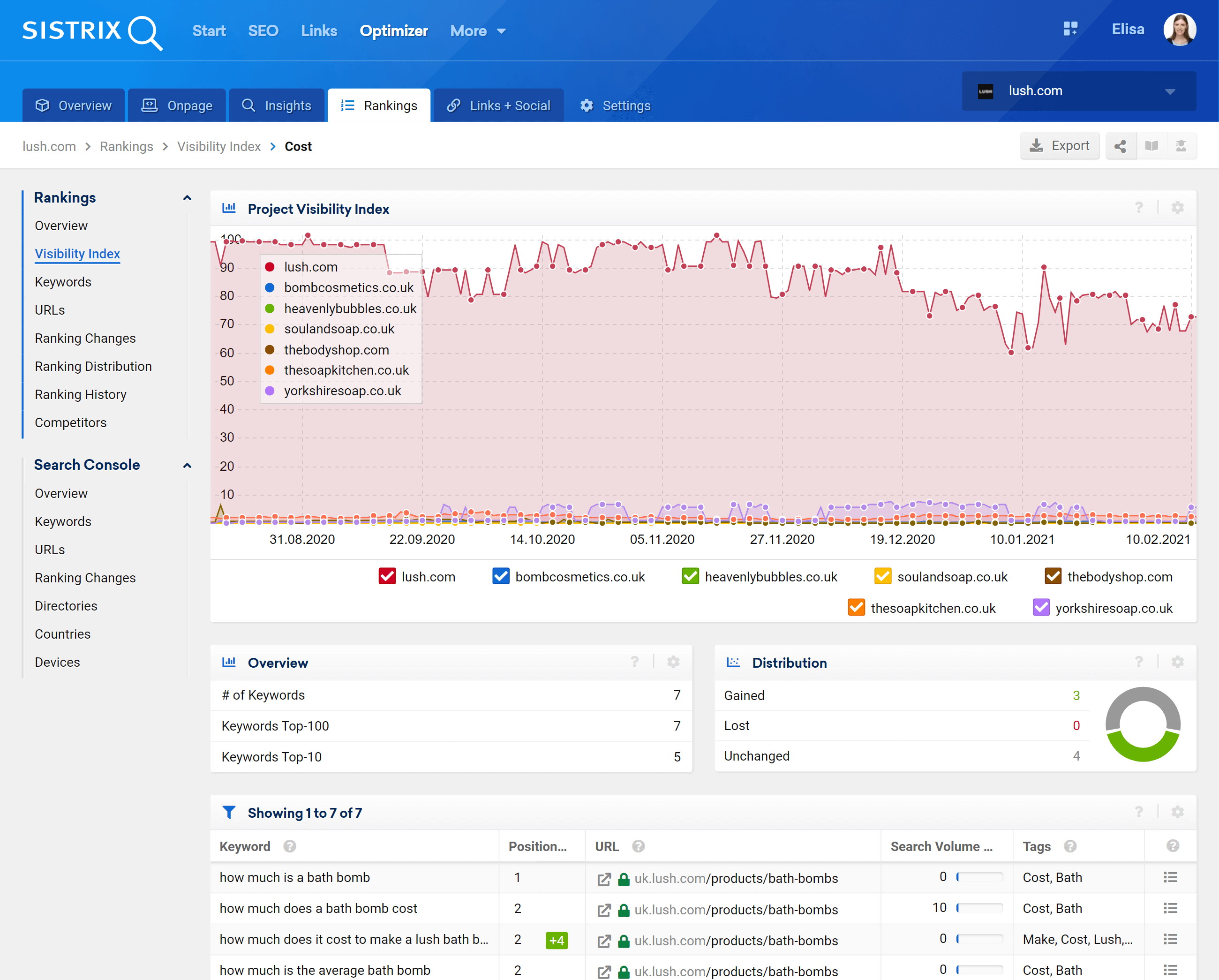 Looking at the tags will help you see the changes clearly. The following screenshot tracks the same time period as the two charts above, but does not refer to my entire keyword set (146 keywords) or to the public value. In fact, the trend shows the development for the keywords within a specific tag.
by selecting Tags you can calculate the Visibility Index score for specific areas of a website, for example, based on the tags, see which parts of a website have gained or lost rankings, all thanks to setting up a Visibility Index score for the keywords and tagging them.
Today, it is essential to get reliable data, fast. There is no margin for errors that might cause websites to lose rankings abruptly. Often, any loss of rankings is usually down to competitors having improved their own rankings in Google. You should be able to recognize ranking changes quickly – at every level of your website. The SISTRIX Toolbox enables you to obtain decisive and reliable information at the right time.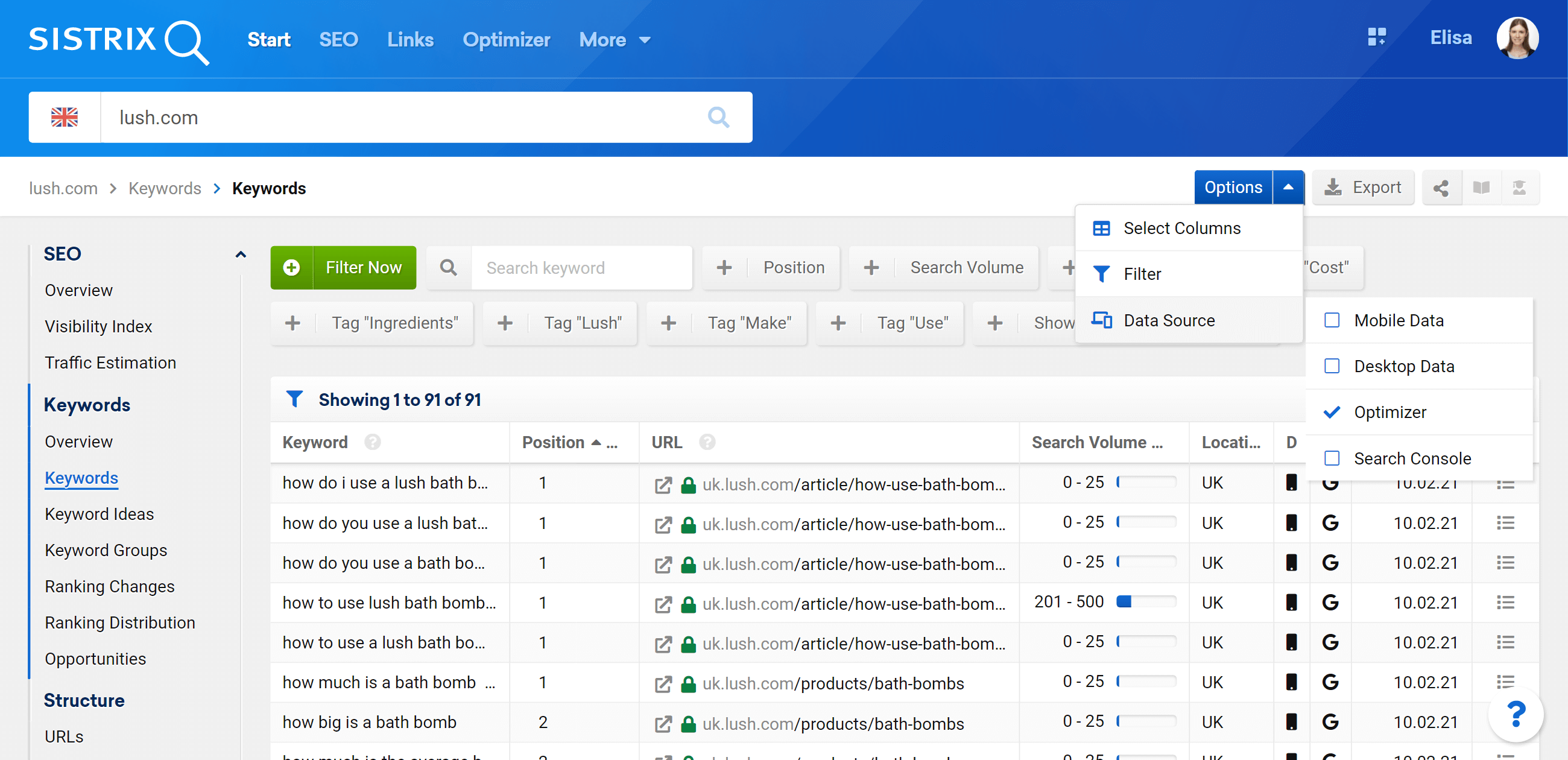 You can also view Optimizer keywords in the SEO module for domains that have projects associated with them.
To do so, open the SEO Module and type the project's domain in the search bar 1 . Now click on "Keywords" to see its rankings 2 . In the "Options" 3 you need to change the "Data source" 4 from "Mobile" to "Optimizer" 5 . Now you can see all your project's keywords and tags.
Conclusion
Take your time when compiling your own keyword set. Add the keywords in the Optimizer and sort them based on the structure of your website by tags. The increased effort and diligence necessary in the beginning should result in persistently well executed ranking analyses later on and will allow you to recognise problem areas quickly. Check the performance of the categories in your online shop regularly or use the tags to categorise landing pages, locally oriented subpages (for example several store branches), products, manufacturers etc.
As always, all data can be inserted in reports, to arrive in your mailbox on a daily, weekly or monthly basis, as an overview.