From millions of domains and directories our third Visibility Leaders report has found over 40 content projects that Google loves across the personal finance sector. This list of leaders will help you identify and optimise your own content opportunities. Here's an overview of our findings, and links to more detailed research and data.
We'll start by celebrating the four winners:
Ratio – the percentage of ranking keywords that are on page 1 of the SERP as measured in August 2023.
Monthly clicks – as estimated using SISTRIX CTR model. (Sept 2023)
Content VI – the Visibility Index, or footprint size, of the content directory. (Sept 2023)
The complete set of high-performance directories has been published here.
Meeting financial desires with content and products
The key finding from our research: Despite a somewhat dark underbelly of content that can be found in this sector, Google appears to be doing a good job in presenting usable results to the user.
The sector falls mostly under the Google "Your Money, Your Life" banner which means that domains and content here are held to a higher standard than in some other areas. The Financial Conduct Authority also lays down rules.
We harvested tens of thousands of search terms that are used to find information and products in this sector and identified the following high-volume topics:
debt: help, management, advice
financial planning
loans: payday, bank
free money
money saving
personal finance software, budgeting app
Trending topics are discussed later in this report.
After initial curation which included removing terms with very low search volume and obvious brand searched, 5306 important keywords averaged a total of 656808 searches per month with a largely 'do' intent. This commercial tendency should not come as a surprise given the topic.
We saw these Google SERPs features appearing the most:
People also asked
Images
People also searched for
Google Ads
Across the 5306 keywords we found the most visible URLs:
www.pcmag.com/picks/the-best-personal-finance-services
www.moneyhelper.org.uk/en/everyday-money/budgeting/budget-planner
www.forbes.com/uk/advisor/banking/best-budgeting-apps/
Personal Finance Trends
Using long-term keyword search volume data (SISTRIX list feature) it's clear that the sector has not only long-term search volume stability, but for the searches that have more of an informational intent, the search volume has risen over the last five years.

Using Google SERPs data to cluster the keywords that commonly rank in the same SERP we find a number of interesting growth topic areas.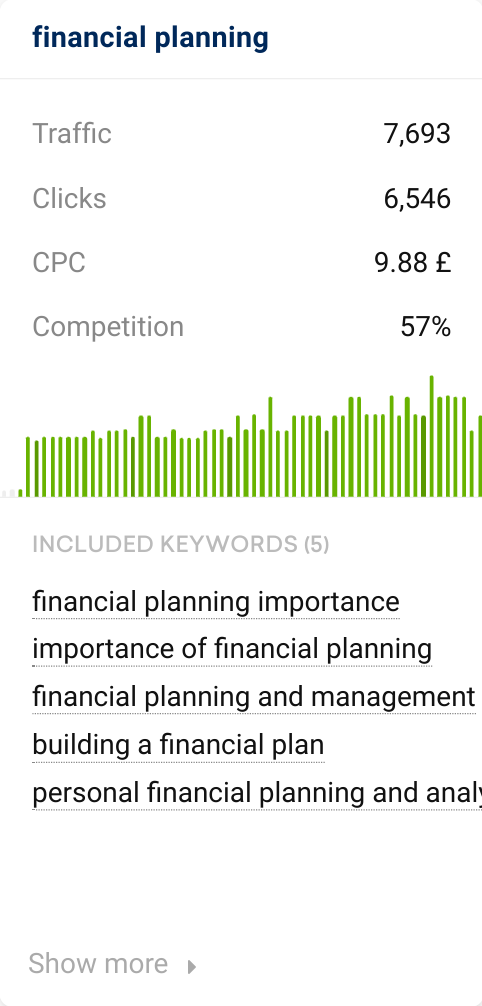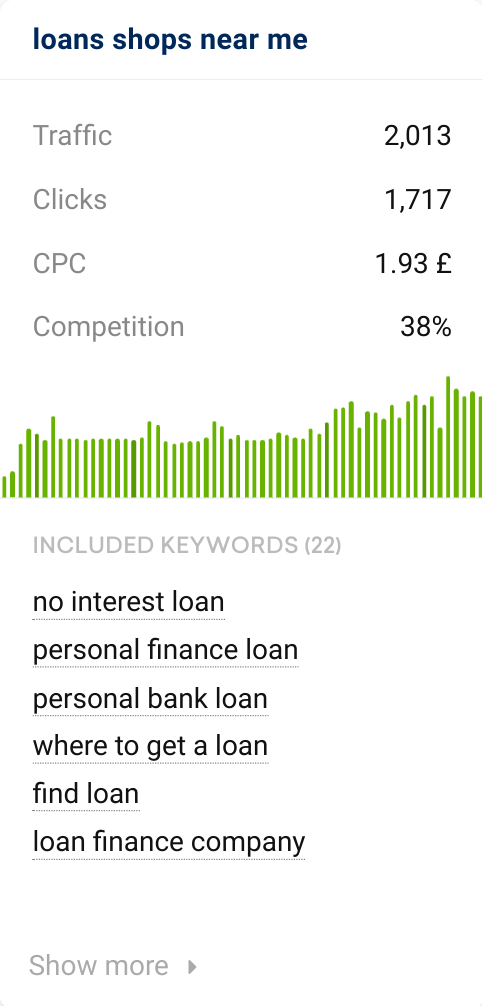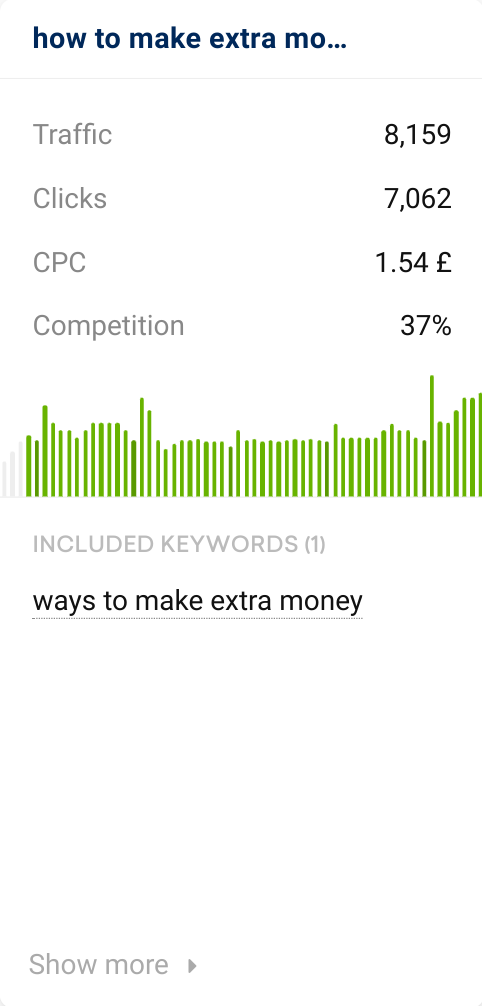 Individual keyword trends have also been seen in the data.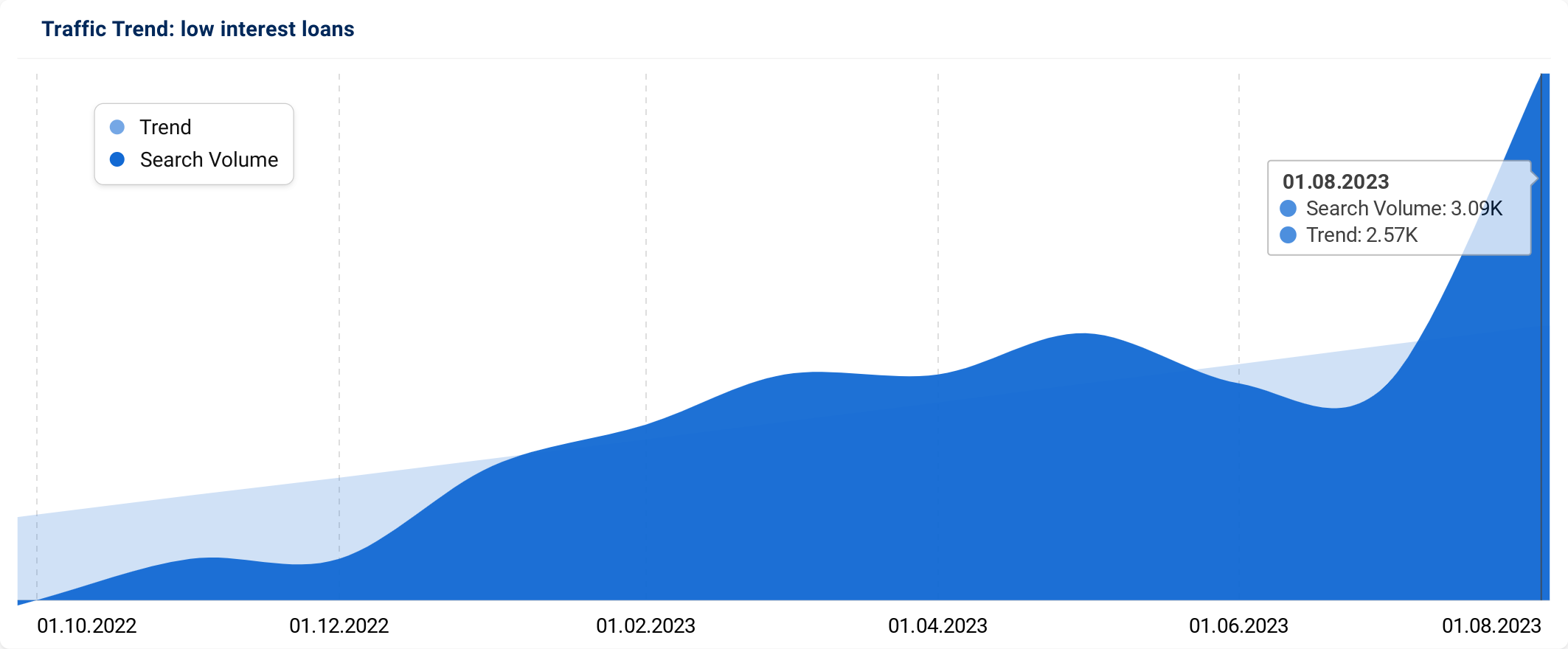 Above: A trend that financial experts will have predicted many months ago is the search for low interest loans as interest rates rise.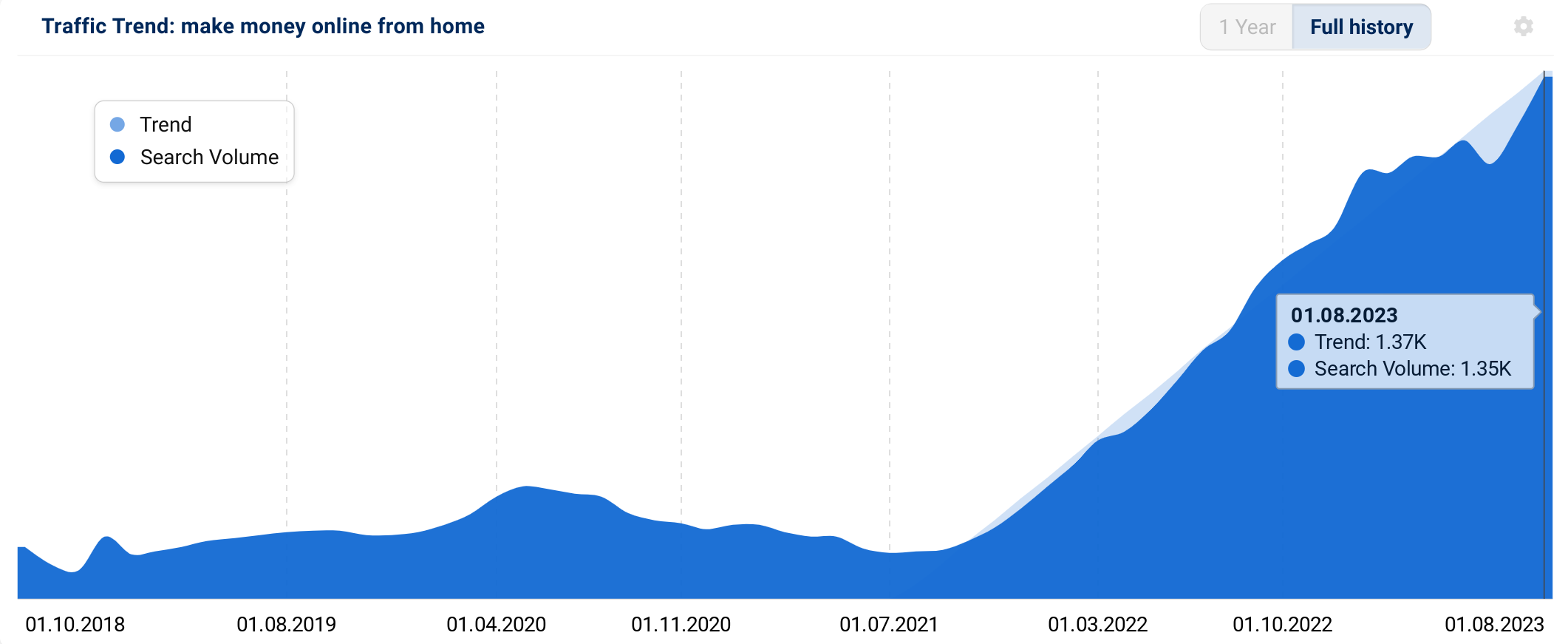 With slightly less traffic but a more pronounced upward trend is a variant of the evergreen "make money online" search. One wonders if working from home may have triggered some secret overemployment!
Top 20 domains for informational 'know' keywords
We use the list of top domains to pick high performance content directories from a list of over 52000 directories that we've found. Two data journalists check and curate the list. Here's a list of 20 domains leading in visibility for the 'know' keyword bucket:
Visibility Leaders KNOW Top 20. Study: SISTRIX Visibility Leaders Personal Finance 2023
| Pos | Domain | Pos | Domain |
| --- | --- | --- | --- |
| 1 | investopedia.com | 11 | theguardian.com |
| 2 | moneyhelper.org.uk | 12 | capitalone.com |
| 3 | stepchange.org | 13 | ft.com |
| 4 | fscb.com | 14 | iciciprulife.com |
| 5 | wikipedia.org | 15 | nerdwallet.com |
| 6 | moneysavingexpert.com | 16 | hsbc.co.uk |
| 7 | hbr.org | 17 | cambridge.org |
| 8 | citizensadvice.org.uk | 18 | indeed.com |
| 9 | www.gov.uk | 19 | imf.org |
| 10 | mind.org.uk | 20 | barclays.co.uk |
Top 20 domains for commercial 'do' keywords
We use this list of top domains to pick high performance content directories from a list of over 52000 directories that we've found. Two data journalists check and curate the list.
Visibility Leaders DO Top 20. Study: SISTRIX Visibility Leaders Personal Finance 2023
| Pos | Domain | Pos | Domain |
| --- | --- | --- | --- |
| 1 | citizensadvice.org.uk | 11 | unbiased.co.uk |
| 2 | stepchange.org | 12 | debtadvicefoundation.org |
| 3 | www.gov.uk | 13 | nerdwallet.com |
| 4 | moneyhelper.org.uk | 14 | moneysupermarket.com |
| 5 | moneysavingexpert.com | 15 | forbes.com |
| 6 | nationaldebtline.org | 16 | hsbc.co.uk |
| 7 | investopedia.com | 17 | etsy.com |
| 8 | amazon.co.uk | 18 | comparethemarket.com |
| 9 | ageuk.org.uk | 19 | which.co.uk |
| 10 | payplan.com | 20 | barclays.co.uk |
Presentation of Visibility Leaders at BrightonSEO
Further reports and analysis
The Visibility Leaders project is about creating a resource for SEOs and Content Marketeers. Final, curated data can be found in the free, searchable resource and in this issue, covering retail, we've added over 40 examples to the list, which now has a total of 448 entries.
Visibility Leaders is the best chance to see the content hubs and domains that Google is rewarding.
Three experts (and many others in the background) have put months of work into analysing and surfacing additional data. Those detailed reports are linked below.
Do your own analysis. Find leading competitors
Our data engineers have processed billions of data points to bring you the leading content directories, but that doesn't mean you can't do some research for your own sector. Our SISTRIX Academy for Competitor Research shows exactly how to create lists of keywords, find leading domains and then analyse them for visibility leaders. New features such as 5-year search trend and clustering will help you make decisions about priorities in your content projects.
Methodology and source data
We're always transparent about where our data comes from. We don't synthesise anything, we just take 'what Google says' and present it in ways that help SEOs, for all domains.
In this research we used our core SEO data archives and searched many millions of site directories for those which perform well in search. We call these content directories High Performance Content Formats (HPCF) and you can read more about HPCF here.
After analysing the directories we ended up with over 50,000 candidates directories, across all domains, all content types and all sectors. (UK.) In order to filter those down to relevant B2C examples, we used two 'baskets' of keywords. The 'Do' and 'Know' baskets were taken from SISTRIX databases and filtered using our keyword list features. The two lists were also curated by hand to remove any obvious errors and outliers.
Through the SISTRIX list competitors feature the SERPs were analysed for top 100 domains. These domains were then used as an initial pick-list. Only one HPCF directory was picked for each of the domains.
The final list of directories was tagged with intent and sector and, once again, hand curated to remove errors and sites which are not relevant as 'blueprints.' For example, marketplaces driven by user-generated content, wikis (also UGC), support pages from brand owners and sites where there's really only one 'owner' of the content, such as government citizens advice sites and government law sites.
All data is available in Google Sheets. Feel free to take a copy for your own use.