High performance content formats are a trait of websites that do well in search, and as part of our Visibility Leaders work we've now identified, tagged and curated a list of over 400 examples that you can learn from. In this April 2023 issue we dive into the top sites in travel, and find out what they're doing, in order to achieve outstanding organic performance.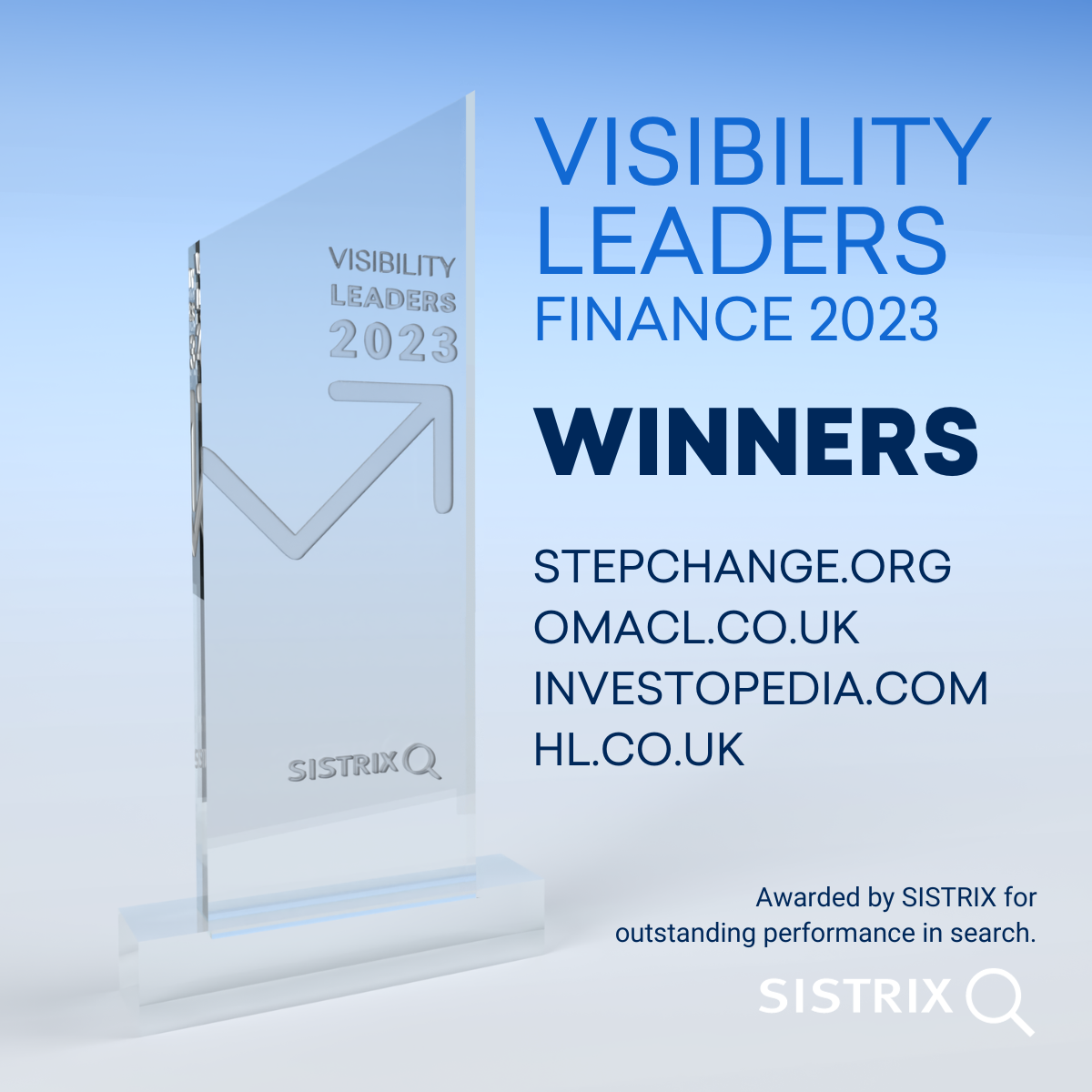 Most SEOs have heard the saying "content is king". It's common knowledge that content strategy is the cornerstone of a lot of SEO projects, but what makes a good content strategy that gets results? As part of our Visibility Leaders project we are taking a look at the high performance content formats (HPCFs) within personal finance to understand what exactly makes their content deliver outstanding performance.
The world of personal finance online has grown increasingly intricate, with consumers searching for clear and trustworthy guidance. Looking at the digital landscape of this sector our research analyses the highest performing content hubs offering both actionable advice and expert insights.
Through the comprehensive analysis we showcase the standout websites who set the benchmark for effective personal finance websites. For anyone aiming to increase their visibility in this space, this article provides a snapshot of the industry's most visible websites and their strategies.
Our study used millions of domains and tens of thousands of keywords to uncover leading content hubs for 2 different user intents. More information is available in the overview but here we are focusing on the 4 winning content hubs.
The Winners – 'Do'
The winners in this section are from directories where the majority of the keywords they rank for are of commercial intent and match the 'Do' intent within SISTRIX. However in this case, a lot of the 'do' keywords tend to be more targeted around achieving something, such as finding a remortgage deal or applying for a debt relief order and are not the typical 'purchasing' keywords that we cover in Visibility Leaders.
The full list of searchable and sortable directories is available on the Visibility Leaders overview page for personal finance.
Stepchange.org – a leader in actionable content
The large high performance content format winner for 'do' keywords in personal finance is Stepchange.org with their /how-we-help/ directory. They are a charitable organisation in the UK that supports people with debt problems by providing free, expert advice.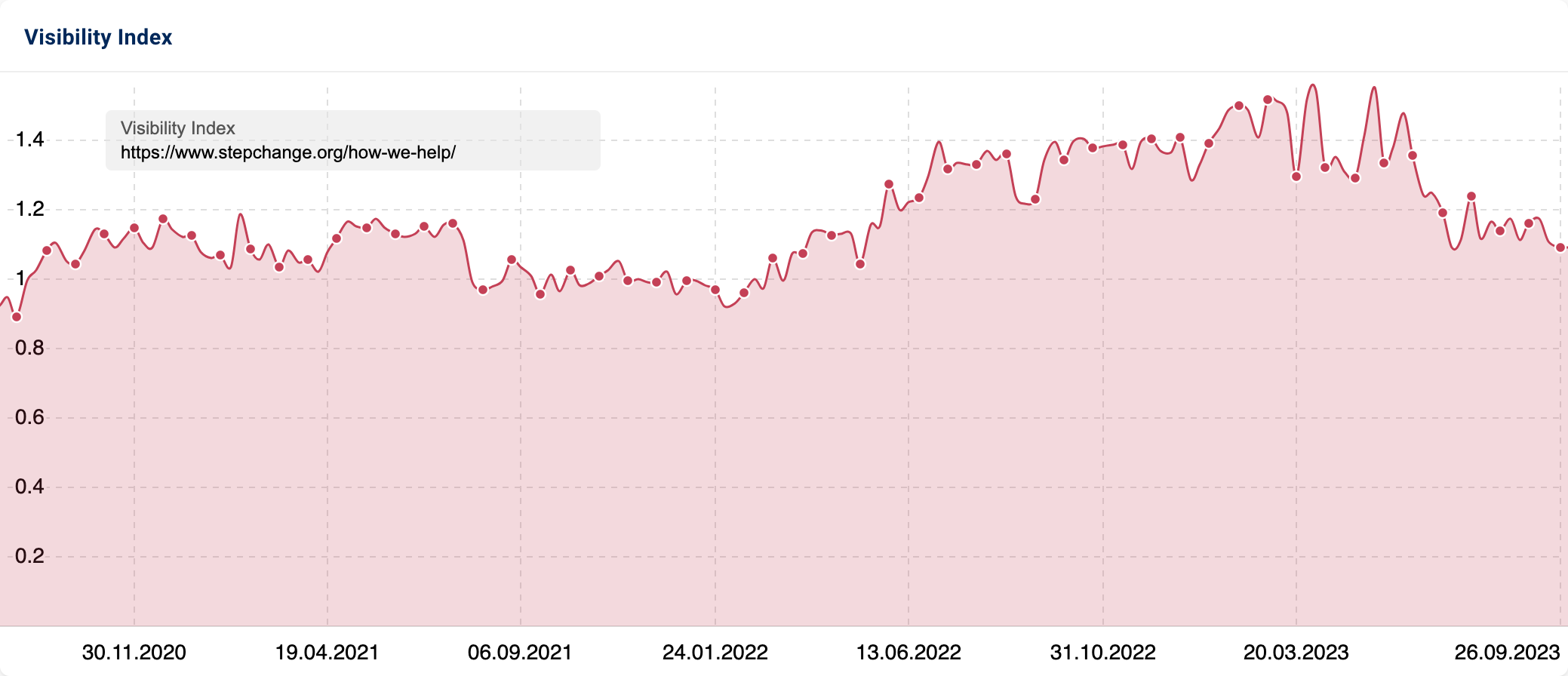 This is an atypical combination of a charity winning in a 'commercial' content category that has some dark undertones. There are many organisations out there that do make a profit from people in debt. StepChange, however, is a non-profit organisation so they provide help that's always in the customer's best interest. Meaning that it's almost imperative that they can be found on page one of search engines for these 'commercial terms'.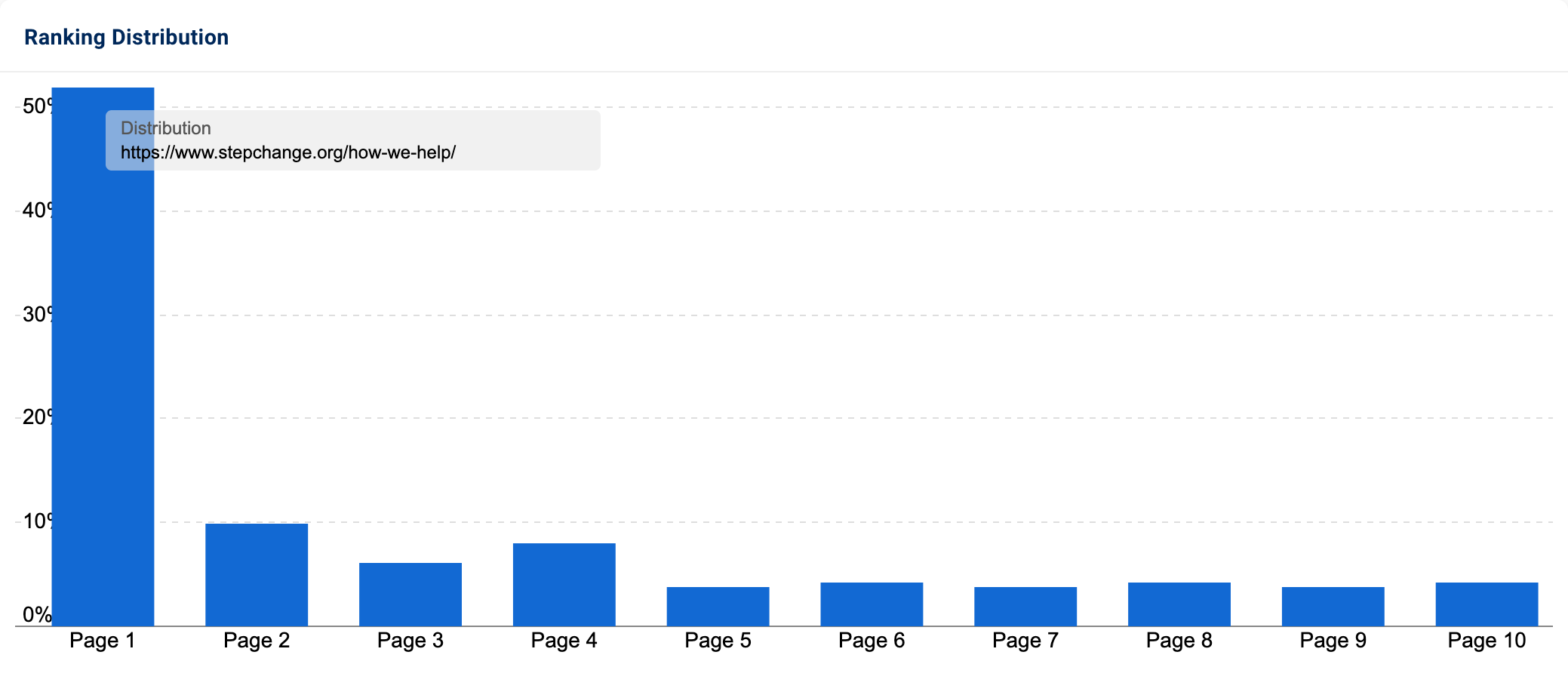 StepChange's /how-we-help/ directory ranks for over 3,713 keywords with 49% of their ranking positions on page one. Their debt management plan landing page is the most visible piece of content in this directory, providing 15% of total visibility and ranks for terms like 'debt management' and 'managing debt'. From those terms, you can probably see why it's so important for a non-profit to be in top position in the SERPs.
The content format used for their /how-we-help/ directory seems very similar to the one used for their debt information site section, which also performs well and drives most of their website visibility. This content format contains plenty of media types to provide the most legible and easy to understand experience. Using videos where appropriate, linking modules for topically relevant content, FAQs and links to articles related to more general questions around debt.
Their performance largely comes from high quality content displayed in an accessible format. Taking a bit of a deeper look we can see:
Topical authority is massive for StepChange — They specialise in one thing and, as a result, all of their content is about debt. Not only that but they showcase a large amount of expertise in their content, making a topic that can seem complex and daunting much more simple.
Trust signals — Using previous 'customer' testimonials and reviews helps show the legitimacy and expertise of StepChange in supporting their clients. Surprisingly, this isn't present on quite a number of their organic competitors' websites.
StepChange has extremely high-quality content that is clear and to the point — In most cases the users want to achieve something (e.g. help with debt management). Lots of the content that makes up this hub is great at taking users along that journey, which can't be said for a lot of their organic competitors.
omacl.co.uk – a leader in actionable content
The small high performance content format winner for 'do' keywords in personal finance is omacl.co.uk with their /payday-loans/ directory, in direct contrast with the large winner above. They are a broker of payday loans in the UK, which are essentially short term loans provided at high interest rates.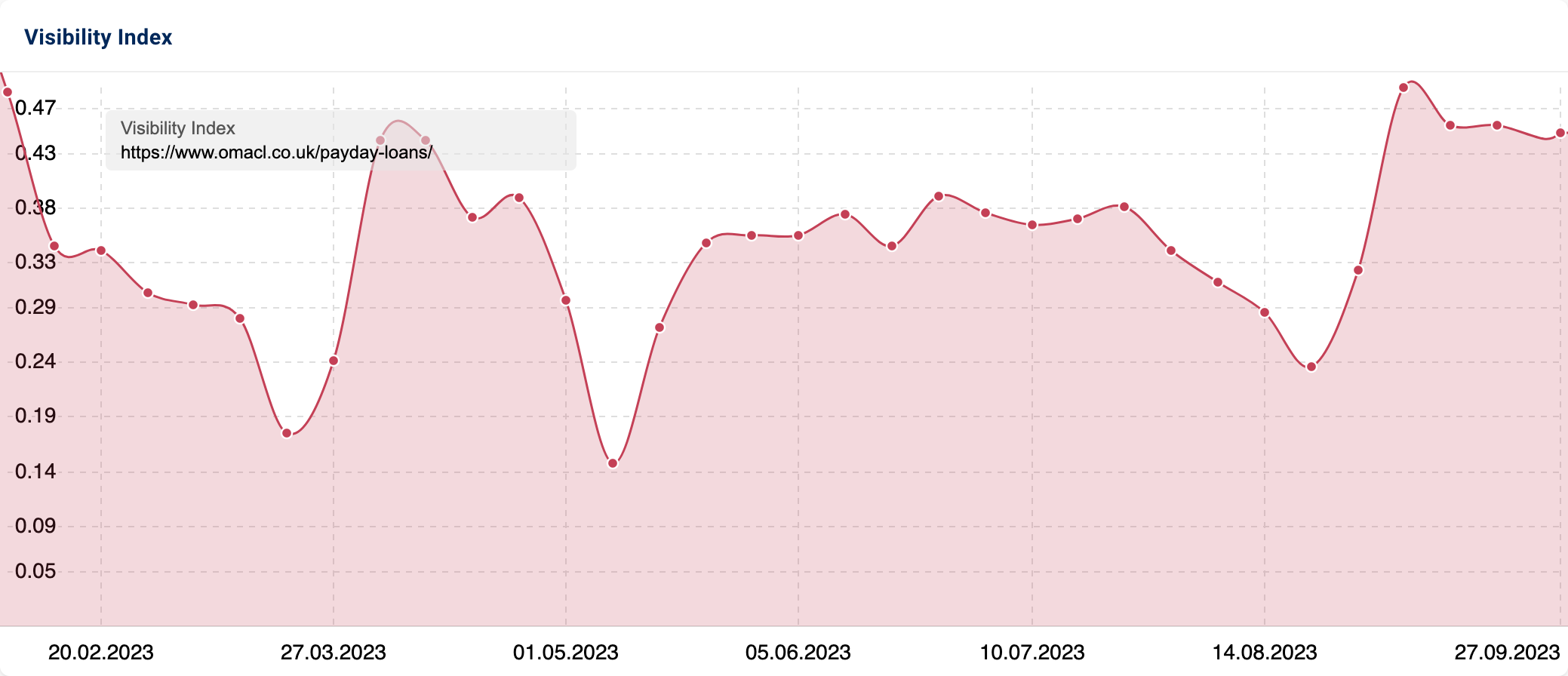 Omacl ranks for a total of 3,274 keywords in the United Kingdom with over 35% of them appearing in the top 10 positions in Google. Their content coverage for the sub-topic of payday loans is comprehensive and covers all of the common entry points.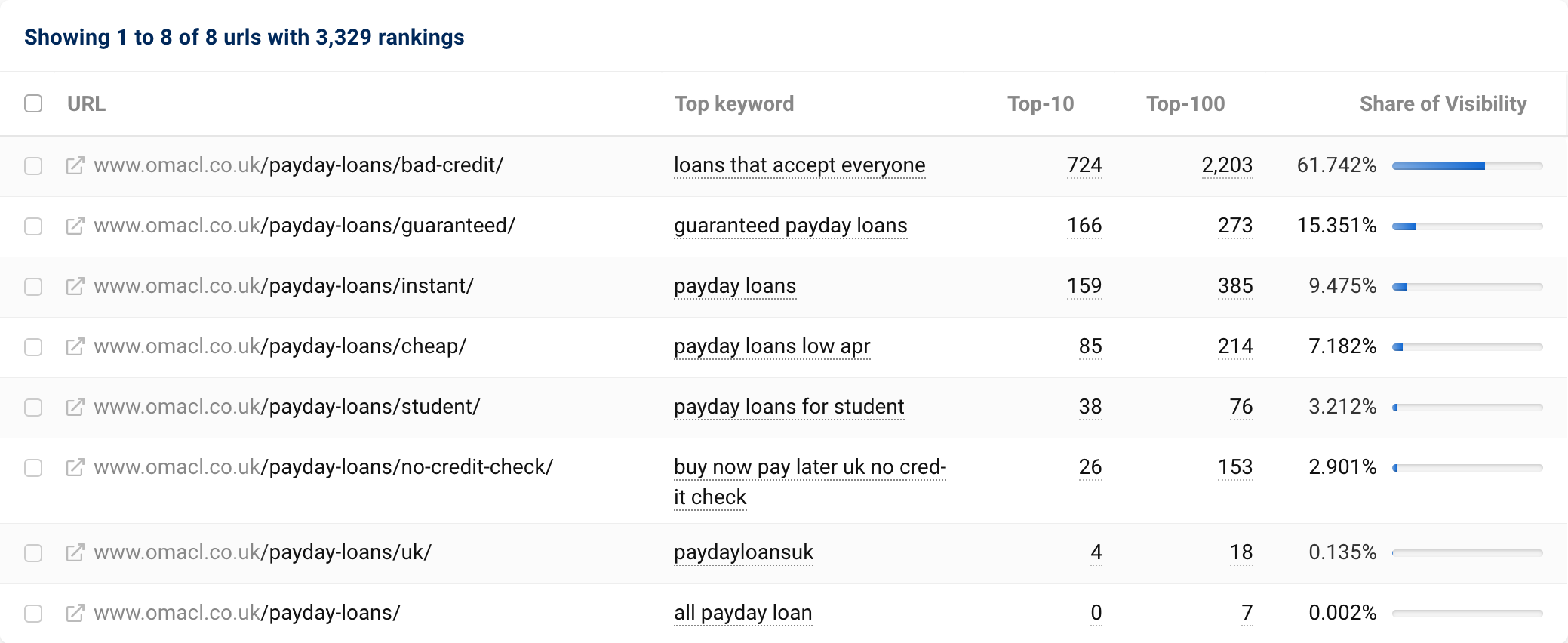 They rank for terms such as "payday loans with no credit check" and "guaranteed payday loans" despite these things not actually existing within the legal guidelines of UK law. The intent for these terms is understood by Google as users trying to find out if it's possible to apply for a payday loan without having a credit check and that's exactly what the content on Omacl provides information about.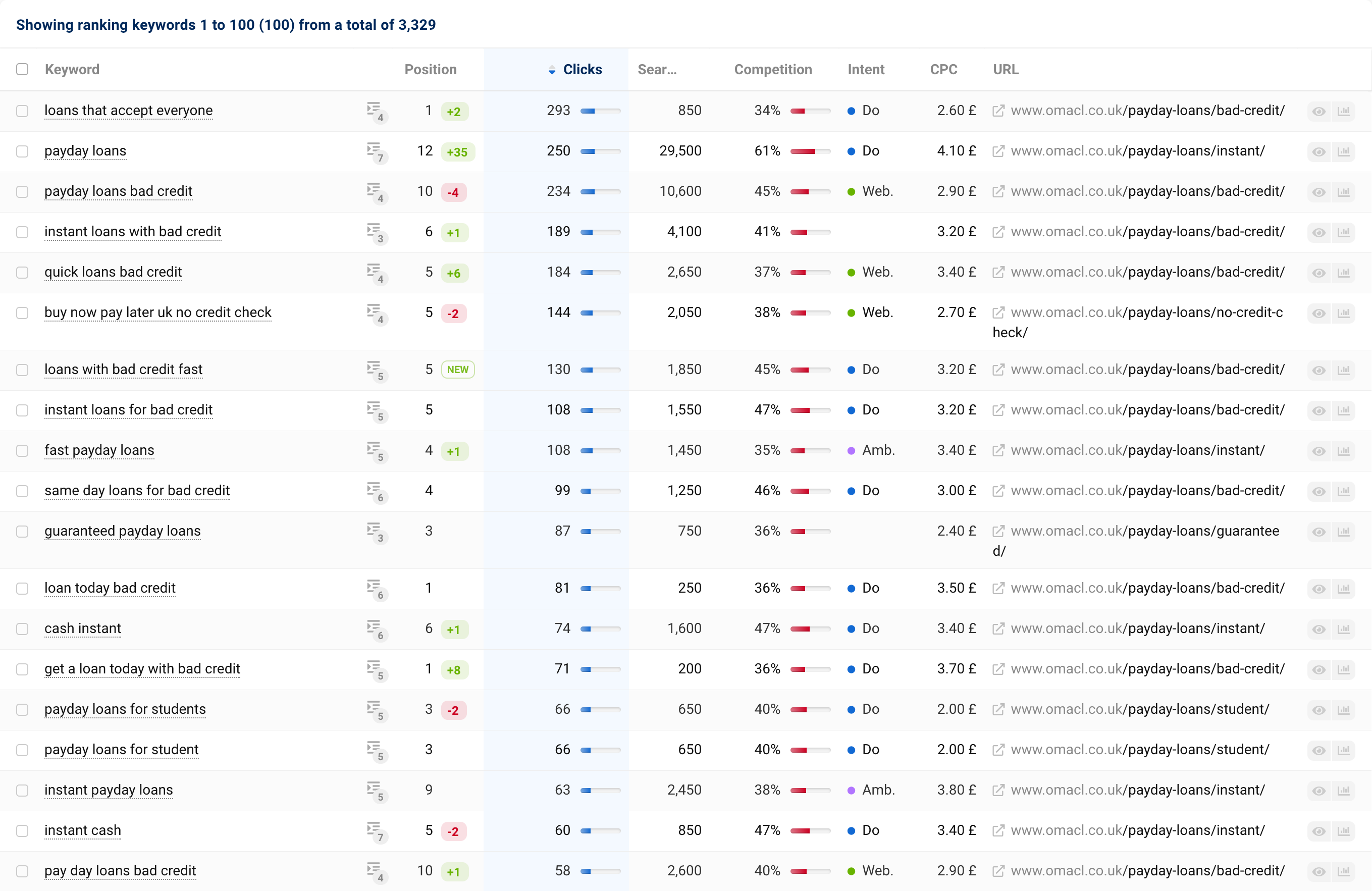 The content format specifically isn't anything unusual or unique, but their topical clusters and detailed landing pages is what allows them to compete with arguably much larger and more authoritative websites.
Breaking it down further we can see:
They have a topical cluster of 8 URLs associated with the payday loans topic, where most just have 1 landing page. Their topical coverage includes things like loans for students, people with bad credit and those looking for a guaranteed loan.
The content on their landing pages is transparent and goes into great detail answering all relevant questions for a specific user journey. For example, the 'guaranteed payday loans' page covers all the steps required to apply and the eligibility criteria in detail along with their acceptance rate.
Internal linking for each topical cluster is handled by a mix of in-content links and an internal linking side-bar/menu – creating a strong group of related content directly supporting the core /payday-loans/ landing page.
They also link out directly to relevant and trusted resources for financial advice, which will naturally add a level of trust signals to their website. One of these outlinks actually links to StepChange homepage (not their resource explaining why payday loans are a bad idea).
The Winners – 'Know'
Usually in these Visibility Leaders analysis pieces the 'know' analysis shows high performers in the early funnel stage of the 'do' winners. However, as personal finance is such a nuanced subject a lot of the leaders in this space for informational content are offering resources to learn things like money management and investing.
To provide an example funnel using remortgaging. When the time comes to remortgage, you generally find the best rate (often through a broker) then lock it in. It's something that you have to do by a set date and has a short user journey because of it.
Conversely, if you are looking to open a stocks and share ISA account you will likely do a lot of research with 'know' keywords. By the time you're ready to open an account you will have a better understanding of which funds you want to invest in and which provider you want to use. This may explain why these keywords have much lower search volume and are likely to be owned or branded terms like "open hargreaves lansdown isa".
Investopedia – a leader in informational content
The large site winner for informational or 'know' content is Investopedia with their /ask/ directory. They provide financial and investing education, news, and reference materials via a multitude of formats including articles, FAQs, and tools. Their winning content format /ask/ is a catalogue of FAQ answers which cover the whole gamut of topics on their website.
Now, when you think FAQ answers, typically you probably think most answers are 1 or 2 sentences long. Investopedia usually has a full article behind each FAQ answer that is written, reviewed, and fact checked by 3 independent experts. This content format is what is capable with high budgets and access to the right experts.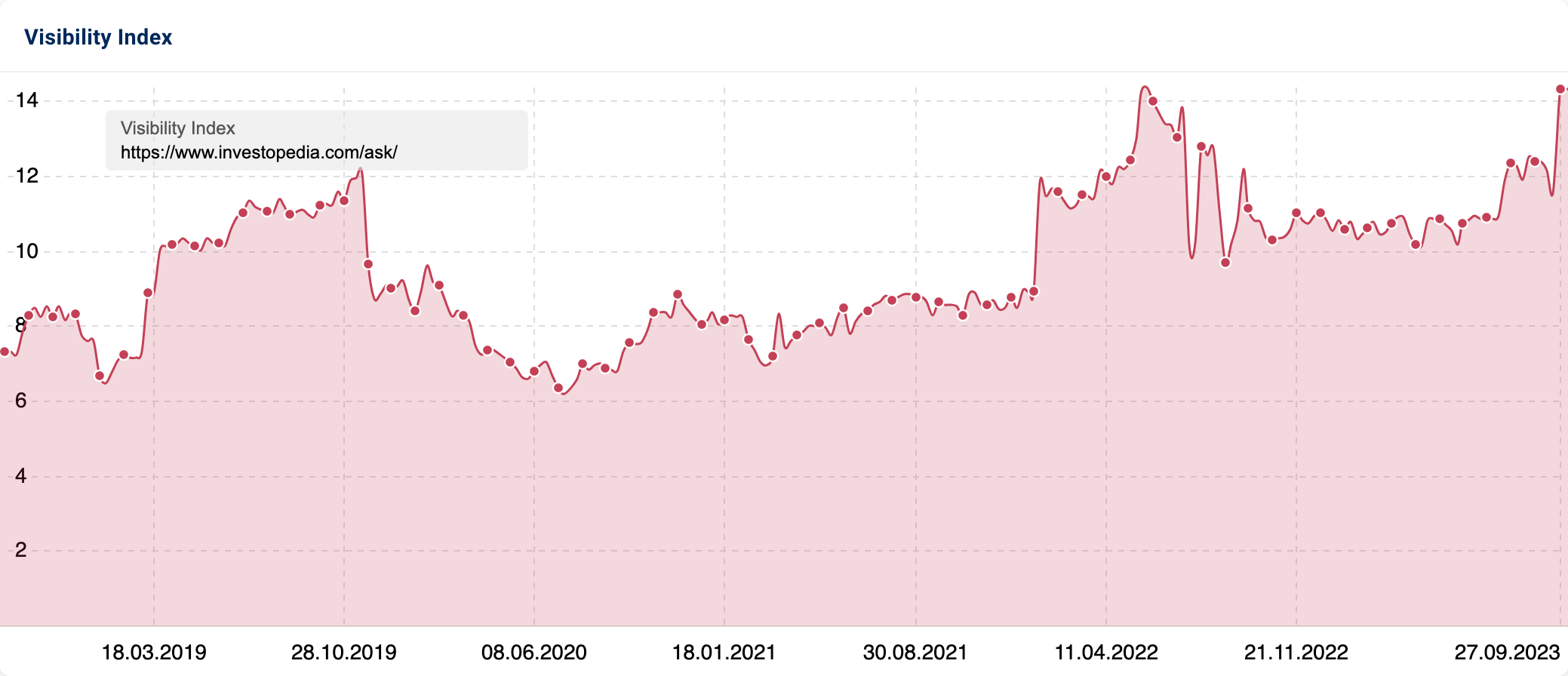 It's commonly said that content quality is much more important than quantity. This is true, but what happens when you have both?
Investopedia's /ask/ directory ranks for a staggering 68,266 keywords — what makes this even more impressive is that 46% of those keywords are in one of the top 10 positions on Google and it's a YMYL topic.
Performance is split relatively evenly across the top 200 or so URLs in this directory, with no single URL driving more than 1.5% of the total visibility. In total there are 2,584 URLs in this content format, giving you a sense of the scale here in terms of topic coverage.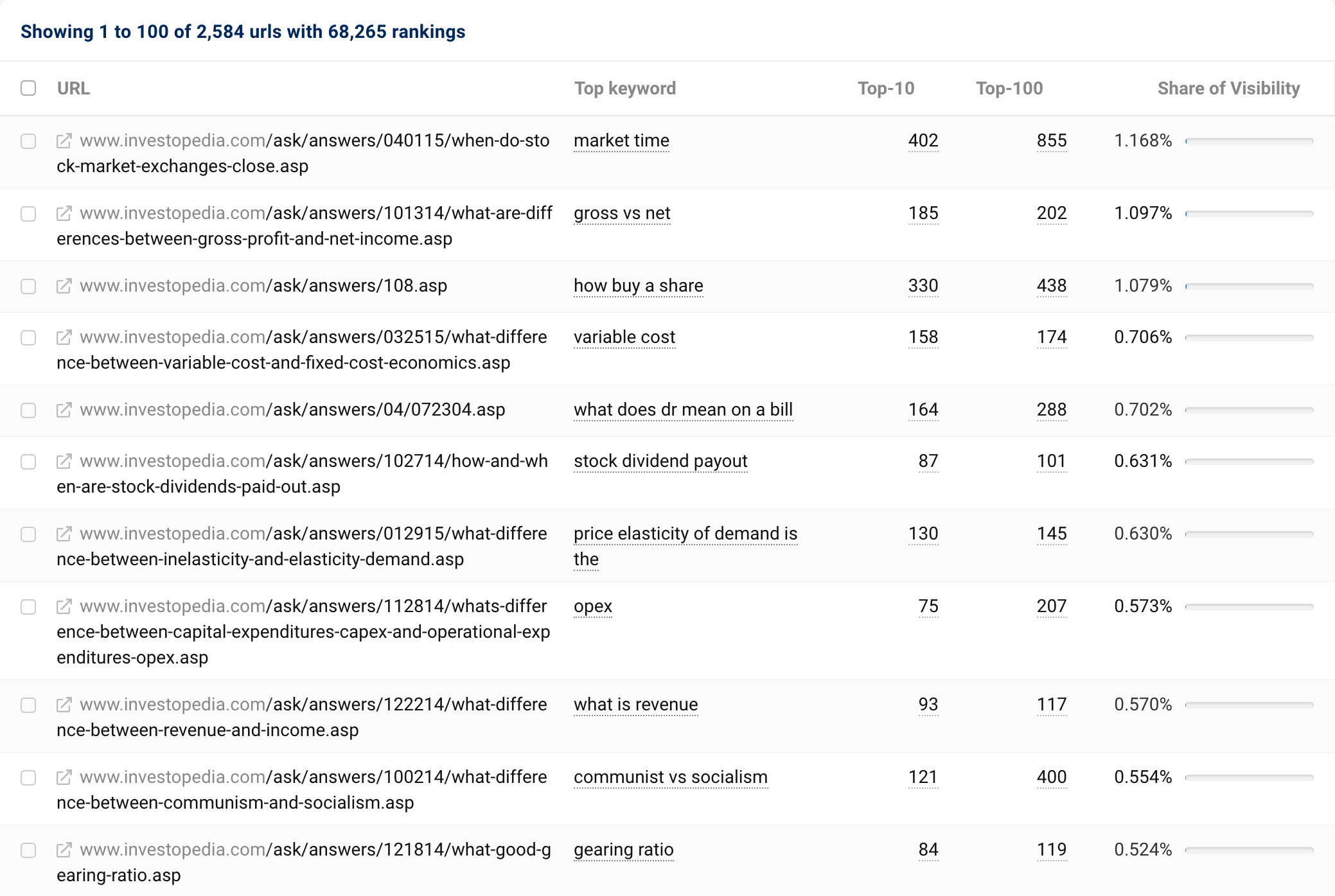 The content formats themselves are all predominantly text-based content pieces, broken up with relevant media assets such as videos, graphs, and diagrams to help explain these complex topics. There are also 'key takeaway' segments on each article and 'fast fact' blocks to provide great callouts and offer a better learning experience for all readers.
Looking at their content performance from an SEO perspective, we can see that this is what they are doing well:
E-E-A-T signals — All the good 'know' content has plenty of these in personal finance. Investopedia ensures that each article is at least reviewed by someone other than the author and, oftentimes, is fact checked by a third person. They also link to their 'terms' directory a lot to explain words and phrases common in investing that new readers might not know. These also have individual pages where these terms are explained in great detail
Adding to the point above, the 'experience' in E-E-A-T is catered for by using industry experts and people who work in the finance industry to explain these topics likely using their own real world experience to do so. This is especially important when answering questions around investing.
Their /ask/ content is unique in the sense that this directory provides free educational material in the personal finance space. They aren't offering information about a service they provide or selling a course here, allowing the content created to match exactly what users are searching for.
The internal linking structure provides topical value to each of these /ask/ pages individually. They are typically linked to from an FAQ block on a relevant page — For example, on the personal loans page, there is an FAQ block that links to 'How personal loans affect your credit score'.
Hargreaves Lansdown – a leader in informational content
The small high performance content winner for informational or 'know' content is Hargreaves Lansdown with their /beginners-guides/ directory. Hargreaves Lansdown is a UK based financial services company that offers investing, ISAs, pensions, and financial advice. Their website is largely targeted towards individual investors but they also offer services for institutional investors.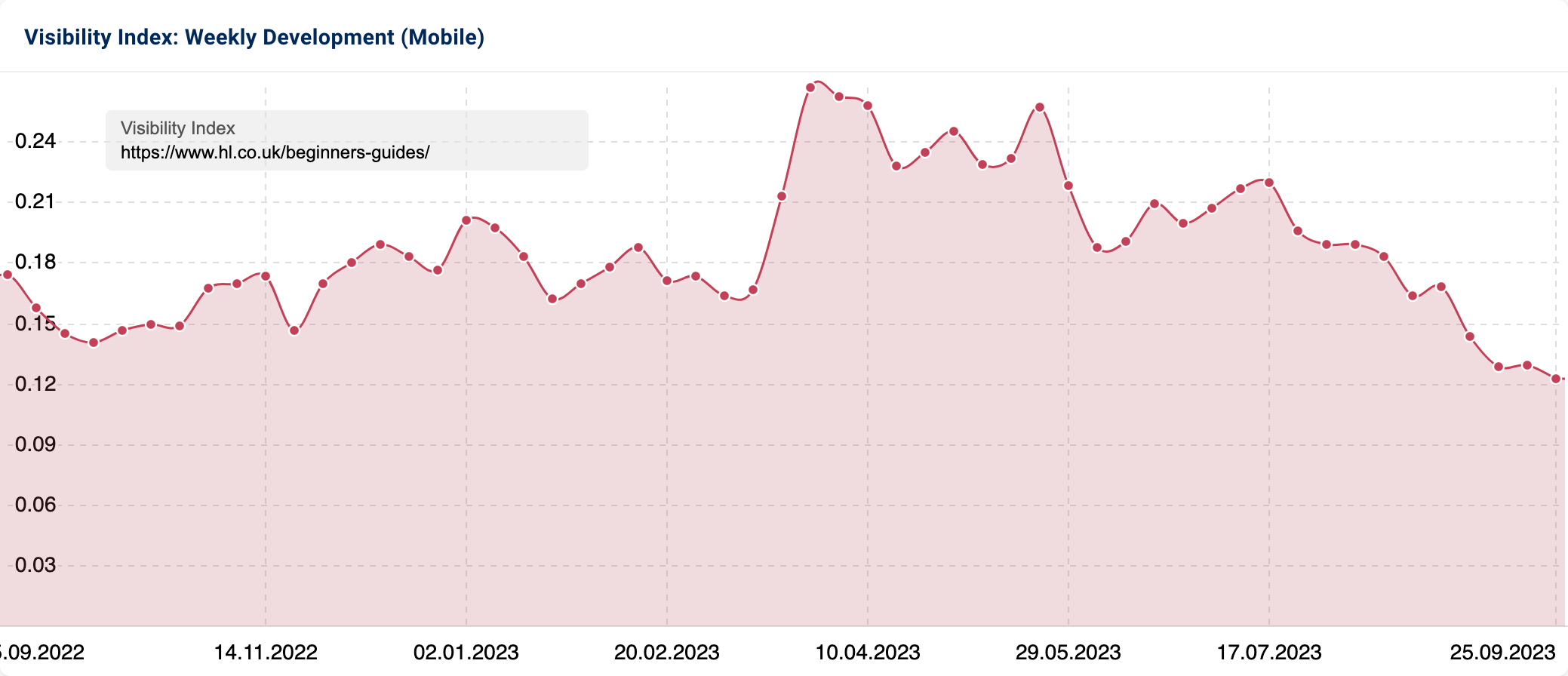 They aren't exactly a 'small' company nor is their website, so they may have an unfair advantage but their /beginners-guides/ directory does only rank for 720 keywords across 6 URLs with 32% of their ranking positions on page 1.

Beginners guides on Hargreaves Lansdown offer an organic entry point (and also helpful content) to individuals that are right at the start of their investing journey. These guides answer questions such as 'how to invest in the stock market' and 'what are funds'.
The content format for /beginners-guides/ is relatively unique. Here are a series of five guides which are sequential in the overall 'guide to funds' — it takes a user from learning what a fund is to what types are available and how to invest then eventually onto the funds that they provide.
This content format is a great example of why informational content has a place on your site, even if it is typically commercial in nature. Looking at what works well for Hargreaves Lansdown we can see:
The first and most obvious one is the fact it's on the Hargreaves Lansdown domain. If anyone can explain what a fund is and how to invest in one, it's probably one of the UK's largest investment platforms.
Authority coming from a backlink profile of topically relevant sites — some even directly to the content format citing it as a place of knowledge for the topic.
Comprehensive content on the topics they have chosen to talk about which is also explained in the terms that users are searching for. In the case of their content, you don't require a jargon buster to start learning about shares and funds
Additional interesting observations
As always, completing analysis like this allows us to spot some common trends and interesting observations which don't always fit into the winners analysis. Here are some of the things we spotted whilst reviewing these visibility leaders:
It's hard to create a HPCF in a YMYL industry
The total list of HPCFs for personal finance is a bit lower than when we have carried out the same analysis for other verticals. I think this speaks directly to how hard it can be to rank consistently well for relevant topics within personal finance. Also, the sites that have HPCFs generally have multiple — so they are definitely the ones to watch if you are looking to grow in this space.
The obvious things to include (and something that most of our winners do) is only publishing 'good' content. In the context of personal finance and the analysis conducted here, 'good' content is that which is:
Factually correct
Written by experts
Easy to read and understand
Comprehensive
I would like to add 'not misleading' to the list above, but that's not necessarily true as there are multiple examples of payday loans ranking for what I would consider to be misleading content.
Answering common questions is key to performance for service based businesses
One commonality between all of these winners is that their content goes to great lengths in answering the intent behind the search terms that they rank well for. Content that covers all angles of a topic whilst still being unique seems to perform very well in this space.
Understanding the user journey and what types of 'intent' exist within your funnel from an organic search perspective is key to putting together a winning content strategy in personal finance.