This month, as part of the Visibility Leaders project, SectorWatch is looking into the action-packed world of game consoles, one of the most-searched retail products on the Internet. Which domains are getting the most visibility? And what can we learn from the most successful content?
Leading brands & domains
As one of the biggest B2C ecommerce categories, competition to rank for game console keywords is fierce. Thanks to the breadth of shopping topics in the sector, from where to buy a console to guides on the best option to buy & which games to download, there are plenty of sites aiming for the leaderboard:
From some of the biggest names in UK ecommerce such as Amazon and eBay
To high street retailers such as Currys, Smyths, Argos & Game
The console manufacturers, Nintendo, Sony & Microsoft (with their console brand sites)
And a host of publications, from specialists like GamesRadar, IGN and Euro Gamer to tech sites such as Tech Radar and T3 and newspapers such as The Independent & New York Times
As a hugely popular ecommerce subject, you can find searches with different intents, representing gamers at different stages of the buying cycle. We've curated two lists of popular game console-related keywords, each one focused on different search intent.
The first is based on the 'do' intent, where a searcher is looking to buy or order a product or ticket, hire a service or download something. In this case, these are our keywords where the searcher is looking to buy a console right now. Most of these are transactional searches. For example, 'nintendo switch games' (which is searched for 138,000 times a month in the UK, 'playstation 5 console' (46,600 searches) and 'xbox series x' (709,000 searches a month).
We've included searches for consoles, games, controllers & bundles, but not individual games, accessories or retailer names. We've kept the focus on searches to buy main console products or related games.
Our second list of keywords is for 'know' searches. These define informational searches around buying a console. For example, searches looking to find the right console or the best games to buy. Examples include 'best ps5 games' (16,700 searches a month in the UK) and 'xbox series x stock' (32,800 searches a month).
In fact, 'stock' queries are hugely popular. With the best-selling games consoles all hard to find at various points over the past couple of years, 111 of our 869 'know' keywords are focussed on finding out if a console is in stock anywhere or when a restock is expected.
There are also some 'deals' queries for those in the commercial research stage that straddle both the do' and 'know' intent. Google often shows a mixture of roundup articles & ecommerce category pages (PLPs) to satisfy the query. We've included a few of these keywords in both lists to represent their dual nature.
We've got more on the winners below but first, here is our main headline. The top domains by visibility for our curated keyword sets in Google in the UK:
Top 3 domains for 'do' (transactional intent) searches (based on 886 curated keywords):
argos.co.uk
playstation.com
game.co.uk
Top 3 domains for 'know' (informational & commercial research intent) searches (based on 869 curated keywords):
techradar.com
tomsguide.com
independent.co.uk
Domain analysis
The UK video games market is worth a staggering £7.16b, powered by an estimated 36 million gamers, according to the Association for U.K. Interactive Entertainment (Ukie).
Sales of 3.4 million consoles brought in £1.13b in 2021, a 30% increase on the previous year, despite shortages of some of the most popular models. And with the market set to grow, getting a piece of the search market is vital for gaming retailers & publishers.
We've focussed on the UK's most popular consoles, the Nintendo Switch, Sony's Playstation 5 and Microsoft's Xbox Series X and Series S, as well as some generic searches, for our keyword sets.
So, who's setting the high score? And who's facing a game over screen? Let's find out.
Leading domains: Game consoles (do intent)
Leading domains: Game consoles - Do Intent
| Domain | Market Share |
| --- | --- |
| argos.co.uk | 7.79% |
| playstation.com | 6.68% |
| game.co.uk | 6.61% |
| amazon.co.uk | 6.45% |
| smythstoys.com | 6.16% |
| currys.co.uk | 5.41% |
| xbox.com | 4.14% |
| techradar.com | 3.86% |
| universal-search-box.com | 3.35% |
| nintendo.co.uk | 3.28% |
| independent.co.uk | 2.81% |
| gamesradar.com | 2.16% |
| ebay.co.uk | 2.13% |
| tomsguide.com | 2.04% |
| eurogamer.net | 1.64% |
| hotukdeals.com | 1.62% |
| wikipedia.org | 1.56% |
| whathifi.com | 1.49% |
| nintendo.com | 1.21% |
| idealo.co.uk | 1.13% |
| microsoft.com | 1.01% |
| techadvisor.com | 0.97% |
| very.co.uk | 0.97% |
| t3.com | 0.85% |
| stockinformer.co.uk | 0.80% |
Leading domains: Game consoles (know intent)
Leading domains: Game consoles, Know Intent
| Domain | Market Share |
| --- | --- |
| techradar.com | 7.2% |
| tomsguide.com | 5.7% |
| independent.co.uk | 4.8% |
| gamesradar.com | 4.4% |
| xbox.com | 3.7% |
| eurogamer.net | 3.4% |
| stockinformer.co.uk | 3.3% |
| playstation.com | 3.0% |
| whathifi.com | 2.4% |
| ign.com | 2.0% |
| pocket-lint.com | 1.9% |
| t3.com | 1.9% |
| wikipedia.org | 1.8% |
| digitaltrends.com | 1.7% |
| techadvisor.com | 1.6% |
| game.co.uk | 1.5% |
| argos.co.uk | 1.4% |
| pcmag.com | 1.3% |
| nintendolife.com | 1.1% |
| nytimes.com | 1.1% |
| stockcheckers.co.uk | 1.1% |
| nintendo.co.uk | 1.1% |
| currys.co.uk | 1.1% |
| windowscentral.com | 1.0% |
| nintendo.com | 1.0% |
The keywords used in this analysis are listed at the end of the article.
Content examples: What type of content is performing?
In the top 25 competitor lists for our two keyword sets, we can see some useful immediate takeaways:
Some of the biggest names from the UK high street have turned their reputation for selling games into online success.

For our 'do' keywords, Argos, Game, Smyths and Currys are all in the top six most visible domains. It looks their experience selling consoles & games has served them well, both with expertise and brand reputation. We can learn from how they approach retail SEO.

The manufacturers are also very popular search results. with Playstation.com, Xbox.com and Nintentdo.co.uk all in the top ten. This makes sense, as a lot of the most popular keywords are branded by the console name, so Google will want to show the home for the brand, especially as you can buy consoles, controllers & bundles directly from them.
'Deal' and 'stock' searches are popular, so sites that round up the latest information for potential gamers do well.

We see publishers such as TechRadar, The Independent, T3, What HiFi and PocketLint, that specialise in news, reviews & guidance to picking the best tech, doing well, especially where they also regularly update their articles on the best deals & stock situations.
GamesRadar, IGN and Euro Gamer are all well-established names in the sector, and they do well for both 'know' and 'do' keywords.

Specialist stock information sites, such as stockinformer.co.uk and stockcheckers.co.uk are doing very well for 'know' keywords thanks to doing one job very well. This shows how in some sectors a particular nuance can arise where a non-traditional competitor can do very well by filling a gap in the market.
To understand what content Google is looking to reward, we need to take a deeper look into the domains. What pieces of content, and which formats, are doing well?
High-performance content can be simple to uncover. We classify it as a set of content for which keyword rankings are weighted towards the first page of Google search results. Let's look at some examples by finding the domains whose content consistently performs.
High-performance 'do' content examples:
We can focus on the retail sites to see the shopping experiences Google values.
At the top of the mountain is Argos. The catalogue retailer has a couple of important background factors helping push its success:
It is one of the biggest sites in the UK search market – you can see it near the top of our Top domains by Visibility Index list – which gives it a huge brand presence & the ability to rank for any ecommerce sector it has stock for
Argos also has built a reputation over decades for selling toys, including video games, in the UK
Beyond this, Argos is doing a fantastic job ranking for game consoles. They have a dedicated directory (browse/technology/video-games-and-consoles/) which we can use as a great example of high-performance content.
Across the directory, we see 514 pages (PLPs & indexable facets of those PLPs) ranking for at least one keyword in the UK. There are dedicated pages for each console system and key subcategories within those systems. These pages rank for 32k keywords in the UK. And for over 46% of them, they rank on page one.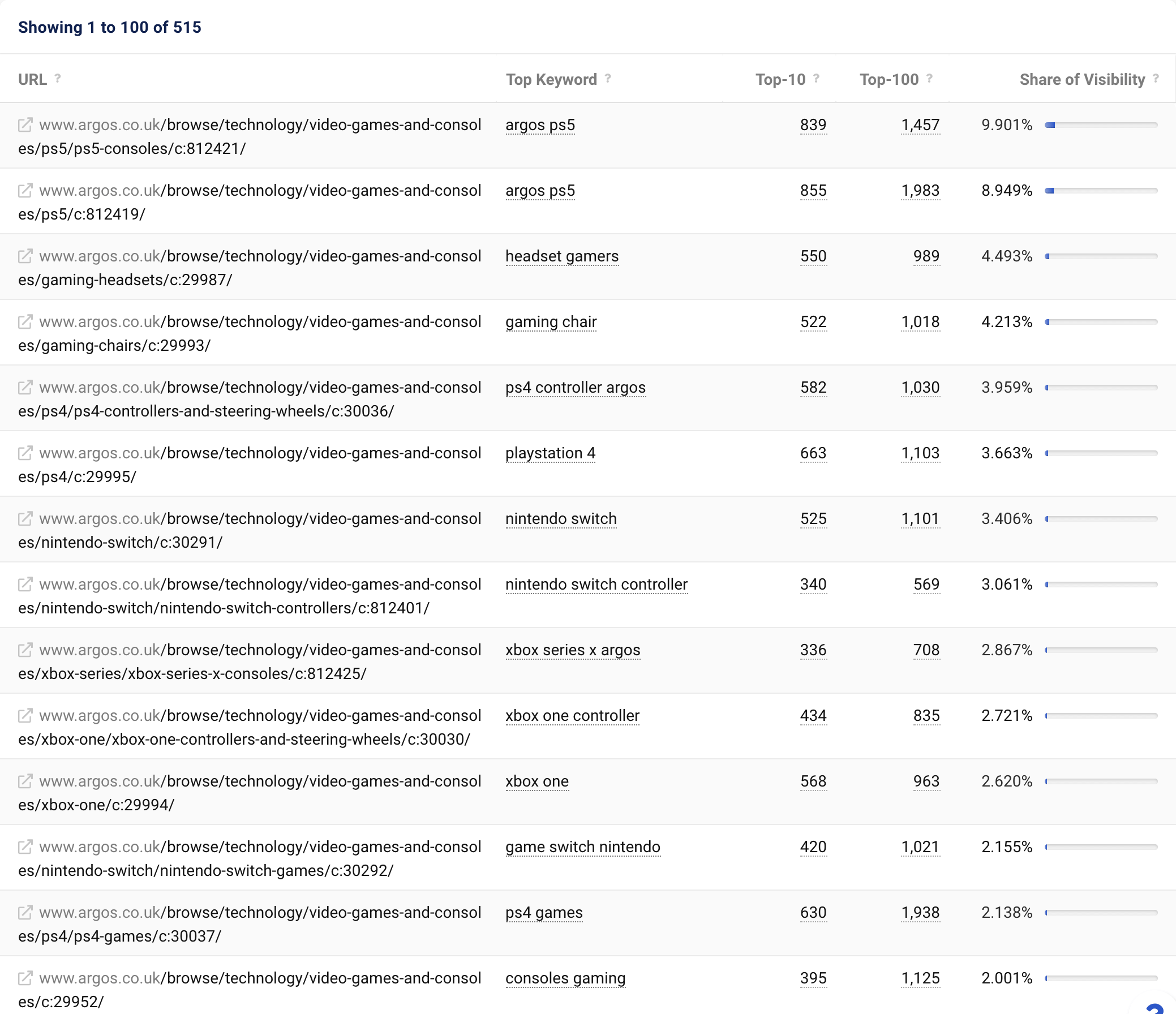 Argos' structure, creating a mini section for each console, pays dividends. For example, Argos have a category listing page (a 'CLP', sometimes called a 'department' page) dedicated to the Playstation 5 system showing:
Highlighted products (all products live in another directory)
Links to important subcategories via both in-body copy and a sub-menu
Links to other related categories (such as upcoming PS5 games & gaming chairs)
Plus links to guides (such as their games console guide, shown below).
CLPs show off various subcategories within a major category (or department), often listing them in some fashion such as a submenu and highlighting certain options within the main body. They cover a broad category within the store & help customers find the area they are interested in rather than just being a PLP showing every product within the department.
Beneath this department page sites a range of traditional ecommerce PLPs covering the range of important subtopics in our sample keyword set. There are dedicated ecommerce listing pages for PS5 consoles (including bundles), games and controllers plus more subcategories not in our sample set such as headsets & digital downloads.
This creates a cluster of tightly related pages covering the different aspects of what PS5 gamers might be shopping for. It is a classic strategy for ecommerce, but one executed very well. The CLP page ranks on page 1 for 855 keywords including many top-level generic PS5 search terms despite not being a standard 'shopping' page for example.
Overall, this cluster of PS5 pages ranks on page one for over 4,200 keywords, with just over 50% of those on page 1!
This structure is repeated across all consoles including the Switch & Xbox Series platforms.
In last month's SectorWatch we took a deeper look at Argos' product listing pages (PLPs, also called category pages) for barbecues & the shopping experience they offer. We see the same qualities in play here. One key optimisation to note is that Argos link to their main console PLPs (console, games & accessories) for the Switch, PS5 and Xbox Series in their main menu, giving them site-wide links.
Take the PS5 controllers page. It has simple but effective on-page optimisation such as targeted title and H1 tags, breadcrumbs to the PS5 CLP/department page and video games console pages plus a context-giving intro copy which includes more internal links to related PS5 subcategories.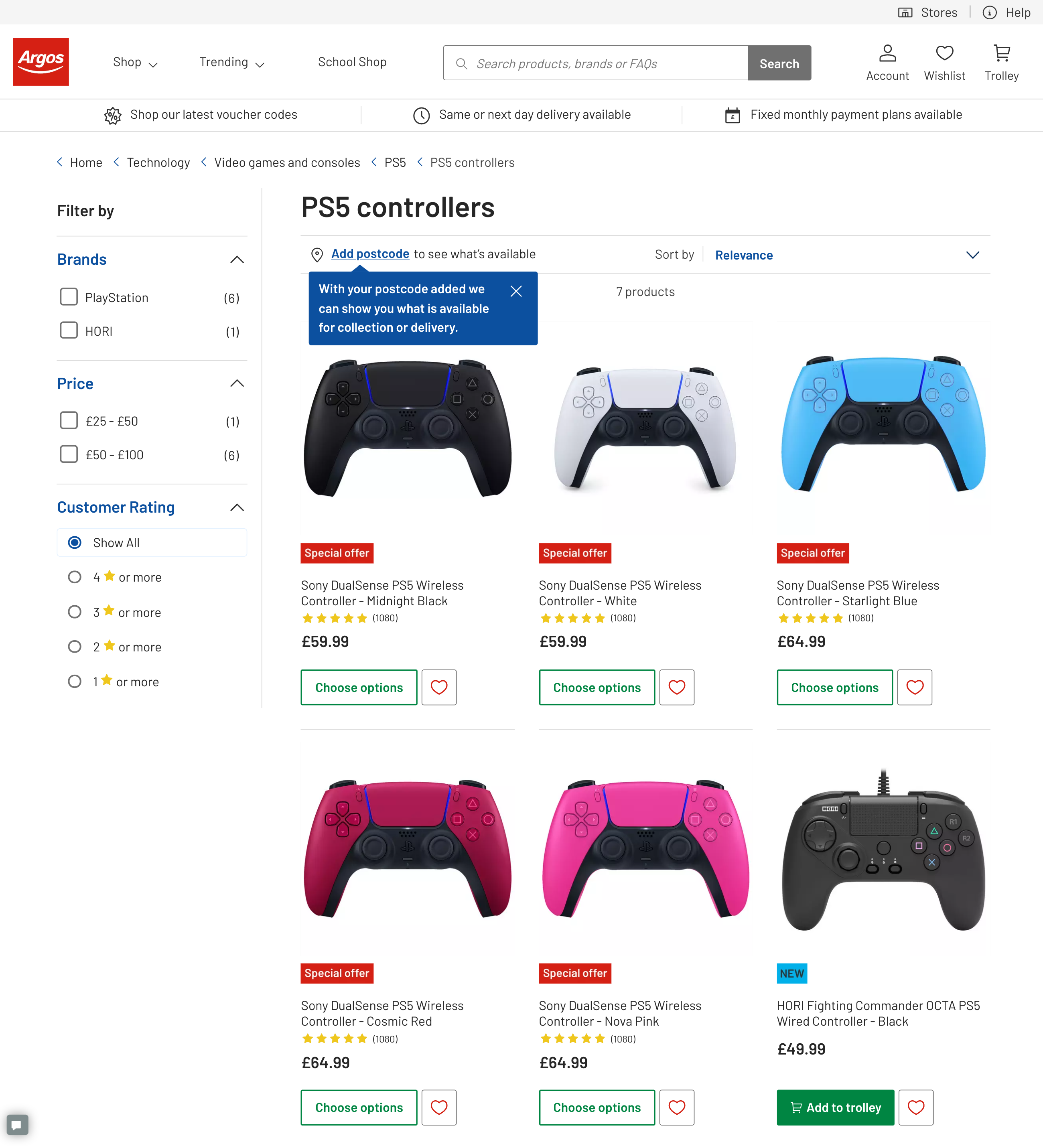 Even the overall video games console CLP/department page gets in on the act, acting as a smart hub of console retail content (and it ranks for over 1,100 keywords in the UK itself). There are links to key PLPs across the major gaming platforms, highlighted gaming offers, guides and new releases plus links to curated content that Argos have created for important ways gamers might search, such as accessories for kid gamers.
It isn't only Argos doing this type of structure well. We also see it on some of the other winning retailers.
Smyths Toys are another long-time video game retailer that has found success online in the sector. Similarly, their site has micro-departments to create 'clusters' of tightly-related good listings. Smyths do this for each gaming brand such as a page for Nintendo gaming.
In this case, the section's main page is a classic ecommerce PLP, with a sub-menu linking to the main PLP (category page) for each console system, such as their page for the Switch.
This PLP lists all the relevant products and also has both a page-specific sub-menu and a category list above the faceted navigation that links to the key sub-category PLPs of how people shop for game console systems – PLP landing pages for Switch bundles, consoles, games, accessories and more.
These pages combine to provide excellent topic coverage and subsequent rankings. The video games directory for Smyths has seen decent growth over the years. It now ranks for over 76.6k keywords in the UK. And over 18% of those rankings are in the top 10, including many of the largest volume keywords.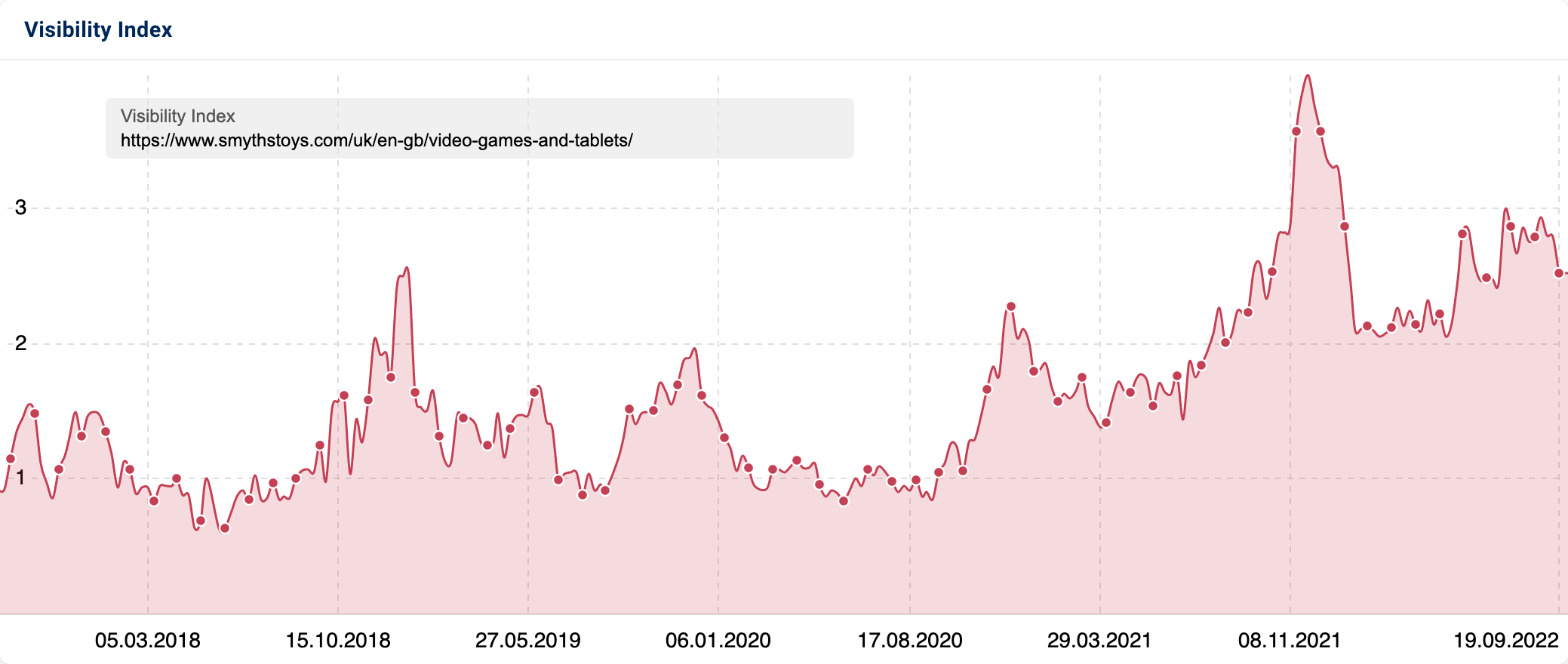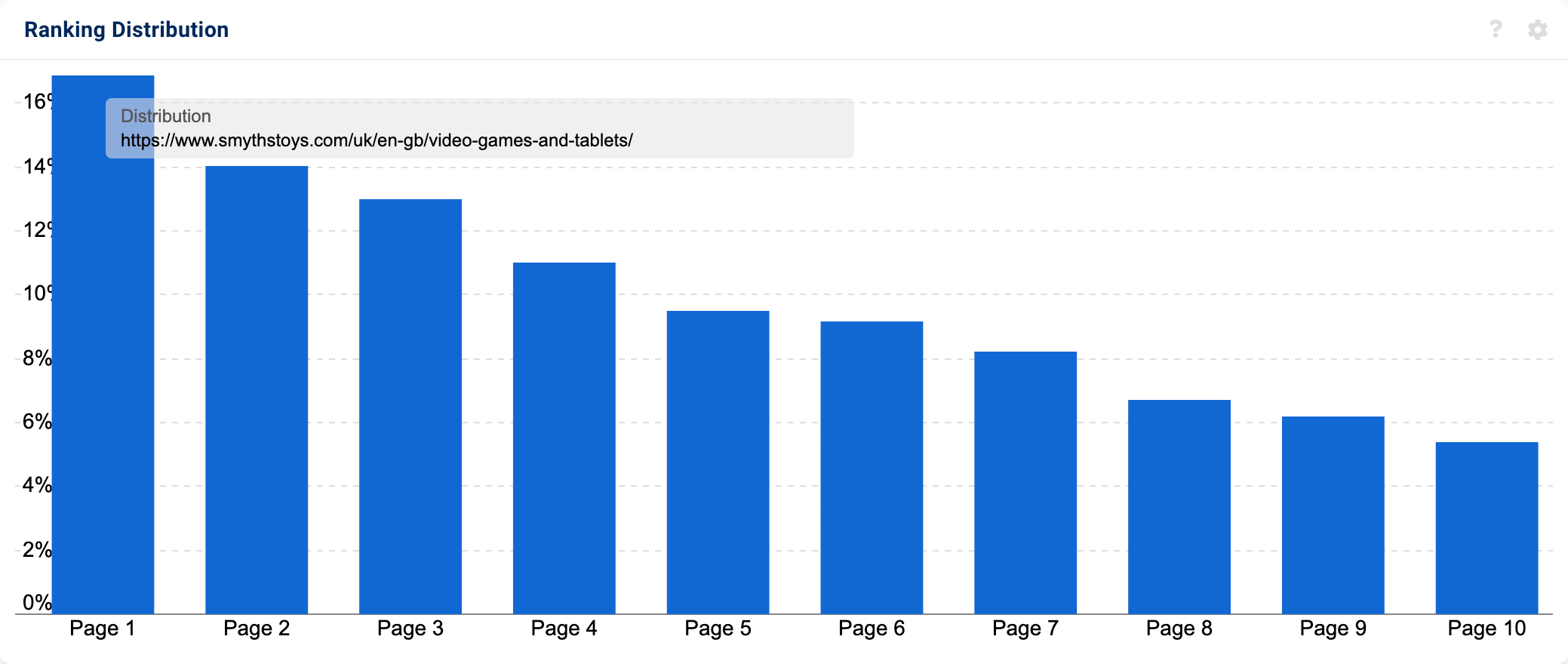 The Nintendo Switch section we noted above? That ranks for almost 9k keywords in the UK, including for many of the most popular searches. For example, it ranks at position three for the keyword 'nintendo switch' – just behind Nintendo themselves & ahead of Wikipedia – which gets searched for 574,000 times a month.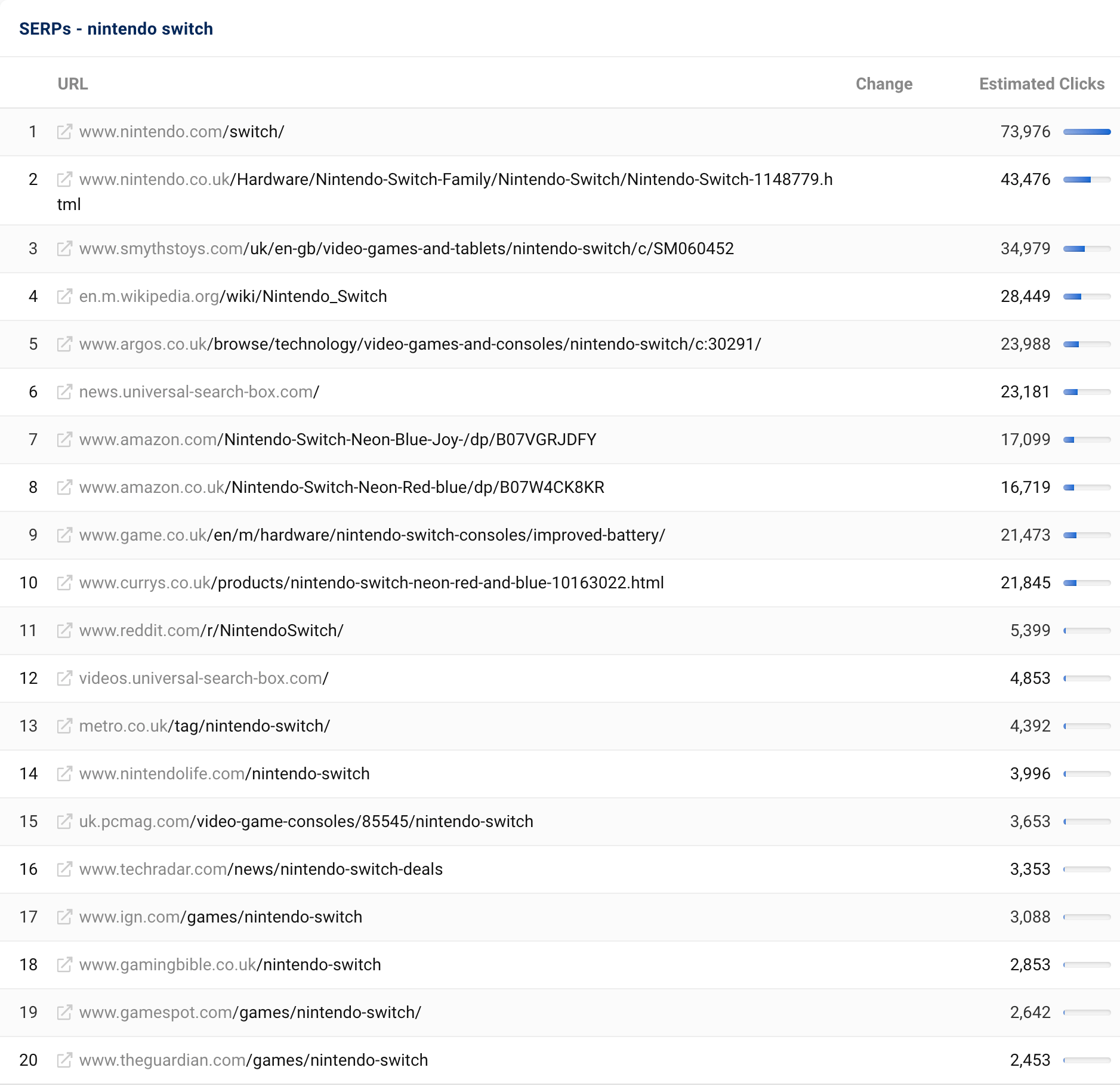 Smyths' PLPs feature:
Good use of title tags, H1 tags & meta descriptions that focus on the keyword targets
A wide range of product options (so plenty of choice for Google to show searchers)
Faceted navigation to make it easy for customers to focus on what they need
Breadcrumbs showing the position of the page within the site's structure, plus information architecture and internal link signals for search engines
Intro copy written in the site's tone of voice that varies according to the purpose of the page – the main Switch page introduces different options & highlights useful subcategories whereas the Switch games PLP answers common questions such as "What games are compatible with the Switch Lite?"
Smyths also have generic landing pages that perform well. Their video games console bundles page ranks for 355 keywords in the UK, ranking for over 70% of the most important queries on page one.

High-performance 'know' content
Next up, we have our best-performing 'know' content. We checked out keywords for a selection of console-related topics, such as the best games for each console, the best console to buy, the best deals out there and who has stock.
At the top of our list is Tech Radar, the technology news and reviews site. Tech Radar boasts a gaming section, which features news, reviews, guides, long-form features, deals and more.
The pages in the gaming section act as tag or category pages, collating together all the relevant individual articles from the main website formats. So, the gaming deals page collects all the relevant articles from the /deals/ directory, creating a 'gaming deals' topic page.
It is an impressive library of games-related content and a lesson in building true expertise in a sector through consistent, high-quality content and optimising that for search through information architecture. Tech Radar essentially reuses content they are already creating to power a variety of topic hubs that can themselves rank but also be magnets for links and bookmarks.
Tech Radar has a deals page dedicated to the topic of PS5 stock supply – something we've seen in our keyword list is a popular search query.
This article is updated regularly, breaks down its listings by country (where to buy in the UK, US, Australia & Canada) & features a long list of retailers, making it a useful resource. It is also written by the 'Deals Editor' at Tech Radar (complete with bio, links to social media profiles and author page) helping show the expertise behind the article (as well as the site's authority in the sector).
The article also adds depth & targets longer-tail queries through a series of sections based on common questions. These are likely inspired by People Also Ask questions or other search results features. For example, there is a section answering "How much does a PS5 cost?" – a keyword we saw with many variants in our keyword list. Tech Radar uses subheadings for each question & answers them below – a format we know Google likes.
Together, this adds up to almost 1,200 keyword rankings in the UK, over 500 of those on page one, and an estimated 31.6k organic visits each month.
Our second-place competitor, Tom's Guide also has a page on the PS5 stock situation. In fact, it is the most visible page on their domain, ranking for over 1,700 keywords, 761 of those on page one. They also gave a popular Xbox Series X stock page that appears for 671 keywords, half of which rank in the top ten.
This is clearly part of a wider strategy on the site to target restock pages for popular products the site covers: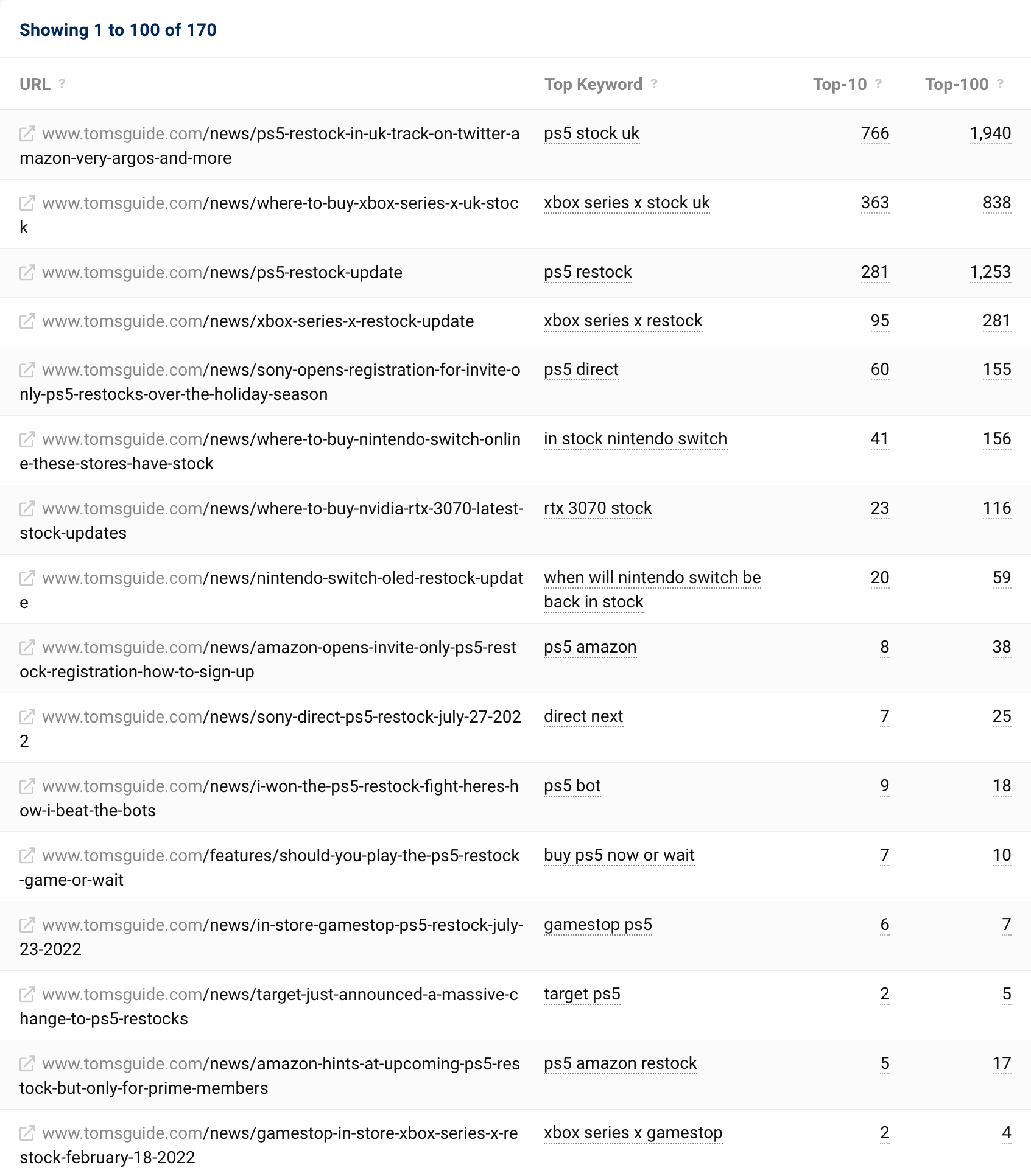 Another great example from TechRadar is their page on the best Switch deals. This ranks for over 600 keywords in the UK – 25% of those rankings on page one and another 25% on page two.

The article contains many E-A-T signals & qualities of what Google considers 'helpful' content:
Clear definition of the page's content & purpose ("The cheapest Nintendo Switch bundles and deals in September 2022")
Regular updates with the latest information
Decent use of structured data markup
An expert author (again, the 'Deals Editor' at Tech Radar) complete with information on the author's expertise
Depth of information – over 2.5k words and 8 different categories. This includes separate deals for US and UK Switch console bundles, best prices for a variety of top-selling games, deals on different controllers and even microSD cards (for expanding storage). There is also extra information for certain categories, such as how to spot a good Switch bundle deal & the best time to fund them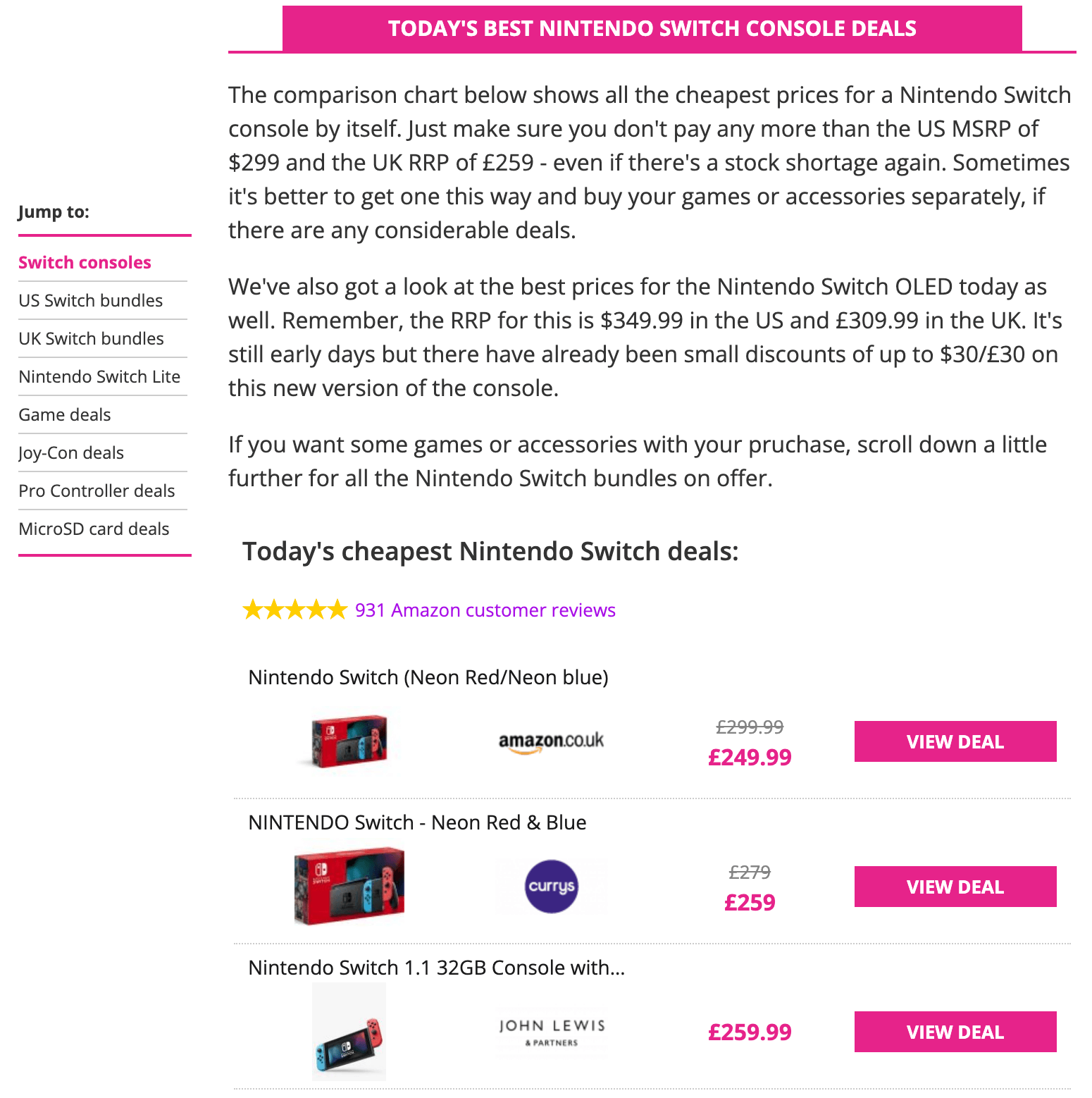 Also using the same format is Tech Radar's guide to the best PS5 games. This ranks for 410 keywords in the UK, including at the top for the parent keyword in this topic, "best ps5 games".
This roundup clocks in at almost 7k words and as well as the positive E-A-T signals mentioned already it also:
Includes guidance for 31 different games, giving it a comprehensive variety – there's likely something of interest here to most gamers
Offers 'reasons to buy' and 'reasons to avoid' for each game listed
Links to full review articles of each game where available, demonstrating further expertise and also potentially that the site has first-hand experience rather than this being a round-up of what other sites recommend
Is written by the Gaming Associate Editor who is an award-winning games journalist. Google will be able to see this reputation and assign true expertise to the article accordingly
Even better, there are contributions to the article from another six members of the team, giving the article different opinions which helps with a subjective goal of finding the 'best'
Another big site in our competitor list is The Independent. The newspaper has developed expertise in reviews and coverage of popular household products – we saw it last month with barbecues and clearly again for game consoles as the site ranks third for our sample list of 'know' keywords.
Again, their PS5 restock page is doing incredibly well, ranking for over 3.3k keywords, almost 2k of which rank on page one.
Lower down the list we find the New York Times, specifically their Wirecutter subsidiary. Amongst the gaming articles here, you can find their roundup of the best game consoles, which again is a great example of high-performing content.
It ranks for just shy of 8,000 keywords in the UK – and for 28% of the most important keywords, it ranks on page one.

Wirecutter is often seen as a great example of what makes helpful content with strong E-A-T. This article has many of those signals, with in-depth information on each console, a clear choice of the best model for each, lists of exclusive games for each console and lots of insight into what to expect plus links to further reading such as on choosing between the Xbox Series S and X.
Summary
From our dive into the world of games consoles, we find some helpful takeaways to consider:
In retail sectors with a range of brands and important subcategories, it is important for your retail SEO to invest in creating a smart information architecture & use appropriate content formats:

Creating a home for each brand (whether a product listing page or a more bespoke or content-rich department/CLP page) not only lets you target top-level generic keywords around the product/brand but also establishes a pillar for each cluster of subcategories and sets up internal linking opportunities
Then having classic ecommerce shopping pages (PLPs) for important product types gives you landing pages for queries around important lines or ways people shop in your sector. In this case, having pages for bundles, controllers and games for each console offers the perfect content format Google wants to show when gamers are on these common shopping journeys

For retailers, the shopping experience is also key – all the top sites are easy to use (filter), offer a good range of products and promote useful cross-merchandising
Retailers can rank for 'know' keywords by having excellent supporting content (which helps establish their 'expert' credentials in the sector). Publishers can target 'do' keywords through having strong 'deal' roundup content
Similar to the ecommerce information architecture, publications that do well usually have excellent topic hubs around consoles, allowing them to collate articles on reviews, news, deals, guides and more
And when there is a gap in the knowledge around a product, such as a one-stop shop of which sites have something in stock, a site without specialist expertise in the product itself can rank well by being an expert at this particular aspect.

However, for publishers, having 'news' pages on where you can get hold of hard-to-get stock appears to be a winner for search
As is often the case, uniquely fulfilling the audience's needs can be a great search tactic.
Methodology and data
SectorWatch follows a fixed process which you can also learn in our free competitor analysis Academy class.
For this SectorWatch, we used relevant keywords from a selection of electric bike keyword discovery tables.
We took a selection of highly targeted keywords with a 'Do' or 'know' intent. From these, we harvest all the ranking keywords for the URLs in the SERPs. We call this the Keyword Environment. Most SERPs will have some mixed intent so we re-filter the list for the correct intents and sanitise it by hand to leave a smaller, highly-relevant set of searches made by the UK public. The results are based only on organic result positions.
Keyword Set: Game Consoles
Core keywords: games consoles, nintendo switch, nintendo switch games, nintendo switch lite, playstations 5, playstation 5 uk, playstation 5 games, xbox series x, xbox series s, best games console, best switch games, best ps5 games, best xbox games, ps5 stock, xbox series x stock, nintendo switch deals.
Total keywords after harvesting and re-filtering: Do intent: 886. Know intent: 869.
The full keyword set is available for download and further analysis can be done in the SISTRIX keyword lists feature, including competitor analysis, SERP feature analysis, questions, keyword clusters and the traffic forecast shown below.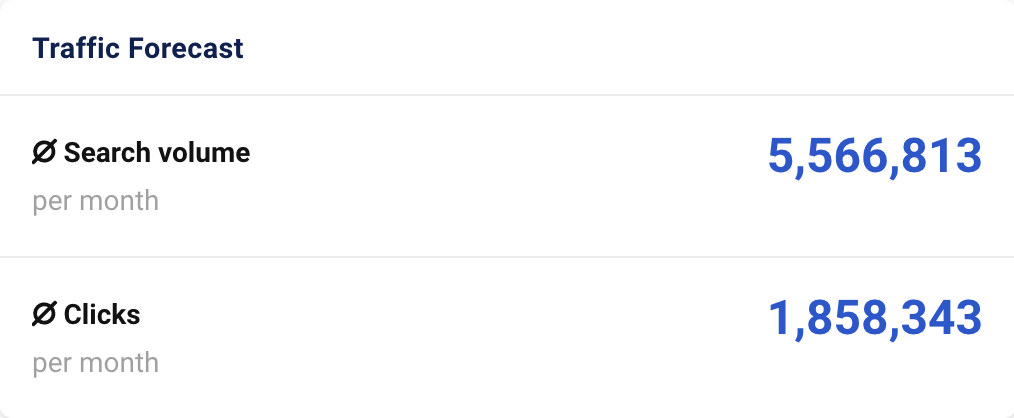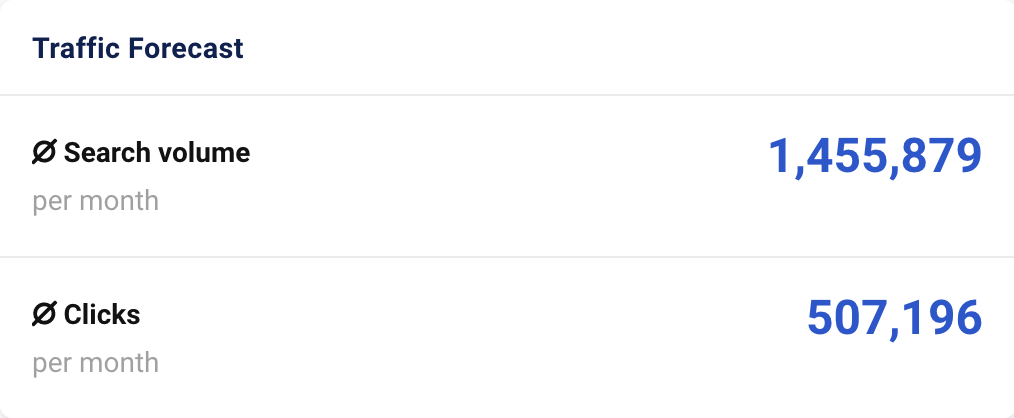 SectorWatch is a monthly publication from the SISTRIX data journalism team. Related analyses can be found in the TrendWatch newsletter, IndexWatch analysis along with specific case studies in our blog. New article notifications are available through Twitter & Facebook.