As part of our project looking at the Visibility Leaders in personal finance, SectorWatch is looking to find the best ways to make the most of its money. Read on because we're looking for examples of winning domains and excellent content so you can see what works. Who's helping their readers stuff their piggy banks and getting the most visibility? And what type of content does Google show to those searching for help managing their money or finding ways to save?

Five year search volume history for our 'know' keywords on how to save and manage money
It likely won't surprise anyone that people in the UK are increasingly looking for help in saving money or making the most of their finances:
Another key way many of us look for financial advice is through search – typing in queries looking for information or tools that help us manage our money and make it go further.
If we look at the seasonality of the common searches made on the subject, we can see that demand has increased. Not a surprise given the increased attention on household finances over the past several years.
The data (graphic above, 🟠) shows there is a spike in demand for information on how to save money each January, perhaps once the Christmas costs are tallied.
But we can also see a spike in demand in August 2022 – a time when the squeeze on UK families increased thanks to a rise in interest rates and a surge in energy prices – amidst a general trend of increasing demand.
And if we review the number of financial advice websites available, it's clear there is money to be made from such searches. So who is earning the (ahem) interest of searchers?
Here are the top three domains for our two sample sets of keywords.
Top 3 domains for 'do' (transactional) searches – money management tools:
moneyhelper.org.uk
nerdwallet.com
forbes.com
Top 3 domains for 'know' (informational) searches – how to manage money and money management:
moneyhelper.org.uk
barclays.co.uk
moneysavingexpert.com
Keyword research in the personal finance sector
We've curated two lists of money-management-related keywords, designed to be a representative example of part of the personal finance search market. We have divided the keywords by their topic and their search intent.
First is our list of 'do' keywords. Do searches are where someone is looking to buy a product or ticket, hire a service or download something. They can also include searches with a commercial research intent, looking to find the best option.
In this case, these are searches where the searcher is directly searching for money management software or online tools.
Examples of the keywords we've used include budget planner (searched for 3,950 times a month on average in the UK), budget calculator (1,250 searches a month), expense apps (850), personal finances software (550) and best money-saving apps (350).
Our 'know' keyword list is based on searches where the customer is looking for information. We've focussed on searches on money management and how to save money. Keywords that indicate the searcher is looking to take better care of their money, cut costs or feel more in control of their finances.
The most popular keyword in this list is exactly one of those key ideas – how to save money which is asked 9,800 times a month on average in the UK. Other examples include money saving tips (73,050 searches a month), how to be on a budget (1,600), clever ways to save money (550) and frugal living (450).
You can find out more about the lists (including links to the full lists) at the end of this article.
The top competitors in the UK search market for managing money
We've seen the medal winners, but who has made it onto the top-domains list for keywords on money management & how to save money in the UK search results? Here are the complete lists:
Top 25 domains for money management: 'Do' intent
Using a project of 270 keywords curated around the 'do' intent we processed the current SERPs and evaluated the effective project visibility for domains ranking for the keywords.
Leading commercial intent domains for money management (270 do intent keywords)
Top 25 domains for money management: 'Know' intent
Using a project of 370 keywords curated around the 'know' intent we processed the current SERPs and evaluated the effective project visibility for domains ranking for the keywords.
Leading informational intent domains for money management (370 know intent keywords)
Content examples: What type of content is performing?
Reviewing our winner lists, we can gather some key takeaways:
We have one clear winning domain in this area – MoneyHelper. A relatively new site, this domain's organic search footprint has skyrocketed since its launch in the summer of 2021 (though it does seem to have taken a hit in the recent August Core Update)

Why has it done so well? We'll take a look at the content below, but the site has the E-E-A-T benefit of being a trusted source. MoneyHelper "brings together the support and services of three government-backed financial guidance providers: the Money Advice Service, the Pensions Advisory Service and Pension Wise". It's hard to appear more authoritative or more in the reader's best interest than this

Speaking of the winning domains, this is a highly competitive sector: The domain lists are dominated by major businesses and strongly established experts in the field
Our top 'know' domains (offering help & educational content) are a mixture of financial news/advice sites (such as MoneyHelper and Money Saving Expert, banks and powerhouse publications such as Which and Good Housekeeping. The top ten are all financial guidance sites or banks
The 'do' list has a mixture of business types as well leans more towards financial guidance sites

Six of the top ten domains are sites specialising in help and information on financial topics
With many 'best' queries or other keywords looking for a software solution or template, these guidance sites along with other big publications in the top 25 (such as Which, TechRadar, The Guardian and Forbes) are in a great position, as this is the type of review and comparison content they do very well with

The know winners list includes more US-based websites than expected, including Ramsey (which is similar to a US-version of Money Saving Expert), Bank of America's financial advice subdomain and NerdWallet's US-based articles (seeing their articles in the /uk/personal-finance/ directory is less surprising!)
10 domains appear in the top 25 winners in both our keyword lists

These are principally the larger, specialised publications (MoneyHelper, NerdWallet, Money Saving Expert and Investopedia)
We also have some wider publications with demonstrable expertise in the area such as The Times, The Guardian and Which
And some institutions that work offline in the sector (Citizens Advice Bureau and HSBC)
High-performance know content examples
We're looking at the winning domains to find examples of high-performance content. That is content which has a high ratio of page-one rankings.
In other words, we're looking for content that between its information and format often satisfies users and meets the intent of their search. We can learn from such formats and apply the lessons to our content.
Our top domain for both know and do keywords is MoneyHelper. Does it have any high-performance content?
MoneyHelper's most successful URL for our 'know' keyword set is their beginner's guide to managing your money. This ranks for 68 of our 370 known keywords – and with 62 of those rankings on page one, it certainly counts as high-performance content!
In fact, eight of the top hundred performing articles from our keyword set are on MoneyHelper.org.uk, showing off the breadth of their footprint in this sector. The domain ranks for 63.8% of the keywords in the set, and on page one for 32.8%.
Many of these articles are in the /everyday-money/ directory. Overall, this directory ranks for over 83.3k keywords in the UK, and on page one for 26.3% of the most popular ones.
Together these rankings drive an estimated 317k organic visits a month, worth £1.99m. We can also see the huge success of this directory since its launch a couple of months after the domain.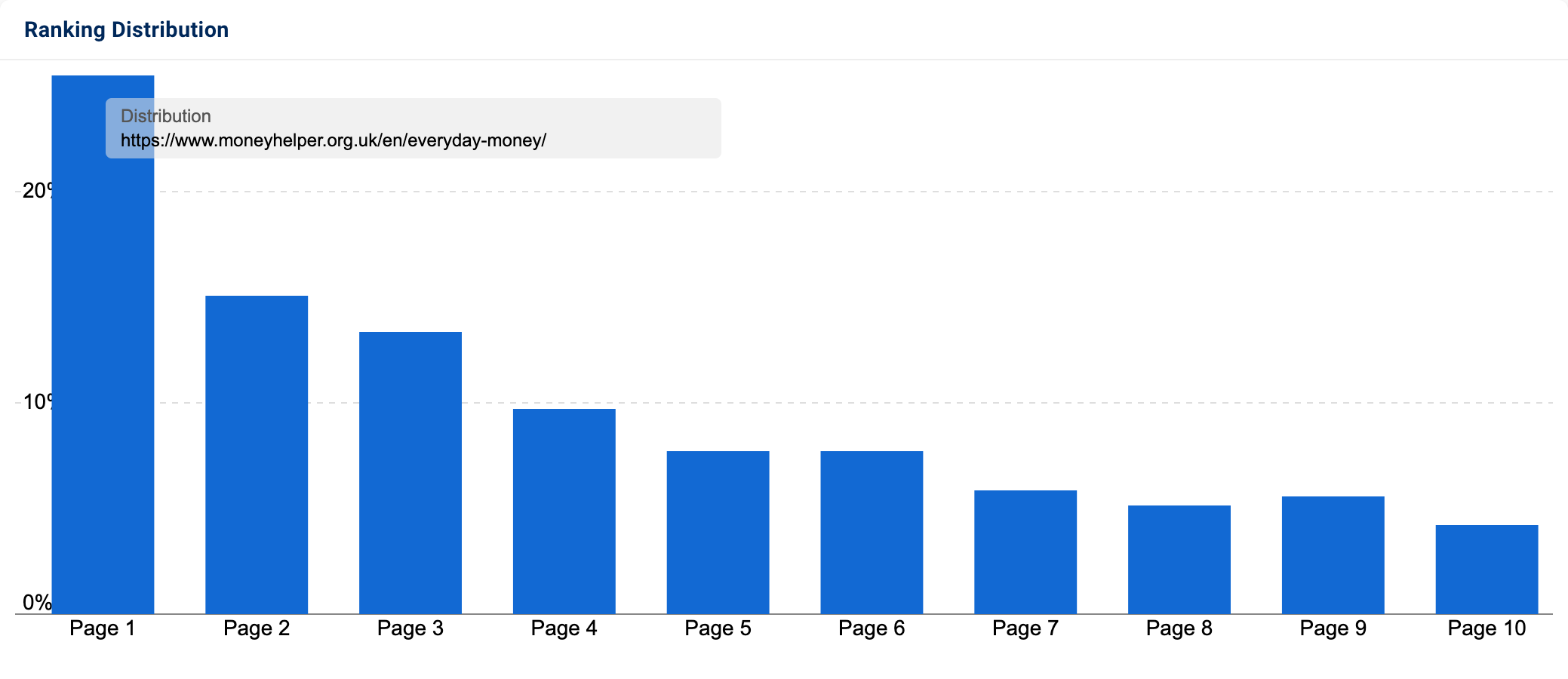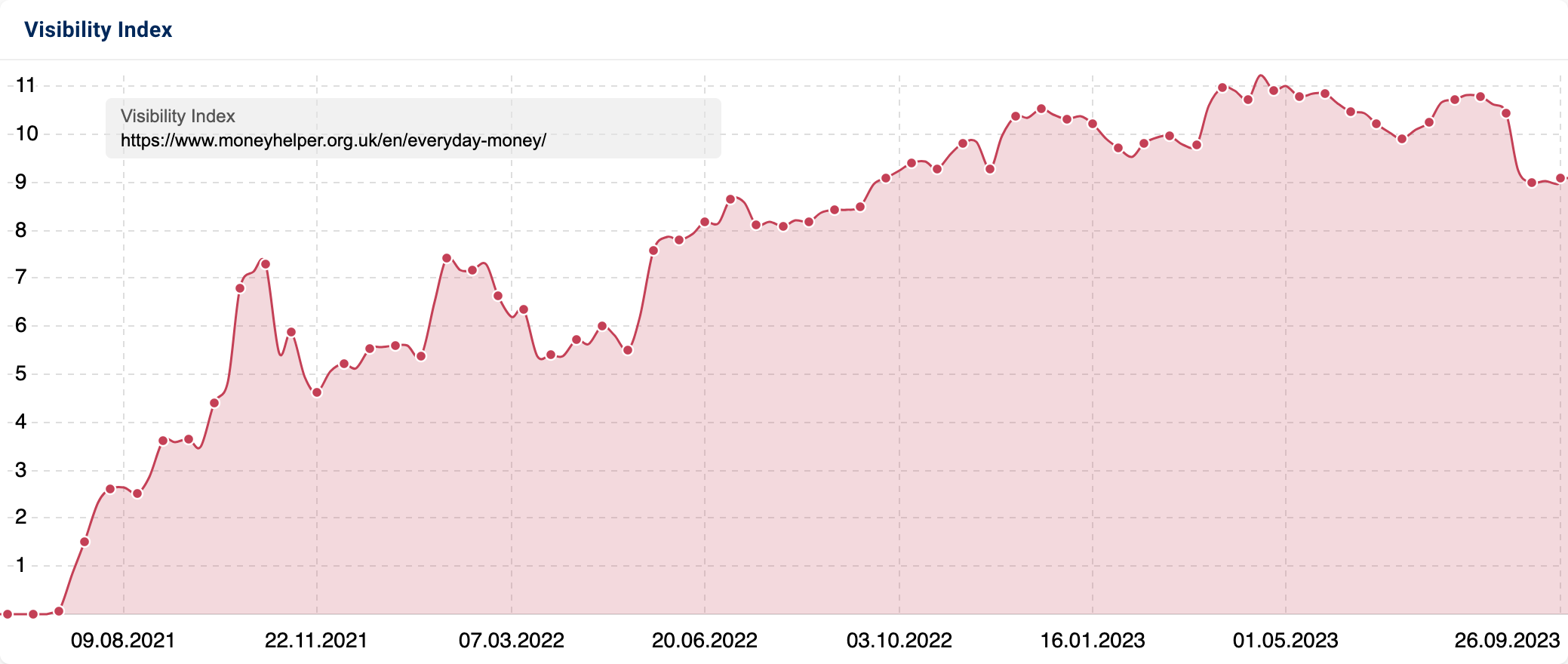 Why is this content so successful?
If we look at the beginner's guide to managing money, we find a few clues:
As we've noted, the site comes from a trusted and authoritative source. MoneyHelper is run by The Money and Pensions Service (MaPS), an arms-length body, sponsored by the Department for Work and Pensions

The service provides free and impartial debt advice, money guidance and pension guidance
MoneyHelper is described as "here to make your money and pension choices clearer. Here to put you in control with impartial help that's on your side, backed by government and free to use"
Impartial advice from a trusted source backed by the government always has a leg up when it comes to convincing Google that this is useful help!
As you'd expect, the domain has an enviable backlink profile thanks to its standing, which also helps prove its authority in the field

The guide itself is also a highly target and useful resource. It is part of a series on How to manage a budget, complete a sub-menu linking to sibling articles on using prepaid cards, how to budget for an irregular income and more
The guide is broken down into seven sections, complete with an index of jump links to each part. Those jump links and section headers help both visitors and search engines know what each section is going to tell you
You'll also find links to related articles and tools scattered throughout the article. Most of the sections introduce a key principle and then link to further reading that really dives into the detail

For example, one section is on building an emergency fund. It only contains a few sentences, which isn't enough to cover the subject on its own. However, it links through to MoneyHelper's guide on emergency savings
This guide acts as a bit of a hub, introducing key concepts and linking through to more reading for each one. This is perhaps why Google thinks it is useful – it is an easy-to-assimilate starting point where searches can find a host of depth through related pages

The article is a key page in the Budgeting section (/everyday-money/budgeting/). The main budgeting page is in the main menu and prominently links to this guide, meaning a large amount of the link equity on the site will flow to this guide

Signposting important content through internal links and navigation is a key piece of on-site optimisation

The page also has decent on-page optimisation with all the foundational elements such as the H1 and title tags focussing on their chosen keyword of managing your money
The site doesn't reference the author or have pieces of advice from noted experts (the latter of which would be a nice addition) – instead, it relies on the brand's authority and trust
It's not just the everyday money section doing well for MoneyHelper. The Savings directory does well for our know keywords and is powering.
MoneyHelper's guide to How to Save Money is the most visible for our keywords, but we also see success for articles on saving money to boost your budget and specialised articles on saving for a holiday and tools like their savings calculator.
In all, this directory ranks for over 20.4k keywords with an estimated traffic of over 183k worth £658k each month. 29.7% of those rankings are on page one, making it another example of high-performance content.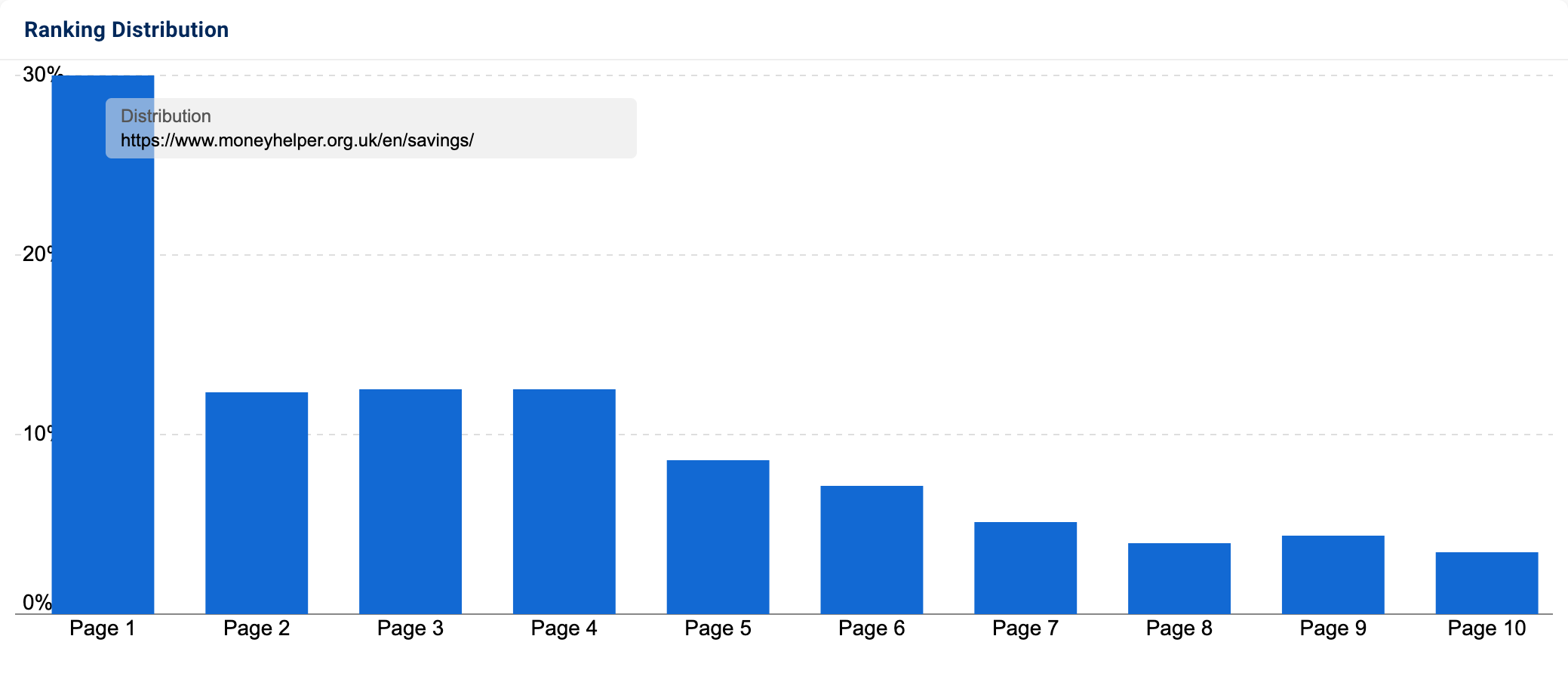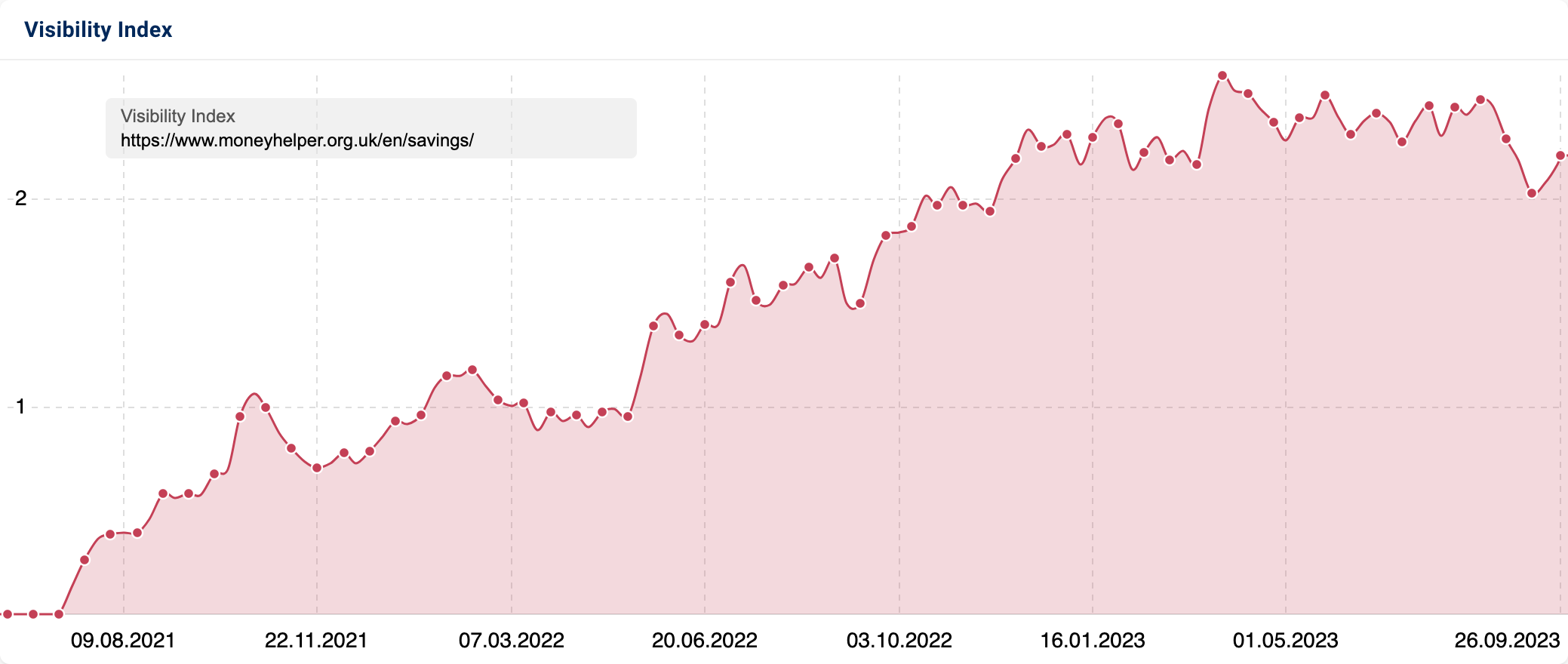 One notable outlier is our second-place domain – Barclays. While they have a few articles appearing for our curated keywords, one stands out. The most successful page for our 'know' keywords is their saving tips.
It ranks for 154 of the 370 keywords, with 121 of those rankings on page one (that's a 78.6% page one ratio!) Even better, the article ranks for 840 keywords in the UK, with a remarkable 51.2% of those on page one. This page earns traffic worth an estimated £76k each month.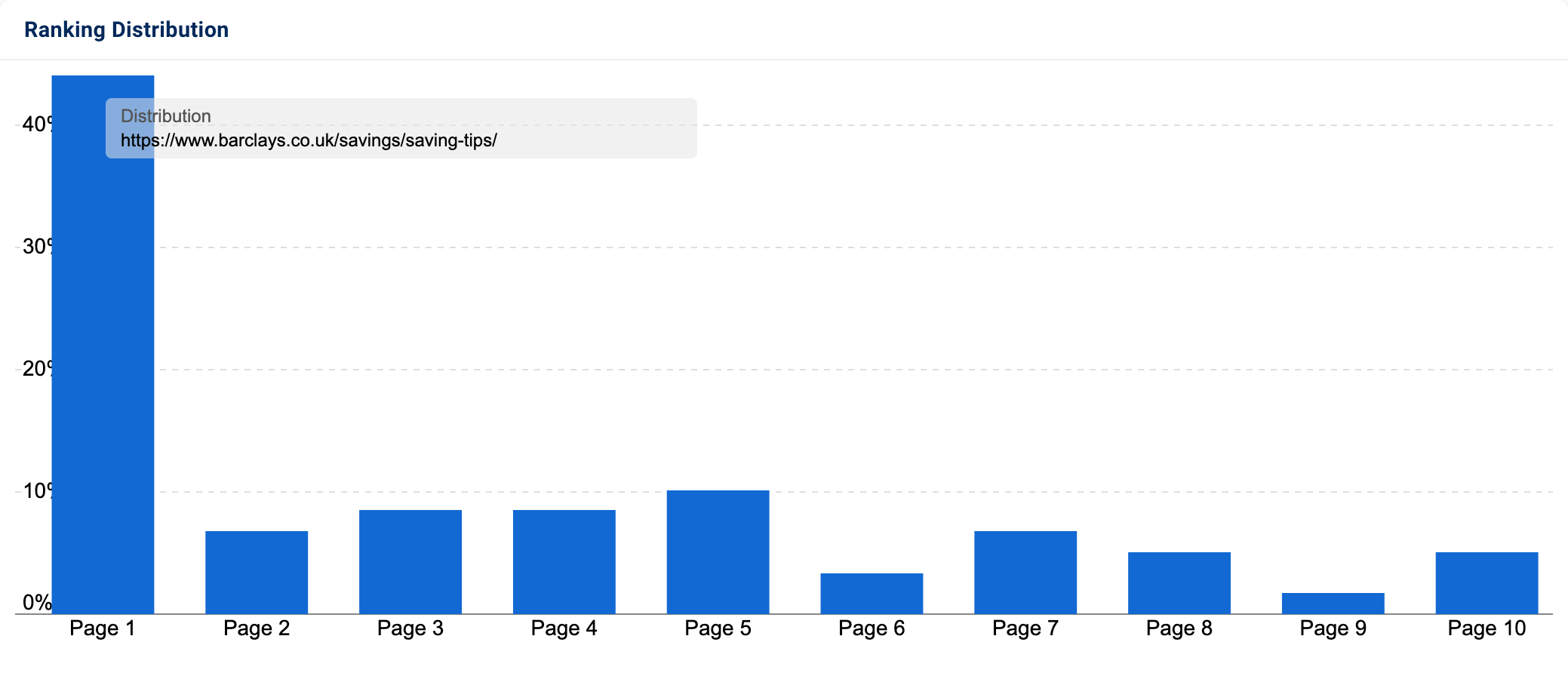 But what's strange is that this article has comparatively little content – there are ten tips with a couple of sentences explaining each one. The article is ~850 words, has no images and has formatting mistakes (such as one answer being a quote with no attribute or link). Yet, Google continues to show it more and more.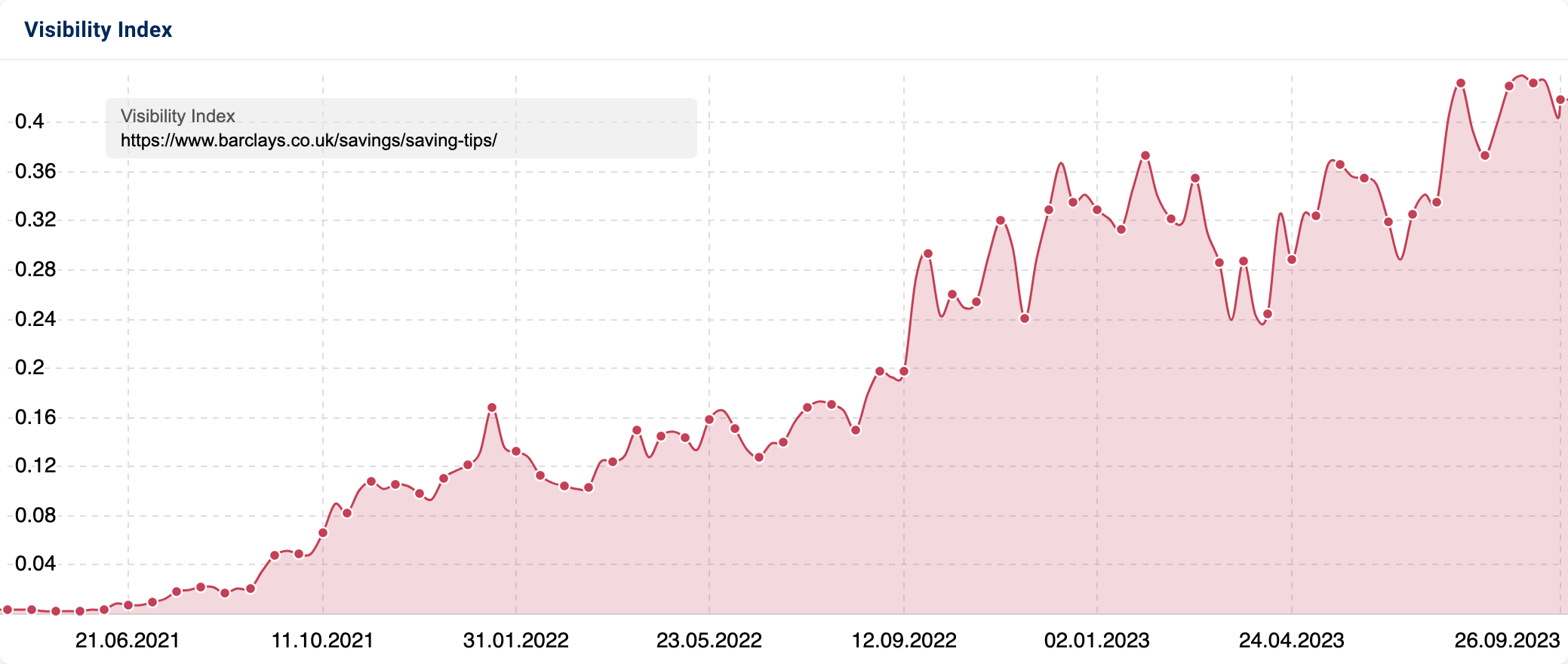 It could be that searchers want this simplicity or that the site's authority in this niche is hugely powerful, but we can't but wonder how well this page could do with a bit more effort…
High-performance do content examples
We also see MoneyHelper at the top of the pile for our more commercial-intent 'do' keywords.
This is primarily thanks to their budget planner tool. This online calculator lets you know where you are spending money. You can record all your spending, break down those costs by category and even get personalised tips.
This is a great online resource for those wanting to record their finances without investing in dedicated software.
And Google agrees. It ranks for 165 of our 270 'do' keywords, with over half of those rankings on page one.
Overall, the page ranks for almost 2.5k keywords, with a whopping 55.3% of those page one rankings meaning they can expect to get some of the traffic for the keyword.
All this even though the page has very little content – the site's reputation and the utility of what the page curates is enough.
This one page brings in an estimated ~22k organic visits a month, with that traffic worth £137k thanks to the high PPC bids for many keywords. You have to bid an eye-watering £9.50 to appear for 'Budgeting tool', for example.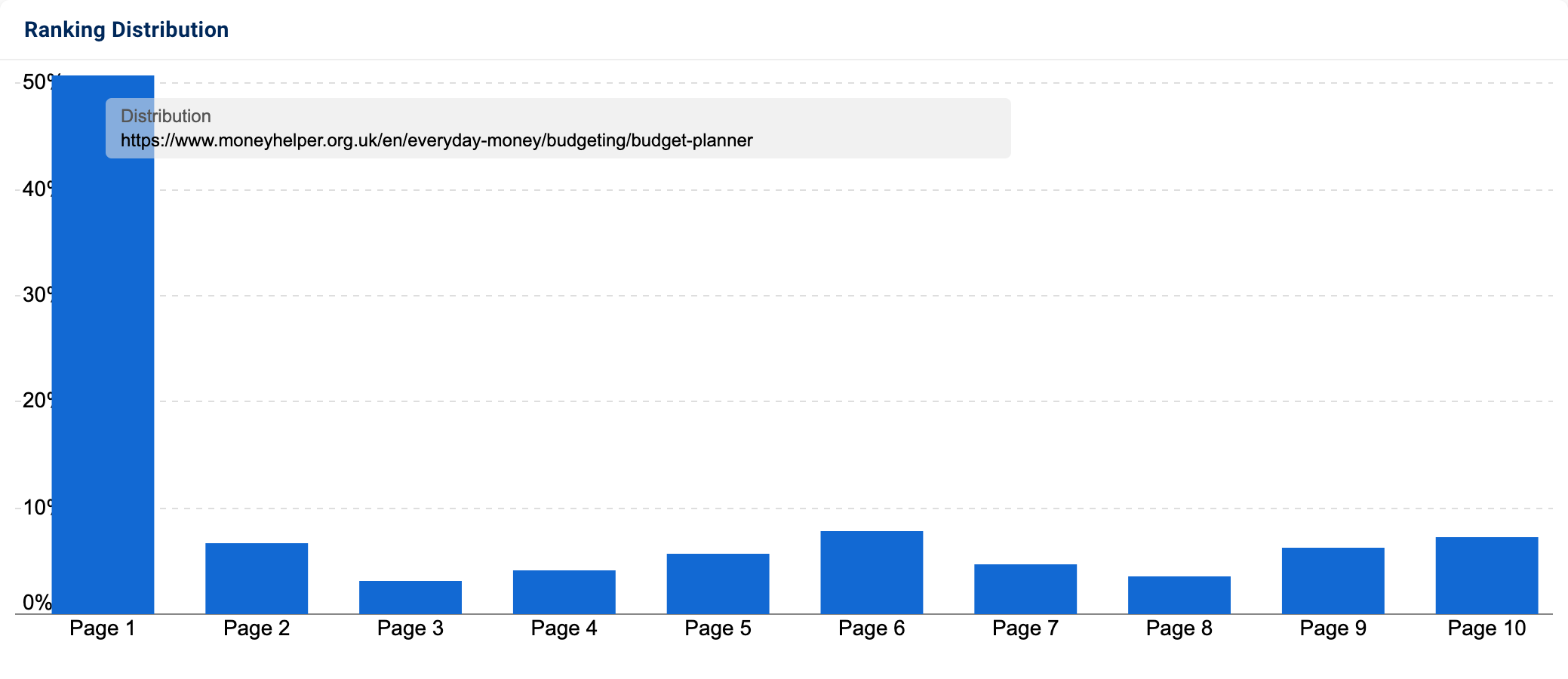 Our second most visible domain for 'do' keywords is the popular independent financial comparison site NerdWallet.
As a personal finance company, NerdWallet is a classic affiliate-based income publication. It recommends products and services and earns a commission when visitors buy them from the suppliers.
The top NerdWallet URLs for our keywords are great examples of this. We see articles on the best budgeting apps, five free downloadable budgeting templates and the best expense tracker apps.
These articles all live in the /article/finance/ directory, which is US-based content (the specific UK content lives in the /uk/ directory). It looks like NerdWallet thinks these articles do a universal job and don't require a UK equivalent whereas some personal finance topics such as banking do need UK-specific content.
The /article/finance/ directory is highly successful. 711 different pages in the directory rank for at least one keyword in the UK covering all kinds of common personal finance subjects from how to raise your credit score to selling your clothes online.
Overall, this directory ranks for over 29k keywords in the UK, and over 128k worldwide. Those rankings bring in 50k visits a month worth an estimated £154k.
The content is strong, with 22.15% of the most important rankings on page one and another 18.9% on page two. 40% of its keywords are ranking in a position where NerdWallet might get a share of the traffic.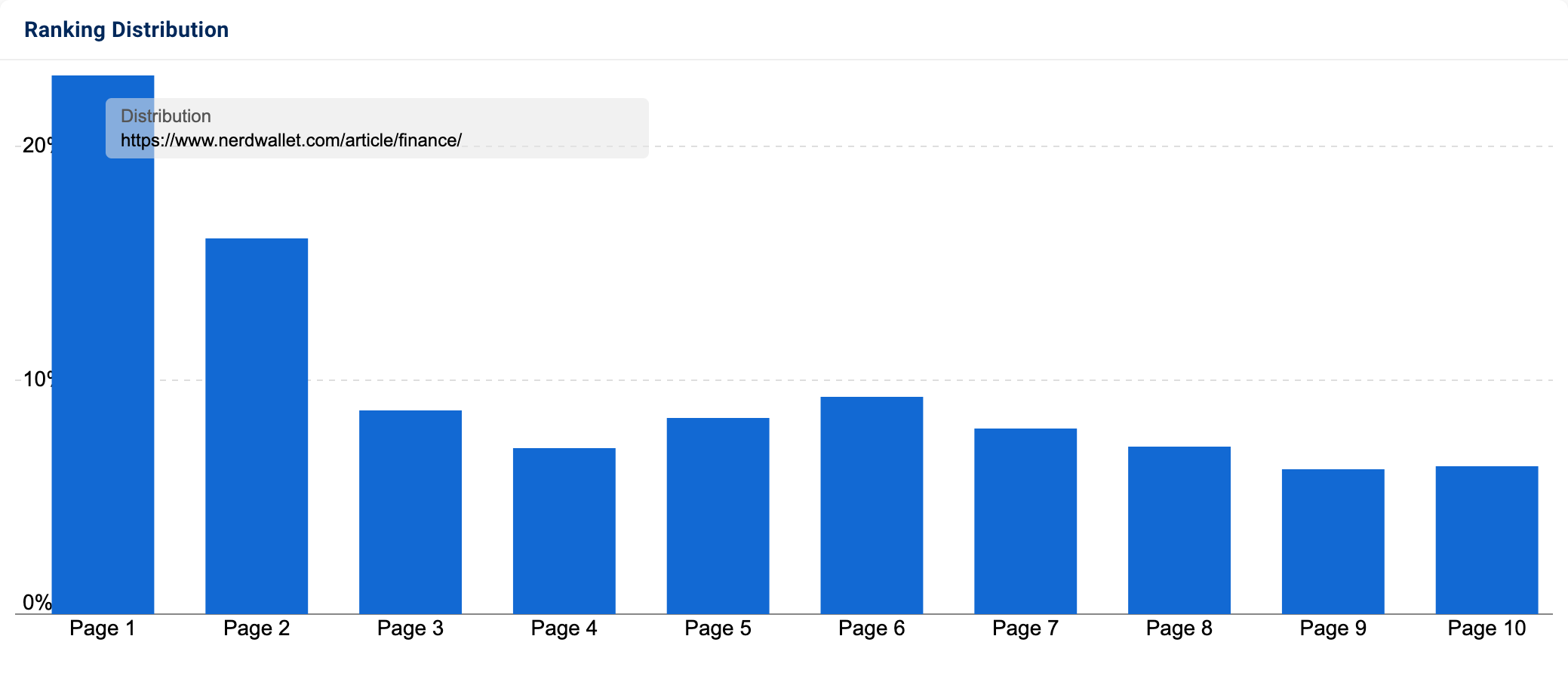 How do they do it?
NerdWallet has a highly polished article template that provides a strong user experience combined with SEO know-how.
NerdWallet employs catchy titles for the articles, often using numbered lists. In our examples, we have The 8 Best Budget Apps for 2023 and 11 Best Personal Expense Tracker Apps

Using lists isn't just a convenient article format. It tells visitors – and search engines – exactly what you'll find; a list of options that could potentially do this job for you
Article names like this often do well capturing searchers' attention in the SERPs. NerdWallet then back this up with a meta description that explains what this type of product/service does to create an effective search result listing

And NerdWallet delivers on the title's promise with detailed information on each option. For the best budget apps, NerdWallet lists eight options with loads of detail

They start with what each option is particularly good for, such as the best budget app for budgeting with a partner, for budgeting simplicity or the overall best piece of software
Each listing has sections on why we recommend it (the pros) and why you may want to think twice (the cons)
We then find the cost of the app and the ratings for the app on the Apple and Google stores

NerdWallet also includes a section on the methodology used to find the best options. This is a vital piece for the first 'E' in E-E-A-T – Experience

Showing readers how the products are compared not only helps endear trust in readers, it helps tick the box of demonstrating first-hand experience

The article takes the opportunity to include or link to more depth

This includes links to resources like NerdWallet's budget planner, guides on related subjects like zero-based budgeting or even embedding podcasts on related subject matter (even timestamped to the part of the podcast with a listener question asking the presenters what they think is the best app for getting a handle on where money is going and for budgeting!)

Some articles, such as our example on the Best Personal Expense Tracker Apps, don't have as much detail on each option (something NerdWallet could improve!), but they have extra detail to set the scene and answer common questions

In this example, there are sections on 'How do expense trackers work?' and 'If you're ready to start a budget'. These include links to further reading and potentially help the pages rank for related subtopics
Some articles include a 'Frequently Asked Questions' section which lists common questions and houses each answer in an accordion. The answers are short, but enough to add depth to the article with a link to a specific article on the subject and potentially enough to get into People Also Ask answers
Speaking of which, a lot of these FAQs bear a remarkable resemblance to common search queries or People Also Ask questions – NerdWallet is clearly adding these for SEO!

The articles also note the author and editor of each piece, with an author bio at the foot of the copy and links through to the relevant bio pages

Those bio pages help build topical relevancy for each writer and include their bio, credentials, previous experience, social media profiles, links to other publications they've appeared in and some highlighted articles as well as a list of all their articles. That's a lot of evidence about the expertise of each writer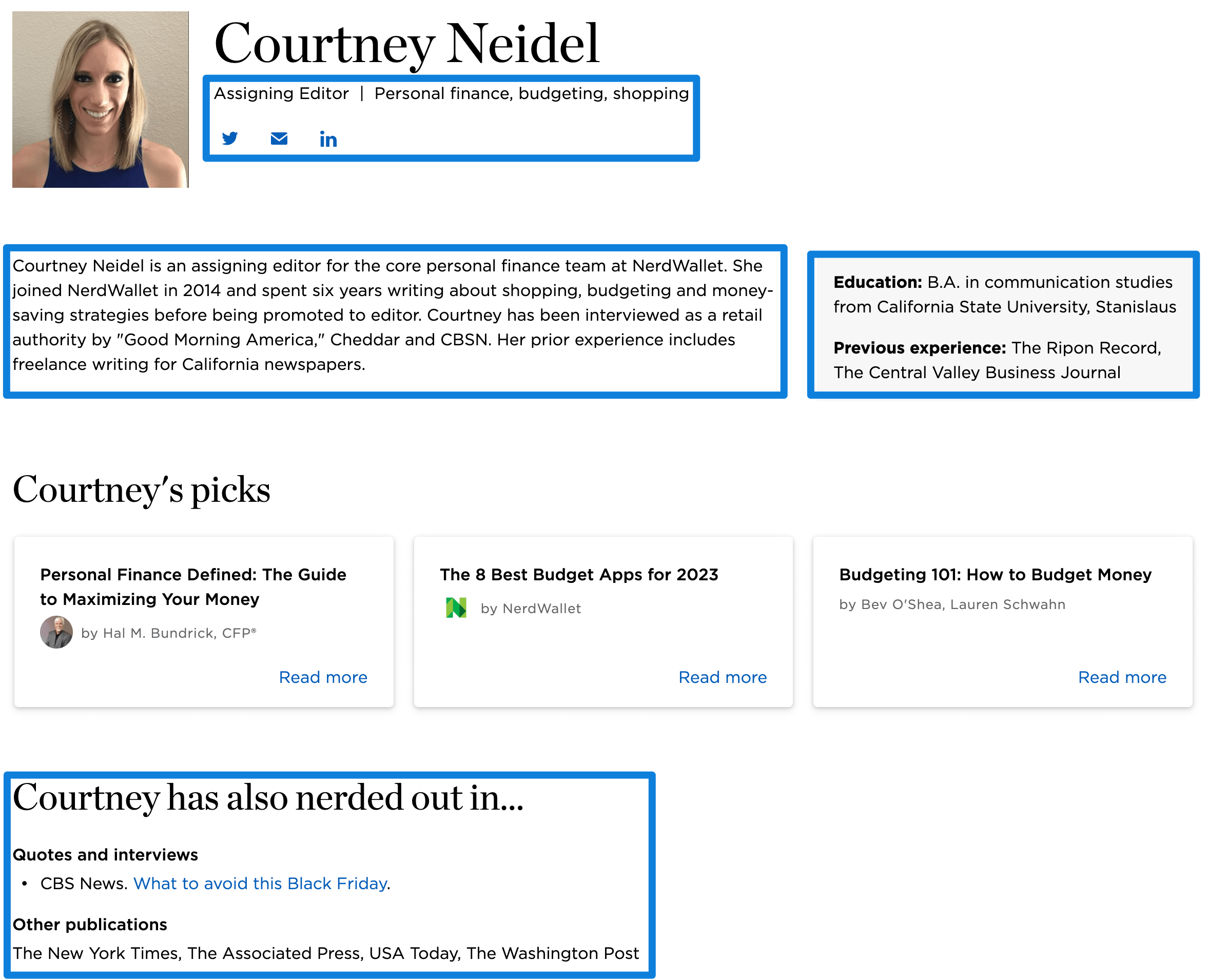 These articles are then gathered into topic clusters. That is related, interlinked content around a broad topic with both a pillar page on the core subject and many cluster pages that deep-dive into individual or related aspects.
The site has a range of topic clusters, all on the theme of helping readers make smarter, more informed financial choices. And they work extremely well for SEO.
NerdWallet is also smartly letting articles earn success and updating them each year (or even more frequently).
The article on the best budgeting apps for 2023 was first published in 2021 and was most recently updated in April 2023. Thanks to keeping the date out of the URL it can keep on working for them rather than publishing a new article each time.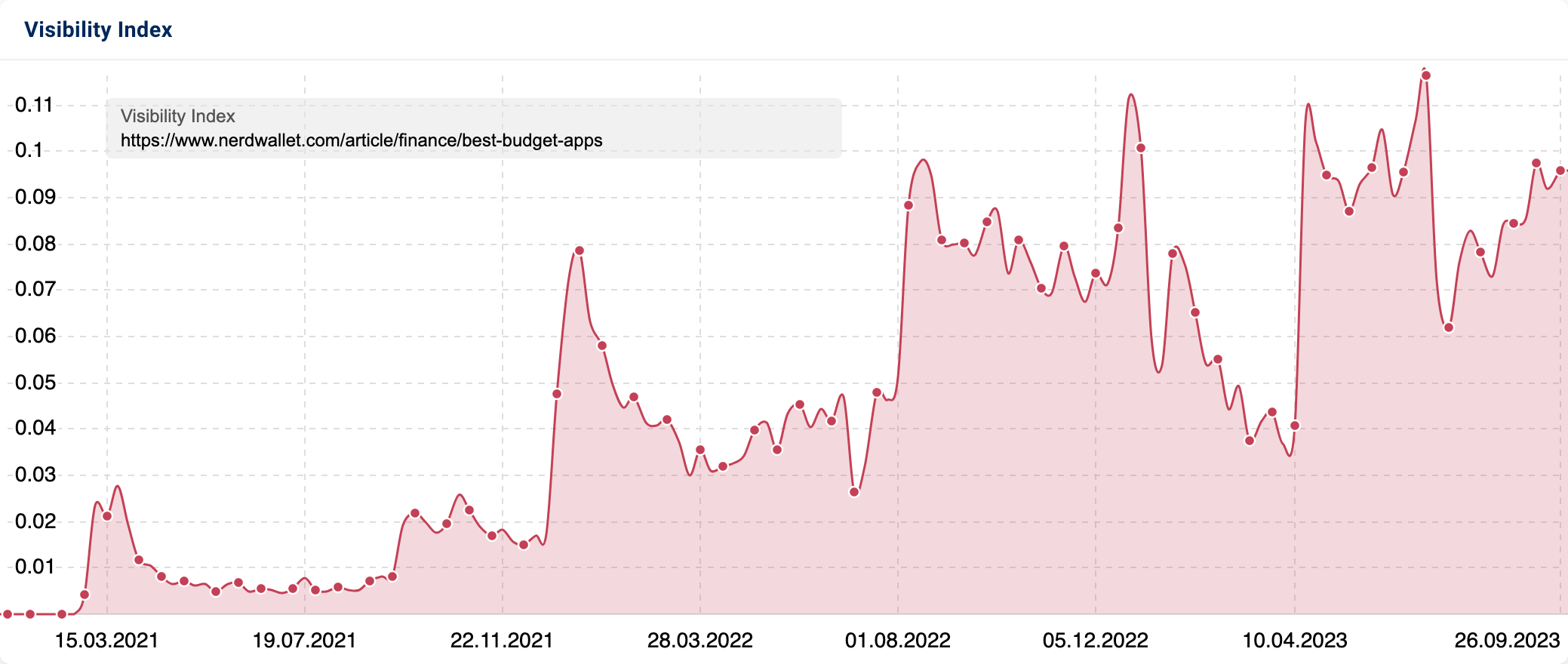 You can see this template repeated throughout the directory and indeed throughout the site. NerdWallet uses a keyword-research-driven strategy to create comparison articles on all kinds of personal finance subjects.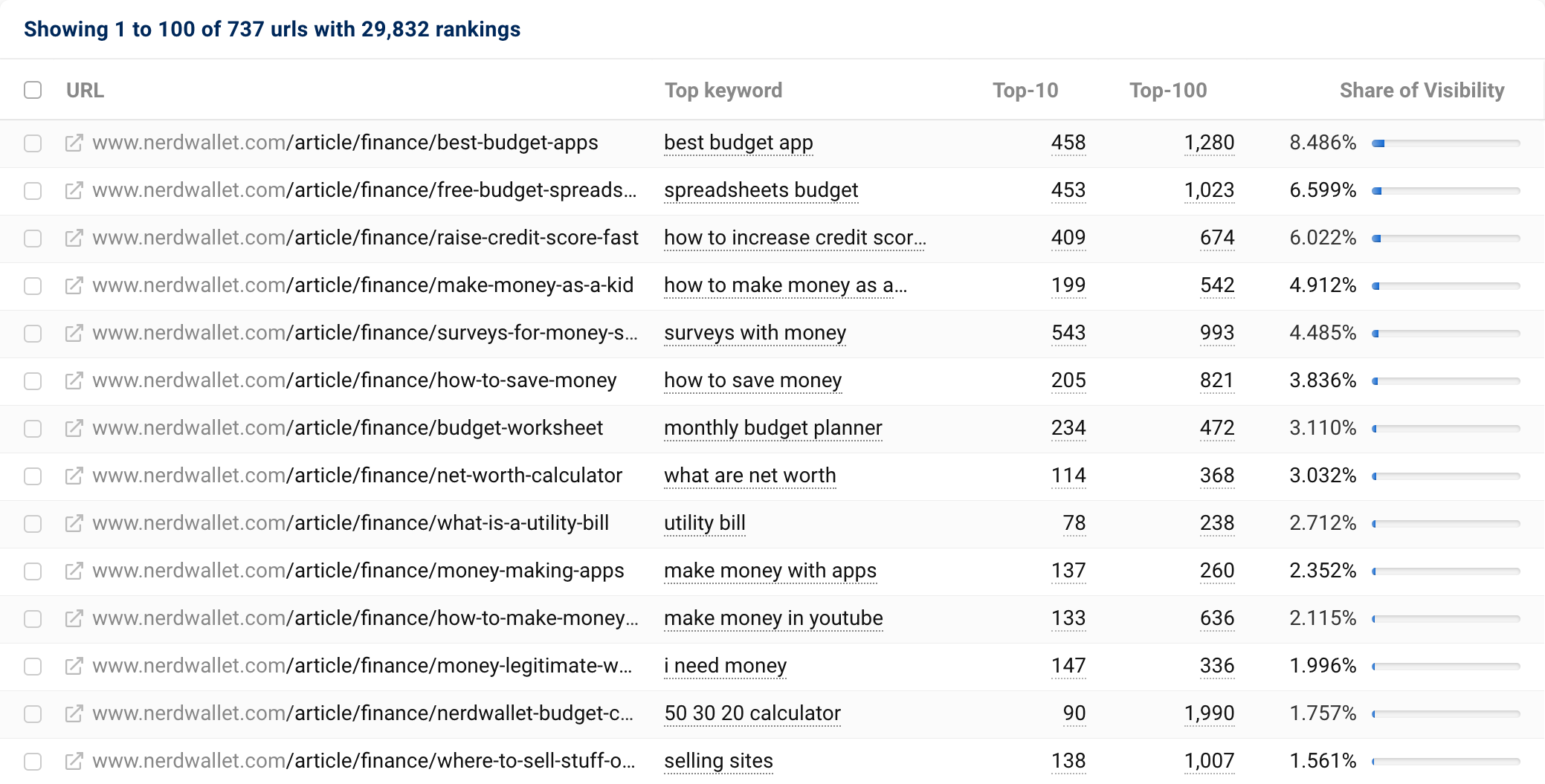 This delivers an impressive organic footprint that can be expanded into any area of organic interest, or even for up-and-coming topics they expect to become popular.
We can see this from our 'know' keywords, where NerdWallet was the sixth most visible domain and their article on how to save money ranks for 137 of the 370 keywords (73 on page one).
The article contains a great number of ideas – 27! – and has links to a lot of further reading. It ranks for 744 keywords in the UK, with 19.3% on page one and 21% on page two.
Another interesting winner is Forbes – the American business magazine noted for its aggressive SEO strategy. Forbes has a lot of articles, with 441k different URLs ranking for at least one keyword in the UK.
Forbes has an article for everything vaguely finance-related, so it is no surprise to see they also have an article on the best budgeting apps.
This article is more business-focused but still ranks very well for more keywords that bring back a lot of personal finance content. It ranks for 139 of our 'do' keywords, 93 of those on page one.
It's part of the banking directory (/uk/advisor/banking/) which ranks for over 7.6k keywords, 22.9% of those on page one, and has shown good growth since its introduction in early 2022.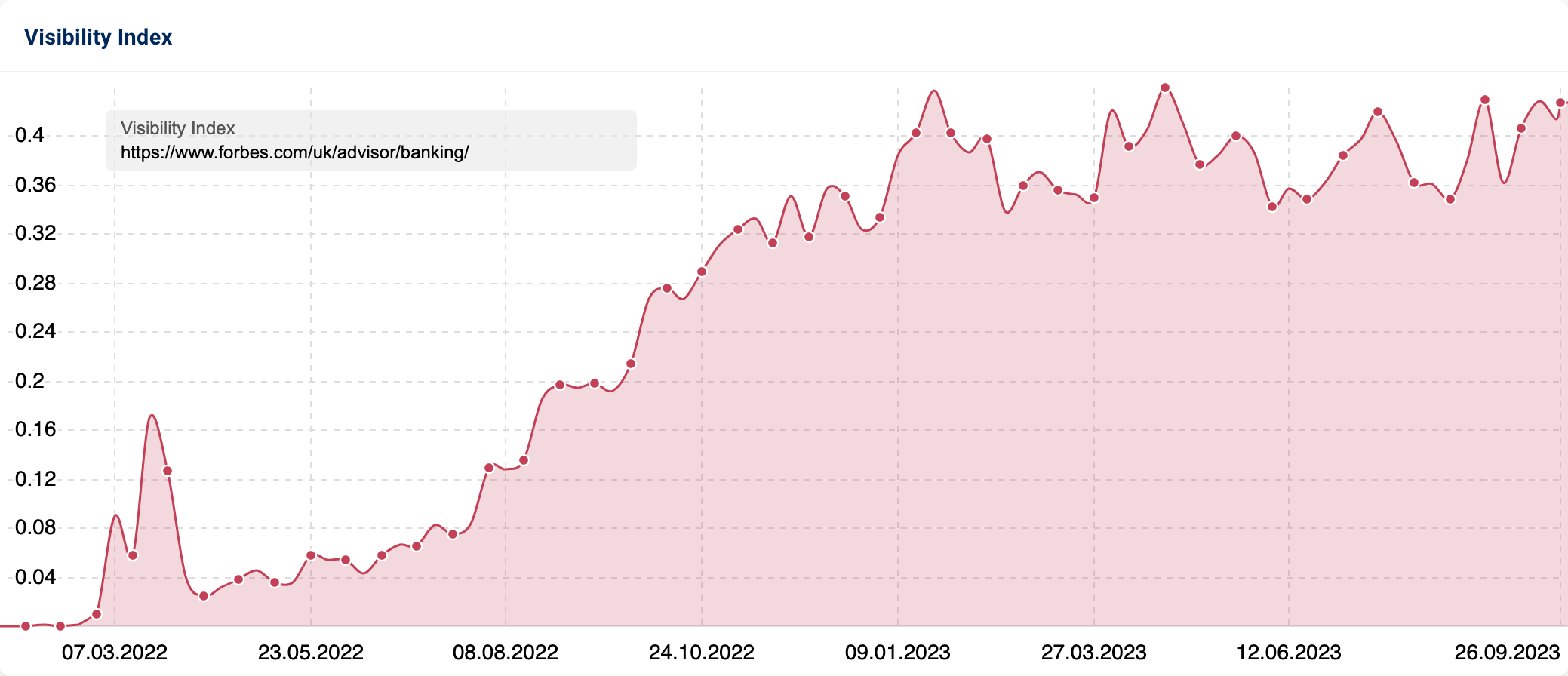 It has some common features with NerdWallet which points to foundational elements these comparison articles must have:
There's an author bio which details the expertise and links to the author page
There's an FAQ section with answers in accordions. Again, the FAQs seem to be at least 'influenced' by People Also Ask questions and common long-tail searches on the topic
There's a Methodology section that indicates first-hand experience
An index of jump links to each recommendation
And plenty of detail on each option, including "Why We Picked It" (long-form copy) and "Pros & Cons" (bullet lists)
Summary
Reviewing this high-performance content, there are further insights we can use:
In competitive finance topics, you need to be an authoritative site to rank at all
You can rank with lower-quality, less in-depth content (Barclays!), but most sites are putting a lot of effort into their templates and pages
If the advice is relevant, Google is happy to show content from other countries, even for high E-E-A-T and YMYL subjects
Google likes to show financial advice from a variety of sources – financial guidance domains, big-name publications, newspapers and banks

But, if you are competing against a government-backed site, you likely have less SERP real-estate to aim for

In these competitive sectors, adopting an SEO-led, user-first content strategy can pay real dividends

We can see sites that aim to build a real presence in the sector by establishing strong templates and using keywords as market research data to build content for all kinds of user queries
Even if you aren't in the personal finance space, you can develop high-performance content sections by finding a strong content formula and scaling it up to all the questions your audience asks
Our process:
For this SectorWatch, we used relevant keywords from a selection of money management keyword discovery tables.
We chose a selection of highly targeted keywords with a 'do' or 'know' intent. From these, we harvest all the ranking keywords for the URLs in the SERPs. We call this the Keyword Environment. Most SERPs will have some mixed intent so we re-filter the list for the correct intents and sanitise it by hand to leave a smaller, highly-relevant set of searches made by the UK public broken down by searcher journey. The results are based only on organic result rankings.
Money management: Curated keyword set and sector click potential
Core keywords: money management, how to save money, money saving tips, how to budget, finance software, budget app, personal financial software, expense tracking app.
The full keyword and domain set is available for viewing and further analysis can be done in the SISTRIX keyword lists feature, including competitor analysis, SERP feature analysis, questions, keyword clusters and the traffic forecast shown below.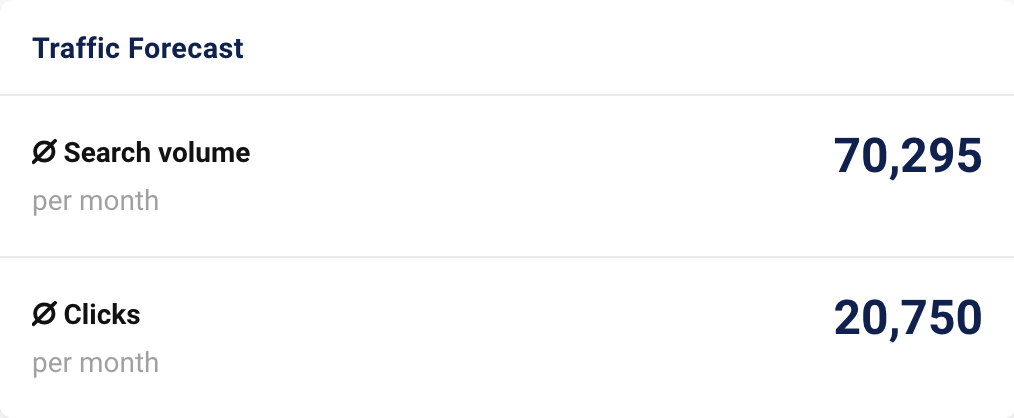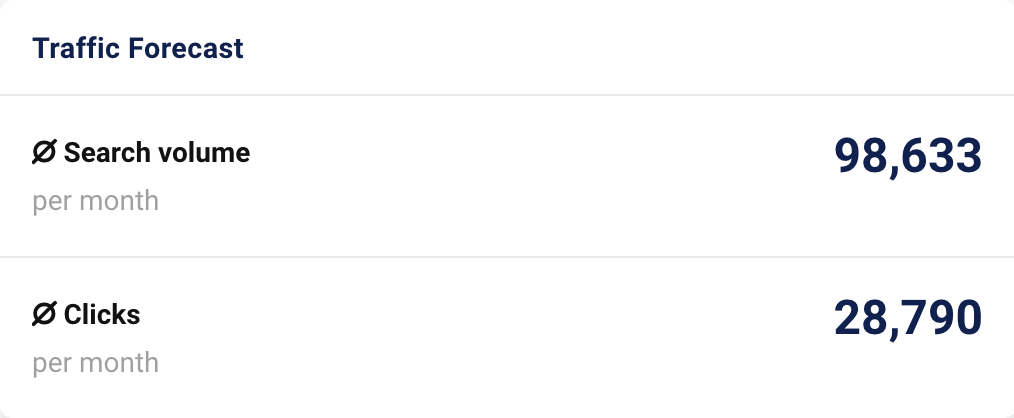 SectorWatch is a monthly publication from the SISTRIX data journalism team. All SectorWatch articles can be found here.
Related analyses can be found in the TrendWatch newsletter, IndexWatch analysis along with specific case studies in our blog. New article notifications are available through Twitter and Facebook.