One of the most popular home technology categories that exists is for TVs. In this report we show you the winning domains and analyse examples of high performance content for both commercial and informational search intents. Which sites have a ranking picture that looks ultra-high-definition? And who seems to have lost the signal? Bonus: OpenAI ChatGPT brand visibility.
We interrupt this article to bring you data from the hottest topic there is in search marketing right now. In our recent look at which brands are recommended by OpenAI, we saw which TV brands were most often suggested by AI (GPT-4) technology.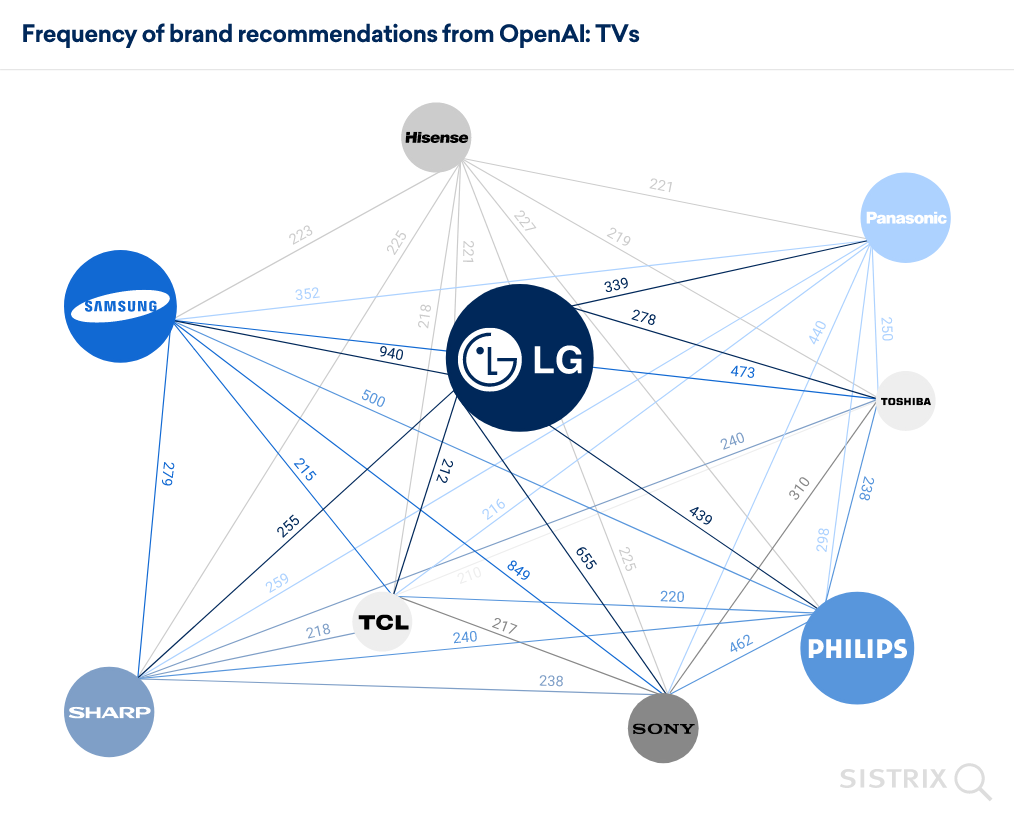 It's an important and interesting network of brands based on asking many thousands of product-related questions. We'll be working on surfacing more AI search data in future reports but please give us feedback on how you would like to see this develop in the comments below. And now, back to our normal programming.
TVs are one of the biggest subcategories of the home technology sector. In 2020, fueled by lockdown measures, over 8m TVs were bought in the UK.
This year, revenue in the sector is projected to hit over £6bn, with over half of purchases made online rather than in person. Huge consumer electronic brands like Samsung, LG and Sony lead this dynamic and highly-competitive market. And many of the UK's biggest ecommerce names are competing for your clicks.
Let's skip past the credits and get to the main news – which domains are top of the ratings for TVs?
Top 3 domains for 'do' (transactional intent) searches:
currys.co.uk
argos.co.uk
amazon.co.uk
Top 3 domains for 'know' (informational or research intent) searches:
rtings.com
whathifi.com
techradar.com
Interestingly, there are no TV brand-owned publications in the top three. The top 25 lists are shown below.
Keyword research for our look at the TV sector
To uncover which sites are the most visible for TVs, we've careful curated two lists of representative TV-related keywords, split across two search intents. The keywords lists are linked at the end of this article.
First is our list of 'know' keywords. These are keywords with a research or informational goal. These include searches to find the best TV and also other searches when researching TVs, such as picking the right size TV for your room, the different screen sizes available and what some of the acronyms – like QLED – mean.
In the keyword list, you'll find searches by those looking for the best tv (5,600 searches a month on average in the UK), wanting to compare qled vs oled tvs (6,050 searches a month) and find the right size TV (the search tv by size is made 7,950 times a month).
Next is our list of 'do' keywords. Do searches are where someone is looking to buy or order a product or ticket, hire a service or download something. For our TV sector, these are keywords with a straightforward transactional goal – the searcher is looking to buy a TV right now.
This list of searches goes from top-level generic searches such as smart TV (searched for 54,100 times a month on average in the UK) and 55 inch TV (25,300 searches a month). to the more specific, including tv 4k 40 inch (2,850 searches), 55 inch tv 4k samsung (1,650) and smart tv 65 inch cheap (250).
For both lists, we excluded retailer names and queries from pre-2022 to compile a list of current, non-navigational searches that represent a sample of which sites are winning the UK search market for some of the most competitive keywords.
The keywords used in this analysis are available for download at the end of the article.
Domain analysis: The top competitors in the UK search market for TVs
So, who's made the shortlist of the most visible sites? Here is the complete list of those vying for first place:
Top 25 domains for TVs: 'Do' intent
Leading commercial intent domains for TVs (736 do intent keywords)
| Domain | Market Share |
| --- | --- |
| currys.co.uk | 12.51% |
| argos.co.uk | 12.24% |
| amazon.co.uk | 9.27% |
| appliancesdirect.co.uk | 5.88% |
| ao.com | 5.79% |
| johnlewis.com | 5.44% |
| samsung.com | 3.71% |
| ebay.co.uk | 3.69% |
| pricerunner.com | 3.59% |
| electronicworldtv.co.uk | 3.26% |
| lg.com | 2.57% |
| very.co.uk | 2.43% |
| richersounds.com | 2.24% |
| costco.co.uk | 1.98% |
| rtings.com | 1.76% |
| techradar.com | 1.47% |
| whathifi.com | 1.44% |
| sony.co.uk | 1.23% |
| hotukdeals.com | 1.09% |
| cheaptvs.co.uk | 0.67% |
| gumtree.com | 0.55% |
| hughes.co.uk | 0.47% |
| tomsguide.com | 0.44% |
| panasonic.com | 0.38% |
| wikipedia.org | 0.31% |
Top 25 domains for TVs: 'Know' intent
Leading informational intent domains for TVs (445 know intent keywords)
| Domain | Market Share |
| --- | --- |
| rtings.com | 9.60% |
| whathifi.com | 9.36% |
| techradar.com | 7.84% |
| tomsguide.com | 4.95% |
| expertreviews.co.uk | 4.19% |
| which.co.uk | 3.68% |
| samsung.com | 3.45% |
| pcmag.com | 2.79% |
| trustedreviews.com | 2.52% |
| t3.com | 2.36% |
| goodhousekeeping.com | 2.22% |
| cnet.com | 1.94% |
| currys.co.uk | 1.67% |
| digitaltrends.com | 1.59% |
| argos.co.uk | 1.50% |
| radiotimes.com | 1.22% |
| whatsthebest.co.uk | 1.15% |
| amazon.co.uk | 1.00% |
| gadgetreview.com | 1.00% |
| ao.com | 0.96% |
| johnlewis.com | 0.96% |
| independent.co.uk | 0.86% |
| standard.co.uk | 0.80% |
| lg.com | 0.74% |
| gamesradar.com | 0.67% |
Content examples: What type of content is performing?
Reviewing the most visible domains for both keyword intents, there are some immediate takeaways we might want to investigate further:
Our top 25 lists have some cross-over in the winning domains. Some of the top 10 domains for 'do' keywords appear in the 10-25 range of our 'know' keywords (Currys, Argos, Amazon, AO and John Lewis)

Similarly, many of our top 'know' domains appear in the top 25 of the 'do' list. Rtgins, TechRadar, What Hi-Fi and Toms Guide all rank
What does this mean? For these commercial research & purchase journey keywords, Google likes to show a variety of content types that might be relevant. Especially for the less-specific keywords where there might be different intent behind the search
For example, a search for 'smart TV' (54,100 searches a month with a CPC of £3.20) mostly shows ecommerce product listing pages (PLPs), but also ranks Which's guide to 'what is a smart TV?' (at 9) and has a People Also Ask box with questions like 'Which smart TV is best?'
A search for '55 inch TV' brings back 8 PLPs, a video carousel and What Hi-Fi's guide to the best 55 inch TV as well as a People Also Ask box on common questions (which is the best, is a 55 inch TV too big for my room etc.)
Google is catering mostly to those looking to buy a smart TV but clearly has evidence that some searches are looking for a definition or a buying guide. This allows publications to potentially rank for transactional searches (albeit competing for only a small part of the SERP real estate)

The top 'do' competitors are some of the biggest names in consumer electronic retail in the UK

The biggest name is of course Amazon – only Wikipedia has a higher Visibility Index score in the UK
But we also have some of the UK's biggest online retailers. Argos (the 12th most visible domain in the UK search market), John Lewis (33rd), Currys (49th most visible) and eBay (4th) are all in the top 10 'do' domains
Some of the biggest tech publishers unsurprisingly make the top 25 domains for our 'know' keywords. These sites not only have buying guides but also articles on choosing the right size TV & comparing the different TV technologies, again helping you make a smart purchase
Now we can take a deeper look into these winning domains. What type of content, and which formats, is Google rewarding in the TV sector?
To help us learn what works, we look for high-performance content. We classify this as a section (such as a directory) or format of content where its keyword rankings are weighted towards the first page of Google search results. Let's look at some examples by finding the domains whose content consistently performs.
High-performance 'do' content examples
Our most successful domain for our 'do' keyword list is Currys, the popular electrical retailer.
It ranked for 92.27% of our keywords, and on page one for 83.4% of them.
What can we learn from its winning content?
The most common section ranking for our keywords is the /tv-and-audio/ directory, which is home to many of Currys' TV PLPs – 341 to be precise.
The directory has 1,217 URLs ranking for at least one keyword. Combined, they rank for a big-screen 88,792 keywords, and they rank on page one for an incredible 55.33% of the most important keywords.

Together, these rankings bring Currys over 1.4m organic visits each month. Even more impressive, this traffic is worth an estimated £1.51m, based on suggested CPS bids.
Not bad for a directory that only launched in late January 2022 – only 16 months ago!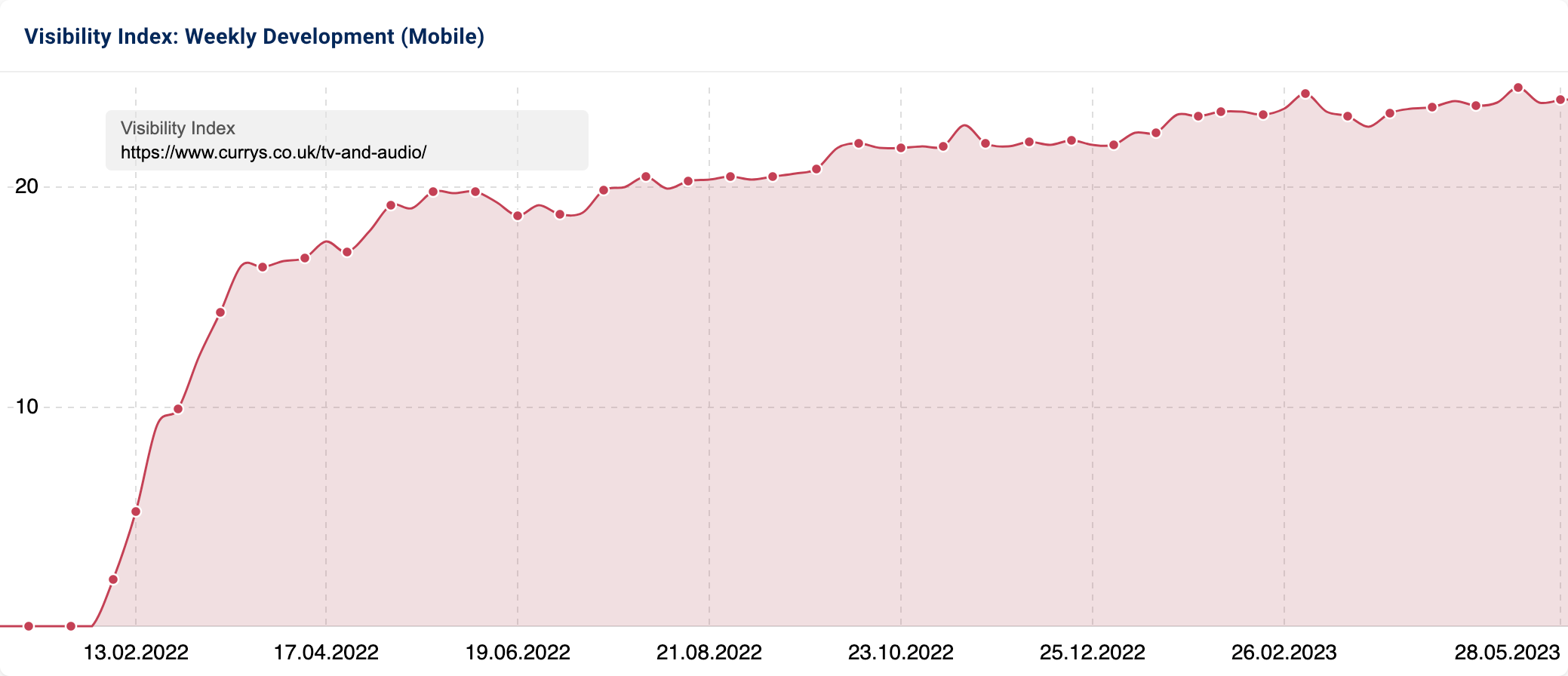 Currys has dedicated PLPs for every TV attribute. There are PLPs for each TV screen size (such as this page for 46 – 54 inch TVs), by tech (such as smart TVs or 4k ultra-hd TVs) and by brand (which is useful if you are looking for Phillips TVs for example).
Currys go further than this though.
They combine the potential facets & attributes to create hyper-focussed PLPs for long-tail queries.
For example, there is a page for OLED TVs by LG (which has 43 product options!) or even Samsung QLED TVs from 65-74 inches.
Currys' faceted navigation is crawlable and certain facets and facet combinations are indexable, allowing search engines to find and index these specialised pages (non-indexable facets are added via parameters rather than directories & canonicalise to the parent PLP for any technical SEOs reading).
They also have unique on-page SEO elements, such as the H1 (main heading) and title tags to signpost what each page is about.
What else will Google like about Currys' shopping experience?
The main TV page and each brand PLP have some intro copy adding further help and context, though it is placed at the foot of the page indicating it is more for SEO than for customers… Adding a bit of an intro at the top of the page might help this further
There's a huge range of TVs (489 at the time of writing) to choose from
Each listing has lots of useful information to help you pick which to look at in more detail. There are key selling points based on the most notable specification
You can compare up to four models
There are loads of facets to help narrow down your selection and the faceted navigation also acts as internal links to key, indexable child categories. There are 19 different facets, from TV type and screen size to manufacturer, energy rating and the included smart TV apps (such as Netflix, Disney+ or iPlayer)
The main menu for the site also has a 'TV & Audio' section, including site-wide links to the key PLPs, such as those by size and by screen technology (QLED, 8K, smart TVs etc.)
Overall, Currys offer a rock-solid ecommerce experience, backed up by a library of PLP targeting medium body and long-tail keywords, powerful domain authority & brand reputation in the sector.
Another domain doing well is AO, which ranked fifth out of our competitors, appearing for 86.7% of our keywords, and ranking on page one for 61%.
AO, however, has its success split across its site structure.
The majority of its PLPs are in the /l/ directory. This PLP directory has over 9,000 URLs ranking for at least one keyword, 667 of which are TV PLPs.
However, by far their most successful individual page is their overall TV page, which is in the https://ao.com/tv-and-entertainment/ directory. This one page ranks for 5,385 keywords. Even better, 23.7% of those rankings are on page one.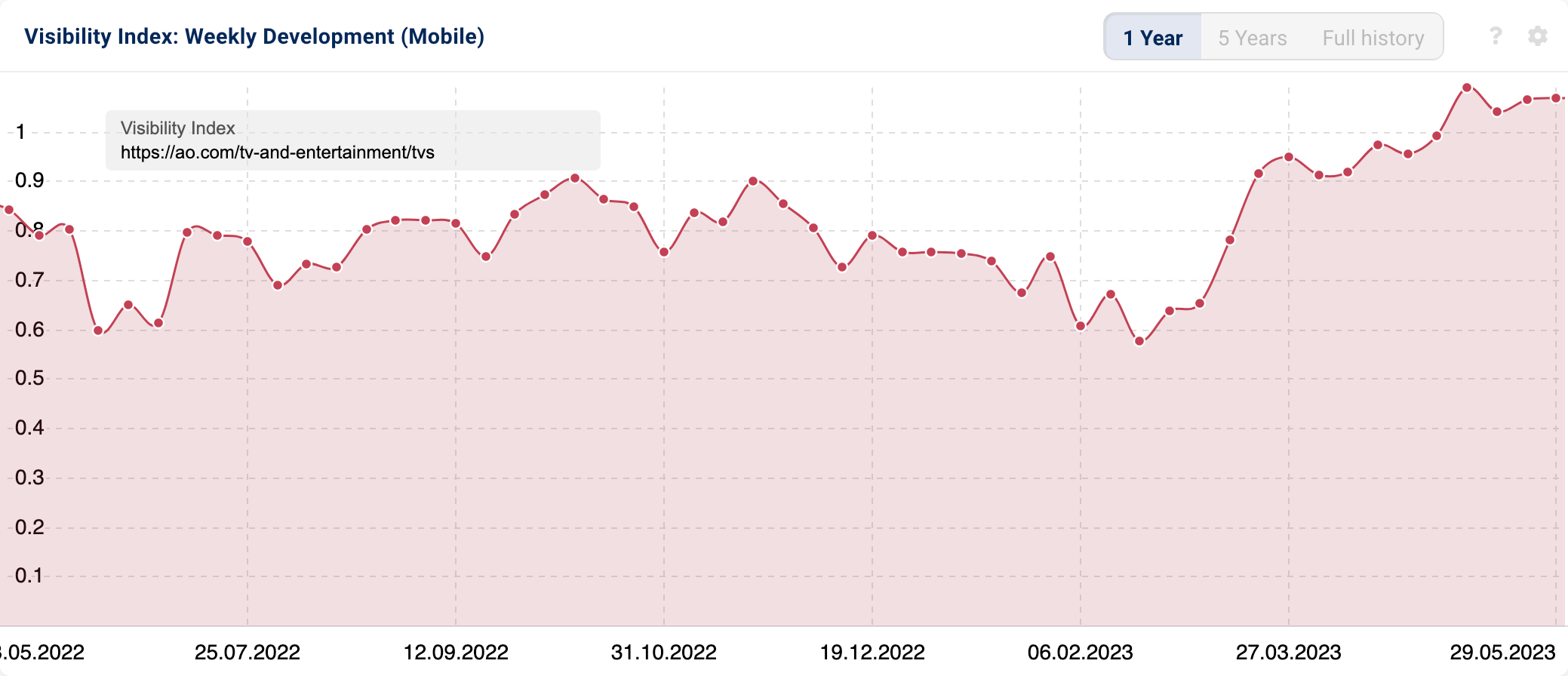 Together, these keywords deliver 56.5k organic visits a month, worth £158k. Impressive for a single page.
As you'd expect from the page not being in the main PLP directory, this isn't a standard PLP page.
Instead, this is a category listing page (often referred to as a CLP) or what is sometimes called a department page.
This top-level page for an important product line is used to guide users to where they can find what they are after. It can be a good alternative to just showing hundreds or even thousands of products in a big list.
In AO's case, rather than just asking customers to find what they want, they try and show some of the most popular options. There are image options to shop for TVs by size or by popular tech (4k TVs and smart TVs). This mirrors many of the options in the main menu.
We next have some merchandising panels for highlighted products AO want to push, then brand logos leading to brand PLPs and the most popular models. Finally, we have some intro copy, which primarily services to add internal links to key TV categories, such as by tech, screen size or brand, as well as giving some context to the page for search engines.
This relatively simple design acts as a hub page for AO's large range of PLPs and products – a home for this important department.
While most users won't find exactly what they want on this page, they will be able to quickly navigate to where they want to be. This helps the page rank for top-level keywords such as tv (ranking at 3 with an estimated 12,549 clicks per month), deals for tv (ranking at 1, with 3,985 clicks) and tv sale (raking at 2, leading to 571 clicks per month).
High-performance 'know' content examples
The most successful domain was a bit of a surprise. RTINGS is a very successful electronics review site, seeing huge growth in the UK since late 2020.
But as a Canadian site, we weren't expecting to see it beat out all the competition with UK-specific content.
RTINGS is a great resource for TV knowledge and buying guidance, and Google clearly agrees. It ranks for over 81% of our 'know' keywords, and on page one for over 59%.
While it ranks with pages from across the site, the most successful section for our sample is the /tv/reviews/ directory.
This includes a page with a TV size to-distance calculator, their guide to the best TVs on the market and individual reviews of many TV models.
Together this section ranks for 32,740 keywords (at the time of writing), with 26.7% of the most important rankings on page one, with another 16.7% on page two.
Together, these keywords pull in an estimated 126,833 organic visits a month, worth £212k. 565 pages in the section rank for at least one keyword in the UK. That's a pretty high-performing section!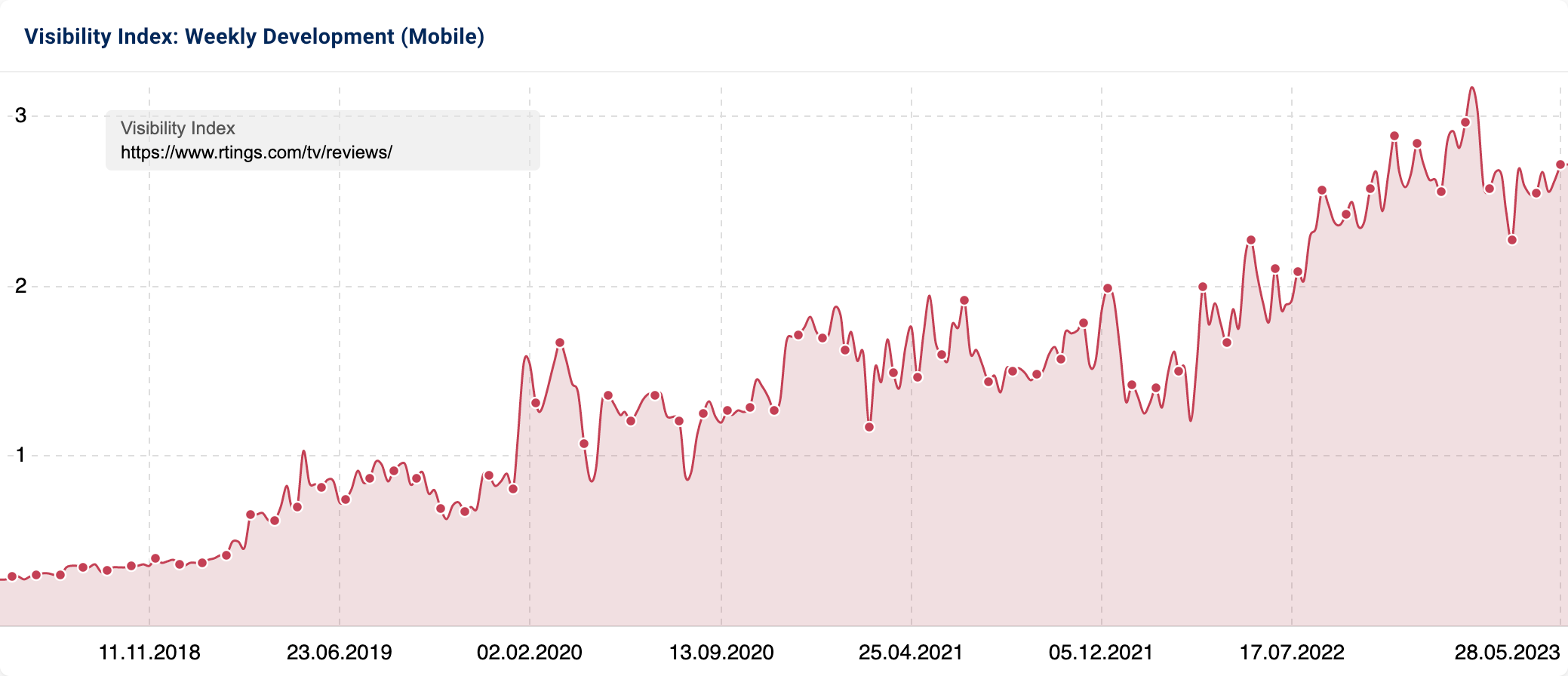 So, why does Google rate this content so highly?
It fulfils much of the criteria Google is looking for.
The content is comprehensive, incredibly useful and shows off its expertise credentials:
The guide to the best TVs on the market is freshly updated (April 5th 2023) and targeted to current searches. The heading and title tag include 'Spring 2023' showing readers that has some of the latest information, and search engines with structured data markup
There is a named author, which links through to an author page showing all the articles they've written (though they could do with social media links and more detail on their expertise)
There are choices for the best overall TV, best home theatre TV, and best for a range of price points (from upper-mid-range to 'cheap'). Whatever kind of TV you are after, this article might have you covered
There are also links in the intro to useful alternative roundups such as for the best smart TVs, the best gaming TVs and the best budget TVs
Each listing has good information on what RTINGS like (and don't like) about the model, alongside ratings for a host of attributes such as how good the TV is for different uses and some key specifications
There is also a link to a full review of each model presented so you can find out more about any that catch your eye
Finally, there is a section with the latest relevant forum discussions. Again, this gives the reader the chance to learn more
The other guidance articles are similarly useful. The TV size-to-distance calculator uses sliding scales to tell you the optimum picture size based on how far your seats are from your TV. This is an incredibly simple (on desktop or mobile) and clear piece of content. RTINGS have thought about what format would work best for the user, not just created another long-form piece of copy
Once you've selected your distance, the page shows you the right size screen to consider for optimum performance and lists the best cheap option for that size from their reviews. You can also click through to a full review of that TV or choose to see the full round-up of RTINGS' favourite models in that size
Below that, there is information on "the science beyond our TV size and distance calculator" explaining the reasoning behind the calculations, when to upgrade the screen resolution and links to useful external resources
RTINGS also puts its R&D front and centre, being upfront on how its research is updated with test bench changelogs, a list of upcoming reviews and even a new YouTube channel
RTINGS then reproduce this content format for a range of options. From the best TV for different screen sizes (such as this one on the best 32-inch TVs which ranks for over 1.2k keywords in the UK) to the best by tech (here are RTIINGS' thoughts on the best OLED TVs) feature (such as the best small TVs or the best for smart streaming) and the best by how it will be used (for example, the best for gaming), if you might search for a TV by it, RTINGS probably has a dedicated guide.
They even have roundups of the best options for each popular manufacturer such as this guide to the best Sony options. This details the best overall Sony TV as well as the best mid-range, budget and upper-mid-range options – a recommendation for every budget – as well as advice on how Sony TVs compare to models from other manufacturers, features of their smart TV functionality and even a guide to the model numbering.
This is RTINGS understanding both their consumers and the search market they compete in. A search-lead strategy of publishing dedicated content for any popular way of comparing TVs.
Not only does RTINGS have the depth & expertise, but they also have some of the most relevant content for a huge range of queries within the sector.
Combine all this together and you have a site that is:
Producing detailed review content that Google loves
Creating helpful content on common TV questions
Showing its credentials at every step of the way
Using a smart SEO-led longer-tail strategy to produce review roundups for all the different attributes & use cases their readers might be interested in
The second place site for our 'know' keyword sample list is What Hi-Fi.
This site is a buying guide for consumer electronics and the magazine it is based on was established in 1976, giving it plenty of long-term credentials in the sector (and no doubt a backlink profile to match).
The most visible section of the site is the /best-buys/ directory – It includes their guide to the best TVs which is the second most visible URL on the entire site.
Overall, the /best-buys/ directory ranks for a huge 63,573 keywords in the UK, with over 38% of the important rankings on page one. These keywords bring in over 520k visits per month, worth over £543k!
The section has grown steadily in performance over the past several years, with Google's Core Updates in January and May 2020 bringing big jumps in visibility.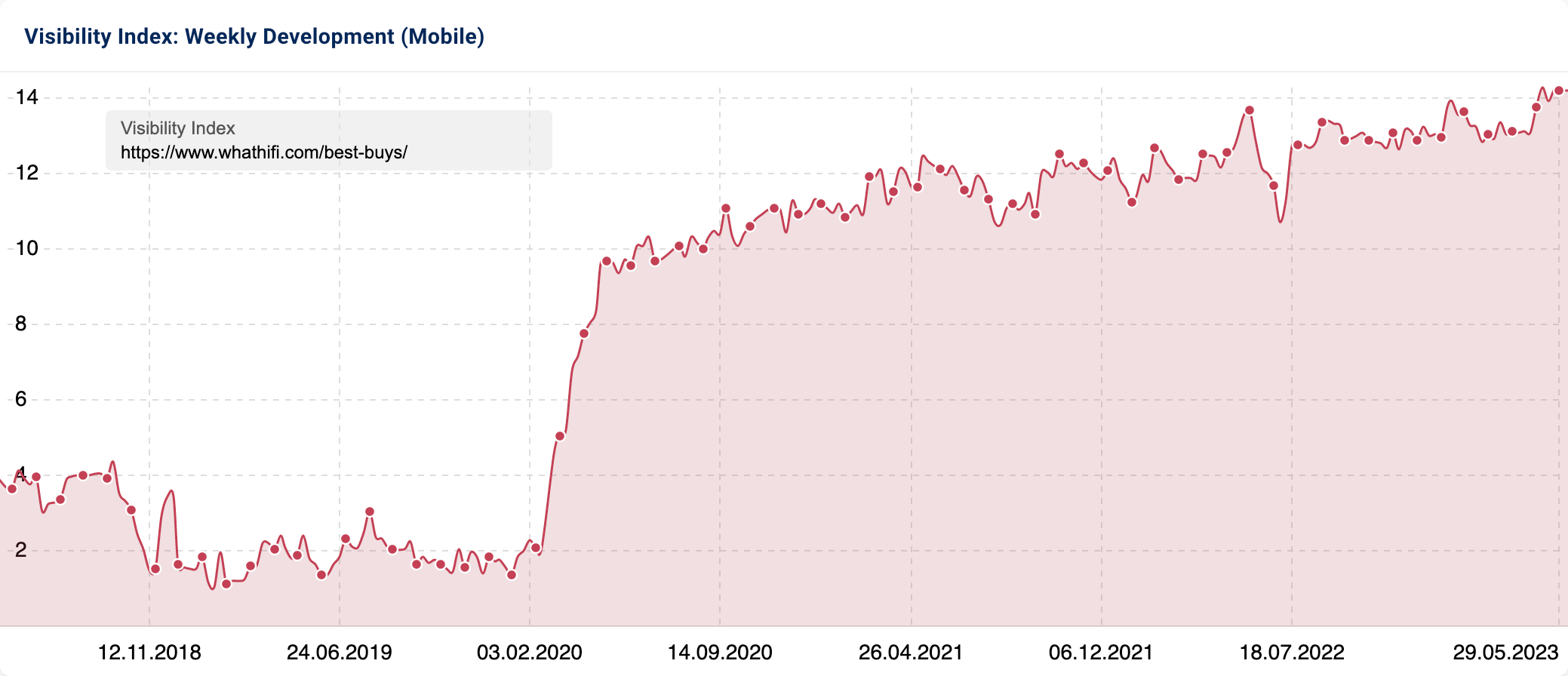 Impressively, What Hi-Fi are doing this with 152 different 'best buy' guides. Each one is working incredibly hard for them and bringing in notable traffic.
Their guide to the best TVs ranks for 3,629 keywords in the UK with around a third (31.9%) of them on page one.
What Hi-Fi also use a similar long-tail strategy as RTINGS, with 26 different /best-buys/ guides on TVs, from the best for gaming to the best at different sizes, by different brands and the best for different tech.
What Hi-Fi doesn't have as broad a spread as RTINGS, but still enough to compete for a lot of the most popular TV searches.
The quality of the roundups is also fantastic, producing helpful resources to make an informed decision.
There are name authors (complete with bio & social media links), a quick list of the top choices, options for a range of use cases (the best TV, best cheap TV, best for sound, best small TV etc.), jump links to each section, a section on how to choose your next TV, information on how they test TVs and eve TV FAQs with common questions like "Should you buy an OLED, QLED or LCD TV?" and "Should you buy a 4K or Full HD TV?".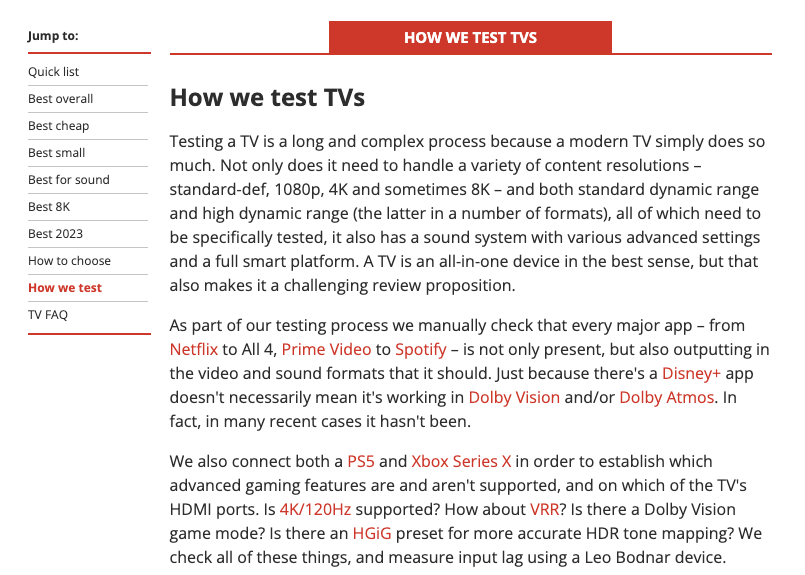 What Hi-Fi is by Future Publishing, and follows their well-established content templates & techniques. We've covered these before in the tech space and it is no surprise to see them doing well here. In fact, Future owns the 2nd, 3rd and 4th placed domains in our list of top competitors.
Summary
As a popular product category, competition for TV keywords is fierce. This means smaller sites don't stand much of a chance of breaking onto page one for the biggest keywords, though there is still value for longer-tail options if you can prove your expertise (as we've seen in other sectors)

For transactional searches, a smooth shopping experience combined with a wide product range is pretty much the bare minimum needed to compete, as well as a reputation in the sector

A great tactic is to use the medium body and long-tail keyword demand to help shape your page creation strategy

For both 'do' and 'know' keywords, we see sites using thoughtful keyword strategies to create pages targeting more nuanced searches
This creates content that is specific to the query, but still valuable & in-depth. This combination of relevancy & expertise makes it the type of useful content that Google wants to reward (and isn't 'over-SEOd' content that adds little value). In this case, the more specific content is a better answer for searchers

First-hand experience is vital. As well as being part of Google's E-E-A-T considerations, all the review sites we looked at clearly had first-hand experience with at least a good number of the products listed, and in the case of some sites like RATINGS, actually make a point of buying the products rather than accepting review models
There is some cross-over for domains where Google will show some review content for transactional queries, and some retailers can rank for research queries, though you are fighting for less space. Some retailers try to get around this by producing informational content as well (such as buying guides or answers to frequently asked questions)
Our process:
For this SectorWatch, we used relevant keywords from a selection of TV keyword discovery tables.
We chose a selection of highly targeted keywords with a 'do' or 'know' intent. From these, we harvest all the ranking keywords for the URLs in the SERPs. We call this the Keyword Environment. Most SERPs will have some mixed intent so we re-filter the list for the correct intents and sanitise it by hand to leave a smaller, highly-relevant set of searches made by the UK public broken down by searcher journey. The results are based only on organic result rankings.
TVs: Curated keyword set and sector click potential
Core keywords: tv, smart tv, 32 inch TV, 65 inch TV, tv sizes, best tv, what is a smart tv, best tv deals, best tv 2022.
The full keyword set is available for download and further analysis can be done in the SISTRIX keyword lists feature, including competitor analysis, SERP feature analysis, questions, keyword clusters and the traffic forecast shown below.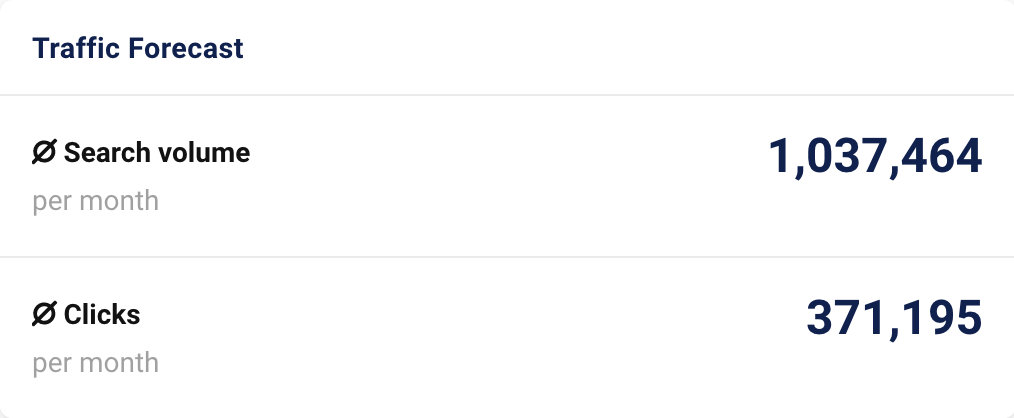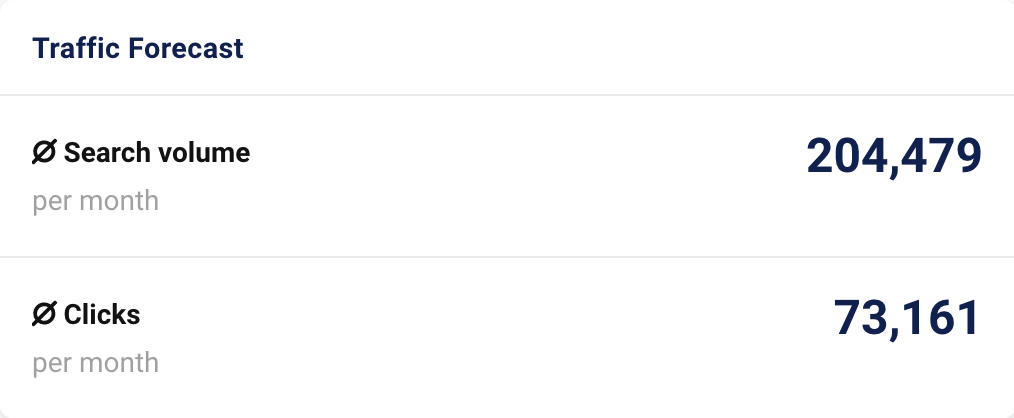 SectorWatch is a monthly publication from the SISTRIX data journalism team. All SectorWatch articles can be found here.
Related analyses can be found in the TrendWatch newsletter, IndexWatch analysis along with specific case studies in our blog. New article notifications are available through Twitter and Facebook.