This month SectorWatch is looking to work up a sweat as we take a look at who is winning the search market for fitness trackers and apps. We'll show you the most visible domains in the UK and examples of some of the best-performing content. Which websites are helping us find the tech to get into shape in the New Year?
Leading brands and domains
At this time of year, thoughts turn to New Year's resolutions. And for many, getting more exercise comes to mind.
Often we turn to technology to help achieve our fitness goals, and if you search for fitness trackers you find a wide range of domains competing for your attention:
High street retailers such as Argos, Currys and John Lewis
Online giants such as Amazon and eBay
Technology publications including PC Mag, Tech Radar and Wired
And health publications and sites such as Healthline, Men's Health, The Telegraph and Glamour
To find who is the most visible in this sector, we curated two lists of keywords, split across different search intents.
These intents represent searchers at different stages of their buying journey, and we've looked at two of the major steps we see for those looking to find a fitness app or tracker.
The first is for 'know' keywords. These represent the searches with a commercial research focus when a shopper is looking for guidance or inspiration on the different fitness tracker and app options. This includes searches for best fitness tracker (searched for 6,000 times a month on average in the UK, peaking in January) and best workout apps (2,000 searches a month).
Our second list is for keywords with a 'do' intent. Here, our searcher is looking to buy or download something now, so they likely want a shopping experience and Google will often show commercial content, mainly product listing pages (PLPs).
Keywords with this transactional intent include fitness tracker (searched for 10,400 times a month) and fitness watch for women (1,950 searches a month).
The keywords used in this analysis are listed at the end of the article.
As we'll see, Google often shows many of the same sites for both sets of keywords!
So, who is winning? We've got more detail on our winners below but first, here are the sites leading the pack:
Top 3 domains for 'do' (transactional intent) searches (based on 235 keywords):
amazon.co.uk
argos.co.uk
pcmag.com
Top 3 domains for 'know' (informational or research intent) searches (based on 475 keywords):
tomsguide.com
techradar.com
pcmag.com
Domain analysis: The top competitors in the online market for fitness trackers and apps
Globally, the fitness tracker market was worth $45 billion in 2021, thanks to increasing health awareness and many technology brands moving into the wearable tracker space. Names like Nike, Huawei and Garmin have joined market leaders like Fitbit and Apple.
In their recent Holiday 100 – a list of gift ideas based on search trends that defined 2022 – Google shared that health tracker jewellery saw a 200% increase in search interest this year.
And anyone with a smartphone can use digital tools to help achieve their fitness goals. Globally, fitness apps are estimated to have driven $5.35 billion in 2021, with 385 million users.
In March this year, the leading fitness and sport app, MyFitnessPal, generated in-app revenue of almost 9 million dollars, Strava $5.6 million and, perhaps the most famous name, Peloton generated $3.5 million.
But when it comes to search visibility, who's up and moving and who's sat on the sofa? Let's take a look:
Leading 25 domains: Fitness trackers (do intent)
Leading domains for fitness trackers (235 do intent keywords)
Leading 25 domains: Fitness trackers (know intent)
Leading domains for fitness trackers (475 know intent keywords)
Content examples: What type of content is performing?
When you look at our 25 winning sites for each keyword list, there are some immediate patterns of interest:
Many sites rank well for both do and know keywords, often with the same pages! For example, PC Mag takes third place on both lists. This is thanks to Google showing roundup and review content for some commercial queries.
In our previous looks at the coats and barbecues sectors, we found Google almost exclusively showed ecommerce experiences – product listing pages – for do keywords. For many popular fitness tracer keywords with a do intent, Google ranks a mixture of pure shopping pages and guides and articles listing their favourite options.
If you look at 'women's fitness watch' as an example, the top ten rankings include five retailers and five publications with roundups of the best fitness trackers/watches
In fact, for some of the most generic app keywords, such as fitness app and workout app, Google shows mostly roundup informational content and only ranks a couple of individual apps on page one
Beyond this, only four of the ten most visible domains are retailers – Amazon, Argos, Currys and John Lewis. These retailers are Google's clear favourites as a shopping experience in this sector
And for our know keywords, there's a mixture of tech experts, online review specialists (including The Telegraph) and fitness publications in the top ten.
Toms Guide, Tech Radar, PC Magazine, The Telegraph and Coach are examples we can look at as they rank well across the sector
We expected to see manufacturers do well, but only Apple made the top 25, with Garmin at 26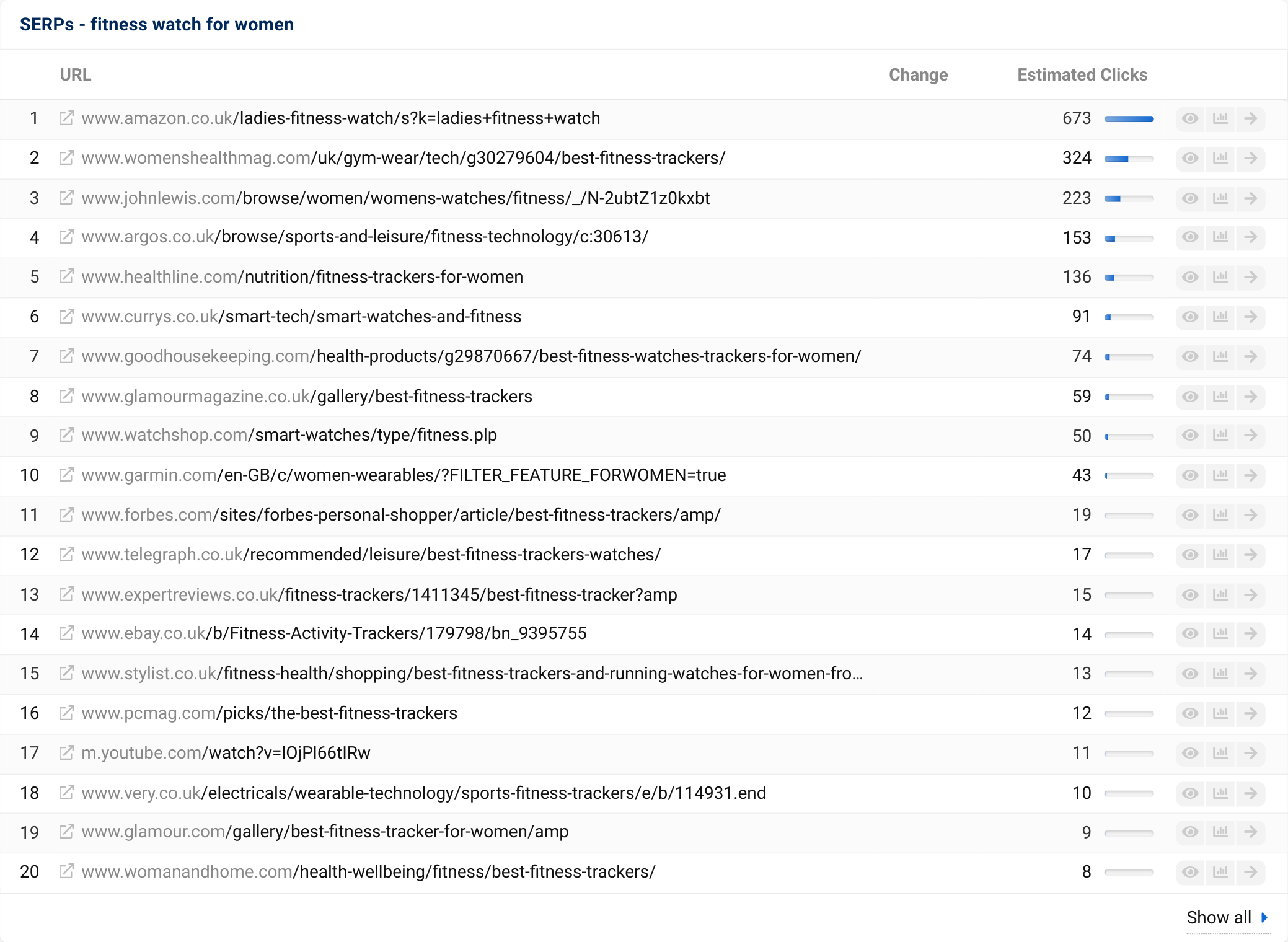 To understand what content Google is looking to reward, we can take a deeper look at the domains. What pieces of content, and which formats, are doing well?
High-performance content is generally easy to spot. We classify it as a set of content for which keyword rankings are weighted towards the first page of Google search results. Let's look at some examples by finding the sites whose content consistently performs.
High-performance 'do' content examples
Our 'do' content is mixed, with both classic ecommerce experiences and buying guide content doing very well.
If we take the product listing pages (PLPs, or category pages) that are doing well, it's no surprise to see Amazon at the top of the rankings. We've also come to expect to see Argos ranking high for many shopping queries. Argos is one of the most visible domains in the UK (fifteenth at the time of writing), giving it huge power to rank for any shopping vertical.
How do they do this? We've examined before how the site:
Uses a smart directory structure to create mini-sections for each sector, such as the ones they've created around each gaming console brand
And offers a well-optimised shopping experience through their PLPs, one that Google likes to show for a host of shopping queries
This trend continues with Argos's fitness trackers PLP, which Argos has as a category within the Sports and Leisure department. The category has 33 different ranking pages, as Argos' faceted navigation is indexable. This means their shopping results for fitness trackers filtered by brand (such as Apple or Fitbit), colour, size and even rating are indexed by Google and ranking.
Together, these pages rank for over three thousand keywords in the UK – impressively, 51.43% of the most important ones rank on page one:


To get the filtered versions of the main PLP ranking for longer-tail queries such as around colour or brand, Argos updates the title tag and meta description to reflect the filtered option. This helps search engines understand what this version of the page is explicitly displaying. They don't do this for the main heading (H1 tag), possibly because of a site limitation, but this could be a way to further improve optimisation.
Another retailer doing well is Currys. They have also used a department-and-category structure to build a cluster of closely related pages that offer specific shopping experiences for a wide range of keywords.
Currys has a smartwatches and fitness department, with a category listing page (a CLP, or a 'department' page) and a range of categories living under this directory.
The main category listing page offers an overview of all the products in this sector that Currys offer for sale. The CLP is a good example thanks to the efforts to make it a helpful shopping experience:
The page is well-optimised, using on-page SEO best practices
It has above-the-fold links to key PLPs such as for fitness trackers, smart watches and smart fin=tness accessories so customers can get shopping
It also links to child PLPs for some of the most popular brands, including Apple, Fitbit, Samsung, Huawei, Garmin and Michael Kors
If you're not sure where to start, this page has you covered, with links to helpful guidance content, including on whether to get a smartwatch or fitness tracker and their guide to buying a smart fitness tech.
There are also links to the latest relevant blog posts on smart fitness topics
Lower down the page, there is also some introductory copy, which includes lots of in-context links (though many are repeating what is above). The fact that this copy is lower down the page indicates it might be more for search engines than customers, but it could well be helping!
Overall, this CLP ranks for 3,680 keywords in the UK, with over 18% of those on page one and another 18.18% on page two.
Things get even better for Currys when you look at the department directory. Since its introduction in February, it has grown in visibility (though it may have fallen slightly as a result of this week's Helpful Content System update). 187 different PLPs rank in the UK, combing to appear for over twenty-one thousand keywords. That's quite a footprint!

Currys are succeeding with a combination of well-optimised PLPs and creating many PLPs for longer-tail searches.
For example, as well as having a PLP for Fitbit fitness trackers, Currys have 24 other Fitbit-related PLPs that rank for at least one keyword, such as one for each model and even one for each range of straps.
This PLP for Fitbit Versa Straps ranks for 174 different keywords, 136 of them on page one! This is because it targets a very specific search need, one that most competitors don't have a specific landing page for, even if they sell all the same products.
High-performance guidance ('know') content
For our 'know' set of keywords, buying-guides and roundups dominate, with many of the UK's most popular sites for tech reviews, health and fitness, and general reviews doing well.
Top of our list is Tom's Guide, which has articles on the best fitness trackers (which ranks for 1,041 keywords in the UK) and on the best workout apps (ranking for over 1,000 keywords).
Tom's Guide's roundups cover a wide range of topics and generally do very well. If we look at the directory that their guides all sit within (/best-picks/), we find that they rank on page one for 18.62% of the keywords they appear for, with another 17% on page two.

540 different 'best' roundups by Tom's Guide rank in the UK, combining to appear for a huge 125,357 keywords. These are longer, detailed articles that each appear for a range of search queries. Interestingly, not everything they are doing is working, as the directory suffered a notable decrease in visibility during September's Product Review Update.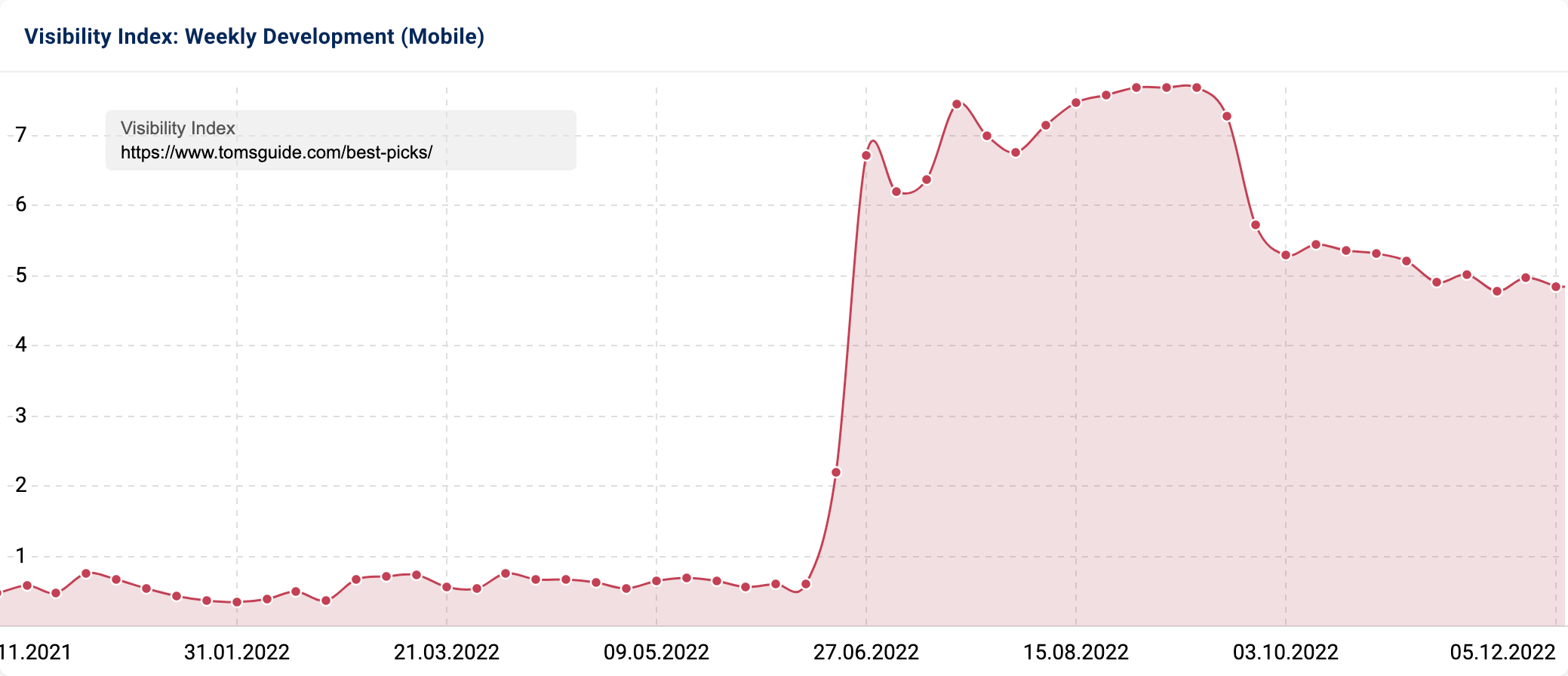 Another article that's doing well is Coach's guide to the best fitness trackers. It ranks for almost 900 keywords in the UK, with over two-thirds of these on page one:

If you check out the article, it looks very familiar to anyone who has read a roundup article recently, with the same layout and affiliate links as many other sites. This shouldn't come as a surprise as Coach is published by Future Publishing, which also runs other notable sites in this space such as Tech Radar and Tom's Guide – Future has three of the top five most visible domains for our 'know' keyword list!
Coach sticks to Future's trusted format that ticks some content quality, product review and E-A-T boxes:
An author bio, so we know who's written the piece (Nick Harris-Fry), their expertise (he's covered health and fitness since 2015) and links to his social media profiles
A decent range of options with eleven models reviewed
Key reasons to buy and reasons to avoid for a quick summary of each model
Links to individual hands-on reviews, connecting this article to evidence of first-hand experience reviews from noted writers in the space
Guidance on the key fitness tracker features so you know what to look for (and adds extra related content to the page) such as sleep tracking and step counting
One article that's been on a roller-coaster of performance, living and dying by Google's updates is The Telegraph's guide to fitness trackers.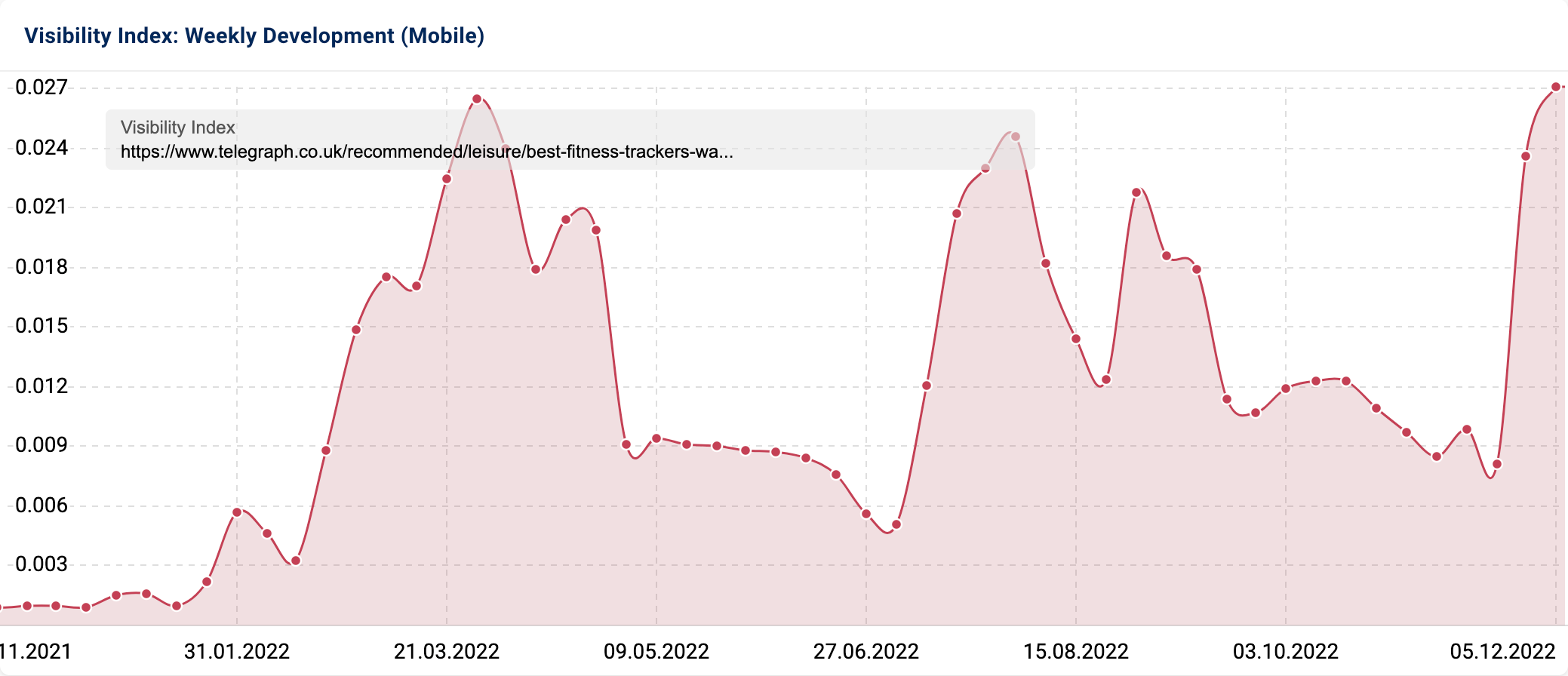 It currently ranks for 3,814 keywords in the UK, which is an impressive footprint. And it appears to do many of the things Google has said it looks for product reviews which we can learn from:
A trusted publication brand
Clear evidence of first-hand experience using the products in question, though manufacturer images for each tracker are used
A summary of the best options for a variety of potential options (the best overall fitness trackers, the best for runners, the best for Android, the best budget option etc.)
Links to related topics
And a link to an author page, showing all the articles they've worked on, which are all entirely on exercise and fitness
Summary
In this sector, many queries bring back a mixture of commercial (shopping) and informational (roundup and review) content. Even when Google identifies some keywords as having a more explicit 'do' intent – someone looking to buy right now – they show a mixture of ecommerce stores and articles from trusted sources, most of which have affiliate links
Having a smart department and category structure can be a great strategy for ecommerce SEO. It allows you to take advantage of building a closely-related set of pages and to interlink up and down your shopping structure, taking advantage of the most powerful pages in your store
Creating very specific PLPs can help you stand out and target longer-tail queries, offering an advantage over the competition through greater relevancy and a sustainable way to increase your organic footprint without sacrificing shopping experience quality
'Best of' round-up reviews are a popular and powerful article format. However, as many authoritative sites are doing them well, they can be a very competitive angle to rank for
Following multiple rounds of core updates and product review updates from Google, there are now well-established 'must-haves' to rank for competitive search queries. A look at the ranking articles for many best queries will find patterns of these standards, all based on meeting E-A-T requirements
Methodology and data
SectorWatch follows a fixed process which you can also learn in our free competitor analysis Academy class.
For this SectorWatch, we used relevant keywords from a selection of fitness tracker and app keyword discovery tables.
We chose a selection of highly targeted keywords with a 'do' or 'know' intent. From these, we harvest all the ranking keywords for the URLs in the SERPs. We call this the Keyword Environment. Most SERPs will have some mixed intent so we re-filter the list for the correct intents and sanitise it by hand to leave a smaller, highly-relevant set of searches made by the UK public broken down by searcher journey. The results are based only on organic result rankings.
Keyword Set: Fitness trackers and apps
Core keywords: fitness trackers, fitness tracker watch, fitness apps, fitness tracker app, activity tracker, fitness band, best fitness app, best fitness tracker, best workout apps, fitness app.
The full keyword set is available for download and further analysis can be done in the SISTRIX keyword lists feature, including competitor analysis, SERP feature analysis, questions, keyword clusters and the traffic forecast shown below.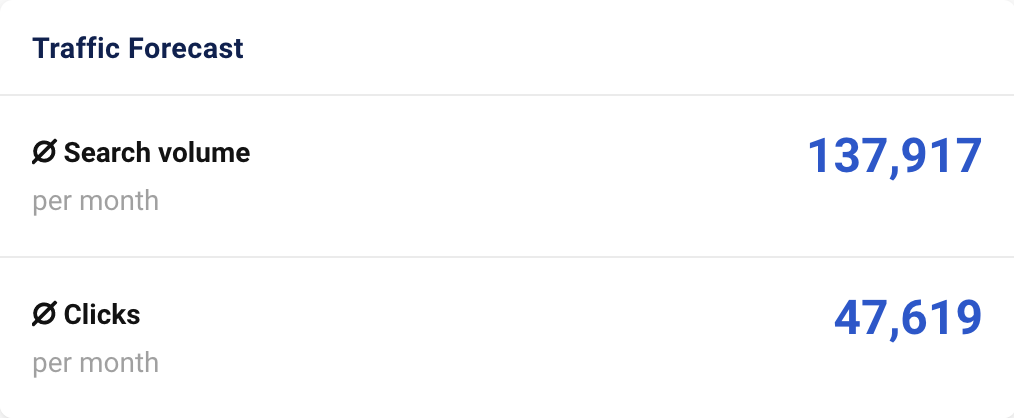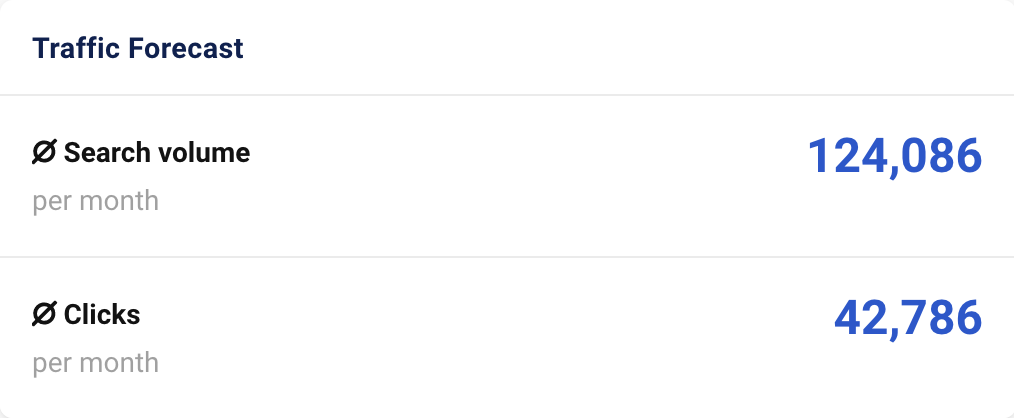 SectorWatch is a monthly publication from the SISTRIX data journalism team. All SectorWatch articles can be found here.
Related analyses can be found in the TrendWatch newsletter, IndexWatch analysis along with specific case studies in our blog. New article notifications are available through Twitter and Facebook.