The "Projects" overview page lets you create new Optimizer projects or to jump back into an existing project. This part of the Toolbox is extremely useful to check if your website has specific On-page issues and to monitor an individual keyword set.
Your Optimizer Projects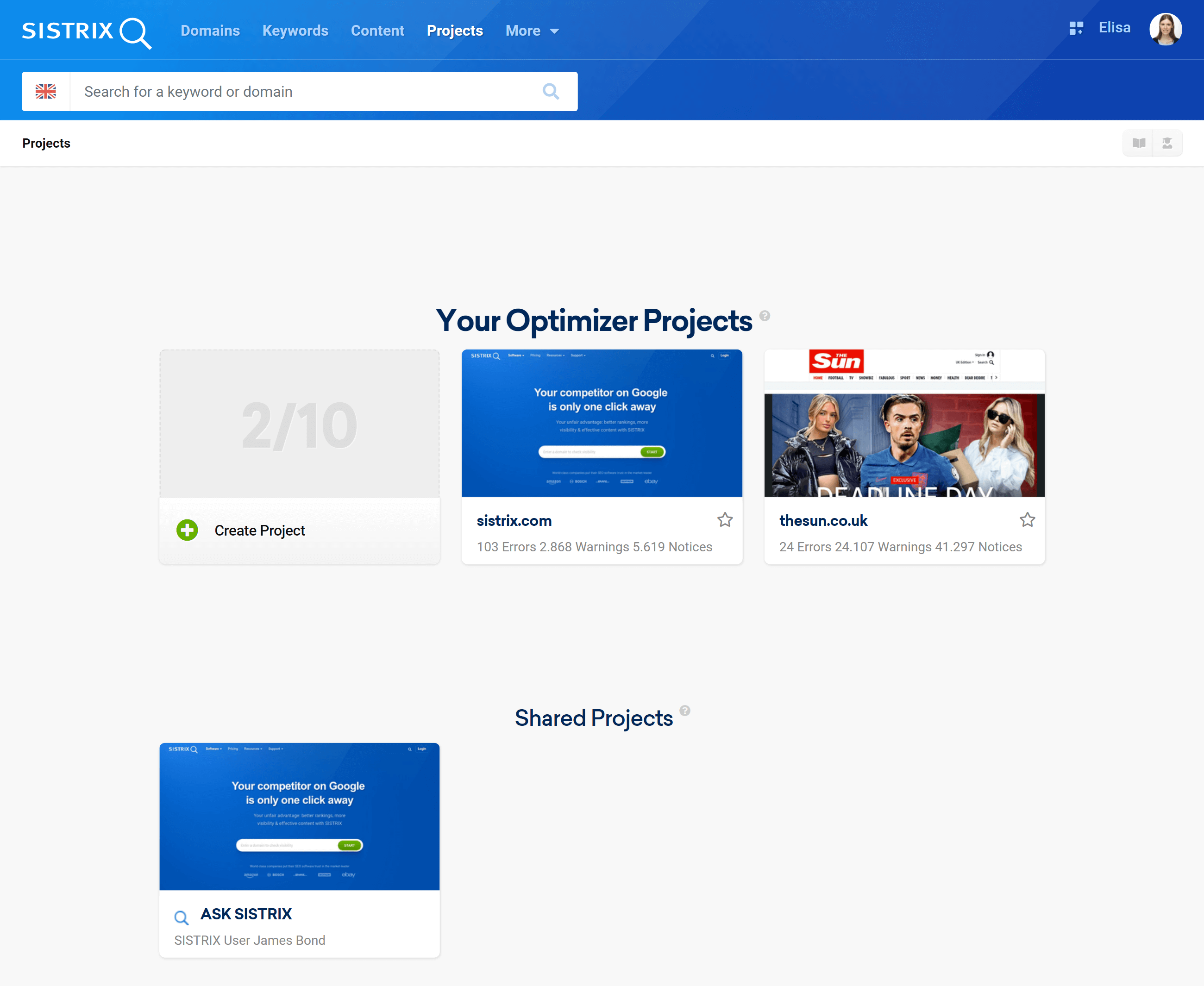 Here you'll find the list of all your projects , shared projects as well as the remaining project slots.
Click on the green button "Create project" to start a new analysis or select a project you've already created to see fresh data.
If another user shared a project with you, it will be listed below.
Learn more about the individual features of an Optimizer project here.
Projects Shared With You
Here you can find the projects that other Toolbox users have shared with you. According to the permissions selected by the admin, you'll be able to modify the project shared, or to just view it.
If you want to share a project with a colleague or an external user, you just have to go to the project settings (section "Team") and add name, surname and email address.
One-Time Page Checks
This feature allows you to immediately crawl a domain for on-page issues. This does not create a project and is a one-time activity.
You can only run a single one-time Onpage evaluation at any time, but there is no limit to the number of one-time projects you can create. Each crawl will be saved for 14 days.
Linkrating
The Linkrating tool helps you to, very quickly, and in real-time, evaluate the quality of your backlink profile.
It enables you to combine link data from many external sources with those of the SISTRIX Toolbox to analyse and rate as many links as possible, in one place.
Click on the button "To Linkrating" to begin your evaluation. To know more about how to use this tool, read our tutorial: "LinkRating: Evaluate the Quality of the Link Profile".
Statistics

At the bottom of the page you'll find more details about your Optimizer projects, in particular:
The total amount of keyword queries used.
The total amount of requests.
The number of keywords and pages crawled in all projects.
The users who have access to one or more projects.
Click on "Breakdown by project" to see more details about the keyword queries used in the different projects, or on the number of crawl quota to change the amount of request for every project.
Video overview with closed captions