The "Content" section of the navigation bar offers you two interesting tools that assist the creation and analysis of content from an SEO perspective. Here's an overview of their functionalities.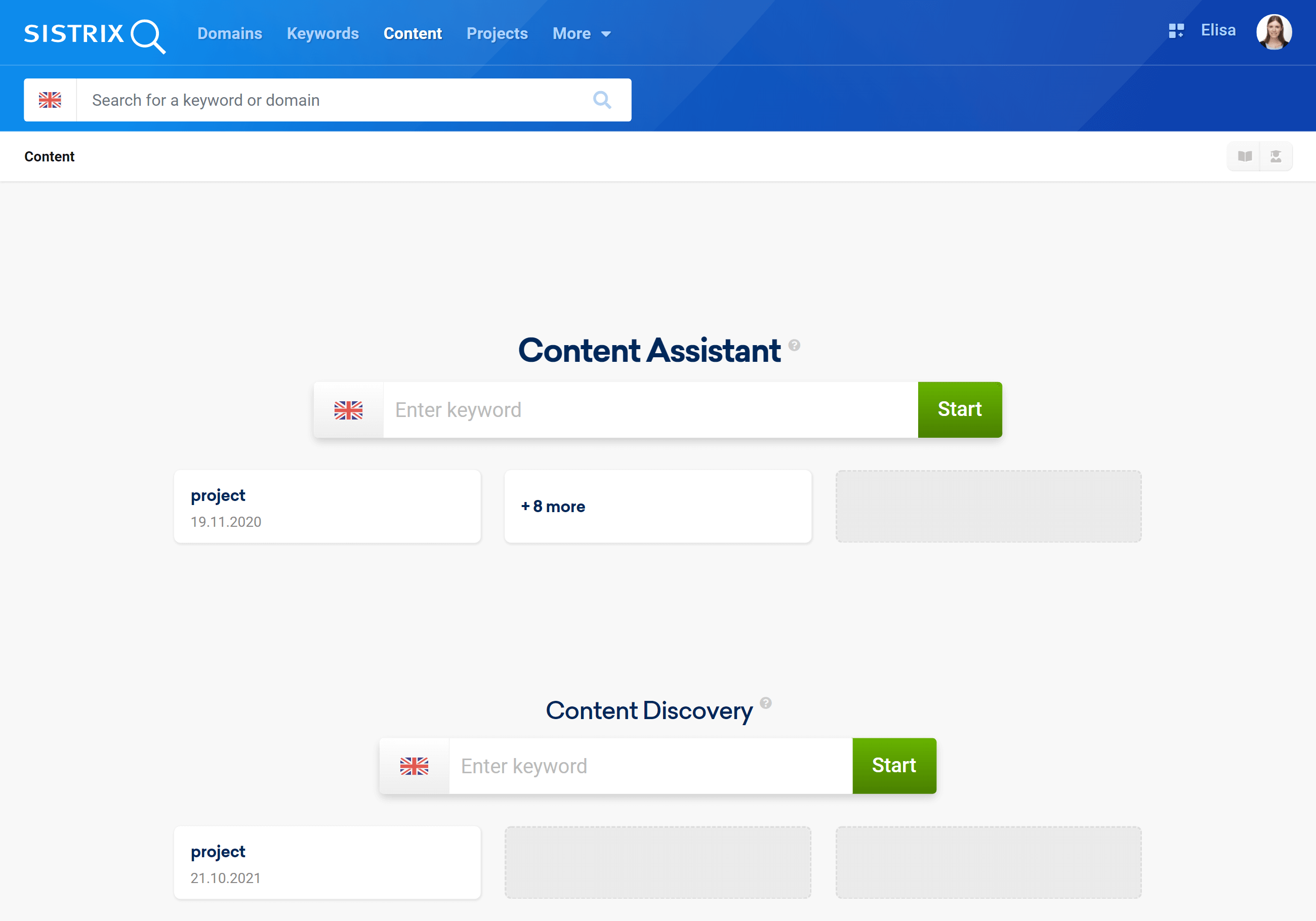 In the header of the SISTRIX Toolbox you will find links to the different overview pages, categorised by topic.
Note that this feature will not allow you to analyse a specific domain: for that, use the search bar instead.
Content Assistant
The Content Assistant is a great help when it comes to creating optimised content. On the basis of a specific keyword set, it will guide you with helpful suggestions, taken from the most successful content in Google.
Here you will find all the projects that you have already created, together with their start date. If you prefer to create a project from scratch, you just have to write a seed keyword in the search bar, selecting the Country data-set you need. The Content Assistant will gather the data for you and prepare your project as quickly as possible.
To know more about the Content Assistant please read this handbook.
Content Planner
The competition for the hot-spots in the search results is constantly increasing and often, especially with highly competitive search terms, you'll find topic clusters being used.
The new SISTRIX Content Planner helps you to plan topic clusters, based on data, at the push of a button.
Read more about the Content Planner in this handbook.
Content Discovery
With SISTRIX Content Discovery you can search and analyse over 750 million successful pieces of content, using social shares and SEO metrics.
If you have already used this tool in the past, you'll see all the topics that you have already searched right here. You can also create a new project by adding the keyword(s) you are interested to evaluate and selecting the Country data-set.
When typing the keyword, the tool will suggest you similar terms together with their average monthly search volume.
You'll find all the details about this feature in this handbook.