For the last 13 years we have continuously improved SISTRIX with free updates to the SEO toolkit. In 2021, we saw one of our most productive years in expanding the tools, features and data analyses across more than just one search engine. Here's a look at the what we've added to the product during 2021, to give you the best possible product for the staert of 2022. Don't forget though, our Changelog will be active throughout 2022!
New product packages and customer offers
Our most recent change, a major improvement to feature accessibility, was actually started in 2020 but we took our time to listen to customers, to the community and to industry experts before we started our work on it. After months of testing and tweaking we can honestly say that this is the biggest change to SISTRIX in its 13 year history.
Not only do we give entry-level customers access to nearly all the tools and features in SISTRIX, including the link database, technology crawler, on-page optimizer and keyword tracker, but we designed an impressive upgrade package for our existing, loyal customers. More details.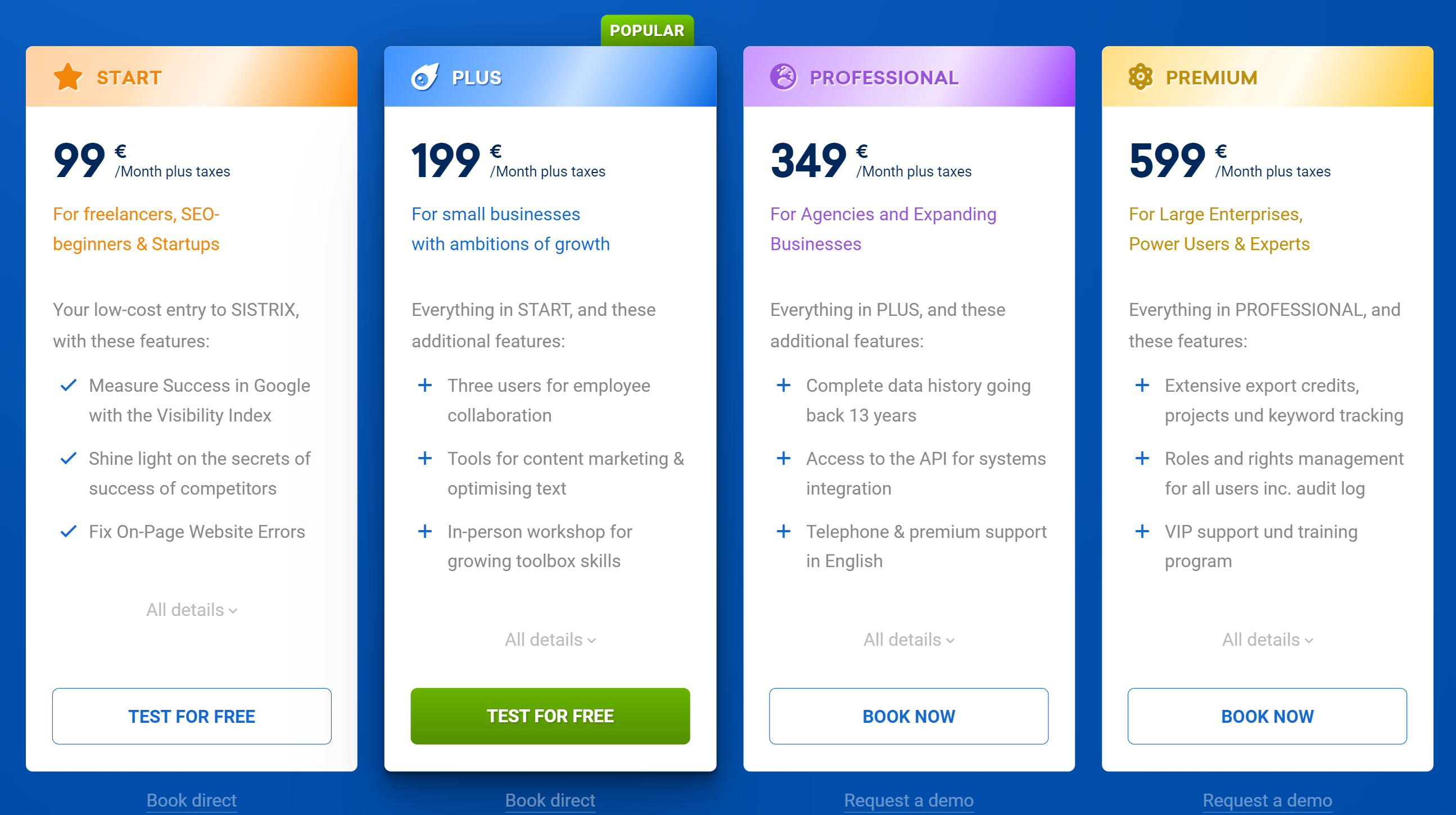 Enhanced Keyword data
A lot of work this year was focused on keyword data. Not only did we vastly increase the number of keywords available, and the depth of the SERP data we archive, but we have also re-designed the keyword overview pages to give a more detailed overview, with more data. For example, the average click values, the ratio of searches via mobile and desktop, the search intent and an array of related keyword tools. There's enough information here to allow you to make informed decisions about whether to create a content project, and which keywords to consider in the cluster. SERPs data, SERP feature and SERP layout data along with a leading SERPS archive, round out the new design.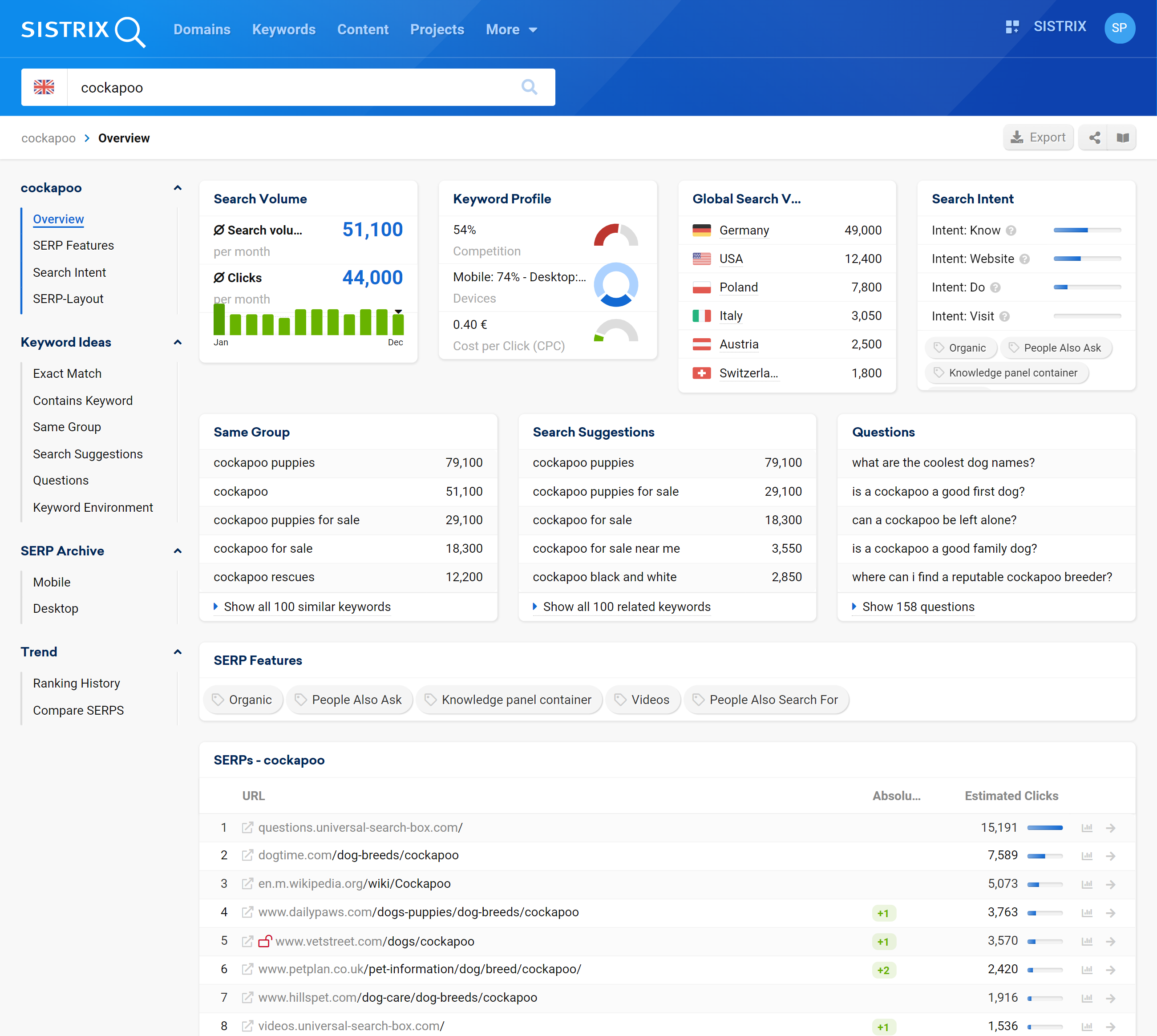 Intent data, direct in the results tables
For successful content strategy projects it's critical to have information about the user intent of the SERP. Is it largely a Know intent, a Do intent or perhaps a mixed intent? The more information you have, the better your content can be targeted. Our keyword lists now have easy-to-view intent information, SERP feature information and filters for both. We'll also show the SERP preview with the title, snippet and features listed. We'll even blend in the current SERP so you can analyse intent to the nth degree before deciding to add a keyword to your list. More information on the features can be found here.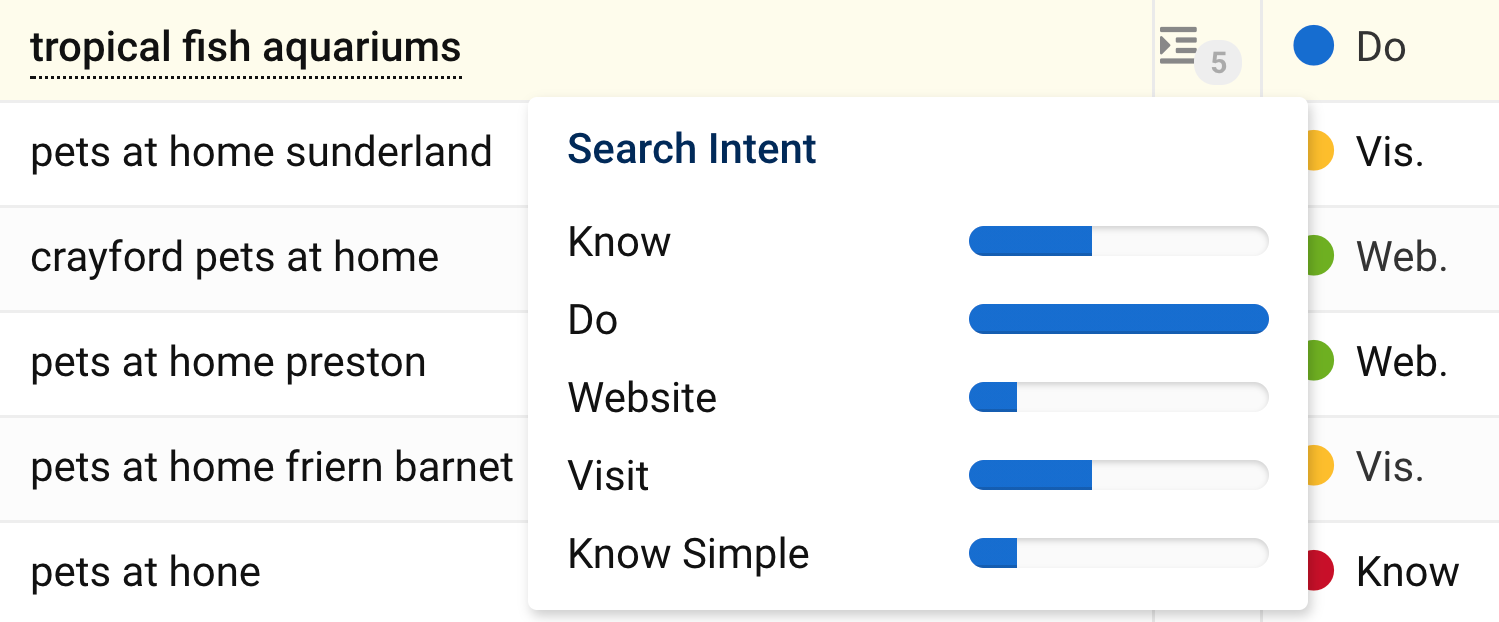 Click analysis and traffic prediction
Through the continuous work we do with CTR modelling we're now able to provide click predictions on a SERP-by-SERP basis. The modelling takes into account SERP features and formatting for each individual keyword and calculates the appropriate clicks for an average month This means you no longer need to use 'averages' which can lead to serious miscalculations.
This modelling is also used in the traffic forecast feature. Add a set of keywords to a list and we'll give you the ability to predict traffic for variable ranking performance.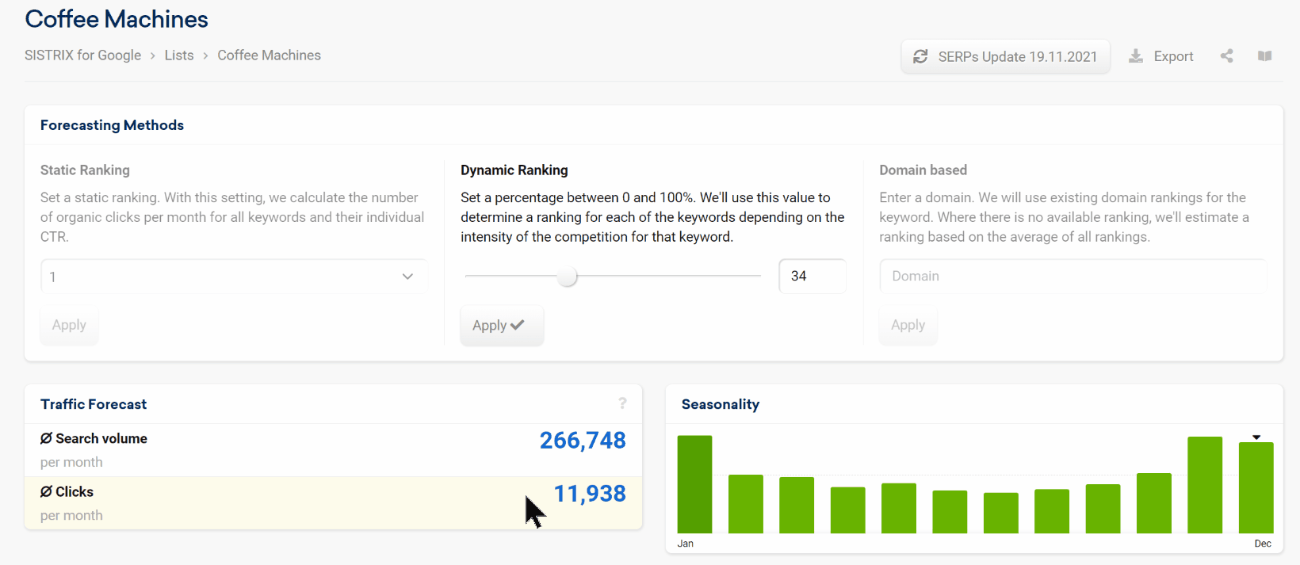 Keyword research workflow – All in one box
There's no need to export to keywords to spreadsheets any more. Work we've done to improve Keyword Discovery, list management, intent filtering and auto-clustering means you can complete the whole workflow in SISTRIX. The new product packages also allow every customer to enjoy that end-to-end workflow. Want to find out more? Then go to our Academy where we'll walk you through it in detail. Oh, and that's another new feature we've just launched, for everyone to enjoy.
Keyword Ideas
If you need a very quick way to find keywords and content ideas, the Keyword Ideas feature is there for you, and it has now been improved to give you more information, filters and the ability to add keywords directly to a list, with which you can cluster keywords into sensible topics. This is your 10 minute content strategy tool. More information here.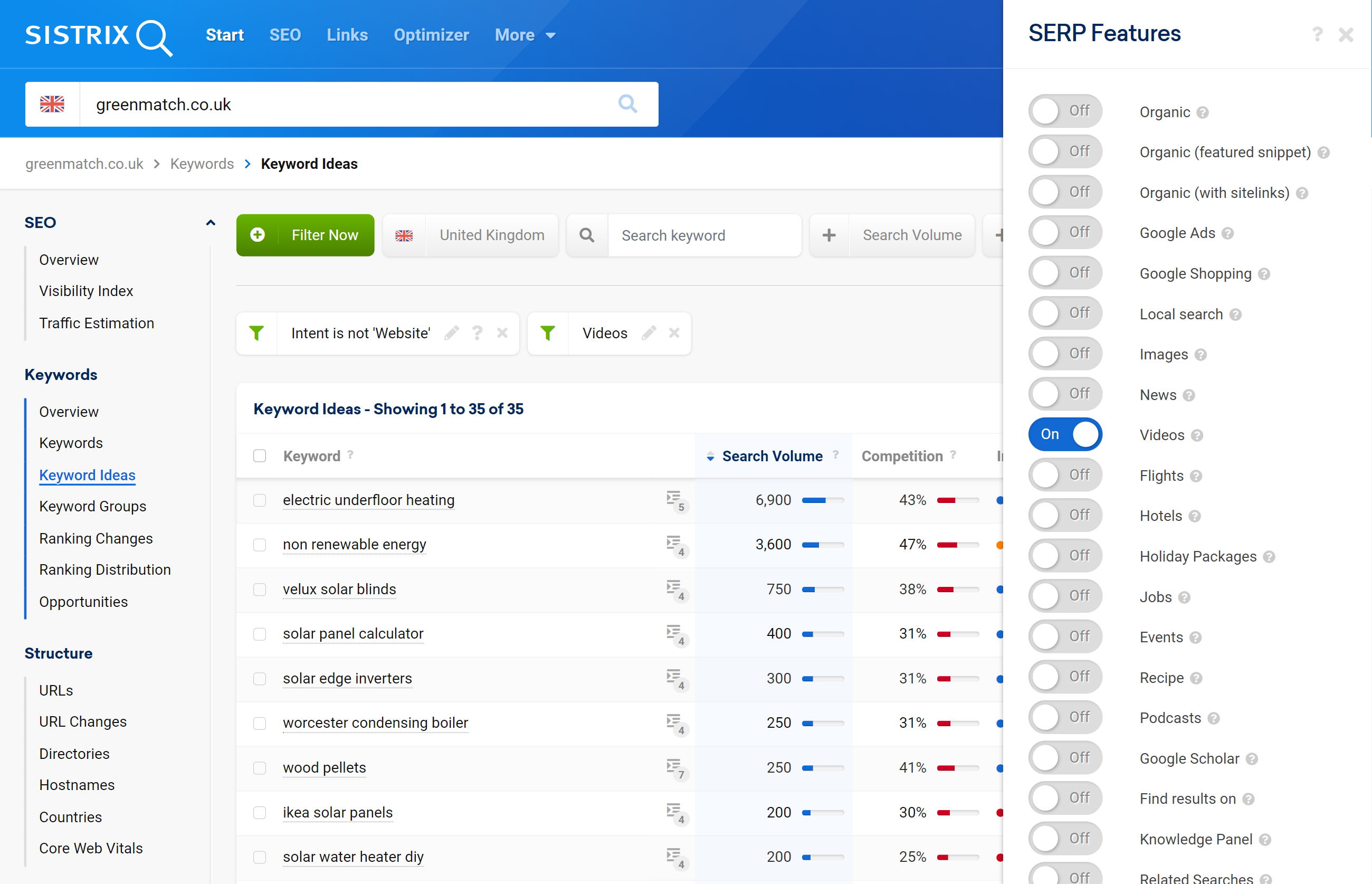 On-page crawler: More information, better overview, helpful information
We've re-worked the on-page Optimizer to make it easier to track progress, review the issues and get help to fix them. We've also increased the number of issues we track. We now have over 100 automatic tests, such as SSL expiration warnings and missed amazon affiliate opportunities. We also will also prioritise the list of issues based on how important we evaluate the URL to be.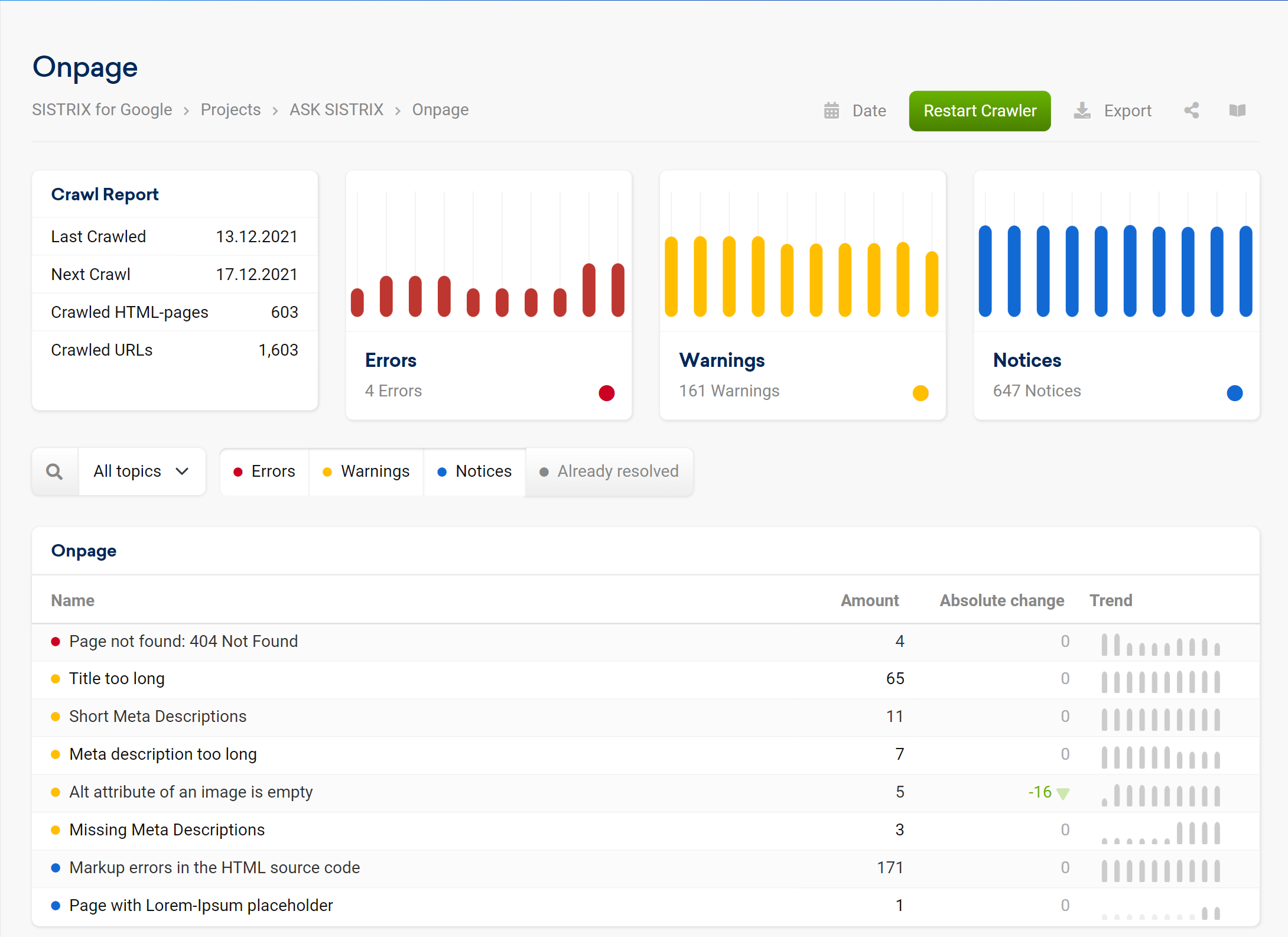 Competitor relationships
Competitor analysis is critical. Not only do you want to watch the movements of closely related domains but you also want to find great examples of winning domains in your keyword sector. In addition, finding common keywords between domains can bring you an instant list of opportunities. Our update in 2021 brings more dynamic views and instant gap analysis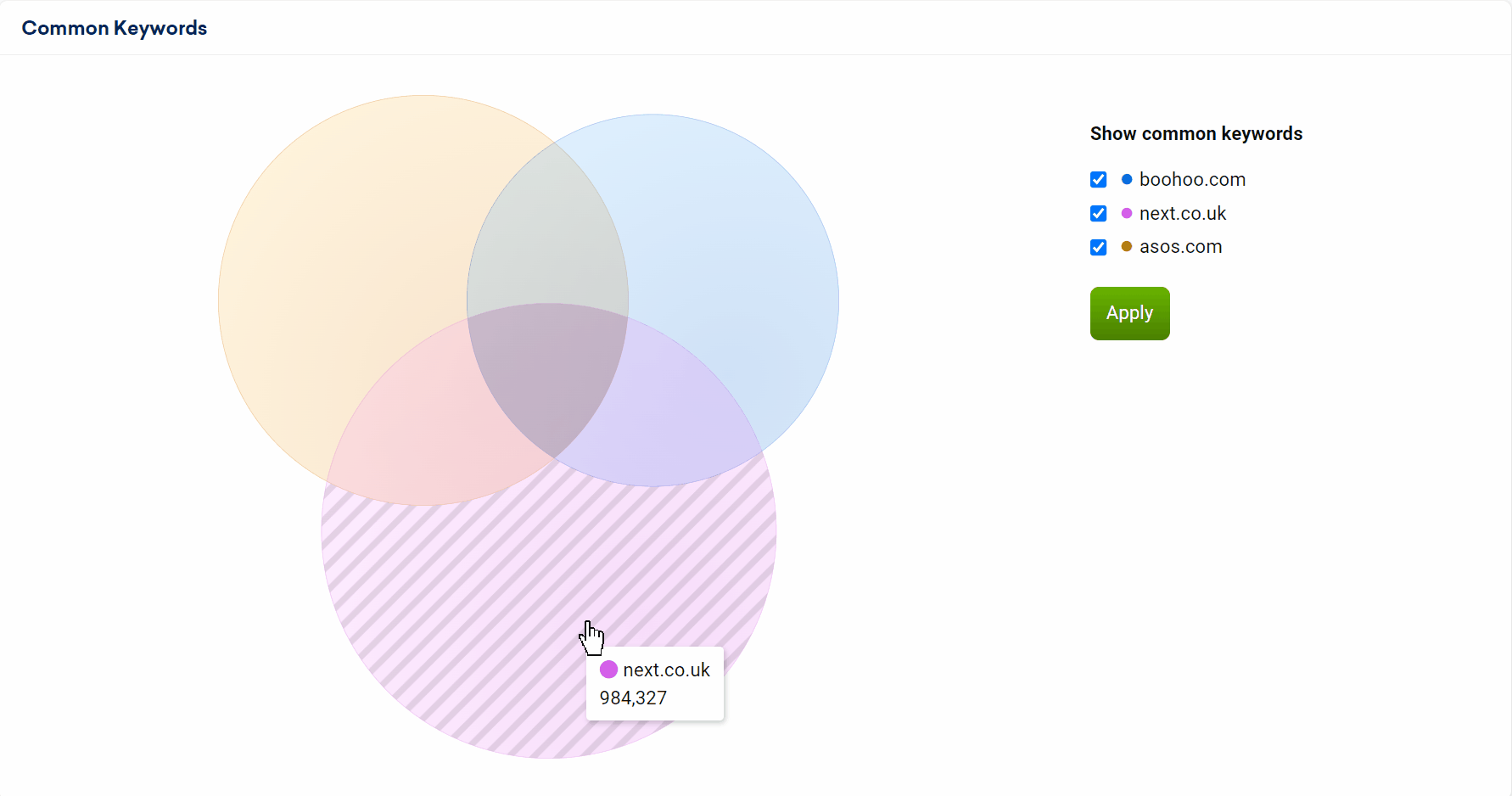 Gather your own SERPs, when you need them
Our new pricing model allows every customer to monitor their own keyword sets, and to grab SERPs almost instantly at the push of a button. Each Optimizer project allows you to set up keywords, locations and search engines and to monitor daily. If you need an instant SERPs update on top of that, you can now do it within the project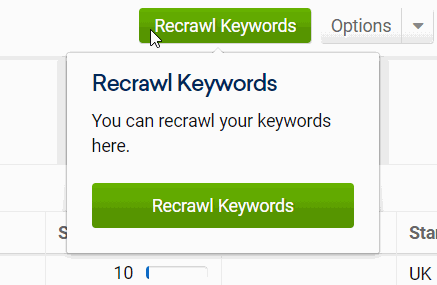 Link crawlers, link sources, and improved overview
We updated our own link crawlers last year but you can never have enough link data. This year we add to the multiple sources of link data that we use. The link information highlights the important domain numbers, rather than total numbers of links, and there's a 12-month link-change overview that you can click on for more information.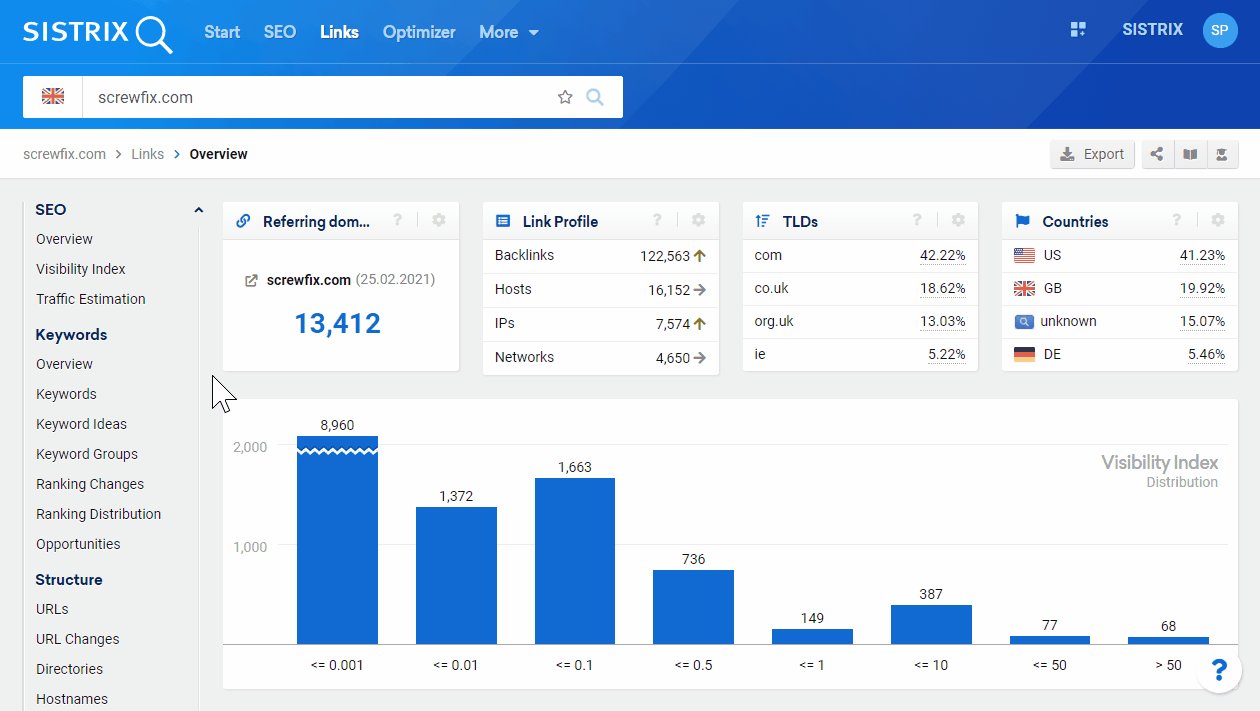 Movers and Shakers, now with dates and filtering
Movers and shakers, the list of winning and losing domains, has been updated with date and domain filters. It's now possible to roll back up to 100 days and set dates to reveal who has won and lost, in percentage or absolute terms, during the period. Filter out domains with small and large VI and even filter on domain extension. Find great examples of winning domains, and find potential clients too; Where there are winners, there are domains that might need help.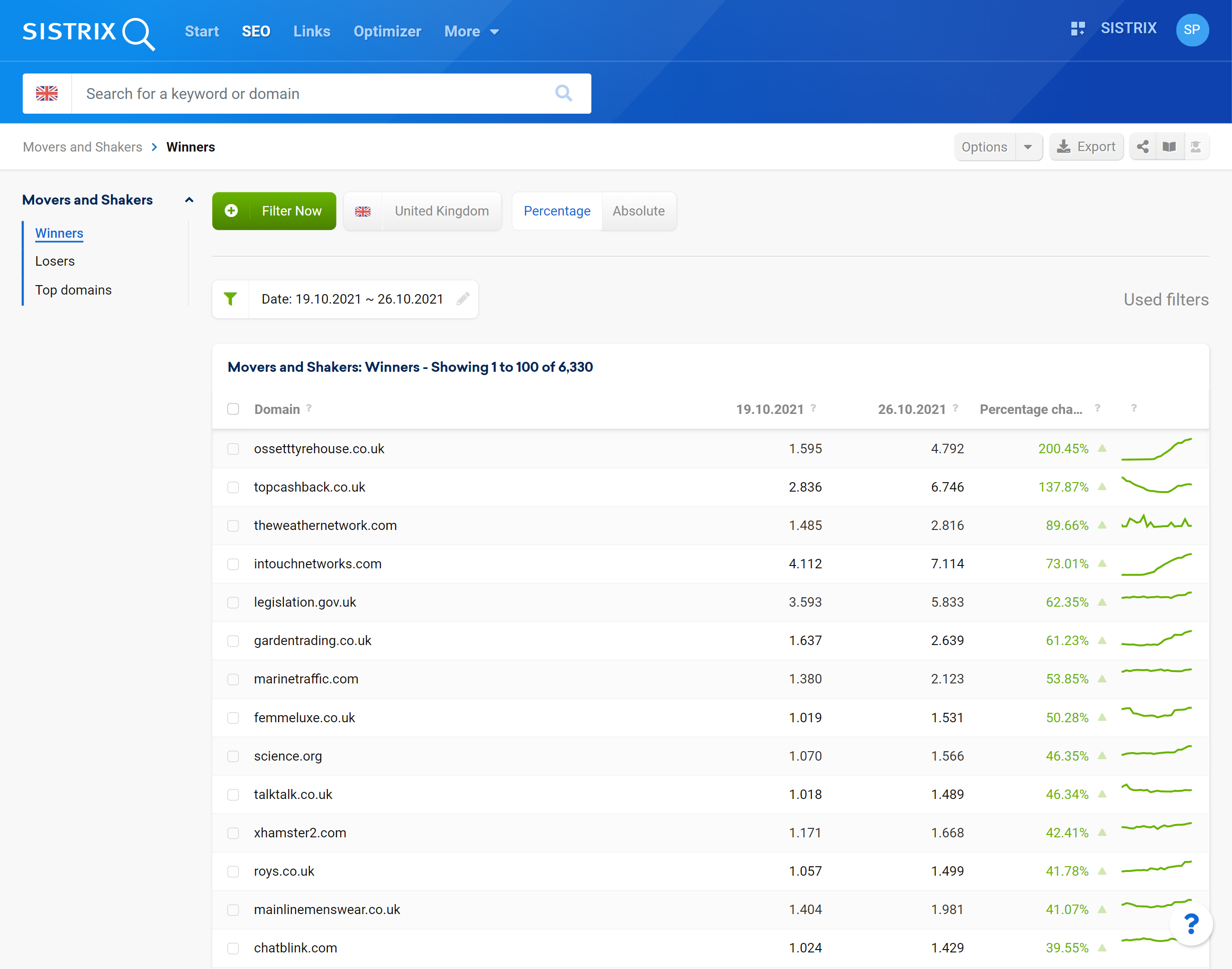 Titlegate – Monitoring Google's title and snippet changes
When Google announced that they may choose to re-write titles, the community stood up and took note. Carefully crafted titles were being re-written and some SEOs weren't happy. Within a week of the announcement we had a new feature live that would instantly show Google's title re-writes. This was built on top of the SERP Snippets analysis, another new feature that we launched towards the end of 2020.
Technology history
Improving on a feature launched late last year, we've now added a history view to our technology crawler. Along with information about current and previously active software and web features, we now show the history of changes. For agencies going into a pitch, for SEOs starting work with a new web project or simply for snooping on competitors software stacks, technology knowledge is valuable knowledge.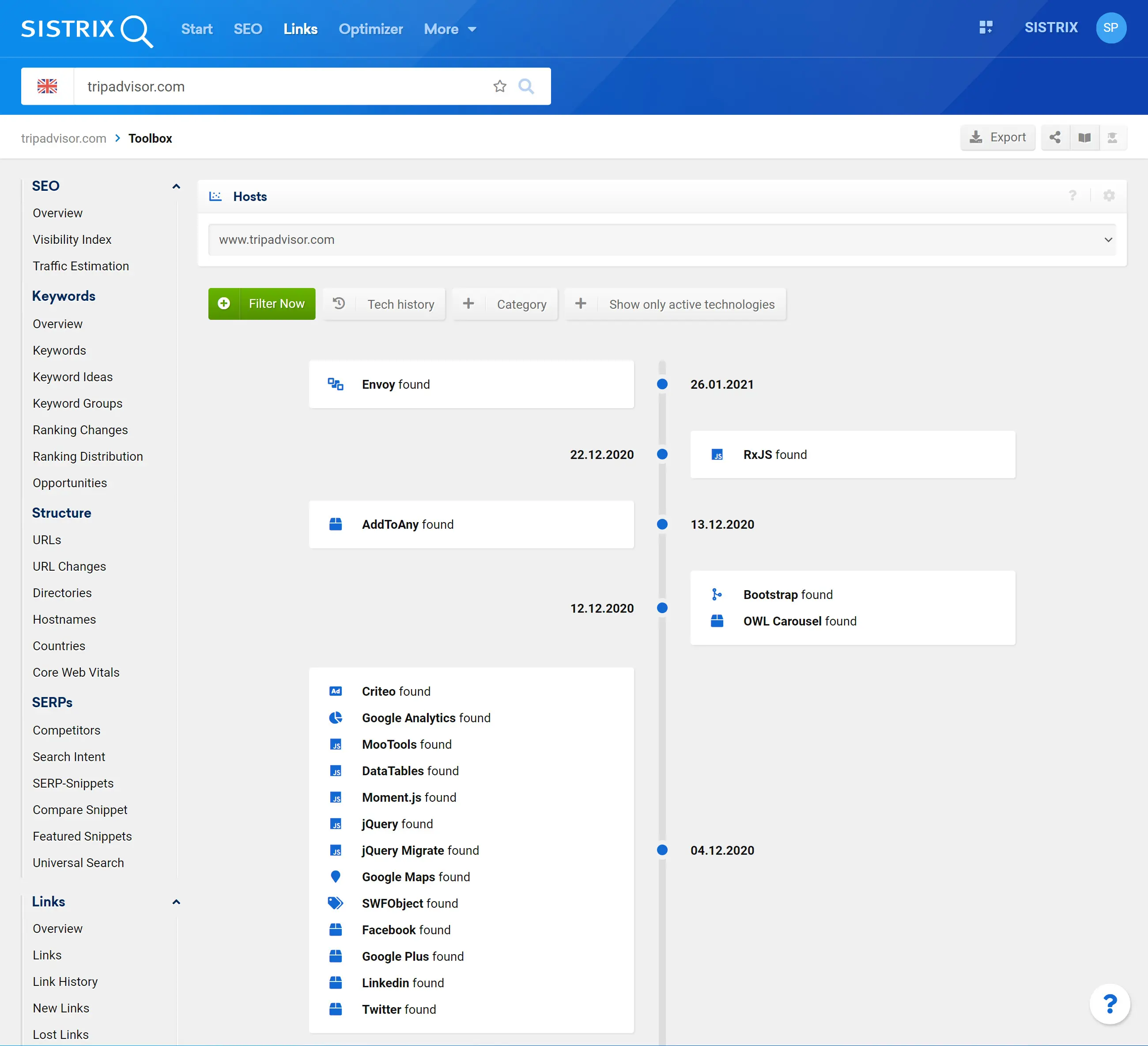 Major updates to our Amazon platform data
SISTRIX for Amazon is still in Beta, and we've been working hard on the data, the features, analyses and tester feedback. The user interface has been updated to bring it in-line with the quality you expect from SISTRIX. Here's a list of some of the new features you'll find there.
Estimated sales numbers
Recent search volume in addition to yearly average
Word frequency analysis
Top products for a topic
Successful brand lists
Extensive keyword analyses and related keyword lists
Paste up to 10000 product names or ASINS into a list for further analysis
Keyword discovery for Amazon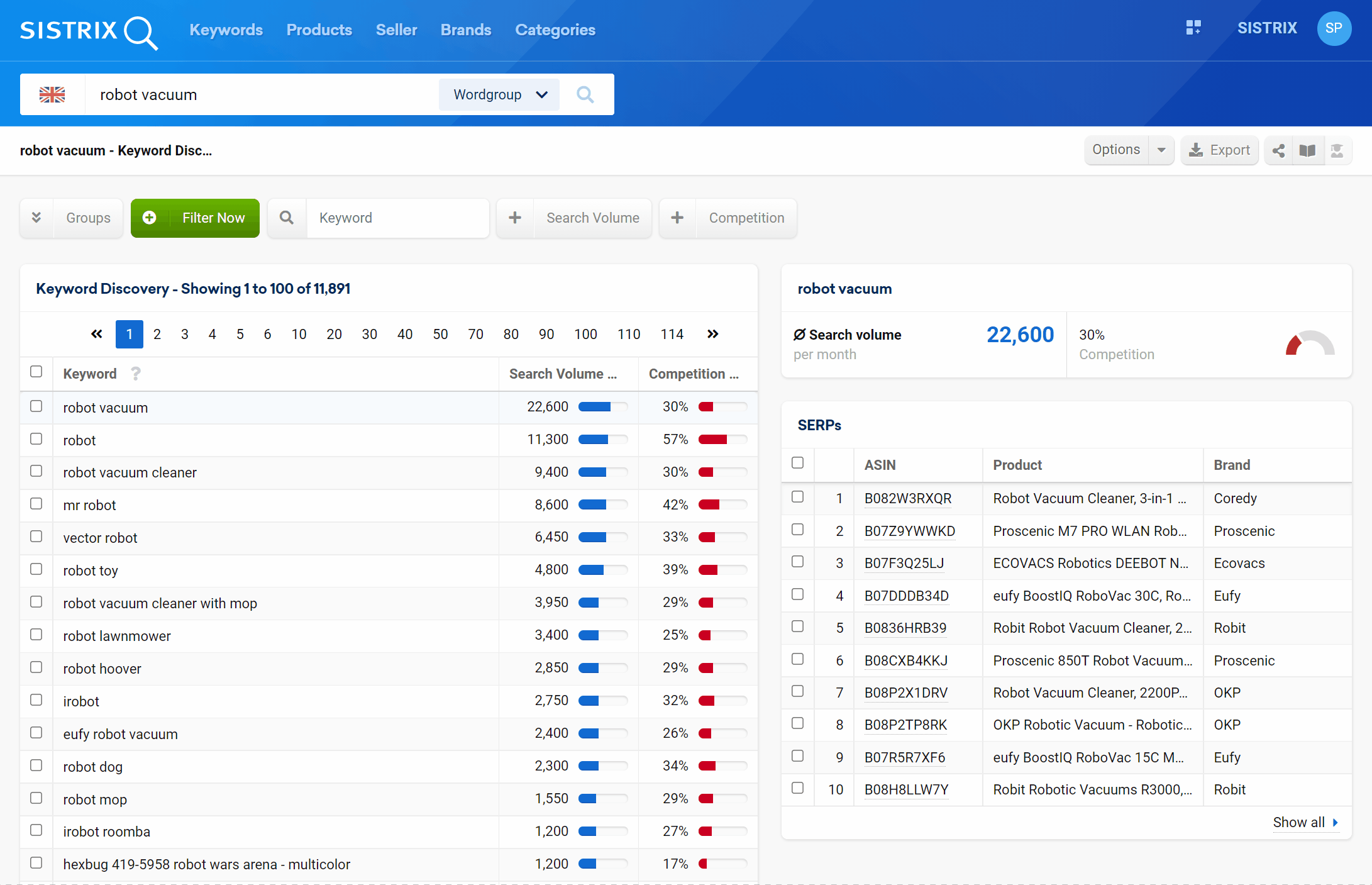 …and much more
6 new countries, improved trend data and, many small features and fixes thanks to customer and staff feedback. We completed three informational content projects, updated hundreds of handbook pages, added nearly 100 video overviews into the help system and released solid data studies. We also raised €10000 for charity.
2022 will of course be another exiting year and well keep the momentum going. We hope you're with us to enjoy it.
One more thing…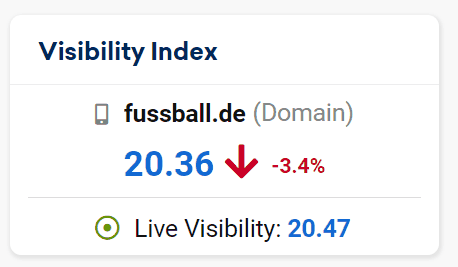 Being tested right now with our data from Germany.